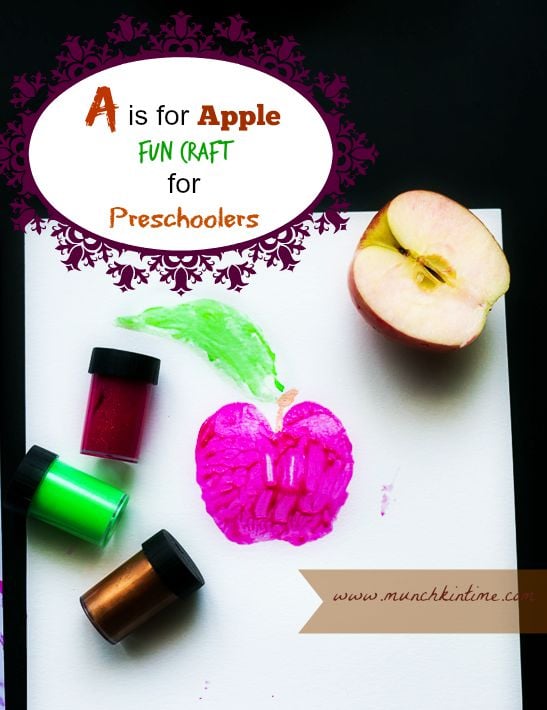 Hi Mama!
Today I would like to share with you fun and super easy letter A activity you can do with your munchkin, it is called – A is for Apple Fun Craft for Preschoolers.
Your preschooler will love this apple craft activity for 3 awesome reasons.
Fist, she can do it all by herself.
Second, it takes less than 10 minutes plus it is a perfect way to teach her to help you prepare and clean after crafting.
Lastly, she will enjoy eating the second half of the apple while learning letter A.
See how simple and fun this activity is!?!
Now all you need to do is Just Do It!
I hope you and your munchkin will enjoy this activity!
If you make this fun kids craft please Please PLEASE snap a picture and tag @munchkintimeblog and use a hashtag #munchkintimeblog on Instagram, I would LOVE to see your creation.
Thank You!
=)
To make apple craft you will need:
acrylic paint
paint brushes
white paper
sliced in half apple
Paint your apple using paint brush.
(Baby number 2 wanted to join her big sister.)
After you painted your apple it should look like this.
Now make apple print.
Using brown color paint a little stem.
Now add green leave.
Now it is complete!
Feel free to paint some extra stuff like a fruit bowl or a branch.
 Did you like this apple craft idea?
——–>Also Subscribe to Munchkin Time on your right for Munchkin Time updates!——–>
Thank you for stopping by!
Quote of the Day
Have a wonderful day!
=)