Girls are having a summer break, perfect time to do a Timberdoodle Review for Boom Fun with Science Kit.
This mega science kit is part of Timberdoodle Kindergarten Kit.
We start experimenting right after my girls got done with school, they love these fun kids activities.
Here is how this science kit looks inside the box.
Science for Kids
I love how everything is labeled with words and numbers.  It makes each science for kids experiment easy to follow and do.
Plus, Boom Fun with Science Kit comes with a guide book with over 60 mega science experiments and fun kids activities you can do using this kit.
One of the things I found super helpful, is how in the guide book there is explanation for everything.
Explanation of how every science experiment works and why it works this way, using real life pictures.  It made my job easier answering kid's questions about each science experiment.
Flying Helicopter
One of the science experiments, we had fun doing is called Flying Helicopter.  The science kit provided all of the materials needed for this project.
You blow up the balloon and attach propeller blades, when you let go of the ballon,  it flies up just like a plane.
When the helicopter flies it makes a blowing sound, which girls found it super exciting.
Girls enjoyed this fun activity as you can see from the picture above. 🙂
Will the Car Go
Second experiment we tried, was called Will the Car Go.
A ballon is attached to the car, you blow up the ballon and let it go and see how it was driving across the table.
Girls were taking turns racing a car across the kitchen floor to see whose car drove the longest.
Slime
Slime is my girls favorite kids activity.  When they saw it in Boom Fun with Science Kit they got so excited. They love everything about it, the mixing, combining and squeezing.
Boom Fun with Science Kit came with mixing tubes, measuring scoops, glue and borax mixture.
After measuring and combing few ingredients you end up with a slimy and squishy slime.
Timberdoodle Review
My girls enjoyed 3 of these science activities from Boom Fun with Science Kit.
They can't wait to try the rest of the experiments like Growing Crystals, Volcano Eruption, Lava and other fun activities.
I would highly recommend this science kit for summer break or as a Homeschool Curriculum.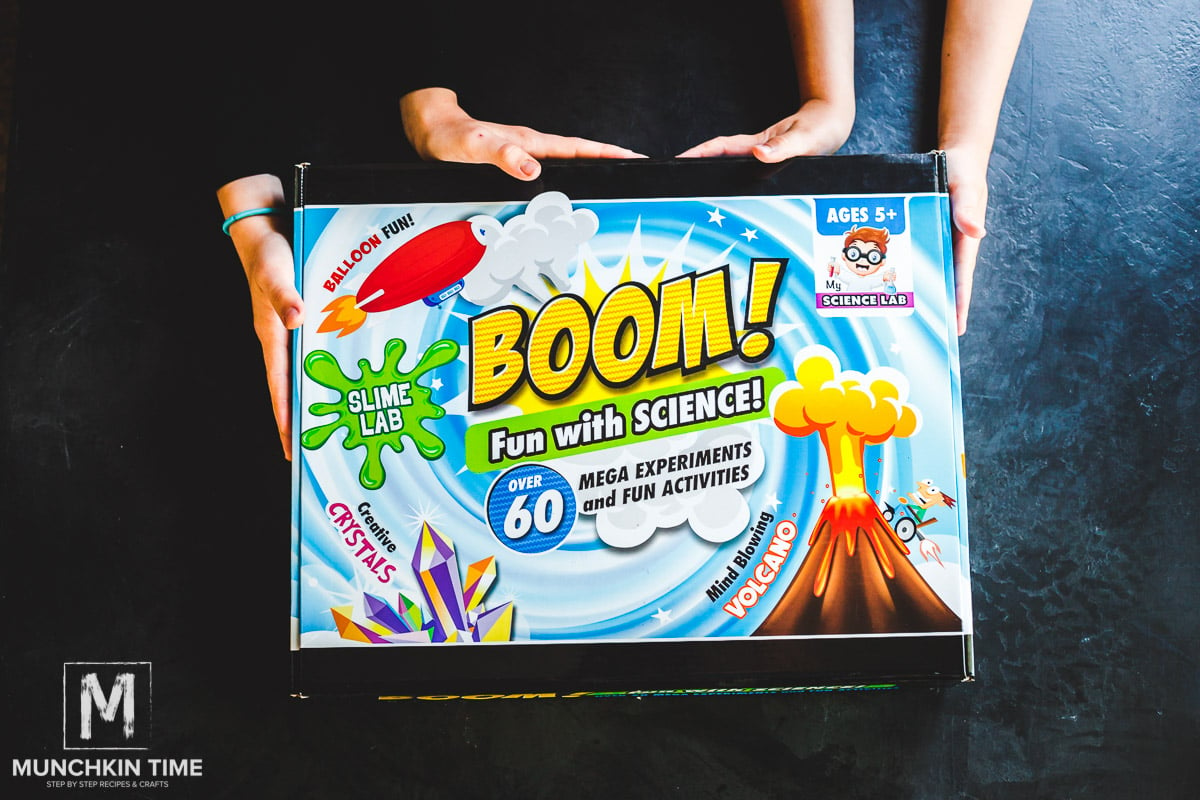 Do YOU like this Timberdoodle Review?
Please let me know in the comments below, I would love to hear from you!
Huge Thank You goes to Timberdoodle Curriculum for providing us this fun science kit!
Thank you!
Check out more fun Timberdoodle Reviews: 
Hope you enjoyed this review and get to check out other fun kids activities that I listed above.
Have an amazing day!