DIY Electro Dough Kit is a Cool Science Experiment for kids ages 4 to 104.  This product is made by Technology Will Save Us company and it's one of exciting component of Timberdoodle's 2016 First-Grade Curriculum Kit!

Product Review
First your child will make her own conductive dough from scratch (my daughter had a lot of fun making her dough, I will share a video soon on how she made her dough).
Come follow Munchkin Time on my favorite social media, where I share Recipe Updates & more:
See YOU there!!!
Then she will learn how electricity works and make cool masterpieces with conductive dough and finally she will play with lights, switches and buzzers.
How fun is that?!?
How to use DIY Electro Dough Kit
First you are going to make your own electro dough.
Timberdoodle will send you a FREE PDF file with 10 LESSONS THAT EXPLORE ELECTRICITY and Electro Dough Recipe.
Check out More Awesome Kids Activities. 
When using electro dough, kids are inspired to use their imagination.  They can make what ever they want like a cake or a dinosaur.
Using red or green LEDs they can light up candles on the cake or make dinosaur's back get lighted with color.
Cool Science Experiment
My daughter enjoyed making a papa and mama bear using cookie cutter that came with DIY Electro Dough Kit.
Using red led she connected papa's and mama's hand together then red light turned on, and it was really cool!
Later Ani made one jumbo ball, then she connected wires and made it buzz.  We even had my 2 year old join us along.  It was messy but so much fun!
Electro Dough
We did had a little problem with our eletro dough.  After we made it, it had an awesome texture and it was easy to shape up anything we wanted.
Later we wrapped the dough with plastic food wrapper so we could use it next day.  We left it on a book shelf.  Next day I noticed there was a liquid around the dough and when we started using the dough it was dry and was falling apart. 🙁
It is kinda of my fault! I used Epson salt instead of regular salt because I didn't had enough, so my dough didn't turned out the way it should be.
Next time I am defiantly going to use exact ingredients that are in the recipe.
Please don't repeat my mistake follow exact measurements and steps and your dough will be great!
Besides the dough problem I would highly recommend this science kit to my best friend!
Did you like this Fun Science Experiment for Kids?
Please let me know in the comment below, I would love to hear from you.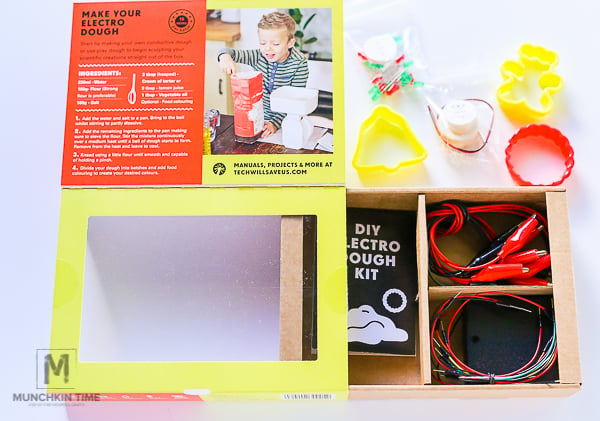 All opinions in this post are my own.
Visit Timberdoodle for more information about this outstanding science kit.
Thank you for stopping by!
Quote of the Day
Have a wonderful day!