Here is super Fun Science Experiment for Kids that your toddler will love on a rainy day.   
The forecast here where we live is showing rain for the whole week.  It is sad that we can't go outside to play.  In cases like this, Ani and I like to entertain ourselves by baking yummy cupcakes, or painting a painting on canvas with fingerprints, or be all lazy and watch a cartoon about Micky Mouse.
Except today we decided to do our very first science experiment called The Rain Cloud in the Vase.   This is such a fun and exciting experiment to do, while learning about how it rains from the cloud at the same time.
Plus it only takes few materials to do this simple and super fun experiment, materials that you already have at home.
This an easy science kids activity you can do with your child, and one that my baby girl, Ani really likes!
Lets get started!!!
You will need:
Shaving Cream
Water
Clear Vase
Water colors
Dropper
First pour cold water into a vase, add shaving cream on top.  Next add few drops of food coloring into a small bowl with water, we used blue color.
After pour a small amount of colored water onto a creamy shaving cream using dropper.  Finally, watch the magic happen.
Even I enjoyed watching this experiment!!!
It was an exciting activity, I cant wait to revisit it again!!!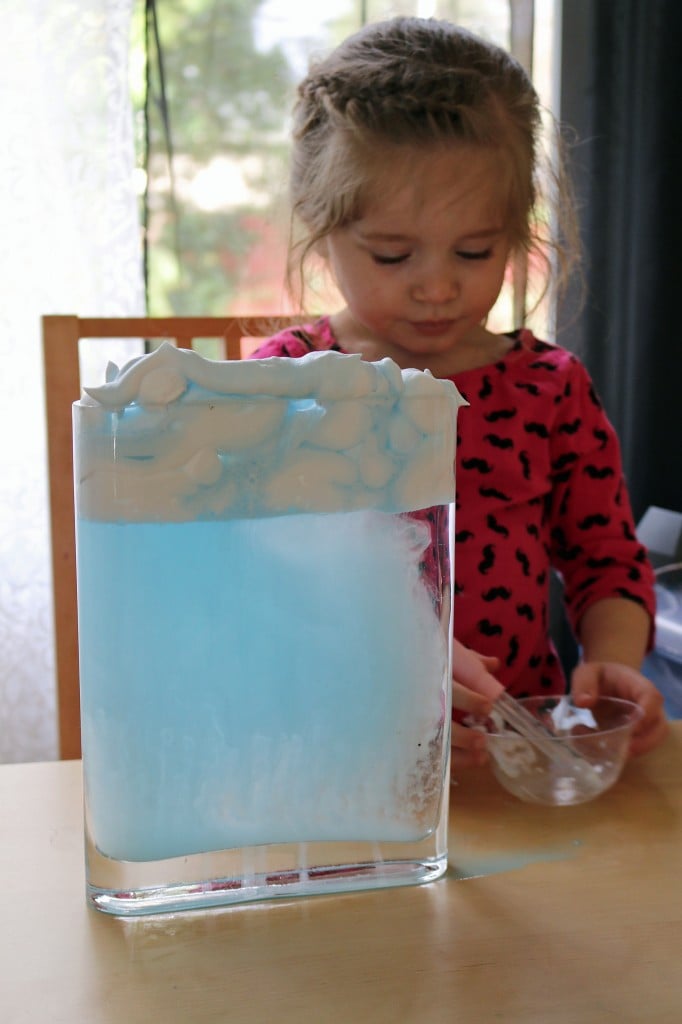 Have a Blessing Day!!!
=)