I received Haba Brain Builder Peg Set for a toy review – All opinions are 100% my own.
Find out more information about this Wooden Building Blocks Here.
Haba Brain Builder Peg Set – Wooden Building Blocks
Brain Builder Peg Set is incredibly fun and educational wooden building blocks.  Every wooden block made of bright and happy colors and different shapes.  The size of each block is not too big and not too small, it is perfect for little builder's hands. Builder Peg Set is an amazing piece of Timberdoodle's 2016 PreK Curriculum Kit!
HABA Toys
HABA creates beautiful and fun wooden toys and games for kids all over the world.  Brain Builder Peg Set is one of the best educational toys for little thinkers.  It is a game that engages the brain and motor skills. 
What's Inside
Brain Building Peg Set has 18 wooden building blocks, instructions booklet, and 20 template cards which are split into 3 levels of difficulty with clear instructions on the back of each card.
My 3-year-old Via loves playing with building peg set.  She gets so happy when she completes a model from the card, which makes this mama really proud!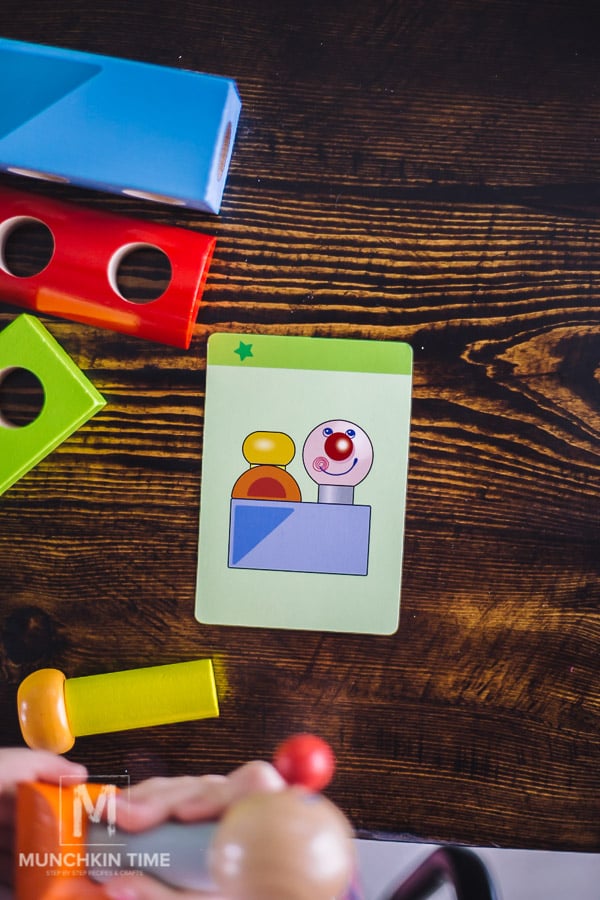 She likes to play with HABA toy while I am homeschooling my older daughter Ani.  I love having educational toys like these wooden blocks to keep my little girl learning in a fun way.
Huge Thank You goes to Timberdoodle for letting Munchkin Time review this outstanding educational toy!
Thank you!
For more information about Timberdoodle or Haba Brain Builder Peg Set <- simply click on the it!