Munchkin Time is a participant in the Amazon Services LLC Associates Program, an affiliate advertising program designed to provide a means for sites to earn advertising fees by advertising and linking to  amazon.com
Happy Earth Day!!! To celebrate this day here is an easy recycle craft project I made for my daughter
while she was sleeping.  It is a little fox almost like from this book that she loves to read called I Miss You Mouse
.
.
For A Little Fox project you will need:
Scissors
White Paper
Orange Acrylic Paint
Toilet Roll
Paint Brush
Garden String
Glue Gun
Black Marker
Pencil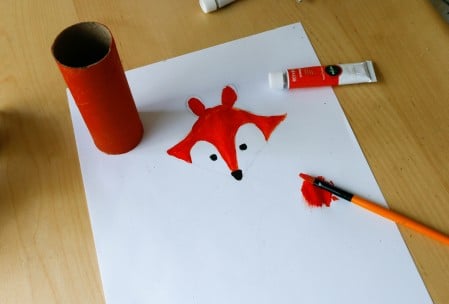 1. Draw fox's face and a tail.
2. With a paint brush color toilet roll, face, and tail with orange color.
2. Let it dry.
3. With a scissors make two holes on the both sides of the toilet roll for hands, and two holes on the bottom for legs.
4. Take 1 bead and pull it on the garden strings and tie a knot.
5. Repeat step 4 three more times.
6. Tie a knot inside the toilet roll to make hands and legs.
7. Now do the feet.
8. With scissors cut out the fox's face and tail and glue it on the roll with a hot glue gun.
There you go!!!
If you make this little fox  PLEASE tag my name @munchkintimeblog and #munchkintimeblog on Instagram, I would LOVE to see your creation.
Thank you!
—–> Feel Free to Subscribe to Munchkin Time on your right for Yummy Recipe Updates!!!—–>
—–>Visit Munchkintime for more fun activities for kids.<——
Thank you for stopping by!
Happy Earth Day!!!