Hi guys!
Today I would like to share a review of this breathtaking Wahclella Falls we went to by Columbia River Gorge.  If you live in Oregon I am begging you, take your family and go hike in Wahclella Falls.  It is so beautiful there!  One mile hike there and one mile back.  On a way to the waterfall you will find big huge rocks and wood that kids can climb on.  Cold and refreshing water to splash in on a hot day.  Three awesome bridges to cross.  A place you will want to come back to again, and again!  It is located on exit 40 on I84.  When you take the exit turn right if you coming from Portland Oregon.
Now go ahead and watch this short video that I made while hiking there!
I hope you will enjoy watching Hiking in Oregon Episode #2 – Wahclella Falls.

Did you like this video?
If yes, share it with your friends and family!
We took our stroller which was a bad idea.  Please don't take any strollers there, the road is way to rocky for the strollers.
Here is the first waterfall that you will see standing on a first bridge on Wahclella Falls Trail.  Isn't it pretty?!?
This is the second bridge that you will  cross.
View bellow second bridge.
Climbing bellow second bridge.
Cold and refreshing water from Wahclella Falls.
Can you see the Wahclella Fall?
Girls enjoyed climbing big rocks and throwing little rocks into the water.
Crossing third bridge.
View bellow third bridge.
Here it is!
Wahclella Falls.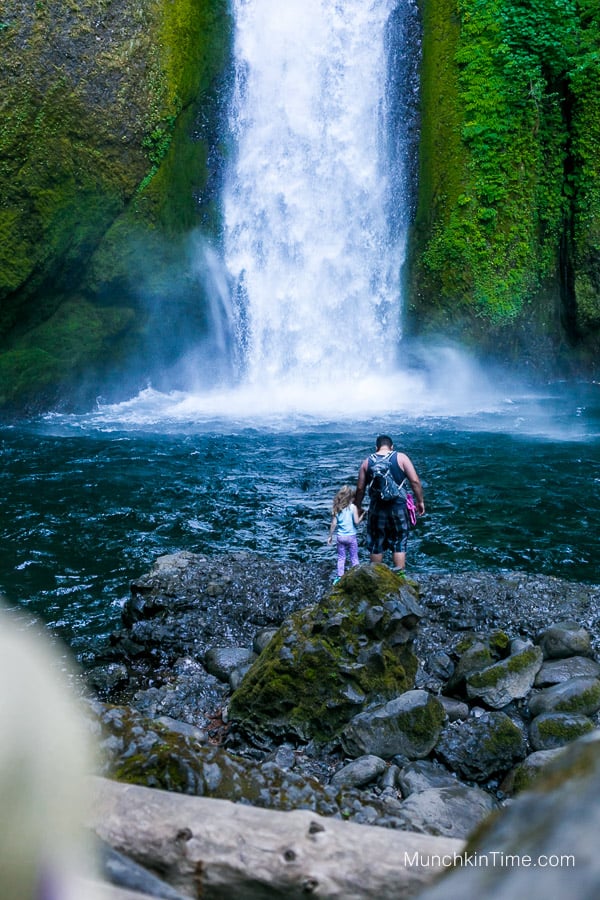 This is the place where you want to be on a hot summer day!
On a way back.
View from second bridge.
I hope this video and pictures inspired you to grab your family, snacks and water and go hike and explore places!
Thank you so much for watching!
—––>If you like to see more places where we are planning to visit like Oregon Coast, Pacific North West and beautiful Water Falls and Hiking Parks – Go Ahead and Subscribe, on your right, to Munchkin Time Blog to get awesome Travel Time updates!—––>
Check out our Unexpected Stay at Wheeler Lodge Oregon Coast   and Hiking in Oregon – Wahkeena Falls Trail by Multnomah Falls 2015.
Did you liked Hiking in Oregon Episode #2?
Let me know what you think about this episode in the comments below.
Thank you for stopping by!
Quote of the Day
Have a wonderful day!
=)