How to make No Sew Teepee – Easy DIY Video Tutorial – My daughter been asking me to make her a Teepee for a while now. I think she saw it on one of my Pinterest boards.  I always wanted to make one for her but I was afraid I will need to use a sewing machine.  I don't know how to sew so I was putting this DIY project aside until I found no sew tutorial on Pinterest.  Finally I got all of the materials to make it with her. Both of my girls love playing inside their teepee.  Recently we added their little kitchen and small doll bed inside their Teepee, it is like their little Teepee tent home for them and their dolls.  I can't wait till summer to have a little photo shoot in the park inside our Teepee tent. 
Thank you Melissa for inspiration!
If you make this teepee please tag my name #lovekeil or #munchkintimedotcom on Instagram, I would LOVE to see your creation!
To make a no sew teepee for kids you will need:
7 feet tall 5 wood poles from Home Depot
twine
ruler and pencil
2 panels of IKEA Lill curtains = 4 total curtains =)
hand held drill
News paper and vacuum
Now watch this easy DIY video tutorial for step by step instructions!
I hope you enjoyed How to make No Sew Teepee – Easy DIY Video Tutorial.

Go ahead and visit Munchkin Time DIY Page for more DIY ideas and videos.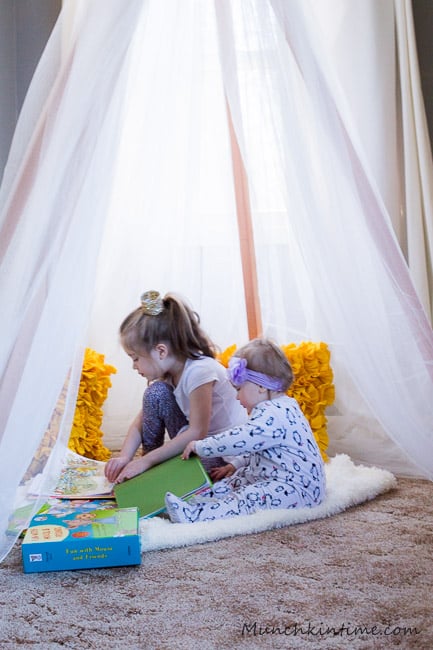 Quote of the Day
Have a blessing day!