This Kumon Book and Kids Safety Scissors Review brought to you by Timberdoodle Company.
Kumon Book
Here is one of the Kumon books that my toddler absolutely love, it is called Let's Cut Paper Amazing Animals.  It is a Kumon workbook for toddlers ages 2 and up.  It teaches little ones how to cut straight lines, circles, zigzags, twirls and other shapes.

Faber Castell Safety Scissors
Faber Castell  My First Scissors are by far my favorite kids scissors.  They are super easy to hold, which makes cutting activities so much fun.  I am in love with these scissors they are chunky, my favorite color and can be used with left or right hand.  How cool is that! These safety scissors are part of Timberdoodle's 2016 Preschool and PreK Curriculum Kits.

Cut out few working sheets from Kumon workbook and let your child pick which one she wants to cut first.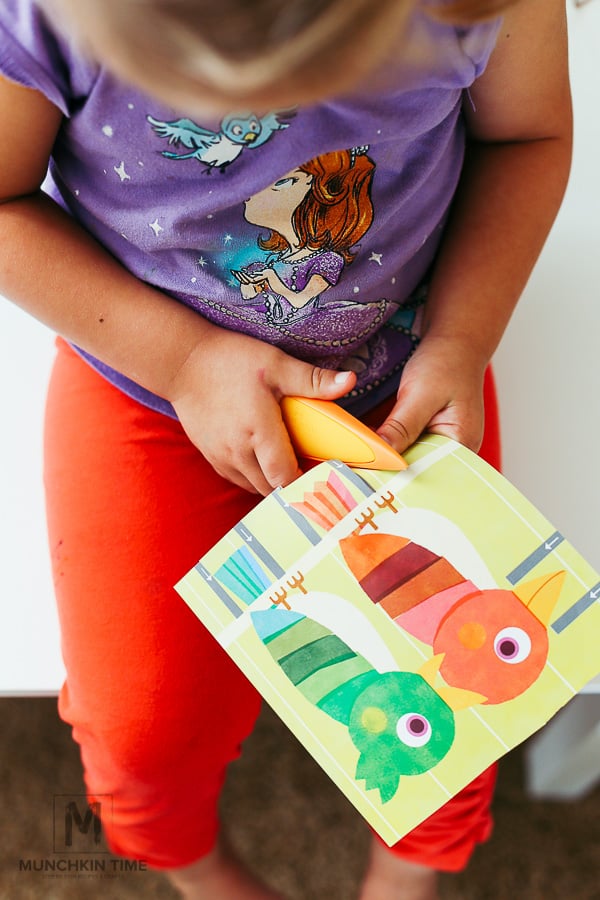 When she picks a colorful sheet she wants to cut, explain to her where to cut.  Here Via was practicing cutting straight lines using Faber Castell  Safety Scissors.
Here she is cutting another straight line.
After she cut the line she connected two pieces together to get an image of a camel.
Via's excitement to cut more is so cute!  I would highly recommend Kumon Book and Kids Safety Scissors to my best friend!  It is an exciting activity where toddlers can learn how to cut and hold scissors.
Did you like this Timberdoodle Review?
Please let me know in the comment below, I would love to hear from you.
All opinions in this post are my own.
Join Munchkin Time's email list on the bottom of this post for email updates.
Visit Timberdoodle for more information about this outstanding kids products.
Thank you so much for stopping by!
Quote of the Day!
Have a wonderful day!