Here is anotherhandprint craft, Anika and I did today. It is an American Flag, it is a perfect craft for Independence Day.  You can Make Super Easy Handprint Patriotic Craft for the 4th of July with your munchkin.  It is super easy because we have a step by step instructions :). All what you will need is red, blue, and white paint, paper, child's hand, and a brush.

1. Paint a blue square on the top of the hand.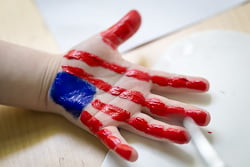 2. Paint red lines.
3. Then white once.
4. Make a print.
5. To make starts we used the other end of the paint brush.
6. Add as many starts as you can.
7. Let it Dry.
We cut out our handprint and placed it on the fridge and secured it with magnet.
This easy craft idea came from here =)
Feel free to add a link in the comments bellow of your 4th of July crafts.
Thank You!
Have a blessing 4th of July!