Do you love traveling as much as I do?
I wish I can travel or go hiking with my family every weekends.  That would be amazing!!!
Today I would like to share this beautiful and peaceful place where we had Unexpected Stay at Wheeler Lodge Oregon Coast recently with my family, while exploring Oswald West State Park at Oregon Coast.
This place located on Oregon Coast Hwy 101 between Nehalem, OR and Rockaway Beach, OR.
It is called Wheeler on the Bay Lodge & Marina in the middle of Wheeler City.
I love how simple and cozy this place was.
They had everything we needed like paper cups and plates, spoons and forks, 6 extra towels, extra blankets, gas fireplace we enjoyed having it on at night, and much more.
It was super clean too!
I would recommend staying at this place to my best friend or family.
It was so beautiful outside even on gloomy Oregonian day.
If you are going to stay there please wake up extra early to see the sunrise.
It is magical!!!
Calmly moving water makes you relax your eyes and brains.  To see heavy gloomy fog slowly leaving tops of the hills and tall trees.
Cold crisp air will quickly wake you up.
Wheeler Oregon is a perfect place to unwind.
I just wish I could stay there for another day!
Ani also enjoyed watching big birds fly.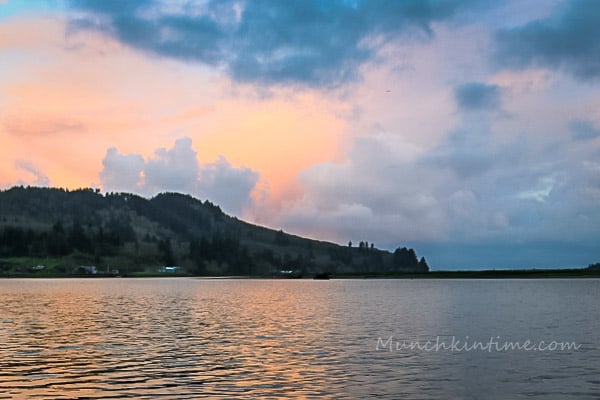 I hope you enjoyed my first Travel Time post.
—–>If you like to see more places where we are planning to visit like Oregon Coast, Pacific North West and beautiful Water Falls and Hiking Parks – Go Ahead and Subscribe, on your right, to Munchkin Time Blog to get awesome Travel Time updates!—–>
Thank you!
Have you been at Wheeler Lodge at Oregon Coast?
If yes, Please comment below sharing your experiment and if you liked staying there?
Thank You!
Quote of the Day
Thank you for stopping by!
Have a wonderful day!
=)