Lavender Bath Bombs – Learn to make moisturizing lavender bath bombs filled with vitamin E oil, avocado oil, lavender essential oil, and just a few other simple ingredients. You can even add lavender flowers to yours if you'd like!
When YOU make this Bath Bomb Recipeplease tag us @munchkintimeblog on Instagram, we would LOVE to see your creation!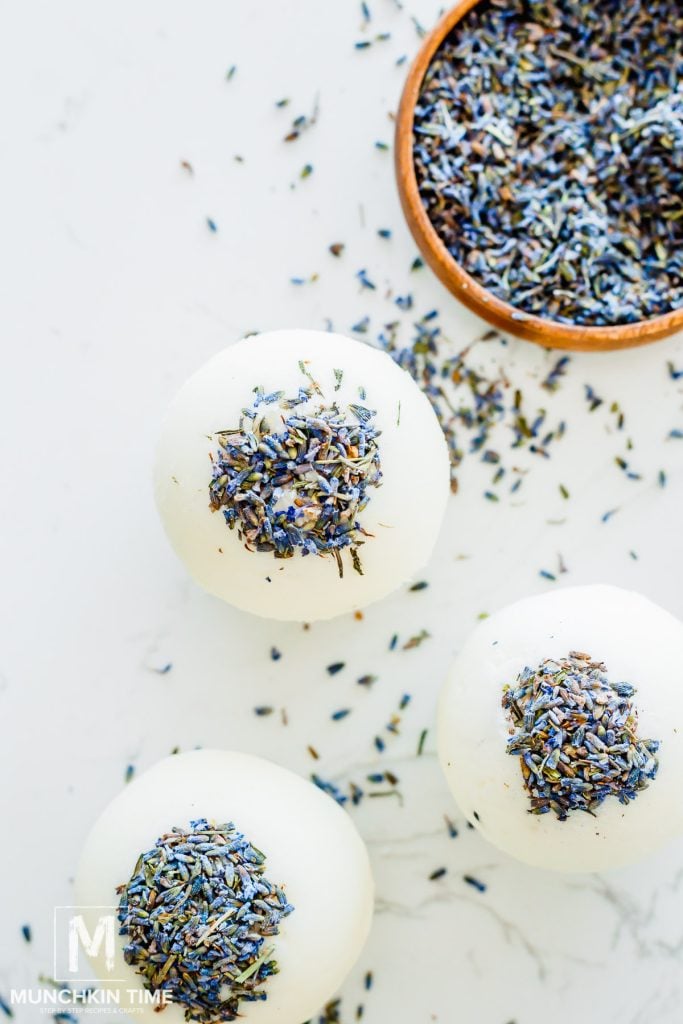 Enjoy the moisturizing properties that all of these oils contain along with the soothing and calming effects of lavender aroma. Relax in a hot bath after a long day and enjoy the fizzles and aromas coming from your homemade bath bombs.
They are nontoxic which makes them not only great for adults but kids love them too. Especially right before bed! Watching them fizz as they hit the warm water is half the fun!
I'm going to show you how to make the best lavender bath bombs that are super moisturizing and leave your skin feeling soft and supple. Once you get the hang of this lavender bath bomb recipe, you can then make different kinds using different essential oils!
They make great teacher gifts, shower gifts, gifts for new moms, and of course, gifts for the holidays! Make this arts and crafts activity just once and you'll soon be a pro!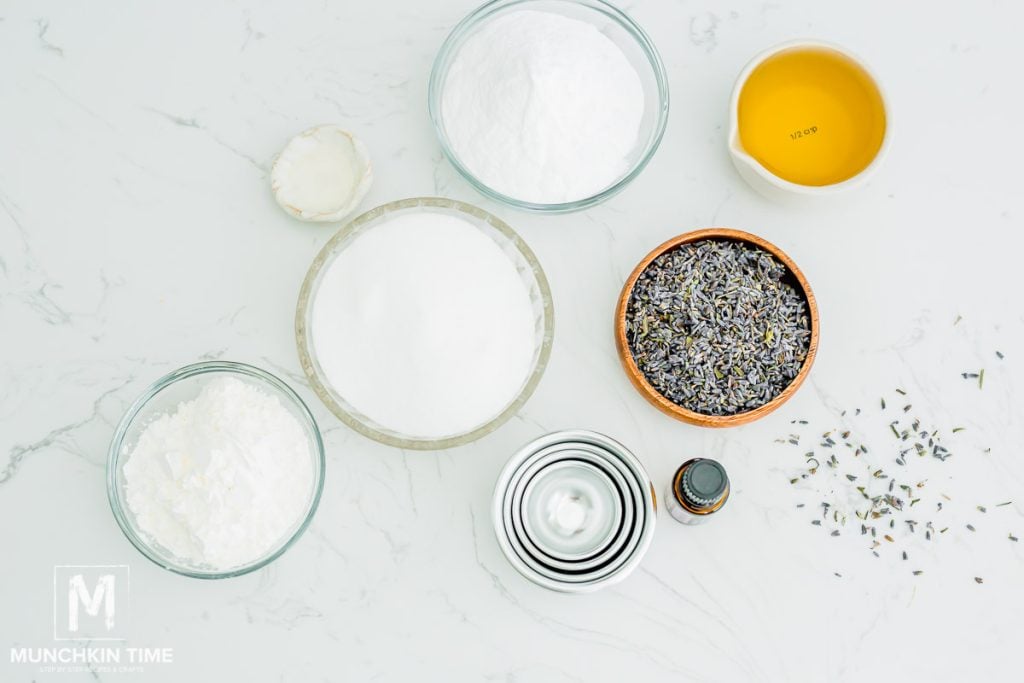 Here's What You Need to Make Lavender Bath Bombs
Baking Soda: This is the base of the bath bomb. Make sure your baking soda is completely dry or it won't react as it should once it hits the water.
Citric Powder: The ingredient that makes it fizz!
Cornstarch: Helps to slow down the rate at which the bath bomb dissolves. The fizz is fun so you want it to last a long time!
Oils: Avocado oil and vitamin E oil are key moisturizing ingredients. This is what leaves your skin feeling smooth after you're out of the tub.
Lavender Essential Oil: This nontoxic and naturally aromatic oil has soothing and calming properties as well as anti-inflammatory properties. It is used as an aromatherapy tool so it is very important to use high-quality essential oils.
Lavender Flowers: A fun optional add-in!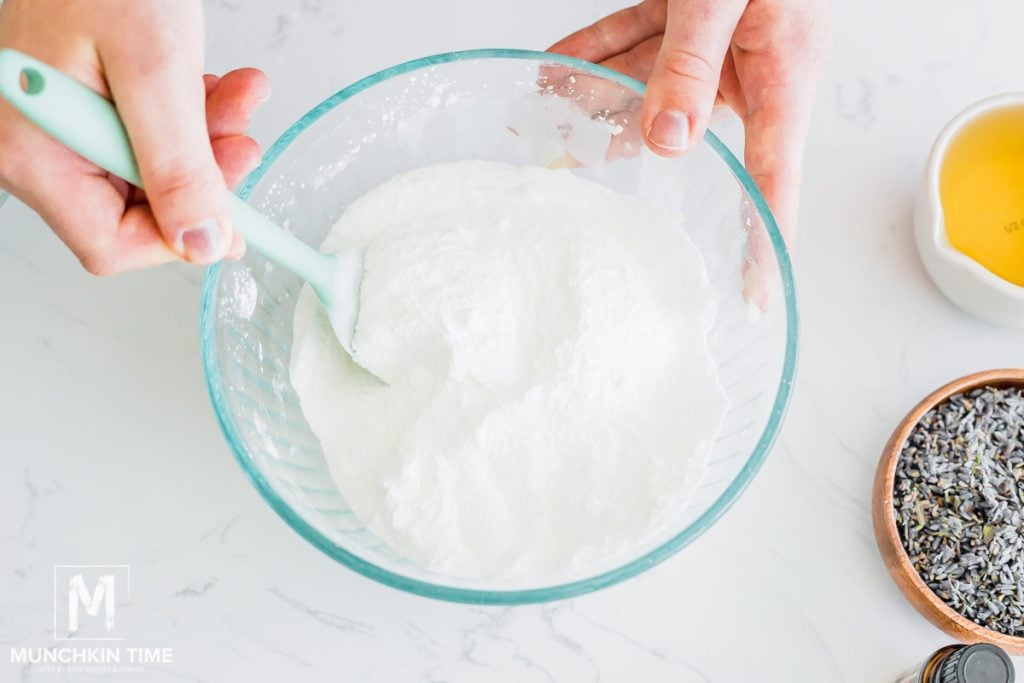 How to Make Bath Bombs
Step 1: In a mixing bowl combine the base of the bath bombs. This trio of ingredients is baking powder, citric powder, and cornstarch. Give them a good mix.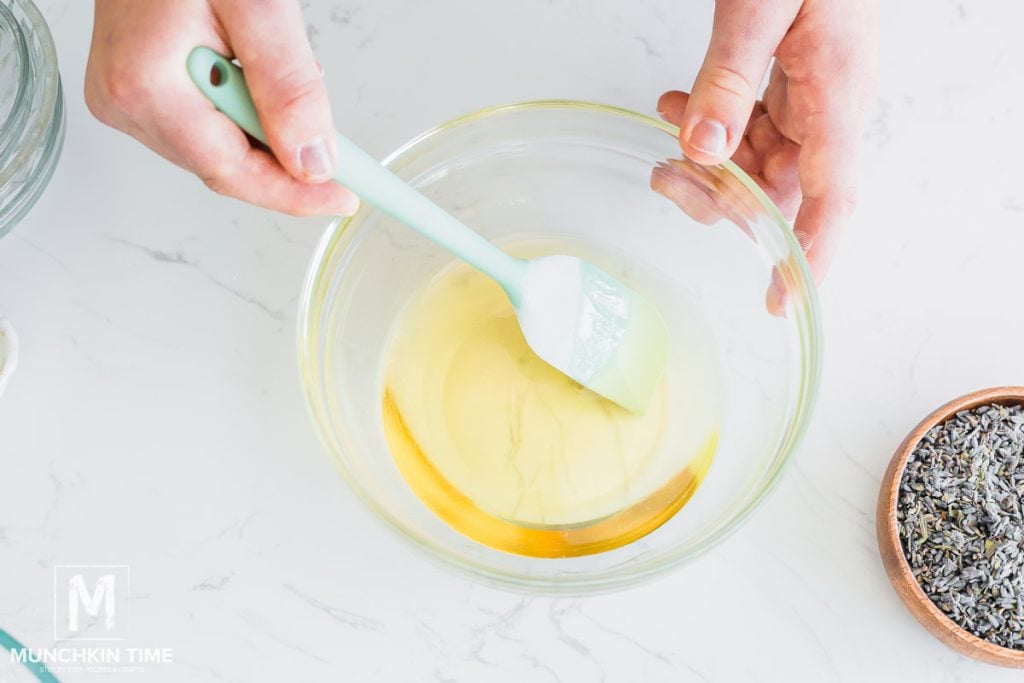 Step 2: In a cup, mix ½ cup of avocado oil with 1 teaspoon of Vitamin E and 10 drops of lavender oil. Mix.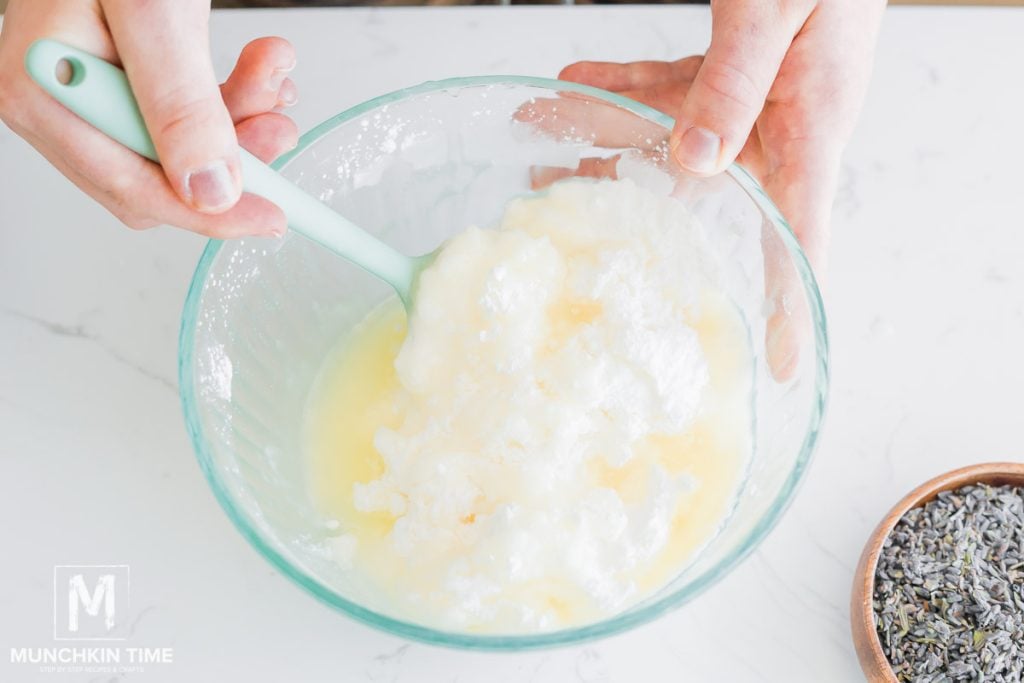 Step 3: Pour the oil mixture into the baking powder mixture and mix to make sure everything is combined. It should feel like wet sand almost.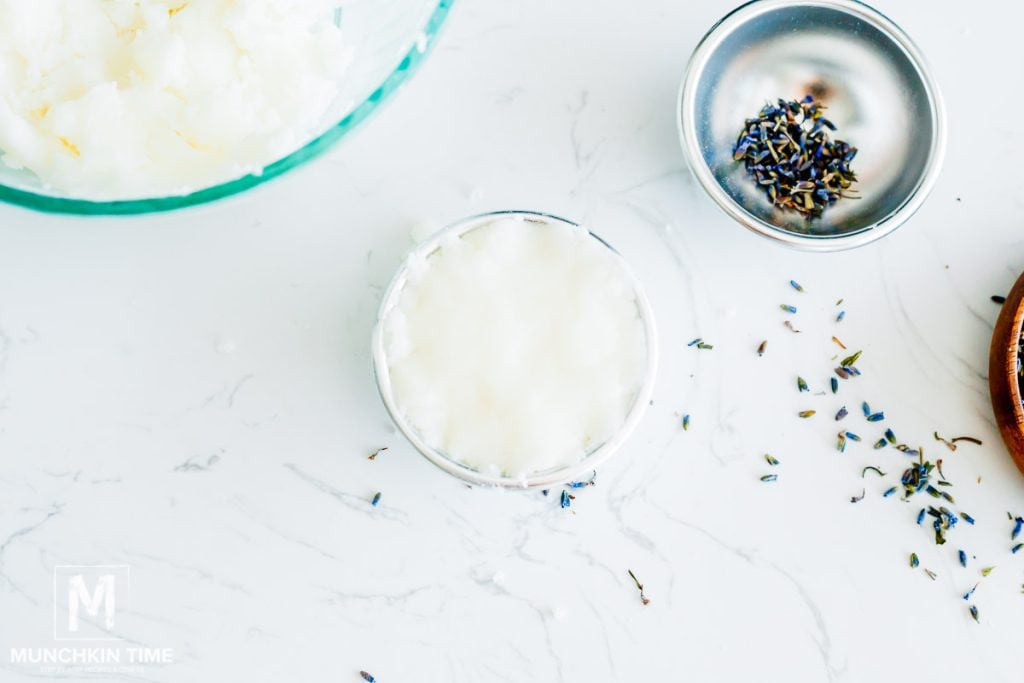 Step 4: Grab your mold and add ½ teaspoon of flowers into the bottom of the mold (if you're using them). Then, pack the molds with the lavender bath bomb mixture. You want to overfill them a bit, so the two halves stick together.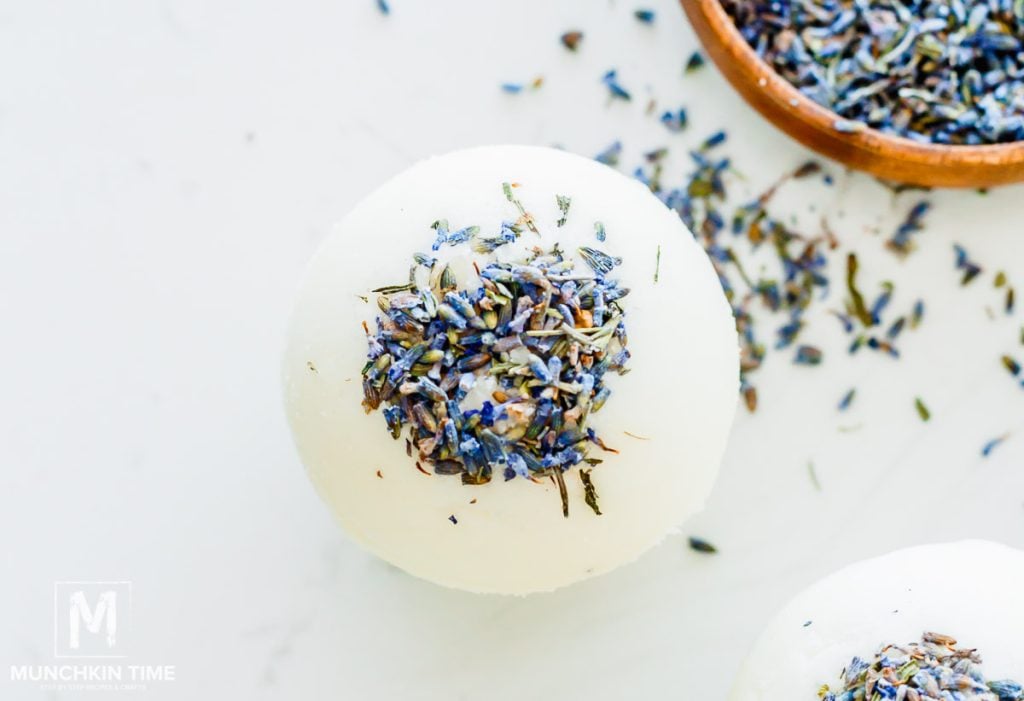 Step 5: Press both sides of the mold together so the mixture stays compact. Leave them like this in the mold overnight.
Step 6: Carefully release the bomb from the molds the next day. Allow them to air dry in a cool dry area for a day or so and then enjoy!
How to Use Bath Bombs
These fun little gems are so easy to use and make bath time that much more special! Fill the bath with warm water and drop a bath bomb in. That's it!
Watch it fizz and dissolve as you relax and enjoy the benefits of lavender bath bombs!
Be careful when you're entering and exiting the tub. The oils can make the surface of the tub a bit slippery.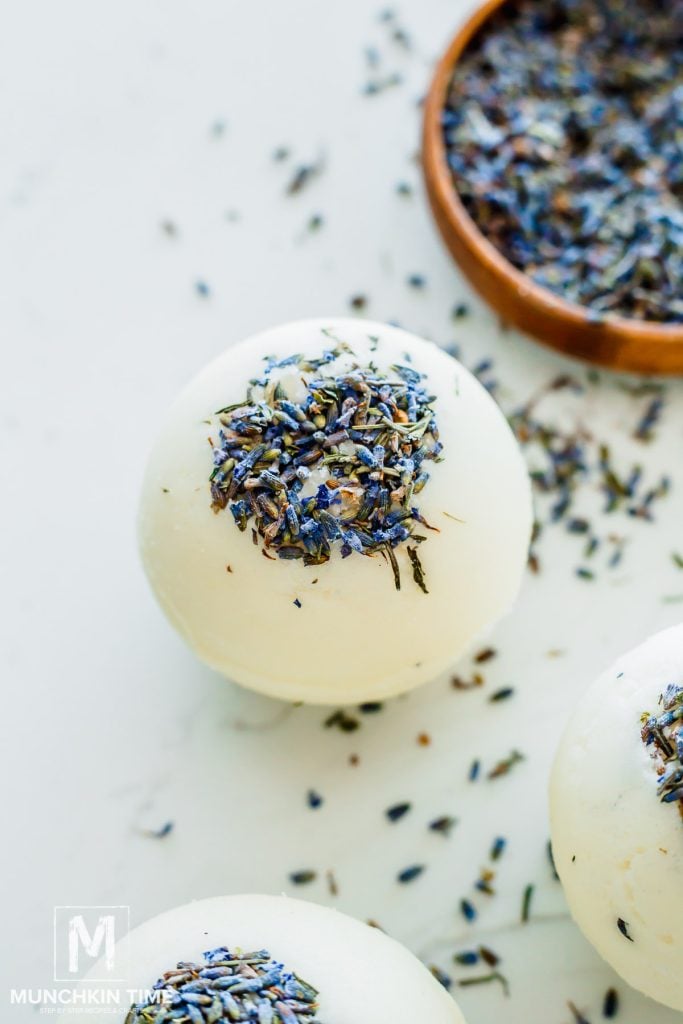 Tips for Making Bath Bombs
Once the bomb is compacted in the mold, do not move it or twist it. Otherwise, it will break!
Make sure that there are no lumps in your mixture. A great way to get rid of them is to sift the mixture through a fine mesh strainer.
This recipe makes 3 bath bombs in total. Feel free to make as many as you'd like!
I like to let them dry for a day or so out of the mold, but you can use them right away if you can't wait.
The bombs can leave residue on your tub. It's easy to clean, but it may look unsightly until you do!
FAQs
Why are my bath bomb halves not sticking together?
This is usually due to the fact that either one or both halves weren't filled enough. They need to be overfilled so they have enough mixture on the other side to adhere to.
How should I store bath bombs?
For best results store them in an airtight container away from direct heat, sun, or moisture. If not, you might find they fall apart and they will lose moisture and their aroma. They will also no longer fizz.
How long will these lavender bath bombs last?
If stored properly, these little guys can have a shelf life of up to 9 months or longer. Keeping them away from moisture is key to their lasting a long time!
Are these hypo-allergenic?
While they are made with natural and non-toxic ingredients, I can not say they are hypoallergenic. Always consult with your healthcare practitioner before using any new products on your skin. Essential oils have so many wonderful benefits, but only if you're not allergic to them!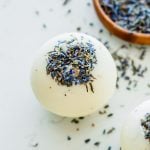 Print
Lavender Bath Bombs
Yield:
3
bath bombs (medium size)
Instructions
In a mixing bowl combine 1 cup of baking powder, citric powder and cornstarch. Give it a good mix.

In a cup mix 1/2 cup avocado oil with 1 teaspoon vitamin E and 10 drops of lavender oil. Mix.

Pour oil mixture into a baking powder mixture. Mix until everything is combined. Add 1/2 teaspoon of lavender flowers into the bottom of the mold, then pack the molds with the bath bomb mixture. Let the bath bombs rest inside the mold (best overnight). After carefully remove the molds and let air dry for a day (or use right of way).

To use, fill bath with warm water add the bath bomb and enjoy.
Notes
This recipe makes 3 bath bombs in total. Feel free to make as many as you'd like!
When 
YOU make this Bath Bomb Recipe 
please tag us @munchkintimeblog on Instagram, we would LOVE to see your creation! 
Hi! All content & images are copyright protected. Please do not use my images without prior permission. If you want to republish this recipe, please re-write the recipe in your own words, or simply link back to this post for the recipe. Thank you.
Q. – Do YOU like this Bath Bombs Recipe?
Let me know in the comments below, I would love to hear from you!
Thank YOU for YOUR Comment, Share & Recipe Review!