Baba Ganoush – The Best Baba Ganoush recipe is at your fingertips! Roasted eggplant, tahini, garlic, lemon juice, and earthy, smoky spices come together in this rich and creamy dip perfect for appetizer platters during the holidays!
When YOU make Baba Ganoush please tag my name @munchkintimeblog on Instagram, we would LOVE to see your creation!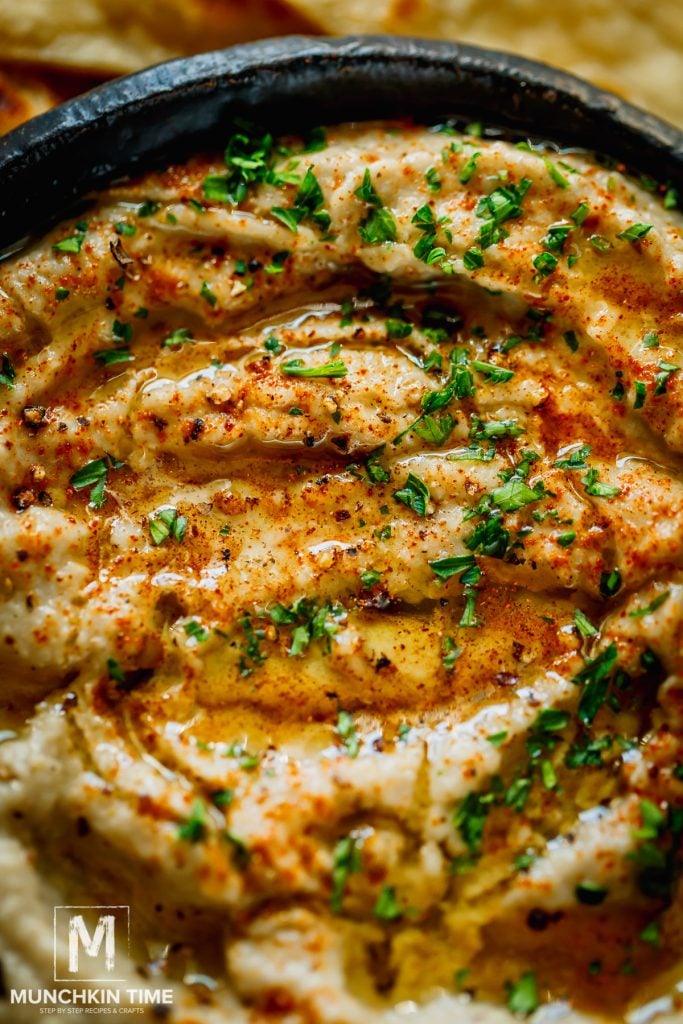 Learn to make this super simple and incredibly flavorful Baba Ganoush recipe and impress your guests with this tantalizing appetizer for Thanksgiving or Christmas this year.
This roasted eggplant dip is smooth, earthy, and smoky, and combines ingredients widely used in Mediterranean cuisine and yet easily accessible in your local grocery stores. In fact, you may have most of what you need on hand!
It's the perfect appetizer for holiday gatherings and special occasions and as easy as it is to make, it looks and tastes like something you'd only get at fancy restaurants!
Once you roast the eggplant and allow it to drain so it's not too watery, blend it with the remaining ingredients, sprinkle it with garnish and it's ready to serve with homemade or store-bought pita bread.

There's nothing better and I just know you'll love this homemade Baba Ganoush as much as my family does!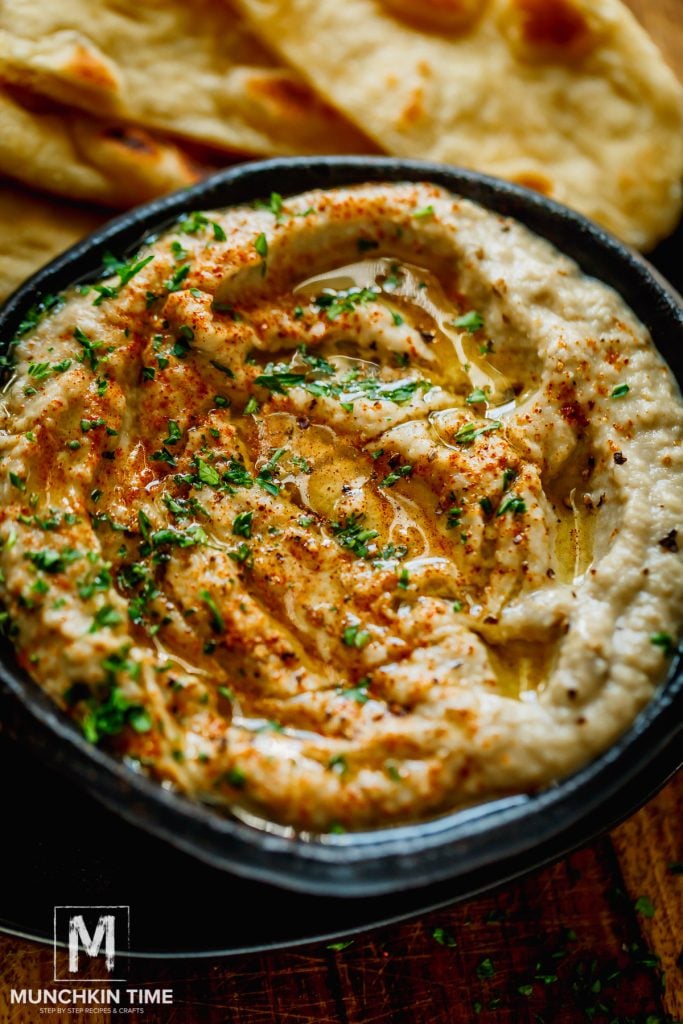 What is Baba Ganoush?
In a nutshell, it's a smoky, savory, and earthy eggplant dip that is smooth in consistency and deep in flavor. This dip is served as an appetizer, usually with pita bread, but of course you can dip whatever you like in it.
The basic ingredients are eggplant, tahini, olive oil, garlic, and lemon juice, and then you can add whatever spices you like. For best results, I add cumin and salt to the dip itself and save the cayenne and smoked paprika for garnish. It's so good!
Baba Ganoush vs Hummus
You may notice some similarities in the ingredients used for both of these glorious dips. The main difference is that Baba Ganoush is made with roasted eggplant, whereas hummus is made with chickpeas. Of course, there are varieties of both, but traditionally, that's the difference.
Ingredients
One of the great things about this recipe is that everything (except the eggplants) can be added in according to your tastes. The amounts are just guidelines, so do taste tests along the way and add more seasoning to your liking!
Large Eggplants: These will be roasted whole, so no need to peel them. Look for eggplants that are smooth on the outside, and have a bright green stem. They should be heavy, not mushy, and have no signs of rot around the stem.
Tahini: This is a sesame seed paste that adds a nutty flavor to the dip. You can make your own if you'd like, but I usually just grab some from the store.
Lemon Juice: Freshly squeezed lemon juice brightens up the dip!
Garlic: For extra flavor. Garlic makes all kinds of dips just taste that much better.
Cumin: A warm, earthy spice that gives off nutty aromas and flavors.
Extra Virgin Olive Oil: Oil is needed to help blend everything into a dip.
Sea Salt & Parsley: Seasoning to taste and fresh parsley for a fresh herbaceous pop!
For Garnish: Cayenne pepper, smoked paprika, black pepper
For Serving: Warm homemade pita bread. Store-bought works too!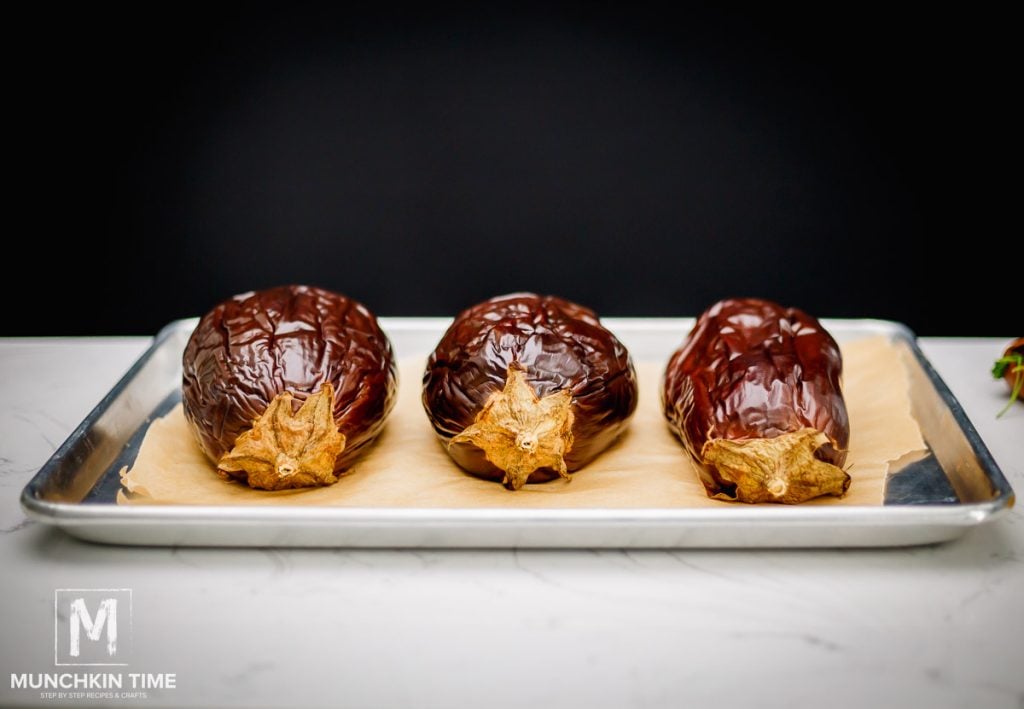 How to Make Baba Ganoush
Step 1: Pierce the outside of the eggplants with a fork and place them on a parchment-lined baking sheet. Roast in the oven at 400F for 50-50 minutes until the eggplants are soft. Let them cool.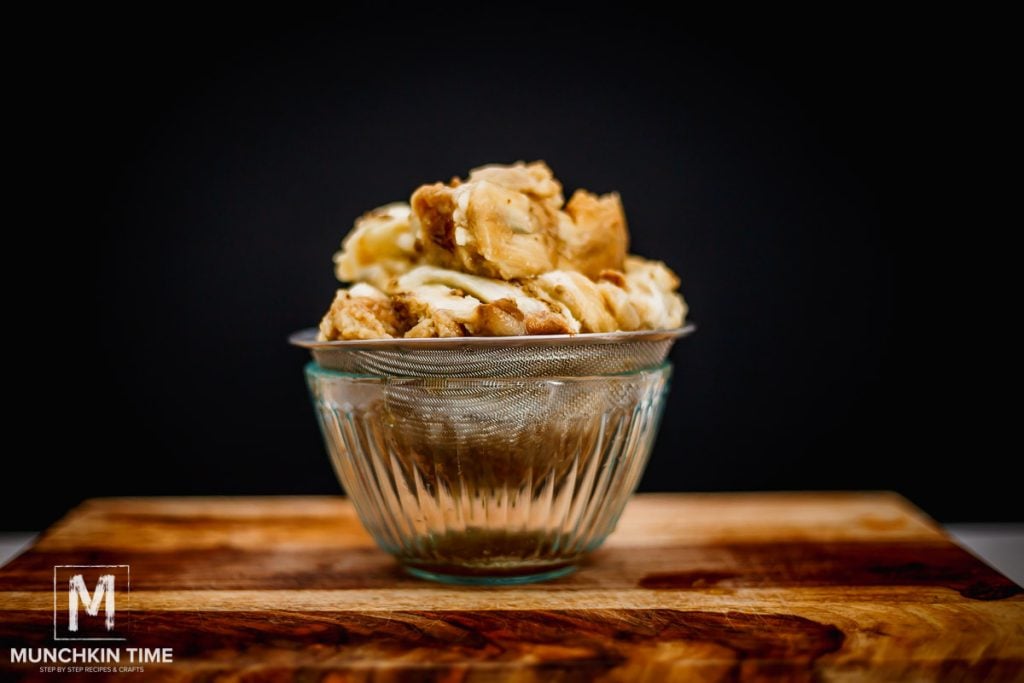 Step 2: Once cool to the touch, cut the eggplants in half and remove and transfer the flesh to a colander. Allow it to drain for 20 minutes. This will get rid of any excess water so that your dip doesn't end up too runny.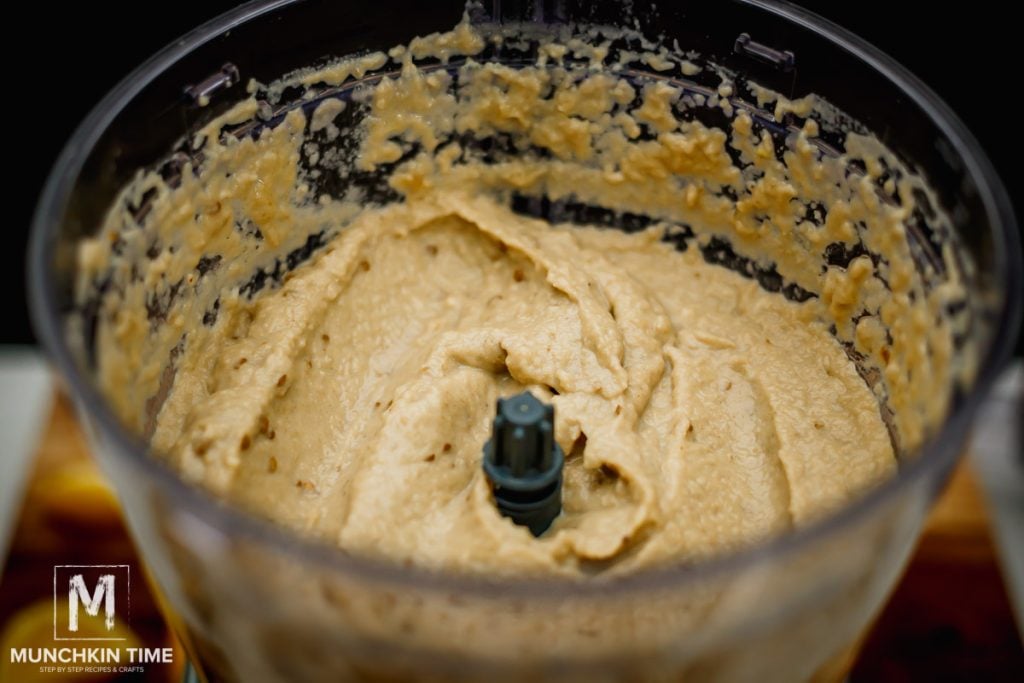 Step 3: Place the drained eggplant into a food processor along with the tahini, lemon juice, garlic, cumin, olive oil, and salt. Pulse until the mixture is as smooth as you like it. Season with additional salt to taste.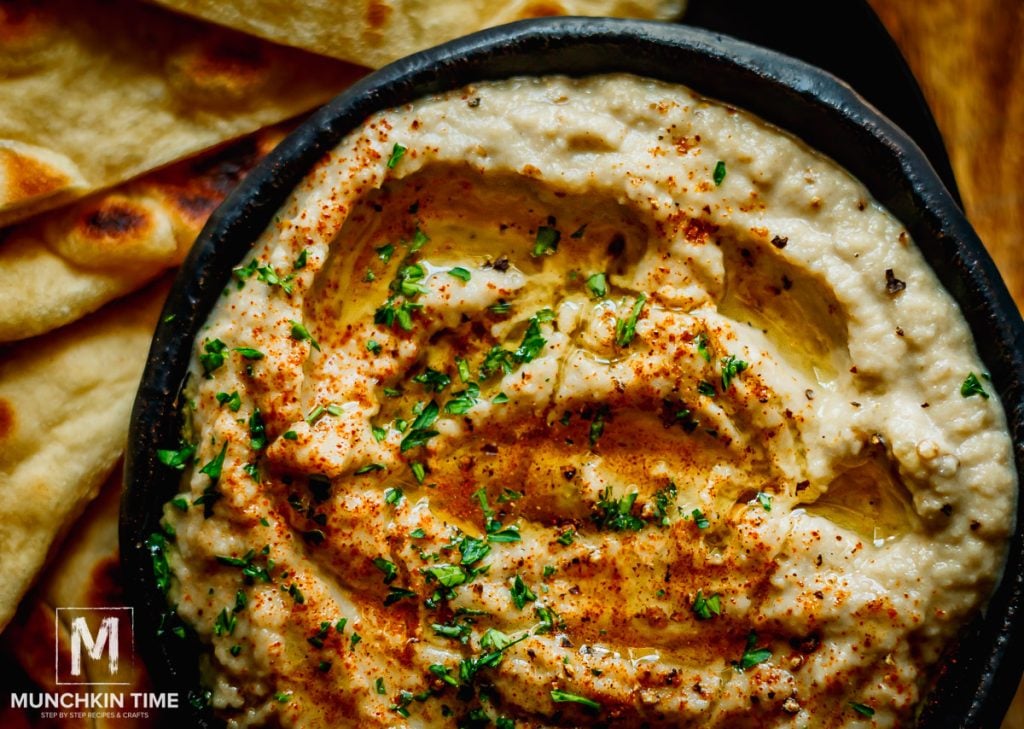 Step 4: Transfer the baba ganoush into a serving dish and drizzle with olive oil to taste. Sprinkle the top with cayenne pepper, smoked paprika, and black pepper. Add some chopped parsley and it's ready to enjoy warm served with your favorite dippers!
Recipe Tips
For faster cooking and to get a bit more of the roasted flavor in the flesh, feel free to cut the eggplant in half and roast the flesh side down rather than whole.
No food processor? No problem. The eggplant will be soft enough to mix by hand. It won't be as smooth and will probably have some texture to it, but that's completely fine!
Don't skimp on the seasonings. Of course, season to your liking, but since eggplant is quite bitter on its own, you'll want to make sure you add enough salt and seasoning to your baba ganoush.
Baba Ganoush FAQs
What should I serve with baba ganoush?
As mentioned above, we love scooping up this dip with warm, homemade pita bread! You can also serve it as part of a mezze platter and have an assortment of dippers like fresh vegetables, bread sticks, pita chips, tortilla chips, crackers, you name it!
How to store this eggplant dip?
If you are lucky enough to have any left, feel free to store it in an airtight container in the fridge for up to 4 days. Enjoy it as a side dish for tomorrow's dinner if you'd like!
Where does Baba Ganoush originate from?
Originating in the Eastern Mediterranean/Middle East, it has a literal translation of "spoiled dad." You'll soon understand why it got this name. You'll feel totally spoiled with just one bite!
Eggplant Dip (Baba Ganoush)
Roasted eggplant, tahini, garlic, lemon juice, and earthy, smoky spices come together in this rich and creamy dip perfect for appetizer platters during the holidays!
Ingredients
3

large

eggplant

1/4

cup

tahini

or to taste

2

tablespoons

lemon juice

or to taste

3

cloves

garlic

peeled & chopped

1/2

teaspoon

ground cumin

or to taste

2

tablespoons

extra virgin olive oil

plus more for garnish

sea salt

to taste

3

tablespoons

parsley

finely chopped
Instructions
Preheat the oven to 400F. Line baking sheet with parchment paper. Place eggplants on parchment paper and poke each eggplant with a knife, few times. Bake for 50-60 minutes, or until the eggplant is soft. Remove from the oven and let cool.

Cut eggplant in half and remove the flesh into the colander, let drain for 20 minutes.

After, place the flesh into the food processor with tahini, lemon juice, garlic, cumin, olive oil and salt. Pulse until smooth, season with additional salt if needed.

Transfer onto a serving dish and drizzle with olive oil, to taste and sprinkle cayenne pepper, smoked paprika and black pepper. Garnish with chopped parsley. Serve with warm pita bread. Enjoy!
Notes
When YOU make Baba Ganoush please tag my name @munchkintimeblog on Instagram, we would LOVE to see your creation!
Hi! All content & images are copyright protected. Please do not use my images without prior permission. If you want to republish this recipe, please re-write the recipe in your own words, or simply link back to this post for the recipe. Thank you.
Nutrition
Calories:
122
kcal
Carbohydrates:
13
g
Protein:
3
g
Fat:
8
g
Saturated Fat:
1
g
Polyunsaturated Fat:
2
g
Monounsaturated Fat:
4
g
Sodium:
7
mg
Potassium:
449
mg
Fiber:
6
g
Sugar:
6
g
Vitamin A:
217
IU
Vitamin C:
8
mg
Calcium:
32
mg
Iron:
1
mg
Q. Do YOU like this Baba Ganoush Recipe?
Let us know in the comments below, we would love to hear from you!
Thank YOU for YOUR Comment, Share & Recipe Review!