Pita Bread Recipe – Learn how to make pita bread right in your own kitchen! Using just 6 ingredients, this delicious flatbread can be made in minutes. Once the dough rises, all you need to do is divide it, roll it, and cook it! I know you're going to love this soft, puffy pita bread as much as my family does!
When YOU make this Pita Bread Recipe please tag us on @munchkintimeblog on Instagram, we would LOVE to see your creation!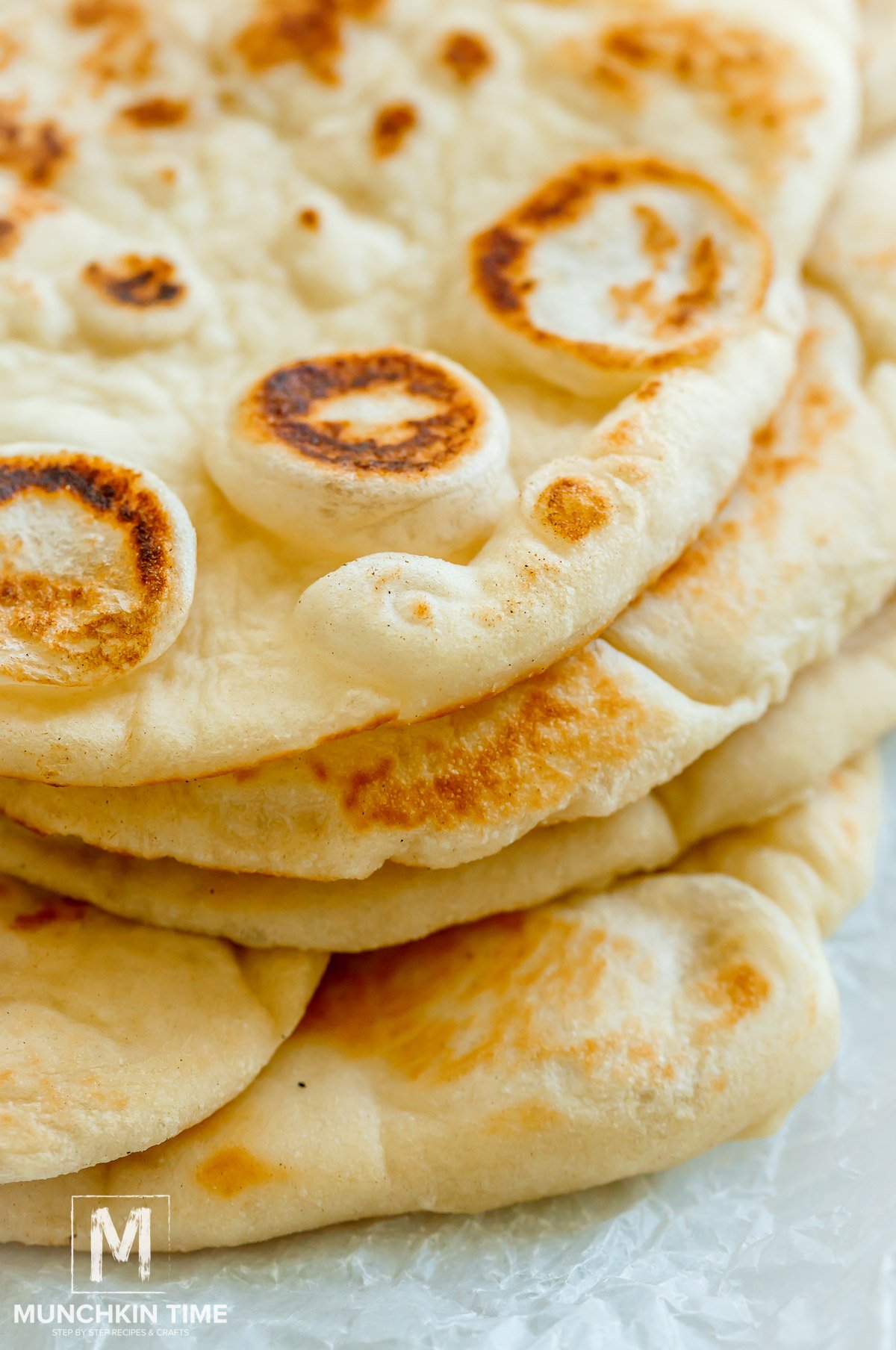 We love pita bread in our home! If we were to buy it as often as we eat it, we'd be broke! So we make it easily from scratch with simple ingredients most of us always keep on hand. We said goodbye to store-bought pita bread and have never looked back.
There is nothing better than freshly made pita bread from scratch!
All you need is bread flour and yeast, then salt, sugar, water, and oil make up the rest. Make the dough, let it rest, roll it out then pan-fry it in a skillet until warm and puffy!
Use it on the side of soups and stews or stuff it with grilled pork kabobs, use it to wrap your Mediterranean meat kabobs or chicken gyros, and dip it alongside chicken shashlik and creamy garlic yogurt sauce. Sometimes we'll even use it as a pizza crust when we make homemade pizzas!
It always tastes amazing no matter how it is used and when it's on the table, everyone tries to grab the last one!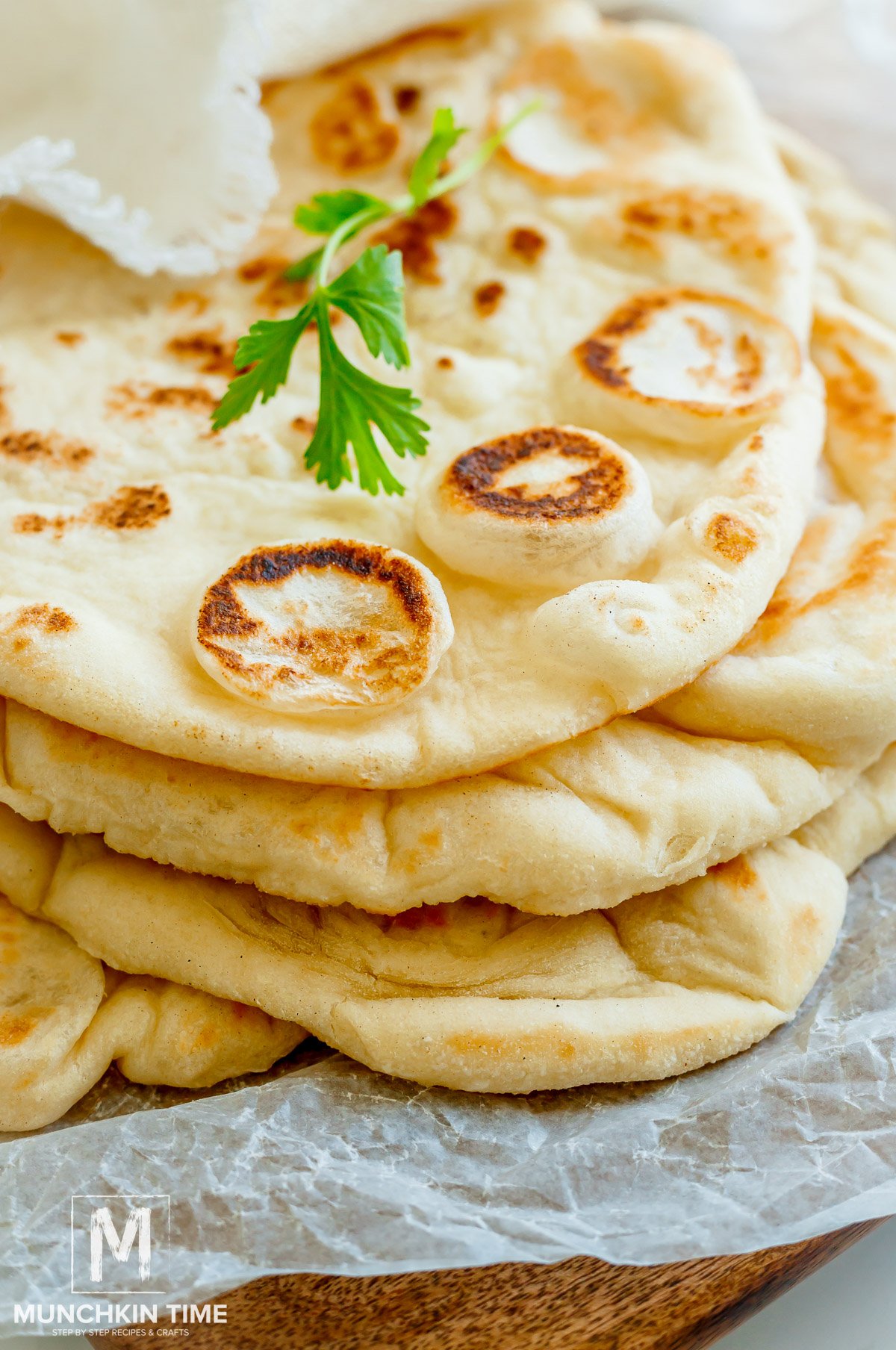 What is Pita Bread?
Pita bread is a Mediterranean flat bread made with yeast (ironic, I know!). It's widely known for the fact that once it puffs up it creates a hollow pocket on the inside which can be stuffed with all kinds of things!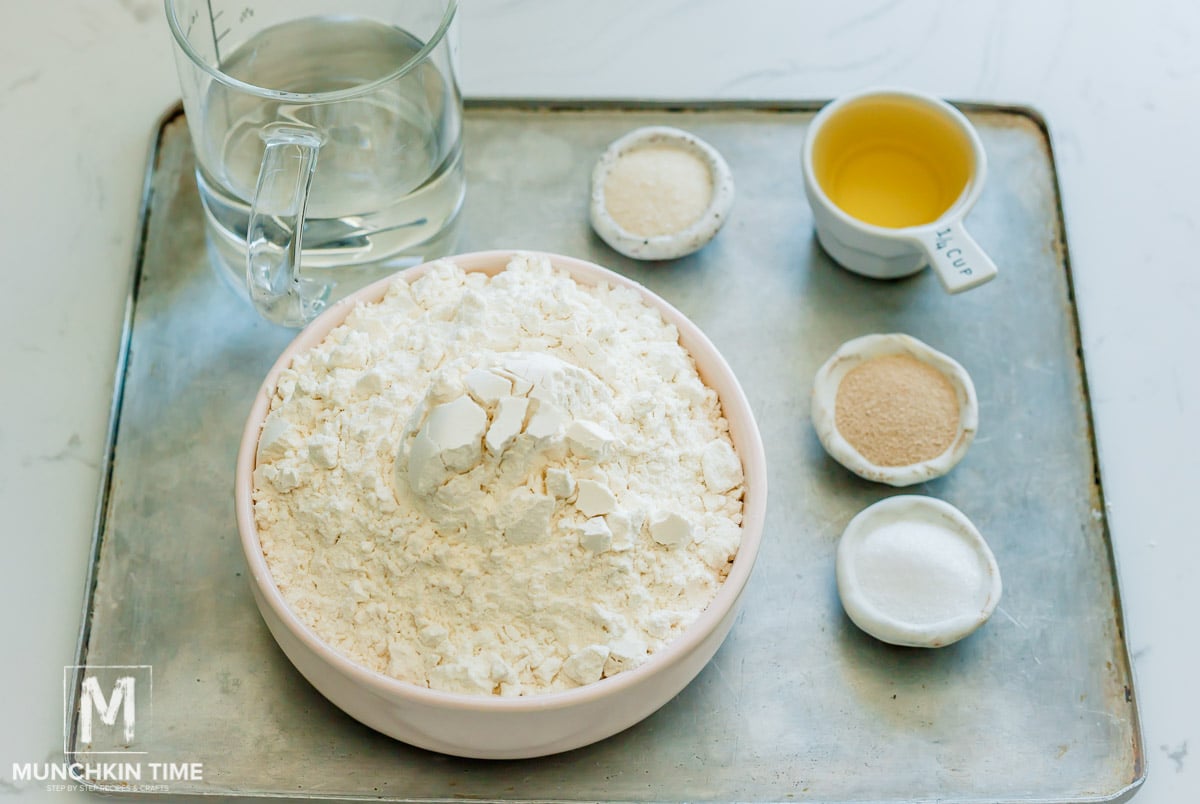 Ingredients Needed for Skillet Pita Bread
Bread Flour: I love using bread flour for pita bread as I find it produces the softest results. Some people prefer to use wheat flour (which is the traditional way) or all-purpose flour or a combination of different types of flour.
Rapid Rise Yeast: We're not proofing the yeast ahead of time, so we need the type of yeast that will activate while it's mixing with the other dough ingredients. Make sure it's fresh, otherwise, it won't work and you'll have to start over!
Salt: This helps to add a little flavor to the dough.
Lukewarm Water: Warm water helps the yeast to thrive. If it's too hot it will kill the yeast. If it's too cold it won't puff up your pita bread!
Avocado Oil: For frying the skillet pita.
Sugar: Yeast feeds on sugar so it is needed to help activate it. The sugar also adds a bit of extra flavor to the bread.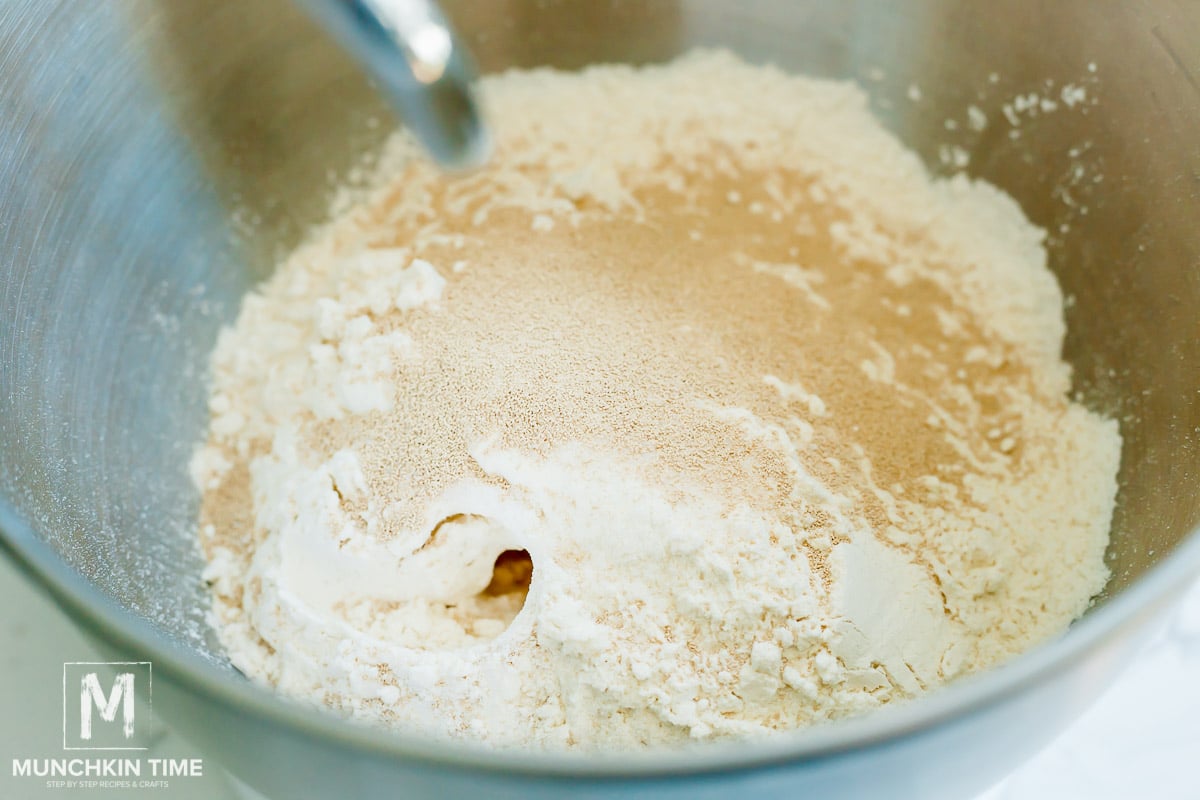 How to Make Pita Bread from Scratch
Step 1: In the bowl of a stand mixer, add the flour, yeast, and salt. Use the whisk attachment to quickly mix and combine. Turn off the mixer.
Step 2: In a separate bowl, whisk the water, oil, and sugar together until the sugar dissolves.
Step 3: Replace the whisk attachment with the dough attachment on the stand mixer and turn the speed on low. Slowly pour in the water mixture until it forms a dough. Continue mixing on low speed until everything is incorporated, scraping down the sides of the bowl as needed.
Step 4: Turn the speed to medium-low and continue kneading for 8 minutes until the dough is fully formed and starts pulling away from the sides of the bowl.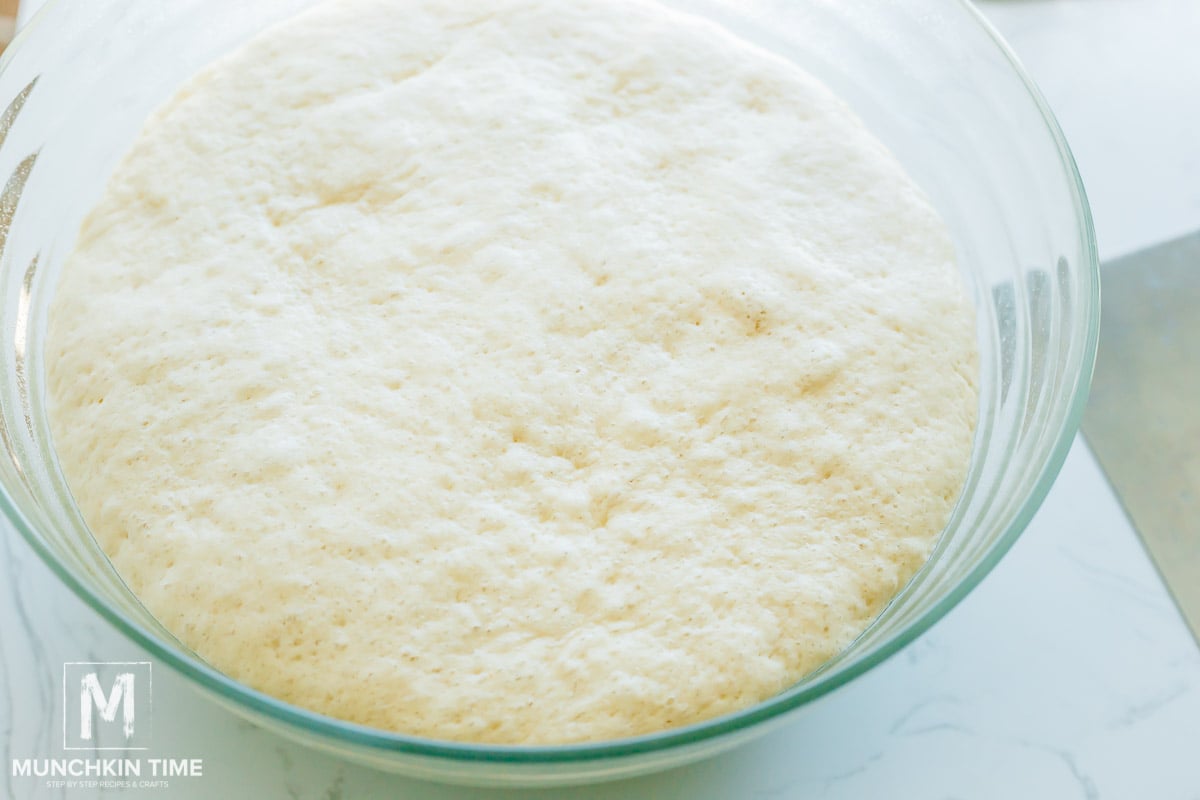 Step 5: Transfer the dough to a lightly greased bowl. Cover it and let it rise for 1-2 hours in a warm draft-free area until it doubles in size.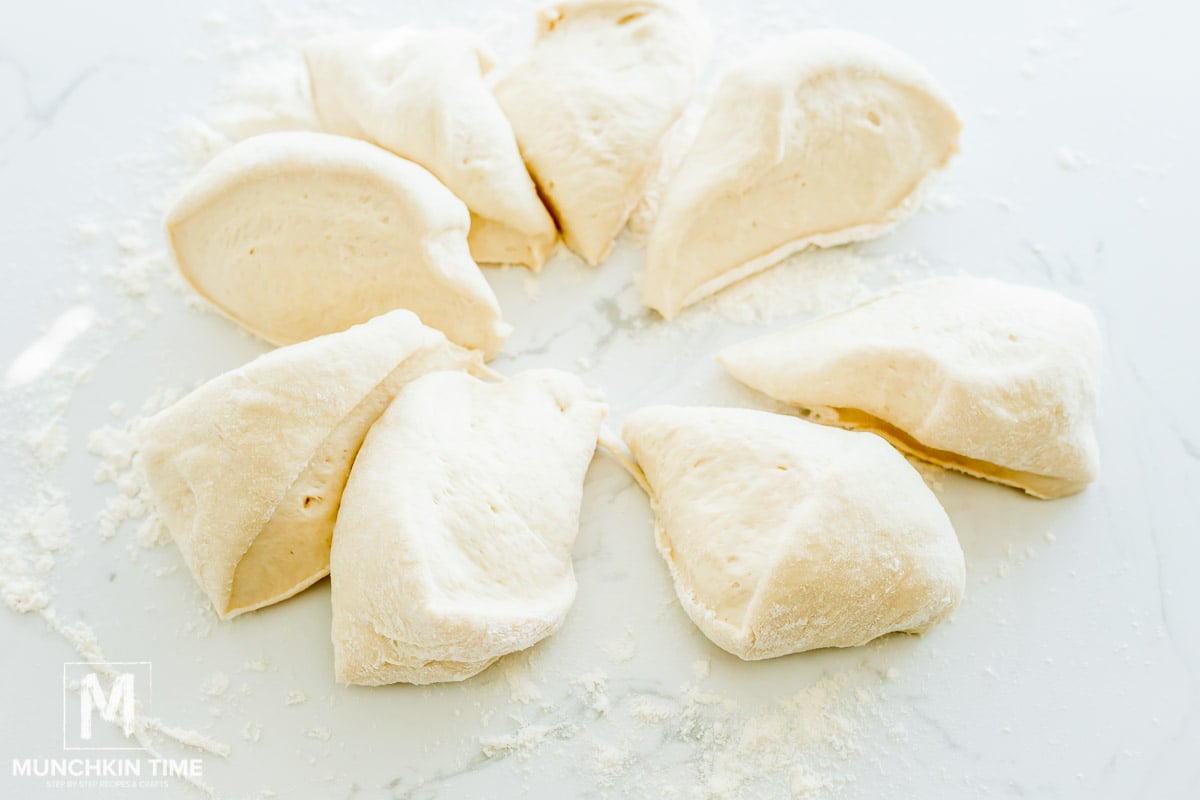 Step 6: Place the dough onto a floured surface and use a flour scraper, pizza cutter, or knife to divide the dough into 8 equal pieces.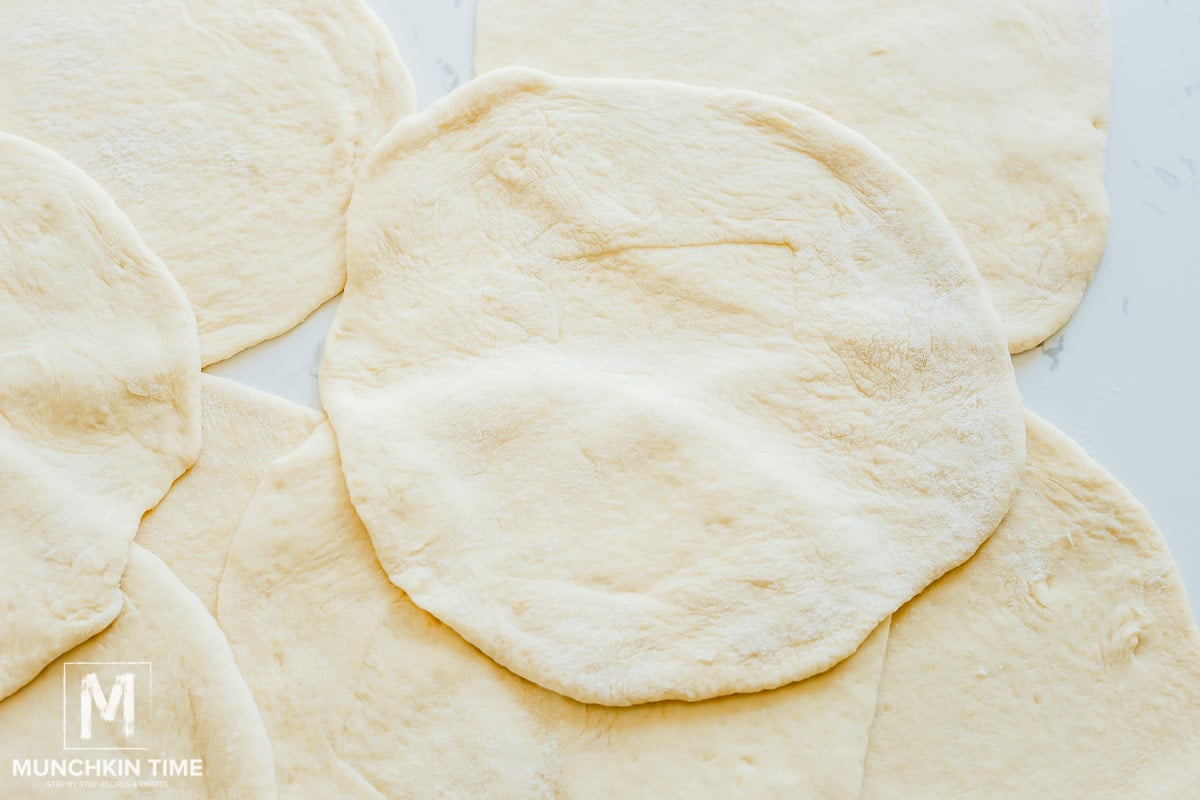 Step 7: Roll each piece into a circle and cover it once again to let it rest for 20 minutes.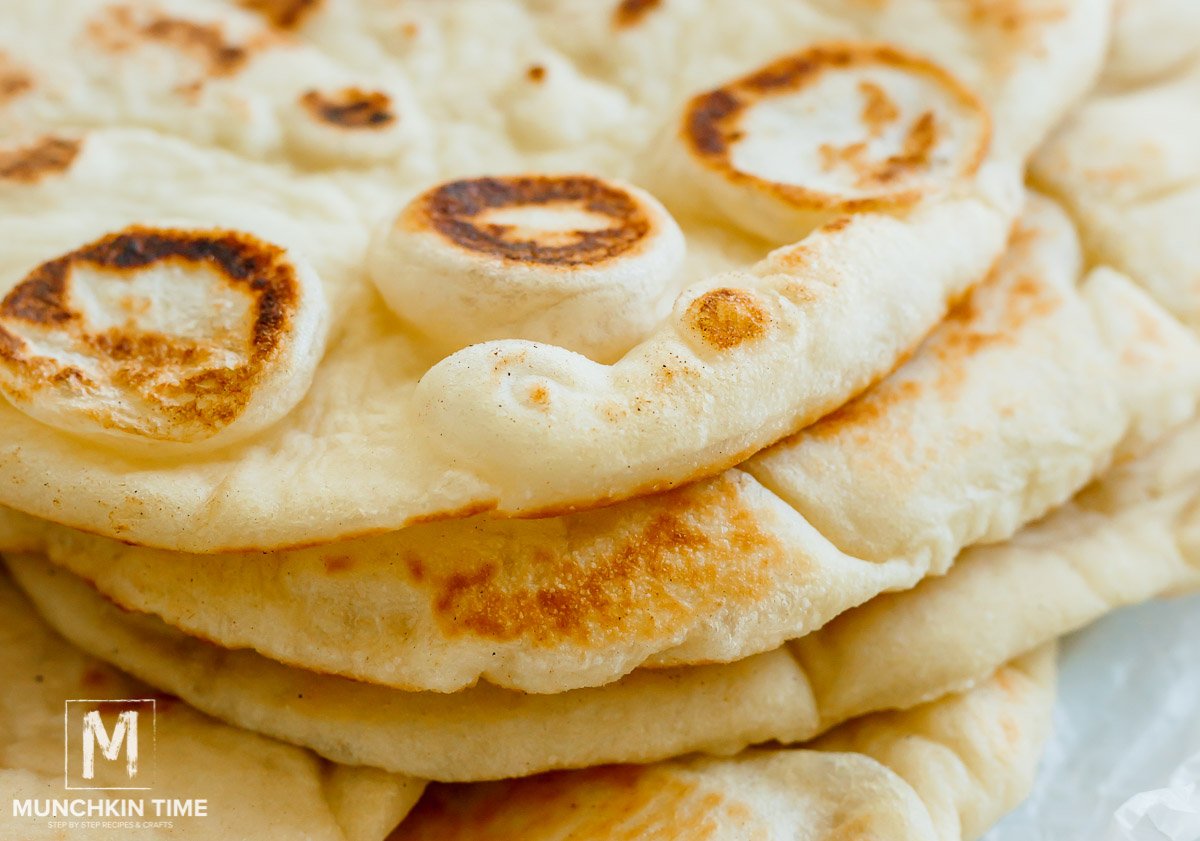 Step 8: Preheat the nonstick skillet (preferably cast-iron skillet) over medium heat. Brush it with avocado oil. Once it is hot enough, add one round of dough to cook until golden brown on one side. Flip and cook the other side for a few more minutes.
Step 9: Set it aside on a plate underneath a towel to keep it from drying out and continue with the remaining dough.
Recipe Tips
To make this a gluten-free pita bread recipe, swap the bread flour for gluten-free all-purpose flour. It will yield a different texture but it will still be great.
Make sure the oil and skillet are hot enough before adding the dough. This is how to get your bread to puff up! If it's not hot enough it will stay flat.
Make the dough up to 1 week ahead of time. Get a head start and make it, keep it in the fridge, and then cook it when you're ready to enjoy it fresh.
Once baked, you can also freeze them! Thaw them on the counter and warm them up on the stove or in the microwave.
FAQs
How long does pita bread last?
Homemade pita bread can last at room temperature for up to 3 days. Keep it stored in an airtight container or zip-top bag so that it doesn't dry out.
Is pita bread vegan?
It is vegan! There are no animal products in this recipe. No dairy, or eggs to be found!
Is pita bread healthy?
Sure it is! Unlike store-bought versions, you won't find any additives or preservatives in this recipe. Just simple, wholesome ingredients.
You can also increase the nutritional value based on what you put in it! Hummus, leafy greens, loads of veggies, you name it!
Why did my pita not puff up?
Truthfully, the stove top skillet method won't result in as big of a puff as other ways of making pita. You may only notice a small puff and that's ok! It's a flatbread that will taste great.
pita bread recipe
Pita Bread Recipe - how to make pita bread right in your own kitchen, using 6 ingredients! This delicious flatbread can be made in minutes.
Ingredients
3 2/3

cups

bread flour

2 1/2

teaspoons

rapid rise yeast

2

teaspoons

sea salt

1 1/3

cups

water

luke warm

1/4

cup

avocado oil

plus 1 tablespoon for cooking

2 1/2

teaspoons

sugar
Instructions
Into the stand mixer bowl add flour, yeast and salt, mix until combined. Into a separated boil add water, oil and sugar, whisk until sugar dissolves.

Turn stand mixer on low speed and slowly pour in water mixture. Mix on low until flour is mixed into the dough, scrap down the bowl if needed. After turn up the speed to medium-low and mix for 8 minutes.

Place the dough into a lightly greased bowl, cover and let rise for 1-2 hours, or until doubles in size (placing the bowl in a warm place helps).

Flour the surface with flour and divide the dough into 8 equal pieces. Roll each piece into a circle about 8 inches. Cover and let rest for 20 minutes.

Preheat the non stick or cast iron skillet over medium heat, brush the skillet with avocado oil (or add a little splash of oil). Once the oil is hot add dough and cook until golden brown color. Flip to the other side and cook for few more minutes. Transfer onto a plate lined paper towel and enjoy!
Notes
Hi! All content & images are copyright protected. Please do not use my images without prior permission. If you want to republish this recipe, please re-write the recipe in your own words, or simply link back to this post for the recipe. Thank you.
When 
YOU
 make this 
Pita Bread Recipe
 please tag us on @munchkintimeblog on Instagram, we would LOVE to see your creation! 
Nutrition
Calories:
272
kcal
Carbohydrates:
43
g
Protein:
7
g
Fat:
8
g
Saturated Fat:
1
g
Polyunsaturated Fat:
1
g
Monounsaturated Fat:
5
g
Sodium:
585
mg
Potassium:
57
mg
Fiber:
1
g
Sugar:
1
g
Vitamin A:
1
IU
Calcium:
10
mg
Iron:
1
mg
Q. Do YOU like this Pita Bread Recipe?
Let us know in the comments below, we would love to hear from you!
Thank YOU for YOUR Comment, Share & Recipe Review!