Grilled Pork Kabobs – Impress your family or guests at your next BBQ with these juicy, flavorful pork kabobs! They're so easy to make with a simple marinade of salt, pepper, onions, and vinegar, and a quick trip to the grill. Serve them as a main dish or as an appetizer!
When YOU make Easy Pork Recipe please tag us on @munchkintimeblog on Instagram, we would LOVE to see your creation!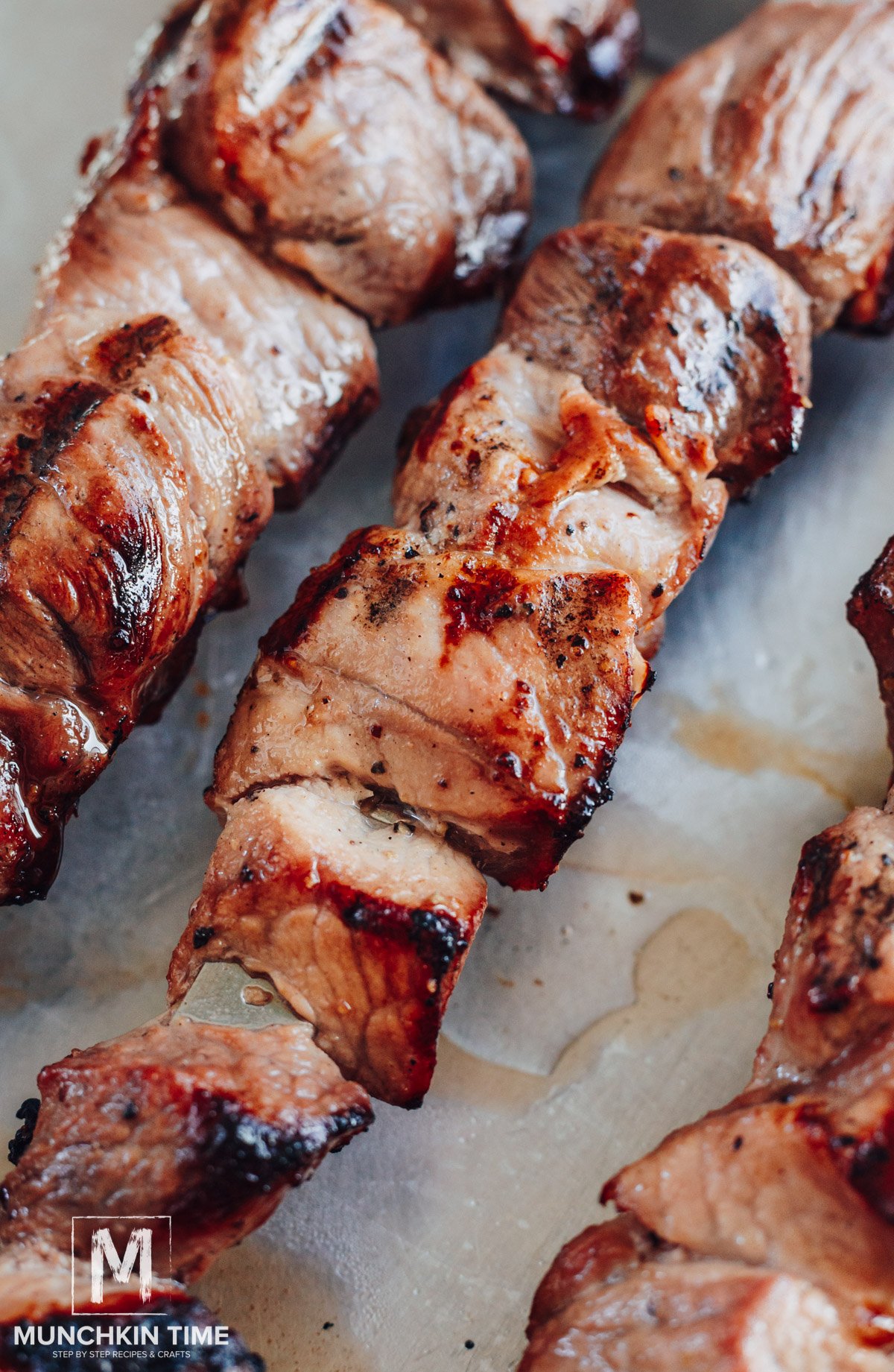 I love the grilling season! It gives me a great excuse to try different marinades and dry rubs and see which ones I can use on various types of protein. Getting creative is so much fun, but sometimes keeping it simple is the best way to go.
These pork skewers are made from cubes of tender pork shoulder marinated overnight in a 4-ingredient pork shish kabob marinade and then grilled on high heat to get that beautiful char and crisp edges. They are my husband's favorite!!
We use onions, salt, and pepper, then, a little while before grilling, we add vinegar which helps to tenderize the meat even more. It's crazy how this basic pork shish kabob marinade can transform raw meat into bite-size pieces of juicy tender pork that no one can get enough of!
The shish kabobs make a great addition to any party platter of appetizers or finger foods. You can enjoy them with a dipping sauce, or as part of a main meal when served with rice. No matter how you eat them, just make lots, because they won't last long!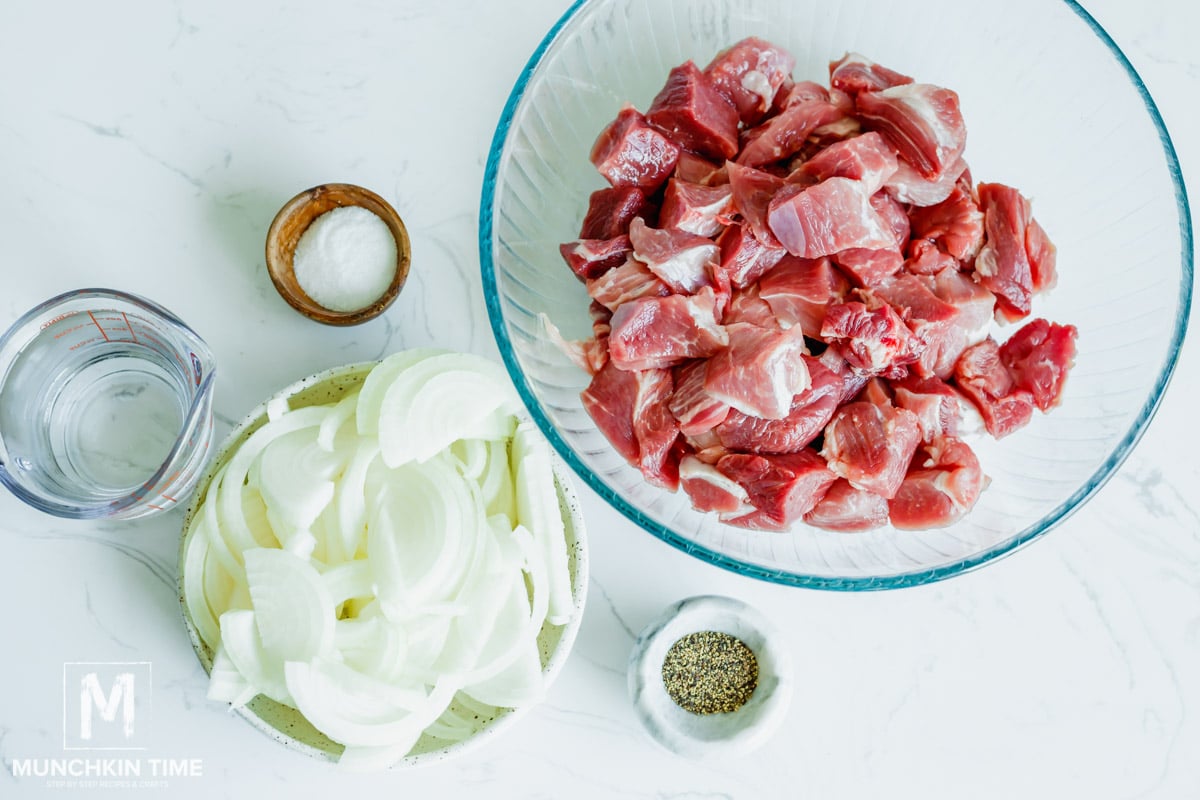 Ingredients for Pork Kabobs
Pork Shoulder: Trim any excess fat and cut it into 1-inch cubes.
Whole Onions: Slice into rings. Onions added to the marinade will help to infuse the meat with aromatic flavor.
Salt & Pepper: A simple seasoning to help flavor the meat. The salt helps to draw out the moisture and helps the meat to get a nice sear on the outside.
Vinegar: Adds a tanginess to the flavor and the acid helps to break down the fibers tenderizing the meat so that it is easy to bite into!
For this recipe, you'll need skewer sticks. Depending on whether or not you grill kabobs a lot, you may want to invest in reusable metal skewers.
Although I do also make Greek Shish Kabobs and Mediterranean Beef Kabobs often, I still like to use wooden skewers. There's something rustic about their presentation!
How to Make Pork Kabobs
Step 1: To a large mixing bowl, add the pork shoulder cubes, onion rings, salt, and pepper.
Step 2: Mix everything to combine, making sure all pieces of meat are well coated and evenly seasoned.
Step 3: Cover with plastic wrap and place it in the fridge to marinate overnight. If not overnight, at least 6 hours.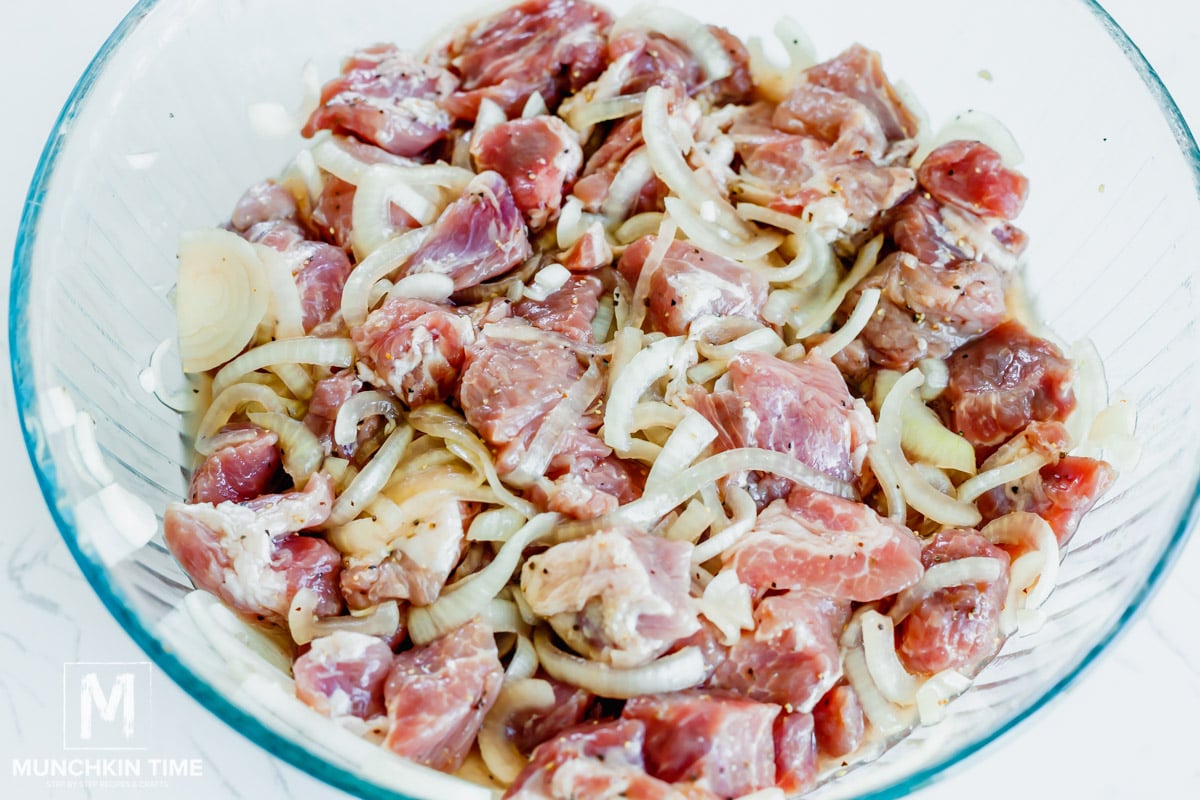 Step 4: 30 minutes before grilling, add the vinegar. Let it sit.
Step 5: Skewer your pork pieces. Feel free to add extra veggies or fresh onion slices in between the cubes. Discard the marinade.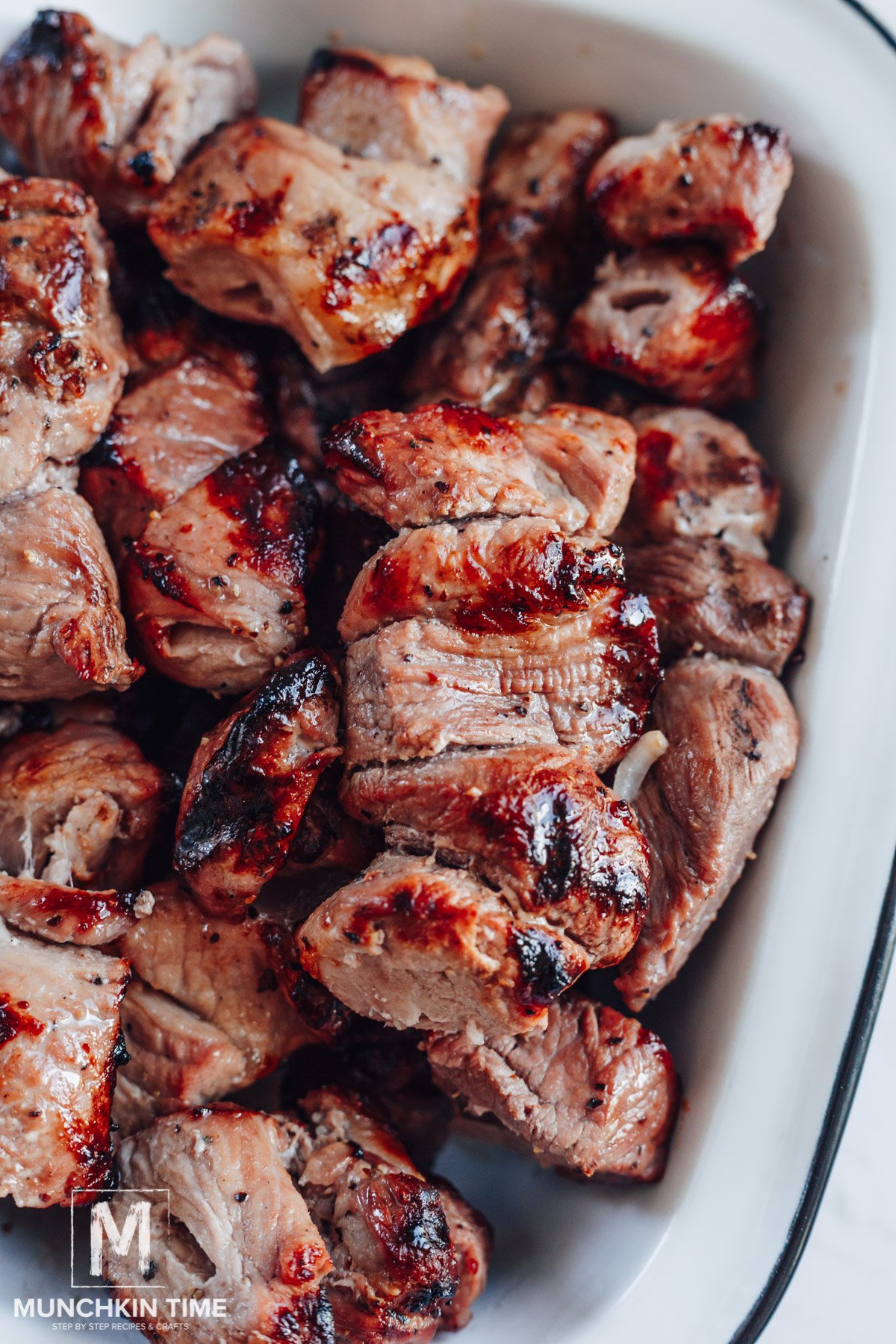 Step 6: Grilled pork shoulder cubes are ready to hit the sizzling grill. Grill over high heat, rotating often. Enjoy!
What to Serve with Grilled Pork Skewers
A Tzatziki Sauce or Easy Chimichurri Sauce for dipping is always one of my favorite accompaniments for any skewered meat! If you're serving it as an appetizer, you could always have a variety of dipping sauces for your guests to choose from.
As a meal, it's always great with rice and either a Caesar salad, a coleslaw, cucumber and tomato salad, or a delicious Greek salad.
Tips for Pork Kabobs
If using wooden skewers make sure to soak them for 30 minutes before skewering the meat. That way they won't burn on the grill.
You need at least 6 hours to marinate. It's a good idea to whip up the marinade in the morning and then it's ready to hit the grill when you get home in the evening. Dinner time has never been so easy!
Do not overcook the pork or it'll turn out dry. Just cook until the outside has a nice char and the inside is cooked through.
Rotate often, so one side doesn't burn.
Speaking of burn, this is why it's important to remove or trim any excess fat. If you leave it on, the grease from the fat will drip down through the grates creating even more flame. This can cause it to burn the skewers.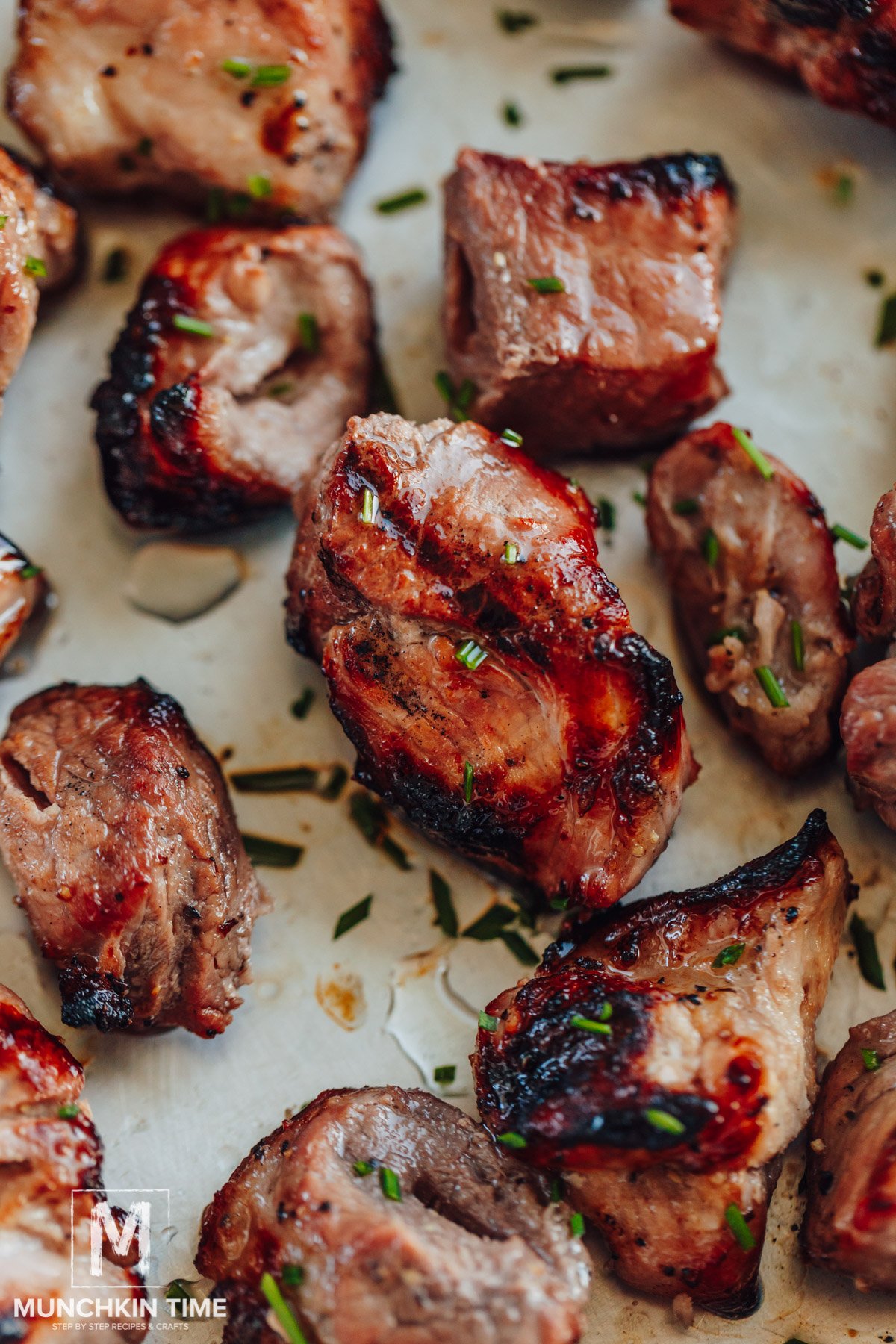 How long to grill pork kabobs?
This pork shoulder recipe doesn't take long at all because of the size of the cubes. To ensure even cooking you want to aim to cut them all into even sizes.
Then, it should be about 3-4 minutes per side over medium heat, and fewer minutes over high heat, as long as you rotate each time.
How do I know when my pork is ready?
As long as the internal temperature of the pork kabobs reaches 145 degrees F, they're done!
What else can I add to my skewers?
Pork is a meat that goes well with both vegetables and fruit. If you want to add a Hawaiian flare, try chunks of pineapple or mango. For vegetables, I always like bell peppers, mushrooms, onions, and zucchini.
Can I use a different cut of pork?
Certainly. I find pork shoulder to be the best, most tender once grilled, but any boneless pork will do. The longer marinating time will help to tenderize the meat no matter what type you use.
Grilled Pork Kabobs
Grilled Pork Kabobs – Impress your family or guests at your next BBQ with these juicy, flavorful & super easy pork kabobs!
Instructions
In a large mixing bowl add cut pork shoulder pieces and chopped up onion rings. Season with sea salt and pepper, and give it a good mix. 

Let marinate over night or at least 6 hours. Add vinegar 30 min before grilling.

Skewer pork pieces. Grill on high heat rotate few times. Enjoy!
Video
Notes
Hi! All content & images are copyright protected. Please do not use my images without prior permission. If you want to republish this recipe, please re-write the recipe in your own words, or simply link back to this post for the recipe. Thank you.
Nutrition
Calories:
321
kcal
Carbohydrates:
1
g
Protein:
41
g
Fat:
15
g
Saturated Fat:
5
g
Polyunsaturated Fat:
2
g
Monounsaturated Fat:
7
g
Cholesterol:
139
mg
Sodium:
1903
mg
Potassium:
720
mg
Fiber:
0.2
g
Sugar:
0.1
g
Vitamin A:
17
IU
Vitamin C:
2
mg
Calcium:
37
mg
Iron:
3
mg
Q. Do YOU like this Easy Pork Recipe?
Let us know in the comments below, we would love to hear from you!
Thank YOU for YOUR Comment, Share & Recipe Review!