Easy Shepherd's Pie – Learn how to make shepherd's pie the way my family loves it! Juicy ground beef (or lamb) diced veggies, herbs, and spices are cooked in thick rich gravy and then topped with a mashed potato crust. It's all baked until golden with crispy mashed potato edges!
When YOU make this Easy Shepherd's Pie Recipe please tag us on @munchkintimeblog on Instagram, we would LOVE to see your creation!
This shepherd's pie recipe was made in partnership with the Boise Co-op. The Boise Co-op has been providing fresh, local and organic products since 1973. Learn more about the Boise Co-op here.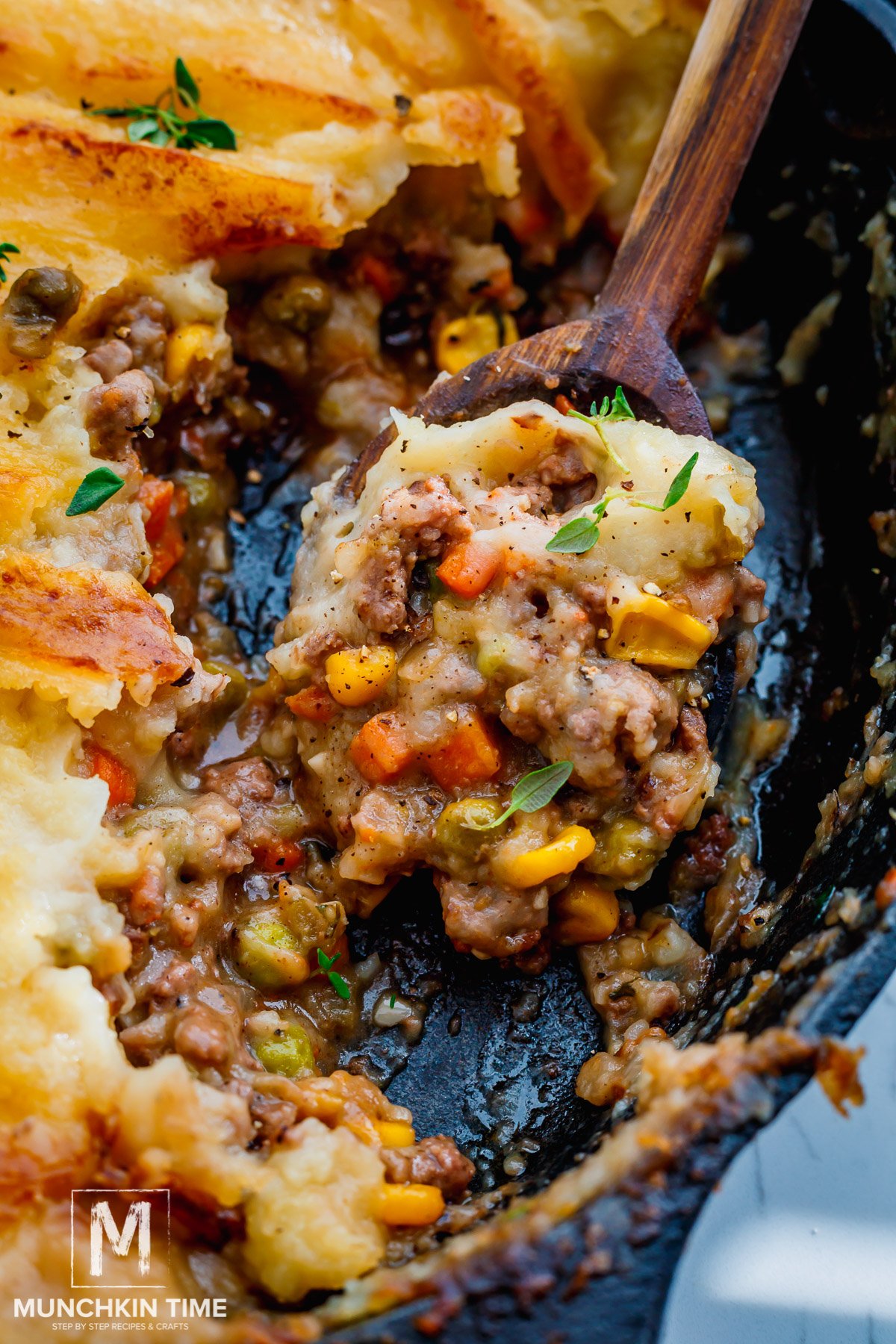 It's quick and simple enough to make your St Patrick's day dinner a breeze, but it's also what you want to come home to on busy weekdays, and a classic comfort dish for Sunday dinner.
This recipe makes a complete and satisfying meal and my homemade version is even better than your grandma's shepherd's pie recipe! It's easy, delicious, and super comforting.
Made with cost-effective everyday ingredients, there are no surprises here. You probably already have what you need to make this easy shepherd's pie that rivals anything you could find at your favorite Irish restaurant!
Shepherd's Pie vs Cottage Pie
Depending on who you ask, the difference may be to some, but major to others! Technically speaking, shepherd's pie is traditionally made using ground lamb and cottage pie is made with ground beef. That's it!
However, here in the States, we're more inclined to use ground beef in our shepherd's pie recipe, so we definitely use the term interchangeably.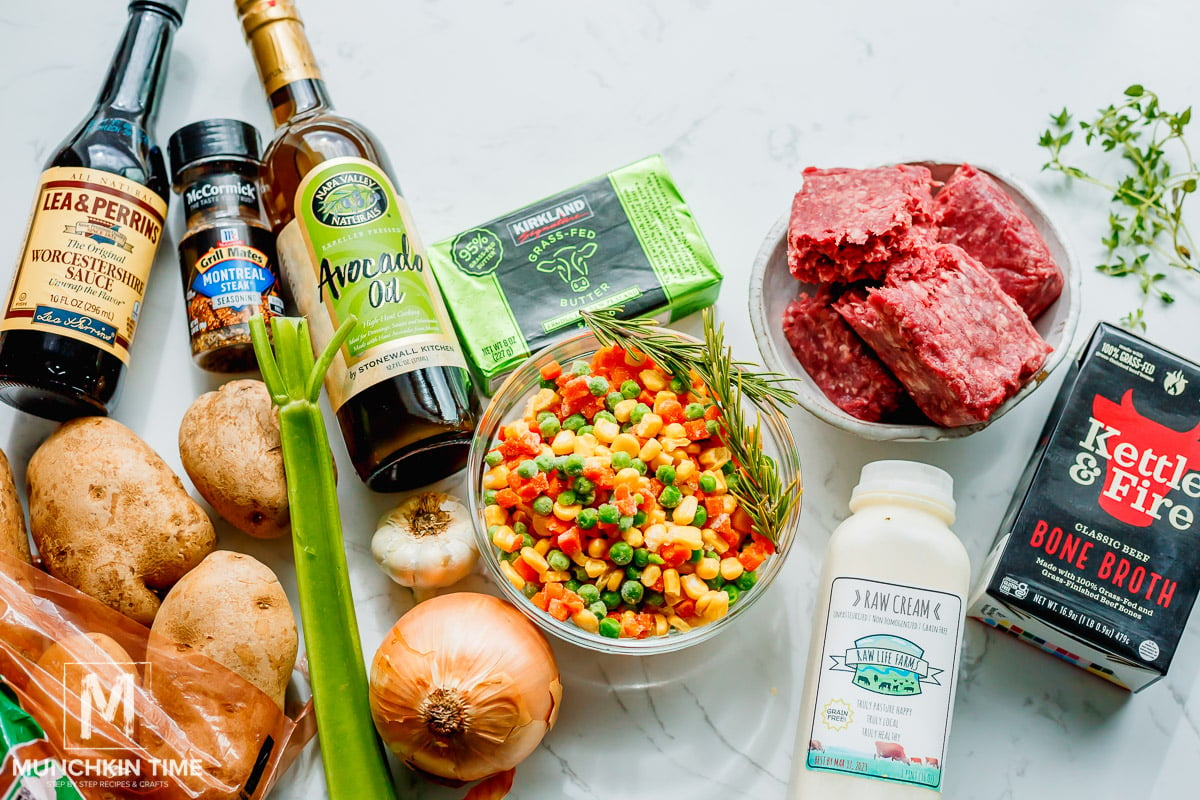 Recipe Ingredients
Avocado oil: Used to saute the aromatics and veggies to soften them and bring out their flavor.
Aromatics: Chopped onion will be cooked with celery early on. This will become the base of the beef mixture. Then finely chopped garlic will be added with the beef for another layer of flavor.
Vegetables: We're using diced celery and frozen mixed veggies. I love the crunch from the celery and of course peas and carrots are a staple in shepherd's pie. You can also use the mixed bag that has corn in it too if preferred.
Ground beef: I use lean ground beef (80/20) so there isn't too much excess grease that gets released. You can also use ground lamb to make it a more authentic Irish shepherd's pie recipe.
Flour: Used to thicken the mixture so the gravy doesn't end up too thin and runny.
Broth: Use beef or chicken broth. The beef broth will deliver a richer, more robust beefy flavor, but either works.
Fresh herbs and seasoning: Fresh thyme and rosemary add delicious herbaceous flavors that brighten up this dish. I also love using Montreal steak spice for all things beef, so I'll use that with a bit of salt for extra seasoning.
Worcestershire sauce: A signature ingredient in shepherd's pie that gives the saucy beef an umami flavor.
Butter: Placing pats of butter on top of the mashed potatoes as it bakes gives the potatoes a creamy buttery flavor that puts this dish over the top!
Mashed potatoes: I love making my

homemade mashed potato recipe

for this. It's also a great time to use any leftovers you have in your fridge.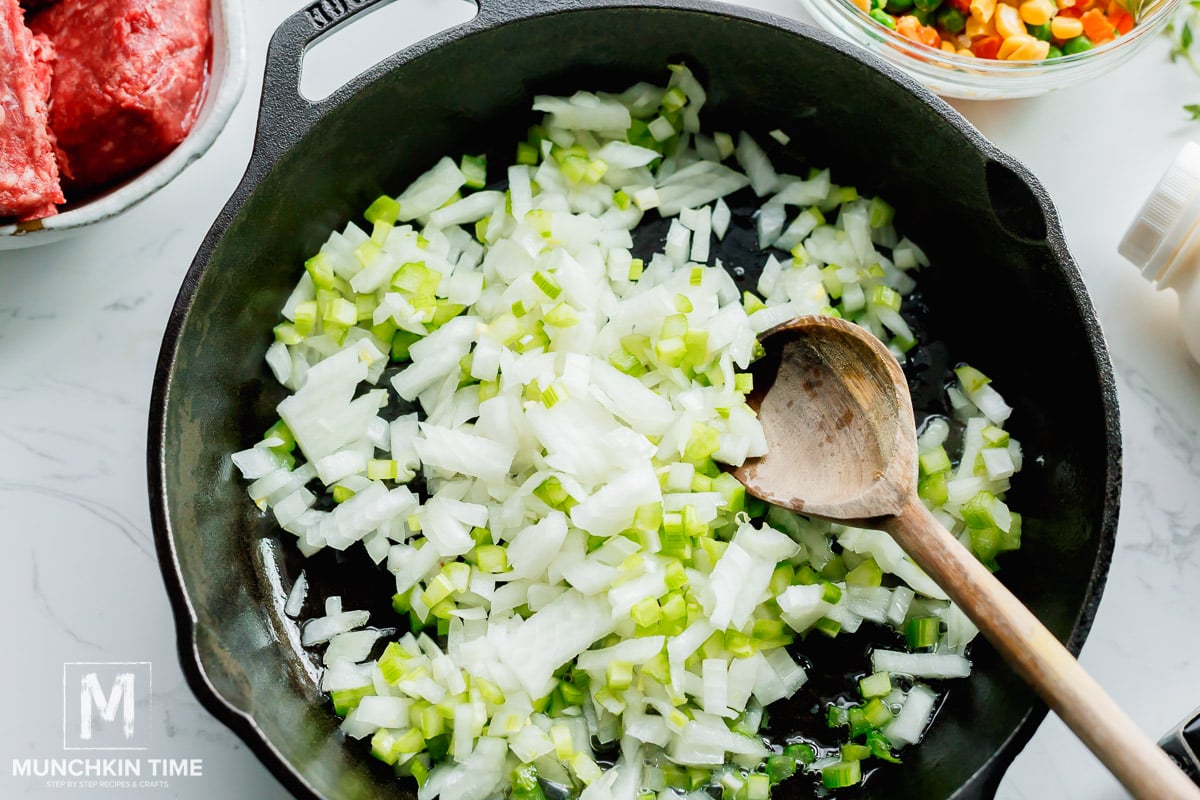 How to Make Shepherd's Pie
Step 1: Make the mashed potatoes or grab your leftovers and take them out of the fridge.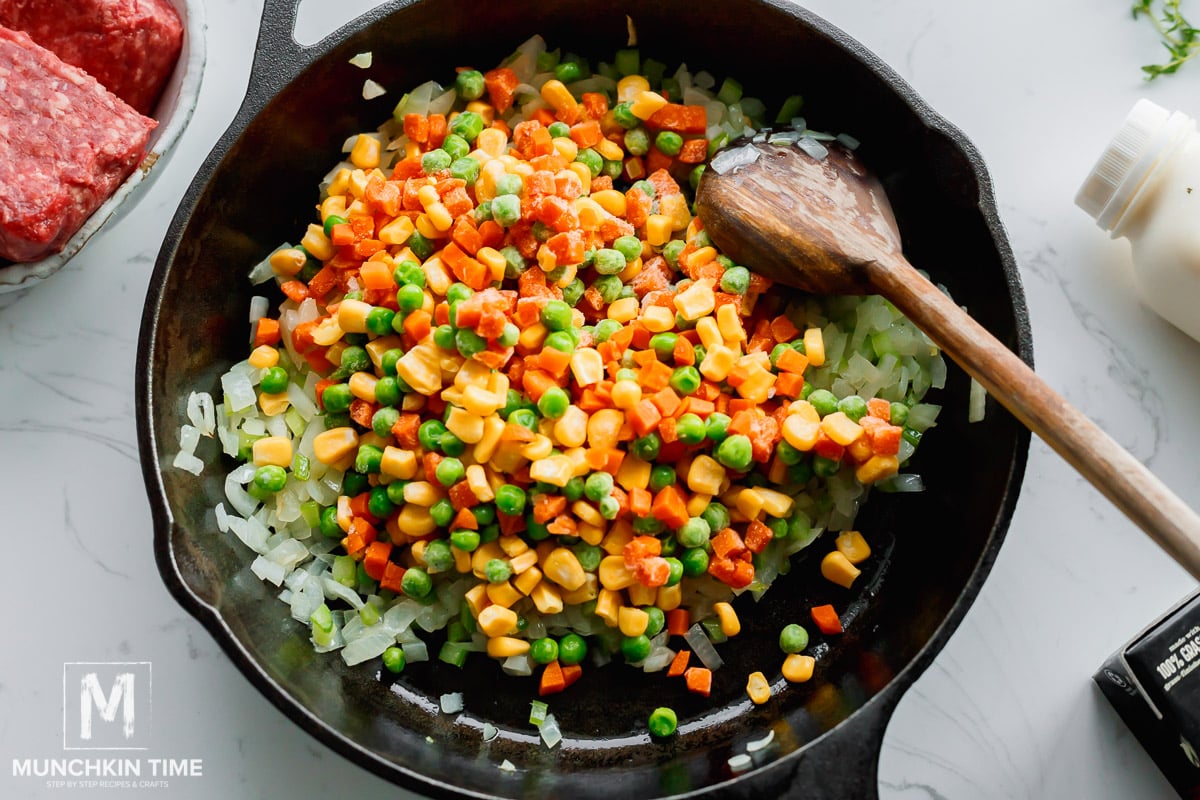 Step 2: Sauté onion and celery in hot oil in a skillet over medium heat. Stir a few times, then add the frozen veggies to sauté for another 5 minutes, stirring occasionally.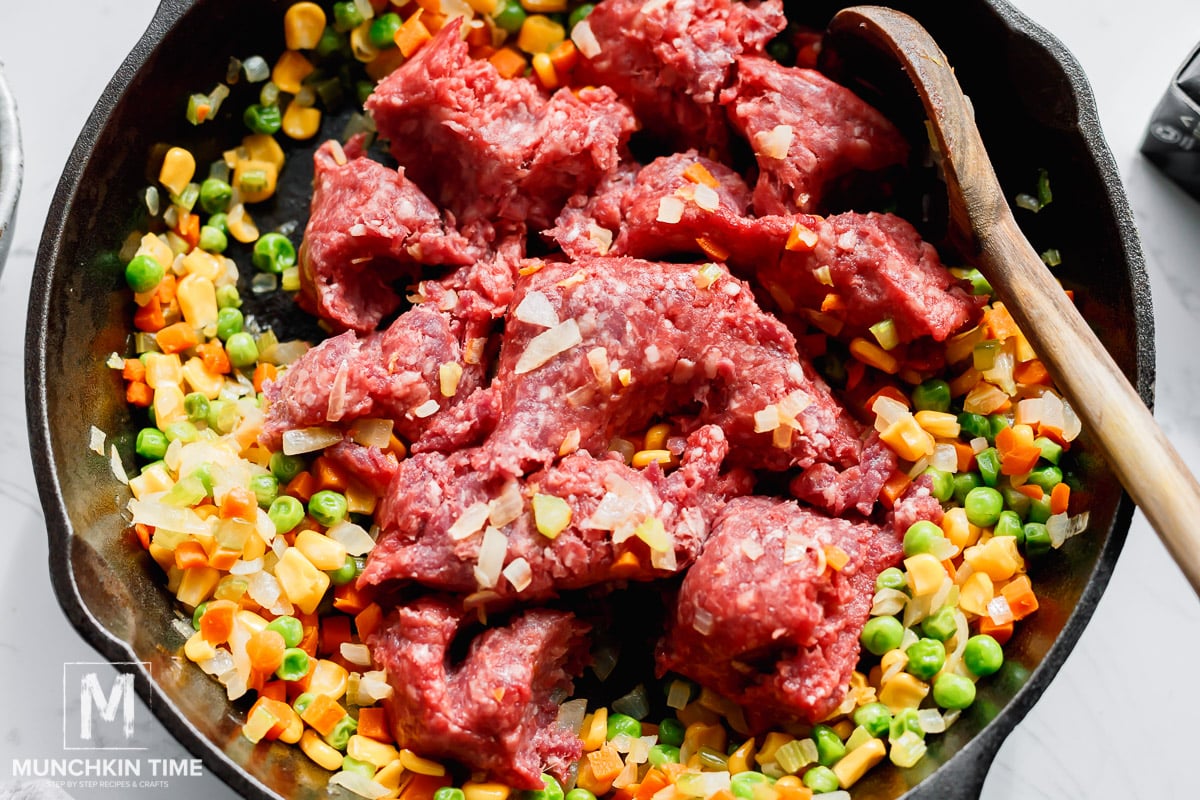 Step 3: Add the ground beef (or ground lamb) and cook for 5 minutes until no longer pink. Break it apart into crumbles as it cooks. Use a wooden spoon or a meat masher to do this.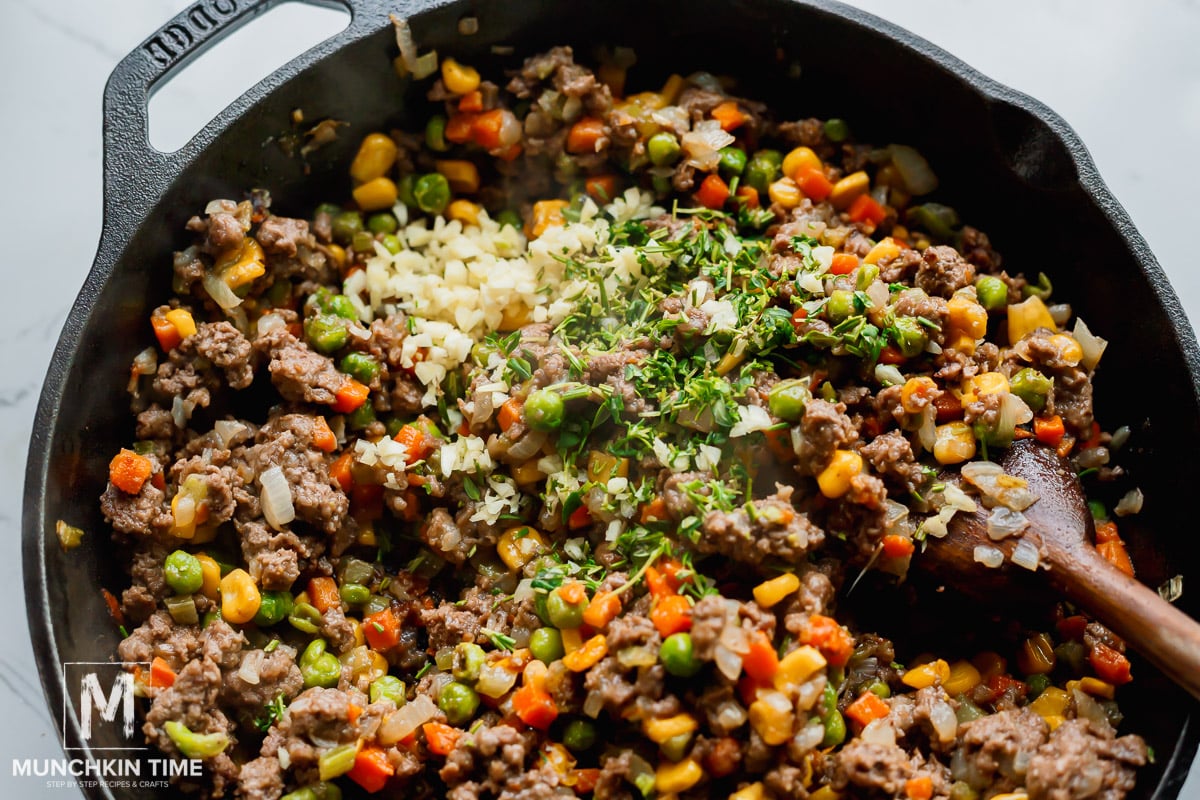 Step 4: Sprinkle flour over the meat and cook for a minute, stirring constantly. Add the garlic and cook for another minute and then add the thyme, rosemary, Montreal steak spice, and Worcestershire sauce and stir well.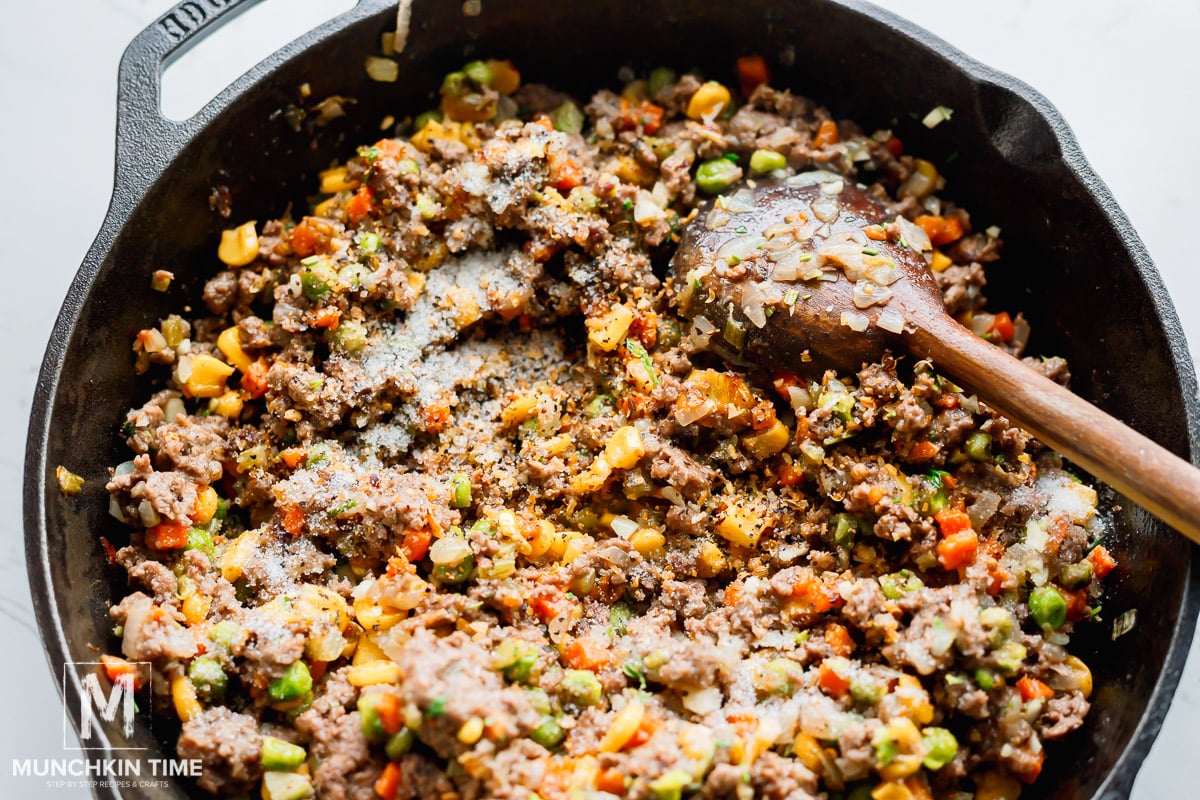 Step 5: Pour in the beef broth and season with salt to taste. Cook on low for about 3-5 minutes until the broth thickens, stirring occasionally.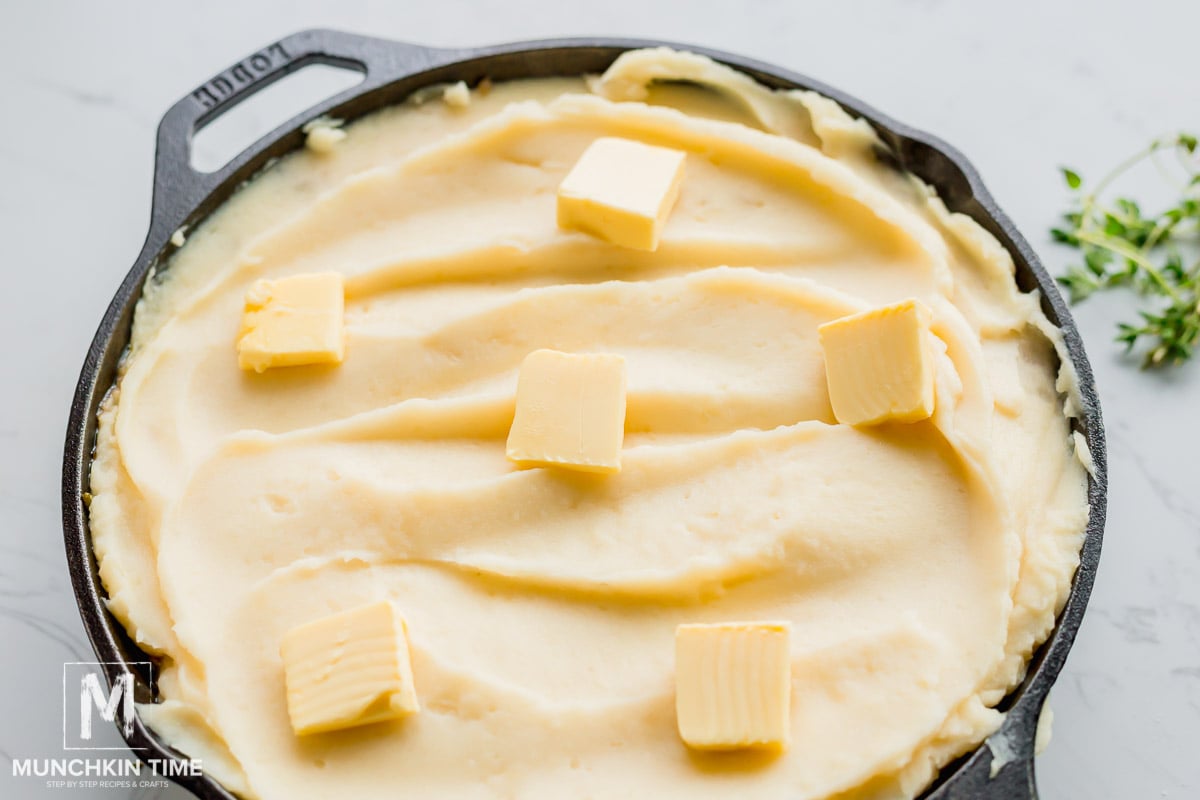 Step 5: Spread your mashed potatoes over the top in an even layer. If you enjoy having crispy peaks on yours, use a fork to lift up the mashed potatoes in certain areas, so there are points evenly scattered across.
Step 6: Add butter slices on top of the potatoes and bake in a preheated 400 F degree oven for 30-35 minutes, until golden brown on top. Enjoy it on its own, with a slice of crusty bread, or with a side salad!
Recipe Tips
I love using a cast iron skillet so I can transfer the easy shepherd's pie from the stovetop to the oven without having to dirty up another dish. If you don't have an oven-safe skillet, transfer the beef mixture to a casserole dish and then top it with mashed potatoes and continue as directed.
Swap frozen veggies for fresh or canned ones if preferred.
If you love cheesy mashed potatoes, go ahead and add cheese to yours as you're mashing them. Otherwise, you can sprinkle a layer of cheddar cheese on top of the potatoes before you put the casserole in the oven.
If you're a fan of acidic tomato flavor in your beef mixture, feel free to add some tomato paste to the mixture.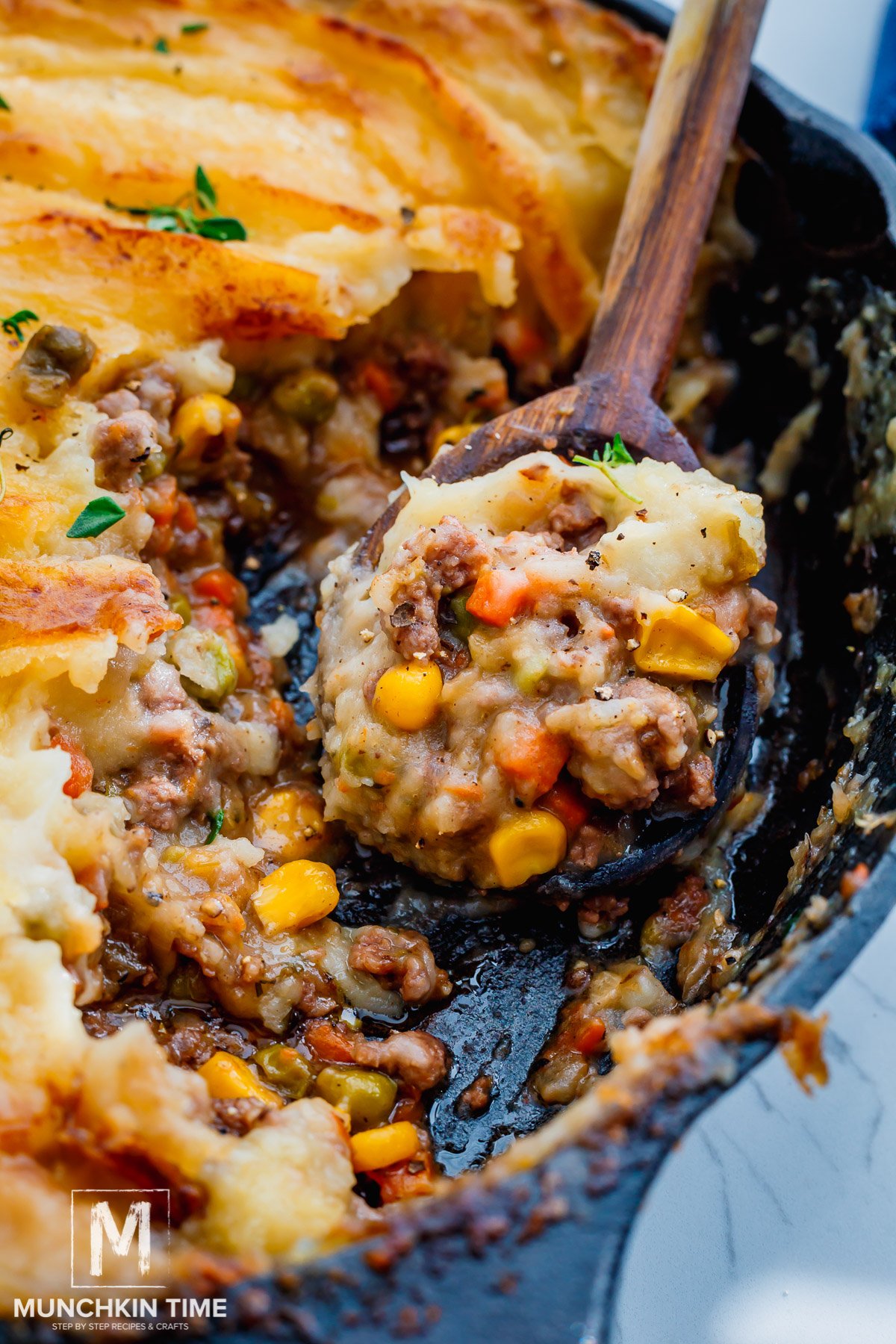 FAQs
What if I don't have fresh herbs?

No problem! You can use dried herbs instead. For every 1 ½ teaspoons of fresh thyme and fresh rosemary, you can use ½ teaspoon of dried thyme or dried rosemary.
Is shepherd's pie Irish?
So, here's the thing. Yes, and no. It is said that cottage pie was originally created as a way for poor Irish folk to use up leftover meat. Named after Irish peasants who lived in cottages, it was probably made originally with mutton which is cheaper than both lamb and beef.
As time went on cottage pie was then used with beef, followed by shepherd's pie that used lamb. The terms were used interchangeably after a while, although the distinction has always been there.
There is a long history between the UK and Ireland, so there is no real evidence to say there's a specific time and place it was invented.
Can I make this ahead of time?
Certainly! You can cook the beef and make the mashed potatoes ahead of time. You can also prepare and assemble it completely without baking it. Cover it in plastic wrap and keep it in the fridge for up to 3 days. Bake it when you're ready!
How to store leftovers?
Keep any leftover shepherd's pie stored in an airtight container for up to 3 days in the fridge. Reheat single portions in the microwave.
Can I freeze shepherd's pie?
Once completely cooled, you can store the entire pie in the freezer for later or keep leftover pieces frozen. Store in a freezer-safe container for up to 2 months. Thaw in the fridge overnight and reheat it covered in the oven at 350F.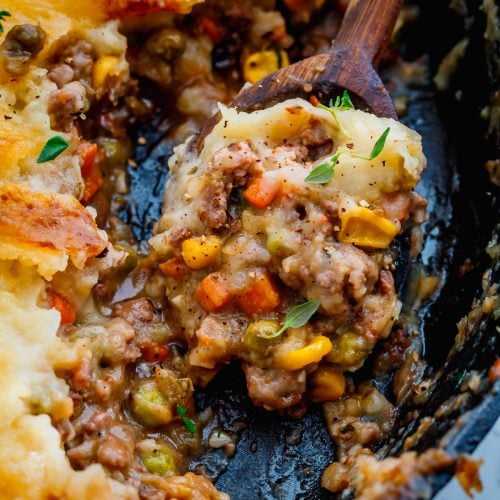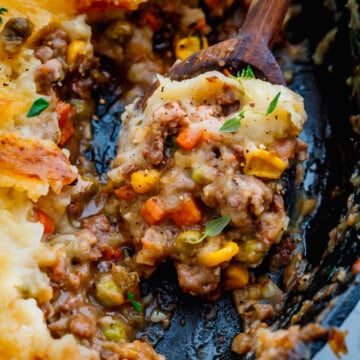 Easy Shepherd's Pie
Juicy ground beef (or lamb) diced veggies, herbs, and spices are cooked in thick rich gravy and then topped with a mashed potato crust.
Instructions
First prepare mashed potatoes by clicking here, or use leftover mashed potatoes (about 4 cups or 2 lb). Next, preheat the oven to 400F. Using a cast iron skillet preheat oil over medium heat, add onion and celery and saute for 5 minutes, stirring few times. .

Next add frozen veggies and saute for 5 more minutes, stirring few times.

After, add ground beef and cook for 5 minutes, breaking it apart with a wooden spoon.

Sprinkle flour over the meat, and saute for 1 minute stirring continuously. Then add garlic and stir it in for 1 minute. Finally add thyme, rosemary, montreal steak spice, Worcestershire sauce, and give it a good stir.

Pour in beef broth and season with salt to taste. Cook on low heat, stirring few times for 5 minutes or until the broth thickens. Spread mashed potatoes over the top, add butter slices.

Bake uncovered, until golden brown on top 30-35 minutes. Enjoy!
Notes
Hi! All content & images are copyright protected. Please do not use my images without prior permission. If you want to republish this recipe, please re-write the recipe in your own words, or simply link back to this post for the recipe. Thank you.
When 
YOU
 make this
Easy Shepherd's Pie
 Recipe
 please tag us on @munchkintimeblog on Instagram, we would LOVE to see your creation! 
Nutrition
Calories:
885
kcal
Carbohydrates:
136
g
Protein:
29
g
Fat:
27
g
Saturated Fat:
9
g
Polyunsaturated Fat:
2
g
Monounsaturated Fat:
13
g
Trans Fat:
1
g
Cholesterol:
64
mg
Sodium:
454
mg
Potassium:
2077
mg
Fiber:
13
g
Sugar:
6
g
Vitamin A:
3244
IU
Vitamin C:
132
mg
Calcium:
85
mg
Iron:
4
mg
Q. Do YOU like this Shepherd's Pie Recipe?
Let us know in the comments below, we would love to hear from you!
Thank YOU for YOUR Comment, Share & Recipe Review!