Instant Pot Mashed Potatoes are game-changing! No boil splatter, no checking for doneness and no draining! Cooking mashed potatoes in the Instant Pot is the quickest and easiest way to make everyone's favorite fluffy mashed potatoes.
They're the perfect side dish to serve with Moroccan Grilled fish, Best Grilled Pork Kabobs, or Spicy Grilled Shrimp.
My family LOVES potatoes! Breakfast, lunch or dinner, potatoes are always a welcome addition. Fried, baked, grilled, smashed, or mashed, this humble vegetable is so versatile, it can be used as a vessel to carry any and all flavors!
When YOU make this Instant Pot Mashed Potatoes Recipe, tag us on Instagram @MunchkinTimeBlog & hashtag #munchkinrecipes . We would love to see YOUR creation!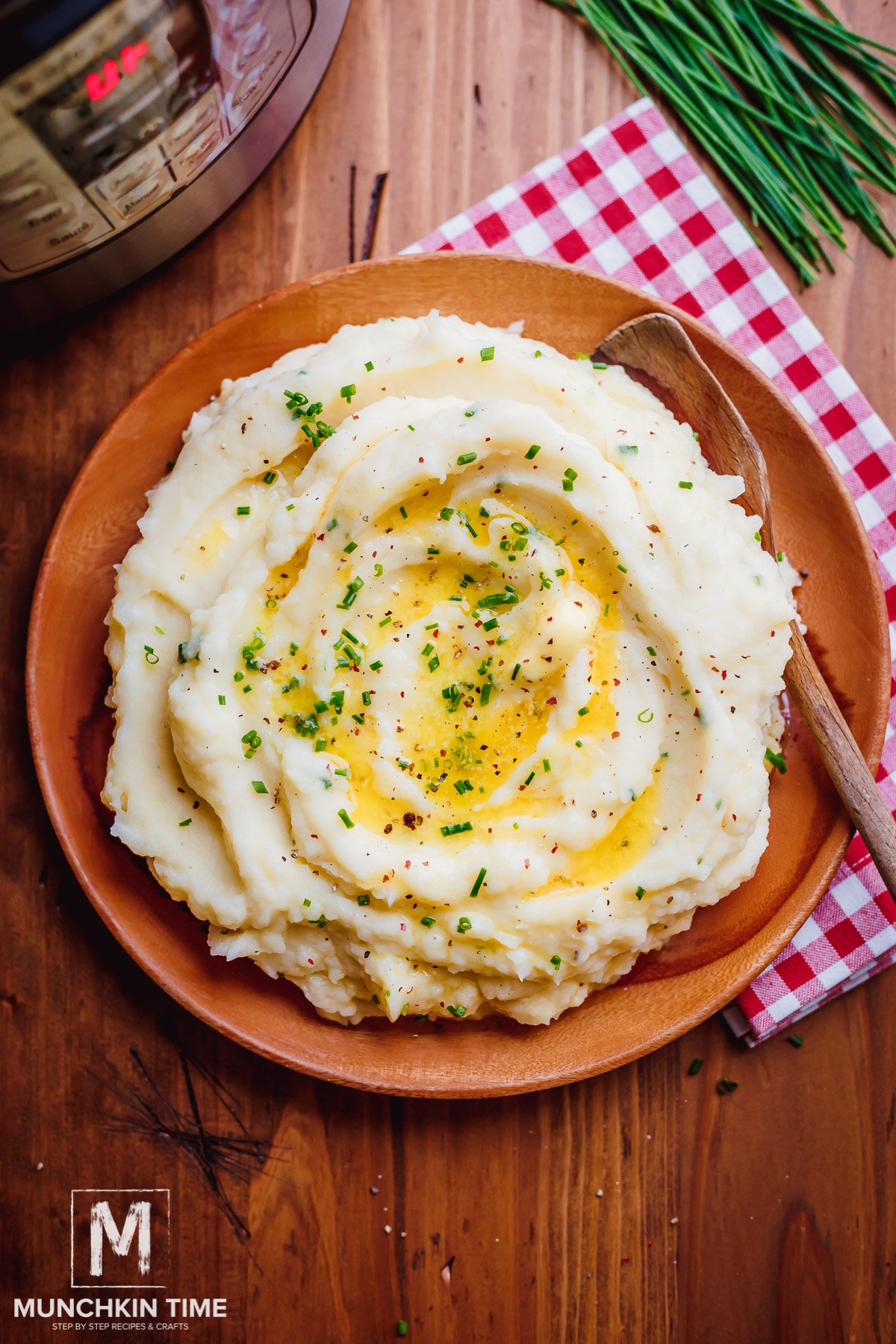 Around the holidays, I must say, mashed potatoes are a go-to. Not only because they're super simple to make, especially in big batches to serve a crowd, but it's a no-fuss dish that is budget-friendly and is one I know everyone will love.
Instant Pot mashed potatoes are going to become your new favorite way to make them for so many reasons! As if mashed potatoes couldn't get any easier, the Instant Pot proves us wrong!
Creamy Potatoes
Whether you like your potatoes creamy or light and fluffy, cooking them in a pressure cooker will get you perfect mashed potatoes in a fraction of the time it would take using the stovetop method.
It's also basically hands-off cooking, with no worrying about overboiling or waiting for the water to come to a boil, and no draining the potatoes at the end. There's not even a need to test it with a fork to see whether or not they're done! It's so much easier!
Making Instant Pot mashed taters saves room on the stove for concentrating on other parts of the meal, the main dish or otherwise. Trust me, you'll never go back to the stovetop method again!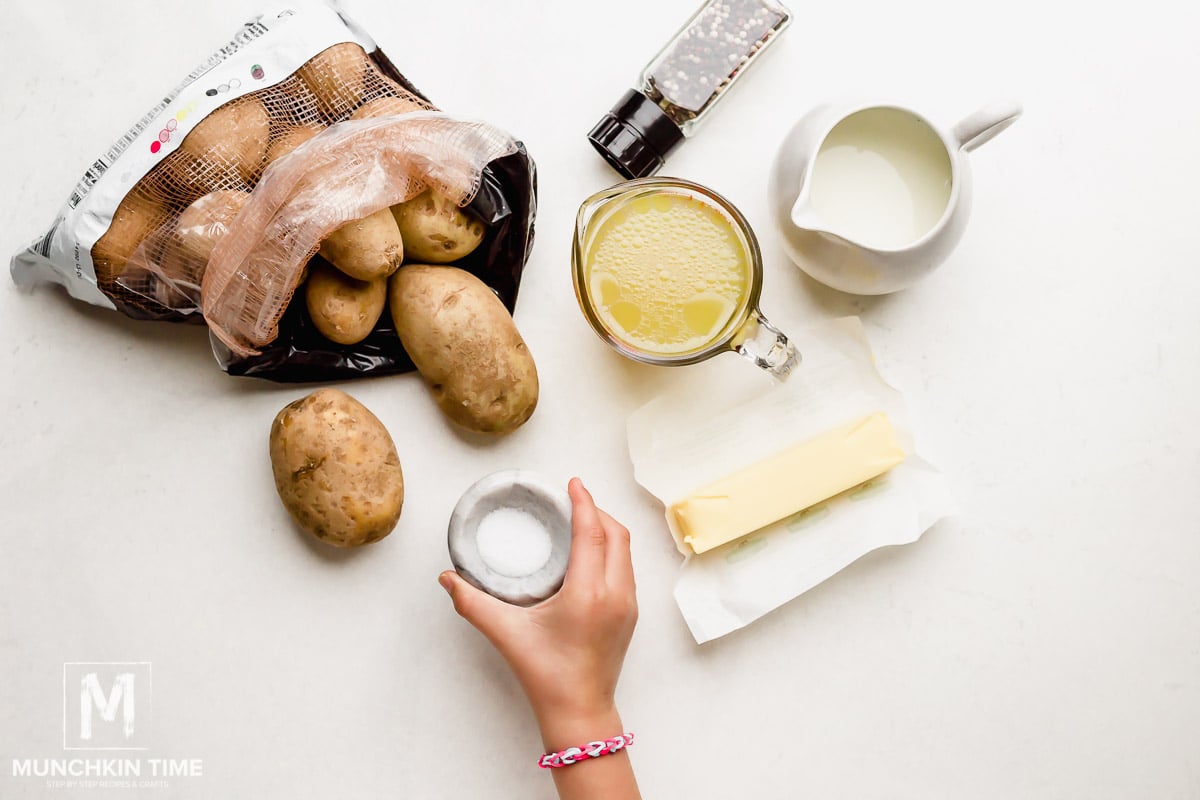 No Drain Instant Pot Mashed Potatoes Ingredients
Potatoes – I like to use 3 lb Yukon gold potatoes but you can totally use russet potatoes, because of the amount of starch in them, it allows them to become nice and fluffy!
Broth – Homemade chicken broth adds a ton of delicious flavor to the potatoes as they cook, but you can also use vegetable broth or water if you'd prefer. Store-bought works if you have it.
Milk – Is the liquid added to the potatoes before mashing. Adds moisture and a little creaminess to make blending a little easier.
Butter & chives – Adding a drizzle of melted butter and a sprinkling of chives as garnish before serving is the perfect finish. Who doesn't love buttery mashed potatoes!
How to Make Mashed Potatoes in Instant Pot
If you're making these potatoes for the holidays and your other dishes aren't quite ready yet, keep the potatoes in the Instant Pot on the warm function. They'll stay heated through without overcooking!
Step 1: Peel and cut the potatoes. They don't need to be uniform in size, chunking them up into four pieces should be fine. Rinse them off in cold water and add them to the Instant Pot.
Step 2: Pour broth (or water) over potatoes, season with salt and pepper, and give it a good stir.
Step 3: Close the lid to the pressure cooker and set the valve to the Sealing position. Pressure cook on high pressure for 10 minutes.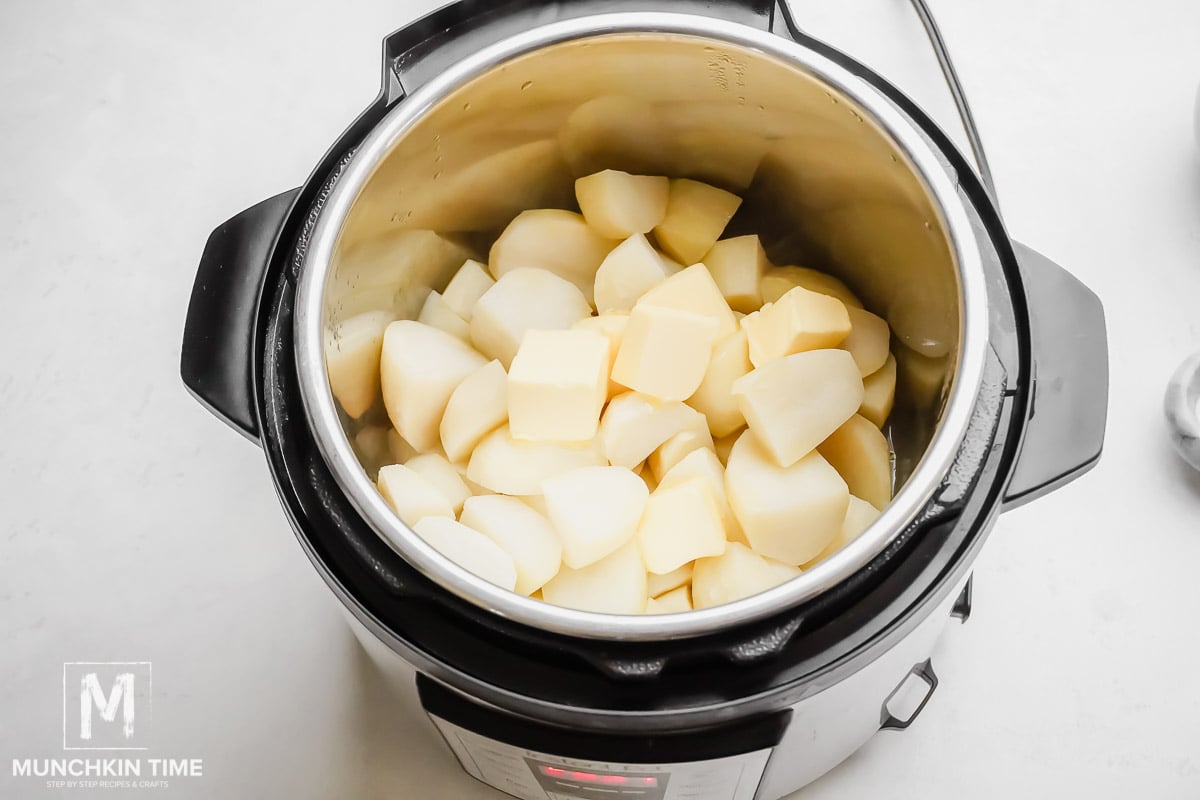 Step 4: Once the timer is up, and it beeps, do a quick release by carefully moving the valve to the venting position. Use a wooden spoon to do this, not your hands, and keep away from the steam.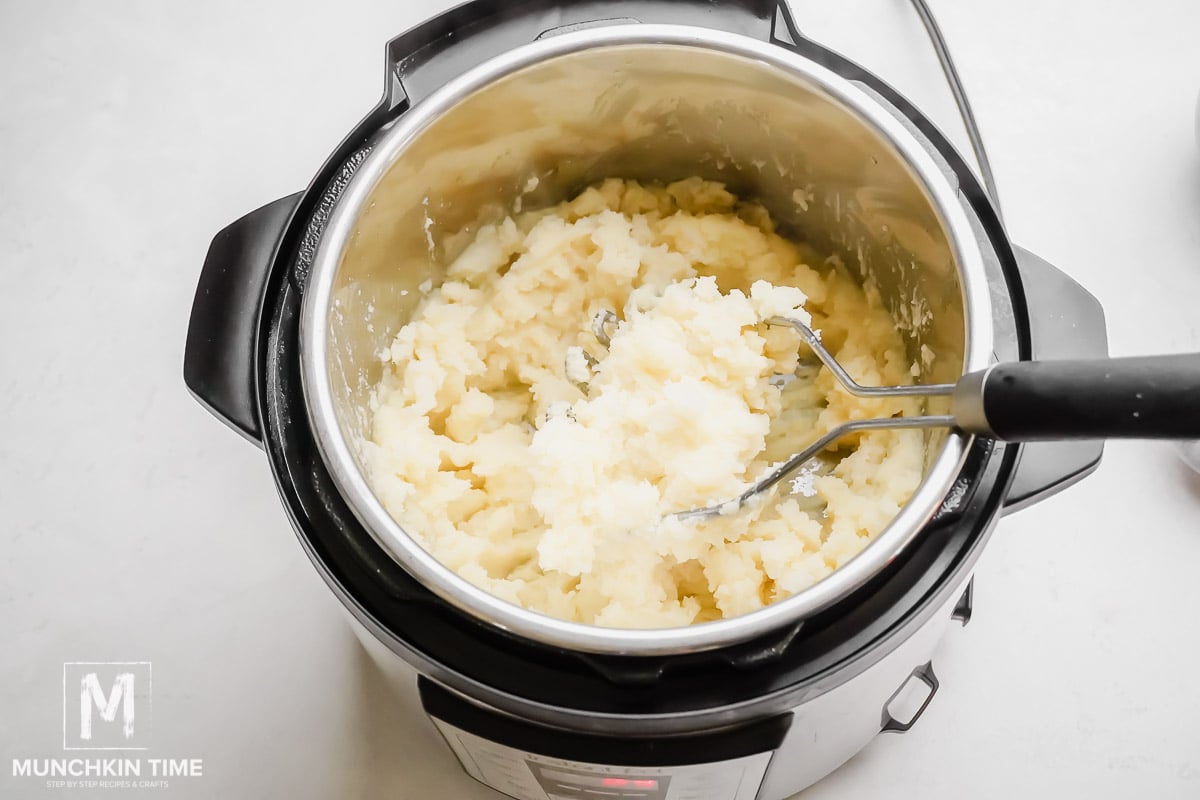 Step 5: When the pressure has released, the pin will drop, letting you know it's safe to open the lid. No need to drain anything!
Step 6: Add the warm milk and butter to the potatoes and mash. First with a potato masher to start the process and then with a hand mixer to make them light, fluffy, and smooth!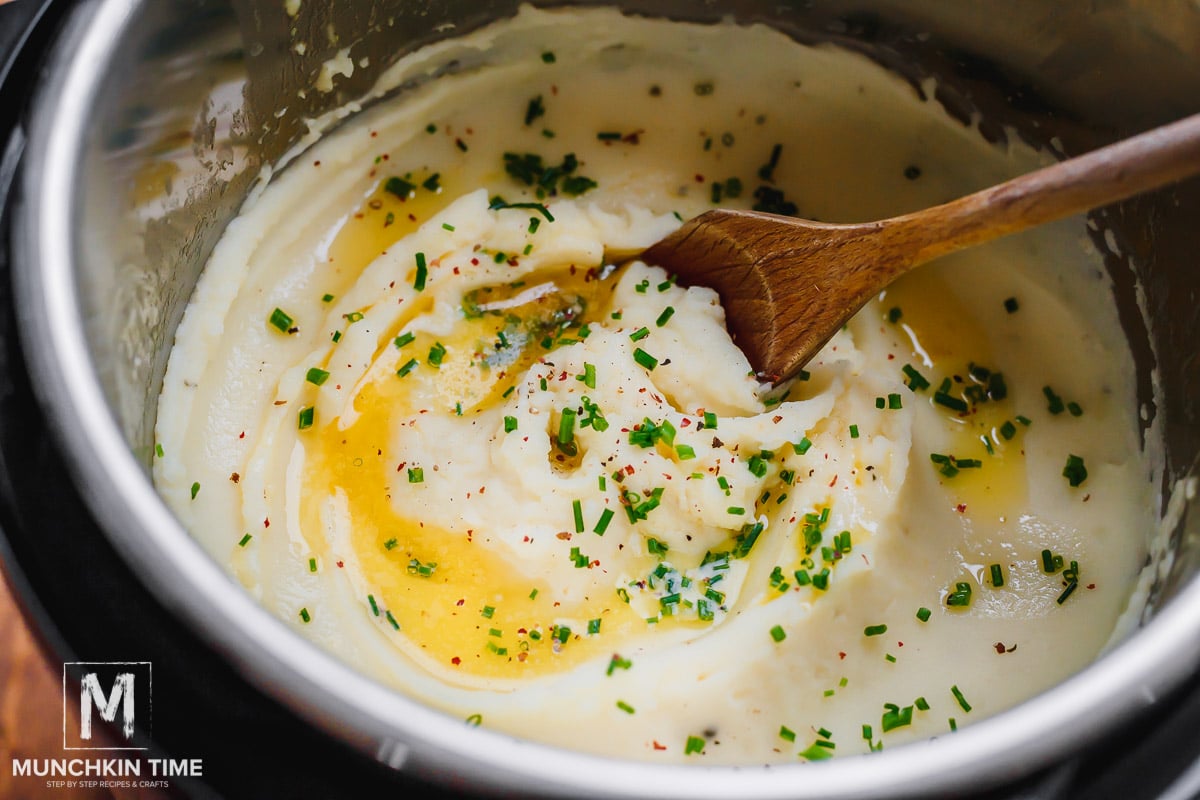 Tips
Pop a couple of raw garlic cloves into the pot with the potatoes before cooking. They'll mash right into the potatoes and give it a nice garlicky flavor.
For a creamier mashed potato, think about using Yukon gold or Red potatoes. They have less starch than the Russets, and more wax, so they'll be less light and fluffy and more creamy. If that's your thing!
Be careful not to overwork your potatoes and mash them too much. This is how your potatoes end up gluey and the texture is off.
If you need to make more mashed potatoes for a larger gathering, easily double the recipe. No need to increase any cooking time.
The liquid doesn't need to cover the potatoes for the pressure cooker (unlike the stovetop!).
Peeling the potatoes isn't a must, especially if you use Yukon Golds or red potatoes. Their skin is thinner and more delicate than russet potatoes. Even with the russets, you still don't have to, depending on your preferences.
How long to cook mashed potatoes in the Instant Pot?
The neat thing about the Instant Pot is that no matter how many potatoes you're cooking, the time remains the same! This recipe requires 10 minutes of cook time to ensure the lightest and fluffy results and leaves no potatoes undercooked.
Some readers have had success with 8 minutes, but this could be due to a few reasons. The size of the Instant Pot and the altitude at which you live can cause cook times to vary by a few minutes.
How to store homemade mashed potatoes?
Keep any leftovers stored in the fridge in an airtight container for up to 3 days. Reheat on low on the stovetop or use a microwave if you're just reheating a small portion. Feel free to reheat in the Instant Pot if you're heating up lots!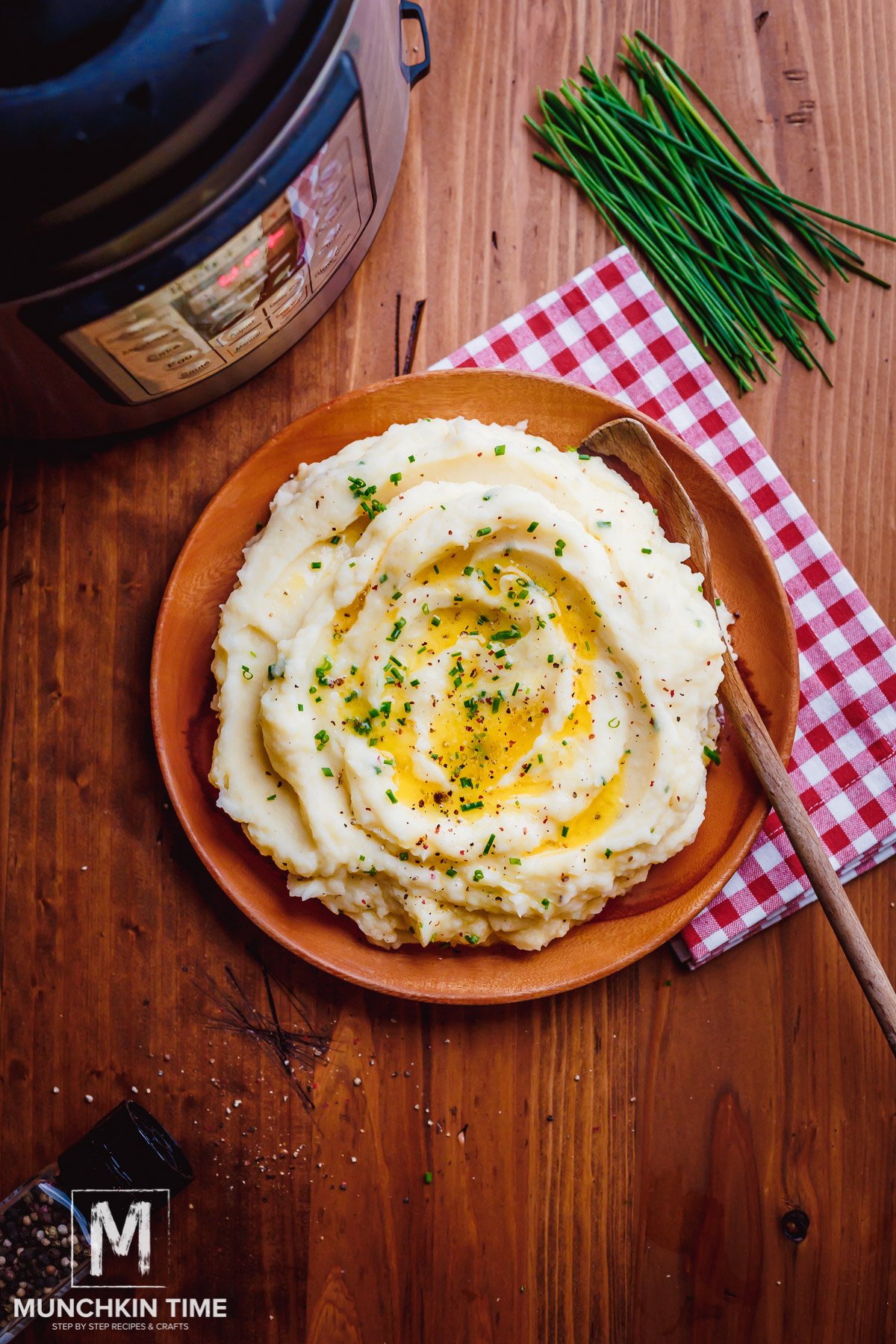 What to Serve Mashed Potatoes
A healthy serving of fluffy mashed potatoes adds classic comfort to a fancy dish! Below are a few dishes my family loves to enjoy with a big scoop of mashed potatoes on the side.
Holidays: This easy Thanksgiving Turkey Recipe for your next holiday gathering. Save this recipe for Christmas too!
Beef: New York Steak with BBQ Sauce, Chicken Fried Steak, Instant Pot Roast Beef and Gravy
Chicken: Baked Boneless Chicken Thighs, Air Fryer Whole Chicken, BBQ Chicken Wings in the Oven
Pork: Grilled Pork Kabobs with a Marinade, Apple Flavored Instant Pot BBQ Ribs
Seafood: Air Fryer Lobster Tails with Garlic Butter, Spicy Grilled Shrimp
Why do I only need 1 cup of liquid for Instant Pot Mash?
Unlike the stovetop method where potatoes need to be covered with water in order to boil, the Instant Pot uses the cup of liquid (in this case broth or water) to create steam to help build the pressure inside the pot. The pressure and steam is what cooks the potatoes, not the water itself, which is why you only need a bit!
What can I use instead of milk?
If you don't have any milk on hand, you can substitute it with sour cream or a bit of yogurt. You can also use buttermilk if you have it. If you're avoiding dairy, use a splash more broth.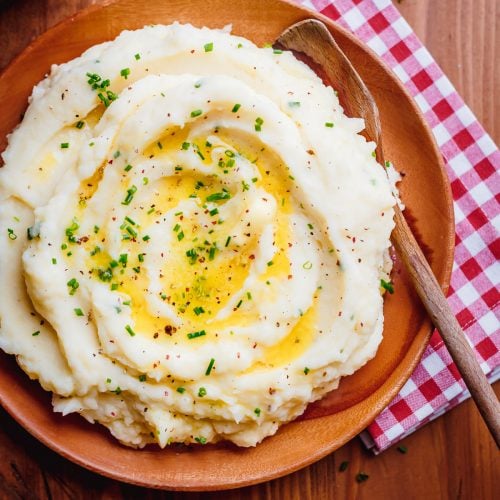 Fluffy Instant Pot Mashed Potatoes
Super Fluffy Instant Pot Mashed Potatoes - cooking mashed potatoes in the instant pot is the quickest and easiest way to make mashed potatoes. What you will need to make these super quick mashed potatoes are russet potatoes, broth, milk, butter, and salt. 
Ingredients
3

lb

russet potatoes

peeled and cut into 4 pieces

1

cup

chicken broth

or water

1

cup

milk

warm

1/2

cup

butter

sliced, more for garnish

salt & pepper

to taste

chives

for garnish
Instructions
How to Make Mashed Potatoes in the Instant Pot
To make mashed potatoes in instant pot, first peel and cut potatoes into 4 pieces. Next rinse potatoes and add them to the instant pot. Next pour in 1 cup of chicken broth or water, season with salt to taste. Give it a nice mix with a spoon.
How Long to Cook Potatoes in Instant Pot
After cover with lid and set the valve to 'sealing' position, cook on high pressure for 10 minutes. After 10 minutes quick release the pressure.  Once pressure has released, remove the lid.

Into the instant pot add 1/2 cup of butter and 1 cup of warm milk, then grab a potato masher and mash potatoes until fluffy texture. Then using a mixer mix mashed potatoes until its super fluffy.

Serve mashed potatoes with melted butter & chopped chives. Enjoy!
Video
Notes
Hi! All content & images are copyright protected. Please do not use my images without prior permission. If you want to republish this recipe, please re-write the recipe in your own words, or simply link back to this post for the recipe. Thank you.
Nutrition
Serving:
1
g
Calories:
342
kcal
Carbohydrates:
43
g
Protein:
6
g
Fat:
17
g
Saturated Fat:
11
g
Cholesterol:
45
mg
Sodium:
307
mg
Potassium:
1031
mg
Fiber:
3
g
Sugar:
3
g
Vitamin A:
539
IU
Vitamin C:
16
mg
Calcium:
82
mg
Iron:
2
mg
Q. Do YOU like this Instant Pot Mashed Potato Recipe?
Let me know in the comments below, I would love to hear from you!
Thank YOU for YOUR Comment, Share & Recipe Review!
Quote of the Day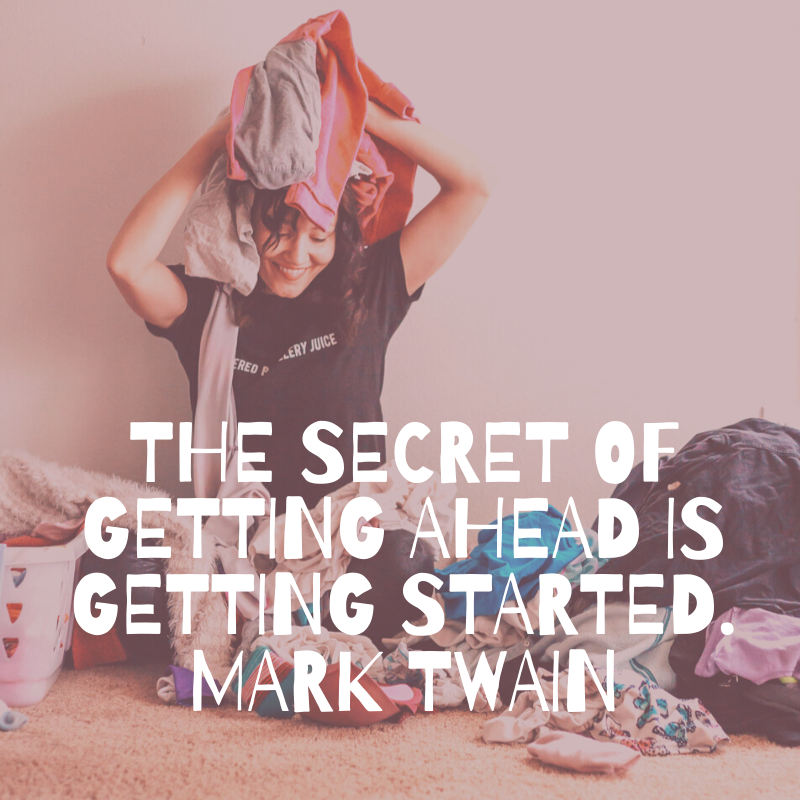 Happy Cooking!
This post was updated on September 19, 2022.