Grilled Shrimp Recipe is a sponsored post written by me on behalf of Albertsons. All opinions are 100% mine.  Thank you!  Grilling season is here and there's nothing easier or more fun to grill than spicy shrimp!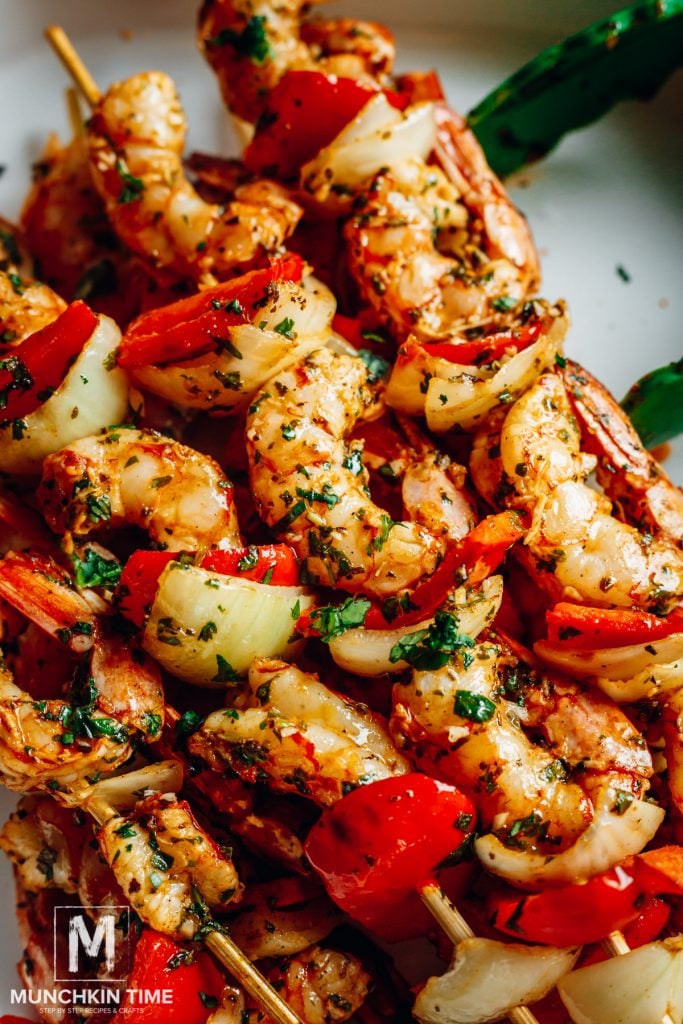 I find shrimp is usually my go-to because I always buy in large quantities when it's on sale and then freeze what I'm not using. It's more cost-effective that way, plus whatever I don't use in this recipe I use for honey garlic shrimp and the best beer battered shrimp!
For the grilled shrimp marinade, we're using a delicious combination of fresh citrus, spice, and zesty ingredients you've probably already got.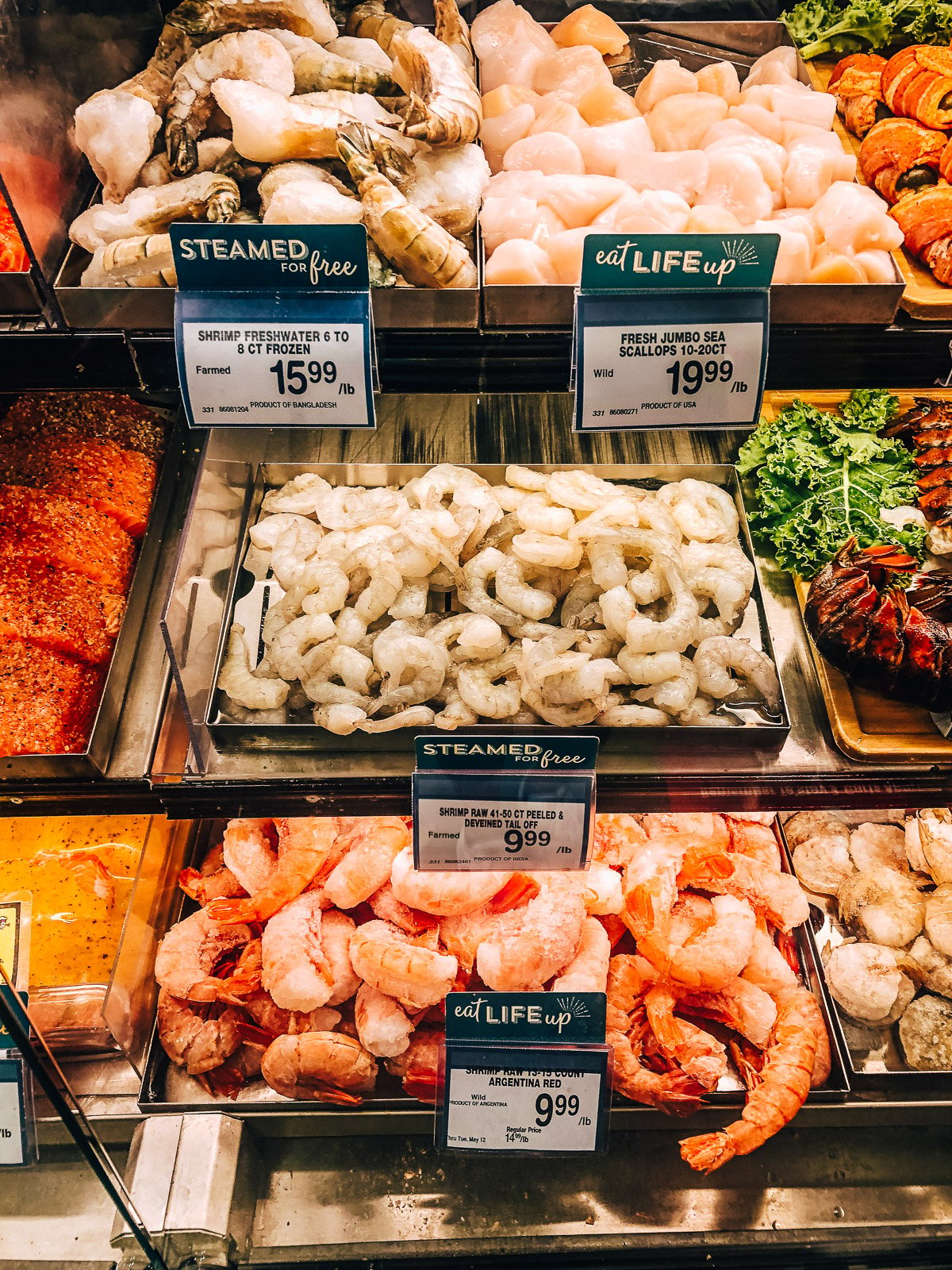 It takes just a bit of marinating time and this simple recipe comes together quickly and easily. It's perfect for BBQs, weeknight dinners, casual patio meals on the weekend, and any special occasion dinner!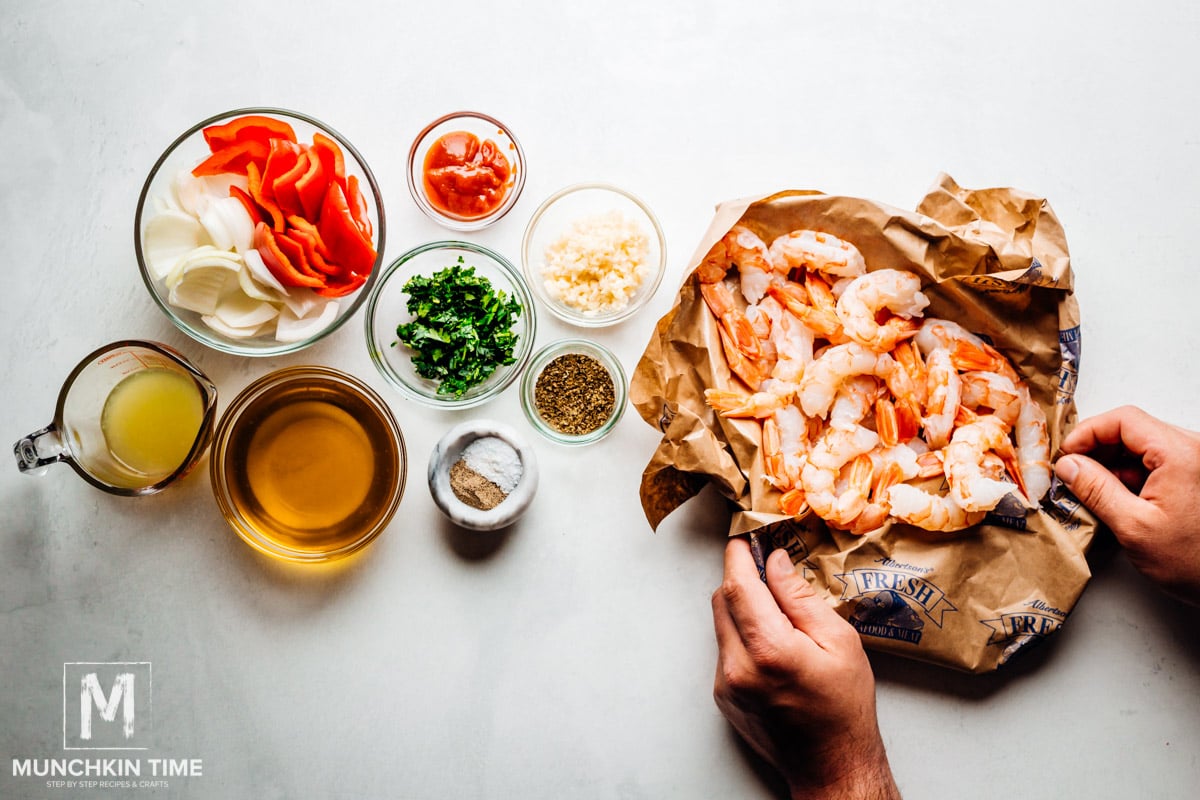 Ingredients

Needed for

Grilled Shrimp Recipe
Shrimp: I like to use wild-caught as opposed to farmed which I highly recommend, however, use what you've got! Medium-sized shrimp works, even large would be great. Jumbo size is my favorite! Peel and devein them if they don't already come that way. Keep the tails on.
Marinade: Olive oil, minced garlic, hot pepper sauce, ketchup, fresh chopped cilantro, lemon juice, dried oregano, and salt & pepper for so much flavor!
Veggies: Cut bell peppers and onions into squares. They'll get put on the skewers along with the shrimp for added crunch and even more deliciousness.
When YOU make this Spicy Grilled Shrimp Skewers Recipe, take a picture & tag your Food Creation on Instagram using @MunchkinTimeBlog  @Albertsons  & hashtag #eatlifeup & #munchkintimeblog, we would love to see your creation!
How to Marinate
Shrimp
Marinating is a simple process of adding veggies or protein to a combination of ingredients that acts as a coating. In this case, we're using shrimp. Allowing the shrimp to be submerged in all of those tasty ingredients gives it time to penetrate all the way into the shrimp for maximum flavor.
Gather all of the ingredients for the marinade and add them to a bowl and stir. Reserve ⅓ cup of marinade for later and set it aside.
Place the shrimp in the bowl and use your hands to toss the shrimp in the mix making sure each piece is evenly coated. Cover the bowl and marinate in the fridge for 2 hours.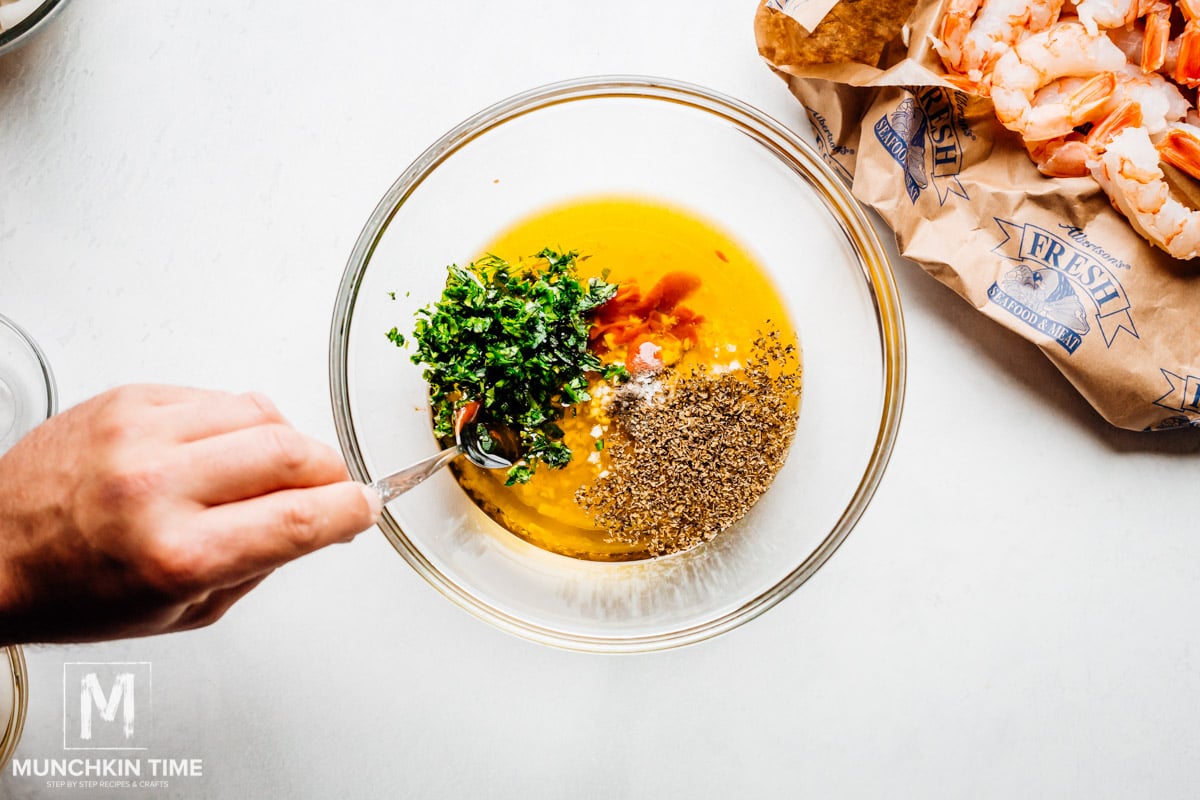 How to

Grill Shrimp
Step 1: About 30 minutes before you plan to grill, soak your wooden skewers in water.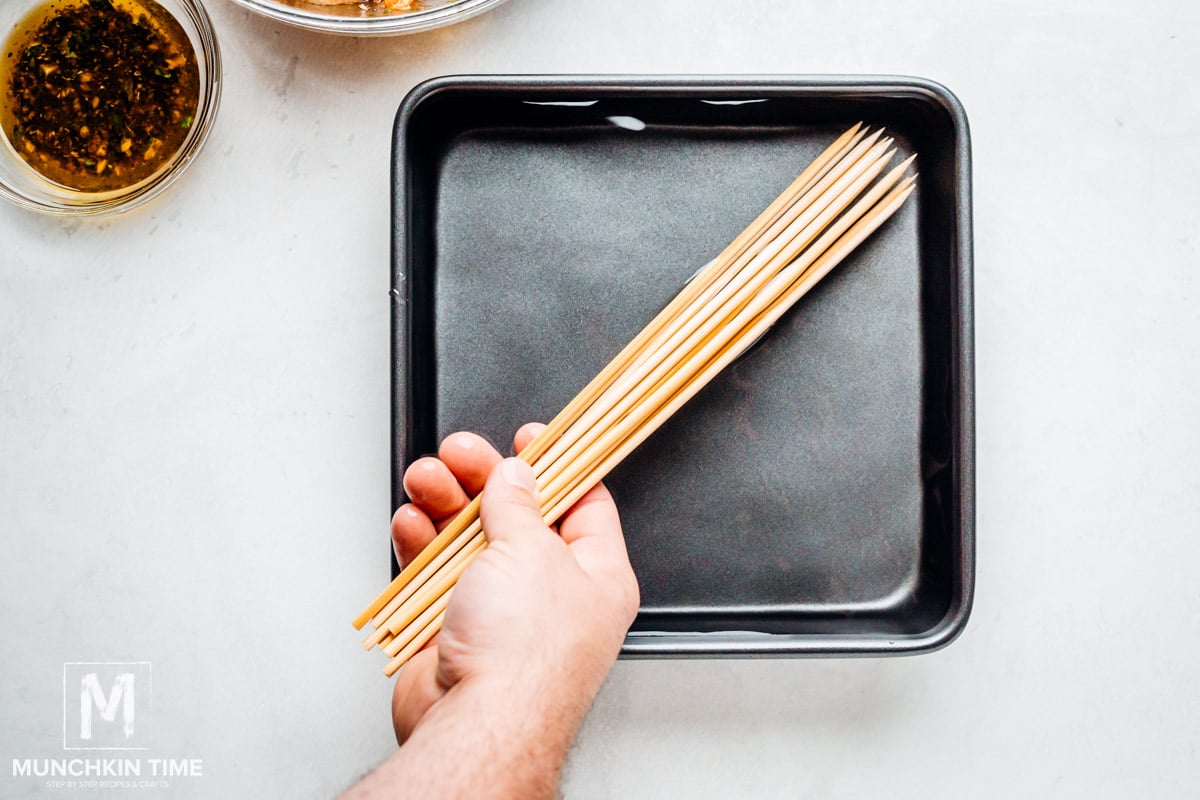 Step 2: Preheat the grill to medium heat. If you haven't scraped your grill yet, do that now. It's much easier to do it while it's hot. Then, grease it with oil to create a nonstick surface.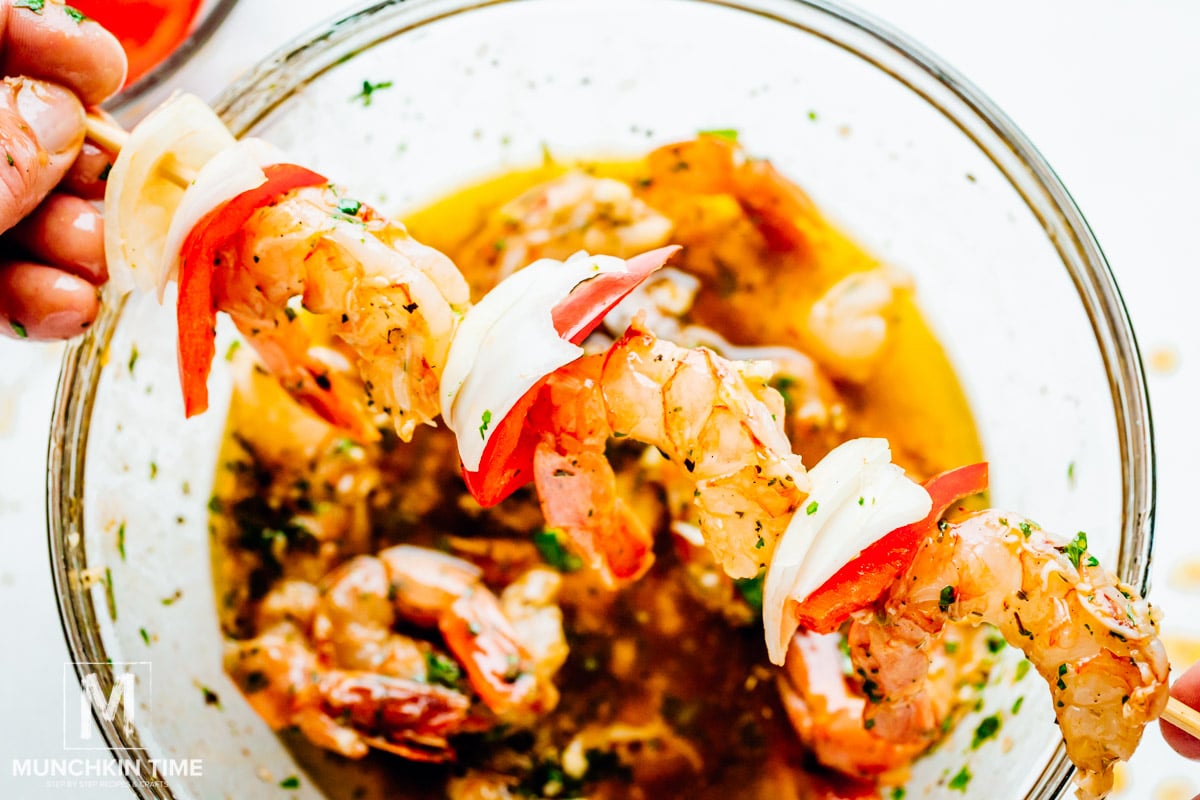 Step 3: Thread one skewer at a time, using a couple of shrimp, followed by a bell pepper square and an onion square, then another couple of shrimp. Of course, you can do it however you like, in whatever pattern you like. Pierce the shrimp near the tail and the head. Discard the marinade.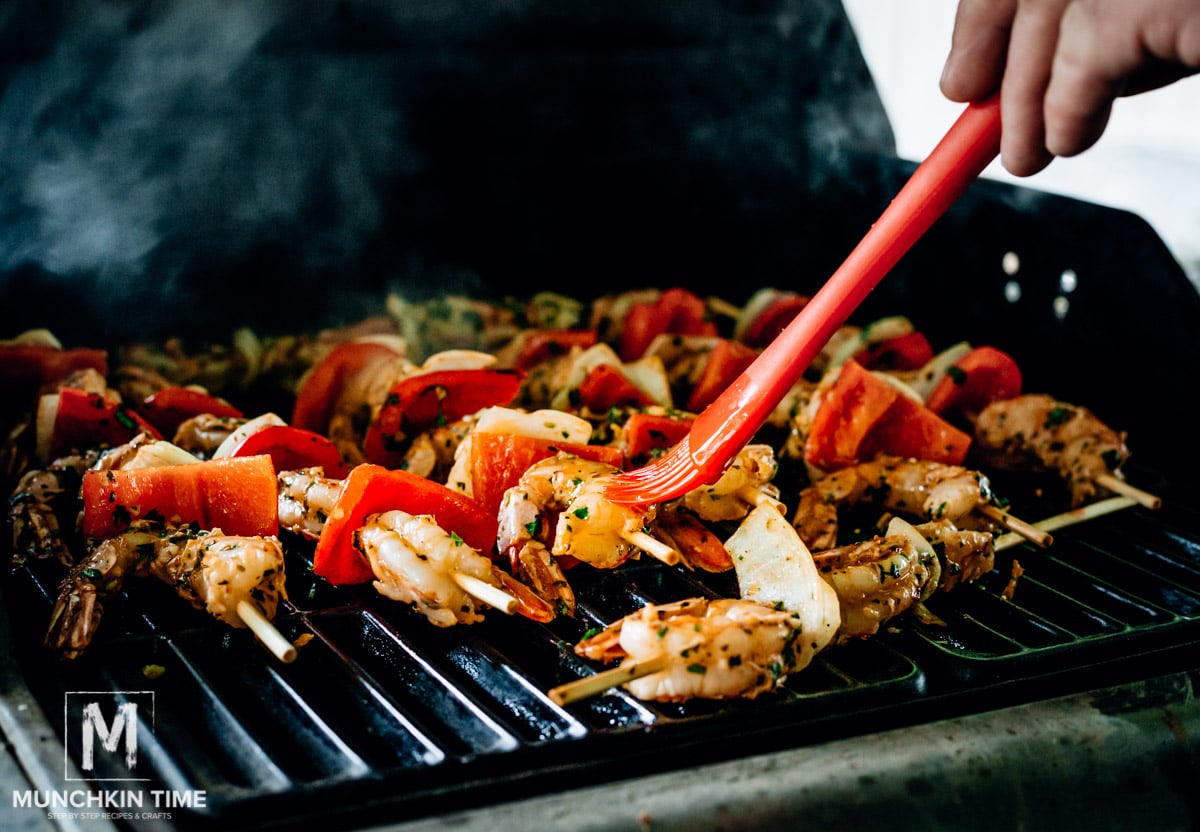 Step 4: Once you've threaded all of your skewers place them on the grill for 5 minutes per side. Baste with remaining marinade as they cook until cooked all the way through then remove from the heat. Serve with Creamy Baby Potatoes and lemon wedges. Enjoy!
How

Long

to

Grill Shrimp
This will always depend on how hot your grill is and how large your shrimps are. If you are cooking medium-large shrimp over medium heat then 10 minutes total should be good. Give or take a few minutes depending on the variables mentioned. Keep an eye on the skewers so they don't burn!
Shrimp Recipe

Tips
After a while the lemon juice in the marinade will start to break down the shrimp, so 2 hours of marinade time is max.
If you want to prepare early and make this ahead of time, consider swapping the lemon juice for lemon zest instead. Then squeeze a bit of lemon juice into the mixture an hour or so before grilling.
The wooden skewers will be hot straight off the grill so be careful with them! When I serve my kids I always like to take the shrimp off the skewers before presenting their plates.
What to

Serve

with this

Grilled Shrimp Recipe
Creamy garlic baby potatoes are a favorite around here, especially when I'm serving a crowd!
For a more casual weeknight dinner, I'll usually stick with classic Instant Pot mashed potatoes.
A side of avocado corn salsa or mango avocado salsa would be great with shrimp in the summer!
How Do I Know When the

Shrimp

is

Fully Cooked

?
Shrimp starts off grey and slightly translucent. When it's cooked it will be pink and opaque (not see-through at all). It'll be a little hard to tell if it's pink because of the marinade, but as long as it's been on the grill for at least 10 minutes, and they are firm to the touch, they are done!
Can I Use

Frozen Shrimp

for

Grilling

?
Absolutely! Just be sure to thaw them first, either in the fridge overnight, or in a bowl of cold water the day of.
Check Out More Delicious SHRIMP RECIPES:
Easy Mexican Shrimp Cocktail Recipe
Honey Garlic Shrimp Recipe and Broccoli
20-Minute Bang Bang Shrimp Air Fryer
5 Easy Steps PERFECT Shrimp Scampi
Chicken Thighs and Shrimp Paella Recipe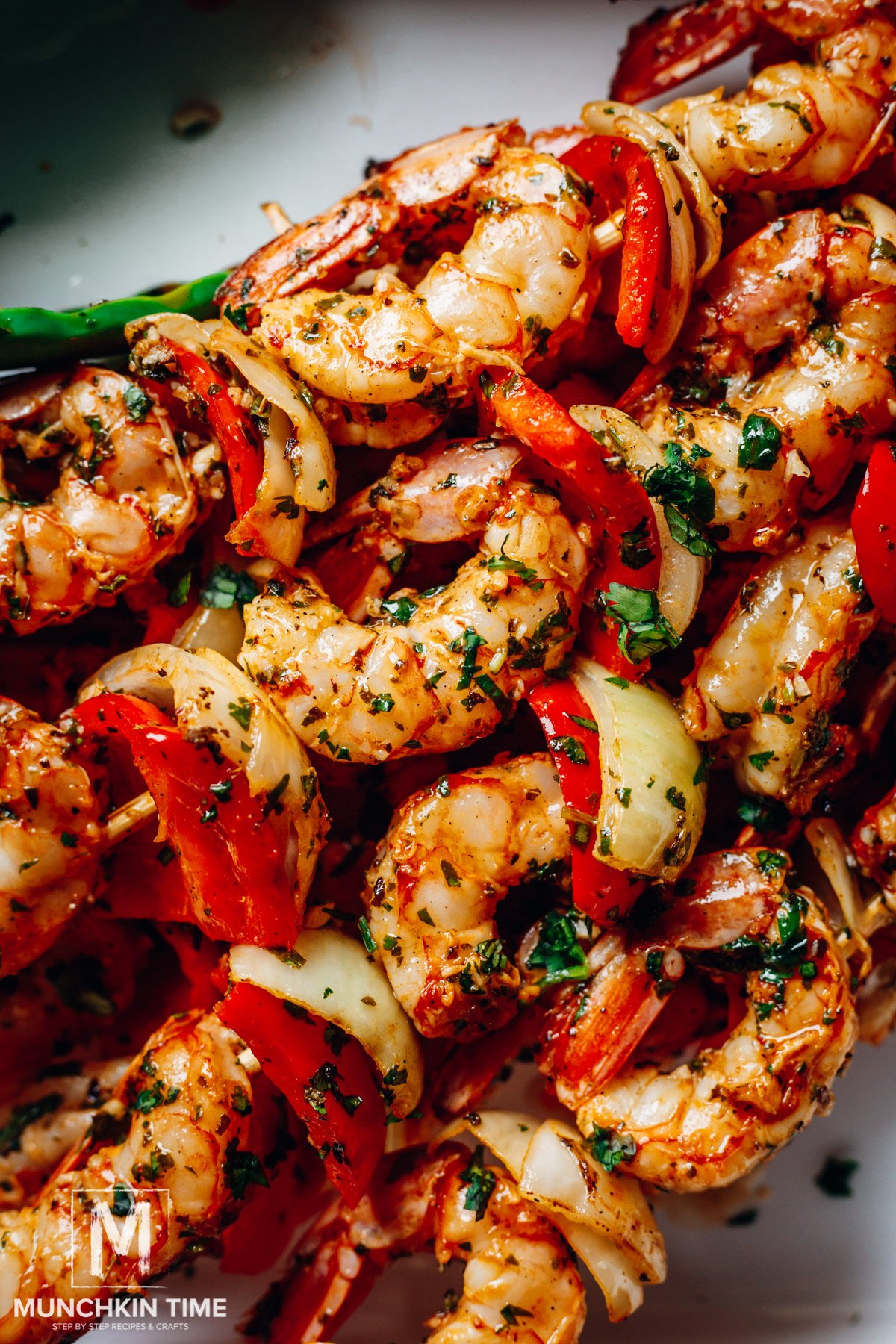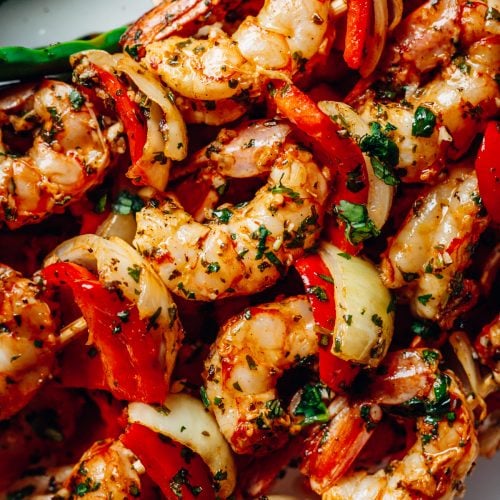 Spicy Grilled Shrimp Recipe
Spicy Grilled Shrimp Skewers Recipe – this easy recipe makes the best shrimp! Remove juicy shrimp from skewers and serve with Creamy Baby Potatoes & lemon wedges for a great meal.
Ingredients
2

lb

shrimp

raw-uncooked, peeled and deveined with tails attached

1

cup

olive oil

5-7

cloves

 garlic

minced

2

tablespoon

hot pepper sauce

or to taste

1

tablespoon

ketchup

1/4

cup

cilantro

freshly chopped

1

large

lemon

squeezed

2

teaspoons

oregano

dried

1

teaspoon

salt & pepper

or to taste

2

bell peppers

cut into square pieces

1

onion

cut into square pieces
Instructions
First, in a mixing bowl combine 1 cup olive oil, 5 finely chopped garlic cloves, 2 tablespoons of hot pepper sauce, 1 tablespoon of ketchup, 1/4 cup of cilantro, lemon juice, 2 teaspoons of oregano, 1 teaspoon of salt & 1 teaspoon of pepper. Give it a good whisk. Reserve 1/3 of a cup of marinade for basting.

Add shrimp, then mix with hands. Cover and let marinate for 2 hours inside the fridge.

While shrimp marinates, soak wooden skewers in water.

Preheat grill over medium heat & grease the grill grate with oil. Thread shrimp onto skewers with bell peppers & onion, piercing near tail and near the head. Discard marinade.

Grill shrimp for 5 minutes per side, or until shrimp is cooked thru, basting frequently with reserved marinade. Serve with Creamy Potatoes. Enjoy!
Video
Notes
When 

YOU

 make this 

Spicy Grilled Shrimp Skewers Recipe

, take a picture & tag your Food Creation on Instagram using @MunchkinTimeBlog  @Albertsons  & hashtag #eatlifeup & #munchkintimeblog, we would love to see your creation!
Nutrition
Serving:
1
g
Calories:
185
kcal
Carbohydrates:
8
g
Protein:
32
g
Fat:
2
g
Saturated Fat:
1
g
Cholesterol:
381
mg
Sodium:
1316
mg
Potassium:
289
mg
Fiber:
2
g
Sugar:
4
g
Vitamin A:
1311
IU
Vitamin C:
72
mg
Calcium:
246
mg
Iron:
4
mg
Q. Do YOU like this Spicy Grilled Shrimp Recipe?
Let me know in the comments below, I would love to hear from you!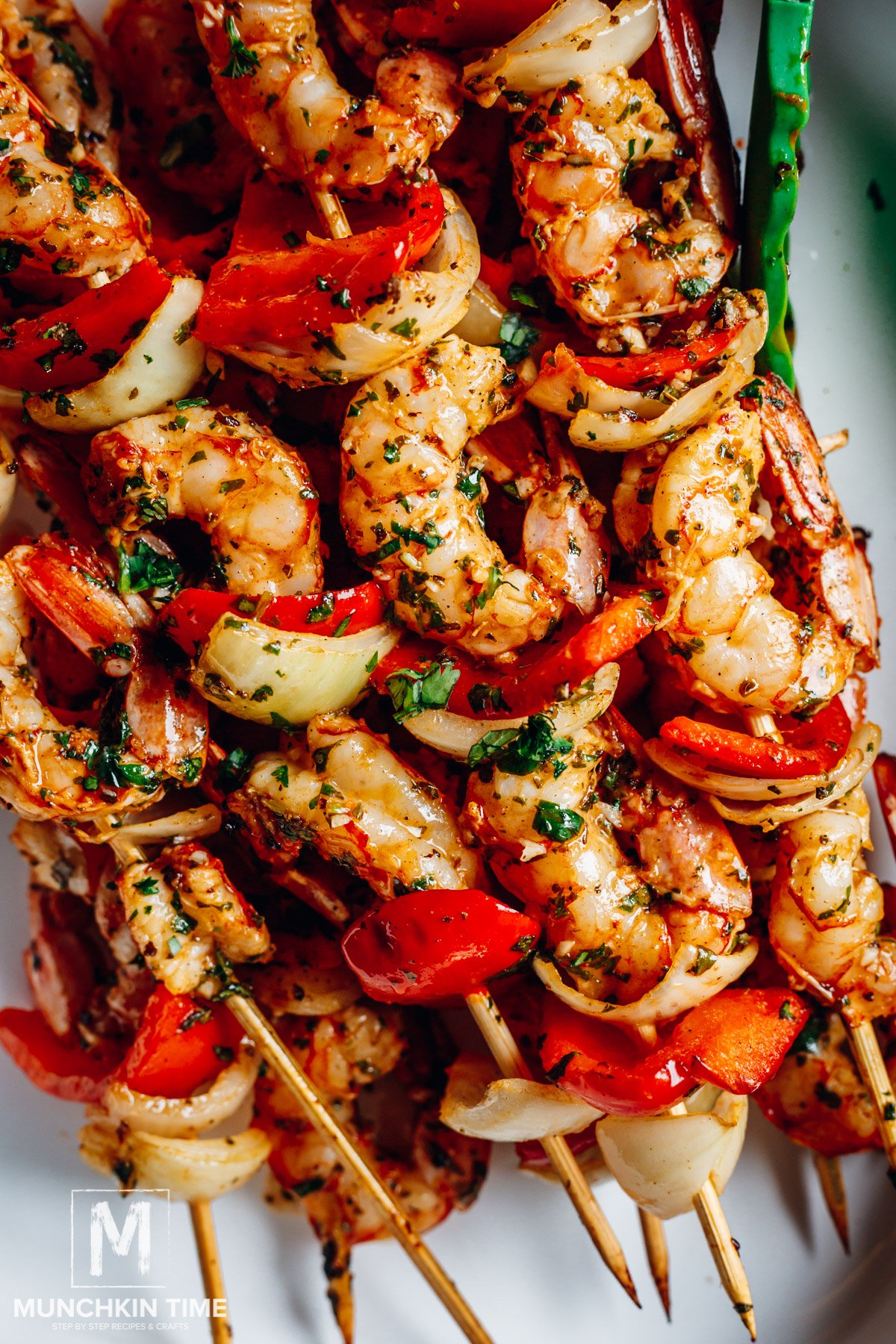 Thank YOU for YOUR Comment, Share & Recipe Review!
This post was updated on May 30, 2022, the recipe didn't change.