5-Step Easy Shrimp Scampi Recipe delivers juicy flavorful shrimp smothered in a garlic and herb mixture then drenched in a delicious white wine and brandy sauce. They're broiled for an extra few minutes to ensure locked-in flavor with a golden crispy bite!
Shrimp is a protein I always seem to keep in my freezer. I know I can always reach for a bag and come up with a quick and easy way to prepare them. This is especially helpful on busy weekdays or when I'm feeling less than enthusiastic about putting any effort into dinner on the weekend!
A good shrimp recipe never fails and this easy shrimp scampi recipe ranks right up there with my favorites. It's super easy to take a simple bag of shrimp and turn them into elegant scampi, better than anything you'd find at a fine-dining restaurant. Plus, I'm going to teach you the tips and tricks to flambé alcohol to turn it into a spectacular sauce!

What is

Shrimp Scampi

?
Scampi is actually a type of crustacean that looks like little lobsters that are far bigger than the shrimp you and I are familiar with. Shrimp is far more accessible than scampi are, so most of us make what is now known as shrimp scampi!
This traditional Italian dish is made by cooking scampi in garlic butter and white wine sauce and it's amazing. However, as it tends to happen with dishes over time and place, the recipe has been adjusted to suit a variety of tastes, with additional ingredients like lemon juice and Parmesan cheese or different seasonings.
What Goes into Making This Version?
This garlic shrimp scampi is made by searing them to get a golden brown color with a slight crispiness thanks to the flour. Then, we develop the scampi sauce in two layers.
First, we pan-fry aromatics like garlic and shallots with fresh and dried herbs which are sprinkled over the top of the shrimp. After that, we flambé 2 kinds of alcohol which we then pour over top the juicy flavorful shrimp giving it a beautiful elegant finish. Finally, they're finished under the broiler.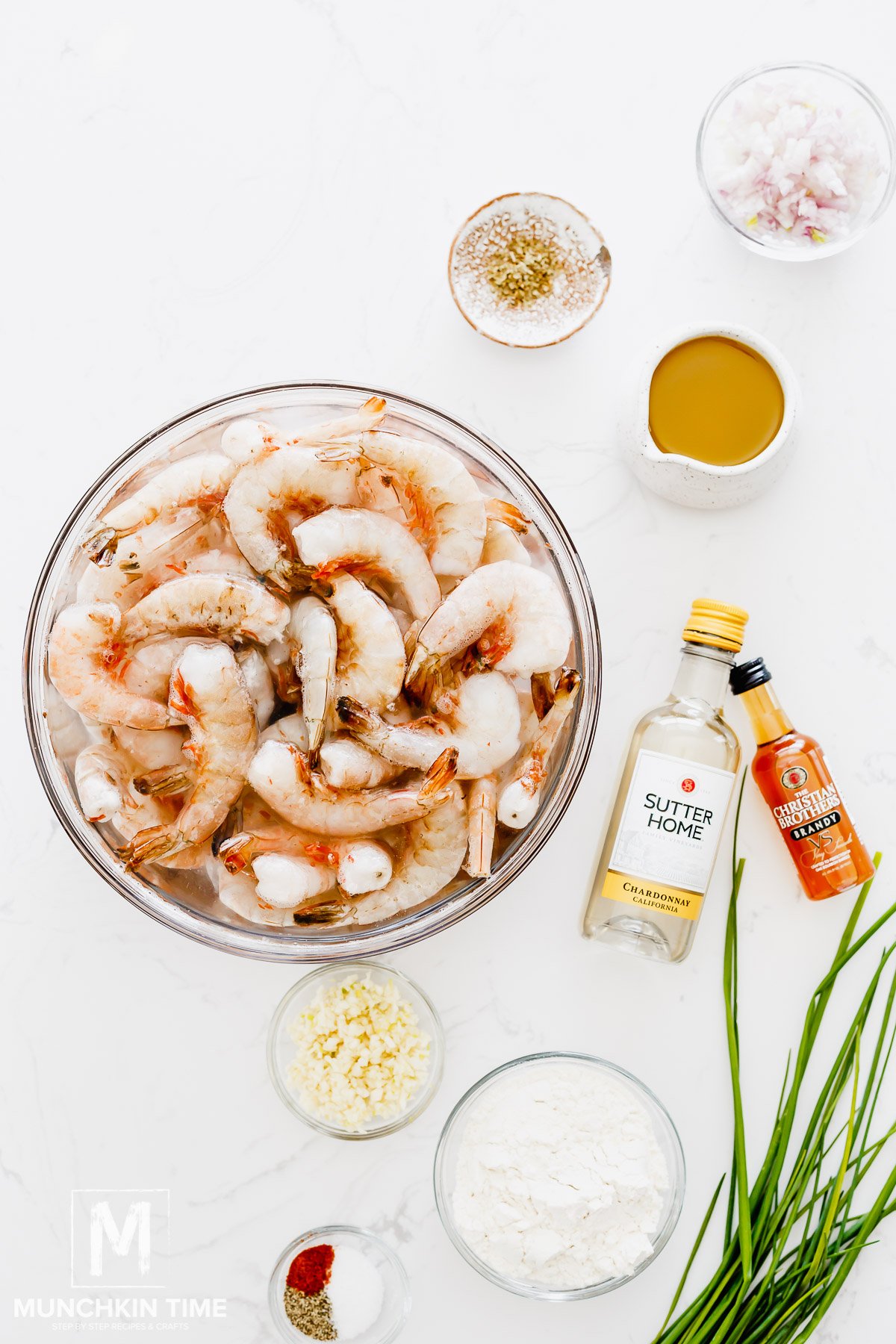 Ingredients Needed for this Easy Shrimp Scampi
Flour coating for shrimp – All-purpose flour, salt, black pepper, and cayenne pepper.
Shrimp – If you can find fresh shrimp, use it! If you have a bag of frozen shrimp in your freezer, make sure it's completely thawed first. Remove the shells and devein them if that's not already done for you.
Olive oil – Used to cook the shrimp and sauté the aromatics and herbs, so I like to use a neutral oil that stands up to high heat. Olive oil is a good choice for this.
Aromatics and herbs – minced garlic, chopped shallot, chopped fresh parsley, and dried oregano.
White wine and brandy – Will be set on fire! Otherwise known as flambé. This brings out the natural sugars and flavors while getting rid of the strong taste of the alcohol.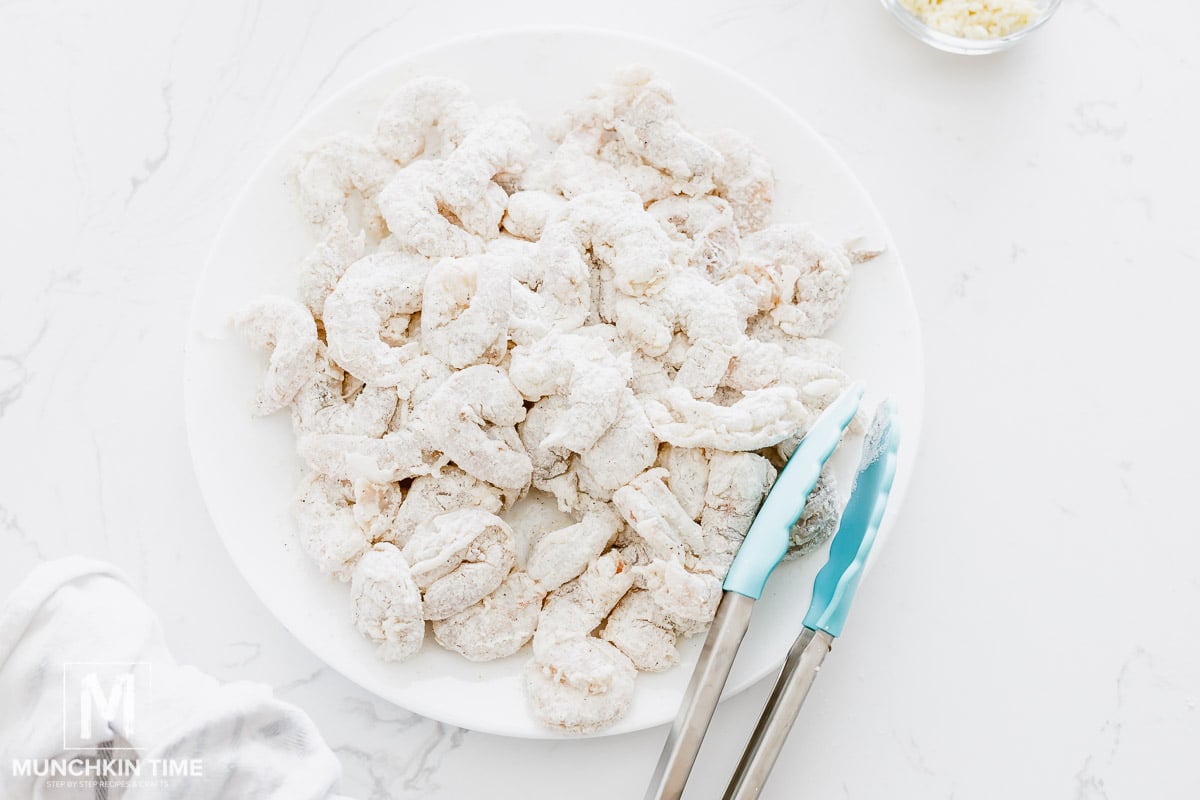 How to Make Shrimp Scampi
Step 1: Start by dredging the shrimp in seasoned flour. You'll combine salt, pepper, and cayenne to the flour in a shallow dish and use it to coat each shrimp. Make sure to flour both sides of the shrimp.
Step 2: Heat oil over medium-high heat in a large skillet. Place shrimp into the skillet in a single layer and cook on one side for 5 minutes before flipping for another 2.5 minutes. Transfer shrimp to an oven-safe dish or rimmed baking sheet lined with foil.
Step 3: To the same skillet with remaining oil, add garlic, shallot, parsley, and oregano. Cook for about 3 minutes, stirring occasionally. At this point, the garlic and shallots will be deliciously fragrant and golden brown. Take this garlic mixture and sprinkle and spread it overtop the resting shrimp.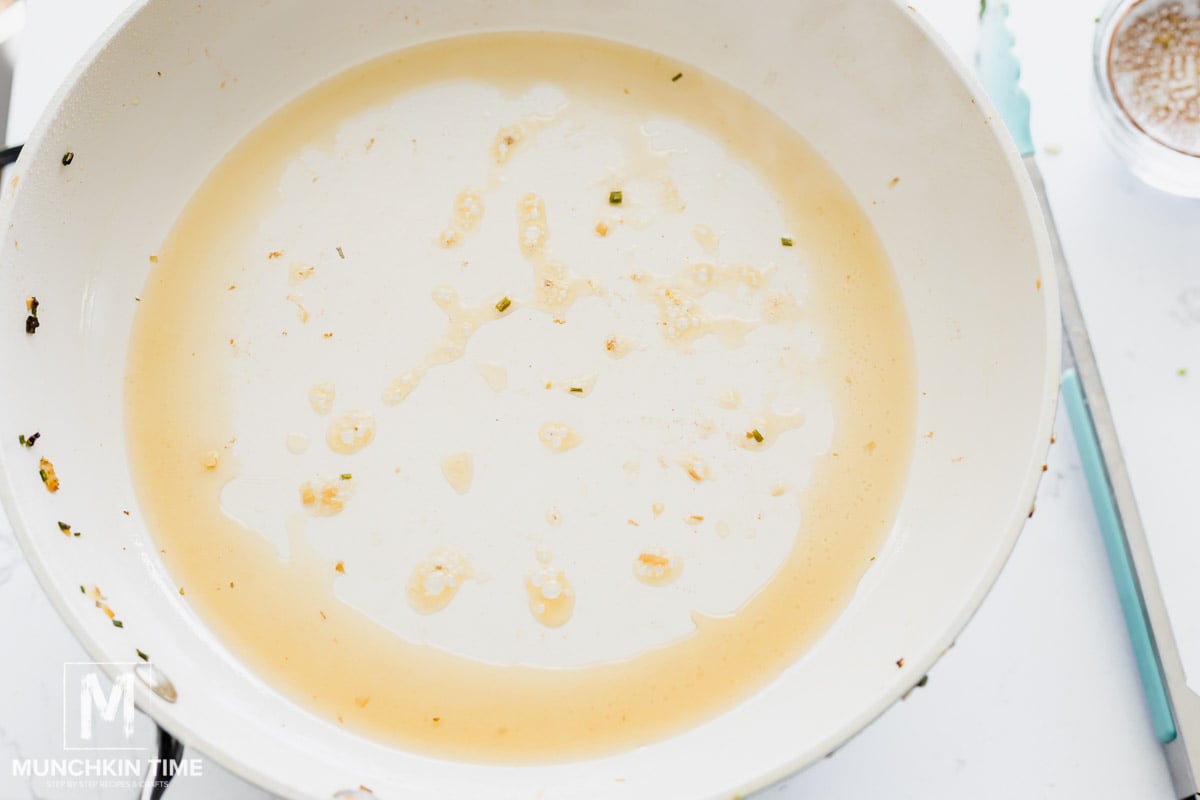 Step 4: We're going to continue using the same skillet to pour the wine and brandy in. Using a lighter or match, light up the liquid. It will produce flames, so keep an eye on it, however, don't get too close. Once the flames die down, pour the remaining sauce over the shrimps.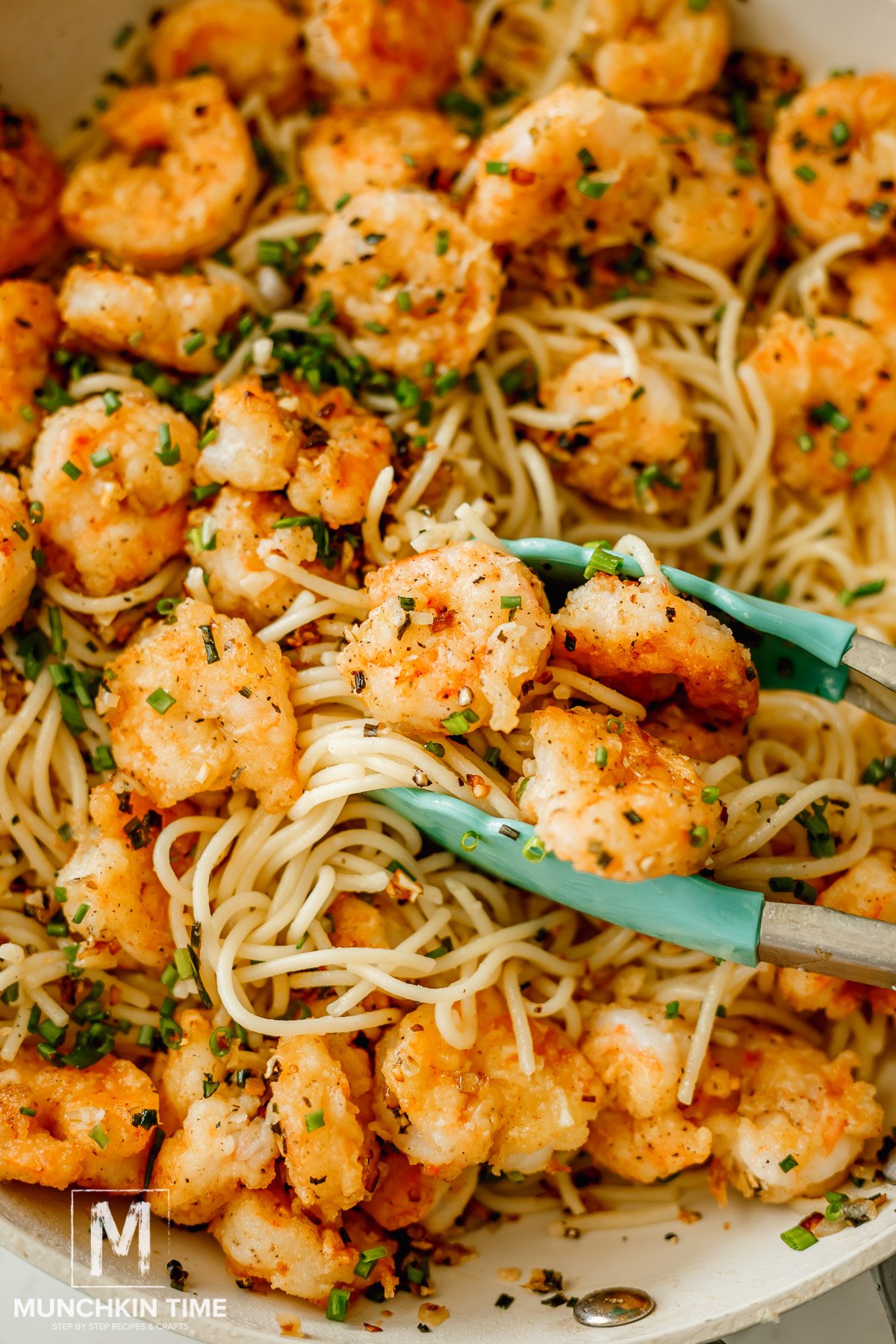 Step 5: Totally Optional: Place dressed-up shrimp under the broiler for 3-5 minutes to achieve an extra layer of crispy golden flavor. Garnish with some fresh parsley and serve!
Keep In Mind

When Learning to

Flambé

:
Learning to flambé is something to be proud of! However, it isn't something to be taken lightly.
Always use a skillet or pan with a long handle.
Tie long hair back away from your face or the pan.
Keep your face away from the skillet.
Do not pour the alcohol directly from the bottle. Instead, pour it into the measuring spoons/cups beforehand. Too much direct heat too close to the bottle can cause it to explode.
Once lit, the flame will start burning even within an inch of touching the alcohol. Tilt the pan away from you so that all of the alcohol is pooled downward.
The flames will last for as long as the alcohol does. Once it burns off, the flames will die. This could be seconds or longer. If at any point you want to put the flames out, just cover it with a lid.
Keep kids far away from the area!

Have fun!
Ways to Serve

Shrimp Scampi
A squirt of lemon juice to finish off the dish before serving would add a lovely burst of citrus that always pairs well with seafood.
For a little heat throw in some red pepper flakes along with the garlic and herbs.
Add a little butter to the oil for added buttery flavor.
Serve with your favorite long pasta noodles. Angel hair, fettuccine, or linguine is always nice.
Sometimes switch it up and serve it with potatoes or rice.
A bowl or plate all on its own with a loaf of crusty bread to mop up the juices is the best!
More

Yummy Main Dishes

:
Super Juicy Oven Baked Chicken Wings
Baked Chicken Pasta in Buttery White Sauce
Oven Baked Boneless Skinless Chicken Thighs
5-step Easy Shrimp Scampi recipe
The Perfect Shrimp Scampi with white wine and brandy sauce.
Ingredients
1/2

cup

all-purpose flour

1/2 - 1

teaspoon

Kosher salt

or to taste

1/2

teaspoon

black pepper

1/4

teaspoon

cayenne pepper

1 1/2

lb

raw shrimp

wild-caught raw shrimp, shell removed and deveined without tails

1/2

cup

olive oil

5-6

cloves

garlic

minced

1

shallot

chopped

1/2

cup

chives

or parsley chopped & divided

1/2

teaspoon

dried oregano

crushed

2

tablespoons

white wine

2

tablespoons

brandy
Instructions
In a shallow dish combine 1/2 cup of flour, about 1/2 teaspoon of Kosher salt, 1/2 teaspoon of black pepper & 1/4 teaspoon of cayenne pepper. Mix until everything is combined. Place shrimp in the flour mixture. Flour both sides.

In a large skillet, on a medium/high heat, heat 1/2 cup of olive oil. Add shrimp and cook for 5 minutes, flipping on the other side after 2.5 minutes. Using a slotted spoon, remove the shrimp to the oven save dish.

To the same skillet add 5 cloves of garlic, 1 chopped shallot, 1/4 cup of chopped parsley and 1/2 teaspoon of dried oregano. Cook on medium heat for about 3 minutes, stirring few times. Remove the garlic mixture and place it over the shrimps.

In the same skillet pour 2 tablespoons of white wine and 2 tablespoons of brandy. Using a lighter or a match, light up the liquid, wait till the flames die down. Pour the sauce over the shrimps.

Broil shrimp scampi on high heat for about 3-5 minutes. Garnish with 1/4 cup of fresh parsley. Enjoy!
Video
Notes
Hi! All content & images are copyright protected. Please do not use my images without prior permission. If you want to republish this recipe, please re-write the recipe in your own words, or simply link back to this post for the recipe. Thank you.
Nutrition
Calories:
452
kcal
Carbohydrates:
16
g
Protein:
25
g
Fat:
29
g
Saturated Fat:
4
g
Polyunsaturated Fat:
3
g
Monounsaturated Fat:
20
g
Trans Fat:
1
g
Cholesterol:
214
mg
Sodium:
1838
mg
Potassium:
271
mg
Fiber:
1
g
Sugar:
1
g
Vitamin A:
578
IU
Vitamin C:
5
mg
Calcium:
111
mg
Iron:
2
mg
Thank YOU for YOUR Comment, Share & Recipe Review!
You are Awesome!
Have a blessing day!
=)
THIS RECIPE WAS UPDATED ON MARCH 30, 2022 WITH NEW PICTURES, THE RECIPE DID'T CHANGE!