Learning how to cook Ribeye Steak in the Oven has never been easier! I walk you through the simple steps to get a perfect crust on the outside, and perfectly juicy and tender on the inside, complete with herb and garlic butter basting at the end!
When YOU make this (in my opinion) Best Ribeye Steak Recipe please tag us on @munchkintimeblog on Instagram, we would LOVE to see your creation!
This recipe was made in partnership with the Boise Co-op. The Boise Co-op has been providing fresh, local and organic products since 1973. Learn more about the Boise Co-op here.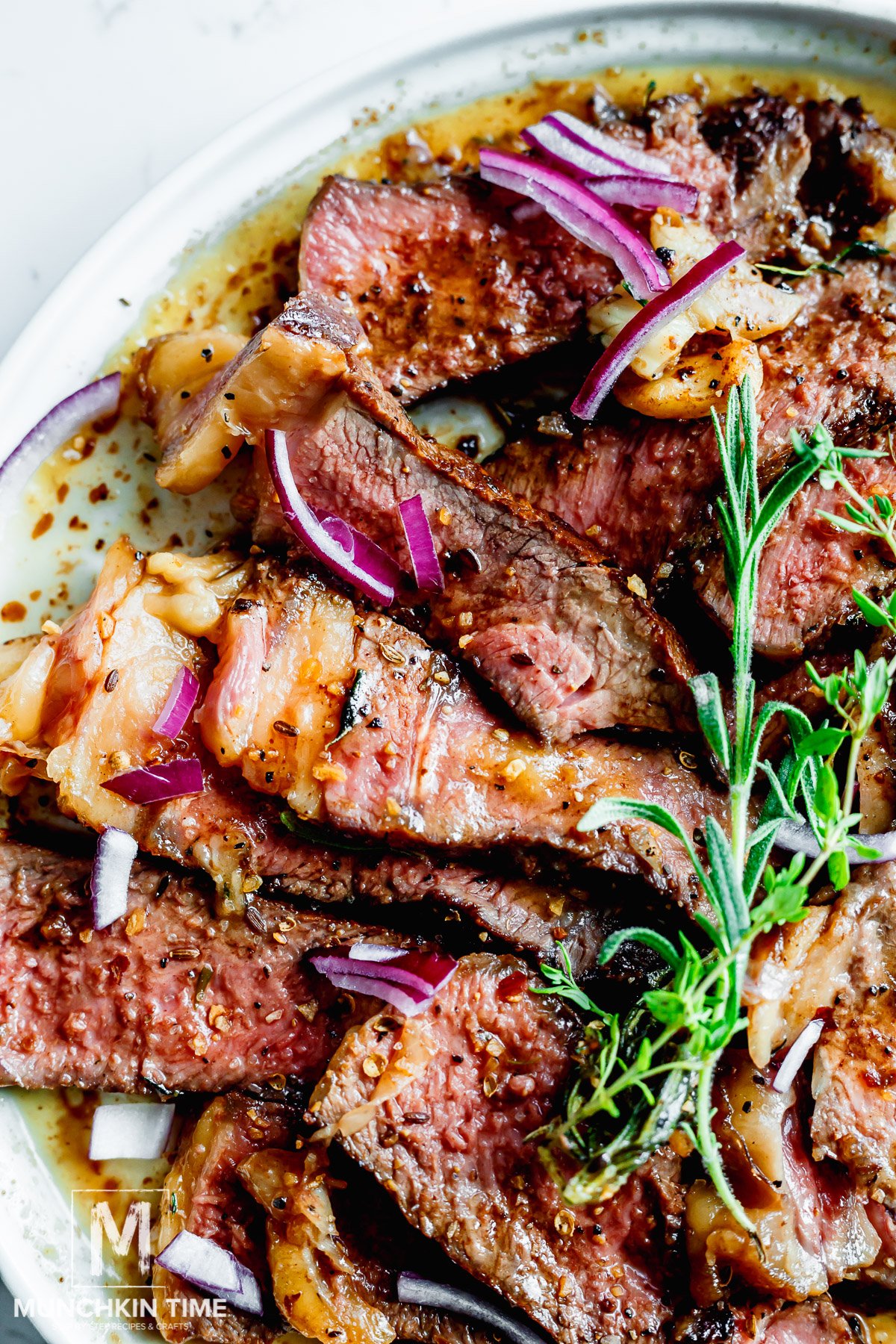 If you're looking for the best way to cook ribeye steak, this is it! Yes, we're cooking it in the oven, however, we're also taking a bite out of my recipe for how to cook steak on the stove, for the perfect results.
We start this ribeye steak recipe by searing the outside of the steak to get a nice crust and beautiful caramelization, and to lock in the moisture. Then we transfer the steak to the oven to allow the inside of the meat to catch up.
It's then finished, once again, on the stove so we can baste it in melted butter infused with garlic and rosemary.
The meat is juicy and flavorful, and it's such an easy yet impressive recipe that you could just as easily serve it for a weeknight meal as you could a dinner party for guests!
Enjoy it over mashed potatoes with a side of grilled veggies for a complete restaurant-style meal right at home!
Ingredients Needed
Ribeye Steak: For this recipe, you'll need 2 ribeye steaks, about 1 lb each. Use boneless or bone-in it's up to you. Bone-in typically leads to a juicier steak, however, it also takes longer to cook. It's up to you!
Avocado Oil: Rubbing the steak with oil ahead of time helps the seasoning to stick to the meat but it also helps brown the outside of the meat when it sears.
Montreal Steak Spice: A simple combination dry rub I love to use.
Thyme & Rosemary Sprigs: The sprigs of these fresh herbs are placed onto the steak as it cooks in the oven infusing the meat with herbaceous flavors!
Crushed Garlic Cloves: Just crush the cloves with the side of the spoon so they stay whole but their flavor is released. Again, we're just infusing flavor.
Butter: Here's where it gets fun! The melted butter adds a whole other layer of deliciousness. Its buttery flavor also gets infused with garlic and herbs and then coats the meat to make it extra juicy. It's so good! Use salted or unsalted, it's up to you.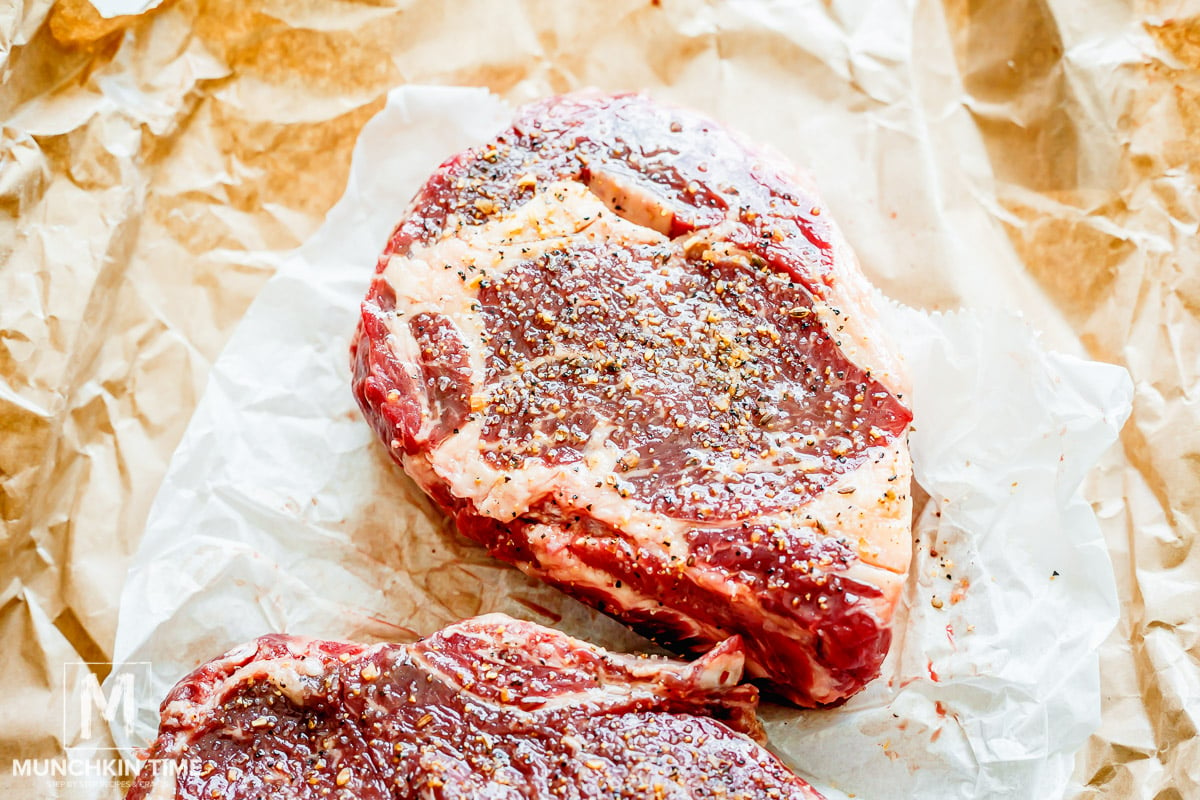 How to Cook Ribeye Steak in the Oven
Before you even begin, it's important to take the steak out of the fridge and let it sit at room temperature for 20-30 minutes. This is because you never want to add cold steak to a sizzling hot pan. It will stick, but it also won't sear properly.
Once you're ready to go, pat the meat dry with a paper towel, and let's get started.
Step 1: First, place an empty cast iron skillet inside the oven and preheat it to 450 degrees F.
Step 2: While the skillet is getting hot, brush both sides of the steak with oil, but season just the top.
Step 3: Once the oven has reached its temperature, carefully take out the skillet and place it on the stove over medium heat.
Step 4: Use tongs to transfer the steak to the skillet seasoned side down. You should hear that beautiful sizzle! Sear it for 2 minutes. Season the rest of the steak as it cooks.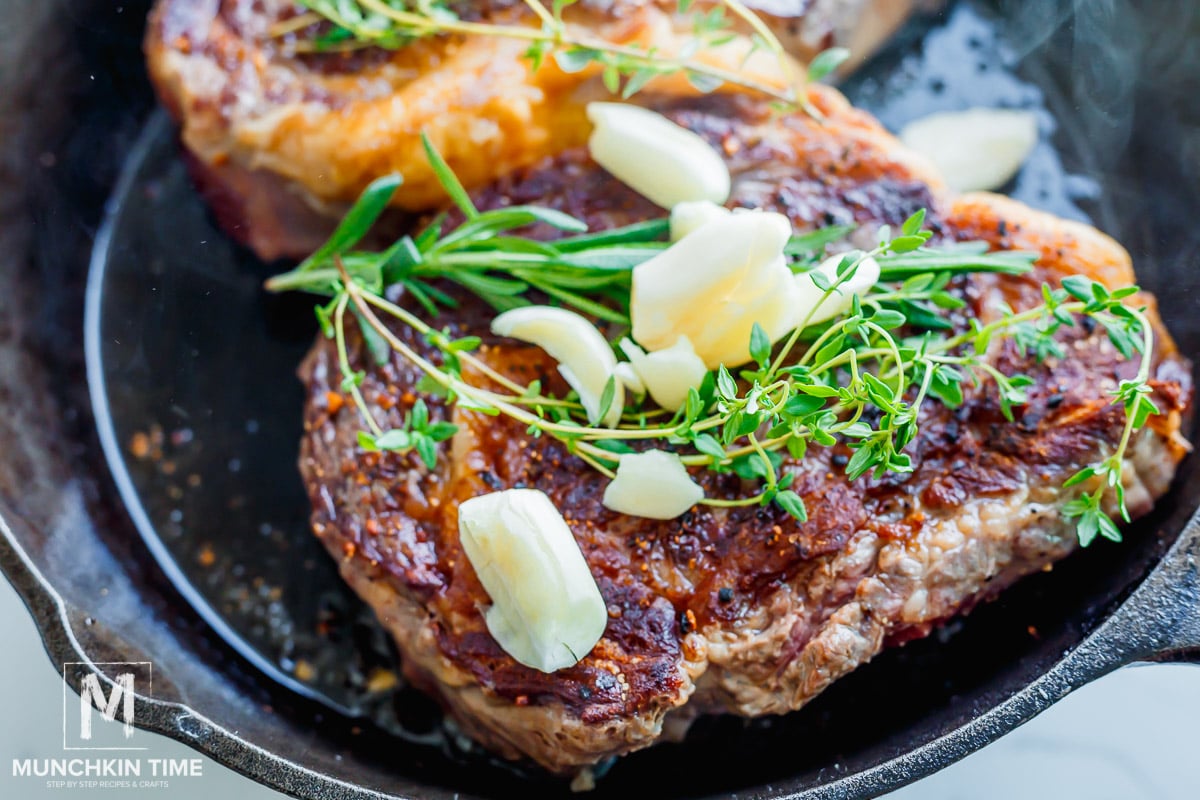 Step 5: Now, flip the steaks over and place the springs and garlic overtop. After the other side has had a chance to sear for 2 minutes, transfer the skillet back into the oven for 7 minutes.
Step 6: Next, turn the stove down to medium-low heat and remove the skillet from the oven and back onto the stove.
Step 7: Next, add about 2 tablespoons of butter onto each of the steaks and once it melts, tilt the skillet again from you and use a spoon to pour the butter over the steak continuously for 2-3 minutes.
Step 8: Use a meat thermometer for an accurate way to tell if your steak is done to your liking. I like to remove it from the skillet at about 135-145F for medium well. Remember it will continue to cook a bit as it rests.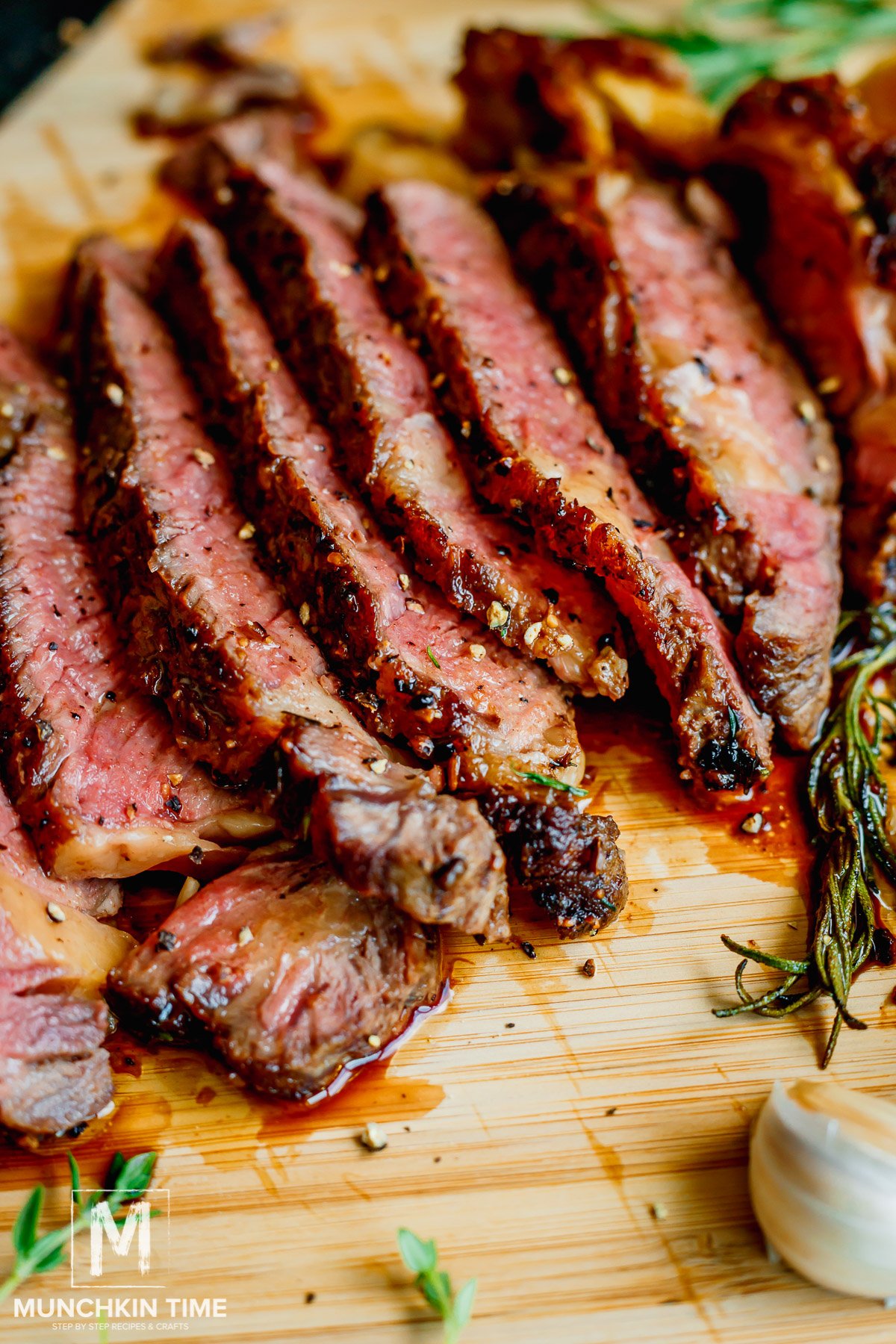 Step 9: Transfer the steak onto a serving platter and pour melted butter over top. Allow it to rest for 5 minutes before slicing. Enjoy!
You can eat it as a main dish or use the slices in a wrap, a sandwich, or on top of a salad.
Tips for Cooking Steak in the Oven
Always baste the meat with butter with the pan titled away from you. It's easier to prevent any hot splatter from coming your way.
Let the meat rest. Once it's done cooking, allowing it to rest gives the juices a chance to settle and redistribute throughout the whole steak.
Slice against the grain. Now, if you choose to slice it before serving it, make sure you slice it against the grain. This means cutting crosswise against the fibers you'll see running lengthwise. Cutting them shorter makes the meat less chewy and is a much more tender bite.
No cast iron skillet? No problem. Any oven-safe skillet will do. However, if you have one, I highly recommend it because it is the best way to get a fantastic crust!
How Long to Cook Ribeye Steak in Oven at 450?
This will depend on your oven and the thickness of your steak, but overall, it should take about 7 minutes for medium rare and 10 minutes for medium.
Remember two things. First, the meat thermometer is the best way to tell if it's done to your liking. Second, the internal temperature will continue to rise as it rests.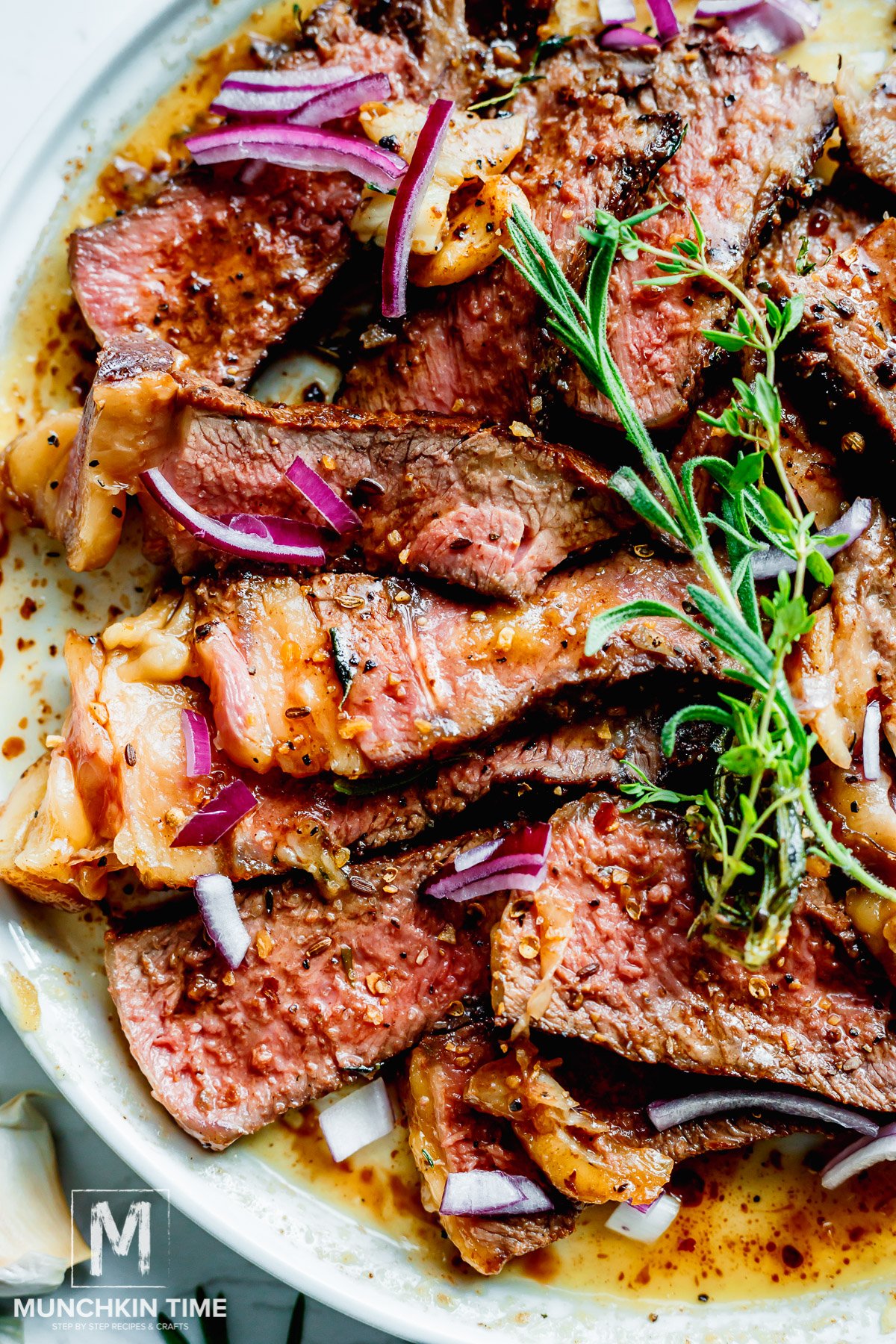 Can I Cook Boneless Ribeye Steak in the Oven?
Absolutely! You can use this same recipe with a faster cook time. Just a few minutes, so keep a thermometer close by.
What to Serve with Ribeye Steak?
We love having steak with any kind of potato side dish! We like to switch it up sometimes, so here are just a few different potato recipes to try:
Cheesy Mashed Potatoes with Caramelized Onion
Perfect Roast Potatoes with Garlic and Rosemary
Don't forget a simple vegetable side dish like roasted broccoli, glazed carrots, or even a simple side salad!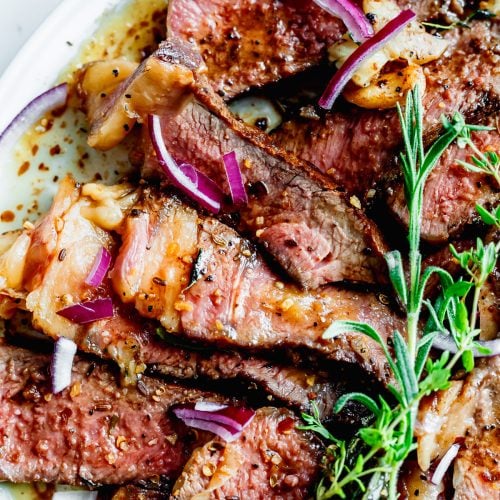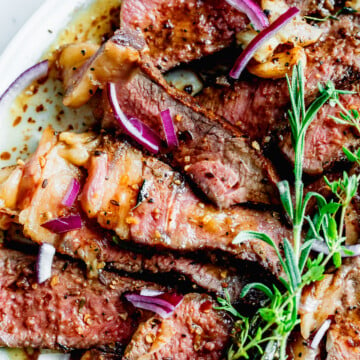 How to Cook Ribeye Steak in the Oven
How to Cook Ribeye Steak in the Oven - If you're looking for the best way to cook ribeye steak, this is it & it's incredibly easy to make.
Instructions
Rest ribeye in room temperature for 20-30 minutes. Pat dry with paper towel.  Place cast iron skillet inside the oven and preheat it to 450F. While oven is preheating brush steak with oil on one side and season with half of the seasoning. 

Once oven is preheated, pull the skillet out onto the stove over medium heat. Add steak seasoned side down. Sear for 2 minutes. Brush the top with oil and season with the rest of the seasoning. 

Flip on the other side and add thyme, rosemary and garlic over the top. Then carefully place skillet into the oven for 7 minutes. 

Removed skillet from the oven onto a medium/low heat. Flip steak and add butter over the top.  Once butter melts, tilt the skillet and using a spoon pour the melted butter over the steak for 2-3 minutes. Using a meat thermometer, check for doneness, I like to remove the steak from the skillet at 135-145F for medium well, onto a plate.

Pour the melted butter with garlic over the top. Let rest for 5 minutes. Slice steak and enjoy with a salad & mashed potatoes.
Video
Notes
Hi! All content & images are copyright protected. Please do not use my images without prior permission. If you want to republish this recipe, please re-write the recipe in your own words, or simply link back to this post for the recipe. Thank you.
Nutrition
Calories:
402
kcal
Carbohydrates:
1
g
Protein:
23
g
Fat:
34
g
Saturated Fat:
15
g
Polyunsaturated Fat:
2
g
Monounsaturated Fat:
16
g
Trans Fat:
0.5
g
Cholesterol:
99
mg
Sodium:
149
mg
Potassium:
324
mg
Fiber:
0.3
g
Sugar:
0.03
g
Vitamin A:
422
IU
Vitamin C:
2
mg
Calcium:
23
mg
Iron:
2
mg
Q. Do YOU like this Easy Ribeye Steak Recipe?
Let us know in the comments below, we would love to hear from you!
Thank YOU for YOUR Comment, Share & Recipe Review!