How to Cook a Ribeye Steak on the Stove – I'm sharing with you my tips and tricks on how to cook ribeye steak on the stove in under 30 minutes! There's almost nothing that beats slicing into a perfectly cooked, well-seasoned steak and this mouth-watering recipe is one everyone will love!
Learning how to cook a ribeye steak is an easy way to elevate your Sunday dinner or to impress your dinner guests! Needing something a little extra special for Father's day for the man who loves meat and potatoes? This juicy, tender ribeye steak recipe is just the thing!
It is the best way to cook ribeye steak if you want a melt-in-your-mouth texture that can't be beaten!
Can't wait to hear what YOU think of this father's day recipe! As always thank you for stopping by!
Follow Munchkin Time on social media:
See YOU there!!!

Ingredients
YOU

will need to

Prepare The Best Ribeye Steak

:
Ribeye steaks – For this recipe, I used 2 bone-in ribeyes. Each is a little over 1 lb.
Montreal steak seasoning – McCormick's is what I usually have on hand, but you use whatever you have. Montreal steak seasoning is a blend of herbs and spices such as dill seed, black and red pepper, garlic and onion powder, and a few others.
Avocado oil – Used to sear the steak. Helps keep it sticking from the pan but also helps to lock in moisture.
Butter – Bastinig a steak in melted butter keeps it nice and moist and adds incredible flavor.
Fresh thyme & Rosemary– Sprigs of thyme and Rosemary always pair well with beef and garlic. It's a brilliant but simple combination of flavors.
When you make Ribeye Steak on the Stove, would YOU take a picture and hashtag #munchkinrecipes on Instagram, we would LOVE to see your creation.Thank you!

How to
Cook

a

Ribeye Steak

on the

Stove

in 5 Easy Steps:

Before you begin you want to make sure your steak is at room temperature. Take it out at least ½ hour before you begin and let it rest. A cold steak hitting a hot pan won't get you that sexy char!

Step 1: Lay your steak out on a plate or cutting board. Season on both sides with the Montreal Steak Spice using your hands to rub it into the meat if necessary.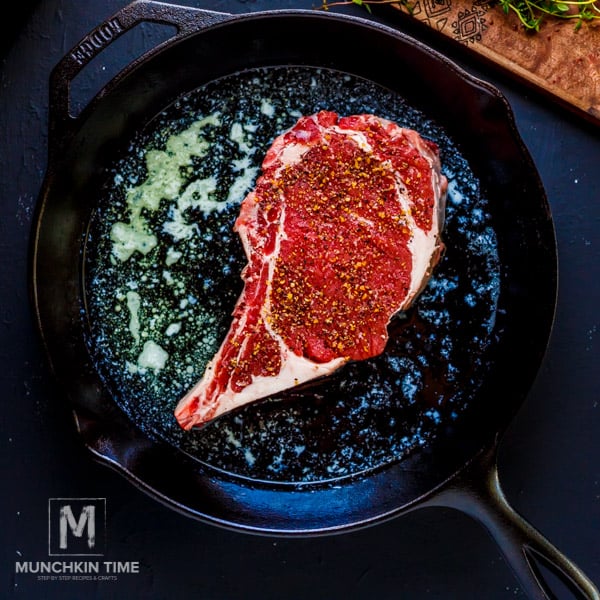 Step 2: Preheat avocado oil in a large cast-iron skillet over high heat. Place steaks in the skillet, leaving enough room in between. If your skillet isn't large enough, cook one steak at a time. Cook for about 4-5 minutes on one side before carefully flipping over.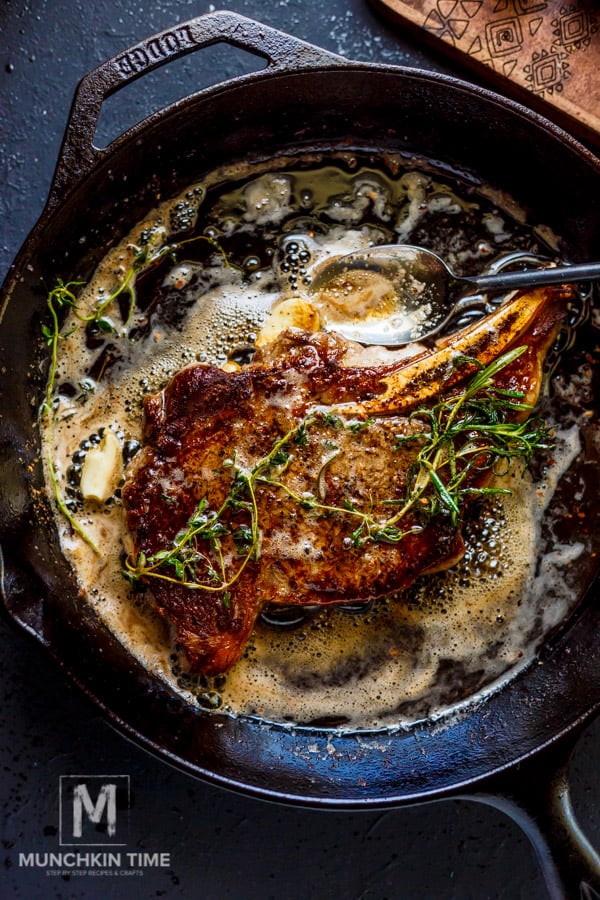 Step 3: Immediately add butter, thyme sprigs, and garlic cloves and allow it to cook through while on high heat.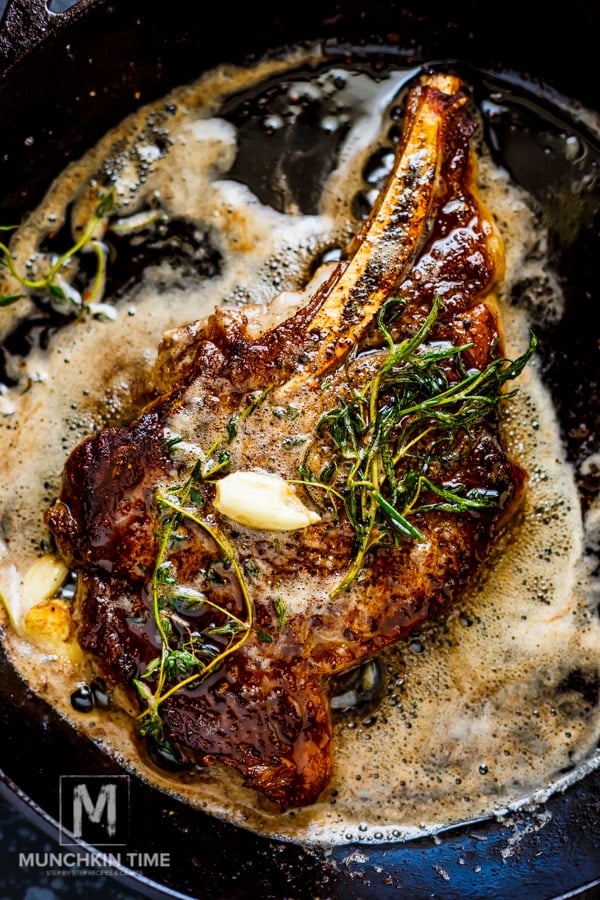 Step 4: Holding the handle of the skillet with a tea towel or oven mitt, carefully tilt the skillet away from you so that the butter pools on the lower end. It's much easier to scoop it up with your spoon this way. Baste the meat until it's cooked through to your desired level of doneness.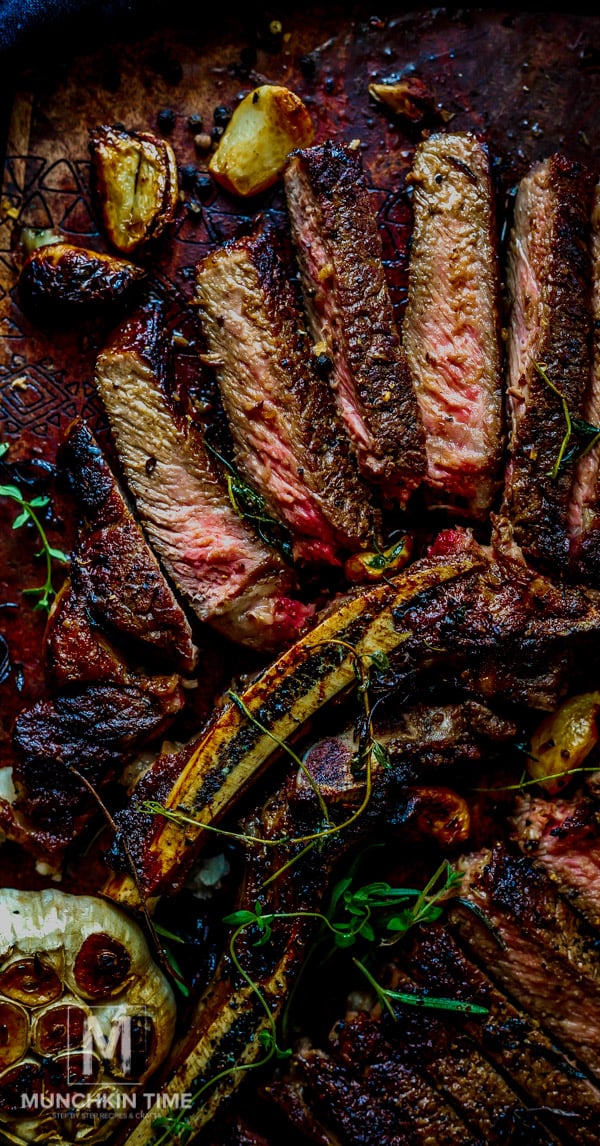 Step 5: Transfer the steak to a cutting board and let it rest for 10 minutes. Cut the bone off and then slice the rest of the meat against the grain.
Cooking

Tips
Room temperature steak.

As mentioned above, it's super important to bring your meat to room temperature beforehand. The initial sear creates a crust which then allows the inside to catch up. If the meat is cold it will spend too much time heating the outside of the steak, and you won't get that beautiful sizzle. It also means that the inside of the meat will catch up to the outside too quickly.

Oven-proof or heavy bottom pan.

If you don't have a cast-iron skillet, any heavy bottom pan will work. I like to use a cast-iron skillet because I know that if I needed to put it under the broiler for whatever reason, or if I needed to keep it warm, I can always transfer it directly to the oven.

Proper thickness.

Use steaks that are no more than 1.5" thick. As you know I love a good ribeye, but a New York strip steak also works well.

Keep the fat on!

At least until you eat it. It adds flavor but also helps to keep in the moisture.
How to

Know

When

Steak

is

Done
For medium-rare, you want to cook it for 3-5 minutes (130-140 degrees). Medium 5-7 minutes (140-150 degrees), and medium-well, cook for 8-10 minutes (150-160 degrees).
Use a digital meat thermometer to check the temperature for an accurate reading!
What to

Serve

With a

Juicy Ribeye

?
Steaks pair well with so many things! If you're going for classic pairings, steak and potatoes are always good. Perfect Roast Potatoes with Garlic and Rosemary is a must-try! A side Italian salad is great. Don't forget the basket of crusty bread made from my no knead bread recipe and a glass of red wine to wash it all down!
If you're wanting something a little different try baked eggplant or these crispy potato wedges on for size!
What Does it Mean to

Baste

Your S

teak

?
It means to cook a steak in its own juices, sauce, or marinade. In this case, the juices rendered from the steak combined with melted butter and aromatics are what make up this sauce.
As the steak cooks, we pour the juices overtop the steak again and again, keeping it moist and flavorful.
What Does

Cut Against the Grain

Mean?
Steak, as with any meat, comes with muscle fibers and connective tissues. Depending on the cut of the meat, the quality of the meat, and how it was cooked, some cuts will be easier cut into.
Slicing against the grain means cutting the meat crosswise to the direction that the tough fibers are running. This way we shorten them so they are easier to slice through, chew, and enjoy.
Here are more Side-dish Ideas:
The Best Loaded Mashed Potato Casserole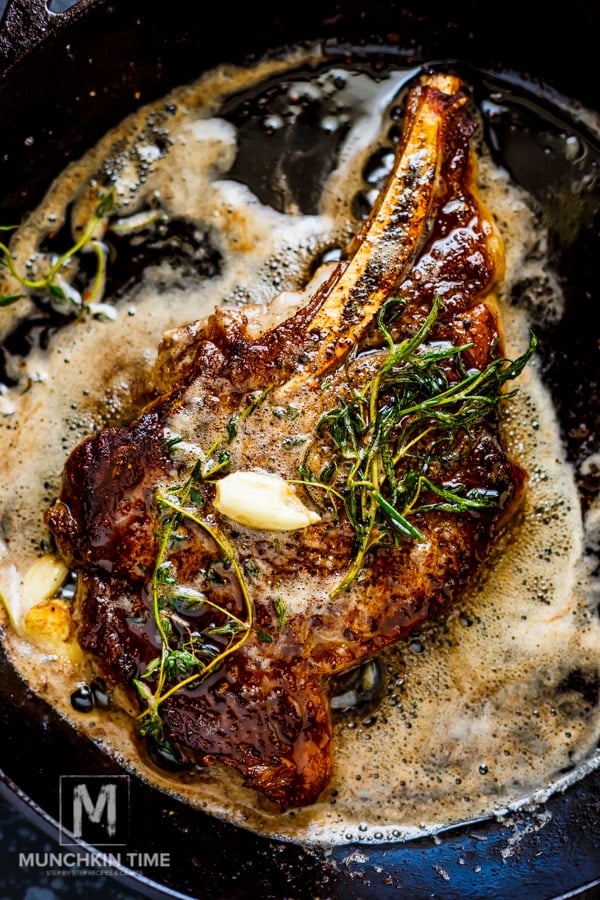 How to Cook a Ribeye Steak on the Stove - Father's Day Recipe
Ingredients
2

rib eye steaks

bone-in, let sit at room temperature for about 1/2 an hour before cooking

2

teaspoons

Montreal Steak Seasoning

2

tablespoons

Avocado Oil

4

tablespoons

butter

4

thyme sprigs

3

garlic cloves

1

rosemary stick
Instructions
Season ribeye steak with 2 teaspoons of Montreal Steak Seasoning, both sides (1 teaspoon per steak). Using a large cast iron, preheat 2 tablespoons of avocado oil, over high heat (it will be a good time to open the windows right now, and turn ON your stove fan).

Add ribeye steaks and cook on high heat for about 4- 5 minutes, until steaks are slightly charred. Carefully flip on the other side, and immediately add 4 tablespoons of butter, 4 thyme sprigs, 3 garlic cloves and 1 rosemary sprig.

Cook the ribeye steaks on high heat basting with melted butter. Cook for 3 to 5 minutes for medium-rare, 5 to 7 minutes for medium, or 8 to 10 minutes for medium-well (I cook for 5 minutes).

Remove ribeye steak onto a cutting board and let rest for 10 minutes. Cut the bone off, slice the steak across the grain. Enjoy!
Notes
Hi! All content & images are copyright protected. Please do not use my images without prior permission. If you want to republish this recipe, please re-write the recipe in your own words, or simply link back to this post for the recipe. Thank you.
Nutrition
Calories:
809
kcal
Carbohydrates:
3
g
Protein:
46
g
Fat:
69
g
Saturated Fat:
30
g
Polyunsaturated Fat:
4
g
Monounsaturated Fat:
31
g
Trans Fat:
1
g
Cholesterol:
198
mg
Sodium:
299
mg
Potassium:
656
mg
Fiber:
1
g
Sugar:
1
g
Vitamin A:
882
IU
Vitamin C:
5
mg
Calcium:
59
mg
Iron:
5
mg
Q. Do you like this

Ribeye Steak Recipe

?
Let me know in the comments below, I would love to hear from you!
—>Click Here for more Easy Father's Day Recipes<—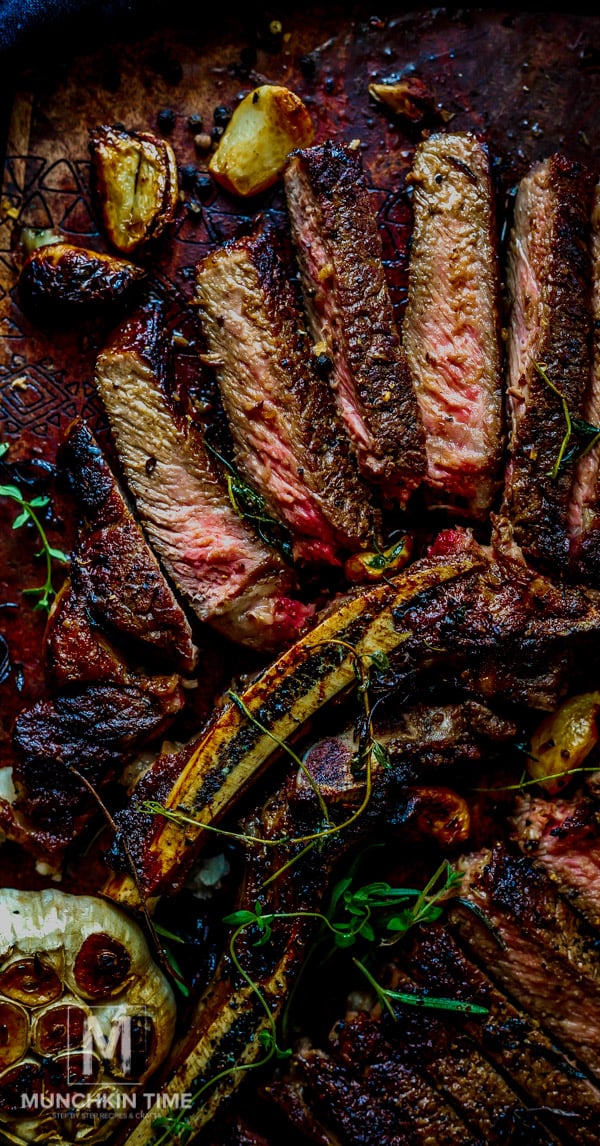 Don't miss another DELICIOUS RECIPE subscribe to Munchkintime <——- HERE.
This post was updated May 6, 2022. Recipe is the same delicious!