Easy baked eggplant recipe is easy, healthy, and loaded with incredible flavor! It's a one-pan dish made in 30 minutes starting with a layer of sautéed onion and garlic, tomatoes, and grated carrots then topped with strips of browned eggplant followed by a top layer of melty cheese! It's the best!
Despite the fact that we're baking the eggplant in the oven at the end to get the cheese melted, most of it is done on the stovetop. This makes getting dinner on the table so easy! And what's better than a quick and easy skillet recipe? One that everybody loves!
Such an impressive dish to serve a crowd, yet no one has to know just how easy it is to make! It's flexible because you can switch up the cheese, use a breading on the eggplant, or use tomato sauce instead of tomatoes, and no matter what it will still taste amazing.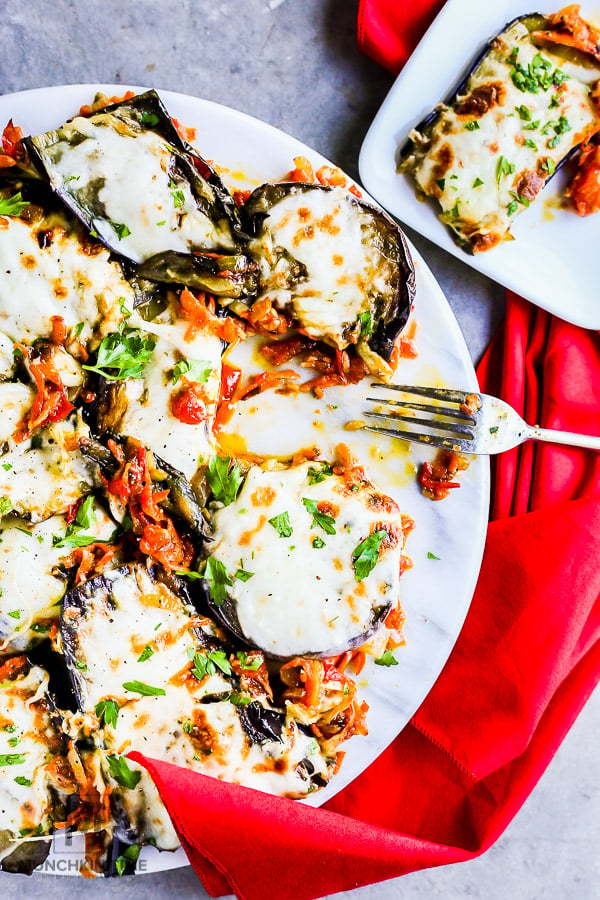 This dish is layered with Italian-inspired flavors and textures which makes it a delicious side dish for a special occasion, a filling for a sandwich for lunch the next day, or for breakfast in the morning! Serve this baked eggplant for breakfast with scrambled eggs and bacon. You will love it!
When YOU make this Baked Eggplant Recipe PLEASE hashtag #munchkintimeblog on Instagram, we would LOVE to see your creation. Thank you!

Ingredients

needed for

Baked Eggplant Recipe
Oil: I use extra virgin olive oil in this recipe for cooking the eggplant and then sautéing the veggies. It's a neutral-tasting oil so it doesn't overpower any of the other flavors.
Eggplant: Thinly slice the eggplant along the length of the eggplant. Using a mandolin for even slices can make it easy. Otherwise, use a sharp knife to get the slices as thin as you can.
Onion & garlic: The base of the bottom layer pairs so well with the taste of carrots and tomatoes.
Carrots & tomatoes: Grate the carrots using a box grater and chop tomatoes into cubes. You can use drained canned diced tomatoes if you prefer.
Salt & pepper: To taste.
Mozzarella: Freshly grated mozzarella from a block rather than pre-shredded. It's fresher, tastes better, and won't come with the anti-clumping agent that makes it slightly powdery.
Fresh parsley: For a garnish at the end just before serving.
How to

Bake

an

Eggplant
Step 1: Heat oil in an oven-proof skillet over medium heat. I like to use a cast iron skillet, but stainless steel works too. Just make sure it can be transferred from the stovetop to the oven under the broiler. Cook the eggplant for 2-3 minutes per side. Remove eggplant slices from the skillet and transfer them to a plate while you cook the remaining pieces.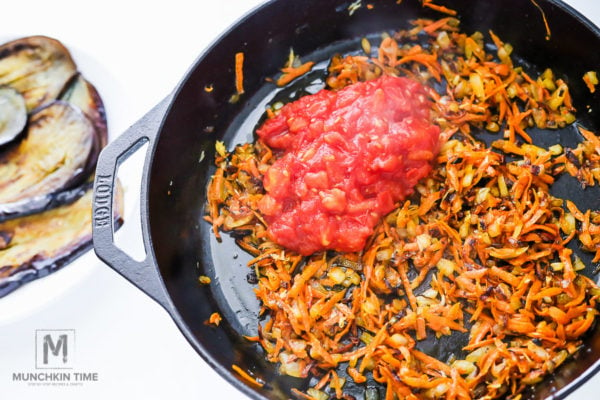 Step 2: Add more oil to the same skillet and sauté the onion until golden, stirring occasionally. This will be about 5 minutes and then you can add the carrots, tomatoes, and then the minced garlic. Garlic cooks a lot faster (and burns quickly!) than the onions so you want to make sure to not add the garlic in until later.

Step 3: Season with salt and pepper, then turn off the heat. Take a spoon and spread the carrot, tomato, and onion mixture out to coat the surface of the bottom of the skillet.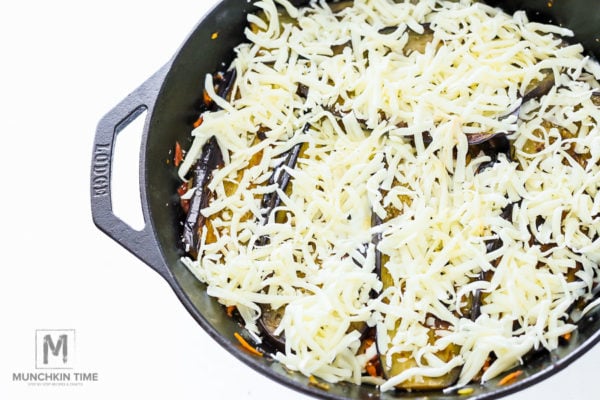 Step 4: Place cooked eggplant over the mixture and sprinkle grated mozzarella cheese on top. Place it under the broiler for 1-2 minutes until the cheese melts, and a little longer if you want that golden brown color. Keep a close watch on it!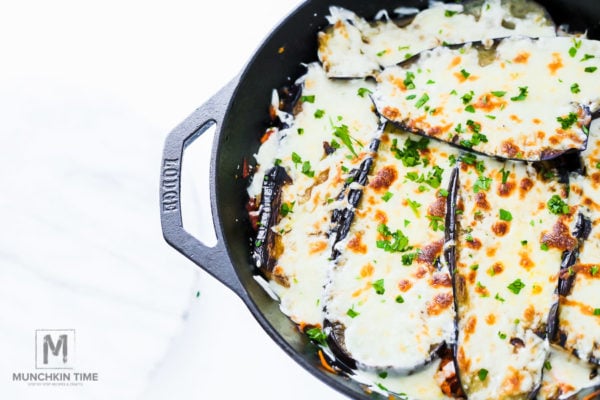 Step 5: Garnish with parsley and cut into squares to serve. Enjoy!

Recipe

Tips
Cook the slices of eggplant in batches. You want it to brown nicely, so give them room between each one so that they don't end up steaming and getting soggy.
Use a paper towel-lined plate to absorb the excess liquid. Eggplant can produce water. You can also pat them dry even before adding them to the skillet.
Do not walk away from the broiler. Keep a close watch on it because the cheese can go from beautiful golden to burning a little too fast!
Let it rest before slicing. The tomatoes and eggplant can produce a bit of liquid which can make the slices a little runny. If you want to them be a little more sturdy, feel free to let them sit and rest for a few moments before serving.
Variations

Ideas
Use a different cheese. Mozzarella is a classic pairing with eggplant. Think eggplant Parmesan or eggplant lasagna! However, there are some others you can try. Gruyere is a good one, as is Parmesan or cheddar.
Swap the tomatoes. Diced tomatoes from a can will make your life easier, but you can also use a really good marinara sauce instead.
Try another veggie. If you don't have carrots or you want to try a different vegetable next time, you can use mushrooms, bell pepper, broccoli, zucchini, you name it! Instead of or with the carrots. You may notice that vegetables with higher water content will take a little longer to get rid of the liquid.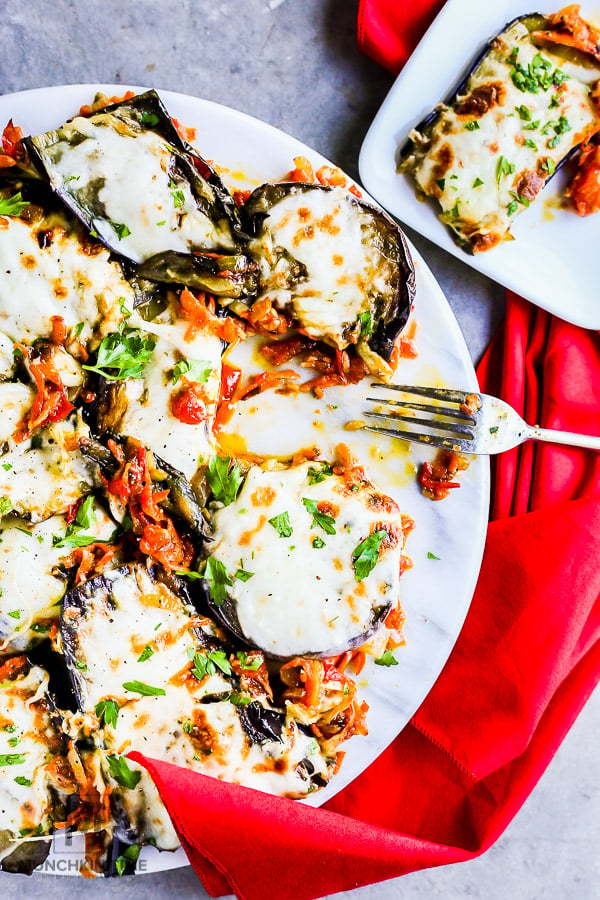 Can I salt the eggplant first?
You can, but it's not necessary. It really depends on the texture of the eggplant you prefer. Salt helps to draw out the water ahead of time, so it'll end up being less watery. However, too much, and it can draw it out, making the eggplant a little leathery. A little salt can help, but it's completely optional.
How long to bake an

eggplant

?
Since it's just going into the oven at the end under the broiler, all it needs is a couple of minutes to get the cheese melted. Most of the cooking will be done in the skillet beforehand.
What to serve with this

baked eggplant recipe

?
We love to have it on the side of a New York strip steak and a side of Instant Pot mashed potatoes. Sometimes just a simple tossed salad will do or you can serve it with spaghetti or your favorite pasta noodles.
How to store leftovers?
Keep any leftovers stored in an airtight container for up to 3 days. You can reheat it in the skillet to warm through or pop it in the microwave for a quick reheat.
Easy Dinner Recipes:
Juicy Chicken Thighs Spanish Rice Recipe
Sweet and Sour Chicken with Pineapple and Peppers
Super Juicy Oven Baked Chicken Wings
Oven Baked Boneless Skinless Chicken Thighs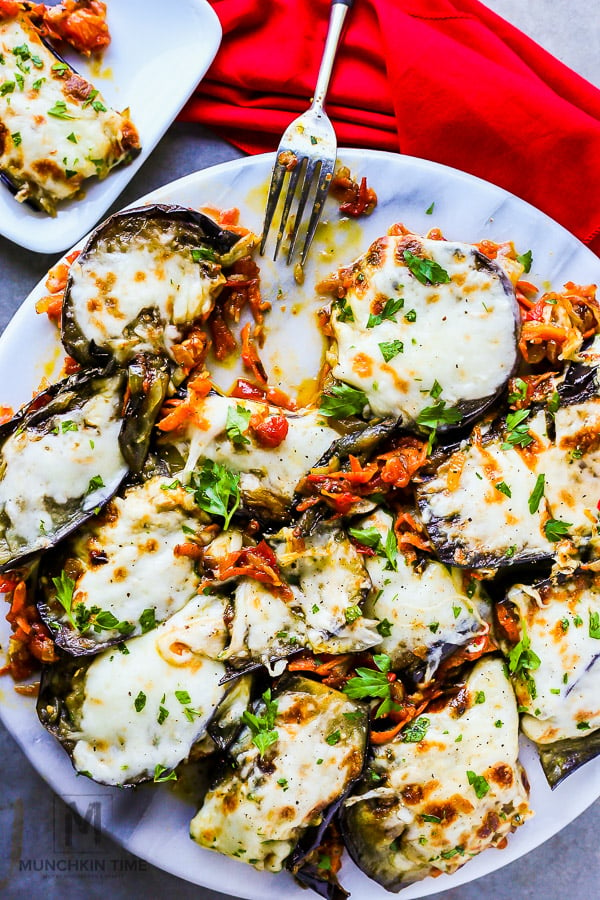 Loaded & Baked Eggplant Recipe
Loaded & Baked Eggplant Recipe - loaded with sauté onion, carrots and mozzarella cheese. It's So Good!!!
Ingredients
4

tablespoon

extra virgin olive oil

1

eggplant

thinly sliced along the full length of the eggplant

1

small

onion

diced

2

medium

carrots

grated

2

tomatoes

cubed

2

garlic gloves

minced

salt and pepper

to taste

2

cups

mozzarella cheese

grated

fresh parsley

chopped
Instructions
Using an oven proof skillet on a medium heat, heat 1 tablespoon of olive oil. Add eggplant and cook 2-3 minutes on each side, or until eggplant is cooked thru. Transfer eggplant to a plate and set aside. Repeat step 1 until all the eggplant slices are cooked.

Pour 2 tablespoons of olive oil to the same skillet. Add onion and sauté until golden color, about 5 minutes, stirring occasionally.

Add grated carrots and tomatoes, stir and sauté for 5 more minutes. Add 2 minced garlic, salt and pepper to taste, sauté for 1 minutes.

Turn off the heat. Using a spoon evenly spread the onion mixture. Place cooked eggplant over the top.

Sprinkle 2 cups of grated mozzarella cheese. Place the skillet into the oven and broil it on high for 1-2 minutes or until cheese melts. Garnish with fresh parsley. Cut into squares and transfer onto a plate. Serve and enjoy!
Notes
Hi! All content & images are copyright protected. Please do not use my images without prior permission. If you want to republish this recipe, please re-write the recipe in your own words, or simply link back to this post for the recipe. Thank you.
Nutrition
Calories:
234
kcal
Carbohydrates:
10
g
Protein:
10
g
Fat:
18
g
Saturated Fat:
6
g
Polyunsaturated Fat:
1
g
Monounsaturated Fat:
9
g
Cholesterol:
29
mg
Sodium:
252
mg
Potassium:
383
mg
Fiber:
4
g
Sugar:
6
g
Vitamin A:
4009
IU
Vitamin C:
9
mg
Calcium:
209
mg
Iron:
1
mg
Q. Do YOU like this Eggplant Recipe?
Let me know in the comments below, I would love to hear from you!
Thank YOU for YOUR Comment, Share & Recipe Review!
Don't miss another great recipe subscribe to Munchkintime on the bottom of this post ——->
Thank you for stopping by!
Quote Of The Day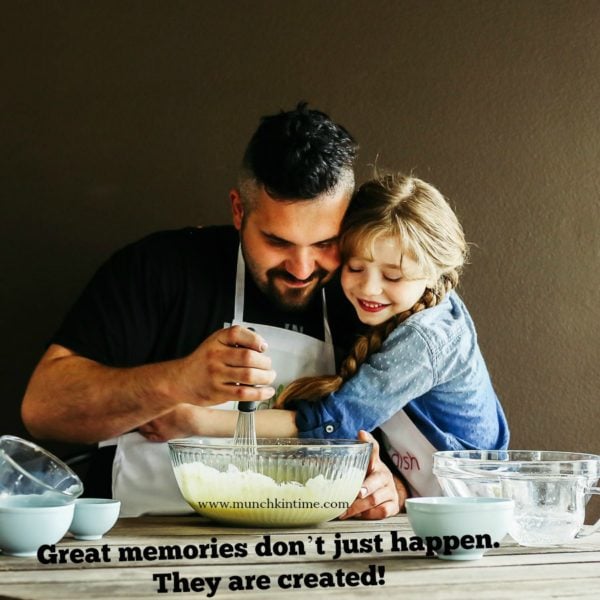 Have a wonderful day!
This recipe was updated on September 1, 2022.