The best Caesar salad recipe has to have 3 things. Fresh crispy lettuce, crunchy croutons, and a deliciously rich and creamy dressing with just the right amount of tangy garlicky zest. This salad checks all of those boxes and more, it really is the best!
When YOU make Salad Recipe, PLEASE tag us @munchkintimeblog on Instagram, we would LOVE to see your creation! Thank you!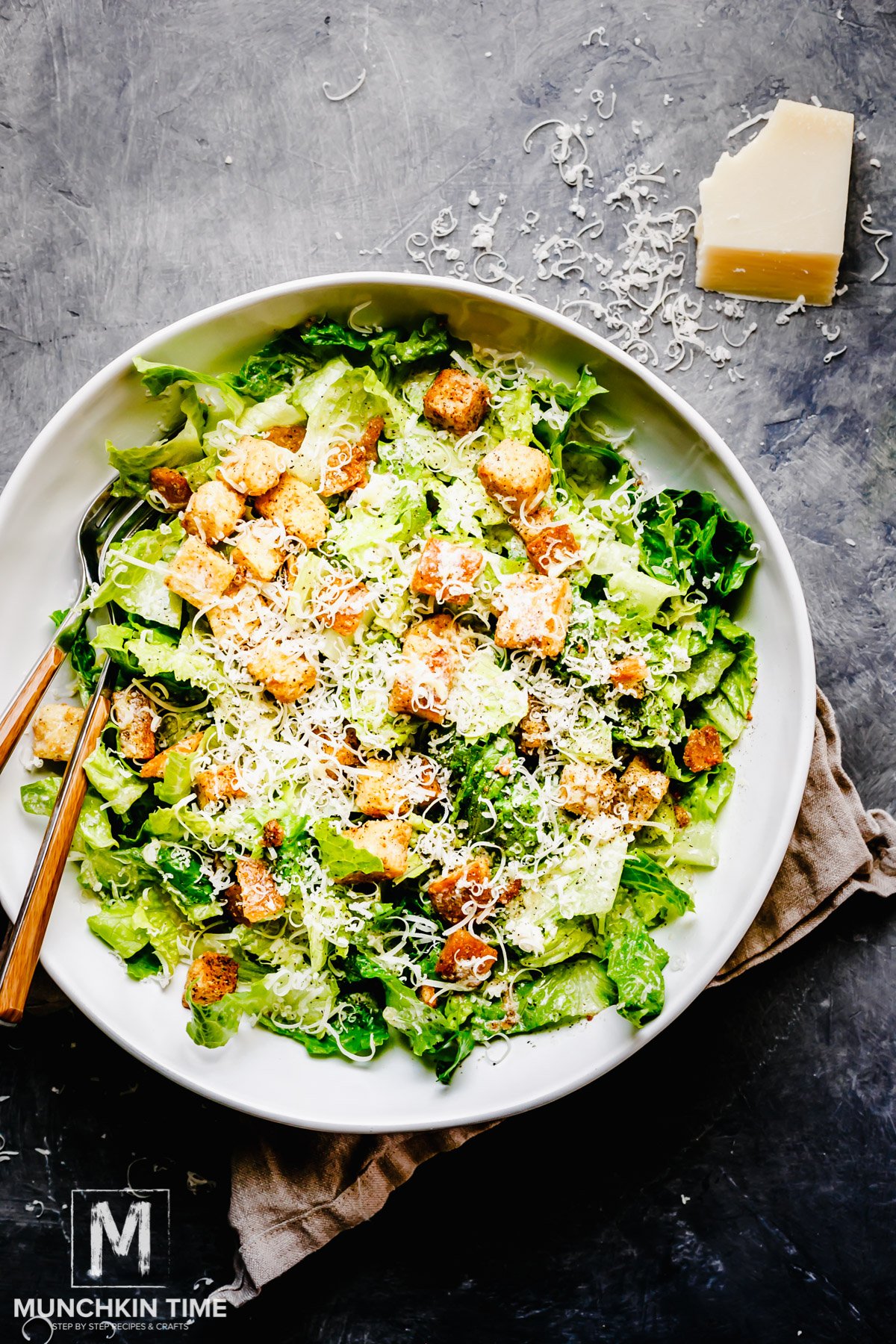 A classic Caesar salad is what I used to order at Italian restaurants all the time. When I discovered how easy it was to make at home, I no longer needed to wait for the rare occasion when we'd eat out! I could make it from scratch, at home, anytime I wanted.
The kids love it picking out those crispy croutons and eating them first. I love the garlicky dressing and my husband loves the shaved Parmesan! We all love it for different reasons, but most of all, it's because it's fresh and not from a bottle!
It's the real deal and authentic as you can get without using raw egg yolk and olive oil. Instead, we're using mayonnaise, which I find easier and much creamier.
We love it with oven baked boneless skinless chicken thighs, oven baked chicken wings, and oven baked chicken pasta in a buttery white sauce.
As much as we enjoy it as a side dish or starter salad, sometimes I'll add pieces of grilled chicken on top or strips of crispy bacon to make it a complete meal for a light lunch or dinner idea!
Caesar Salad Recipe Ingredients
For the Salad
Romaine lettuce: You'll need 1 head of romaine. Washed thoroughly, spun dry, and then chopped.
Parmesan Cheese: We're using Parmesan in the dressing, but it's always nice to garnish the salad with shaved or grated Parmesan too.
Croutons: Homemade or store-bought croutons add a nice crispy crunchy element to the salad. You can have them plain or seasoned.
For the Dressing
Lemon juice: A bit of citrus will help brighten up the creamy dressing and add a bit of extra zip to it!
Worcestershire sauce & Dijon mustard: Together these two ingredients can actually take over the anchovy paste. This means if you have an allergy to anchovies or just don't want to use them, you can omit the paste and use a bit more of the Worcestershire sauce for the same idea. They add the umami flavor that is signature in a traditional Caesar salad.
Anchovy paste: This of course is what is used in classic Caesar salads to really give it that authentic flavor! It's salty and also delivers that umami flavor without being too "fishy."
Minced garlic: I LOVE a garlic Caesar salad so I say the more the better! However, you can adjust the amount to your liking.
Salt & pepper: To taste!
Mayonnaise: This is what adds creaminess and helps to thicken the dressing.
Parmesan cheese: Adding Parmesan to the dressing gives it a delicious sharpness that pairs so well with all of the other ingredients.
How to Make a Caesar Salad
Learn how to make a homemade Caesar salad with the Best Recipe for Caesar Salad Dressing with a few fresh ingredients and simple steps!
Step 1: Wash, dry, and chop your romaine lettuce. You can either separate the leaves, wash them, let them dry and then chop, or chop first, wash them, and then spin them dry. Whatever works!
Step 2: Add the lettuce to a salad bowl or salad plate. Set that aside.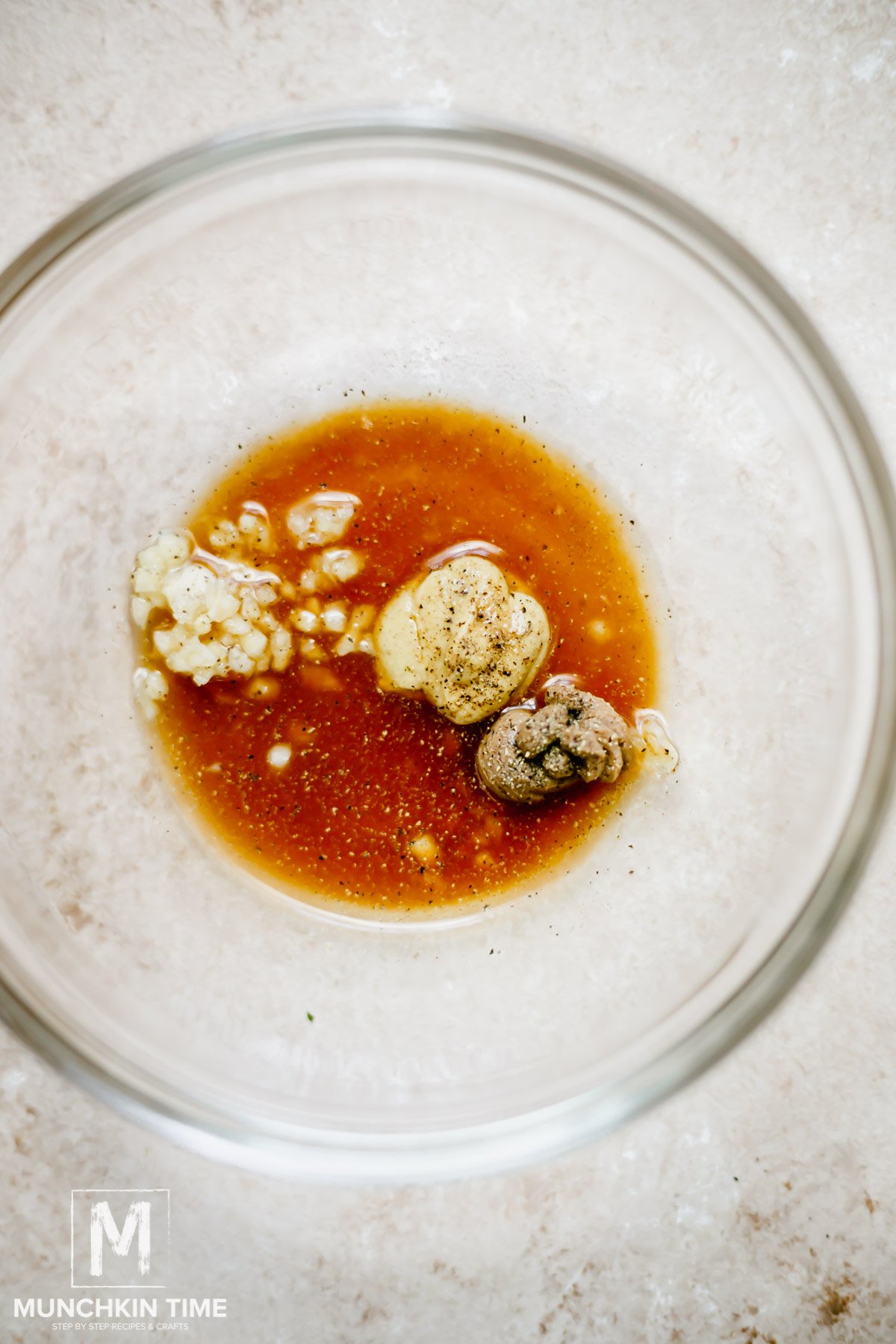 Step 3: In a small mixing bowl, combine lemon juice, Worcestershire sauce, Dijon mustard, anchovy paste, minced garlic, salt, and pepper. Whisk until everything is combined.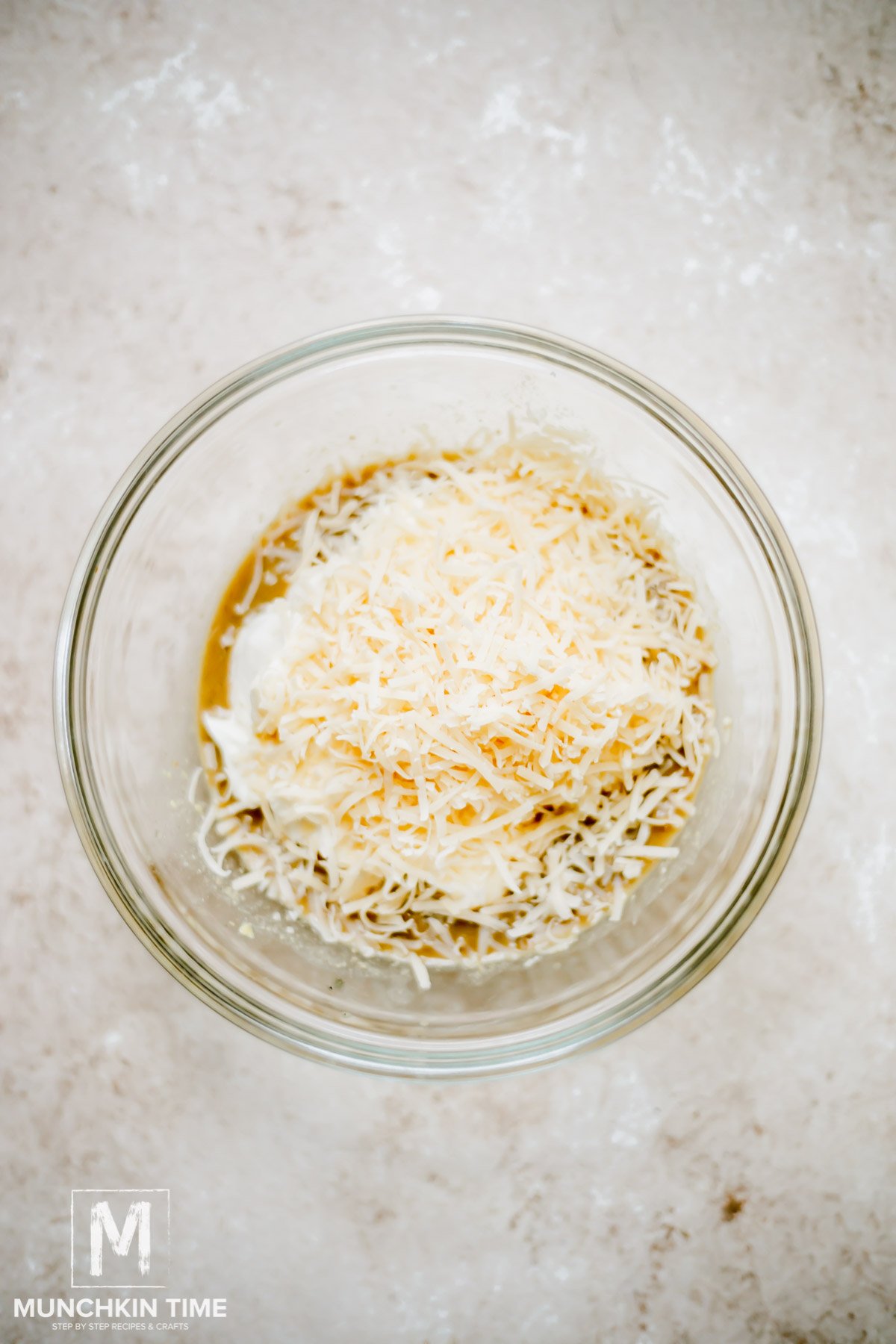 Step 4: To the same mixing bowl, add the mayo and grated Parmesan. Again, whisk to combine.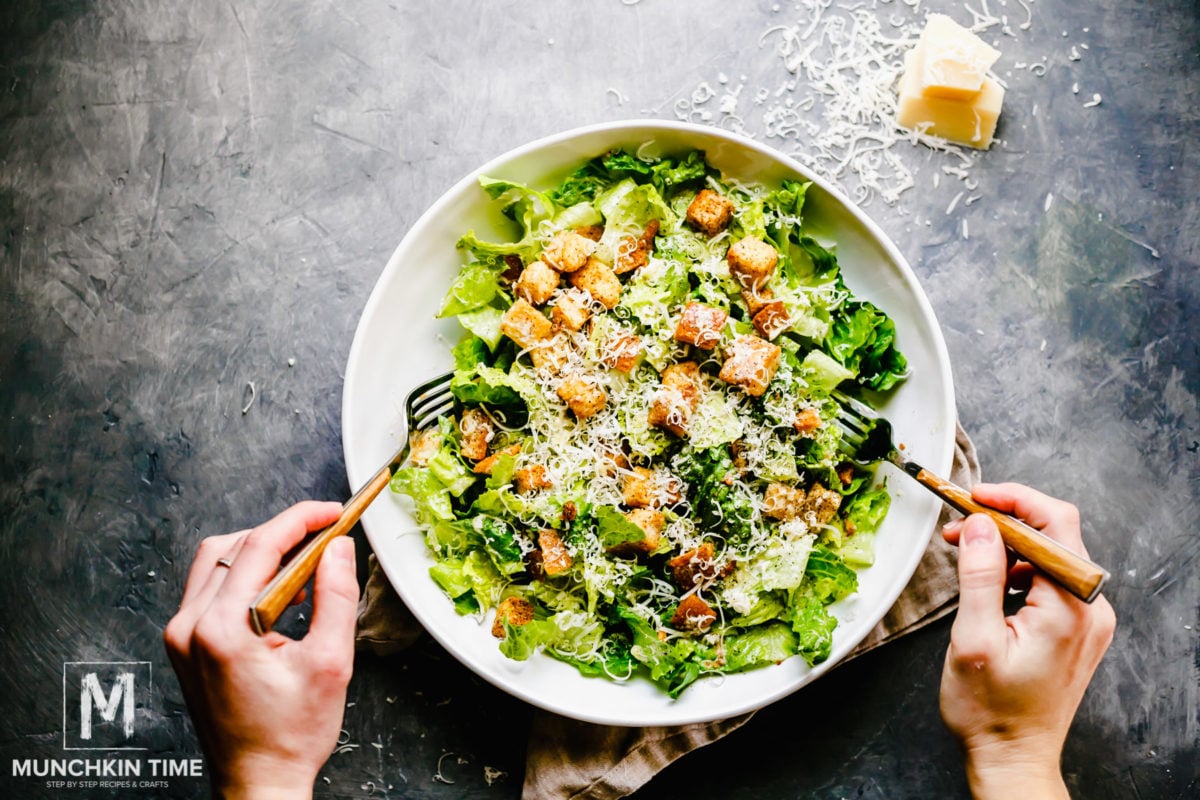 Step 5: Drizzle the dressing over the chopped romaine. Garnish with croutons and freshly grated Parmesan. If you'd like, you can sprinkle a little extra black pepper before serving.
Recipe Tips
Use fresh Parmesan. Since there's only a handful of ingredients that goes into a Caesar salad, let's try and use the best quality! Freshly grate your Parmesan from a block and forget the jarred stuff. It tastes better and fresher, but you're also avoiding the preservatives.
Avoid bottled lemon juice. It's just not the same. Freshly squeezed from an actual lemon is what you want.
Check to make sure your lettuce isn't wilted or has browning edges. Once it starts to wilt it is no longer crispy and the texture won't be the same.
Chop the lettuce into bite-size pieces. It's not enough to just rip it, because then you'll end up with some huge pieces that are hard to eat, especially for little ones!
Add some protein. If you like adding bacon to yours, crisp up some bacon on the side, and add it on top before serving! Use some leftover grilled chicken, crispy chicken, or shredded chicken and add it to your salad.
If you don't have the ingredients for Caesar salad dressing, but you're craving a salad just the same, go ahead and use the store-bought dressing in your fridge. It works too!
Ways to Serve Caesar Salad
As a side or starter, it's always nice to give people the option of how they'd like theirs. If I'm serving a crowd, sometimes I'll set up a salad bar and have the toppings set out for everyone to choose their own.
A bowl of croutons, a bowl of Parmesan, some bacon bits, lemon wedges, and extra dressing. That way people can decide how they want to jazz it up!
You can also use the salad in a wrap, add some chicken and make a chicken Caesar wrap for lunch. Add some smoked salmon, shrimp, or grilled chicken, and make it a complete meal.
Enjoy it on the side of this Creamy Chicken Pasta, Chicken Piccata, Tuscan Chicken Pasta, or Chicken Alfredo with Pasta. Every good pasta o chicken dish needs a tasty Caesar salad on the side!
Storage
Make it ahead and store it in fridge until you're ready to use it! Once dressed, the salad is best eaten right away, but the dressing can last for days.
I like to keep it in a mason jar with a lid. Keep it fresh for up to 3 days.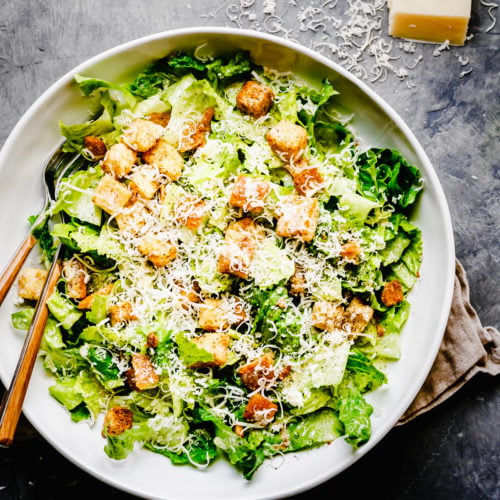 Best Caesar Salad Recipe with Salad Dressing from Scratch
Best Caesar Salad Recipe with the Best Caear Salad Dressing from Scratch. I tested so many caesar salad recipes and this one is IT!
Ingredients
Caesar Salad Dressing from Scratch
Instructions
Using a small mixing bowl, combine 2 tablespoon of lemon juice, 1 teaspoon of worcestershire sauce, 1 teaspoon of Dijon mustard, 1 teaspoon of anchovy paste, 1 minced garlic clove, salt and pepper to taste.

Give it a good whisk until everything is combined.

Into the same bowl add 1 cup of mayo and 1/2 cup grated Parmesan cheese. Whisk until everything is combined.

Place romaine lettuce onto a salad plate, drizzle salad dressing over the top, garnich with grated Parmesan cheese and croutons. This is optional: sprinkle black pepper over the top for final touch. Enjoy!
Video
Notes
All content & images are copyright protected. Please do not use my images without prior permission. If you want to republish this Easy Caesar Salad 
Recipe
, please re-write the recipe in your own words, or simply link back to this post for the recipe. Thank you.
Nutrition
Serving:
1
g
Calories:
35
kcal
Carbohydrates:
6
g
Protein:
2
g
Fat:
1
g
Saturated Fat:
1
g
Cholesterol:
1
mg
Sodium:
97
mg
Potassium:
399
mg
Fiber:
3
g
Sugar:
2
g
Vitamin A:
13631
IU
Vitamin C:
9
mg
Calcium:
55
mg
Iron:
2
mg
Q. Do YOU like this Caesar Salad Recipe?
Let me know in the comments below, I would love to hear from you!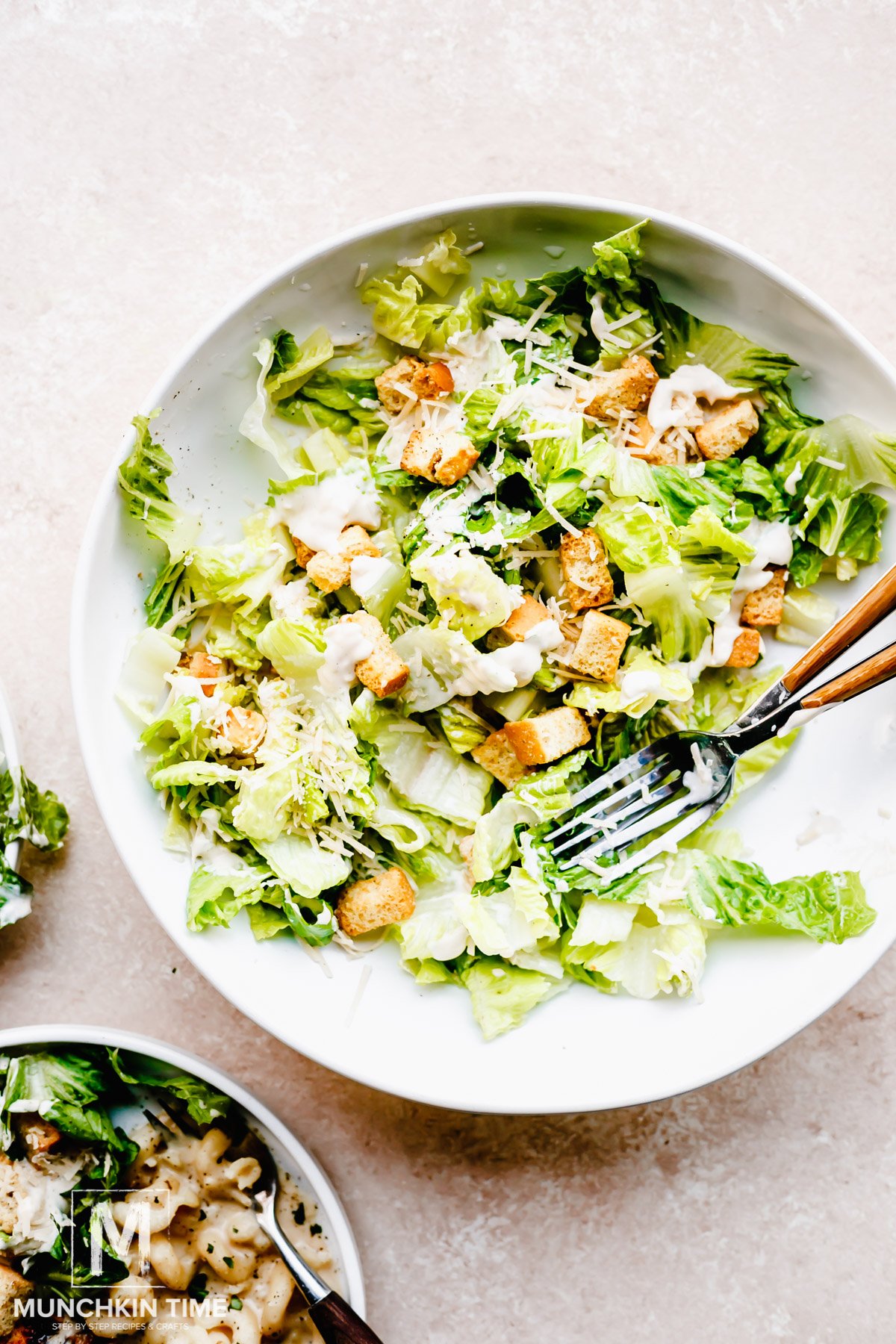 Thank YOU for YOUR Comment, Share & Recipe Review!
Have a wonderful and productive day!