35-Minute Chicken Piccata Recipe comes together so easily for an unforgettable taste experience right at home!
This is an easy chicken piccata that will rival your favorite Italian-American restaurant dish any day making this popular dish at home takes just a few simple fresh ingredients and it's all done in one pan!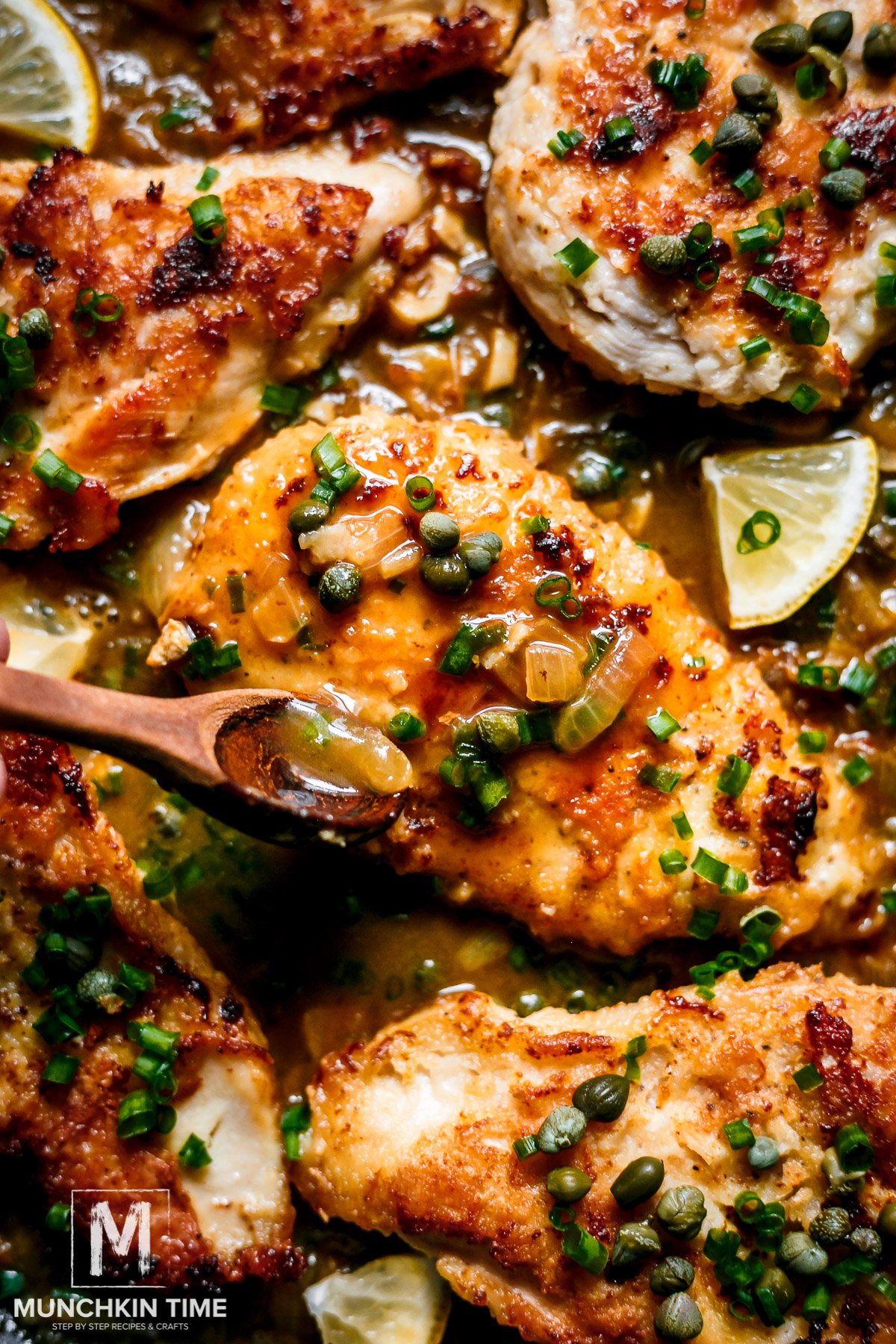 Not only is the dish easy to make but it's even easier to clean up!
We pan-sear the chicken cutlets until nice and brown then smother them in a sauce made from broth, white wine, and lemon juice cooked in the same skillet as the chicken.
It's served garnished with fresh parsley and briny little capers for a tangy, zesty, and juicy dish with so much flavor!
This is a recipe for chicken piccata that is simple, elegant, and perfect for sharing with loved ones on special occasions and casual dinners during the busy week.
You can serve it with all kinds of different side dishes from spaghetti to mashed potatoes making it possible to enjoy it just the way you like it!

Ingredients Needed for this Easy Chicken Piccata Recipe
Chicken: This dish is traditionally made with skinless boneless chicken cutlets. The breasts we buy will usually need to be thinned out (you can also buy them already butterflied), so slice them vertically in half.
Flour: Used to dredge the chicken to give it a good coating which helps to turn it golden and crispy on the outside.
Salt & pepper: A bit of seasoning on the breast is all it needs. The sauce delivers so much flavor that the chicken doesn't need much.
Butter & olive oil: We're dividing the both, so we'll use some to sear the chicken and the rest to sauté the garlic and onion.
Onion & garlic: Cooked in the rest of the butter, these aromatics are the first layer of flavor in the sauce. So good!
For the sauce: Dry white wine, chicken broth, freshly squeezed lemon. Use any dry wine you have on hand. I prefer a chardonnay, but you can also use a pinot grigio or Riesling if preferred.
Garnish: Capers and herbs like chives or flat-leaf chopped parsley.
How to Make
Chicken Piccata
Step 1: You want thin cutlets, so even after slicing your chicken breast in half crosswise, you may need to pound it a bit. Place the pieces between two pieces of plastic wrap and use a meat mallet or rolling pin to gently pound it to your desired thinness.
Step 2: Season the breasts with salt and butter on both sides then dredge the chicken breast in flour. Shake off the excess flour and add the piece to the heated butter and oil in the skillet. Cook for 4 minutes on both sides until the chicken is cooked through.
Step 3: Add as many cutlets to the pan that can fit, without overcrowding. You may need to work in batches. Once cooked through, transfer the chicken to a plate.
Step 4: Add the rest of the butter and oil then toss in the chopped onion to sauté for 3 minutes. Stir a few times to avoid burning. Next, add the garlic and cook for 1 minute.
Step 5: Pour in the white wine and bring it to a boil. Scrape the bottom of the skillet to loosen up the brown bits at the bottom. This will help flavor the sauce. Stir frequently and allow it to boil until the alcohol evaporates.
Step 6: Make a slurry in a small bowl with the flour and a few teaspoons of the chicken broth. Mix until smooth with no lumps. Add it to the skillet and bring it to a boil once more and cook for 3 minutes. Stir occasionally.
Step 7: Add in the lemon juice and return the chicken to the skillet. Sprinkle capers and chopped herbs. Serve warm with mashed potatoes, rice, or pasta. Enjoy!
Recipe Tips
No need to go and buy expensive wine. Use what you have, or if you are buying, pick something cheap! Unless of course, you'll want to enjoy a glass as you cook. But seriously, it cooks off and we're using it for flavor, so need to go all out.
If you prefer not to use wine, replace it with all chicken broth.
You can clean the skillet once you're done cooking the chicken if you would rather not see the brown bottom bits in the white sauce. It's up to you!
For a little extra flavor on the outside of the chicken, you can use a bit of Parmesan in the flour.
Use a different cut of chicken if that's what you have. Keep in mind, anything with bone-in will have a longer cooking time. It just means it won't be as fast to make, but it will still taste great.
Cook in batches. You don't want to overcrowd the skillet otherwise it won't sear and brown with a nice crust. It will steam instead and we don't want that.
Slice the chicken breasts in half using a sharp knife for an easier time. Slicing them when they are still a bit frozen can also help.
What to Serve with Chicken Piccata Recipe
This pairs well with any type of medium or long pasta. Serve it with spaghetti, linguine, fettuccine, angel hair pasta, fusilli, penne, or rigatoni. You name it, it works!
I also like it with a creamy risotto on occasion.
For a busy weeknight dinner, we like to have it with a potato side dish. Usually, it's cheesy mashed potatoes with caramelized onion or Instant Pot mashed potatoes, but sometimes I get the request for roast potatoes with garlic and rosemary and a delicious tossed salad.
FAQs
Do I need to dredge the chicken in flour first?
I highly recommend it. It not only adds flavor because of the brown sear, but it's what helps to thicken the sauce and allows the sauce to coat it nicely and stick to it!
Can I use lemon juice from a bottle?
Nah. I mean you could, but I don't suggest it. Freshly squeezed lemon juice adds brightness and a lovely lemony flavor you just can't get from a bottle.
This recipe doesn't have very many ingredients, so why not use the freshest of everything?!
What can I use in place of capers?
Since capers are little green things that look like peas that deliver a slightly salty, briny flavor, you can swap them with chopped green olives.
Capers are a signature part of this dish, but they aren't for everyone!
Check Out These Must Try Recipes:
When YOU make the Best Chicken Piccata Recipe, PLEASE hashtag #munchkintimeblog on Instagram, we would LOVE to see your creation! Thank you!
Q. Did you like this Lemon Chicken Piccata Recipe?
Let me know in the comments below, I would love to hear from you!
Don't miss another great recipe subscribe to Munchkintime on the bottom of this post ——->
Have a crazy awesome day!