Baked BBQ chicken thighs is a super easy recipe made with skillet-roasted chicken thighs coated in a sweet and tangy homemade BBQ sauce glaze. It's the kind of recipe that leaves you licking your fingers!
When YOU make this Baked BBQ Chicken Thighs Recipe please tag us on @munchkintimeblog on Instagram, we would LOVE to see your creation!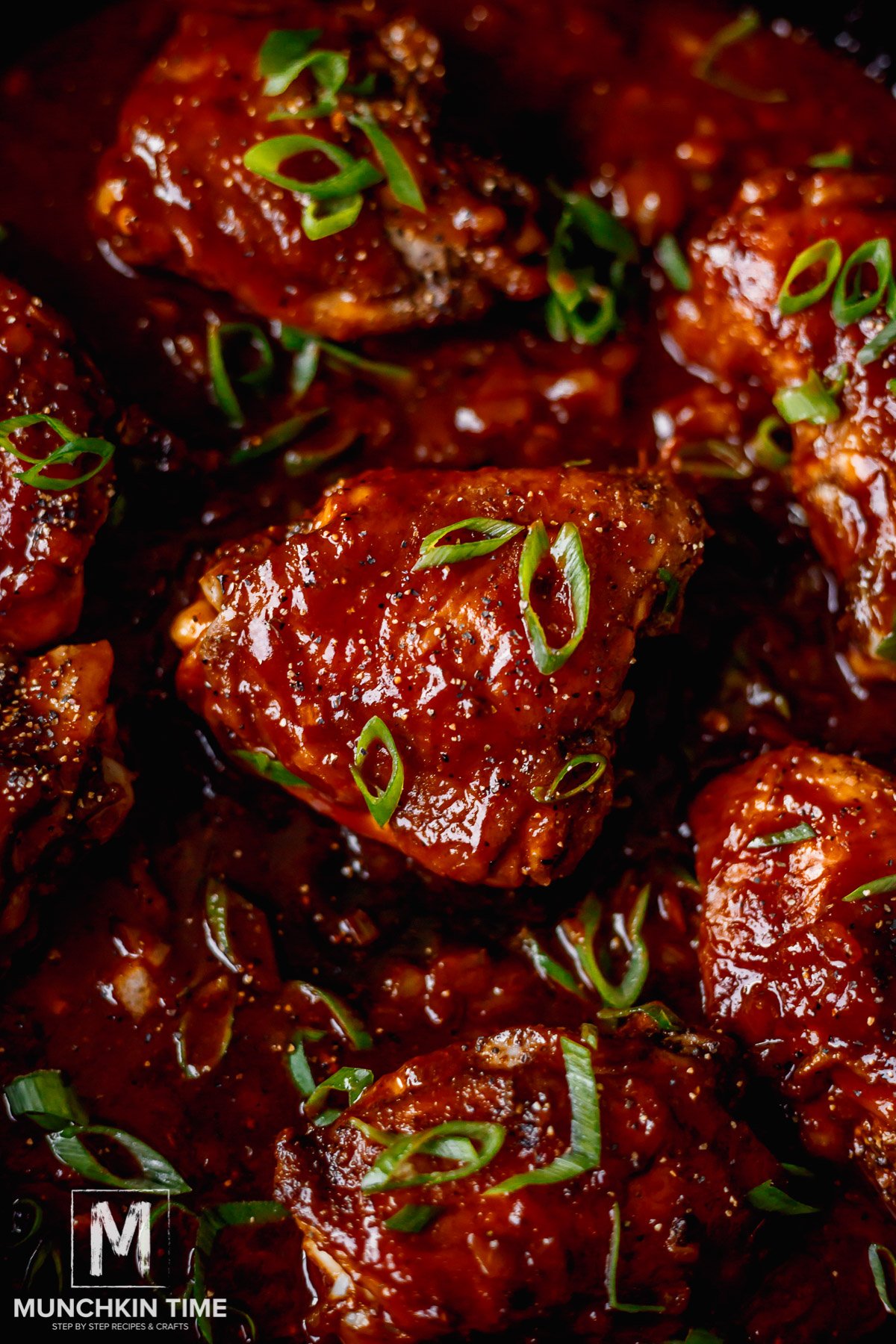 Cooking in the cast iron skillet gives the chicken thighs that beautiful outer crust on the outside while leaving the meat on the inside tender and juicy. The BBQ sauce is made from scratch using a combination of condiments and spices and gives the chicken a remarkable flavor.
This easy BBQ chicken recipe is one you'll want to keep forever because it's so simple to make, a great way to switch up your everyday chicken recipe, and quick enough to make any night of the week. Even those busy evenings!
Serve it over rice or mashed potatoes and your favorite vegetable side dish and you've got a complete and impressive meal that everyone will rave about!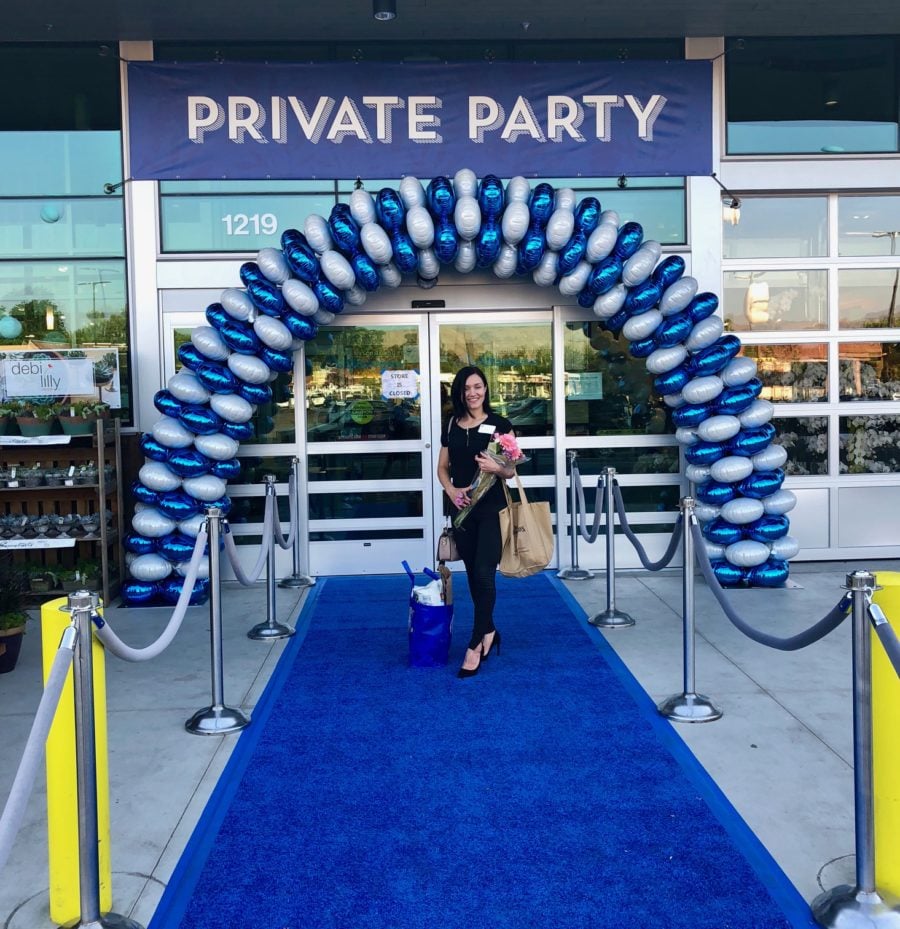 Now, I would like to Thank Albertsons on Broadway for sponsoring this recipe! I had an honor to attend their Private Grand Opening Party over at Downtown Boise on Broadway!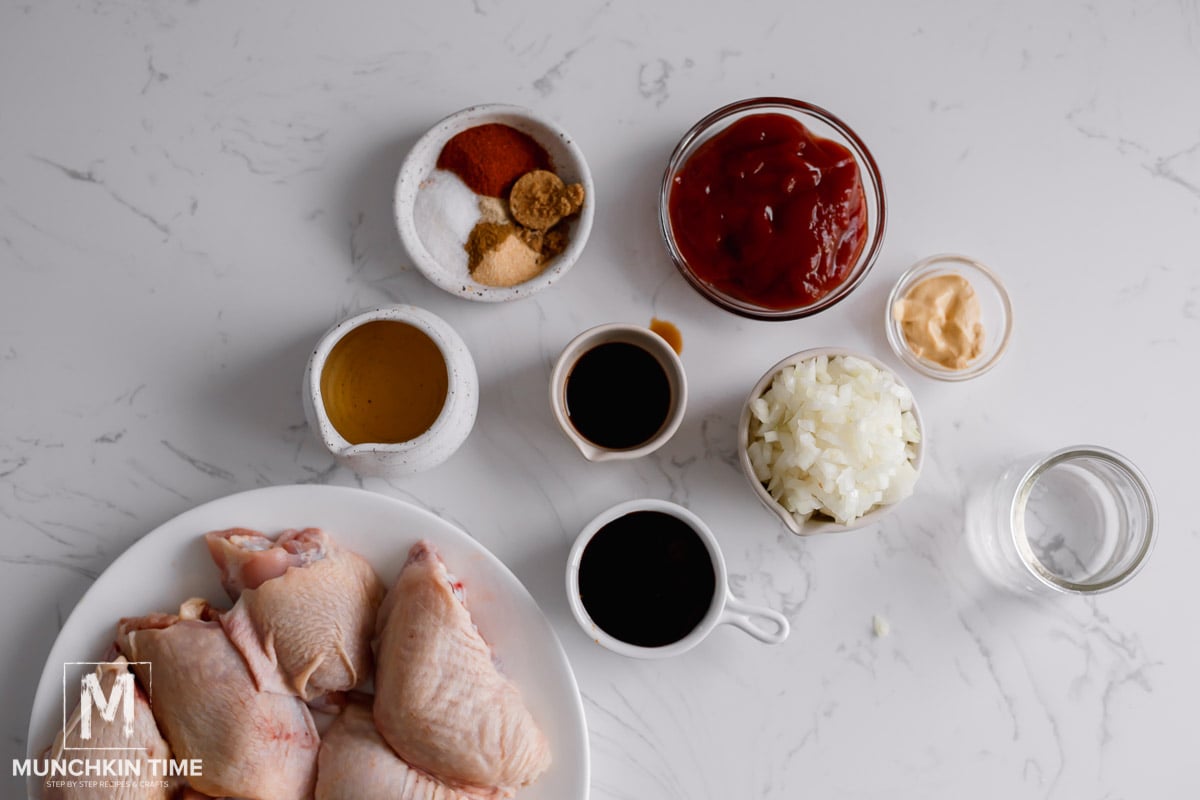 Ingredients for BBQ Baked Chicken Thighs
Chicken: Bone-in chicken thighs. Dark meat with bone will give amazing flavor and keep the meat moist. If you've been around for a while you know I like to use organic meat whenever possible.
Olive oil: Extra virgin olive oil gets mixed with the dry rub seasoning to help coat the chicken evenly as well as give the skin a lovely browning.
Chicken seasoning: Chili powder, packed brown sugar, garlic powder, ground cumin, white pepper, salt. If you'd rather use 3-5 chopped garlic cloves rather than garlic powder, you can.
Onion: An aromatic that will add great flavor to the BBQ sauce. The little bits of onion will absorb so much of that delicious sauce and a textural component too.
For the BBQ sauce: Ketchup, water, molasses, Worcestershire sauce, and Dijon mustard. Bold flavors come from this combination giving it a delicious sweet, savory, and tangy taste explosion.
Chives: For garnish just before serving!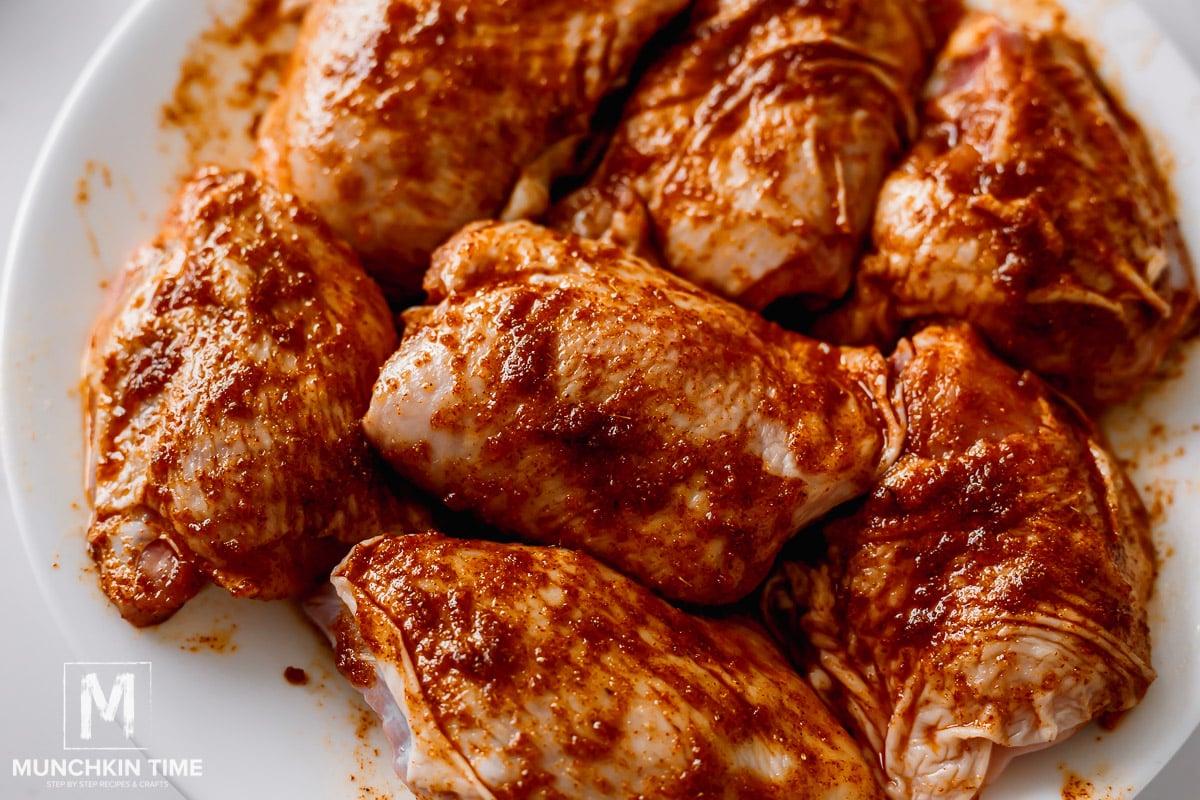 How to Make Baked BBQ Chicken Thighs
Step 1: Place your cast iron skillet into the oven on the middle rack. Allow it sit there and heat up as you preheat the oven to 400F.
Step 2: Pat the chicken dry with paper towels. Set them aside as you combine the marinade for the chicken.
Step 3: In a large mixing bowl, combine oil, chili powder, brown sugar, garlic powder, cumin, white pepper, and salt. Whisk the mixture until completely blended.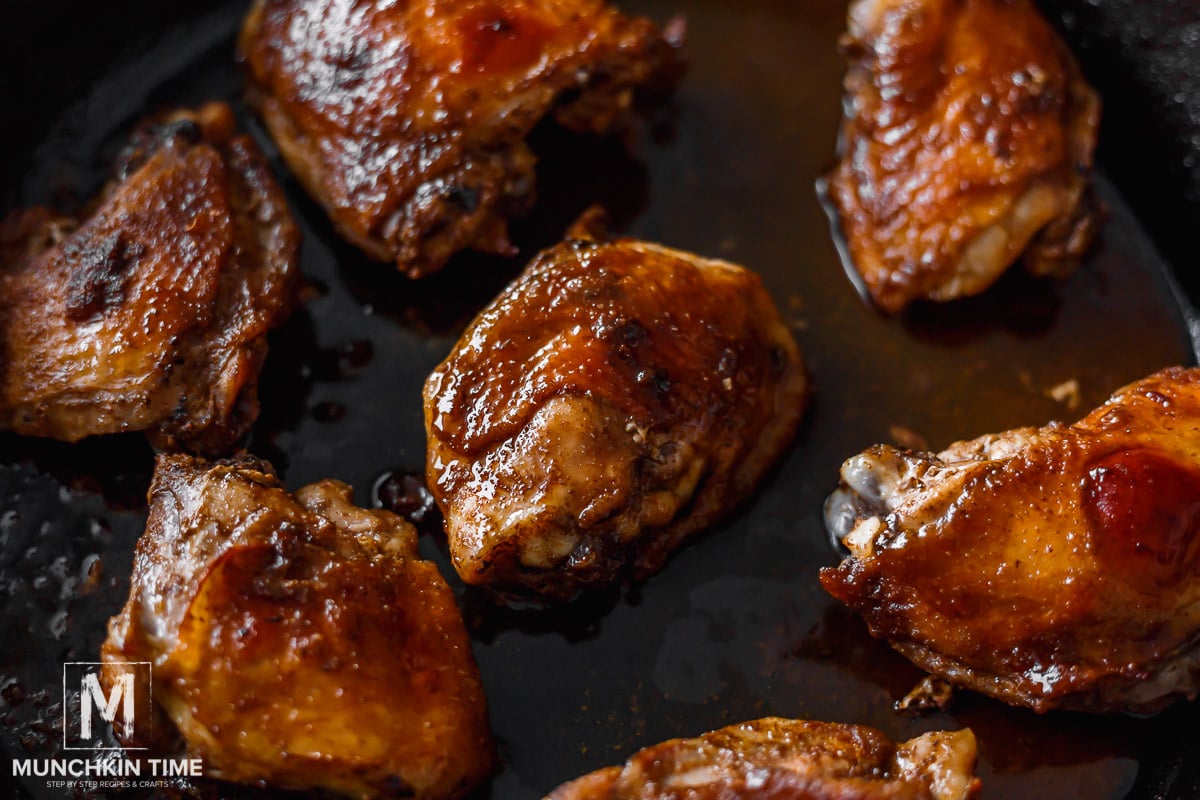 Step 4: Place chicken thighs into the bowl with the chili mixture and toss to coat, making sure all sides of the thighs are evenly coated.
Step 5: Once the oven has preheated, carefully open the oven and place the chicken thighs skin side down into the hot skillet and bake for 40 minutes, flipping halfway.
Step 6: Transfer the cooked thighs to a plate and pour all the chicken juice into a bowl, except 1 Tablespoon. Set that aside for the sauce later.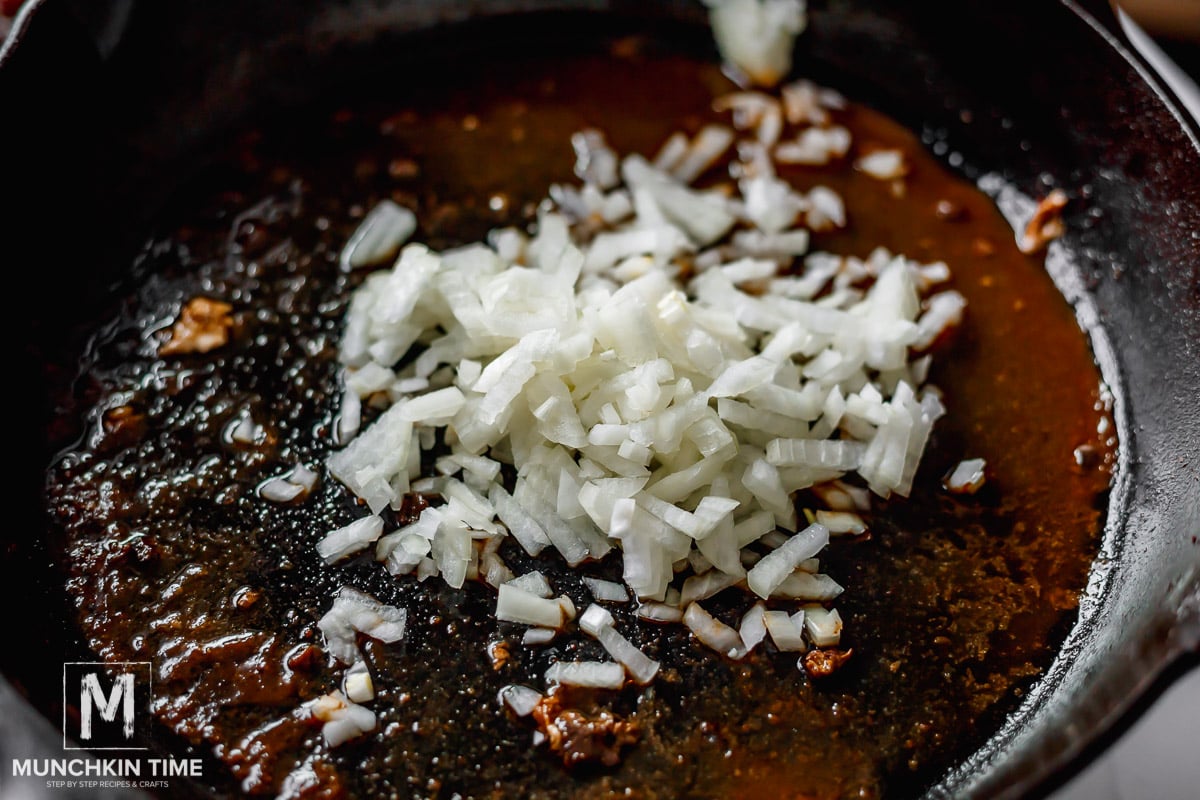 How to Make BBQ Sauce for Chicken
Step 1: To the same skillet you used for the chicken with the remaining 1 Tablespoon of chicken grease, add chopped onion and cook over medium heat for about 5-7 minutes, until golden.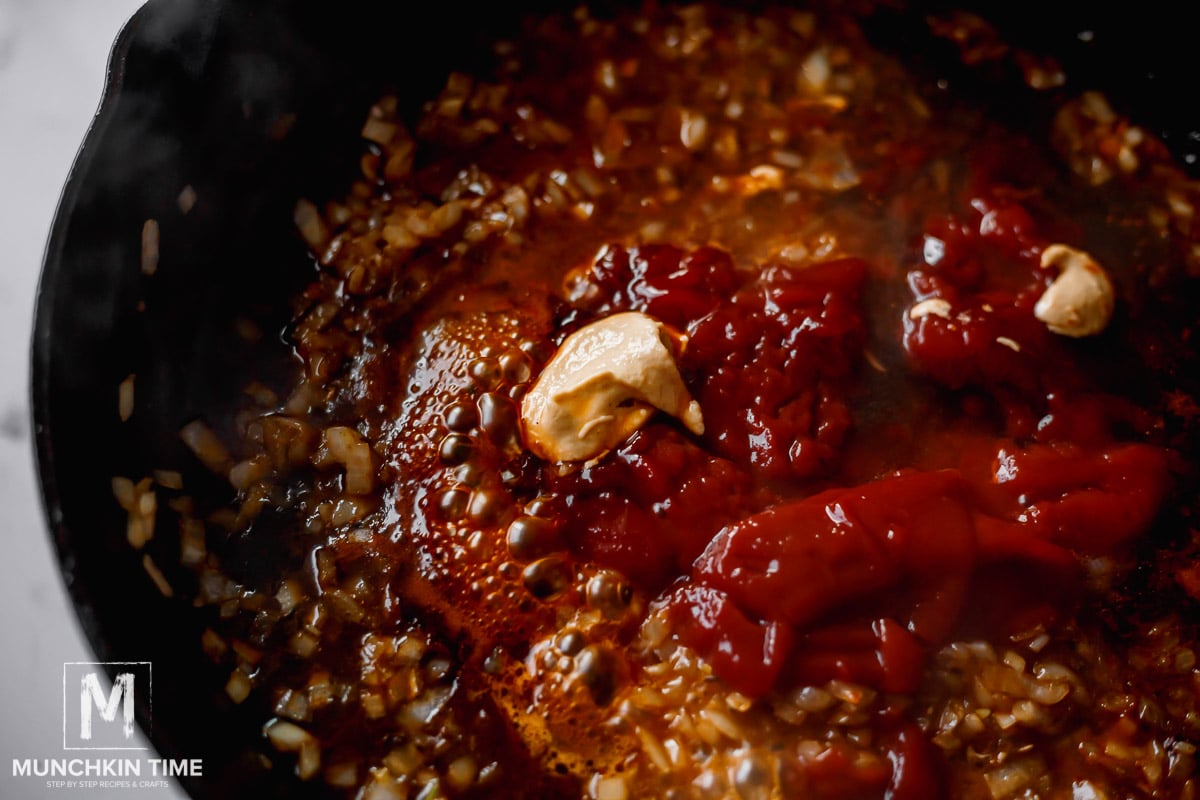 Step 2: Add in the ketchup, water, molasses, Worcestershire sauce, and Dijon mustard and stir continuously for a few minutes until the sauce thickens.
Step 3: Whisk in the reserved chicken juice, season with salt and pepper to taste, then return the chicken thighs back into the skillet to warm through. Coat with the BBQ sauce, garnish with chopped chives, and enjoy with your favorite sides!
Serving Suggestions
The thing about chicken thighs coated in a saucy BBQ sauce is that it goes with so many things!
Crock pot macaroni and cheese is always a hit with this dish!
You can keep it basic with white rice, brown rice, or quinoa and a side of grilled veggies for a healthy wholesome dinner idea.
Swap the rice for potatoes instead and try it with crispy wedges, roast potatoes with garlic and rosemary, cheesy scalloped potatoes, or Instant Pot mashed potatoes.
For something low carb, enjoy your BBQ baked chicken thighs with carrot salad with garlic, zucchini noodles, or a Caesar salad.
What is the best cut of chicken to use for oven baked BBQ chicken?
Any cut that has bone and skin is what I'd recommend. Thighs are great, but so are drumsticks and even chicken wings.
With each piece, you'll have to account for the change in baking time as wings will obviously cook faster!
Bone-in, skin-on chicken breasts can also be used, but they will take much longer to cook through.
Can I use something other than a cast iron skillet?
Sure you can. The most important thing is to get that initial sizzle and sear to form crispy outer skin. Instead, you can pan-sear the thighs on the stovetop and then transfer them to the oven using a foil-lined baking sheet to continue baking.
How long to bake bbq chicken thighs at 400?
Because we're using bone-in thighs, 40 minutes is the perfect cook time. Of course, it depends on your oven and the size of the meat, but generally speaking, I find it to be the right amount of time.
As long as the internal temperature reads 165F at the thickest part of the meat, and the juices are running clear the chicken is done.
How to get the crispiest skin?
First thing first, pat your chicken dry! If your chicken has excess moisture on its surface it will be soggy. Also, don't skip the preheated skillet.
This is a different way of searing the skin. We're doing this instead of pan searing or browning on the stovetop, which means we skip a step while still getting that outer sear.
You also want to make sure not to overcrowd the pan. Allow room for the heat to circulate on all sides of each thigh.
Last, if it's still not as crispy as you'd like, you can finish them under the broiler for a couple of minutes.
Check Out More DELICIOUS Dinner Recipes
New York Strip Steak Grill Recipe
Cheesy Hot Beef Sandwich Recipe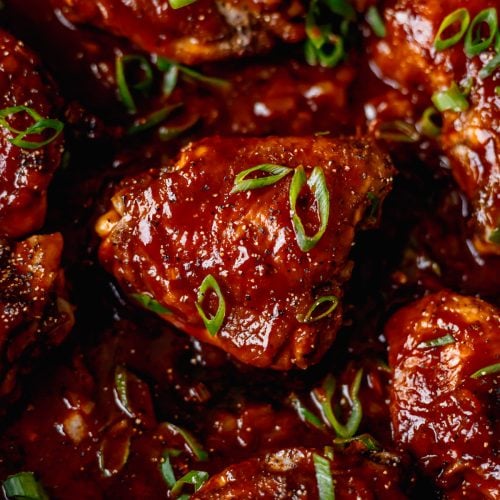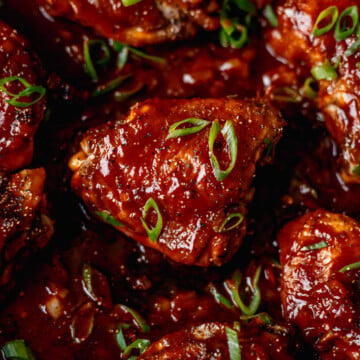 BBQ Baked Chicken Thighs Recipe
Incredibly delicious BBQ Baked Chicken Thighs Recipe. It is a Crowd Pleaser!
Instructions
Place your cast iron onto the middle rack of the oven, then preheat the oven to 400F. In a small mixing bowl, combine 2 tablespoon of oil, 2 1/2 teaspoons of chili powder, 1/12 teaspoons of brown sugar, 1 teaspoon of garlic powder, 1/2 teaspoon of ground cumin, 1/2 teaspoon of white pepper and 1 teaspoon of salt.

Now, rub chicken thighs using chili mixture.

When oven is preheated, carefully place chicken thighs, skin down, in hot cast iron skillet. Bake for 20 minutes. Flip to the other side and bake another 20 minutes.

Remove chicken thighs from the skillet. Pour all of the chicken juice into a bowl, except 1 tablespoon, and set aside, you are going to add it to the sauce later. Add chopped onion, cook on medium heat until golden color, about 5-7 minutes.

Stir in 2/3 cup of ketchup, 1/3 cup of water, 3 tablespoons molasses, 1 tablespoon of Worcestershire sauce and 1 tablespoon of Dijon mustard. Stirring continuously cook until sauce thickens, about 3-5 minutes.

Whisk in chicken juice, season with more salt and pepper in needed. Return chicken thighs back to skillet and coat with BBQ sauce. Garnish with chopped chives. Enjoy!
Video
Notes
Hi! All content & images are copyright protected. Please do not use my images without prior permission. If you want to republish this recipe, please re-write the recipe in your own words, or simply link back to this post for the recipe. Thank you.
Nutrition
Calories:
404
kcal
Carbohydrates:
15
g
Protein:
24
g
Fat:
28
g
Saturated Fat:
7
g
Polyunsaturated Fat:
6
g
Monounsaturated Fat:
13
g
Trans Fat:
0.1
g
Cholesterol:
142
mg
Sodium:
646
mg
Potassium:
522
mg
Fiber:
1
g
Sugar:
11
g
Vitamin A:
405
IU
Vitamin C:
2
mg
Calcium:
42
mg
Iron:
2
mg
Q. Do

YOU

like this

Oven Baked Chicken Thighs Recipe

?
Let me know in the comments below, I would love to hear from you!
Thank YOU for YOUR Comment, Share & Recipe Review!