Carrot salad with garlic is simply made with crunchy carrots and a sweet, savory, and zesty marinade that packs a punch! It's a staple in our home because of how easy it is to make using simple ingredients and minimal prep!
When YOU make this Carrot Salad Recipe please tag us @munchkintimeblog on Instagram, we would LOVE to see your creation!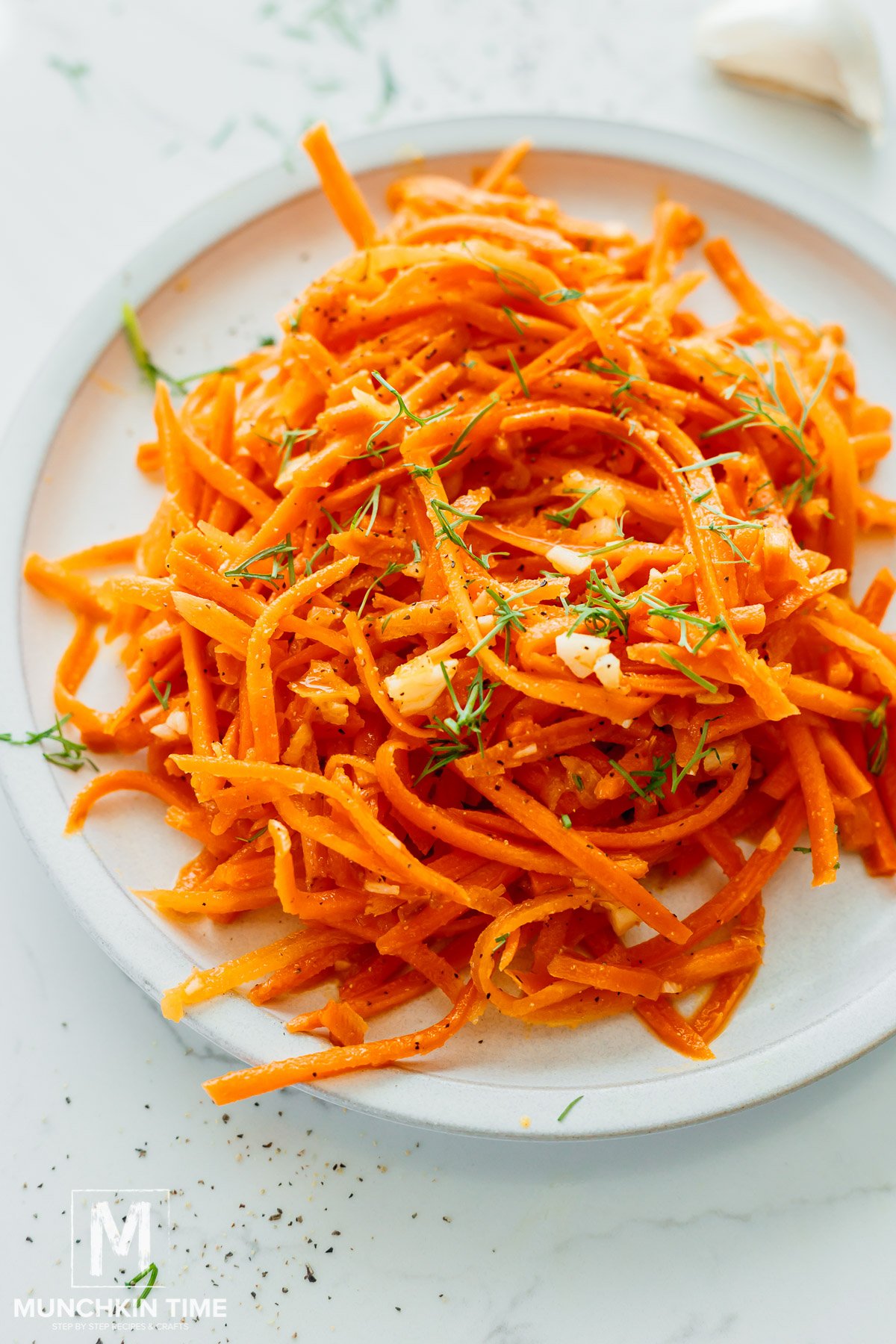 It's simple, refreshing, and unlike your traditional North American carrot salad, made without raisins. This carrot salad recipe is very popular among Russian and Ukrainian households and is very often enjoyed at celebrations and special occasions. However, because it's so easy, I make it anytime I want!
There's tons of garlicky flavor, an earthy spice from the coriander, a tang from the vinaigrette, and a bit of sweetness from the sugar. It's a refreshing and well-balanced salad that is perfect as a light and healthy side dish for weekdays, holidays, and more.
You can easily double the amount to serve a crowd, or keep some portioned out to take to work the next day. Whatever you do, make more than you need because you will keep going back to the fridge for a spoonful!
Ingredients Needed for Carrot Salad
Carrots: The star of the show, you'll need about 5 carrots peeled and julienned. The easiest way to julienne them is to use a julienne peeler, to peel them into thin strips. If you don't have one, see below for instructions on how to cut carrots for this salad.
Vinegar: For a tangy, zesty, vibrant flavor to brighten up this salad. The acid also helps to break down the carrots as it marinates, tenderizing them and permeating the flavors.
Ground coriander: A refreshing earthy spice that has a bit of a sweet and tart combination. You won't want to skip this, it's delicious!
Sugar: A bit of sweetness to balance out the savory and sour ingredients. Carrots contain natural sugars, so the added sugar complements the carrots so well.
Salt: Draws out moisture and brings out the flavor in the salad.
Olive oil: We're using oil to sauté the onion and garlic as well to dress the salad at the end.
Onion & Garlic: Tasty aromatics that when cooked first add a beautiful, warm, caramelization to the dish. This carrot salad is heavy on garlic because that's the way I like it!
Chopped greens: For garnish. Use whichever you prefer.
How to Cut Carrots for Salad
There are a few ways to go about cutting carrots into julienned strips. First, as mentioned above, is to use a peeler with the julienne function to peel away long strips.
If that's not an option, you can also use a mandolin with a julienne function, and last just grate them using a grater! You may not have fancy strips, but it'll still taste great!
I mean, if you have some fancy culinary skills and know how to julienne your carrots with a sharp knife, by all means, do that. I'm very impressed!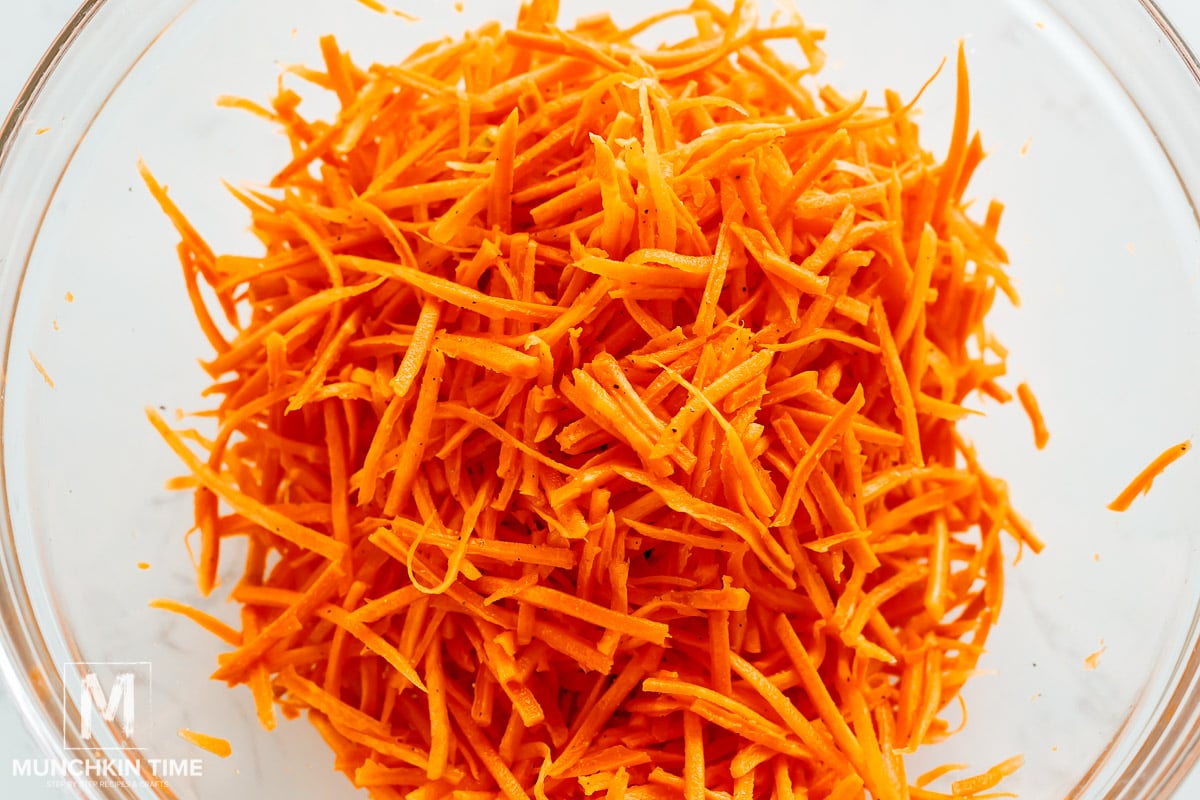 How to Make Carrot Salad
Sometimes the most simple and basic recipes are the ones that deliver the most flavor. This carrot salad with garlic is definitely one of them!
Step 1: In a large mixing bowl, combine carrots, vinegar, coriander, sugar, salt, and pepper to taste. Using clean hands, massage the salad for about 1 minute. You can also wear gloves to do this if you prefer. This will help tenderize the carrots and allow the flavors to start to merry. Set that aside.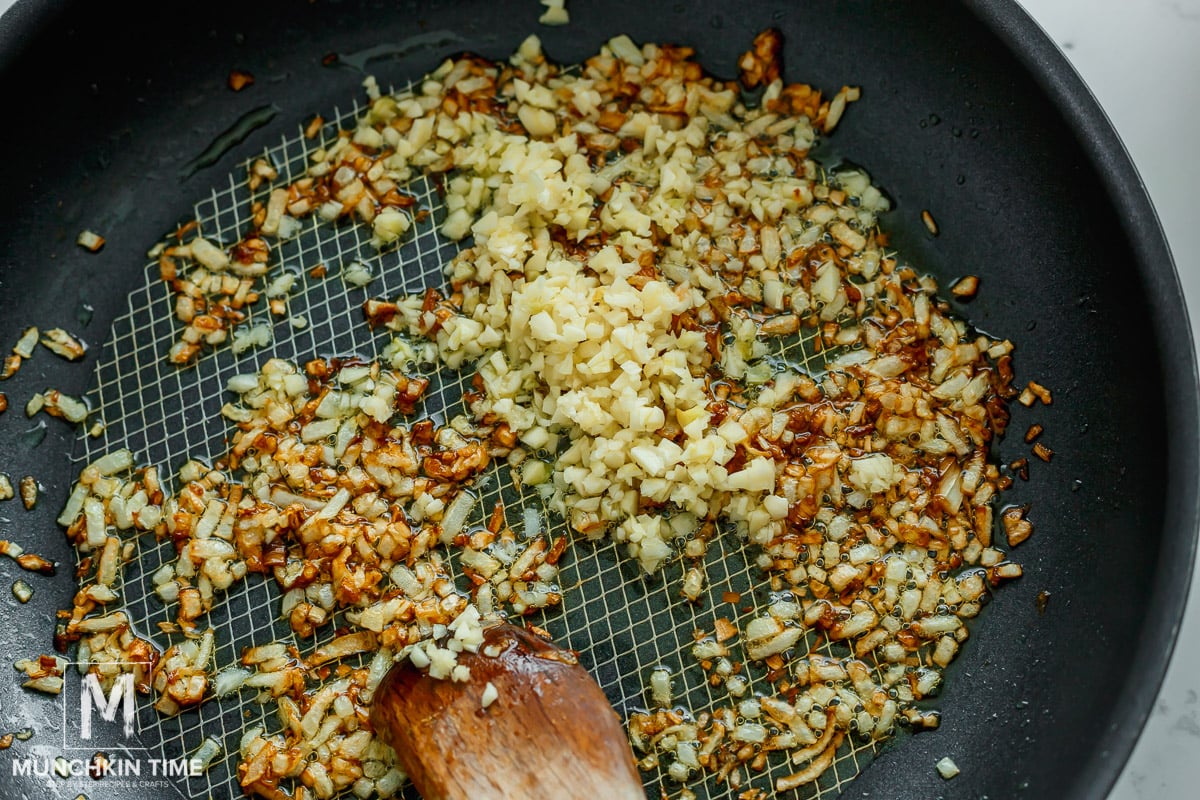 Step 2: Heat oil in a skillet over medium heat. Sauté the onion until golden. This will be about 8 minutes, stirring occasionally. Then, add the garlic and sauté for another minute, still stirring occasionally.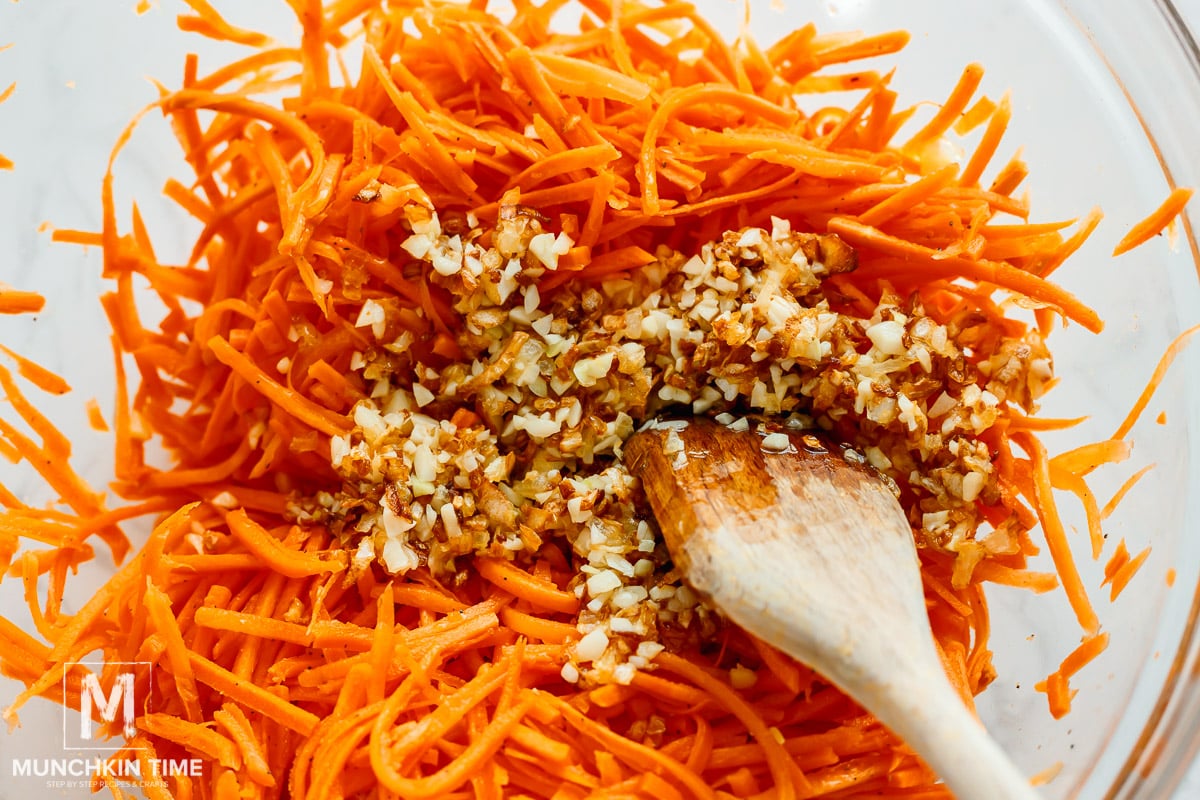 Step 3: Remove the skillet from the heat and transfer the garlic, onion, and hot oil mixture to the salad. Pour overtop, but make sure to mix everything to combine.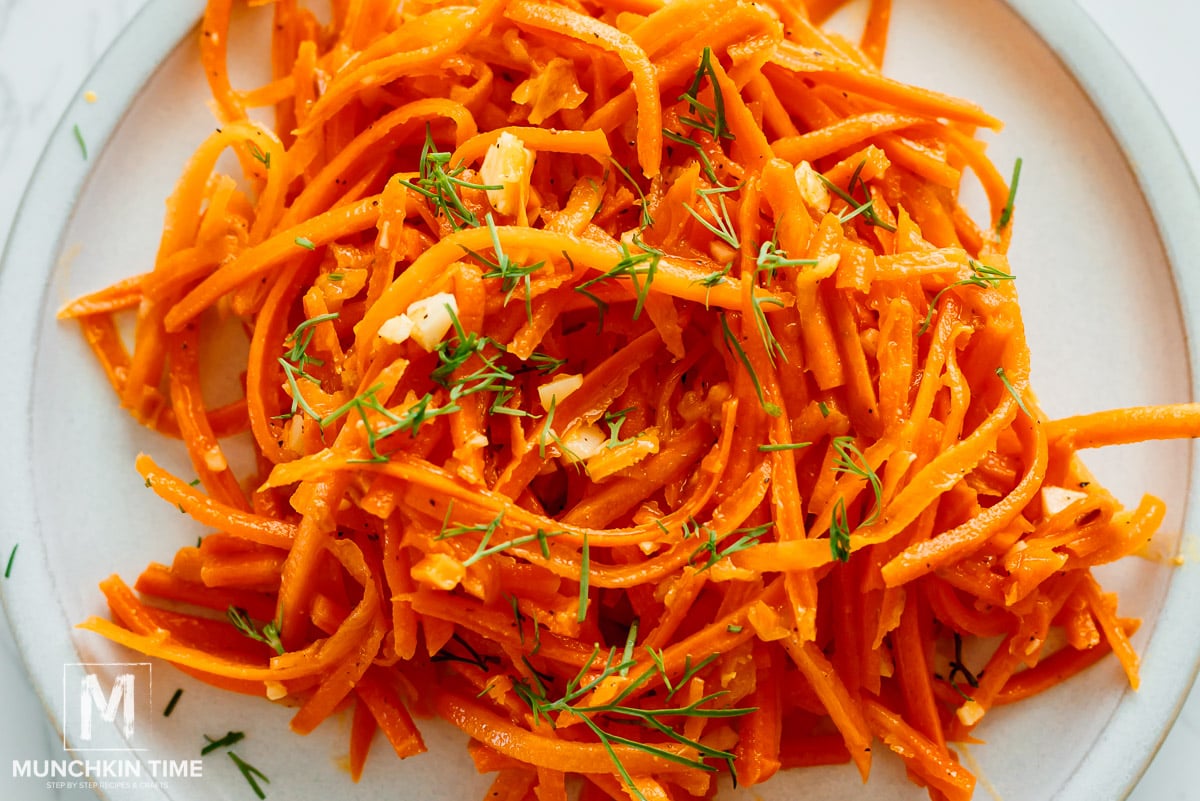 Step 4: Marinate in the fridge for at least an hour prior to serving. Garnish with finely chopped greens like parsley or cilantro and enjoy!
Recipe Tips
For a convenient shortcut, you can buy precut carrots at the store. This is helpful if you don't have any of the tools needed to julienne them yourself.
If you're not a fan of coriander, or you just don't have any, you can swap it with cumin instead.
For a little heat, you can sprinkle on some cayenne pepper if you'd like!
Don't skip the marinating time. The longer it sits, the better it tastes!
Best way to serve carrot salad with garlic?
It's a great starter salad for the holidays and special occasions! It also works as a side for a casual weeknight meal or a light lunch.
My family loves it on the side of BBQ baked chicken thighs, 3 ingredient chuck roast, and roasted salmon with broccoli and potatoes.
Can I use raw garlic instead?
You can! If you like the idea of marinated raw garlic and a bit of extra pungency, go for it. I like to sauté mine to flavor the oil a bit and mellow out the flavor, but you do you!
Is this salad healthy?
Totally! You've got the Vitamin A from the carrots, healthy fat from the olive oil, antioxidants from the garlic and onion, and the incredible immune-boosting benefits of coriander. So, load up your plate, and you won't be sorry!
How long can I store leftovers?
Keep any leftover carrot salad in an airtight container for up to 1 week. Enjoy it even more as the flavors continue to sit together.
Carrot Salad
This carrot salad recipe is very popular among Russian and Ukrainian households and is very often enjoyed at celebrations and special occasions.
Ingredients
Instructions
Into a mixing bowl combine carrots, vinegar, coriander, sugar, salt and pepper to taste. Massage the salad with clean hands for 1 minute.

Next, in a skillet add oil over medium heat. Add onion and saute for 8 minutes, or until golden color, stirring few times. After add garlic and saute stirring few times, for 1 min.

Remove from the heat and add onion and oil to the carrot salad. Mix everything up. Let marinate for at least 1 hour. Garnish with finely chopped greens. Enjoy!
Video
Notes
All content & images are copyright protected. Please do not use my images without prior permission. If you want to republish this recipe, please re-write the recipe in your own words, or simply link back to this post for the recipe. Thank you.
Nutrition
Calories:
107
kcal
Carbohydrates:
6
g
Protein:
1
g
Fat:
9
g
Saturated Fat:
1
g
Polyunsaturated Fat:
1
g
Monounsaturated Fat:
7
g
Sodium:
26
mg
Potassium:
152
mg
Fiber:
1
g
Sugar:
3
g
Vitamin A:
6016
IU
Vitamin C:
4
mg
Calcium:
21
mg
Iron:
0.2
mg
Do YOU like this Carrot Salad with Garlic Recipe?
Let me know in the comments below, we would love to hear from you!
Thank YOU for YOUR Comment, Share & Recipe Review!
Happy Cooking!