Easy Chicken Chow Mein is made with tender pieces of stir-fried chicken, noodles, and crunchy coleslaw coated in a homemade sweet and sour sauce. Slurping up the noodles with that tasty sauce is the only way to eat it!
I'm sharing my favorite recipe for chicken chow mein with the best chow mein sauce and it's about to become your favorite too! It's fast, easy to whip up, and it's way better than the Chinese take-out you normally order! It's definitely restaurant quality, without the restaurant sodium which makes this not only incredibly delicious but a much healthier version too!
When YOU make this Chow Mein Recipe, take a picture & DM me your Food Creation on Instagram @MunchkinTimeBlog & I will feature it here under this recipe!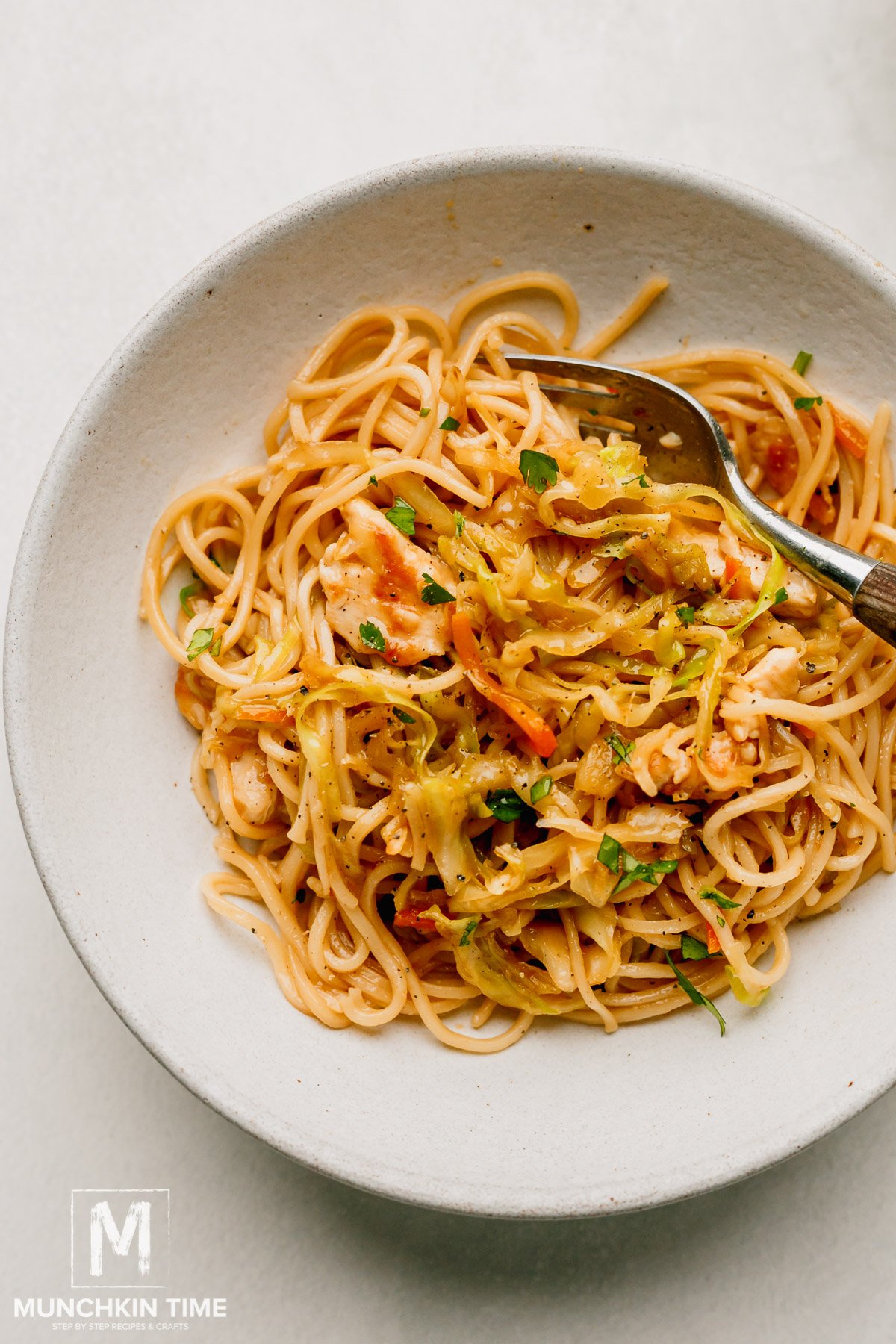 There are a few variations to this recipe, but this by far is my favorite. I use a sweet soy sauce rather than adding any sugar as well I use cooking sherry for the chicken. You can omit the coleslaw if you prefer or add different veggies, but I love the necessary crunch that the cooked cabbage adds.
This complete meal is by far one of the quickest and most budget-friendly ways to get dinner on the table during the week. On the week it beats driving to a restaurant and ordering off of a menu and my kids just love it!
What is

Chicken Chow Mein

?
On its own, chow mein is basically stir-fried, slightly crispy egg noodles and veggies. You can enjoy it as is or add in protein like tofu or meat like pork, beef, chicken, or shrimp then it gets tossed around in a sweet and salty sauce that is truly irresistible!
The noodles really are the star whether they're crispy or saucy and both versions of this traditional Chinese dish are very popular in American Chinese restaurants.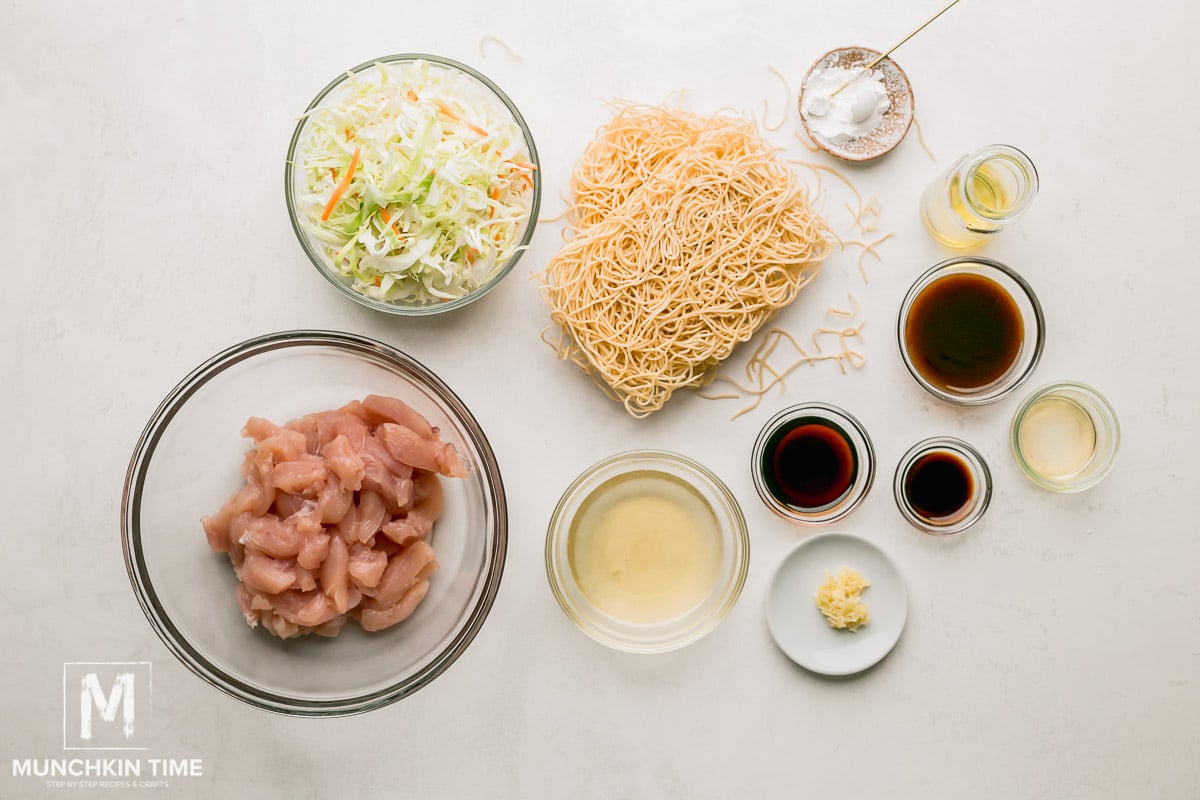 Chicken Chow Mein

Ingredients
Chicken – If they're not already butterflied breasts, cut them in half crosswise and then cut them into strips.
Cooking sherry – Totally optional, as it is quite high in sodium but adds a delicious sweet and nutty flavor to a recipe. It's NOT meant to be sipped on like regular drinking sherry.
Cornstarch – A thickening agent that not only helps to keep the chicken dry to get it nice and golden, but also to thicken the sauce once everything has combined.
Noodles – Chow mein noodles are egg noodles that are long and spaghetti-like.
Optional garnish – Any greens you like! Chopped green onion, parsley, or cilantro would be great.
Salt & pepper – To taste.
For the BEST

Chow Mein Sauce
Avocado oil – I generally like to use avocado oil whenever possible because it's one of the healthier choices that's mild in flavor but you can use any oil you choose. Olive oil or canola oil is great too.
Coleslaw – A store-bought blend of cabbage and carrots that come already shredded. A total time-saver!
Minced garlic – A delicious aromatic addition that adds incredible flavor.
Sweet soy sauce – I picked some up at Fred Meyer and used it because it's got the sweet and salty thing happening. If you can't find any, feel free to use granulated sugar instead.
Soy sauce – Regular soy sauce for that deeper salty soy sauce flavor. You can use low sodium if preferred.
Oyster sauce – A thick, rich, and dark condiment that is very popular in Asian cuisine. Also provides a salty, sweet caramelized element.
Chicken broth – The liquid component to thin out the sauce just a bit. It helps to ensure that everything is evenly coated and not too thick. You can use water instead of broth.
How to Make
Chicken Chow Mein

?

Step 1: Cook chow mein noodles according to the package instructions minus 1 minute. Drain and set them aside.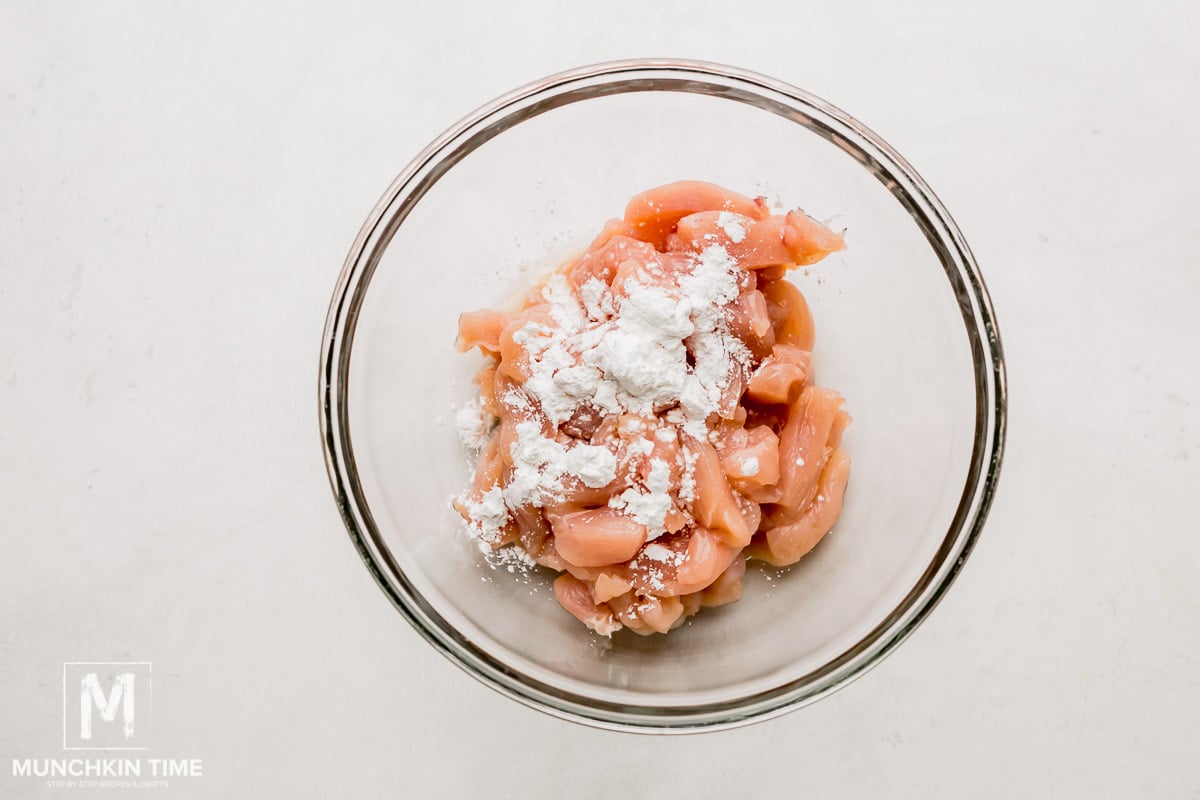 Step 2: In a large mixing bowl, combine the chicken, sherry wine, cornstarch, salt, and pepper. Mix everything to combine making sure the chicken is well coated.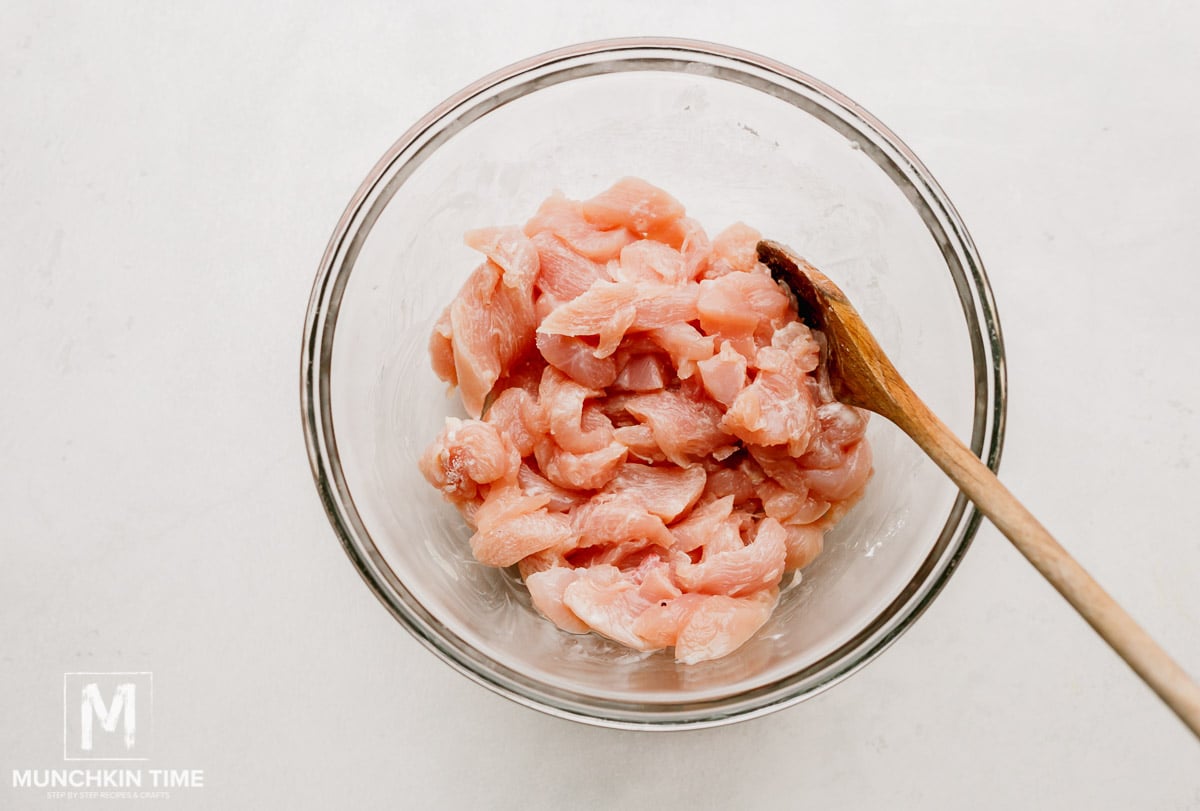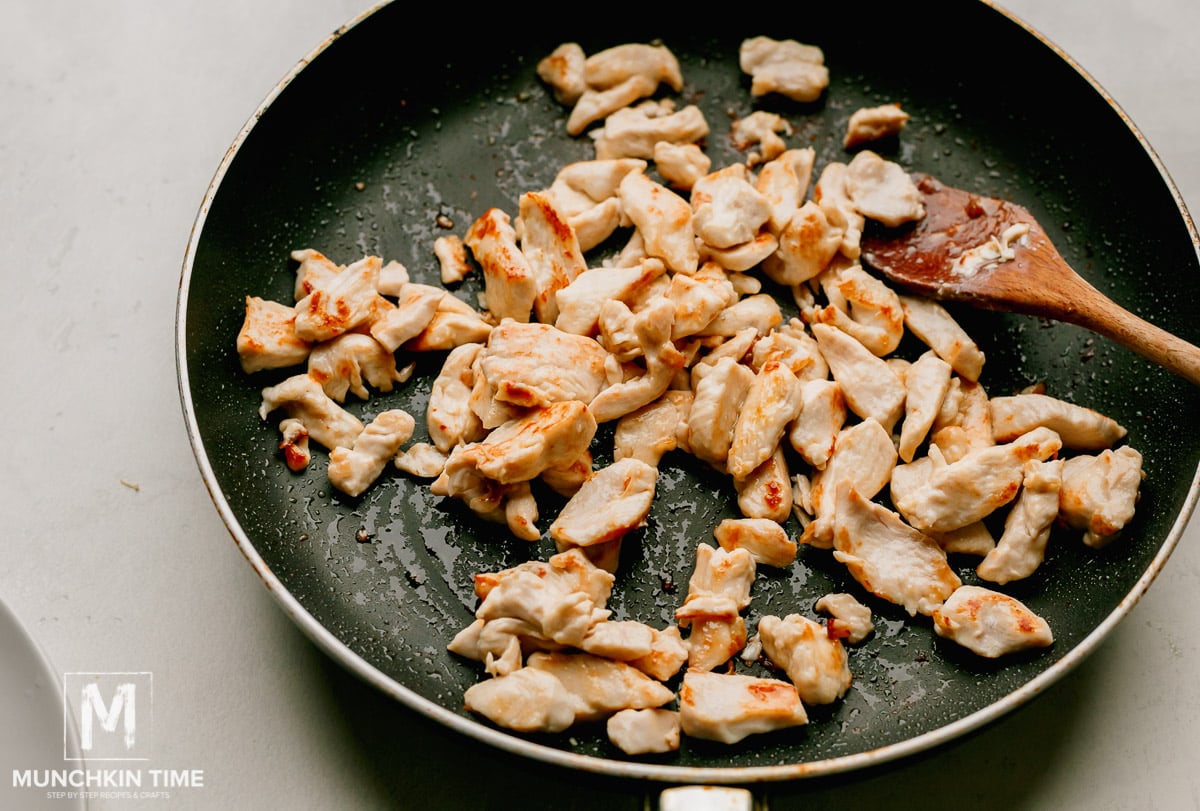 Step 3: Preheat oil in a large skillet or wok on medium-high heat. Cook chicken for 5-7 minutes until cooked through, stirring occasionally. Remove to a plate.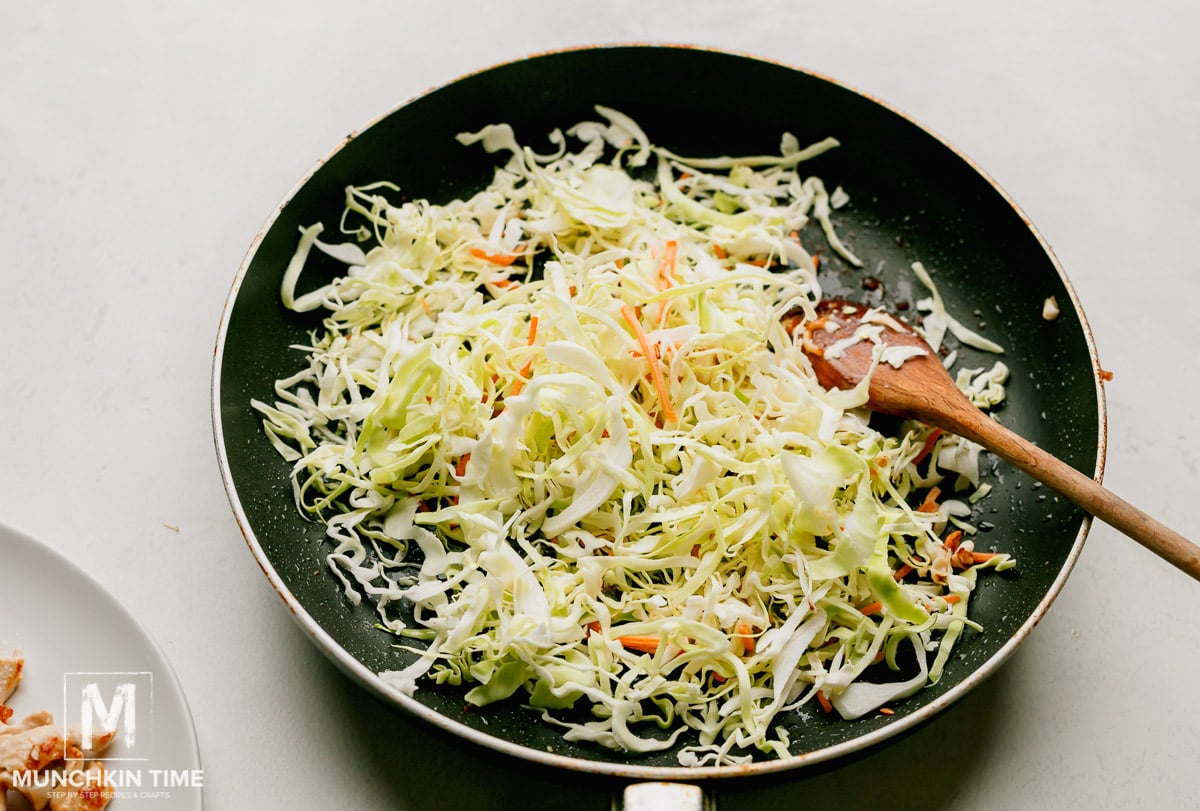 Step 4: Add avocado oil to the same skillet and cook the garlic and coleslaw for about 3 minutes until the cabbage is wilted down and the carrots are softened.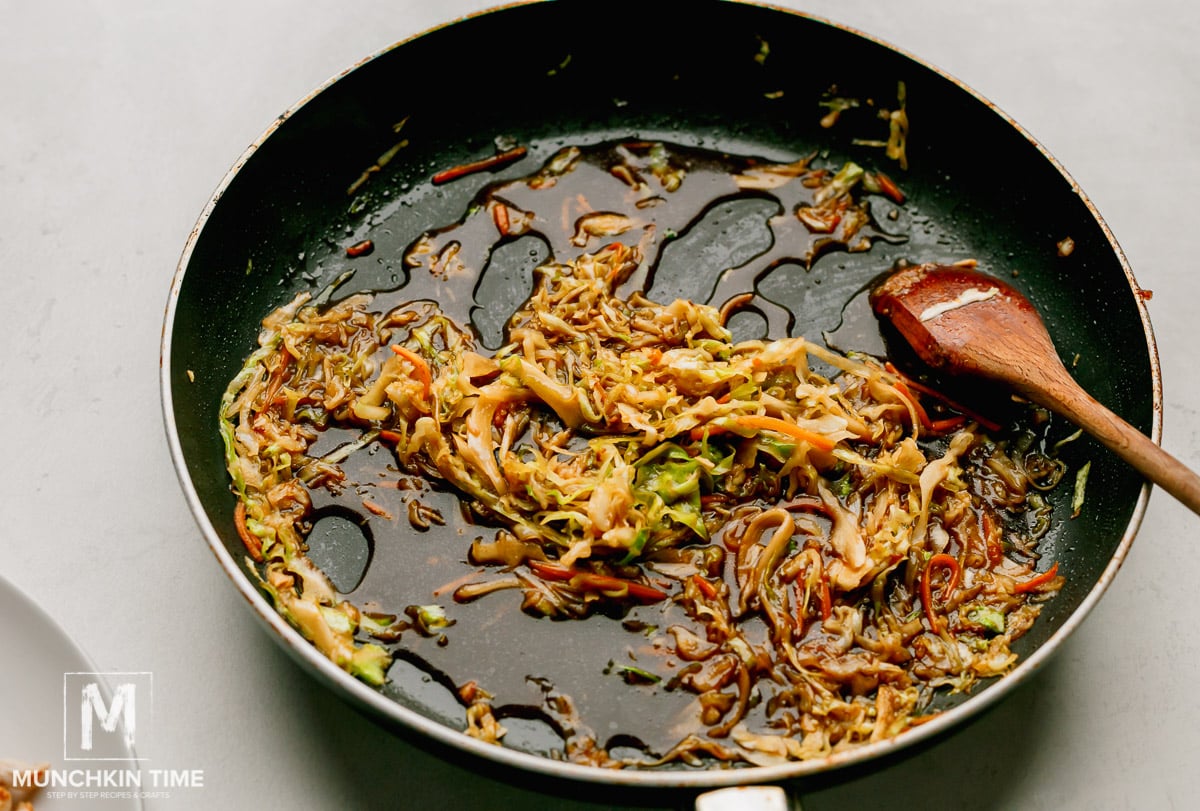 How to make
Chow Mein Sauce

?

Step 5: Pour in the sweet soy sauce, regular soy sauce, oyster sauce, and chicken broth. Use a wooden spoon to stir and scrape the bits off the skillet as you go.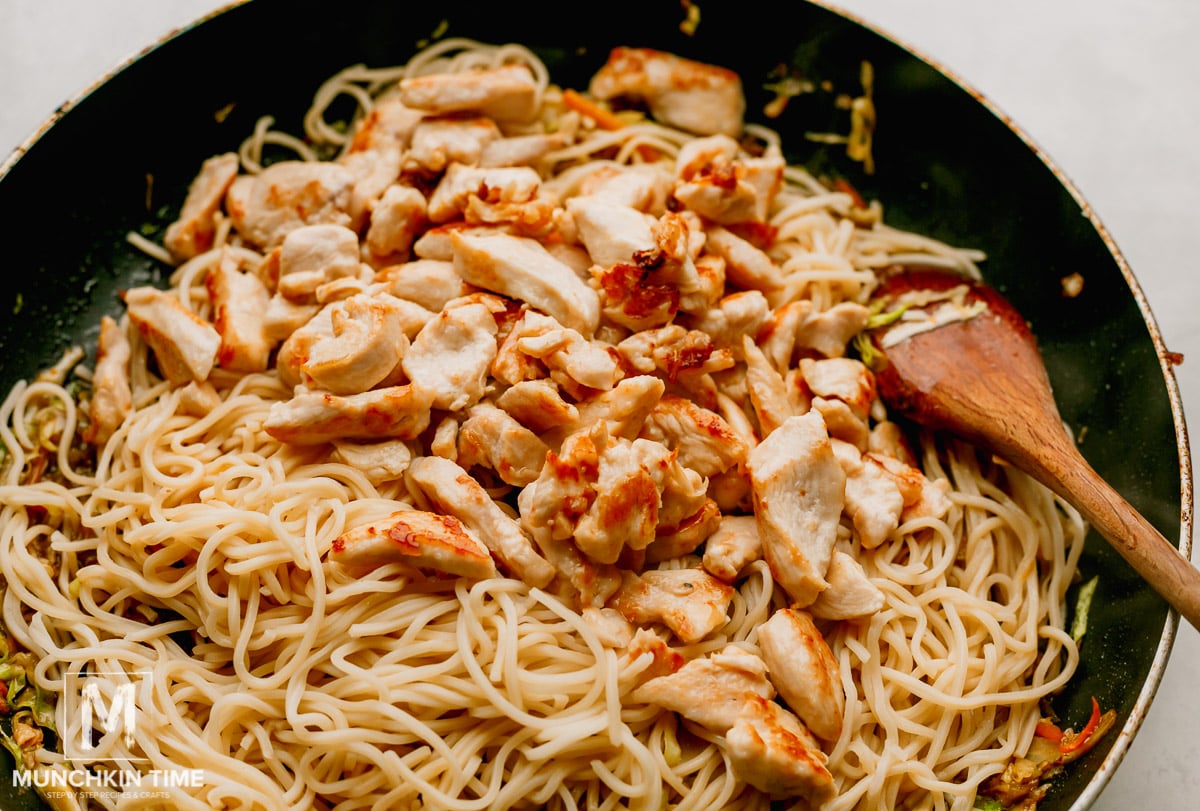 Step 6: Return the noodles and chicken back into the skillet and toss everything around in the sauce to coat. Season with salt and pepper to taste (you may find it's salty enough).
Serve with optional garnish greens to finish it off and enjoy right away!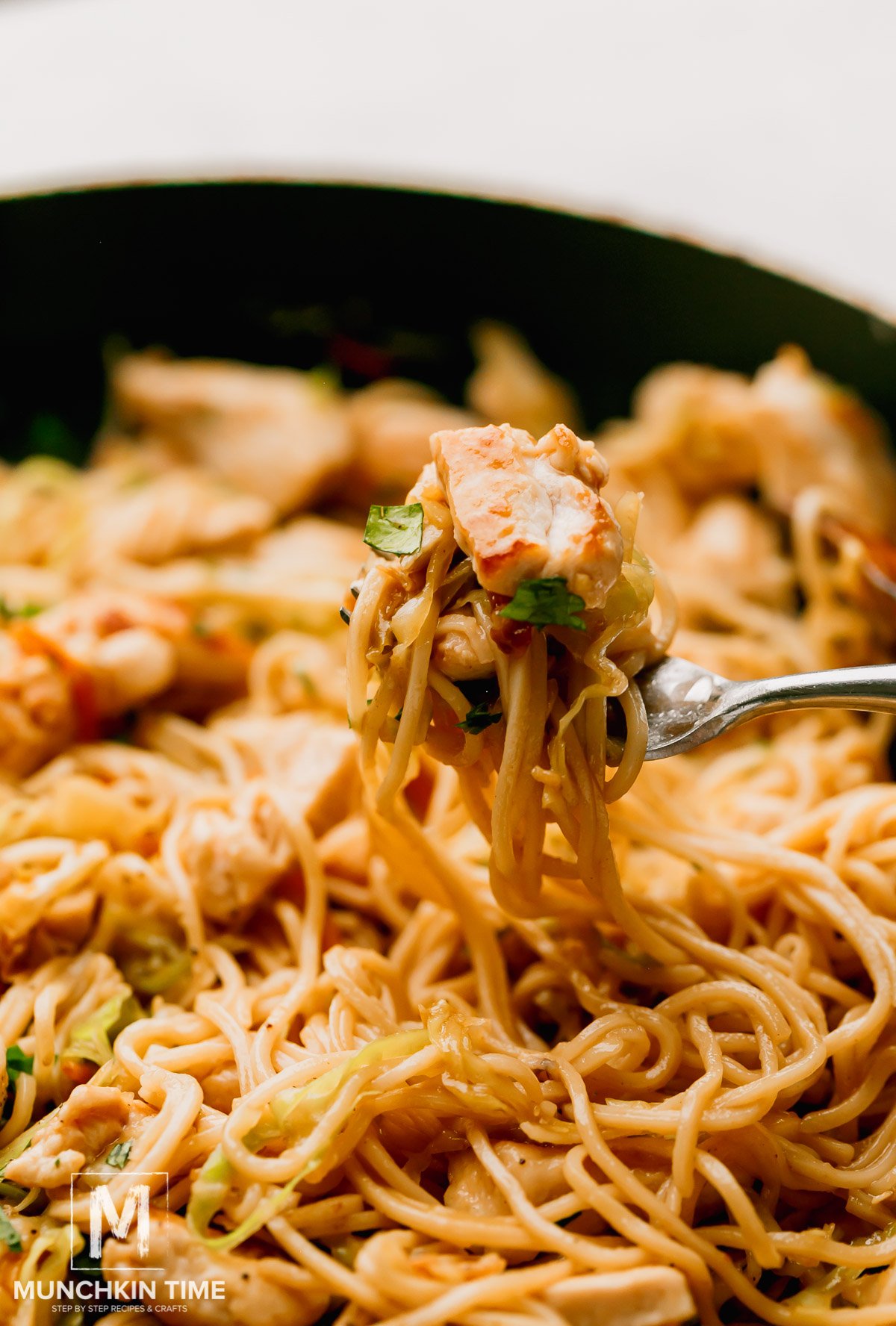 Tips & Variations
Adjust the sweet to salty balance to your liking. Add more or less sweet or regular soy sauce to suit your taste buds.
Swap the chicken for shrimp in this recipe. You can also use thin strips of pork or beef.
Toss in some other veggies like mushrooms, bok choy, bean sprouts, red bell pepper, or green onions.
If you don't want to add different vegetables you can always increase the amount of coleslaw if preferred.
For a spicy version sprinkle in some red pepper flakes or sriracha sauce.
To make this a gluten-free chicken chow mein, use stir fry rice noodles instead and use arrowroot powder instead of cornstarch. Make sure to use certified gluten-free condiments and swap the soy sauce for Tamari.
How to

Store

Leftover

Chow Mein
This dish is best served straight off the skillet but that doesn't mean you can't enjoy leftovers the next day! Keep leftovers stored in an airtight container in the fridge for up to 2 days.
Reheating Chicken Chow Mein
Toss the leftovers into a skillet with a drizzle of oil and heat through over medium heat.
More Yummy Dinner Recipes:
10-minute Honey Garlic Shrimp Recipe
Super Juicy Oven Baked Chicken Wings
Baked Chicken Pasta in Buttery White Sauce
Oven Baked Boneless Skinless Chicken Thighs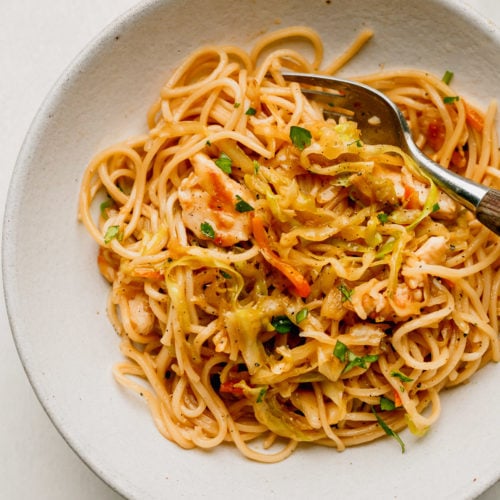 Easy Chicken Chow Mein Recipe
Easy Chicken Chow Mein Recipe – incredibly easy chicken chow mein with the delicious chow mein sauce.  In my opinion this is the Best Chicken Chow Mein Recipe.
Ingredients
Stir Fry
2

chicken breasts

sliced in half horizontaly, then cut into bite size strips

1

tablespoon

cooking sherry

2

teaspoon

cornstarch

6

oz

chow mein noodles

any greens of your choice

100% optional for garnish

salt & pepper

to taste
Basic Chow Mein Sauce
4

tablespoon

avocado oil

divided or any oil of your choice

4

cups

cole slaw

store-bought, shreeded cabbage and carrot

2

cloves

garlic

minced

3

tablespoon

sweet soy sauce

more to taste, I got mine at Fred Meyers

1

tablespoon

regular soy sauce

4

tablespoons

oyster sauce

1

cup

chicken broth

or water
Instructions
First, cook 6 oz. of chow mein noodles according to the instructions on the package, 1 minute before noodles cooks thru remove from water and set aside.

Next, in a mixing bowl combine sliced chicken with 1 tablespoon sherry wine, 2 teaspoons cornstarch and salt to taste. Mix until everything is combined.

Using a large skillet or wok, preheat on medium/high heat 2 tablespoons of oil. Add chicken and cook for about 5-7 minutes or until chicken cooks thru, stirring few times.

Once chicken is cooked thru, transfer to a plate & again add 2 tablespoons of avocado oil. After oil gets hot, add garlic and 4 cups of shredded cabbage and carrot, stir and cook for about 3 minutes.

To the skillet add 3 tablespoons of sweet soy sauce, 1 tablespoon of soy sauce, 4 tablespoons oyster sauce & 1 cup chicken broth. Stir and cook until everything is heated thru 2-3 minutes.

Now, add pasta and chicken to the skillet, stir until everything is combined. Season with salt and pepper to taste, if needed. Serve with fresh greens of your choice. Enjoy!
Notes
Feel free to add more sweet or regular soy sauce, adjust it to your own taste buds.
Shrimp can also be used in this chow mein recipe.
Add other veggies like mushrooms, bean sprouts or green onion.
Store leftovers in airtight container inside the fridge for up to 1-2 days.
To reheat, place in the skillet and drizzle some oil, cook on medium heat until it heats thru.
When

YOU

make this

Chow Mein Recipe

, take a picture & DM me your Food Creation on Instagram @MunchkinTimeBlog & I will feature it here under this recipe!
Hi! All content & images are copyright protected. Please do not use my images without prior permission. If you want to republish this recipe, please re-write the recipe in your own words, or simply link back to this post for the recipe. Thank you.
Nutrition
Serving:
1
g
Calories:
494
kcal
Carbohydrates:
50
g
Protein:
32
g
Fat:
18
g
Saturated Fat:
2
g
Cholesterol:
72
mg
Sodium:
1360
mg
Potassium:
594
mg
Fiber:
4
g
Sugar:
13
g
Vitamin A:
103
IU
Vitamin C:
32
mg
Calcium:
46
mg
Iron:
2
mg
Q. Do YOU like this Easy Chow Mein Recipe?
Let me know in the comments below, I would love to hear from you!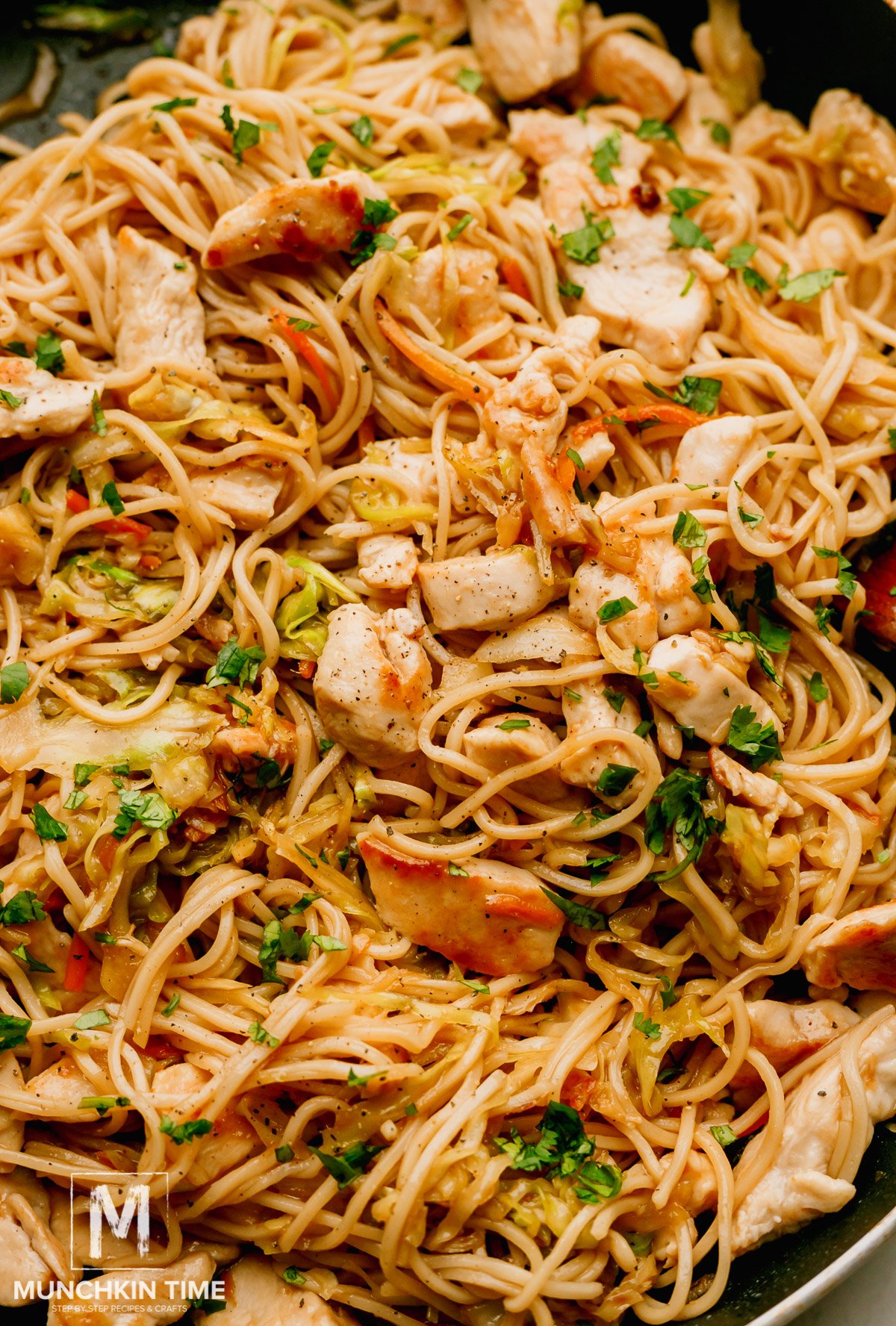 Thank YOU for YOUR Comment, Share & Recipe Review!
Quote of the Day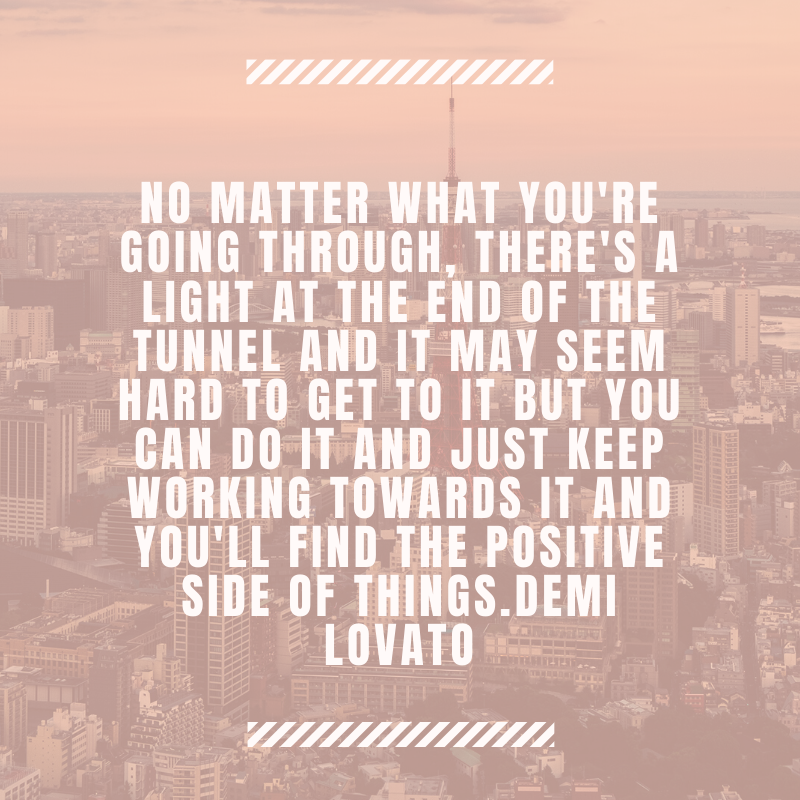 Have a wonderful day!