Quick Homemade Instant Pot Chicken Bone Broth is a great way to make this highly nutritious broth robust in flavor in just over an hour. Use whatever chicken, bones, and veggies you've got, and you'll have a budget-friendly version to keep coming back to!
If you've ever made bone broth before you'll know it can normally take hours and hours of simmering time. I'm talking up to 24 hours sometimes!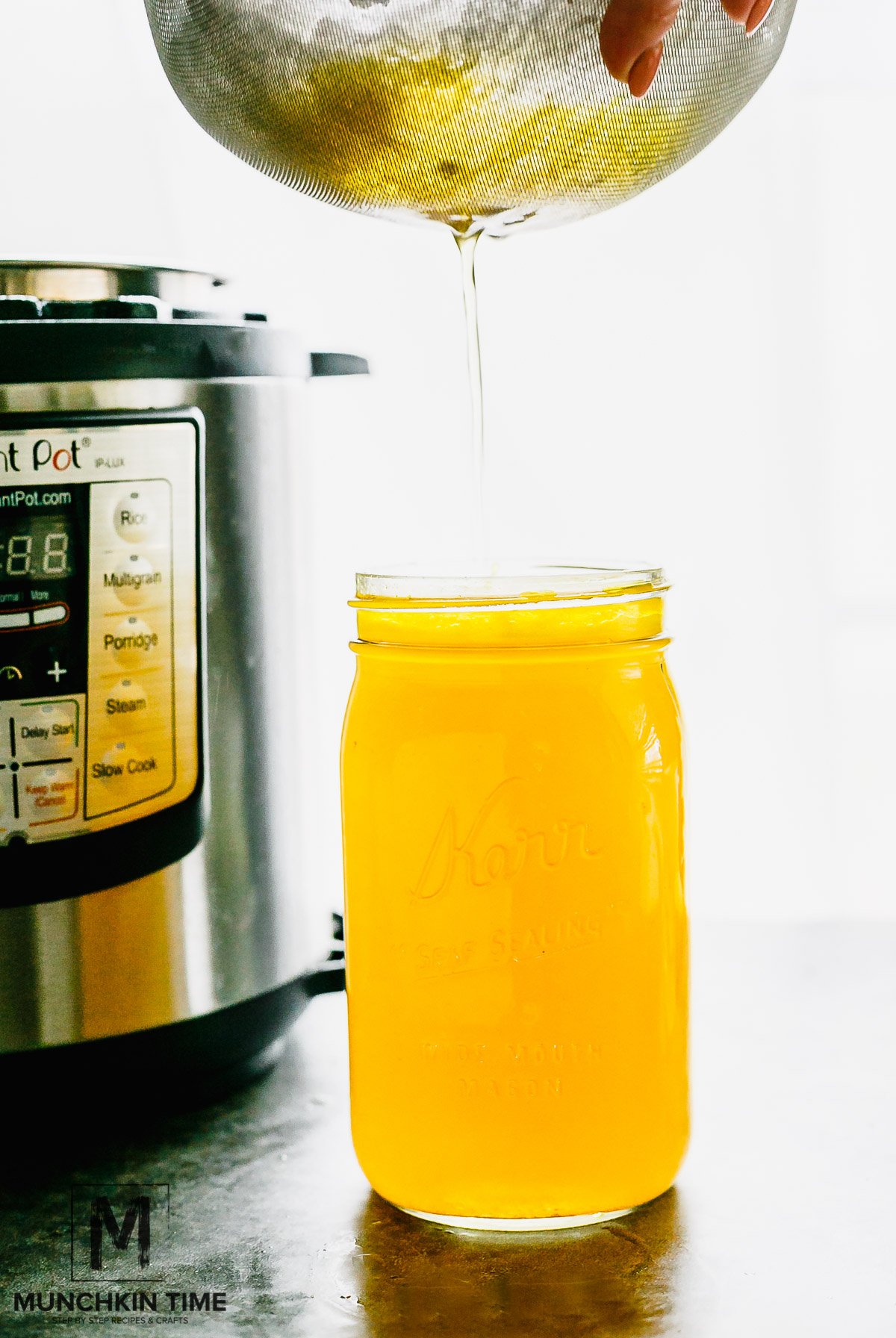 This Instant pot chicken bone broth is done in a fraction of that time, making this the quickest and easiest method to achieving that highly nutritious and super flavorful bone broth we love!
The pressure cooker works to extract the collagen, vitamins, minerals, and all of those yummy benefits, faster than the stovetop method, and it's a great way to use up leftover chicken carcass!
Throw in some veggies, or whatever scraps you've got saved in your fridge or freezer, and in just over 1 hour you'll have a delicious and nourishing batch of bone broth ready to be sipped on by itself or used in soups, stews, or gravies!
During cold and flu season I always give it to my kids as a way to boost their immune systems!
Chicken bone broth can be quite expensive to buy, so I'm going to show you a simple method for a homemade version to save you time and money!
When YOU make this Chicken Broth Recipe, take a picture & DM me your Food on Instagram @MunchkinTimeBlog we would love to see your creation!
Ingredients

Needed for

Chicken Bone Broth
Chicken: I use a whole raw chicken but you can use a cooked rotisserie chicken or leftover pieces of chicken you've got in your fridge. You want to make sure you have the meat as well as the bones, otherwise, if you're just using bones, then you're actually making a stock, not broth!
Onion & Garlic: Delicious aromatic veggies that infuse a ton of flavor into the liquid.
Peppercorns & Bay leaves: Whole peppercorns and bay leaves are a common seasoning in things like soups, sauces, and stews. Not to be eaten, they add flavor and then are discarded.
Turmeric: An earthy spice that has so many health benefits that not only does it add incredible flavor and color to the broth it also provides nutrients, antioxidants, and anti-inflammatory properties too!
Salt & pepper: To taste!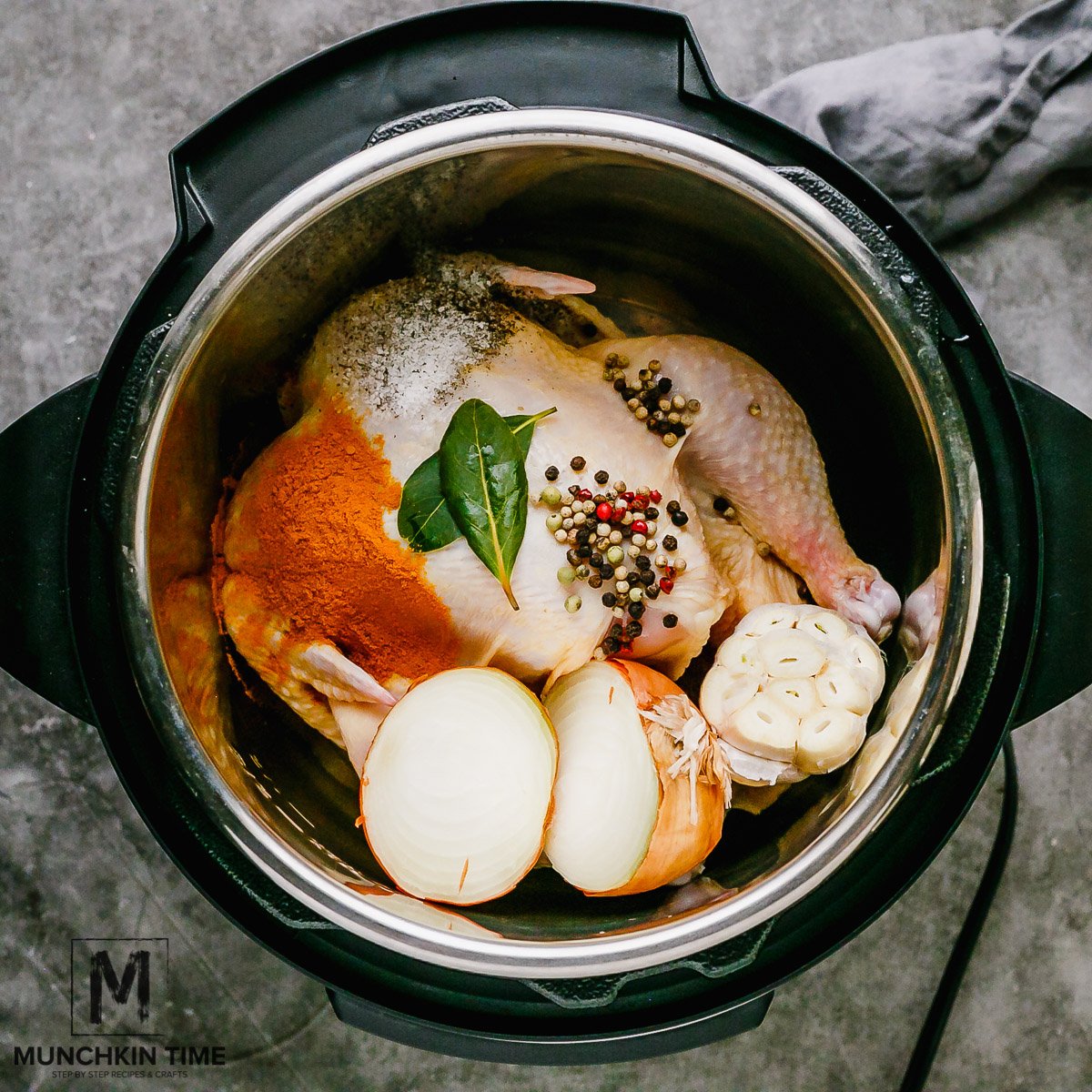 How to make
Chicken Bone Broth

in

Instant Pot

?

Step 1: This easy dump and set recipe starts off by adding the chicken into the pot, along with the onion, garlic, peppercorns, turmeric, bay leaves, and salt & pepper.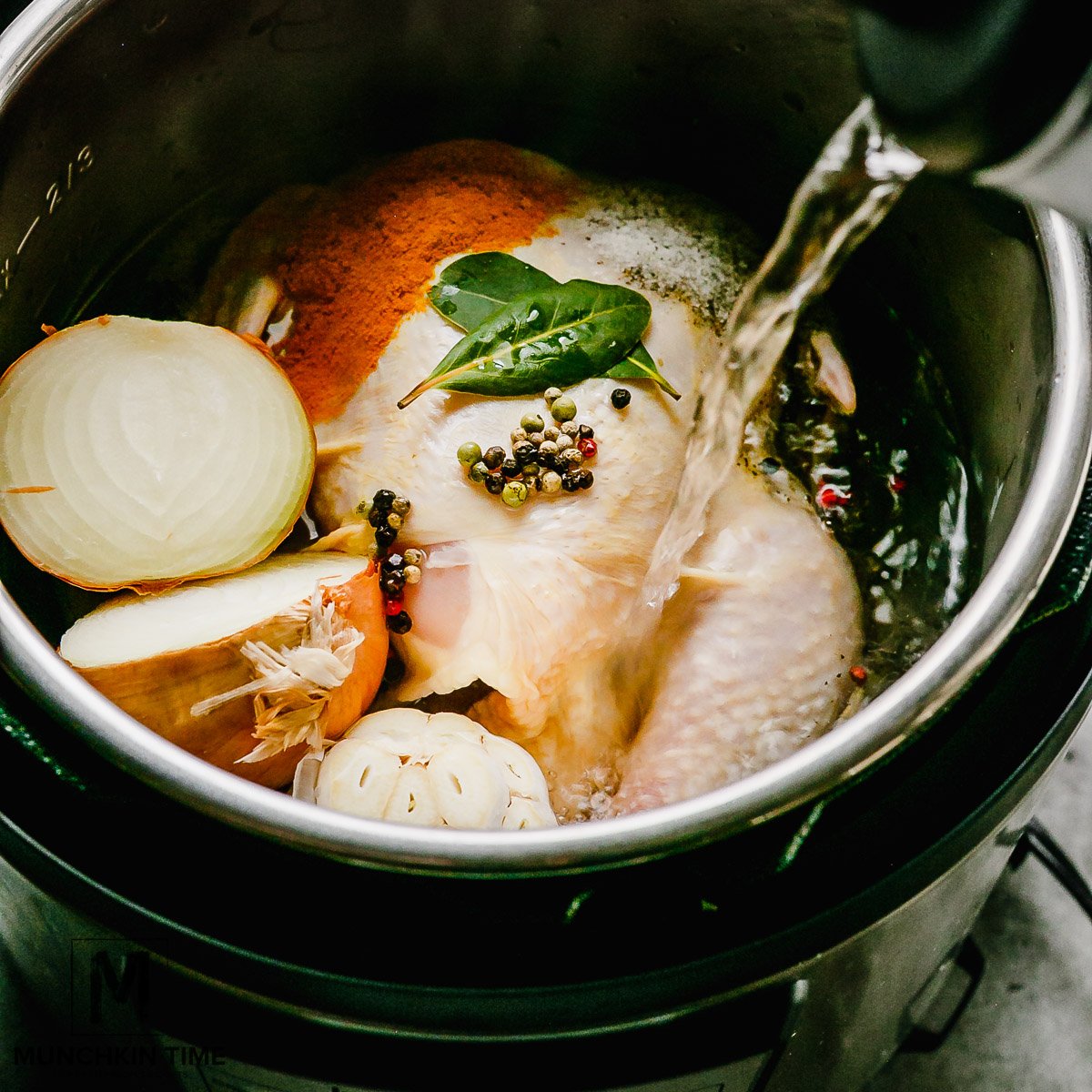 Step 2: Fill the pot with water until it reaches the line that says MAX. Do not go above this line. The reason is, that the Instant Pot needs the room to allow the pressure to build. If there is nowhere for the pressure to go, things can go wrong quickly!
Step 3: Cover the pot with the lid and set the valve to the Sealing position. You can use the soup/broth setting or the High-pressure button for 60 minutes.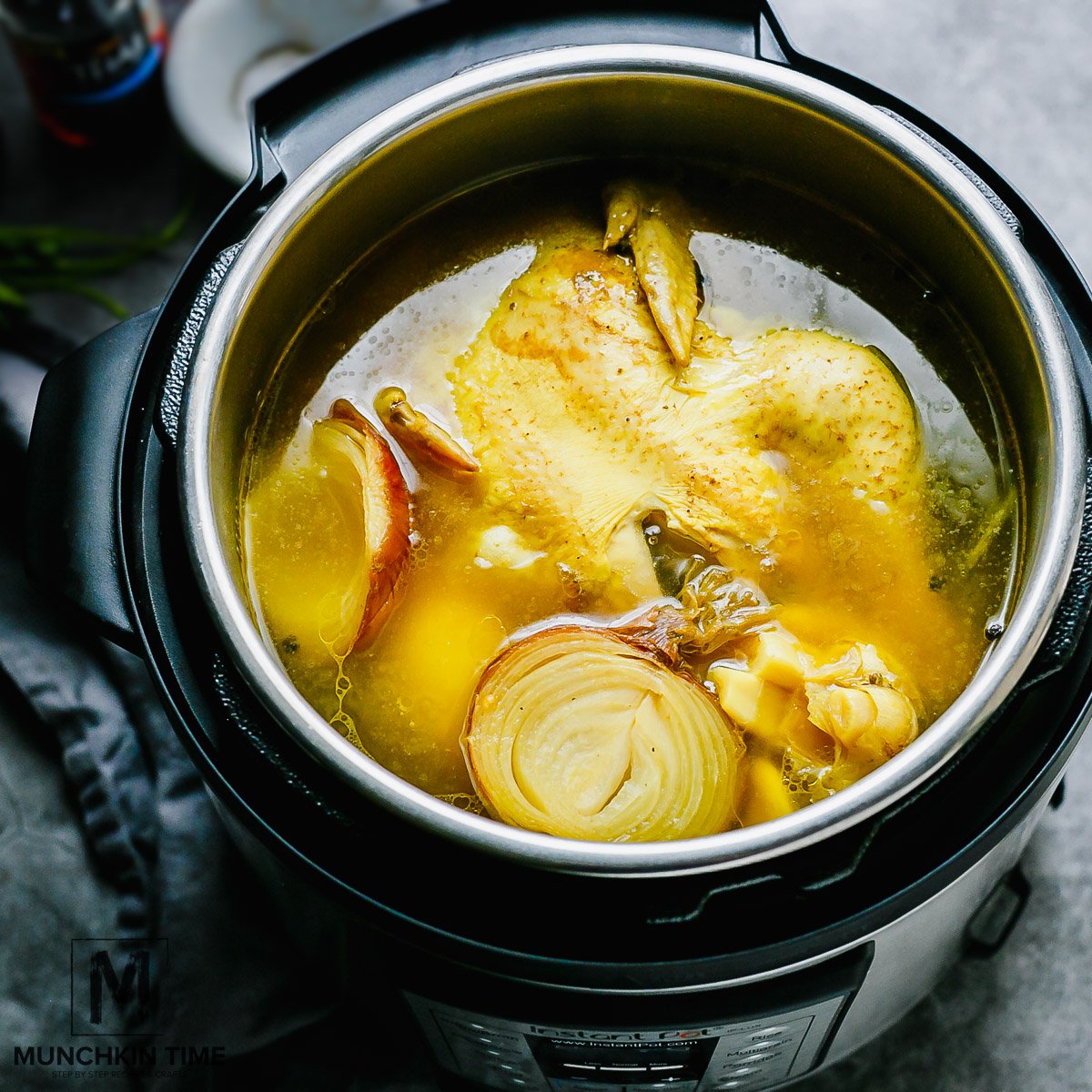 Step 4: Once the cooking time is up, allow it to naturally release (don't touch it) for 15 minutes before moving the valve to the Venting position to release any remaining pressure.
Step 5: Carefully strain the broth through a cheesecloth and fill glass jars or freezer-safe containers. Do not cover the containers until the broth has completely cooled.
Broth Recipe

Tips
Allow extra time. Yes, this recipe is quick in comparison to the stovetop or slow cooker methods, but always allow for extra time for the pressure to build. It can take a while for this chicken bone broth instapot recipe to come to full pressure.
Increase time. There is no harm in setting the cooking time to 2 hours! If you want to get a little more flavor and nutrients out of the chicken and bones, feel free to increase it by an hour.
Soak chicken. This is 100% optional, but I like to soak my chicken in a cold saltwater brine for at least 1 hour and sometimes overnight. It helps to add so much moisture and flavor to the chicken.
Save the chicken breast. If you're using a whole chicken, you have the option of reserving the chicken breast and using it for something else instead. You'll still have plenty to work with, with the rest of the chicken. It's a great way to stretch out your food!
How Long to Cook

Chicken Bone Broth

in

Instant Pot
This recipe is great for a quick and easy bone broth that won't produce too much of the gelatinous goodness that forms on top.
If you're looking for that which is even higher in nutrients, you'll want to use low pressure for a longer period of time. 2 hours or longer.
Flavor Boosting Add-ins
Carrots

Celery

Rosemary

Thyme

Apple cider vinegar (which also helps to extract the nutrients from the bones)

All the veggie scraps you've been saving!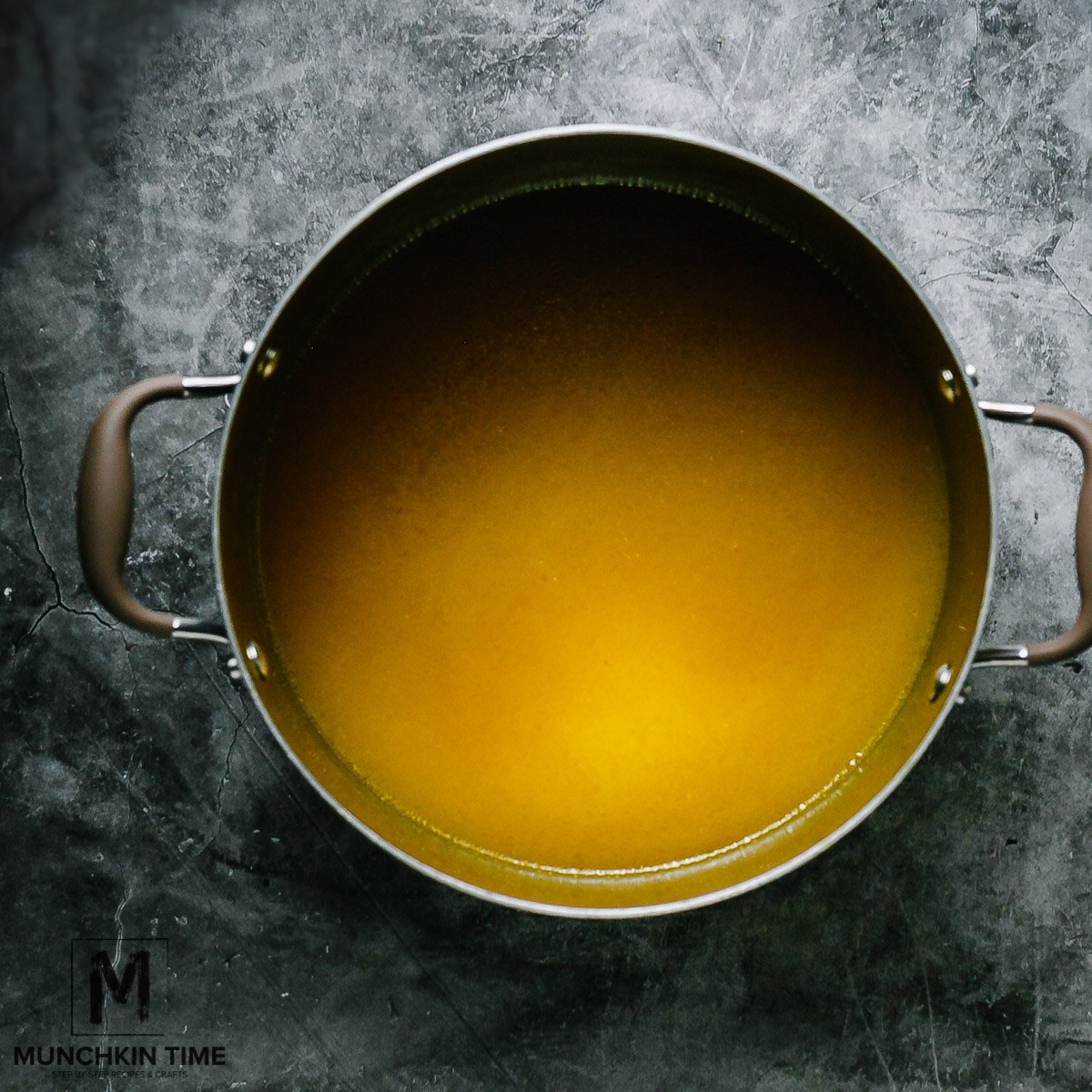 Ways to Use

Chicken Bone Broth
There are so many uses for chicken broth! In recipes that state you can replace water with broth for more flavor, it's always nice to have a jar of this stuff on hand!
Here are a few more recipes that welcome delicious chicken bone broth:
Chicken Corn Chowder – is a creamy, rich, and delicious soup full of flavor, it is super easy to make.
Simple Beet Soup Recipe – one of my favorite soups to make, made of red beets, potatoes, cabbage, and chicken broth.
Quick Potato Leek Bacon Soup – rich and creamy soup even without any dairy!
Storing and Freezing
Instant Pot chicken bone broth can be stored in the fridge in an airtight container for up to 7 days. I don't think you'll be using it all by then, so it's always a good idea to freeze some!
Always use a freezer-friendly bag or container and leave a little room for it to expand without exploding. So, don't fill it too much! Freeze it for up to 3 months.
What to make with
Leftover
Cooked Chicken
?
Don't know what to make with cooked chicken after you make chicken broth in Instant Pot? Here are few scrumptious ideas that include Cooked Chicken:
Homemade Chicken Noodle Soup Recipe – if you make this soup, I would cook this chicken broth for 30 minutes so cooked chicken meat could be flavorful and juicy.
Chicken Chimichangas – they are gluten free and made just under 30 minutes. One of the Most Popular Post here on Munchkin Time Blog.
Fried Chicken Cutlets with Green Onion – made of fluffy dough, cooked chicken and flavorful green onion, kids love these! They are so good!
Instant Pot Chicken Bone Broth Recipe
Incredibly flavorful INSTANT POT Chicken Bone Broth Recipe with step by step pictures.
Ingredients
3

lb

whole chicken

or whole rotisserie chicken (100% optional - remove chicken breast before cooking and use it in different recipe)

1

onion

sliced in half

1

head

garlic

top removed

2

teaspoon

peppercorns

1

teaspoon

turmeric

salt & pepper to taste
Instructions
How to Make Chicken Bone Broth in Instant Pot:
Place chicken into the Instant Pot. Add 1 sliced onion, 1 whole garlic head, 2 teaspoons of peppercorns, 1 teaspoons turmeric, 2 bay leaves, salt & pepper. Pour water until water reaches the MAX line.

Cover the lid and place the vent valve to 'Sealing'. Push the soup/broth setting for 60 minutes. Naturally release pressure for 15 minutes (let the instant pot stand untouched for 15 minutes). Release pressure.

Pour the broth thru cheese cloth into the jars or freezer safe containers. Enjoy!
Notes
Use this Chicken Broth and cooked chicken to make Amazing Homemade Chicken Noodle Soup Recipe, but instead of cooking for 60 minutes on high pressure cook for 30 minutes for juicy and flavorful meat and broth. 
Before making chicken broth in I
nstant Pot
, I like to soak my chicken in cold salted water for about 1 hour or overnight (100% optional).
Freeze left over chicken bone broth in freezer safe container or zip bag.
Hi! All content & images are copyright protected. Please do not use my images without prior permission. If you want to republish this recipe, please re-write the recipe in your own words, or simply link back to this post for the recipe. Thank you.
Nutrition
Serving:
1
cup
Calories:
1520
kcal
Carbohydrates:
27
g
Protein:
126
g
Fat:
99
g
Saturated Fat:
28
g
Polyunsaturated Fat:
21
g
Monounsaturated Fat:
41
g
Trans Fat:
1
g
Cholesterol:
490
mg
Sodium:
469
mg
Potassium:
1676
mg
Fiber:
5
g
Sugar:
5
g
Vitamin A:
980
IU
Vitamin C:
28
mg
Calcium:
192
mg
Iron:
8
mg
Q. – Do YOU like this Instant Pot Chicken Bone Broth Recipe?
Let me know in the comments below, I would love to hear from you!
Thank YOU for YOUR Comment, Share & Recipe Review!
Quote of the Day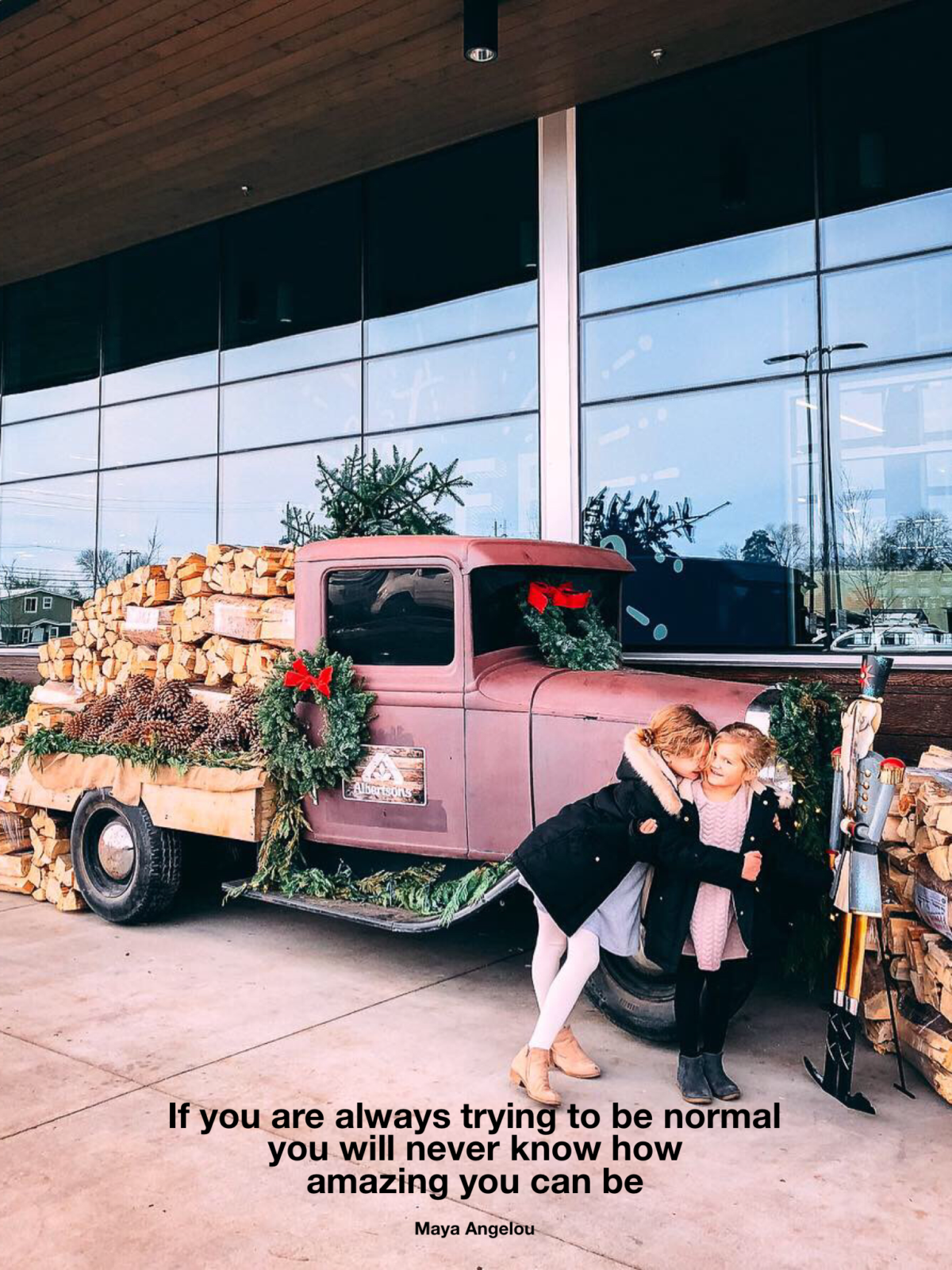 Have a wonderful day!
This post was updated June 15, 2022, the chicken bone broth recipe is the same delicious.