Beef Pho Recipe – hearty and satisfying yet light and refreshing Vietnamese soup is easy to make at home. It has tender rice noodles and juicy strips of beef in a rich broth with layers of flavor from herbs and spices. It's no surprise that this Vietnamese-inspired noodle soup is so popular all around the world!
When YOU make Beef Pho Recipe please tag us on @munchkintimeblog on Instagram, we would LOVE to see your creation!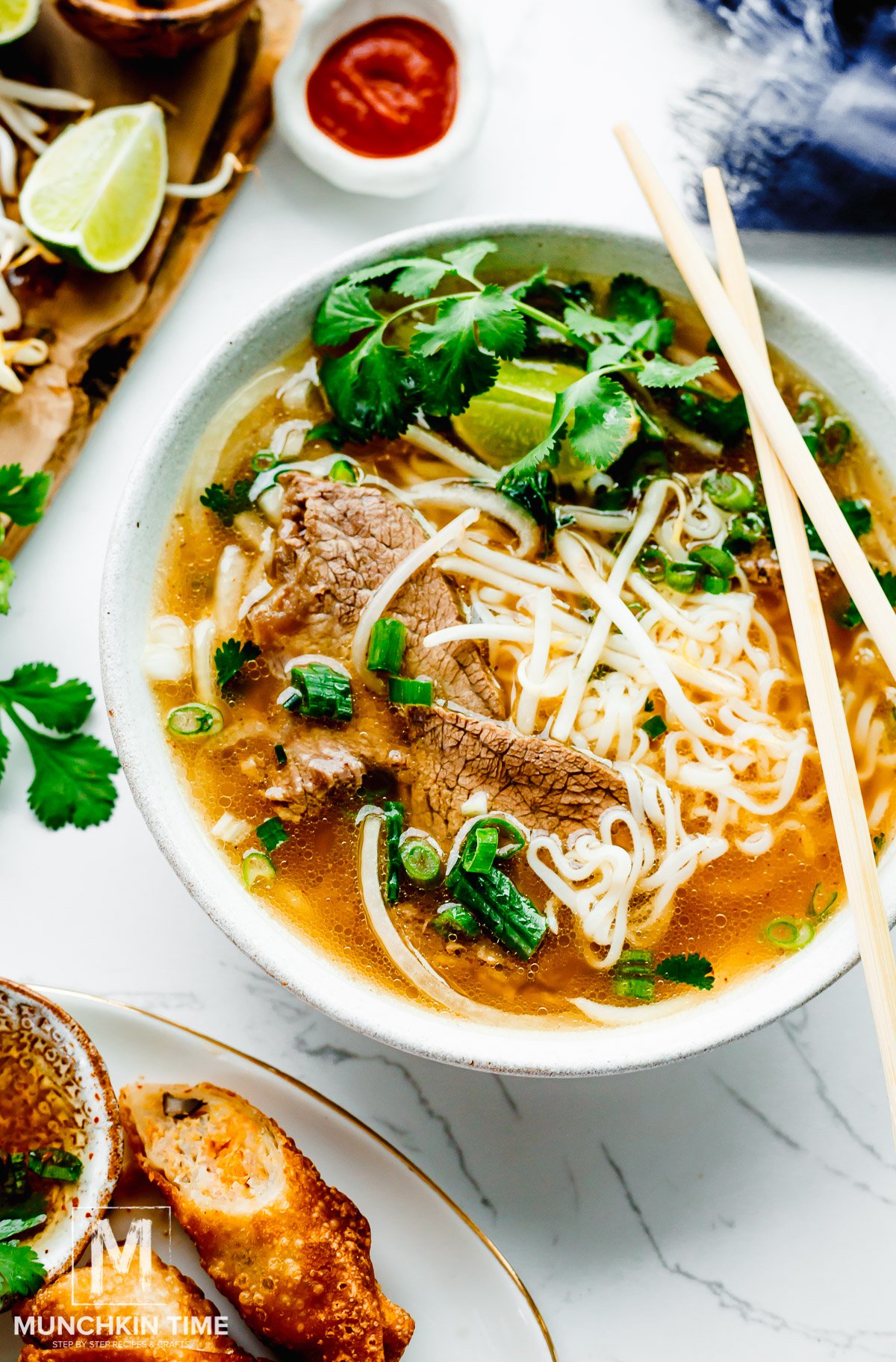 At first glance, this may just look like your average bowl of soup, but let me assure you, it's not! We are making this as close to authentic as possible including roasting the bone marrow and simmering the broth to extract as much flavor as we can. We're not taking shortcuts and it is worth the extra time, believe me!
There are a couple of extra steps, but it's easier to make from scratch than you think. Your family will thank you and you'll never need to wait to go out to eat to enjoy a bowl again!
If you live in an area where Vietnamese restaurants are hard to come by, or you just want to learn to make it at home, this from-scratch recipe is exactly what you need.
It's a soup that warms you up from the inside out no matter what time of day!
What is Beef Pho?
Pronounced fa, not fo, this traditional Vietnamese soup was made popular all over the world by refugees after the Vietnam War. In a nutshell, it's a soup composed of noodles, protein, and a clear savory broth.
It's not your ordinary soup. Great care is taken to develop rich flavors in the soup broth and it's really the start of the show. Yes, the noodles and beef are amazing, but it's not beef pho without a fantastic beef broth.
Depending on what part of Vietnam it originates, from, or what variation one makes, you can find a variety of different ways of making it including different proteins, seasonings, and levels of spice.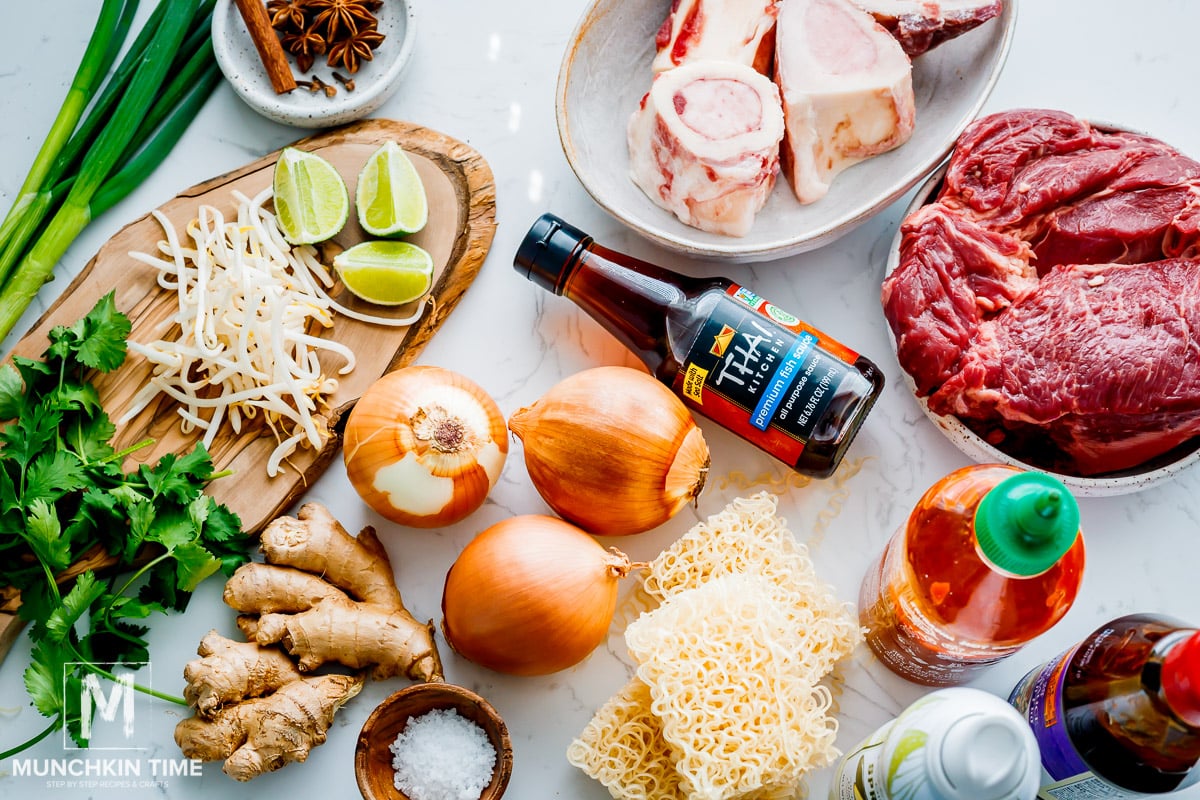 Ingredients for Beef Pho
For the Beef Pho Broth
Bone marrow: This can be found at your local butcher and many big box grocery stores in the meat section. You can find bone marrow that has already been removed from the bone, but you want the bones! We're roasting them to give us a ton of flavor.
Onions & Ginger root: Aromatics that get roasted with the bone marrow until the onion halves are caramelized and the ginger root has mellowed.
Avocado oil spray: Used to make sure everything roasted gets nice and brown.
Water: Needed to simmer the roasted bone marrow, onions, and ginger to extract all of that flavor into the water creating the start of a delicious broth.
Chuck roast: Fat removed. I like to add the whole thing into the soup to cook first and then slice. I find it stays tender and juicy that way.
Seasoning: star anise, whole cloves, cinnamon stick, and sugar. Together these add a blend of warm earthy spices that give the broth its signature pho flavor.
Sugar: Sweetness to balance out the savory. You can add more if you'd like.
Salt: To taste.
For the Soup
Rice noodles: Cooked according to package, drained, and cooled. Rice noodles can also be found in Asian markets and most grocery stores. They're almost translucent when cooked and made of just rice flour and water, so they are quite light in texture.
Add-ins:

Once the broth is made, it's a matter of what you want to add to your pho soup. I like both the roasted onion as well as green onion for the difference in color, texture, and flavor. Bean sprouts are also a popular addition.

Finishing sauces:

Sriracha, hoisin sauce, and fish sauce along with cilantro for garnish give this dish the finishing flavors with extra salty, spicy, and umami flavors.

Cilantro: A pop of green and fresh herbs for garnish.
Optional toppings:

Sliced jalapeño, lime wedges, and basil leaves.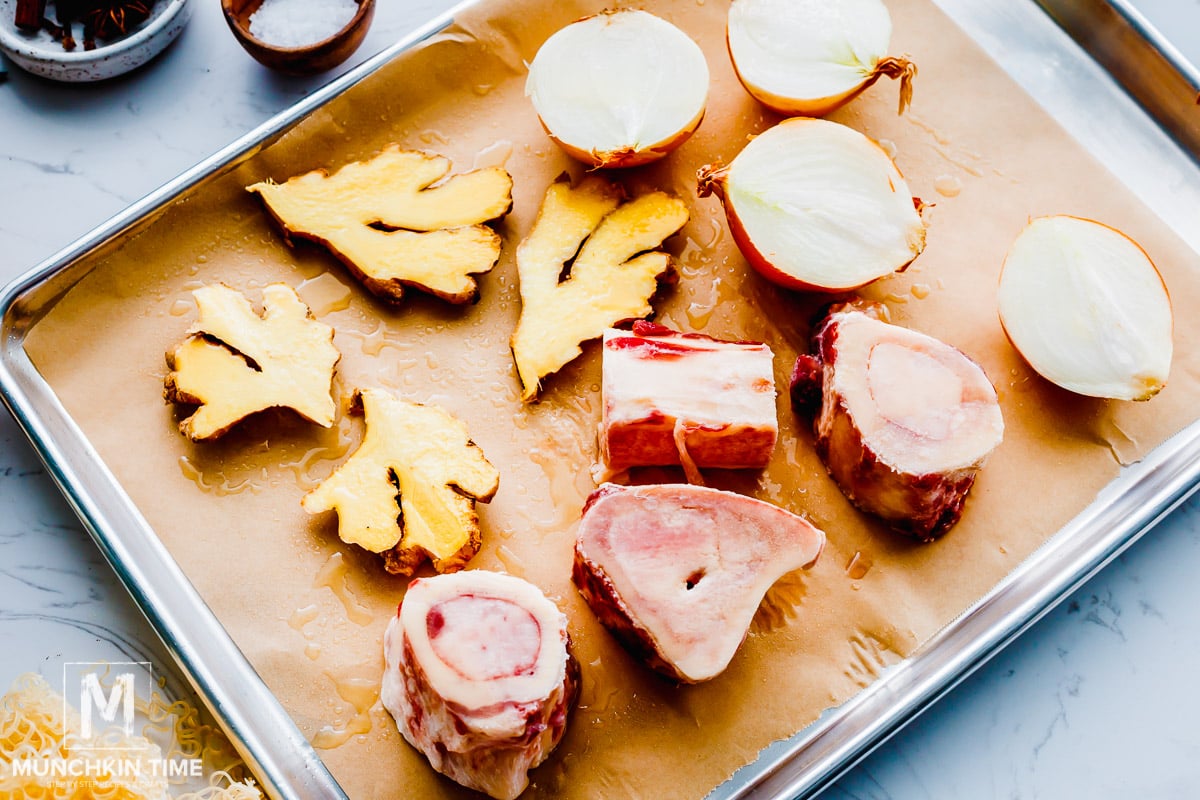 How to Make Beef Pho Soup
Step 1: Place the bones, onion halves, and ginger on a parchment-lined baking sheet. Spray with avocado oil and roast them in a preheated 450F oven for 40 minutes until everything is browned.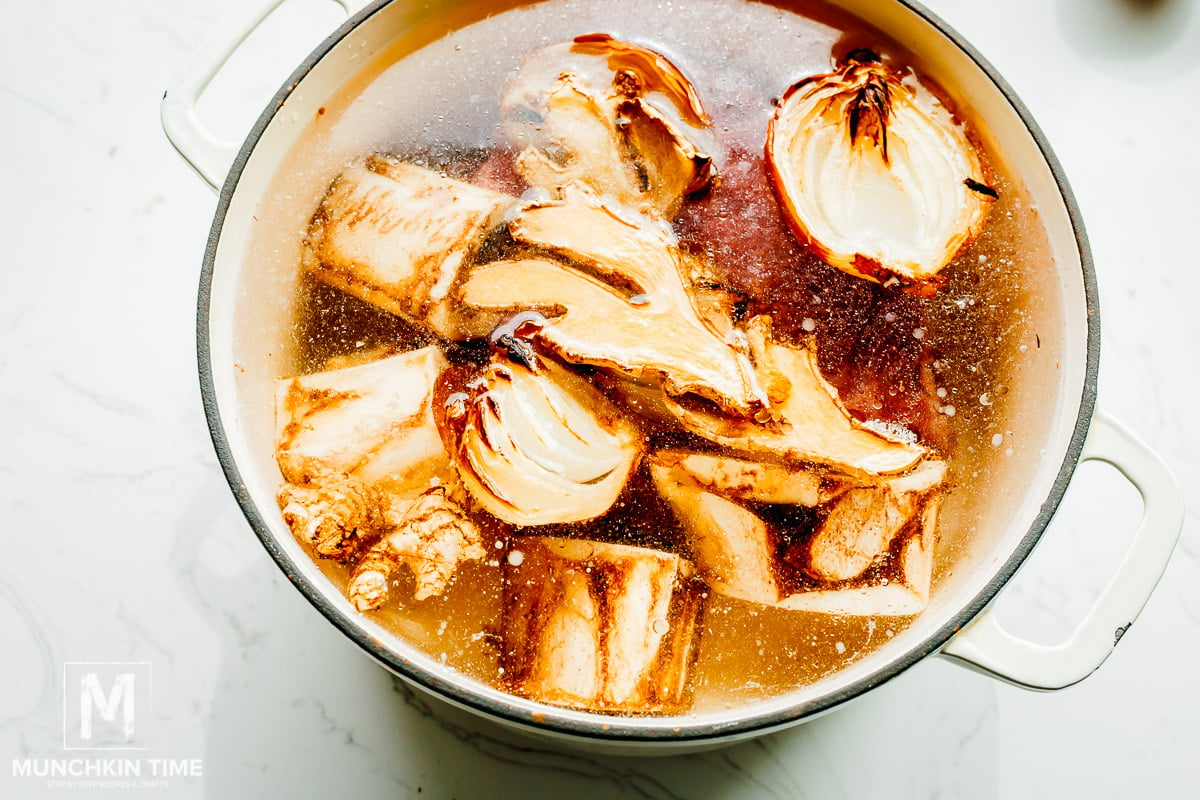 Step 2: Add the chuck roast, roasted bone marrow, onion, and ginger into a 5-quart Dutch oven. Cover with water and bring it to a gentle boil and let that simmer for 1 -2 hours. You'll notice foam or "scum" and fat coming to the surface of the water. Use a big spoon to scrape and discard occasionally as it simmers.
Step 3: When the hour is up, drop in the star anise, cloves, and cinnamon stick and continue to simmer on low for another hour. Season the broth with sugar and salt to taste. Towards the end of the hour, prepare to cook your noodles according to the package directions. Time it accordingly.
Step 4: Transfer the chuck roast from the pot to a cutting board. Use a sharp knife to cut the roast into slices and set those aside for a moment. As always, cut against the grain.
Step 5: Now that the broth is ready, strain it. I like to use a colander over a clean pot. You can discard the bones and everything else, you'll no longer need them.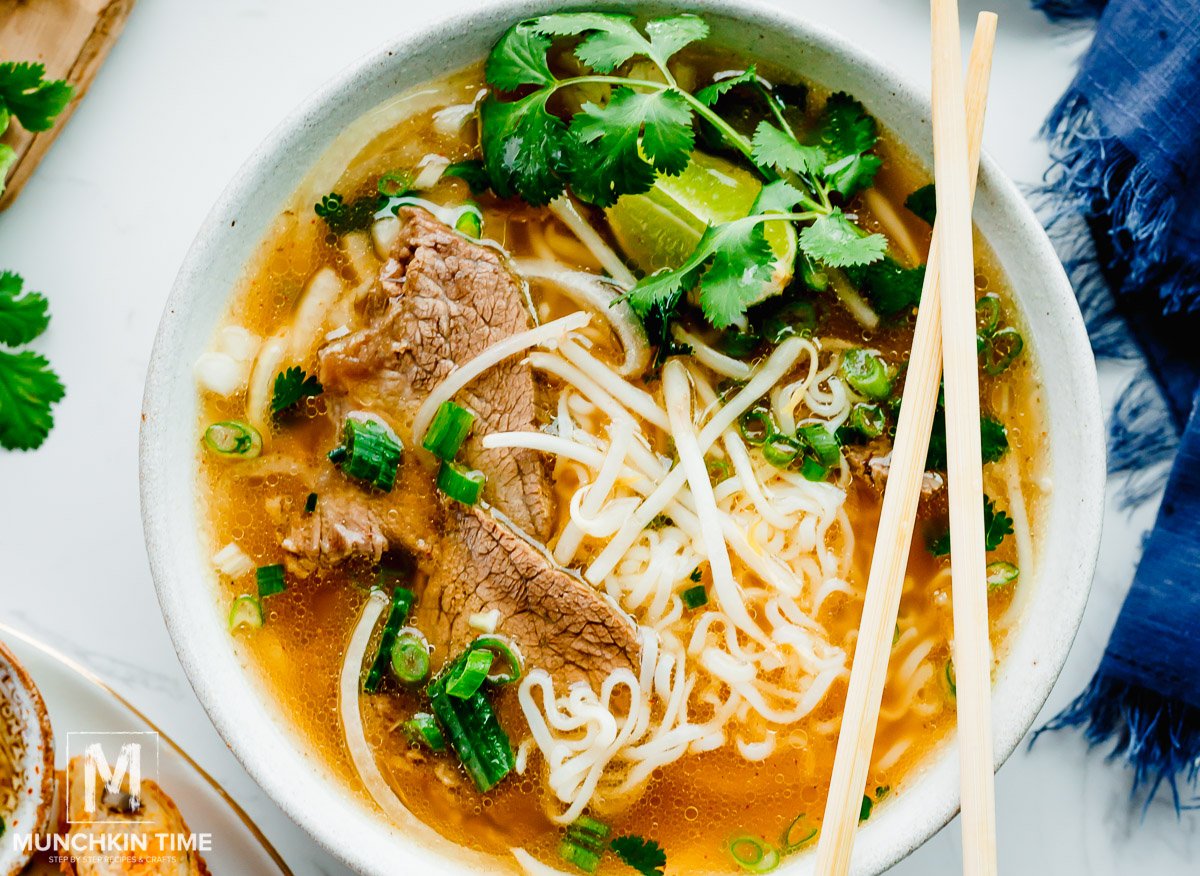 Step 6: Grab 4 soup bowls and divide the cooked noodles evenly into all of them. Then, add the sliced beef, thinly sliced onion, green onion, cilantro, and bean sprouts.
Step 7: Ladle the hot pho broth overtop each bowl. Drizzle with sriracha and add in your hoisin sauce and fish sauce. You can also choose any additional toppings such as jalapeño slices, basil, and lime wedges to finish it off.
Enjoy!
Recipe Tips
To get the maximum flavor in your broth always cook the meat and bones together. If you use just one or the other, you won't get the richness needed for a pho soup broth.
I have had success using just the chuck roast and bone marrow bones, but it's never a bad idea to use more! If you have extra beef or bones on hand, like oxtail or neck bones, throw them in there too.
If you have extra time, toast your spices in a skillet before adding them to the pot.
If no fish sauce, you can substitute it with soy sauce.
Pho is known for its clear broth. This is why it is important to skim the scum as it simmers. Otherwise, it will leave you with cloudy broth.
FAQs
Do I need to season the chuck roast first?
Not at all. The meat spends enough time in the flavorful broth that it absorbs plenty of those flavors as is. It's fall-apart tender by the end, but it's also delicious!
Can I use another cut of beef?
You want something that can take a long simmer without falling apart.
Flank steak or beef tenderloin can be used, but they both cook quite quickly, so you can add very thin slices raw to the bowl, and the broth will cook it to about medium rare. Again, the slices need to be extremely thin.
Brisket is a great choice as it has a robust beefy flavor as are beef short ribs. Both of these will need to be cooked in the broth as per directed.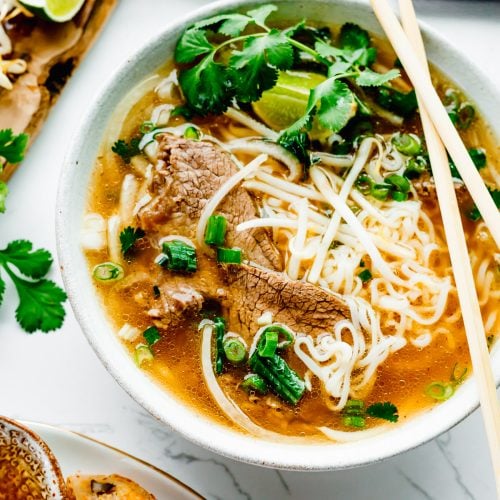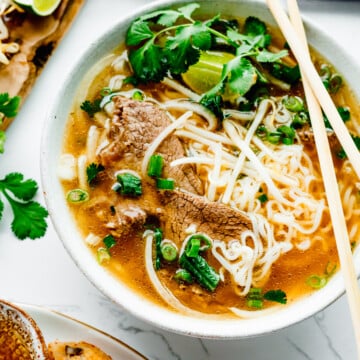 Beef Pho Soup
Beef Pho Recipe - hearty and satisfying yet light and refreshing Vietnamese soup is easy to make at home.
Ingredients
For Beef Pho Broth
2

lb

bone marrow

2

medium

onions

cut in half

2

4 inch

ginger root

sliced in half

avocado oil

spray

water

2

lb

chuck roast

fat removed

5

star anise

3

whole

cloves

1

cinnamon stick

sea salt

to taste
For Pho Soup
6

oz

rice noodles

cooked according to the package, drained & cooled

1

small

onion

thinly sliced

3

green onion

sliced

cilantro leaves

for garnish

1/2

lb

bean sprouts

sriracha

for serving, to taste

hoisin sauce

for serving, to taste

fish sauce

for serving, to taste
Additional Toppings 100% Optional
1

jalapeno

thinly sliced

2

limes

cut into wedges

basil

for garnish
Instructions
Preheat the oven to 450F. Line baking sheet with parchment paper. Add bones, onion halves and ginger onto the baking sheet and spray avocado oil over the top. Roast for 40 minutes, or until everything is browned.

Into 5 qt. dutch oven add chuck roast roasted and roasted bone marrow, onion and ginger. Slowly, bring it to a gentle boil and simmer for 1 -2 hours, skimming foam & fat off the surface, few times (I also like to add more water when I see the water level goes down).

After add star anise, cloves, and cinnamon stick, add more water if needed. Simmer on low for 1 hour. Season the broth with salt to taste.

Remove the chuck roast from the pot and carefully slice it into slices. Strain the broth. Divide cooked noodles to 4 bowls. Add sliced beef, onion, green onion, cilantro, and bean sprouts. Pour in the broth over the top. Serve with sriracha, hoisin and fish sauce. If you like add jalapeno slices, basil, lime wedges and Crispy Spring Rolls. Enjoy!
Video
Notes
You can add 1 1/2 tablespoons of sugar in step 3, to balance the savory flavor, 100% optional. I prefer with NO sugar. 
Hi! All content & images are copyright protected. Please do not use my images without prior permission. If you want to republish this recipe, please re-write the recipe in your own words, or simply link back to this post for the recipe. Thank you.
Nutrition
Calories:
964
kcal
Carbohydrates:
55
g
Protein:
51
g
Fat:
61
g
Saturated Fat:
12
g
Polyunsaturated Fat:
2
g
Monounsaturated Fat:
13
g
Trans Fat:
2
g
Cholesterol:
156
mg
Sodium:
272
mg
Potassium:
1055
mg
Fiber:
5
g
Sugar:
9
g
Vitamin A:
293
IU
Vitamin C:
29
mg
Calcium:
110
mg
Iron:
8
mg
Q. – Do YOU like this Beef Pho Soup Recipe?
Let us know in the comments below, we would love to hear from you!
Thank YOU for YOUR Comment, Share & Recipe Review!