Braised Short Ribs – Fall-apart tender Korean beef ribs. Marinated, seared, and simmered in a rich combination of Asian-inspired flavors including oyster sauce, tamari, and Mirin. Cooked low and slow until deliciously tender, this is the only recipe for braised short ribs you'll ever need!
When YOU make this Short Ribs Recipe please tag us on @munchkintimeblog on Instagram, we would LOVE to see your creation!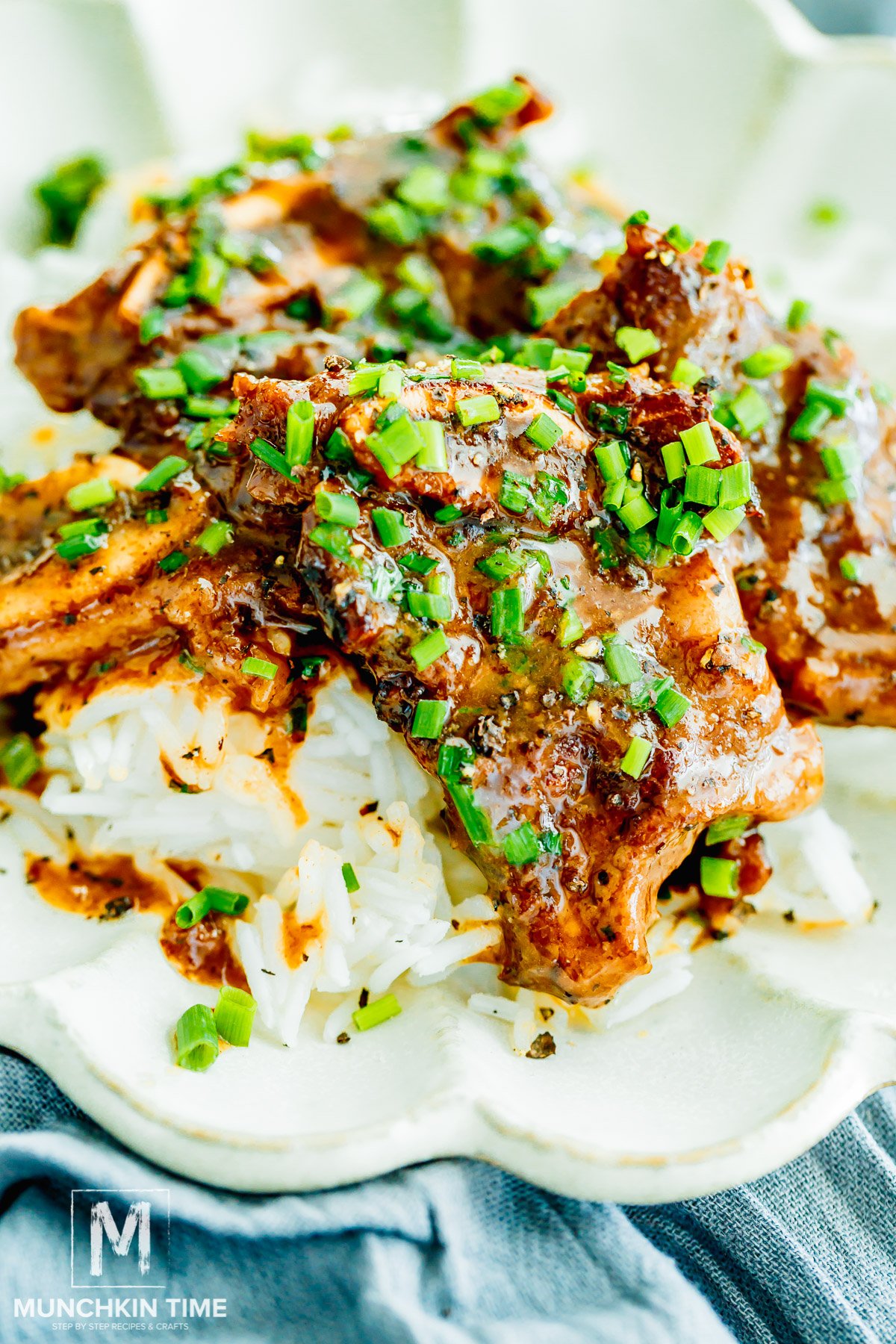 Braised Korean short ribs are the kind of memorable dish that always leaves you wanting more. Its fragrant and flavorful sauce is the perfect accompaniment to the fall-off-the-bone texture of the meat that is meltingly tender and juicy.
It's heavenly comfort food that is a nice change from your Sunday pot roast and it looks and tastes impressive but it's so easy to make!
What is Braised Mean?
Braising means searing the meat in dry heat and then simmering it low and slow in the sauce until it's cooked all the way through. A simple process with crazy delicious results!
It's all about building layers of flavor and using the best combination of ingredients to make an easy marinade and then a rich gravy. I am not making the classic version with red wine, instead, I'm leaning more toward Asian-inspired flavors which I think you'll love.
Learn to make Korean braised short ribs at home that will rival anything you've ever ordered at a fine dining restaurant. Your family and friends will thank you!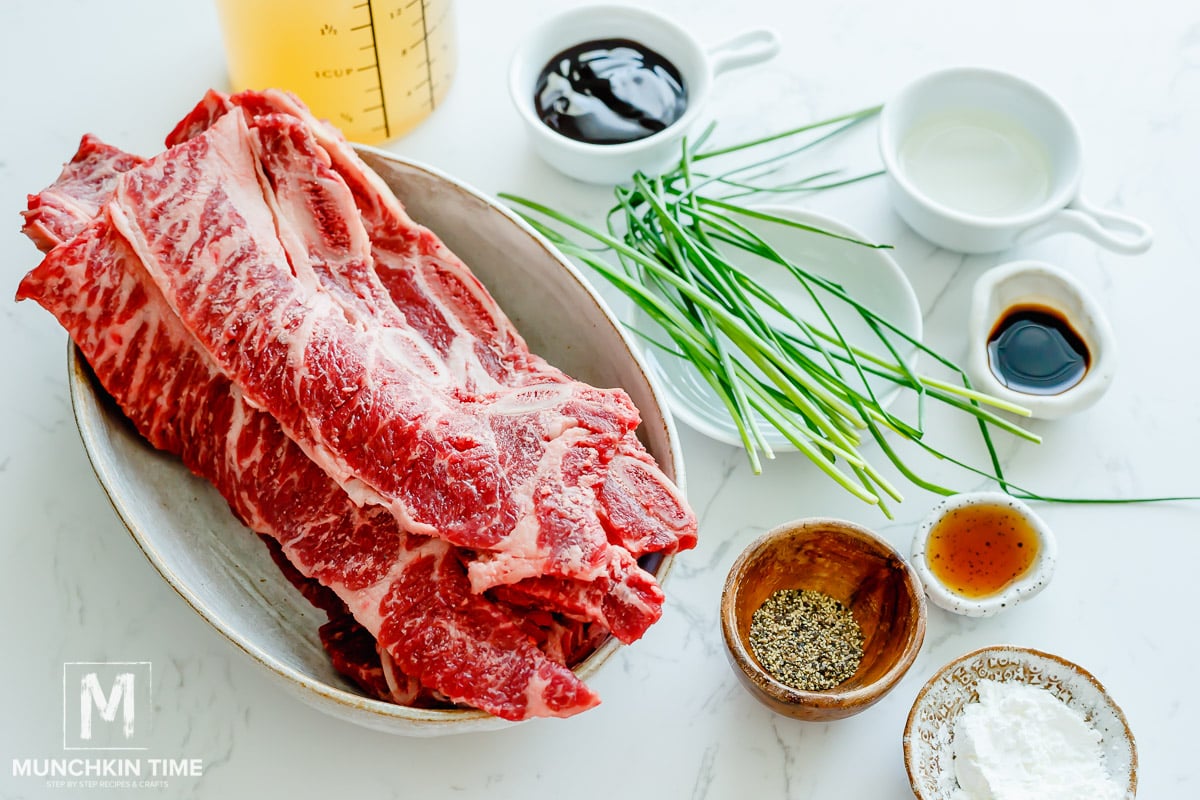 Ingredients for Braised Beef Short Ribs
Short Ribs: Cut into 1-inch pieces about 1-1.5 inches thick. These are a budget-friendly cut of beef, but even still, when they're on sale, stock up and freeze some for later.
Avocado Oil: Need a bit of oil to sear the meat on all sides to make sure every piece is evenly browned.
Chicken Broth: I have a quick

homemade Instant Pot chicken broth

I like to use because I always seem to have some already made. You can certainly use your favorite store-bought kind if you prefer.
Oyster Sauce: A rich, dark, and thick condiment that has both a sweet and salty flavor profile. It's briny but less salty than traditional soy sauce and has sweetness from added sugar.
Tamari Sauce: Very similar to soy sauce, Tamari is a gluten-free version. You would find it in the same section of the grocery store as you would find soy sauce.
Chinese Rice Wine: A great cooking wine used in many Asian dishes. Mirin is the kind I normally use. You swap it for dry sherry, dry red wine, or dry white wine if you can't get your hands on rice wine.
Black Pepper: A little seasoning. We won't be adding any extra salt as we'll get enough of that from the oyster and tamari sauce.
Cornstarch & Water: Combined these make a cornstarch slurry which helps to thicken the sauce into a tasty gravy.
Green Onions: Or chives for garnish!
For the Marinade: Oyster sauce, Mirin, Black pepper, cornstarch, sesame oil, and tamari.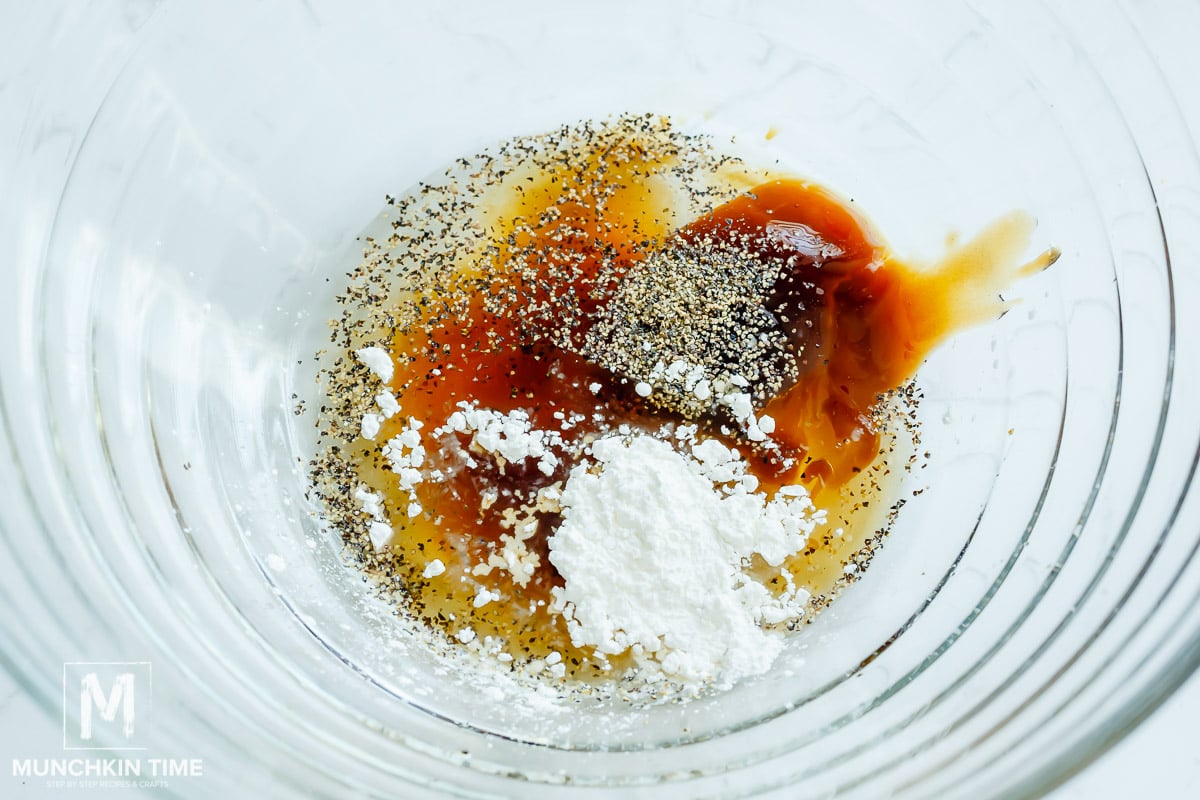 How to Make Braised Short Ribs
Step 1: First, mix all of the marinade ingredients in a bowl until combined.
Step 2: Next, add the beef short ribs and use your hands to toss them around in the marinade, making sure everything is coated.
Step 3: After, cover the bowl with plastic wrap and place it in the fridge for at least 2 hours to marinate. It's even better when you let it marinate overnight.
Step 4: Let the ribs come to room temperature for 30 minutes then preheat a nonstick skillet or Dutch oven with oil over medium heat.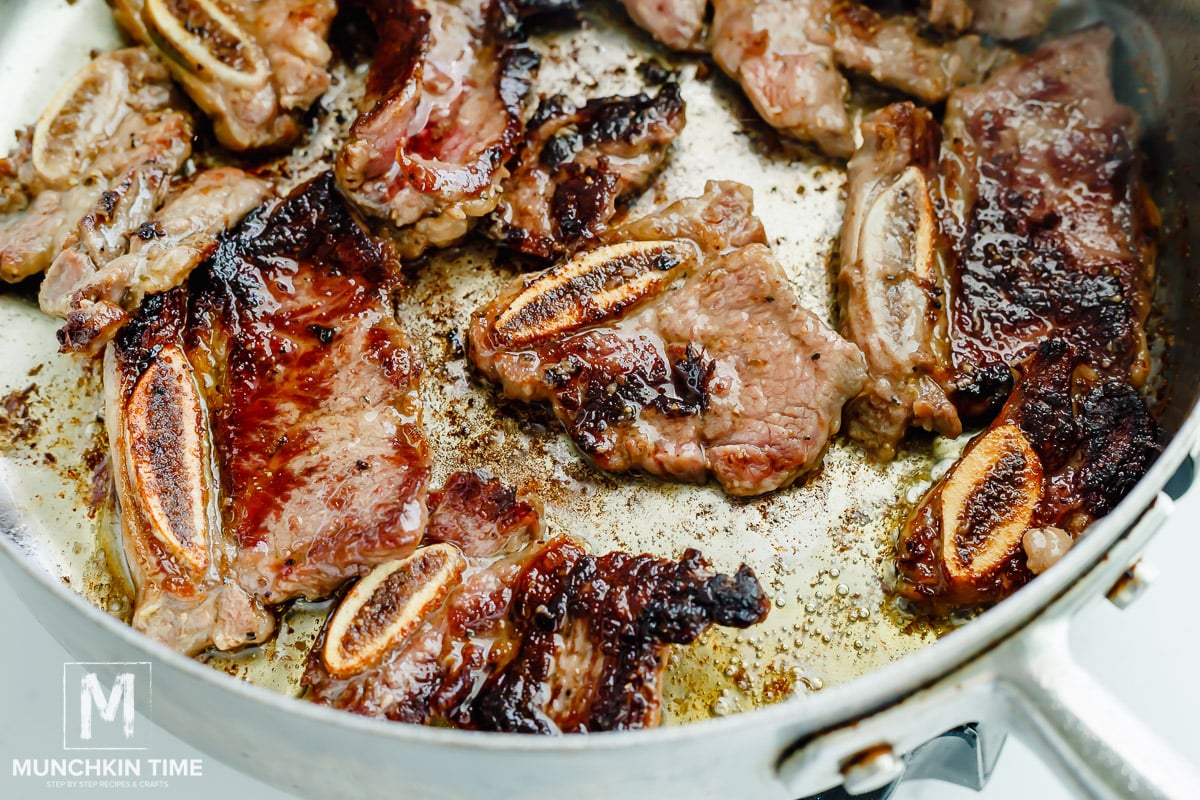 Step 5: Once the skillet is hot, brown the short ribs on all sides. Do not overcrowd the pan. Work in batches if you need, so there is enough room between each piece of meat for the heat to circulate.
Step 6: To the skillet, pour in the broth and add the oyster sauce, tamari, rice wine, and black pepper. Return any seared short ribs back to the skillet, mix everything, and bring to a gentle boil.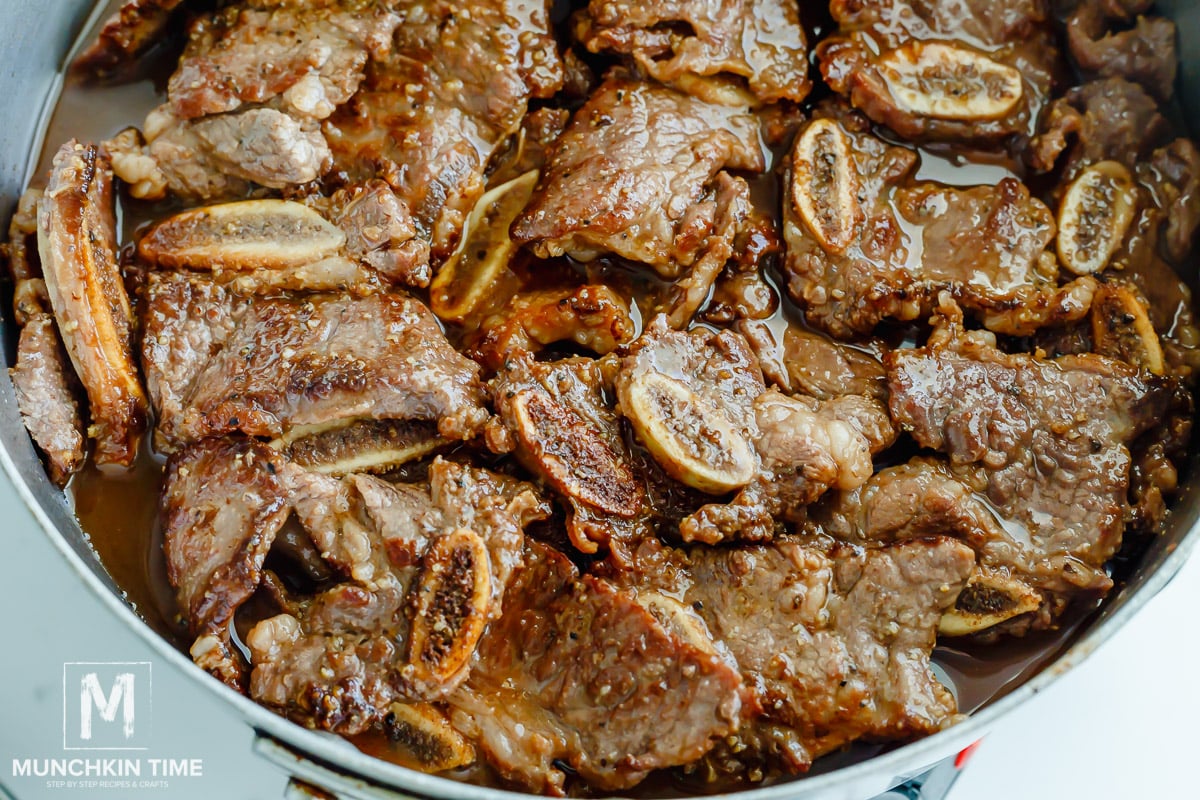 Step 7: Cover with a lid and simmer on low for 30-40 minutes until the meat is tender. Then, remove the lid and turn the heat up to medium-high.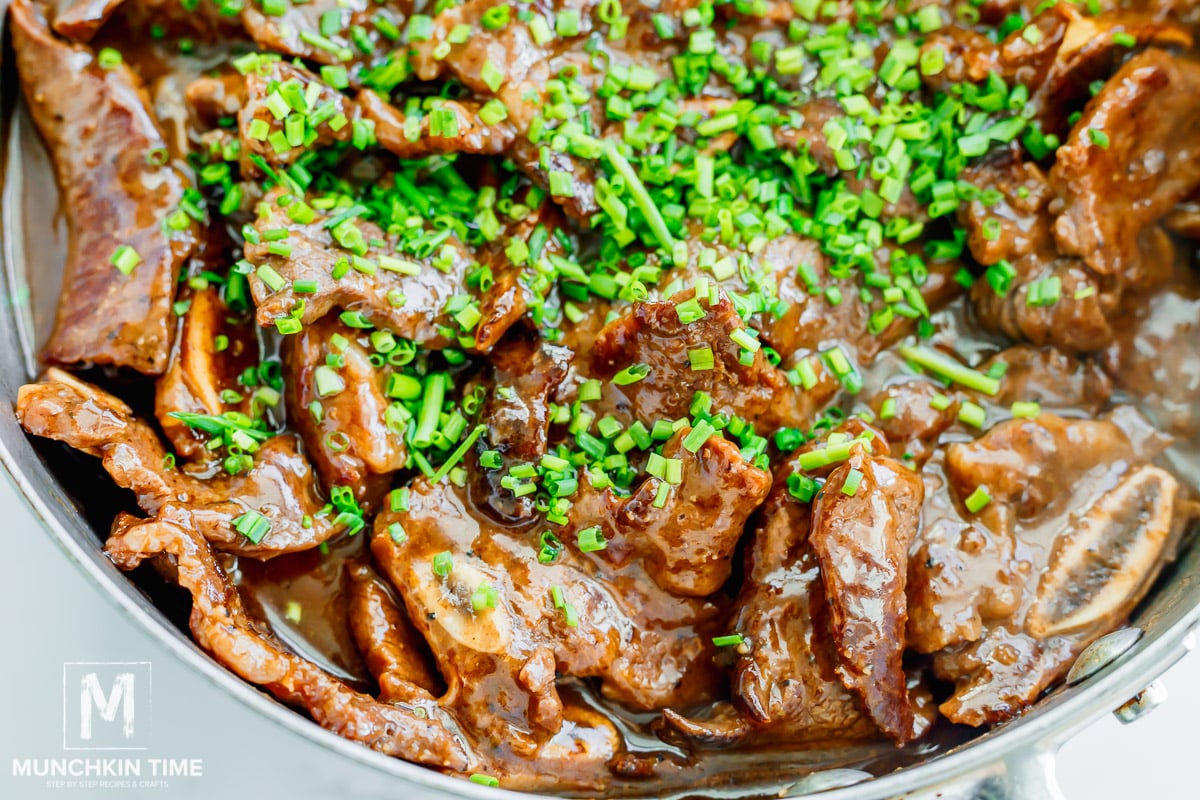 Step 8: Slowly pour in the cornstarch slurry while stirring continuously. Once the sauce thickens to your desired consistency, garnish with chives.
Enjoy over rice or mashed potatoes!
Ways to Serve Braised Short Ribs
Rice is usually my go-to side when making Korean braised short ribs. As long as you have a starch underneath that will soak up that delicious gravy, it'll work!
For example, you could try polenta, mashed potatoes, or pasta. You could even have them with a simple side of veggies or salad and a couple of pieces of homemade bread.
How Long to Braise Beef Short Ribs
This will depend on the method you use to cook them. Some people finish braising in the oven, while others use the slow cooker or the Instant Pot! For this stovetop version, 30-40 minutes will be enough for them to become nice and tender.
Short ribs have a lot of marbling to them which means they can hold up to longer cook times without becoming overcooked. If you find 40 minutes isn't long enough, you can cook yours a little longer.
Should you trim short ribs before braising?
If you pick up short ribs that have marbling but not a ton of excess fat, you won't need to. If you do find there is too much fat on your pieces, you will want to trim any excess.
Can I Make Braised Short Ribs in Advance?
Yes! You can cook them completely the day before and they're even better the next day! Reheat everything on the stove over medium heat until you're ready to serve!
How to Store Leftovers
Keep leftover short ribs in an airtight container in the fridge for up to 5 days.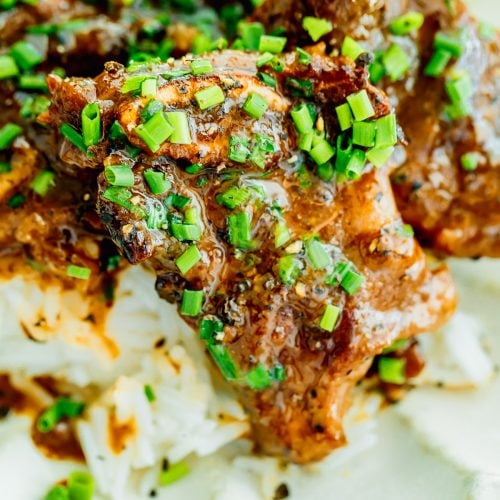 Braised Short Ribs Recipe
Braised Short Ribs - Fall-apart tender Korean beef ribs. Marinated, seared, and simmered in a rich combination of Asian-inspired flavors.
Instructions
How to Marinate Short RIbs
In a bowl add all of the marinade ingredients and give it a good mix.

Add short ribs and massage with hand making sure all of the ribs are coated in marinade. Cover and place in the fridge and let marinate for at least 2 hours, best overnight. Before you start cooking let ribs come to a room temperature by letting them sit in a room temperature for 30 minutes.
How to Braise Short Ribs
Using a non stick skillet, preheat oil over medium heat. Add short ribs (try to not to over crowd them, cook in batches if needed) and brown them on both sides.

Next, add in the broth, oyster sauce, tamari, rice wine and black pepper. Mix everything and bring it to a gentle boil (if cooking short ribs in batches return the browned ribs back into the skillet). Cover with a lid, and simmer on low for 30-40 minutes.

Remove the lid and turn up the heat to medium/high. Mix cornstarch with water in a small dish. Then slowly pour the mixture into the bubbling sauce, stirring continuously. After the sauce thickens to your desire texture, garnish with chives and serve with rice. Enjoy!
Video
Notes
Hi! All content & images are copyright protected. Please do not use my images without prior permission. If you want to republish this recipe, please re-write the recipe in your own words, or simply link back to this post for the recipe. Thank you.
When 
YOU
 make this 
Short Ribs Recipe
 please tag us on @munchkintimeblog on Instagram, we would LOVE to see your creation! 
Nutrition
Calories:
415
kcal
Carbohydrates:
6
g
Protein:
33
g
Fat:
26
g
Saturated Fat:
8
g
Polyunsaturated Fat:
2
g
Monounsaturated Fat:
13
g
Cholesterol:
100
mg
Sodium:
1326
mg
Potassium:
641
mg
Fiber:
0.2
g
Sugar:
1
g
Vitamin A:
5
IU
Vitamin C:
0.02
mg
Calcium:
29
mg
Iron:
4
mg
Q. Do YOU like this Short Ribs Recipe?
Let us know in the comments below, we would love to hear from you!
Thank YOU for YOUR Comment, Share & Recipe Review!