Beef Samosa (Tortilla Pockets) – folded tortilla shells stuffed with savory seasoned meat and veggies sealed and baked until crispy on the outside and stuffed with flavor on the inside.
When YOU make Ground Beef Samosa Recipe, PLEASE hashtag #munchkinrecipes on Instagram, we would LOVE to see your creation! Thank you!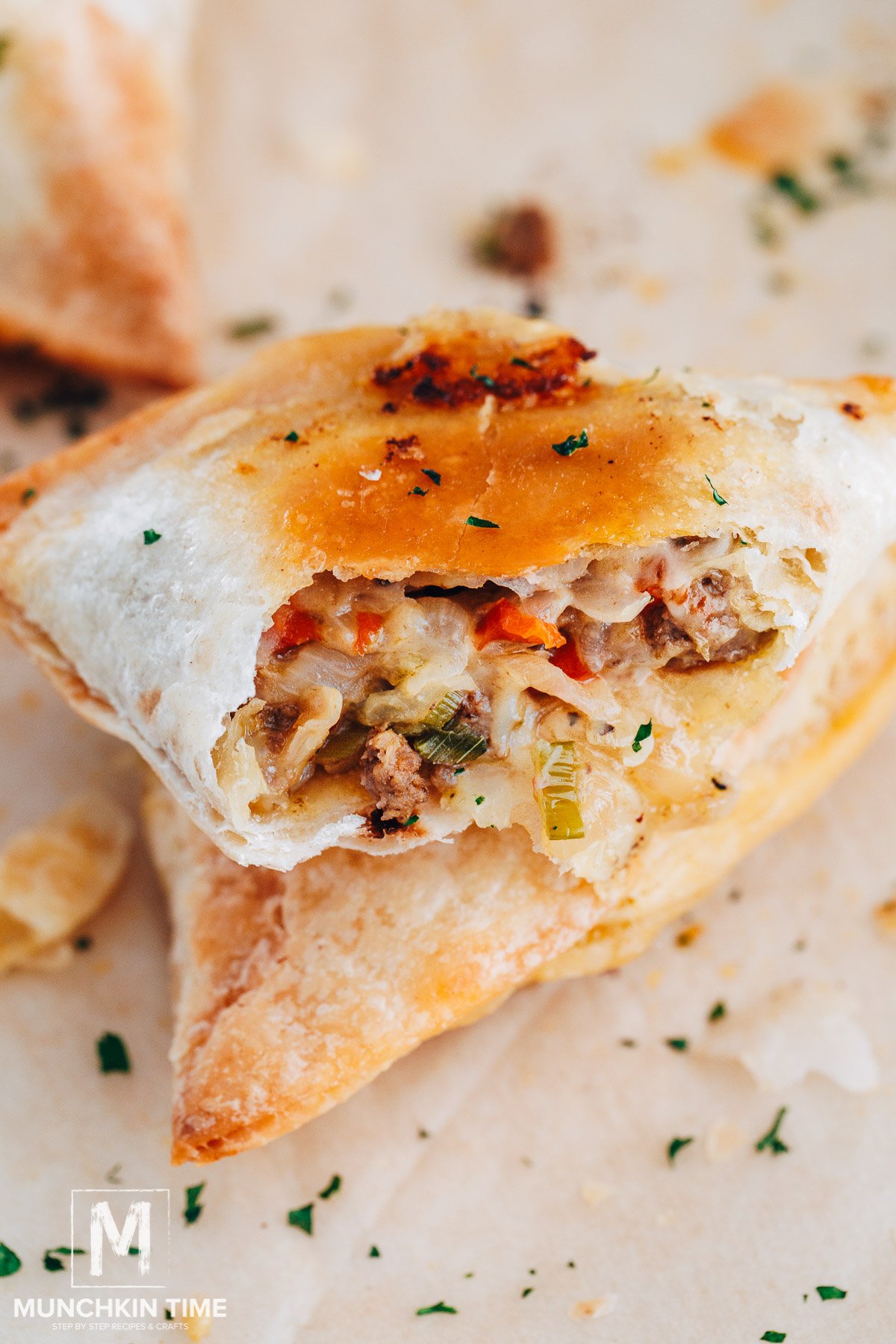 They're great as a hand-held appetizer for game day parties, the holidays, and all kinds of gatherings!
There are so many ways to customize the filling, which makes this suitable for everyone's tastes! It's a great way to use up leftover cooked ground beef, toss in whatever veggies you have in your fridge, or follow the recipe exactly as listed. It's up to you!
I love these little samosas! They're like a taco with a twist! We use a flour tortilla, fold it up and use a flour "glue" to seal the edges once it's been filled. Then, we pop it in the oven to bake, and they're done!
So much healthier than deep-fried tortilla pockets and I can add them to my kids' lunch boxes and feel good about it. This is especially helpful when they're tired of sandwiches! Kids love them!
This recipe is super simple and whether you call them stuffed tortilla triangles, samosa, or ground beef taco pockets, they all mean the same thing. Delicious!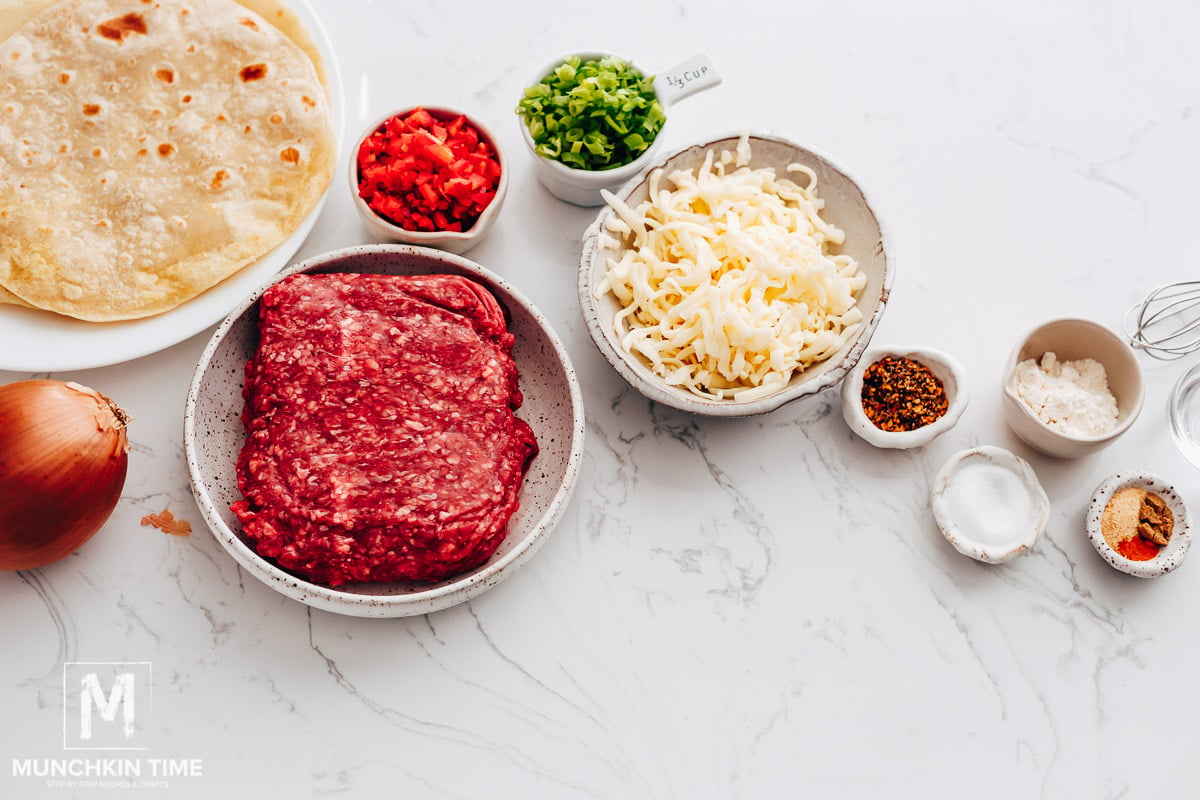 Ingredients for Homemade Beef Samosa
Ground beef: Cook it before assembling, or heat up extra cooked ground beef from yesterday's dinner!
Seasoning: Montreal steak spice, turmeric, coriander, garlic powder, and salt. Turmeric and coriander are strong earthy spices that give the filling a beautiful flavor, however, they are optional.
Veggies & aromatics: Onion, red bell pepper, and green onion.
Tortillas: If using raw tortillas, I like to put them on a hot skillet to cook for about 1 minute per side first. You'll need about 5 for this recipe.
Cheese: Mozzarella is a great mild cheese that melts nicely and doesn't overpower the taste of the meat or seasonings.
Flour glue: Just a bit of flour and water to help seal the tortilla shut.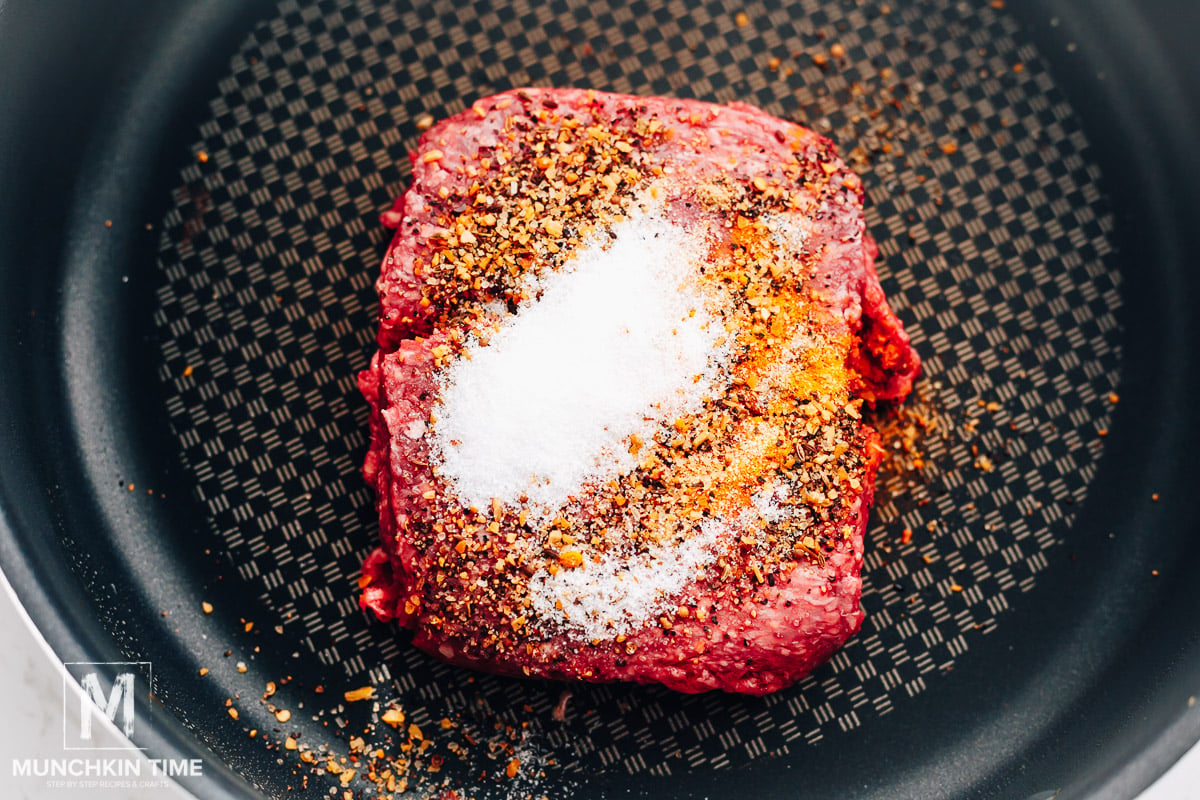 How to Make Beef Samosa
Making this Homemade Beef Samosa recipe is so easy, you'll never grab them from the freezer section at the grocery store again. These are so much better, just wait and see!
Step 1: Cook the ground beef in a skillet over medium-high heat until no longer pink. Break it up into crumbles as it cooks and add all of the spices. Cook for 5-7 minutes, stirring occasionally.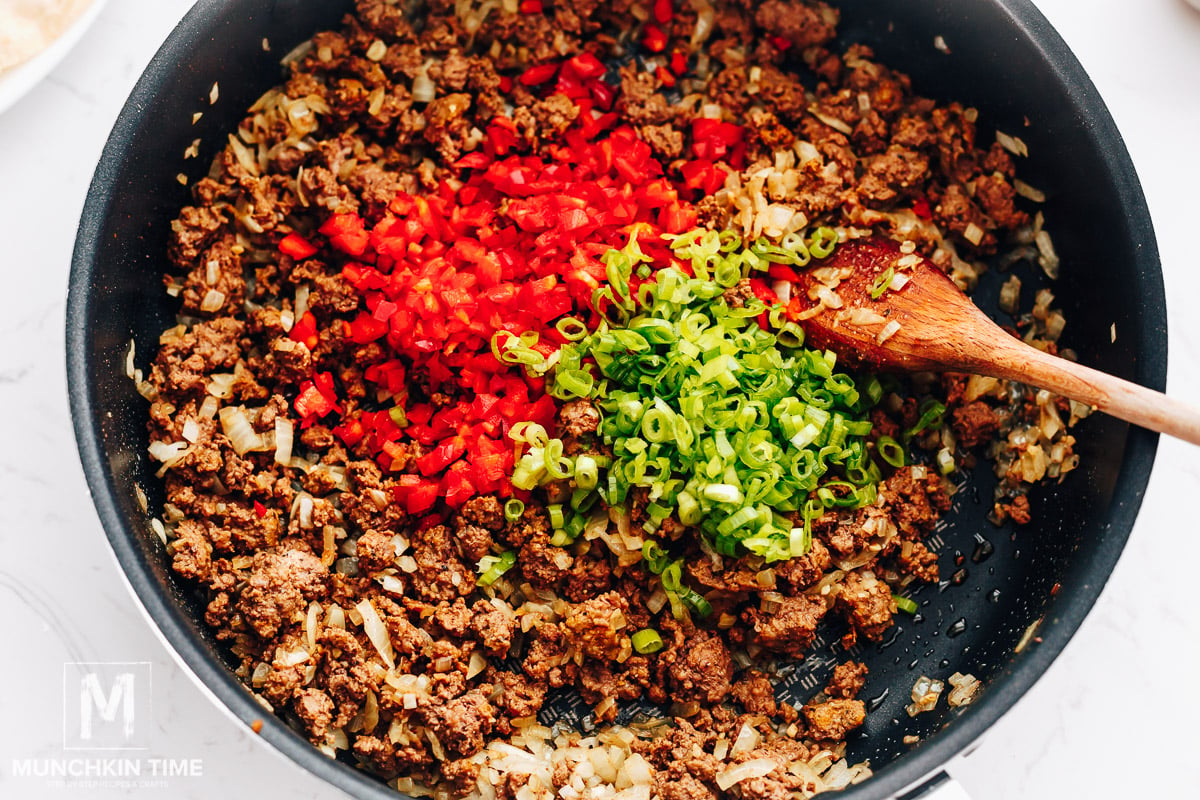 Step 2: Add in the onion and continue to sauté for 5 minutes, again, stirring occasionally. Next, add the bell pepper and green onion and cook for another 5 minutes. Continue stirring every couple of minutes.

Step 3: Remove the skillet from the heat. Do a little taste test. If it needs salt, add some. Sprinkle with cheese overtop and allow the residual heat to melt it. Set it aside.
Step 4: In a small bowl, mix together the flour and water to form a smooth paste. You'll be using it in a second, so keep it close by.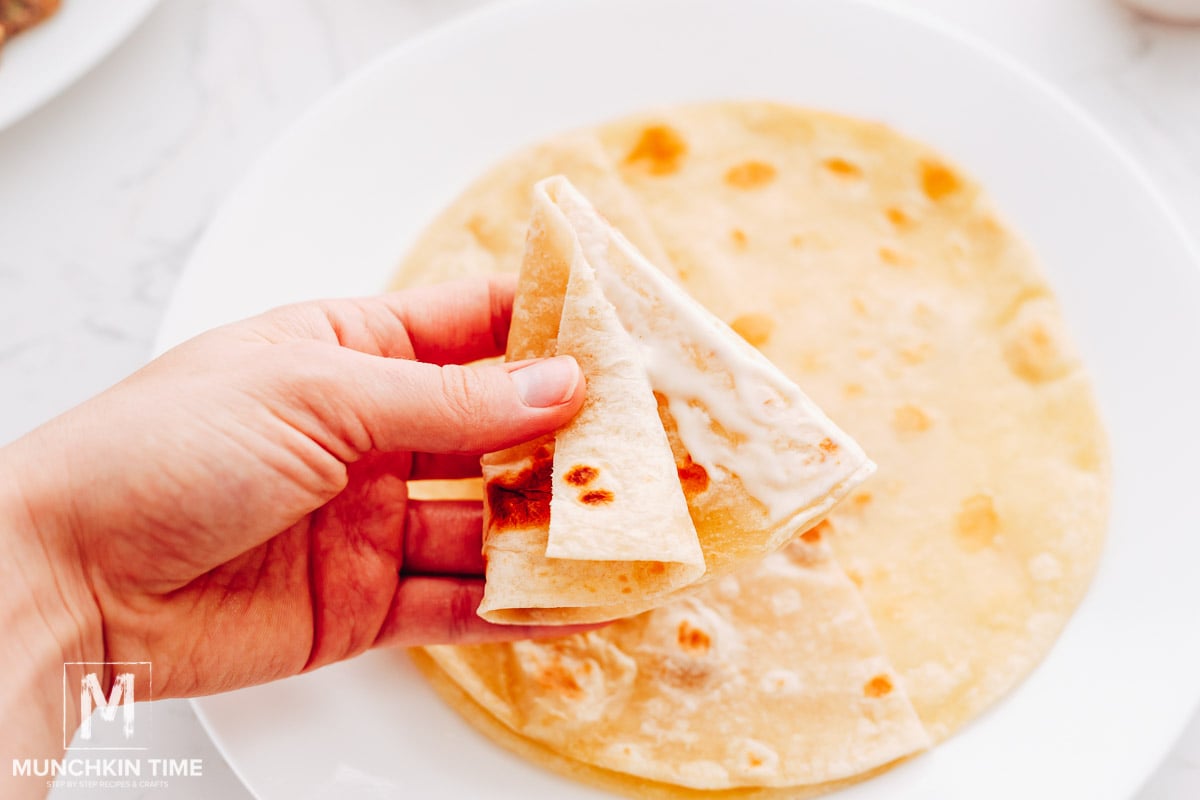 Step 5: Grab your tortillas, and cut them in half. Take one half and fold it into a cone or a triangle. A cone would wrap around the edges a bit more (like a hug). A triangle would be where the seams would meet, but not wrap around each other.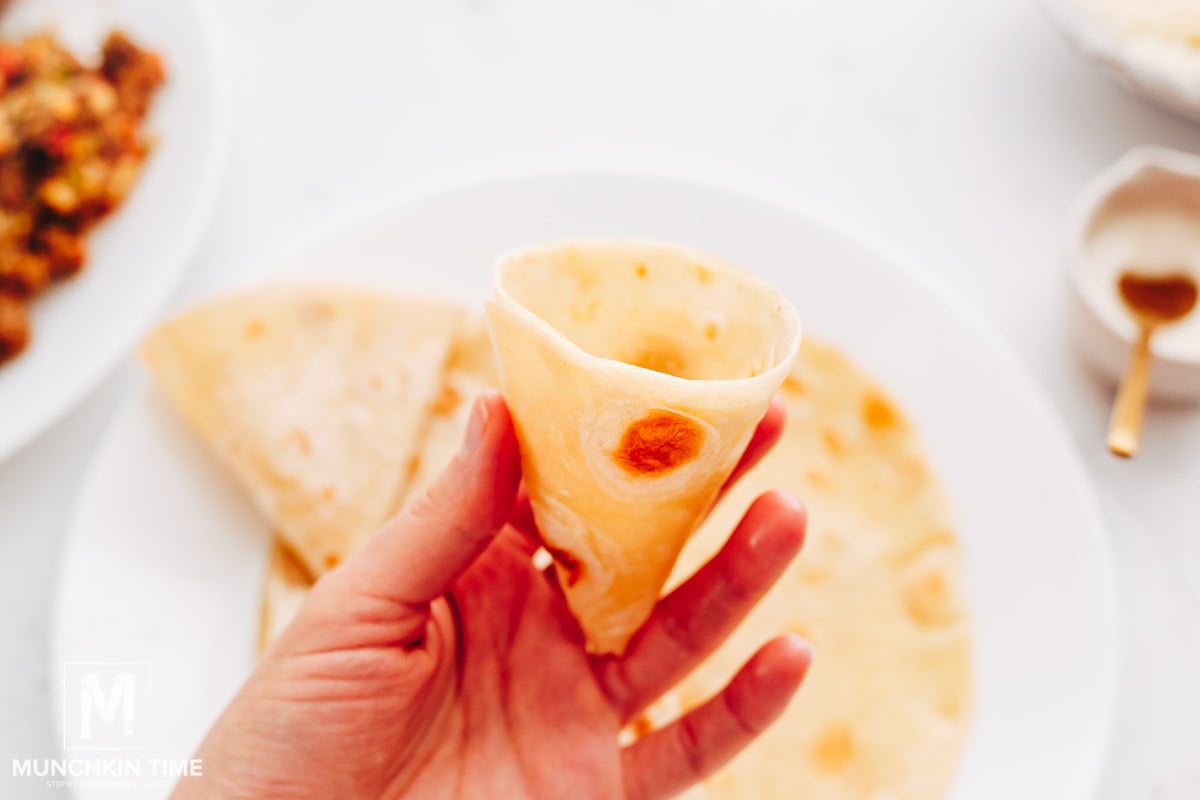 Step 6: Use a spoon or your finger and add some glue to the seam where the edges of the tortilla meet. This should form either a cone or a triangle pocket.
Step 7: Scoop the beef mixture into the pocket. Use your judgment as to how much. Try not to over stuff it!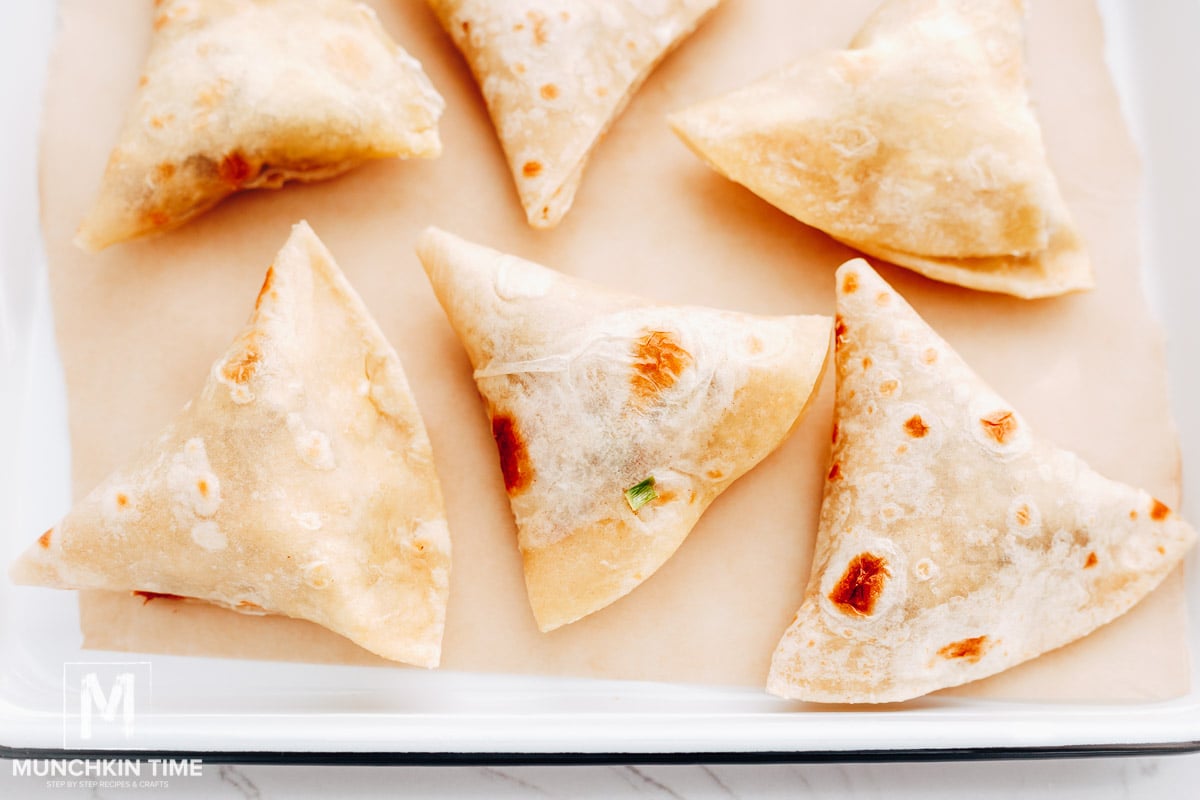 Step 8: Use some more of the flour glue to seal all the edges so that it is completely closed. Place it onto a prepared baking sheet and repeat with the remaining tortillas and filling.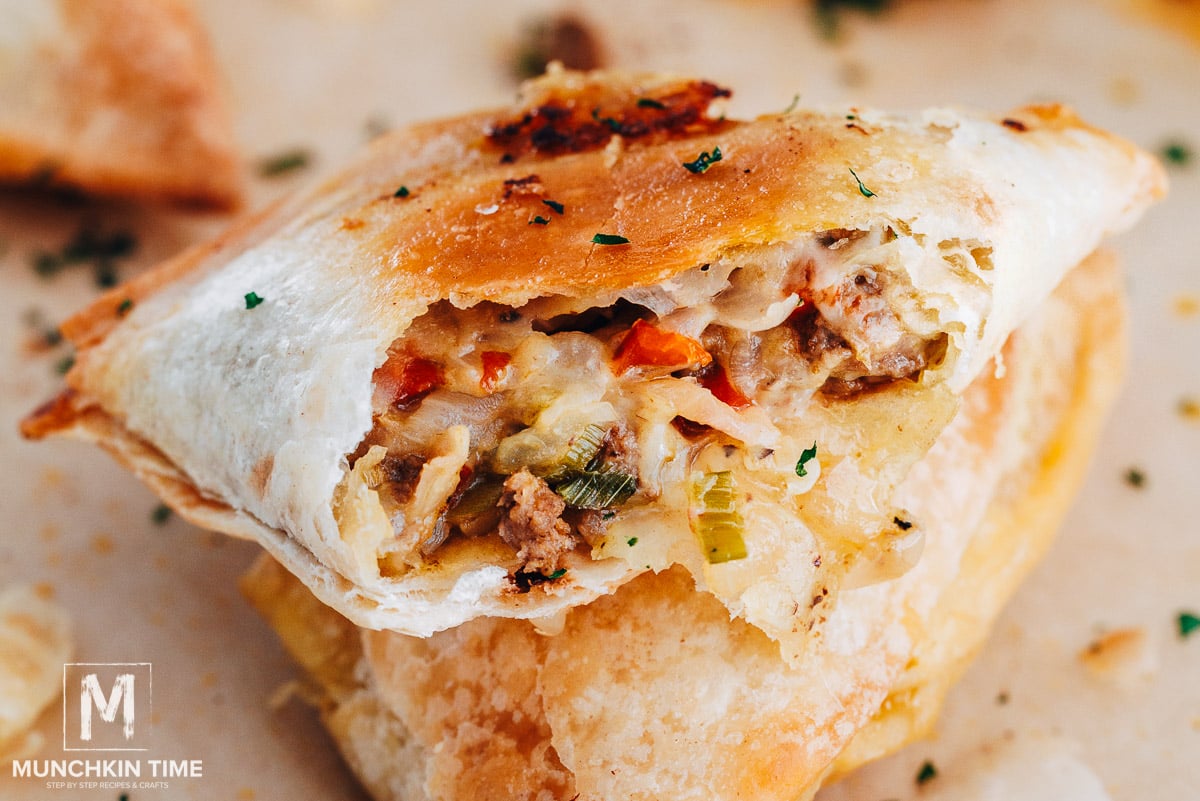 Step 9: Place them in the oven to broil for about 1-2 minutes per side. Turn once until nicely golden on both sides. You can also bake them instead at 400 degrees for about 12-15 minutes. Enjoy!
Recipe Tips
Do not over stuff your pocket! You want to fill it so that the ratio of filling to tortilla is just right, but not so much that it breaks apart the seams! If it bursts open as it bakes, it's a mess!
Use any of your favorite spices. As mentioned above, the ones I used (turmeric and coriander) are optional.
To make them spicy, add a little cayenne pepper to the beef mixture.
If you'd prefer a different type of cheese, like a sharp cheddar you can do that.
Make it dairy-free and omit the cheese completely.
You can also make this vegetarian and skip the ground beef and replace it with loads of veggies, especially mushrooms!
Use finely chopped fresh garlic instead of garlic powder, if desired.
One of my favorite variations is to use chopped carrots and kale.
FAQs
Can I make these tortilla pockets in the air fryer?
Absolutely! You can also fry them in a skillet with oil, but I find they are much too greasy this way, especially once they've been stored in the fridge.
To air fry them, place them in the air fryer basket, spray them with a bit of cooking oil and air fry them for about 10-15 minutes, flipping once at the 10-minute mark. Feel free to pause to check on them once in a while, to make sure they're nice and golden.
How to store leftovers?
Keep them stored in an airtight container for up to 3 days. You'll notice the filling will eventually cause the tortilla to get soggy, but reheating them in the oven or air fryer will help get some of that crispy texture back.
Best way to reheat samosa?
I would suggest using the oven to heat through. You can heat several at a time and the outside shell will crisp back up again. You can warm them up in the microwave but they will be very soft. It's up to you!
Are samosa freezer-friendly?
Totally! Flash-freeze them on a baking tray first, so that they are solid before transferring them to a freezer-friendly zip-top bag. That way they won't stick together and you can easily take one or two out as needed. Keep them frozen for up to 1 month.
Beef Samosa (Tortilla Pockets)
Beef Samosa (Tortilla Pockets) - folded tortilla shells stuffed with savory seasoned meat and veggies sealed and baked until crispy on the outside and stuffed with flavor on the inside. 
Instructions
In a skillet add ground beef and spices - Montereal Steak Spice, turmeric, coriander, garlic powder and salt. Break the meat apart with a spoon and saute for 5-7 minutes, stirring few times.

Add onion and saute for 5 minutes, stirring few times.

Next add bell pepper and green onion, saute for 5 minutes, stirring few times.

Remove from the heat, if needed season with salt. Add cheese over the top.

Cut tortillas in half. Take one half and fold it into a cone or a triangle. Using a spoon or a finger place flour glue on the side of the cone to glue the tortilla.

Into the tortilla pocket add beef mixture. Now place flour glue on edges of the tortilla and press together with your fingers to close the pocket/cone.

Broil on high until golden color, turning once, about 1-2 minutes per side. Or bake at 400F until golden color about 12-15 minutes. Enjoy!
To Make Flour Glue for Tortillas
Mix water with flour until nice and smooth.
Video
Notes
Hi! All content & images are copyright protected. Please do not use my images without prior permission. If you want to republish this recipe, please re-write the recipe in your own words, or simply link back to this post for the recipe. Thank you.
Nutrition
Calories:
512
kcal
Carbohydrates:
25
g
Protein:
30
g
Fat:
32
g
Saturated Fat:
14
g
Polyunsaturated Fat:
2
g
Monounsaturated Fat:
12
g
Trans Fat:
1
g
Cholesterol:
103
mg
Sodium:
531
mg
Potassium:
471
mg
Fiber:
2
g
Sugar:
4
g
Vitamin A:
662
IU
Vitamin C:
20
mg
Calcium:
230
mg
Iron:
4
mg
Q. Do YOU like this Samosa Recipe?
Let me know in the comments below, I would love to hear from you!
Thank YOU for YOUR Comment, Share & Recipe Review!
Happy Cooking!