Chicken and Sausage Jambalaya Recipe – An easy one-pot rice dish made with Andouille sausage, chicken, aromatics, bell peppers, and loads of herbs and spices giving it a robust smoky, spicy flavor. It is soul-warming as well as tummy-filling and feeds a crowd and still leaves us with amazing leftovers the next day!
When YOU makeChicken and Sausage Jambalaya Recipe please tag us on @munchkintimeblog on Instagram, we would LOVE to see your creation!
Jambalaya has always been something my family loves to order when we eat out at any Cajun or Creole restaurant. However, since learning how easy it is to make it at home, my husband and kids ask me to make it all the time. So there's no need to order it anymore!
When chicken sausage jambalaya is on the menu, it's never a problem getting my kids to come to the dinner table. With fresh, and healthy ingredients and a wholesome and satisfying meal, it's a recipe your family will love as much as mine does!
What is Jambalaya?
Jambalaya is a rice dish that the Spanish Paella inspired based on ingredients that were more readily available in the Southern United States.
It comes together in one pot and is composed of some sort of sautéed smoked meat, usually sausage as the classic choice, green bell peppers, onions, and celery, then the rice is added as well as the seasonings and broth. Everything is cooked at once and dinner is served.
There are so many variations to Jambalaya, and this chicken and sausage jambalaya recipe is just one of them. Depending on where you're from in the Southern United States, you may have a more Creole-inspired version or a more Cajun-inspired dish.
Red jambalaya, Creole jambalaya is often referred to, is called this because of the tomato paste. However, when you add Cajun spices, it's a mix of both!
As you can tell it's customizable depending on what meat or veggies you add in. No matter which way you make it, it's delicious!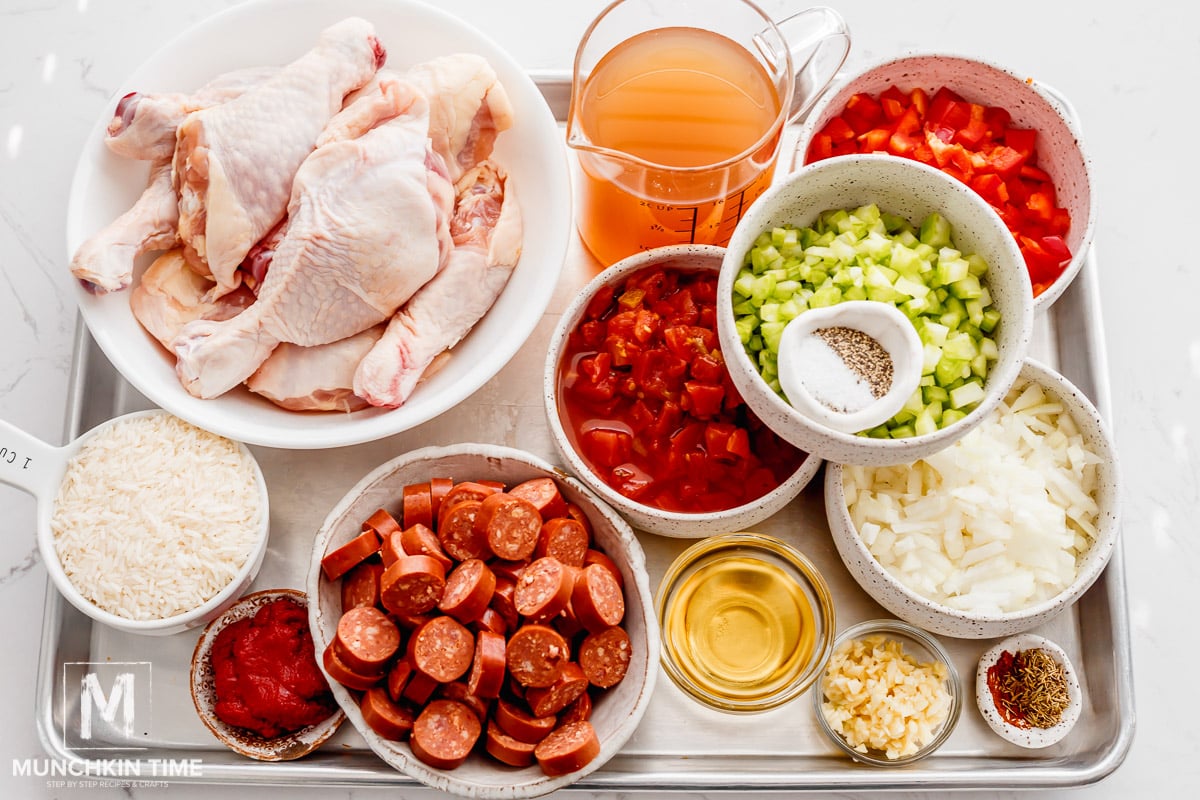 Ingredients in Chicken and Sausage Jambalaya
Chicken drumsticks: You'll need about 2 ½ pounds of drumsticks. Keeping the skin on or taking it off is up to you. Make sure to pat them dry with a paper towel.
Sausage: Andouille sausage is smoked and a classic, flavorful choice for jambalaya. You can use whatever sausage you prefer.
Aromatics and veggies: Onion, bell pepper, celery, garlic. Dice and chop your veggies to about the same size for even cooking. It's also a good way to ensure there is a bit of everything in every bite.
Rice: Uncooked long-grain white rice will be cooked in the broth with everything else. The rice will absorb all of those wonderful flavors and be fully cooked at the end. Don't forget to rinse your rice first.
Tomato paste & diced tomatoes: For a bit of color and robust tomato flavor. A popular distinction between Creole and Cajun jambalaya.
Broth: I have great homemade broths, one of them is a

beef broth

and the other is a

chicken broth

. Either one can be used, or you can go ahead and use a store-bought broth.
Seasoning: Salt, pepper, cayenne pepper, cajun spice, dried thyme, and parsley.
Avocado oil: Used to brown the meat and sauté the veggies.
How to Make Chicken and Sausage Jambalaya
Step 1: Season chicken with salt and pepper all over and cook the drumsticks in heated oil in a large skillet or Dutch oven over medium heat. Cook for 10-12, turning occasionally until all sides of the chicken are brown. Transfer to a plate and tent with foil to keep them warm.
Step 2: To the same skillet, add the sausage and cook until brown. This should only take about 5 minutes, especially if you're using smoked sausage which is already cooked. Once done, remove it to the plate with the chicken.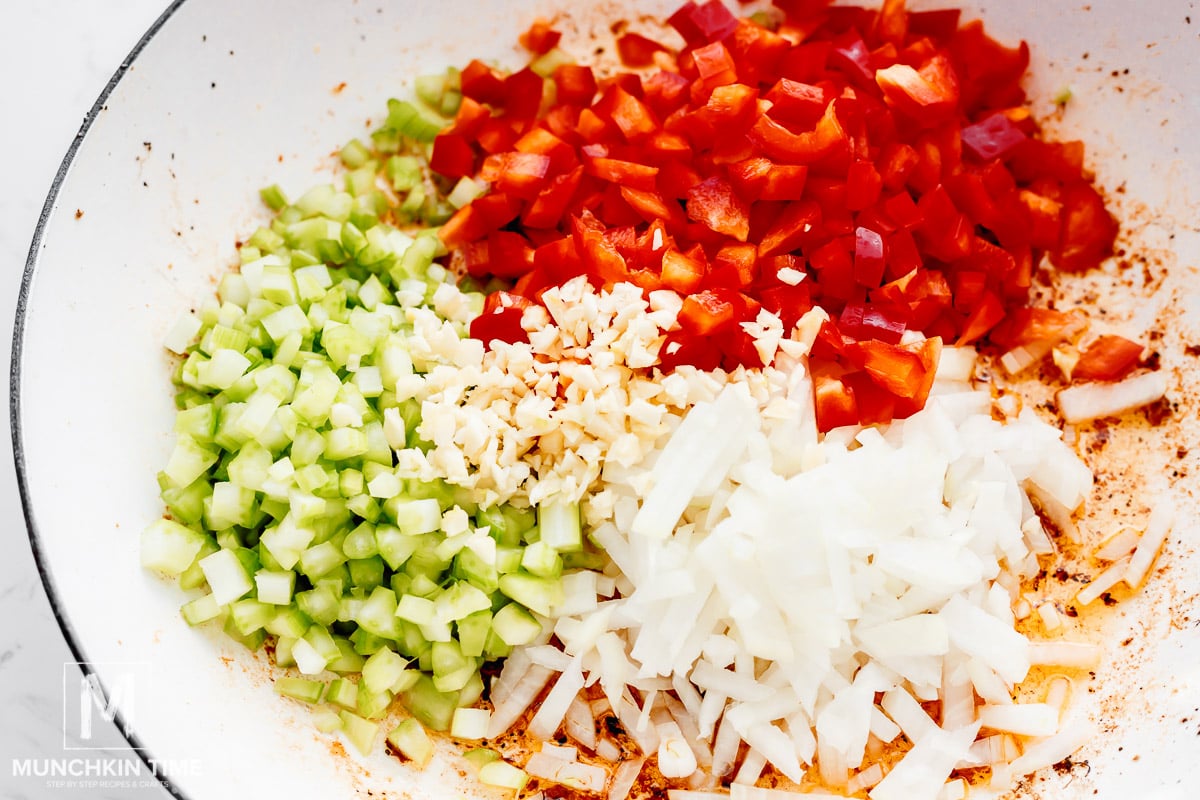 Step 3: In the same skillet still (yay for easy cleanup!), sauté the onion, bell pepper, celery, and garlic. Stir a few times for about 8-10 minutes until the veggies are soft.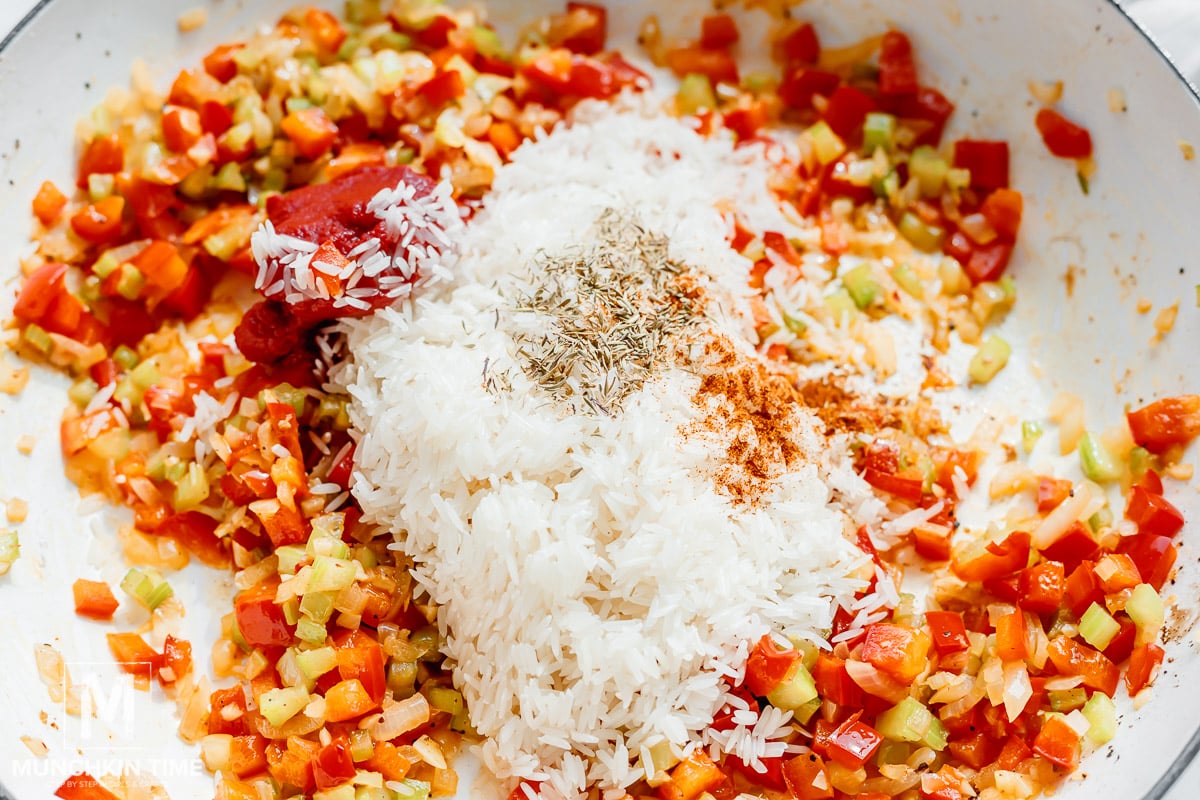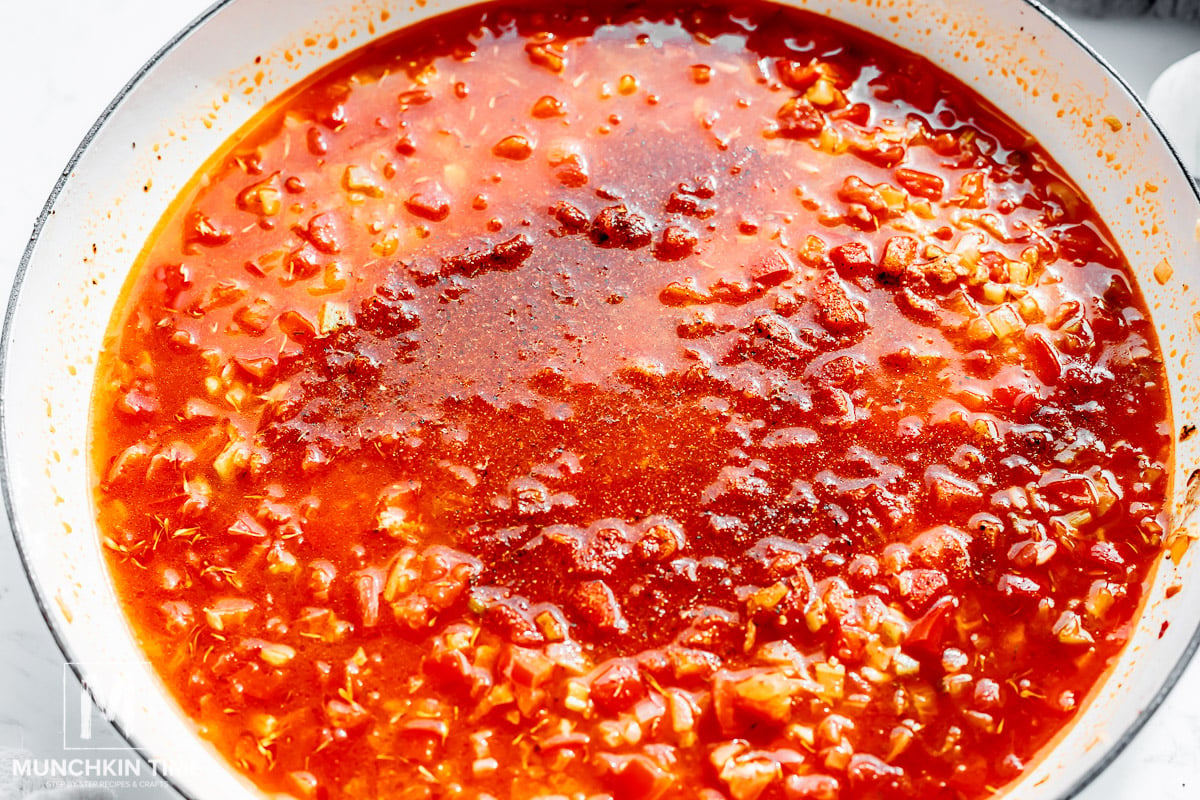 Step 4: Add the rice, tomato paste, and cayenne pepper and stir it around a few times for about 2 minutes. Then, pour in the chicken broth, diced tomatoes, and thyme. Stir to combine and season with salt and pepper to taste.
Step 5: Place the chicken and sausage back into the skillet or pot, cover with a lid, and cook on medium-low heat for 20-25 minutes. The liquid should be absorbed by the rice and the chicken cooked through.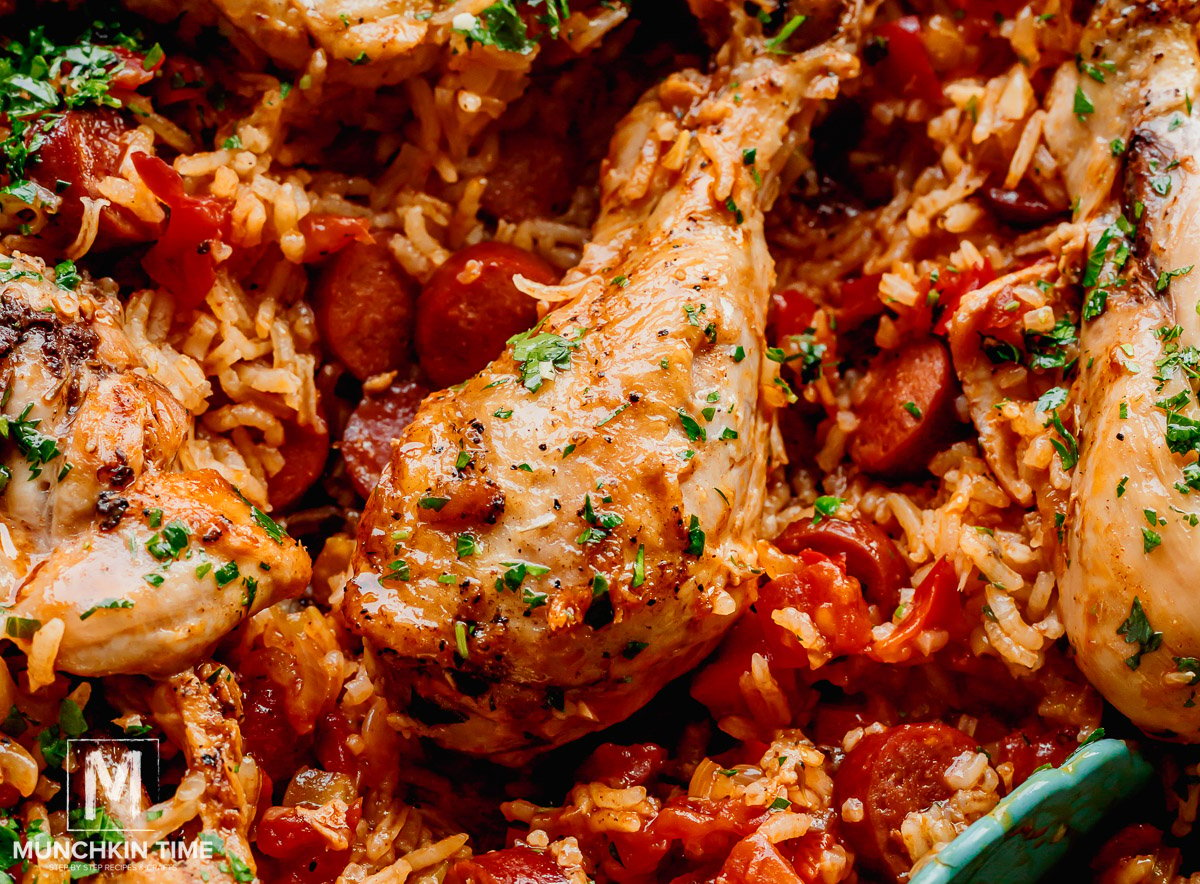 Step 6: Uncover and continue cooking for another 5-8 minutes until the sauce thickens. Garnish with fresh parsley and enjoy!
Chicken and Sausage Jambalaya
Recipe Tips
If using leftover rice, or cooking it separately, omit the broth from the recipe. Add the rice in towards the end with everything else to cook through for the last 5-8 minutes.
Add whatever seasoning you would like! Paprika or oregano.
Adjust the spice level to your liking.
Swap canned tomatoes for fire-roasted tomatoes instead.
If you prefer to use chopped chicken breast, you can use that instead. A shortcut would be to use leftover chicken or store-bought rotisserie chicken.
Feel free to use other types of protein along with the sausage. Some people like to add shrimp to their jambalaya.
For some extra heat, toss in some diced jalapeno.
FAQs
What is the difference between Jambalaya and Gumbo?
Although the two seem awfully similar, there are some key differences and one of them is the rice. In jambalaya the rice is the dish, it's part of the whole. Gumbo, on the other hand, uses rice as a side dish and is not a part of the gumbo stew itself.
They both use similar ingredients in terms of protein, veggies, and rice, gumbo is traditionally made with okra and a roux to thicken it up, whereas Creole jambalaya is not.
Sometimes Cajun jambalaya uses a roux for color since it doesn't contain tomatoes, but even still, it's not the same labor-intensive roux as is used in a classic gumbo recipe.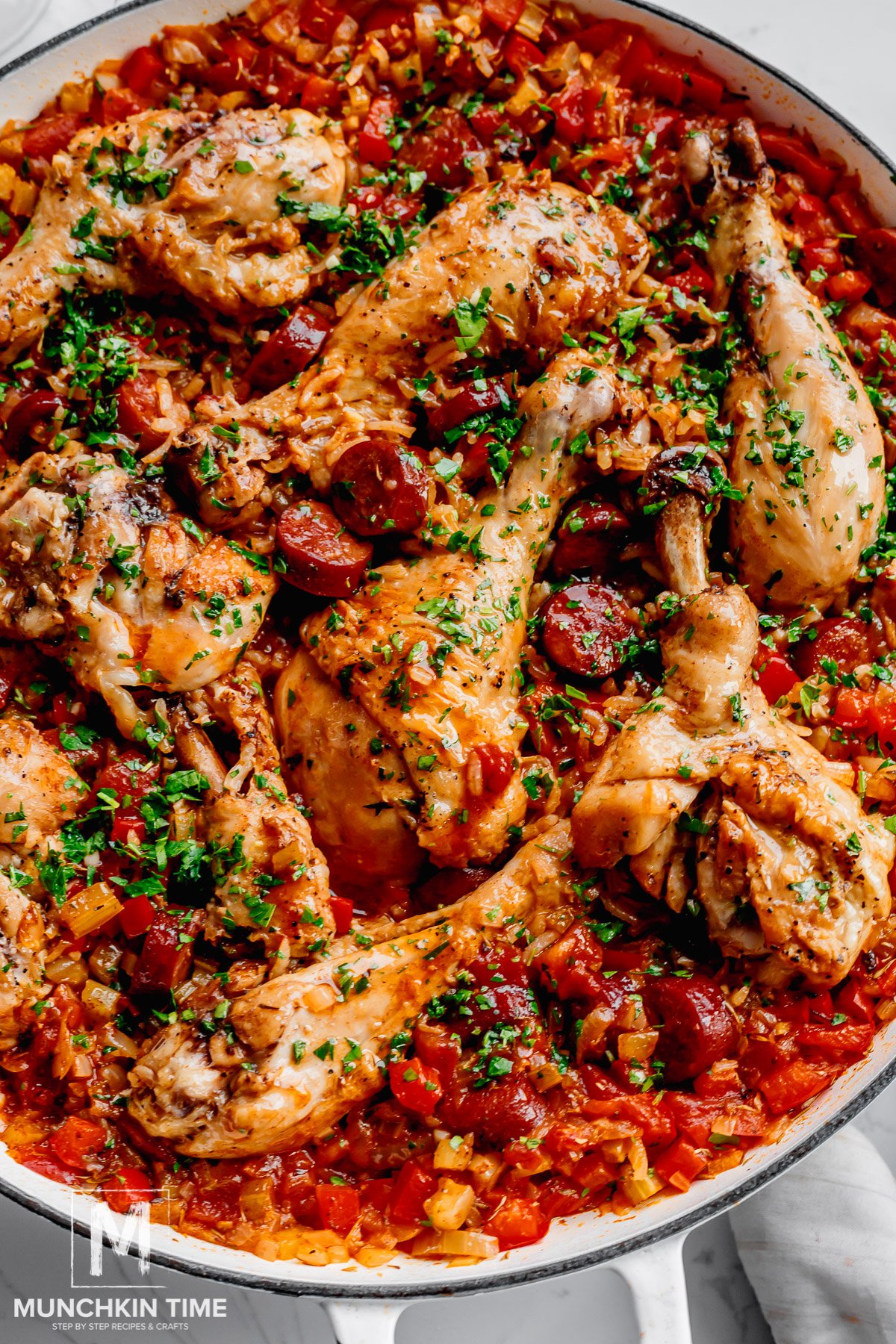 What to serve with jambalaya?
This is one full and complete dish all on its own! If you're going to serve anything on the side, keep it nice and light like a simple salad.
How to store leftover chicken and sausage jambalaya?
Once cooled, store leftovers in an airtight container in the fridge for up to 4 days. Freeze it in a freezer-safe container for up to 3 months. Thaw in the fridge overnight.
How to reheat leftovers?
You can always reheat single servings in the microwave, but if you have more than that, gently heat it over medium-low on the stovetop. You may need to add a splash of broth or water to rehydrate it a bit.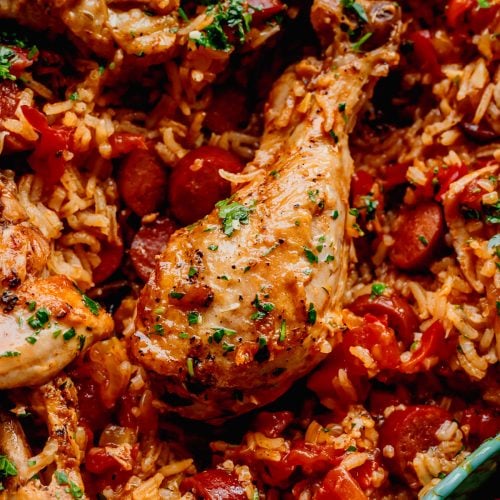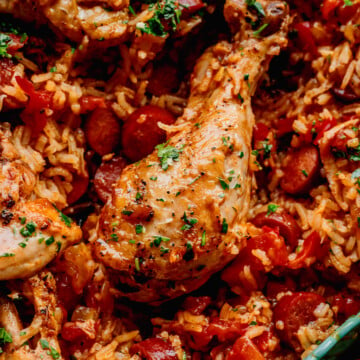 Chicken and Sausage Jambalaya
Chicken and Sausage Jambalaya Recipe - easy one-pot rice dish made with sausage, chicken, bell peppers, and loads of herbs & spices.
Ingredients
2 1/2

lb

chicken drumsticks

dried with paper towel

1

teaspoon

sea salt

1/2

teaspoon

black pepper

2

tablespoons

avocado oil

12

oz

andouille sausage

sliced, or any sausage of your choice, or ham

1

medium

onion

chopped

1

red bell pepper

diced

2

celery sticks

chopped

5

cloves

garlic

finely chopped or minced

1

cup

long-grain white rice

2

tablespoons

tomato paste

1/4

teaspoon

cayenne pepper

or to taste

2

cups

chicken broth

14.5

oz

diced tomatoes

can or diced tomatoes with green chile, for extra spicy kick

1

teaspoon

cajun spice

more if desired

1/2

teaspoon

dried thyme

1/4

cup

parsley

chopped
Instructions
Season chicken with salt and pepper on both sides.

Next, heat oil in a large skillet or dutch oven over medium heat, add chicken and cook for 10-12 minutes, turning few times, until chicken is browned. Transfer onto a plate, cover to keep warm. Add sausage to the skillet cook until brown, about 5 minutes. Transfer onto a plate with chicken.

Now, to the same skillet add onion, bell pepper, celery and garlic, cook for 8-10 minutes, stirring few times.

Add rice, tomato paste and cayenne pepper, cook for 2 minutes, stirring few times.

Pour in chicken broth, 14.5 oz can of diced tomatoes, cajun spice and thyme, stir until everything is combined, if needed season with salt and pepper, to taste.

Return chicken and sausage back into the skillet, cover and cook on medium/low heat for 20 - 25 minutes, or until most of the liquid is absorbed and chicken is cooked thru.

Uncover and cook for 5 -8 minutes or until the sauce thickens. Garnish with parley.
Notes
Hi! All content & images are copyright protected. Please do not use my images without prior permission. If you want to republish this recipe, please re-write the recipe in your own words, or simply link back to this post for the recipe. Thank you.
Nutrition
Calories:
434
kcal
Carbohydrates:
26
g
Protein:
28
g
Fat:
24
g
Saturated Fat:
7
g
Polyunsaturated Fat:
5
g
Monounsaturated Fat:
11
g
Trans Fat:
0.1
g
Cholesterol:
125
mg
Sodium:
995
mg
Potassium:
613
mg
Fiber:
2
g
Sugar:
4
g
Vitamin A:
964
IU
Vitamin C:
29
mg
Calcium:
53
mg
Iron:
2
mg
Q. – Do YOU like this Chicken and Sausage Jambalaya Recipe?
Let us know in the comments below, we would love to hear from you!
Thank YOU for YOUR Comment, Share & Recipe Review!