Best Chicken Fried Steak Recipe – Seasoned and juicy cube steak, coated in a flavorful batter pan-fried until perfectly golden and crispy then smothered in a creamy white sausage gravy!
When YOU make this Best Chicken Fried Steak Recipe, take a picture & tag your Food Creation on Instagram using @MunchkinTimeBlog, we would love to see your creation!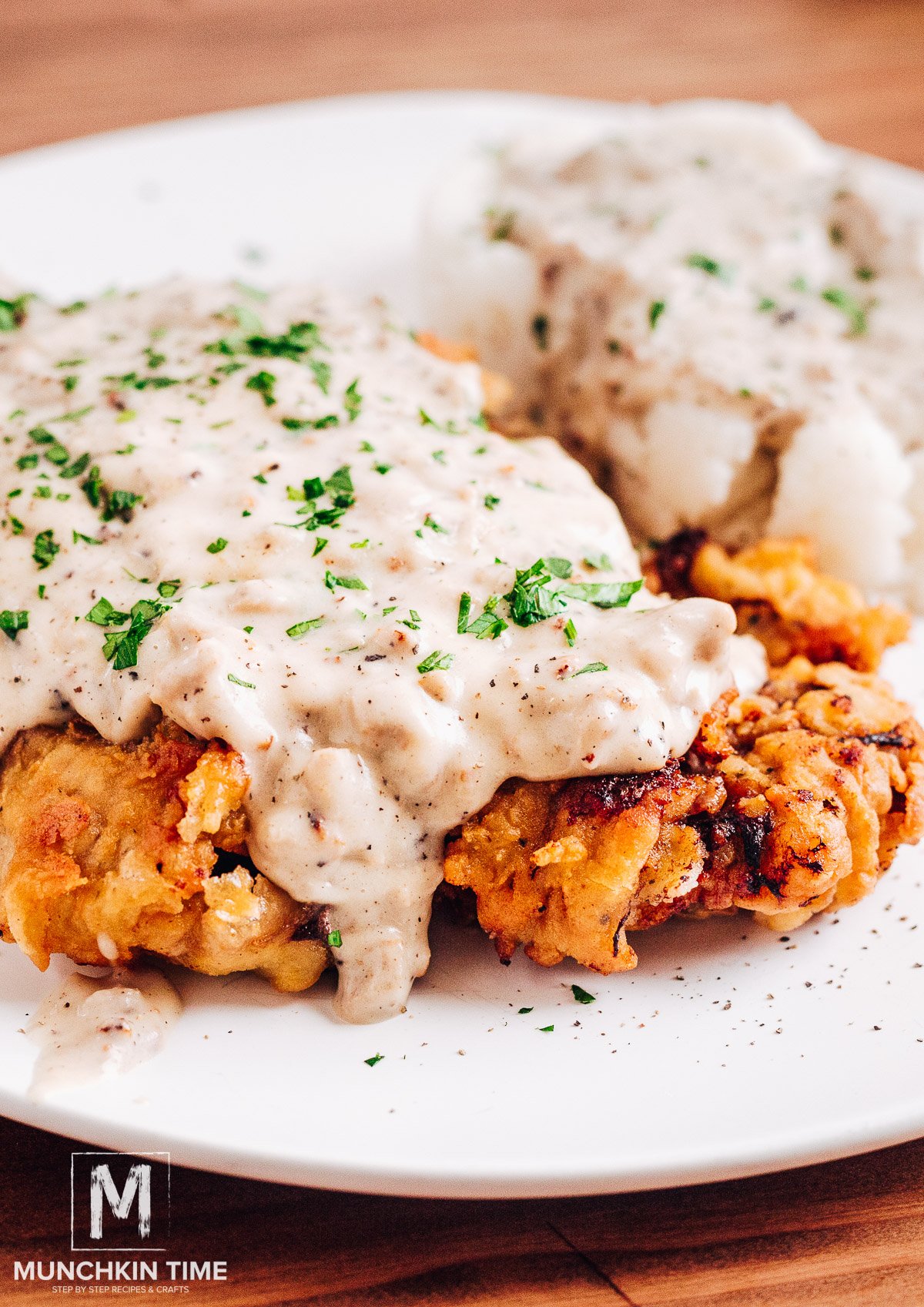 Knowing how to make chicken fried steak will come in handy when looking for a delicious Southern comfort classic! Resulting in a restaurant-quality dish, this tender juicy chicken fried steak comes together so easily.
Both the steak and the gravy are made using the same skillet there's very little cleanup involved.
This hearty meal can be served as dinner or breakfast, and my family and I love it both ways! Served with biscuits, eggs, and a side of home fries in the morning, or mashed potatoes and green beans at night. Either way, it won't last long on anyone's plate!
What is Chicken Fried Steak?
You would think by the name there is some sort of chicken involved in this recipe, but there's not! The name comes from the fact that a piece of steak is coated in fried batter, much like we do with a chicken cutlet.
Instead, cube steak is coated in a crispy golden batter making every crunchy bite filled with a piece of juicy steak. Then, it's smothered in a creamy white sauce that can be made with or without sausage crumbles. It really is the best!
Best Chicken Fried Steak Recipe Ingredients
Cube Steak: The cut of beef used for cube steak is usually top round or top sirloin that's been pounded and tenderized by a meat mallet. You can see the little indentations from the instrument that look like little cubes. You can find this at your local butcher either already tenderized or you can do it yourself at home.
Salt & Pepper: A simple seasoning for the meat before coating it with even more seasoning in the batter.
For the coating: Flour, baking powder, baking soda, Montreal steak spice, garlic powder, buttermilk, and egg. The acid in the buttermilk will also help tenderize the meat and together they will help the batter stick to the steak.
Oil for frying: Use any kind you want, but I like to use avocado oil for this recipe.
For the Gravy
Sausage:

Breakfast sausage

is what I use because I just love the flavor paired with this gravy. You can use another type of sausage if you prefer. As long as you crumble it up into tiny pieces or even grate it so there aren't large chunks of it.
Butter & Flour: Together these will make a roux which is what thickens the gravy.
Salt & Pepper: To taste.
Chicken Broth: The liquid that will help deglaze the bottom of the skillet to bring up all that yummy flavor while adding its own extra flavor.
Heavy Whipping Cream: This is what makes the gravy so nice and creamy and rich.
Parsley: For garnish!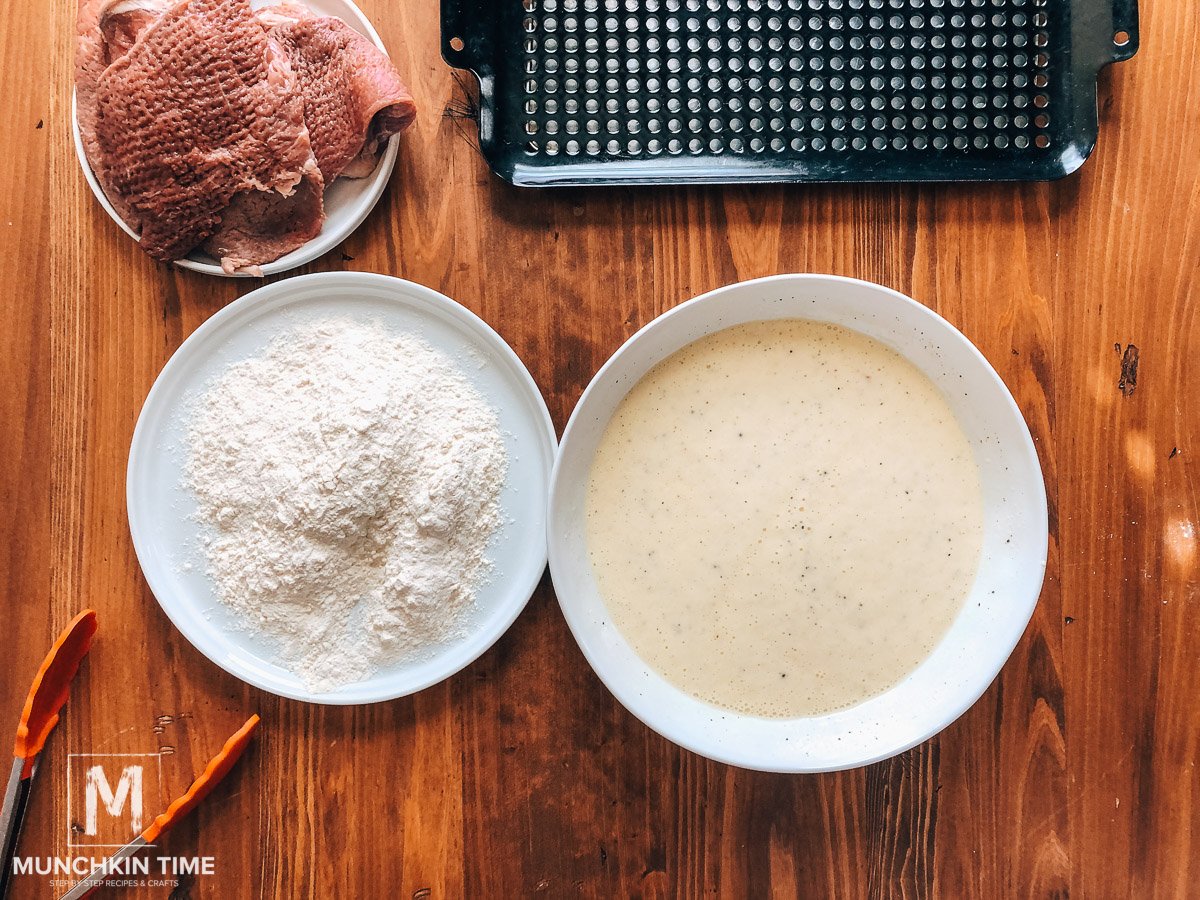 How to Make Best Chicken Fried Steak
Step 1: If your steak isn't thin enough, pound it down to ¼ inch thickness. Do this by placing it in between two pieces of plastic wrap and using a meat mallet to pound it. Then, season it with salt and pepper.
Step 2: Set up the dredging station using 2 different dishes. The first will have the flour and the second will have the baking soda and seasonings, combined with the buttermilk and egg, whisked completely until a smooth batter is formed.
Step 3: Preheat 3 cups of oil in a nonstick skillet over medium-high heat. Meanwhile, start dredging the meat.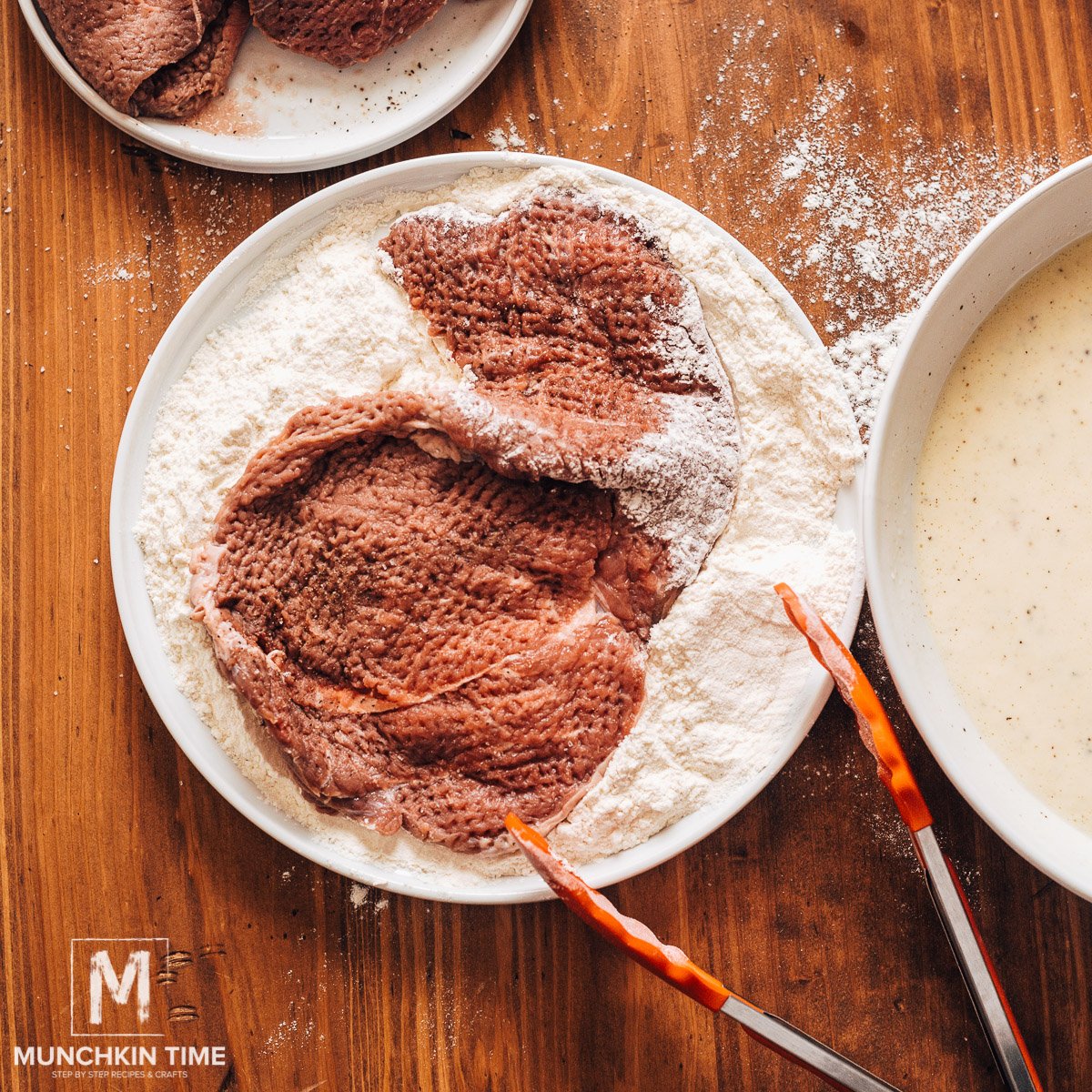 Step 4: Dredge each piece of steak in the flour first. Make sure it's completely coated and shake off any excess. Dip it into the batter, and then into the flour again.
Step 5: Once the oil is hot, add steaks and fry for about 3-4 minutes per side, until golden. Transfer to a paper towel-lined plate to absorb excess grease and keep warm in the oven until you're ready to serve.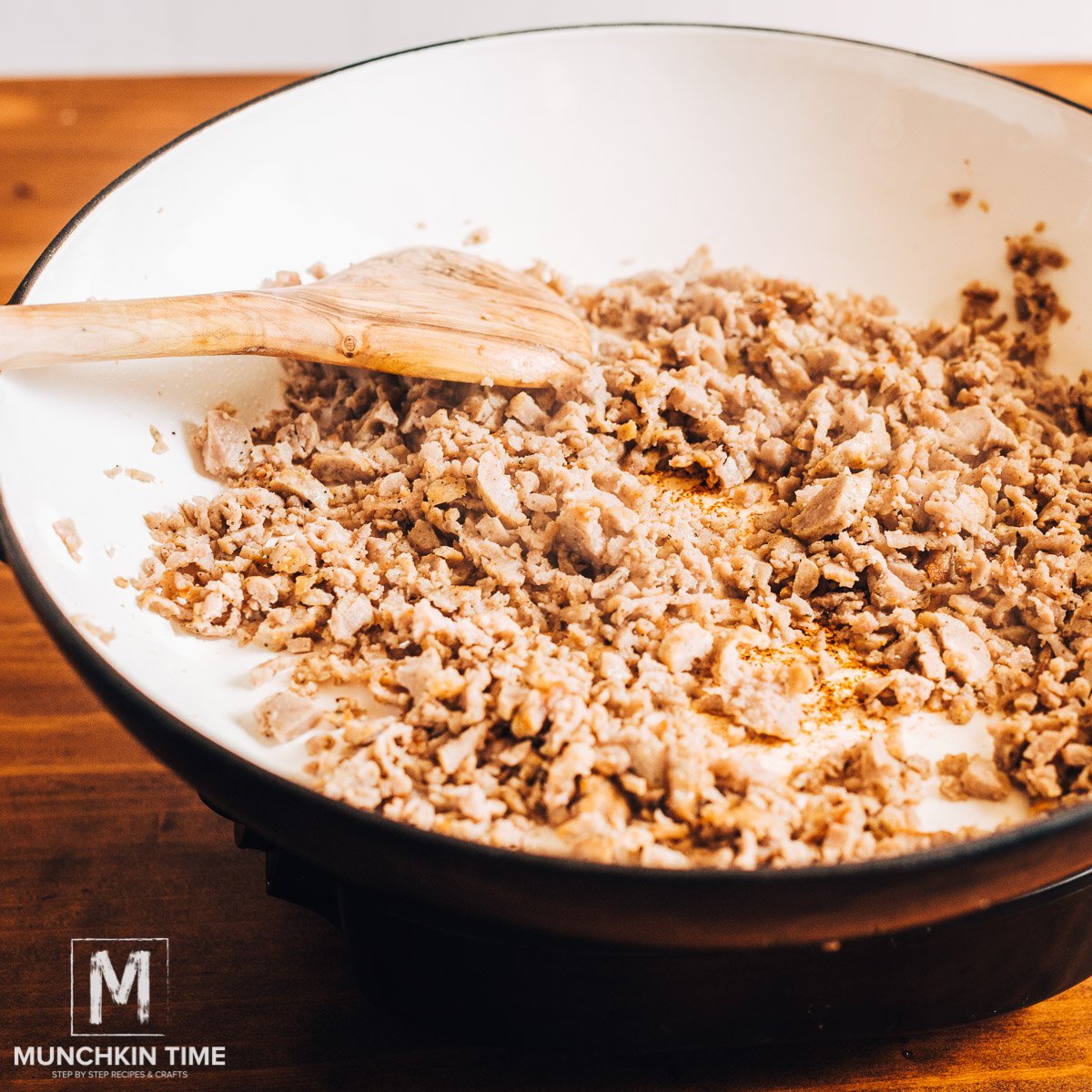 How to Make Chicken Fried Steak Gravy
Step 1: To the same skillet over medium heat, saute the chopped sausages until golden. No need to add any extra oil.
Step 2: Transfer sausage to a plate and then add butter to the skillet to melt. Stir in the flour for 1 minute until a roux forms.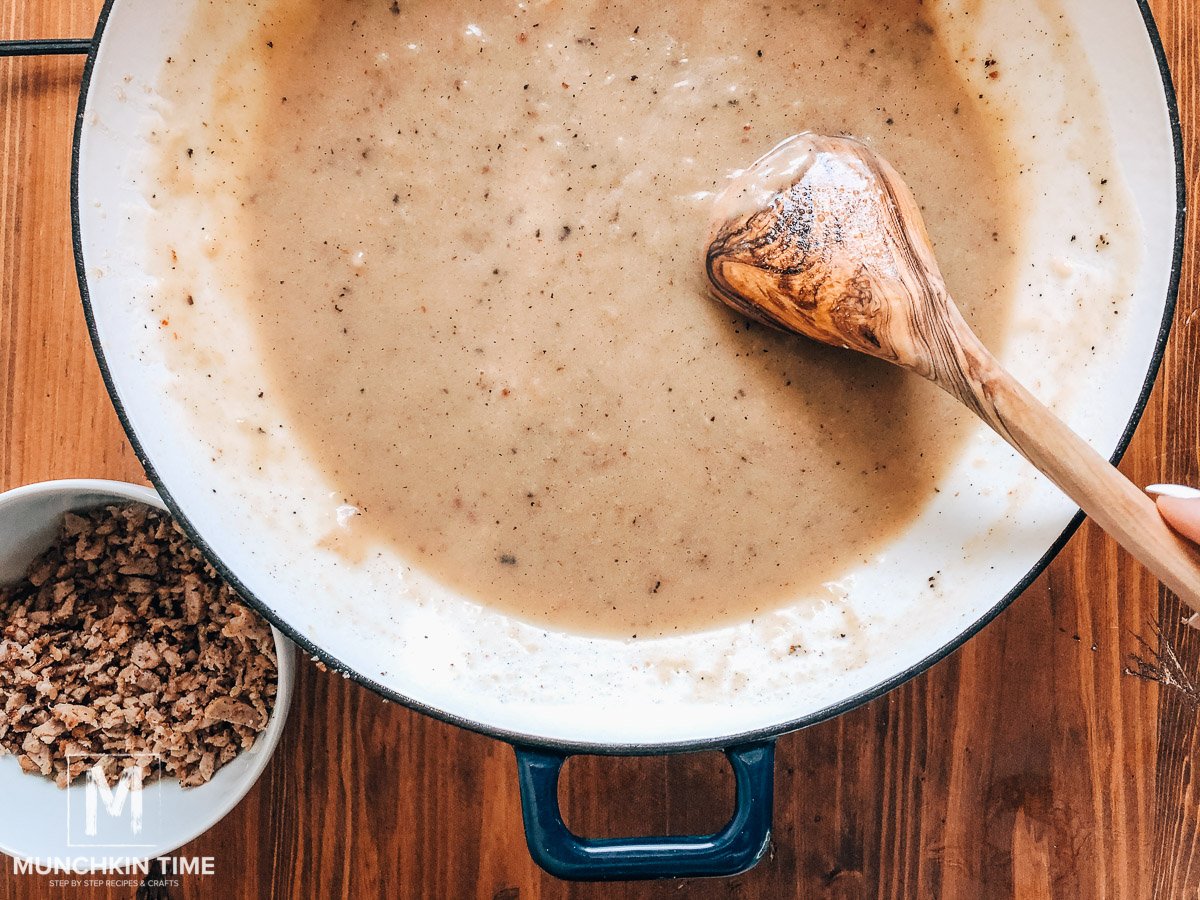 Step 3: Once the nutty paste has formed, slowly pour in 1 cup of chicken broth and use it to scrape off the yummy brown bits of flavor from the bottom. Then, add another cup of chicken broth and continue stirring.
Step 4: Next, pour in the heavy whipping cream and season with salt and pepper to taste. Return the sausage to the skillet and stir well. Now, it's ready to enjoy!
Serve the chicken fried steak with mashed potatoes and pickles and top with a generous helping of sausage gravy.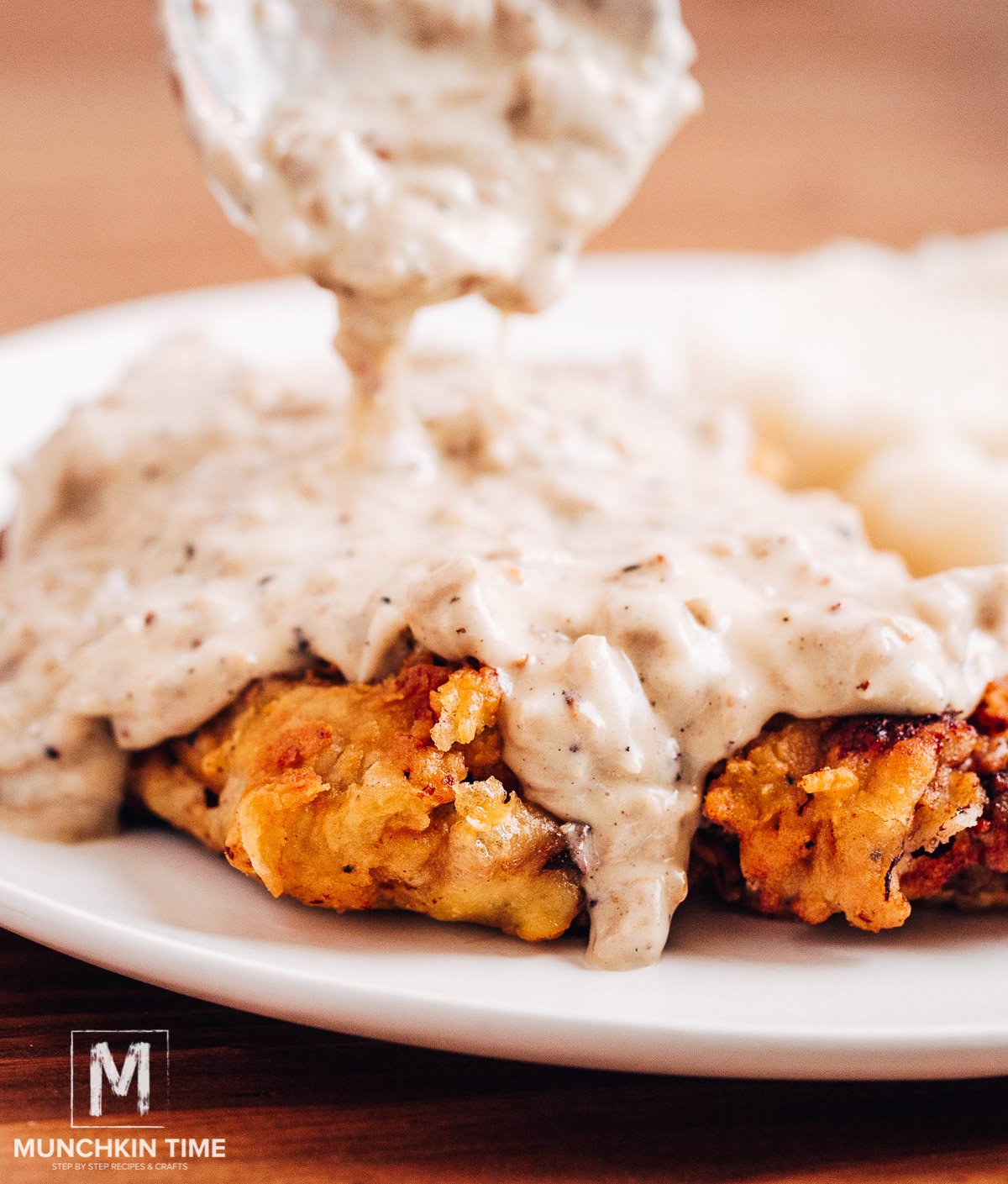 Recipe Tips & Suggestions
Feel free to omit the sausage from the gravy, if you prefer a smooth gravy.

Use your hands to press the flour onto the pieces of steak so that way none of it falls off as it fries.

To avoid a soggy coating, make sure the oil is hot before you add the steak. Also, do not add too many at a time or overcrowd the pot.
Allow the steak to rest for 30 minutes at room temperature before cooking it. Adding cold steak to hot oil is not a good idea!
For a bit of heat, add some cayenne powder to the flour mixture or Tabasco sauce to the batter.
Keep your steaks warm while you make the gravy in the oven at about 225F. It helps to have this preheated and ready beforehand.
I like to deep fry the steaks in a few cups of oil for even frying, however, if you prefer shallow frying you can do this too.
FAQs
Why are there baking powder and baking soda in the batter?
Both react very nicely with the acid in the buttermilk and will help give the coating that extra bit of crispy texture!
What temperature should the oil be?
Wait until it has reached 350F before adding the steak. The best way to tell is by using a deep-fry thermometer. If you have a candy thermometer that will work too.
Can I make this ahead of time?
I wouldn't recommend it. It's best eaten right away if you want to enjoy that delicious golden crunch. Of course, if you have leftovers you can enjoy them the next day, but they'll have lost that initial crunch.
Check Out Delicious Steak Recipes
New York Strip Steak Grill Recipe
Cheesy Hot Beef Sandwich Recipe
Easy Baked Beef Chimichanga Recipe
Cheese Steak Chimichangas Recipe
Best Chicken Fried Steak Recipe
Chicken fried steak is a steak fried in seasoned batter until golden color and served with sausage gravy over the top. You can serve this meal for breakfast with eggs or for dinner with mashed potatoes. 
Ingredients
Chicken Fried Steak Gravy
Instructions
How to Make Chicken Fried Steak
First, pound steak until 1/4 inch thickness, then season with salt & pepper, to taste. Next, add 1 1/2 cup of flour into a dish. Using a different dish add 2 teaspoons baking powder, 1 teaspoon baking soda, 1 tablespoon of Montreal Steak Spice, 1 teaspoon of garlic powder, pepper and salt, to taste. Whisk until everything is combined.

Now, pour in 1 1/2 cup of buttermilk and add 1 egg. Again, whisk until everything is combined.

Next, dredge each steak in the flour (covering completely with flour), then in the batter, and in the flour, again.

Using a non-stick skillet, preheat 3 cups of oil on medium/high heat. Once oil gets hot, add steaks and fry until golden brown color, 3 to 5 minutes per side. After, transfer steak onto a plate lined with paper towel and keep warm.
How to Make Chicken Fried Steak Gravy
Saute chopped sausages in the skillet with no oil, over medium heat until golden color, about 3-5 minutes.

Remove sausages onto a plate. Next, melt 3 tablespoons of butter, once melted add 1/4 cup of flour and stir continually for 1 minute. Slowly pour in 1 cup of chicken broth and stir until everything is combined. Add another cup of chicken broth and stir again. After pour in 1/2 cup of heavy whipping cream and season with salt and pepper to taste.

Return sausage into the skillet and give it a nice stir. Chicken steak gravy is ready!

Serve chicken fried steak with gravy, mashed potatoes and pickles. Garnish with finely chopped parsley. Enjoy!
Video
Notes
Use non-stick skillet when frying steak.
Best steak for chicken fried steak is cube steak, it should be located at the store with the rest of the steak meat cuts.  Feel free to ask a butcher at the grocery store if he can get cube steak.
Let steak rest 30 minutes in room temperature before cooking it. 
Hi! All content & images are copyright protected. Please do not use my images without prior permission. If you want to republish this recipe, please re-write the recipe in your own words, or simply link back to this post for the recipe. Thank you.
Nutrition
Calories:
1375
kcal
Carbohydrates:
51
g
Protein:
58
g
Fat:
104
g
Saturated Fat:
29
g
Cholesterol:
277
mg
Sodium:
1041
mg
Potassium:
1296
mg
Fiber:
2
g
Sugar:
5
g
Vitamin A:
1076
IU
Vitamin C:
11
mg
Calcium:
287
mg
Iron:
7
mg
Q. Do YOU like this Fried Steak Recipe?
Let me know in the comments below, I would love to hear from you!
Thank YOU for YOUR Comment, Share & Recipe Review!