30-minute Chicken Breakfast Sausage Recipe is made with delicious mushrooms, garlic, and Creole seasoning. This 30-minute homemade chicken breakfast sausage recipe is one you'll want to keep. Once you've made these, you won't be turning back to the frozen freezer section again!
When YOU make this Chicken Mushroom Recipe take a picture & tag us on Instagram @MunchkinTimeBlog or hashtag #munchkinrecipes, we would love to see your creation!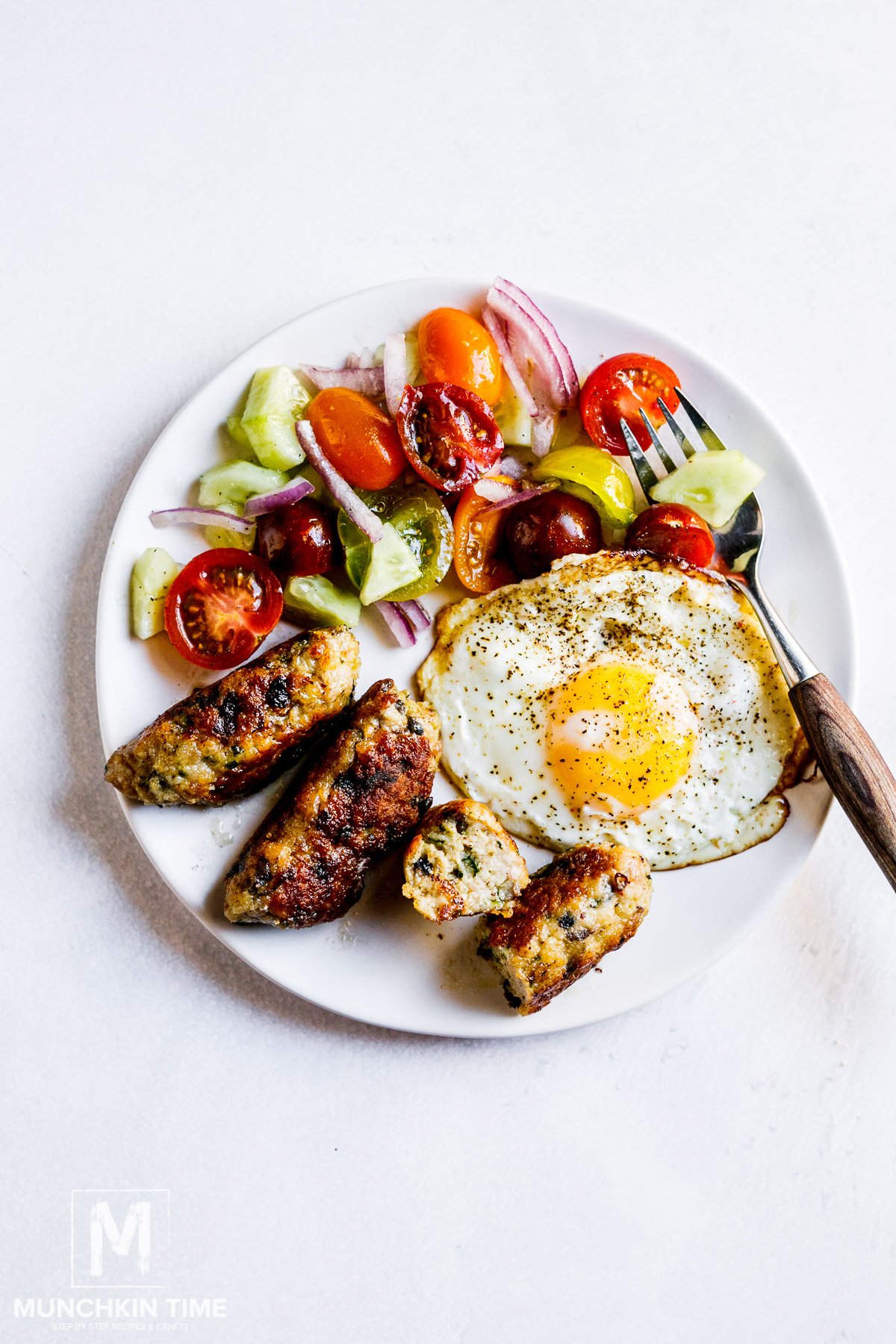 There's something so comforting about the thought of breakfast sausages in the morning! They always seem to be part of a big breakfast or brunch that includes all the yummy things like pancakes, waffles, eggs, and hash browns.
Maybe it's because that's how you get them at restaurants, or how they serve them in hotel buffets!
Now you can make this flavorful breakfast sausage recipe at home quickly and easily! Making them from scratch is so much healthier without the fillers, nitrates, and extra sodium you get from the boxed kind in the freezer section.
This high-protein breakfast is a great way to start the day, but they're just as good served for lunch or a snack. You could even serve them as game-day appetizers!
I know my kids love when I pack them in their lunches for school!
Ingredients Needed for Chicken Breakfast Sausage
You can customize the seasoning to your liking and stick with using fresh wholesome ingredients. I use mushrooms, garlic, and Creole seasoning, but you use whatever your favorite is!
Ghee or Butter: I use either one to sauté the mushrooms. I love the aroma of cooked mushrooms in butter and I think it adds a ton of flavor, which is why I don't just use oil. Ghee is clarified butter which means it has had all the water removed, and the milk solids deliver a nutty flavor and golden appearance. Either will work!
Mushrooms: Use any type you like. Cremini, shiitake, and white button mushrooms. Just make sure you dice them up into small pieces.
Ground chicken: If you're like me and have the tools to grind your own meat, I highly recommend it! It's cheaper and you can use whatever pieces you like. I grind chicken thighs for extra flavor.
Breadcrumbs: Panko breadcrumbs add a nice light crunch and help to bind the sausage ingredients together.
Eggs: Separate the egg whites from the egg yolks, they will be added separately.
Greens: For the fresh herby flavor you get in traditional breakfast sausages. You can use parsley, dill, or cilantro.
Seasoning of choice: I use garlic powder, salt, pepper, and Creole spice to taste, but as mentioned earlier, you can season it to your liking.
Flour: We give the sausages a light flour coating to help brown the outside and give them a bit of a crust.
Avocado oil: For cooking the sausage. I always have avocado oil on hand, but use whatever you usually use to cook meat.
How to Make
Breakfast Sausage Links

?

Step 1: Melt the butter (or ghee) in a nonstick skillet over medium heat. Then, add the mushrooms and sauté for about 5 minutes until soft. Stir occasionally, then remove them from the heat and allow them to cool.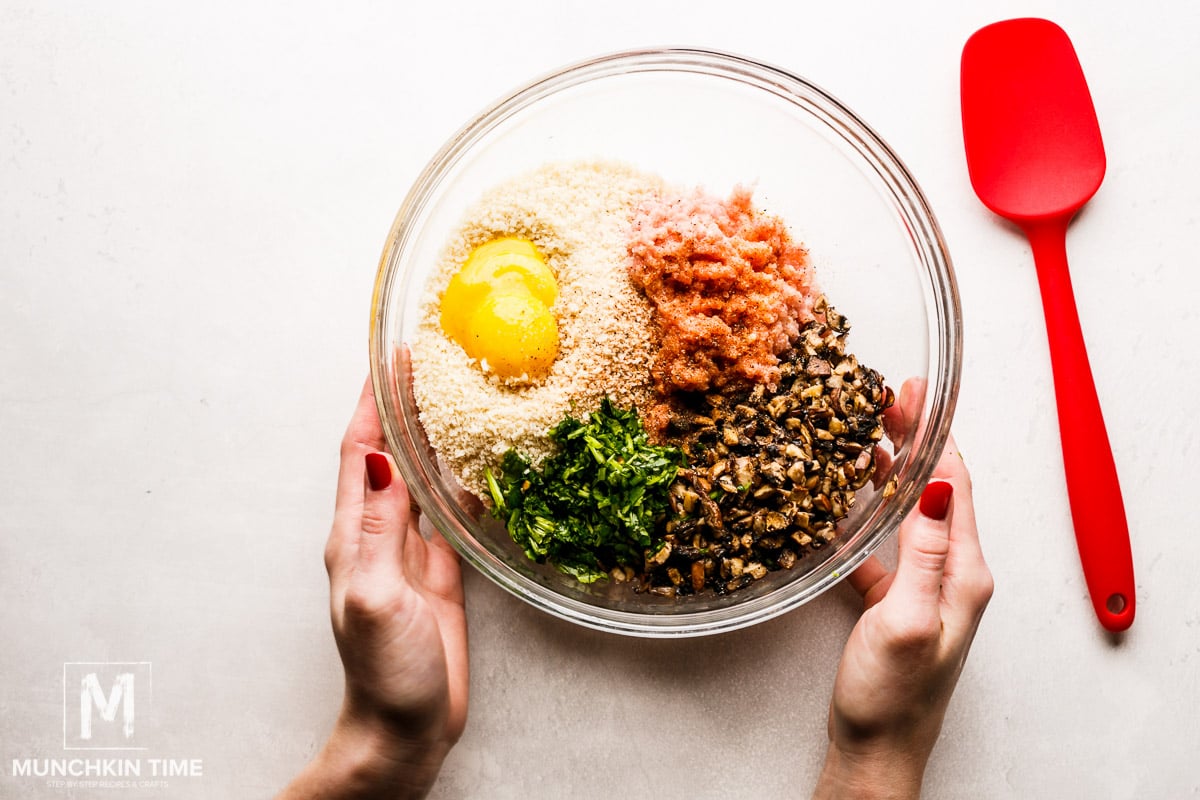 Step 2: To a large mixing bowl, add ground chicken, Panko breadcrumbs, egg yolks (just the yolks!), fresh greens, and seasonings. Then, toss in the cooked mushrooms. Give everything a stir to combine.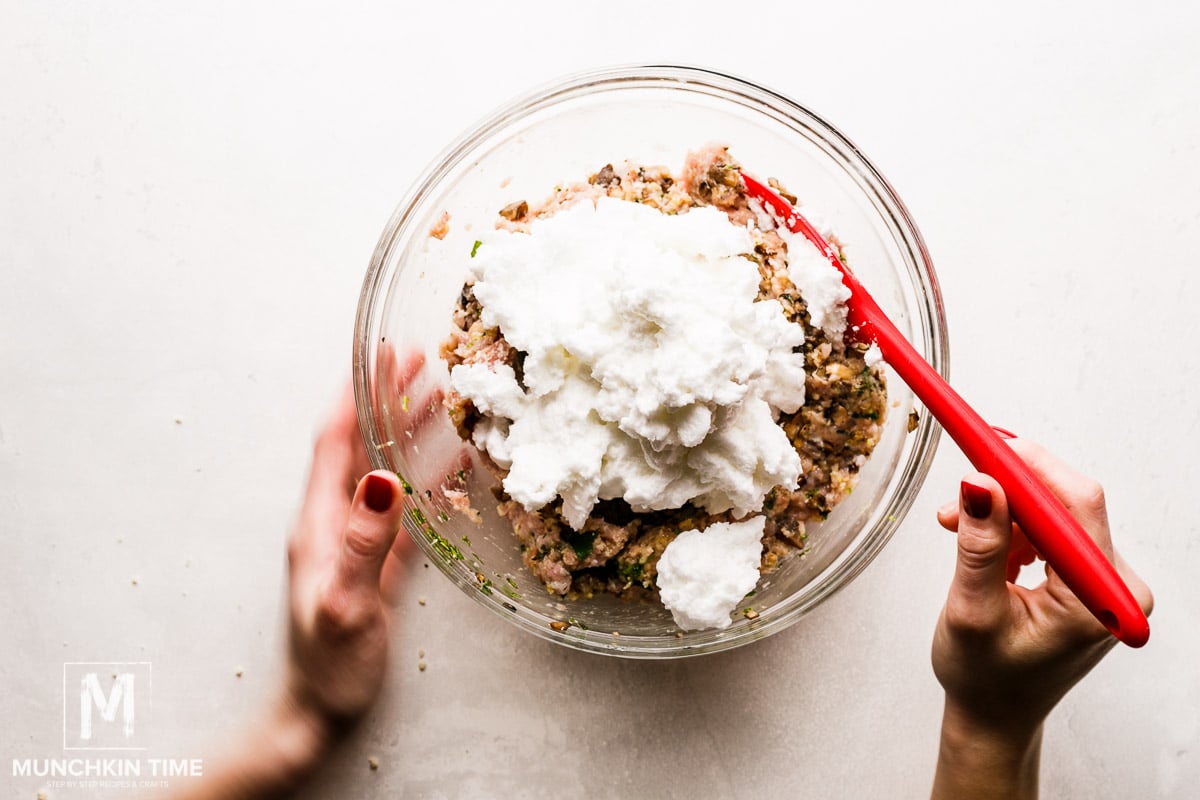 Step 3: in a separate bowl, beat the egg whites until stiff peaks form. You'll know they are stiff because when you lift the beater out of the bowl, the egg whites will stick to the beater and not fall back into the bowl.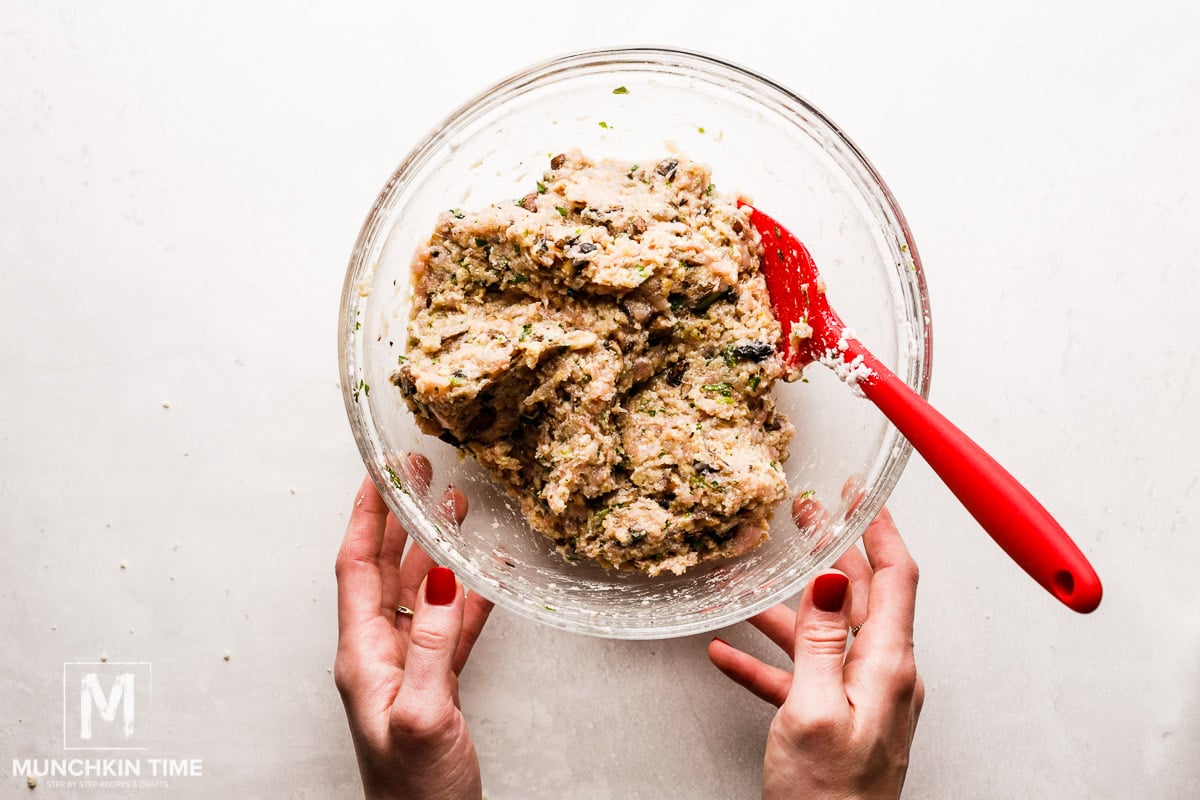 Step 4: Add the egg whites into the chicken mixture and stir to combine. Then, scoop out about 2 Tablespoons of the mixture and form the sausages. I like to turn them into links, but you can make them into patties too!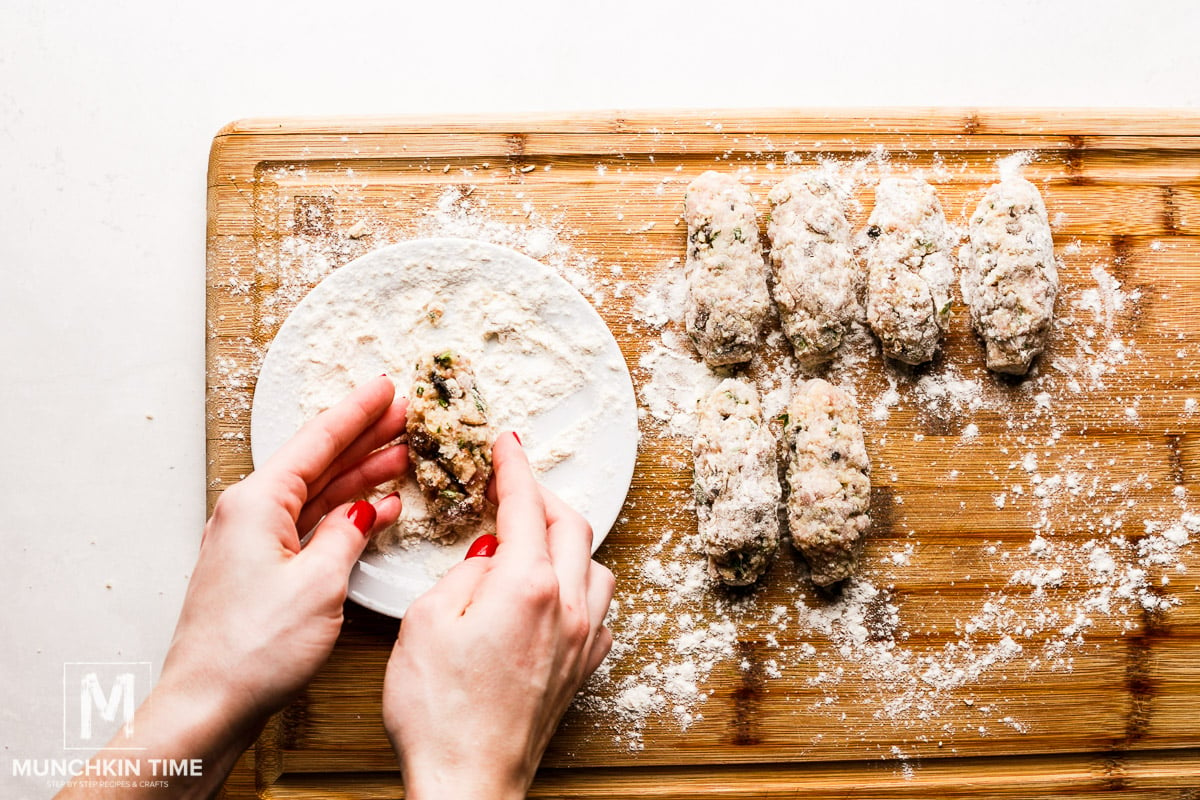 Step 5: Heat the avocado oil in your skillet over medium-high heat. Dust the sausages in flour then cook them for about 10 minutes until they are cooked through. Turn them occasionally to make sure they brown evenly all around. Cooking breakfast sausage in batches is the best way to not overcrowd the pan. Do this until all the sausage mixture is used up.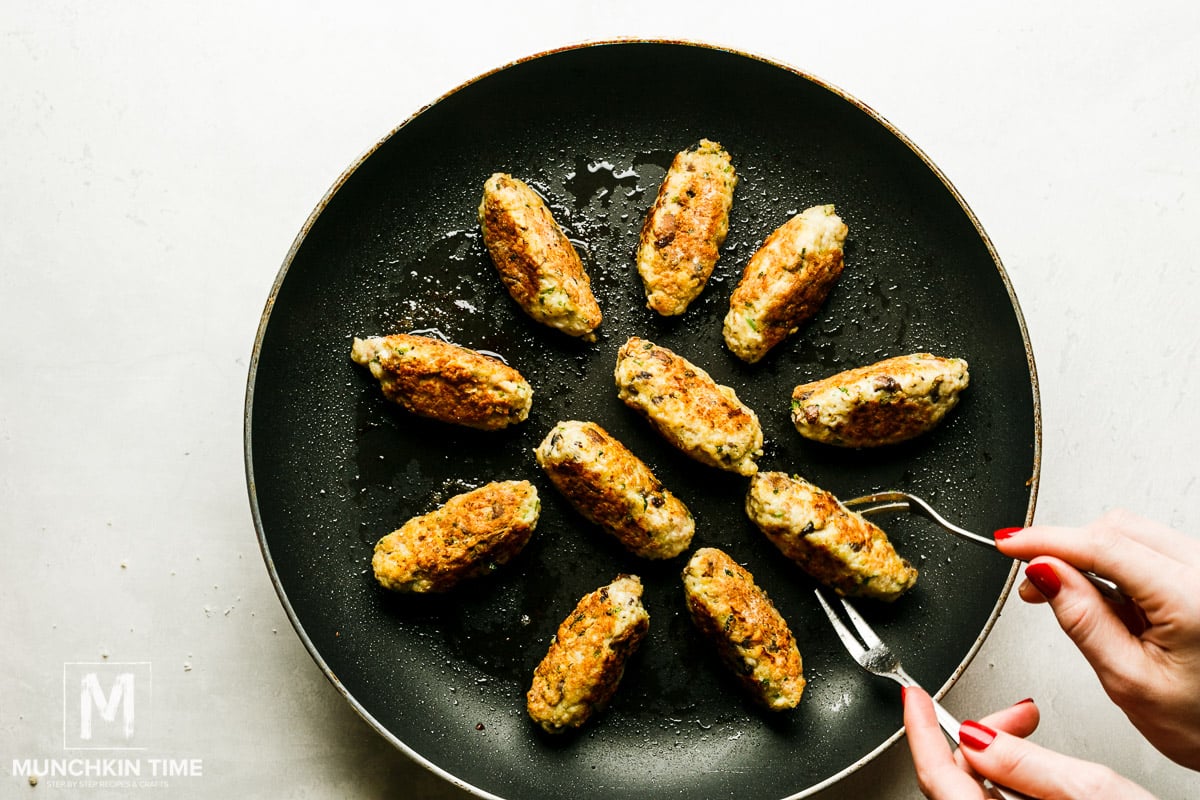 Chicken Sausage Recipe Tips
Use your favorite spices and seasoning for extra flavor. Like it a little spicy? Add some red pepper flakes. A little smoky? Try some smoked paprika. Italian seasoning is also a popular choice.
Stick with ground chicken thighs for extra juicy texture.
Add more oil in between batches, otherwise, the sausages made in the later batches might stick.
For an even amount of meat mixture in every sausage, use a Tablespoon or small cookie scoop. Form them using your hands, so you get an idea of what size you're making.
Swap the chicken for turkey or pork next time for a slightly different flavor!
For gluten-free sausages, you can skip the flour coating, or find a gluten-free flour alternative you like.
What to serve with chicken breakfast sausage?
Serve with eggs, pancakes, and waffles, for a traditional American breakfast. You can also keep it nice and light with a refreshing cucumber salad or cucumber tomato salad on the side. For lunch or dinner, enjoy them with mashed potatoes or crispy roasted potatoes. The options are endless!
If you make yours into patties you can sandwich them between two halves of an English muffin, a slice of cheese, and a fried egg for a homemade breakfast sandwich to take on the go!
How to store leftovers?
Store them in an airtight container in the fridge for up to 3 days. Make sure they are completely cooled first before you cover them.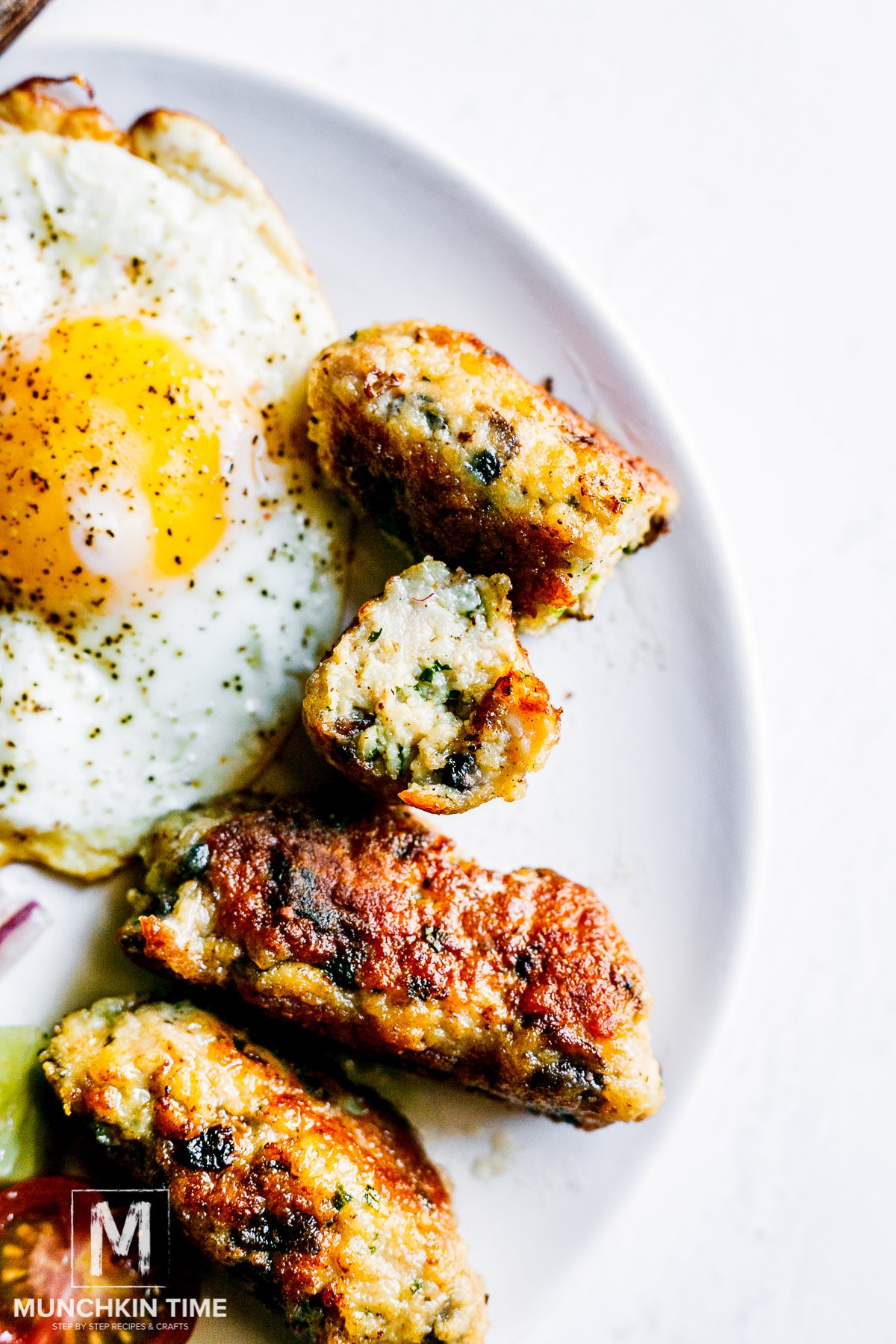 Can I freeze homemade chicken breakfast sausage?
You can! Once cooked and completely cooled, transfer them to a freezer-friendly bag or container, and be sure to seal them tightly to avoid freezer burn. Keep frozen for up to 1 month and thaw in the fridge overnight.
Best way to reheat chicken breakfast sausages?
You can reheat them in a skillet on the stovetop, in an air fryer, in the oven on low, or in the microwave.
More Yummy Dinner Recipes:
10-minute Honey Garlic Shrimp Recipe
Super Juicy Oven Baked Chicken Wings
Baked Chicken Pasta in Buttery White Sauce
Oven Baked Boneless Skinless Chicken Thighs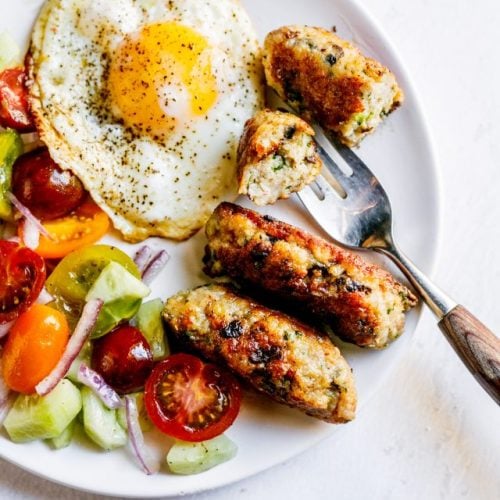 Mushroom Chicken Breakfast Sausage Recipe
Chicken Breakfast Sausage Recipe with mushrooms & garlic. Best chicken sausage links for breakfast, lunch or dinner.
Instructions
Using a non-stick skillet, add 1 tablespoon of ghee or butter and melt over medium heat. Once melted, add mushrooms and saute for about 5 minutes stirring few times. Remove from the heat & let it cool.

Into a mixing bowl combine, 1 lb of ground chicken, 1 cup Panko breadcrumbs, 2 egg yolks, 2 tablespoons of fresh chopped greens, garlic powder, creole spice, salt and pepper to taste. Also add, saute mushrooms, then give it a nice stir.

Using mixer, whisk 2 egg whites until stiff peak forms, then add it to the chicken mushroom mixture. Stir until combined.

Using about 2 tablespoons of mixture, form sausages and dust them in flour. Heat 2 tablespoons of oil in the skillet over medium/high heat, add chicken sausages and cook for about 10 minutes, or until they are cooked thru, turning few times. Repeat this step until all sausages are cooked, adding more oil if needed.
Notes
Feel free to use any spices you and your family like when making these chicken sausages, I like to use garlic powder, salt and creole spice when making these yummies. 
Use ground chicken or ground chicken thighs for that extra juicy texture using Kitchen Aid Meat Grinder. 
Store left over homemade chicken sausages in airtight container inside the fridge for up to 3 days. 
Hi! All content & images are copyright protected. Please do not use my images without prior permission. If you want to republish this recipe, please re-write the recipe in your own words, or simply link back to this post for the recipe. Thank you.
Nutrition
Serving:
1
g
Calories:
143
kcal
Carbohydrates:
9
g
Protein:
10
g
Fat:
8
g
Saturated Fat:
2
g
Polyunsaturated Fat:
1
g
Monounsaturated Fat:
4
g
Trans Fat:
0.1
g
Cholesterol:
62
mg
Sodium:
107
mg
Potassium:
288
mg
Fiber:
1
g
Sugar:
1
g
Vitamin A:
158
IU
Vitamin C:
1
mg
Calcium:
25
mg
Iron:
1
mg
Q. Do YOU like this Chicken Breakfast Sausage Recipe?
Let me know in the comments below, I would love to hear from you!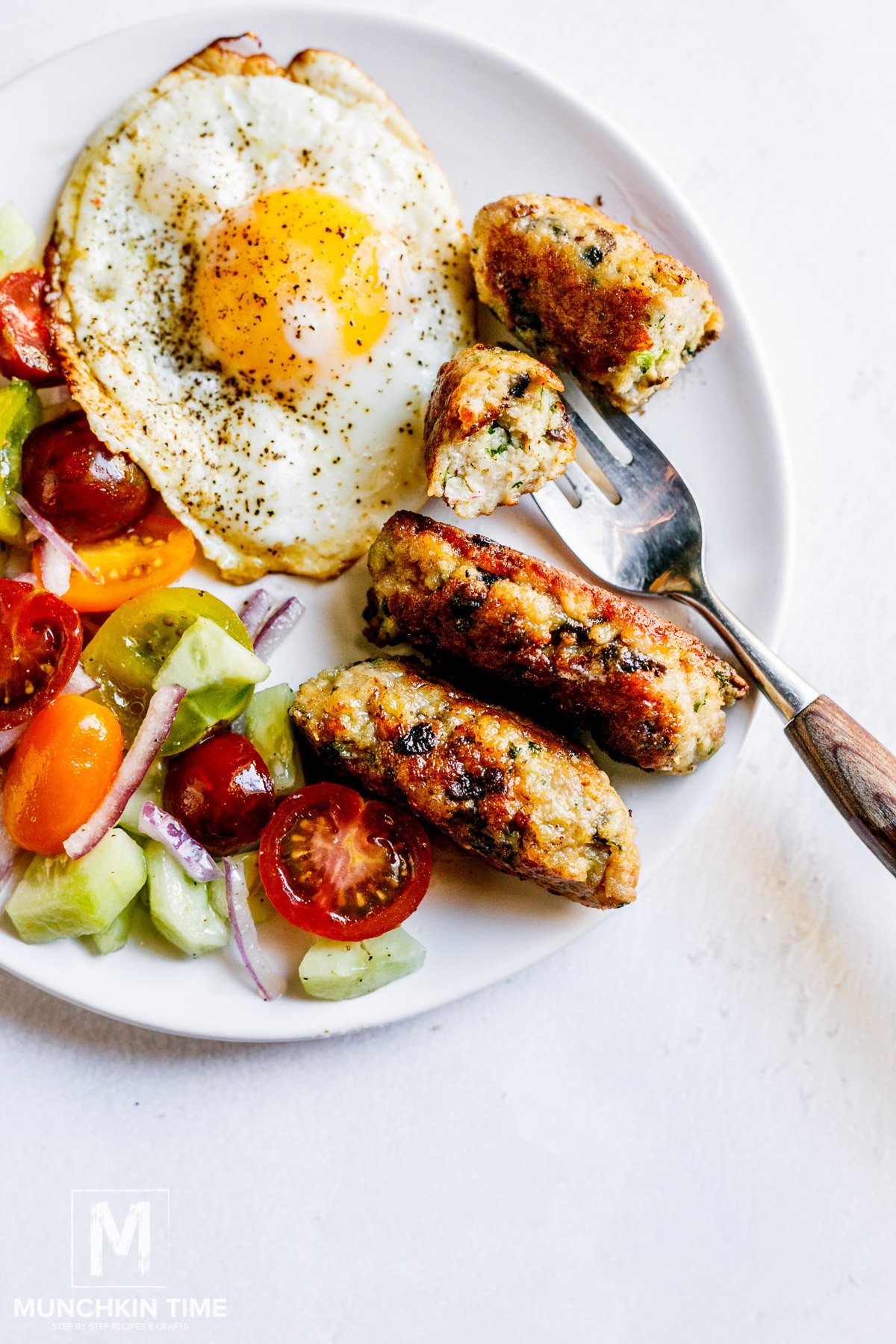 Thank YOU for YOUR Comment, Share & Recipe Review!
Quote of the Day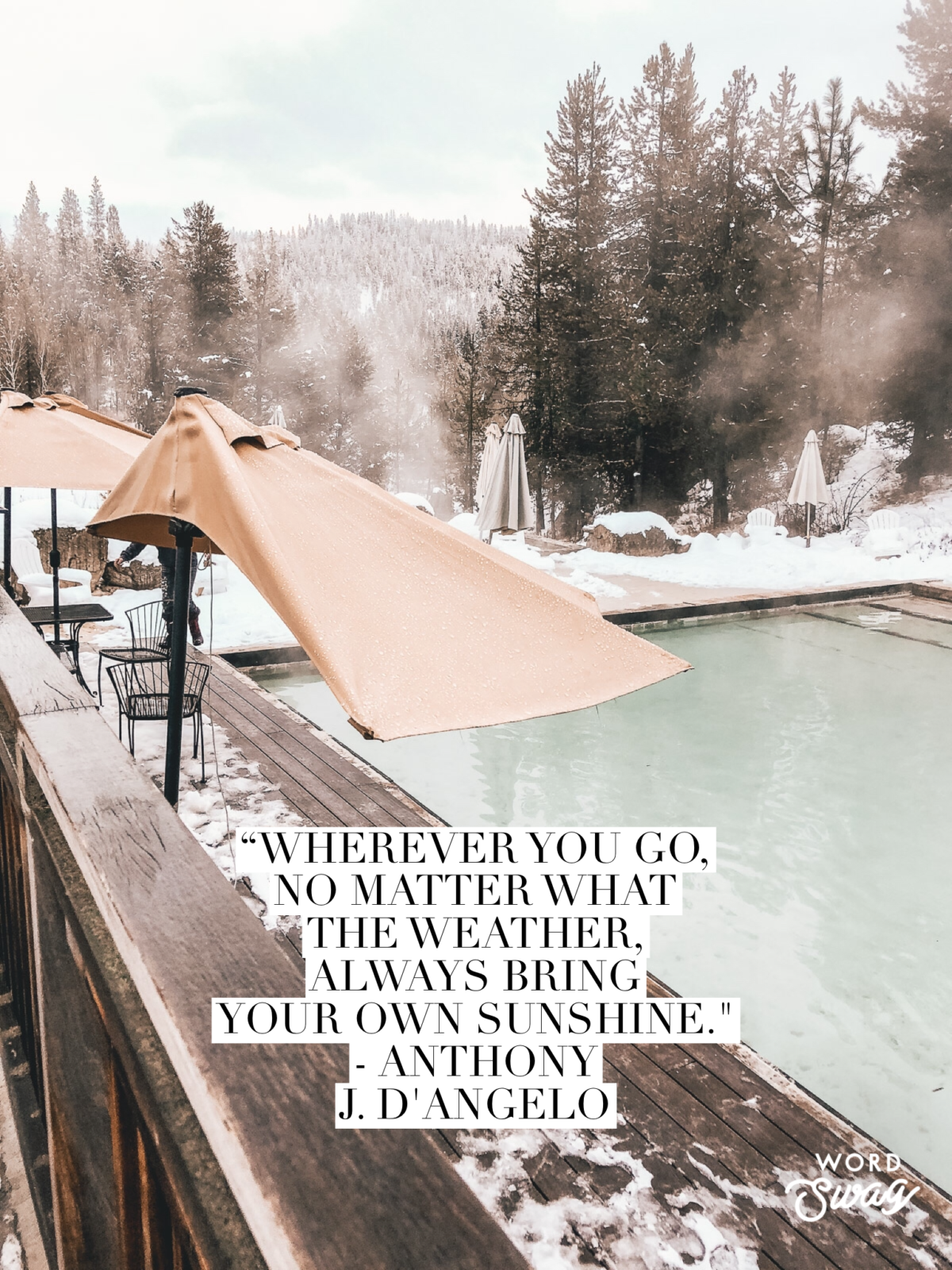 Have an amazing day!