The Best Fluffy Waffle Recipe Ever – start your day off right with a batch of homemade waffles! This fluffy waffles recipe comes together in minutes using just a few simple ingredients you probably already have. Serve warm with a drizzle of maple syrup or condensed milk for the ultimate breakfast or brunch!
These deliciously fluffy waffles are perfectly crispy and golden on the outside and soft and fluffy on the inside without the need to separate and beat egg whites. They're impressive to look at but they couldn't be easier to make in your waffle maker.
They turn out perfect every time, so be sure to double or triple the batch to freeze some for later!
They come together just as easily as pancakes but are great for serving something a little extra special for weekend brunch, a weekday breakfast, or a special Valentine's Day treat! Not to mention, breakfast in bed for Mother's Day or Father's day should always include waffles!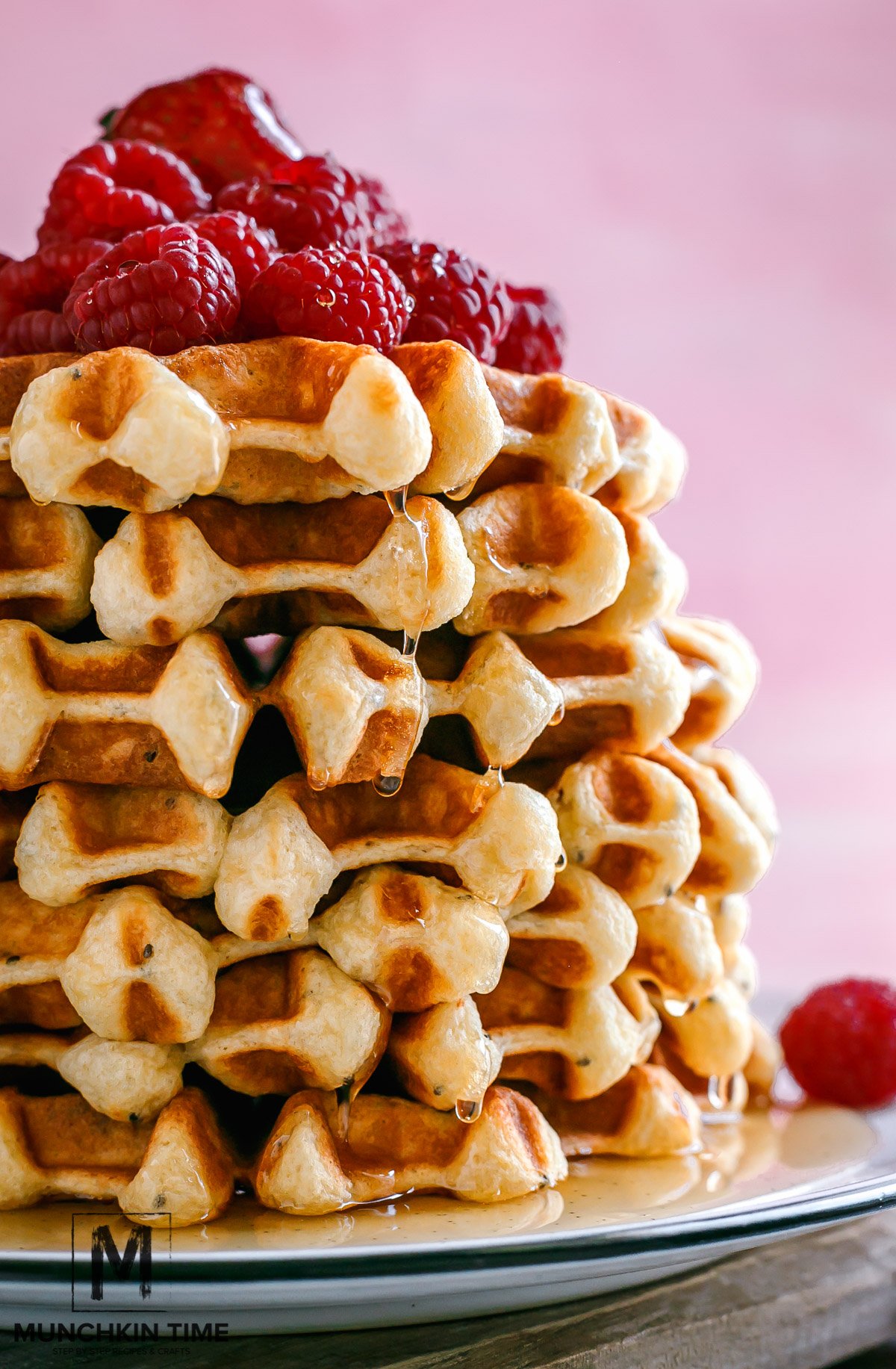 Ingredients

Needed to Make

Waffles
Butter: Using unsalted means we can control the amount of salt we add. Melt the butter and allow it to cool so that it doesn't start cooking the eggs!
Large eggs: No need to separate the egg whites for this recipe. It's that easy!
Buttermilk: Love using buttermilk! It adds a nice tangy flavor and the acid reacts well with the leavening agents to make it rise and become soft and fluffy!
Vanilla Extract: A delicious warming flavor that enhances the taste of the waffles.
All-purpose flour: I use all-purpose flour because I usually have it on hand and I know it works! I'm sure whole wheat flour would work, but I'm not quite sure about gluten-free flour. Let me know if you decide to try it that way.
Baking powder & baking soda: We're using both baking soda and baking powder combined to achieve maximum rise!
Sugar: Needed to sweeten the waffles. These are so good you don't need to have a topping to enjoy them!
Chia seeds: I love adding chia seeds to recipes for added fiber, Omega 3s, and protein. They're hidden and barely noticeable. 100% optional!
Salt: Just a bit to bring out the flavors.
Maple syrup & Condensed milk: You can top your waffles with whatever you like, but the kids and I love pouring maple syrup on top!
Fluffy Waffle Recipe

Tips
Do not overmix. Leave your batter alone once it has been combined. Overmixing will release too much of the trapped air making your waffles less fluffy and denser than we like!
Keep them warm. You can really only make one waffle at a time, usually, so keep the rest warm in the oven at 225 degrees while you make the rest. That way everyone can eat warm waffles at the same time and no one is fighting over who gets the first one!
Add in whatever extras you like. Keep it sweet and add in some chocolate chips, blueberries, or diced strawberries right into the batter. If you're looking for a savory waffle, omit the sugar and use diced ham, cheese, and chives for a change!
Double or triple the batch. These freeze well so you'll be able to enjoy them on a whim!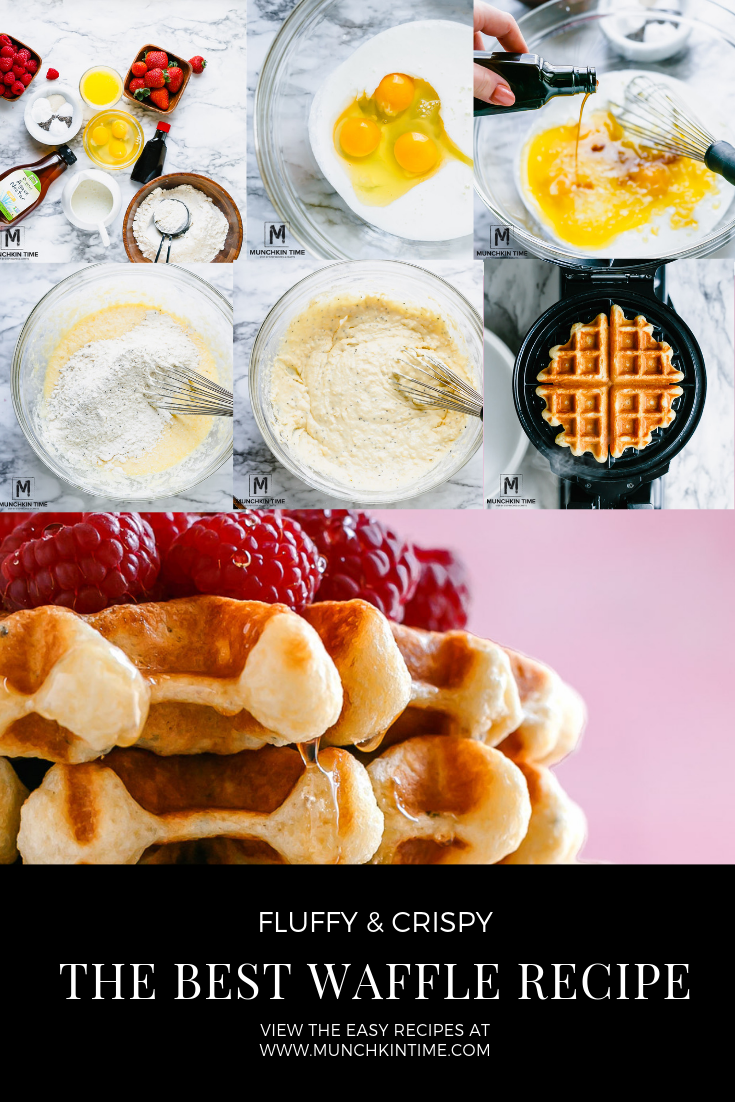 How to Make

Waffles
I love them just the way they are but my kids love adding chocolate chips to theirs. The great thing about this recipe is it's totally flexible to make it how you like!
Step 1: Turn on your waffle maker. Not all models are the same, so be sure to follow the directions included with yours. Typically the temperature is around medium to medium-high or 400 degrees.
Step 2: In a large mixing bowl, whisk together the wet ingredients. This includes melted butter, eggs, buttermilk, and vanilla extract. Whisk to combine.
Step 3: Using a separate bowl, combine the flour, baking powder, baking soda, sugar, salt, and chia seeds. No need to sift!
Step 4: Add wet ingredients to the dry mix and stir until everything is combined. Allow it to sit for a few minutes to allow it to foam up a bit and activate. The air bubbles are what help it to turn out amazing!
Step 5: Spray your waffle iron with cooking spray or brush with a little melted butter. Scoop out about ⅓ cup of the waffle batter and place it in the center of the plate. Use as directed according to waffle maker instructions.
Step 6: Once the first one is done you can adjust the heat if needed. Repeat with the remaining batter and enjoy!
When YOU make this Fluffy Waffle Recipe, could YOU take a picture and share it on Instagram by tagging @MunchkinTimeBlog. We would LOVE to see your creation! Thank you!
What If I

Don't

Have

Buttermilk

?
That's ok! You can definitely use whatever milk you like. Even dairy-free milk will work. You can also make a buttermilk substitute using any milk and vinegar or (not and) lemon juice.
Place 1 Tablespoon of white vinegar OR lemon juice into a 1 cup measuring cup. Fill the remaining cup with milk. Stir and let it sit for about 5 minutes. It should start to curdle a bit at which point it's ready!
Ok, it's not exactly the same, but it's a close homemade substitute for sure!
Best Waffle Recipe

Toppings
I'm old-fashioned when it comes to my waffles. Just give me a drizzle of warm maple syrup and I'm happy!
However, I know some people love to load theirs up! Here are some ideas:
Almond butter

Peanut butter

Chocolate syrup

Sliced fruit

Yogurt

Whipped cream

Fresh berries

Jam
The options are endless!
I mean, serve it with a scoop of ice cream and you've got a dessert that everyone will love!
On the opposite end of the spectrum, serve it with a fried egg on top and you've got a savory breakfast!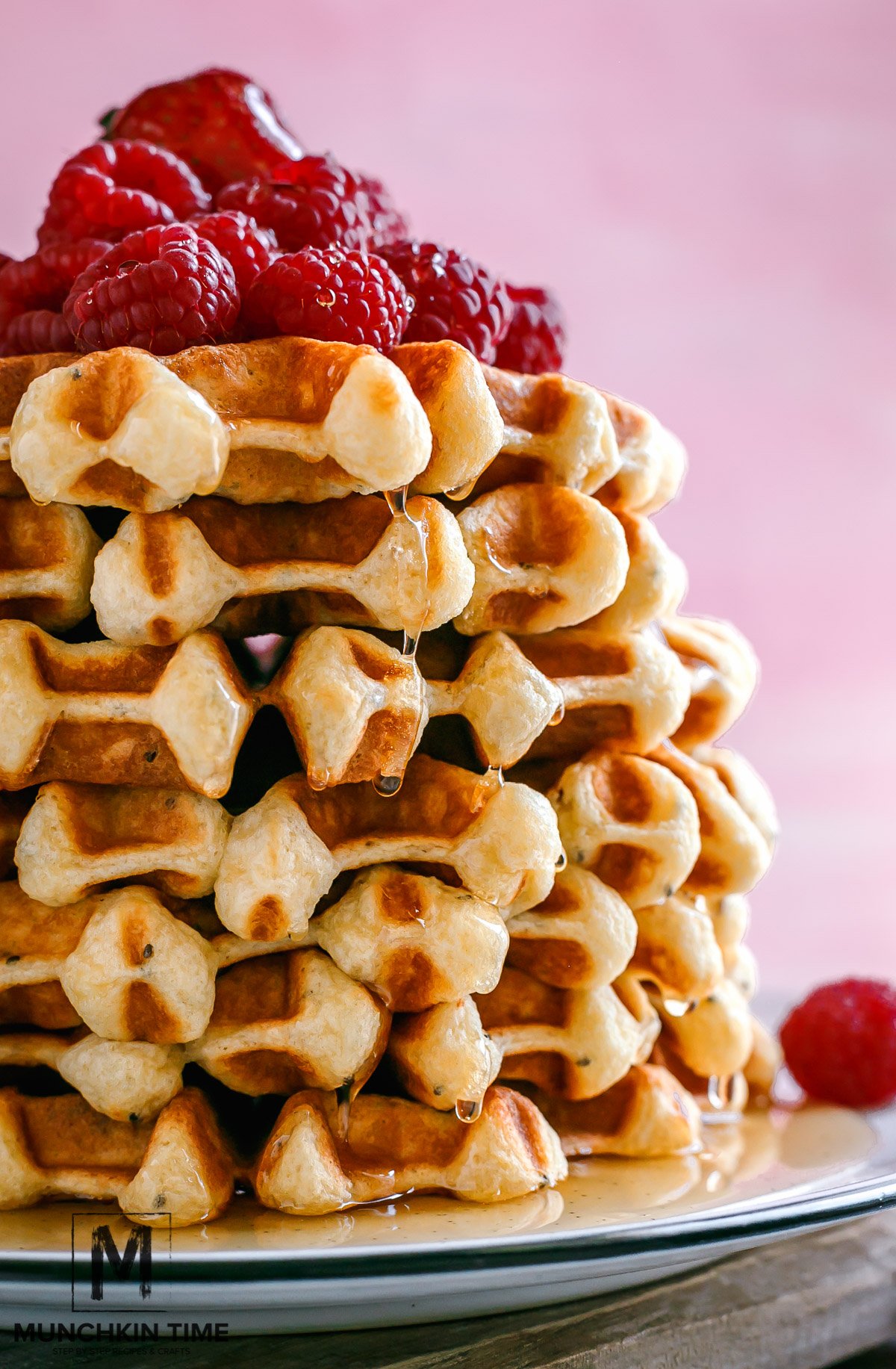 The Best Waffle Recipe Inside Waffle Maker
The Best Waffle Recipe using waffle maker. Fluffy Waffles on the inside & crispy on the outside. Perfect for Saturday brunch ideas.
Instructions
Using two mixing bowls, in first one - Whisk 1/2 cup melted butter, 3 eggs, 1 1/2 cup buttermilk, 1 teaspoon of vanilla extract. Whisk until everything is combined.

In the second bowl combine 1 3/4 cup of flour, 2 teaspoon of baking powder, 1 teaspoon of baking soda, 3 teaspoon sugar, 2 teaspoons of chia seeds and 1/2 teaspoon Kosher salt.

Combine wet mixture with dry one, mix until everything is combine! Cook batter in your waffle maker. Serve with maple syrup or condensed milk, my favorite! Enjoy with the people you love! Happy cooking!
Notes
Hi! All content & images are copyright protected. Please do not use my images without prior permission. If you want to republish this recipe, please re-write the recipe in your own words, or simply link back to this post for the recipe. Thank you.
Nutrition
Calories:
522
kcal
Carbohydrates:
50
g
Protein:
13
g
Fat:
30
g
Saturated Fat:
17
g
Polyunsaturated Fat:
2
g
Monounsaturated Fat:
8
g
Trans Fat:
1
g
Cholesterol:
194
mg
Sodium:
891
mg
Potassium:
436
mg
Fiber:
2
g
Sugar:
8
g
Vitamin A:
1036
IU
Calcium:
224
mg
Iron:
3
mg
Q. – Do YOU like this Fluffy Waffle Recipe?
Let me know in the comments below, I would love to hear from you!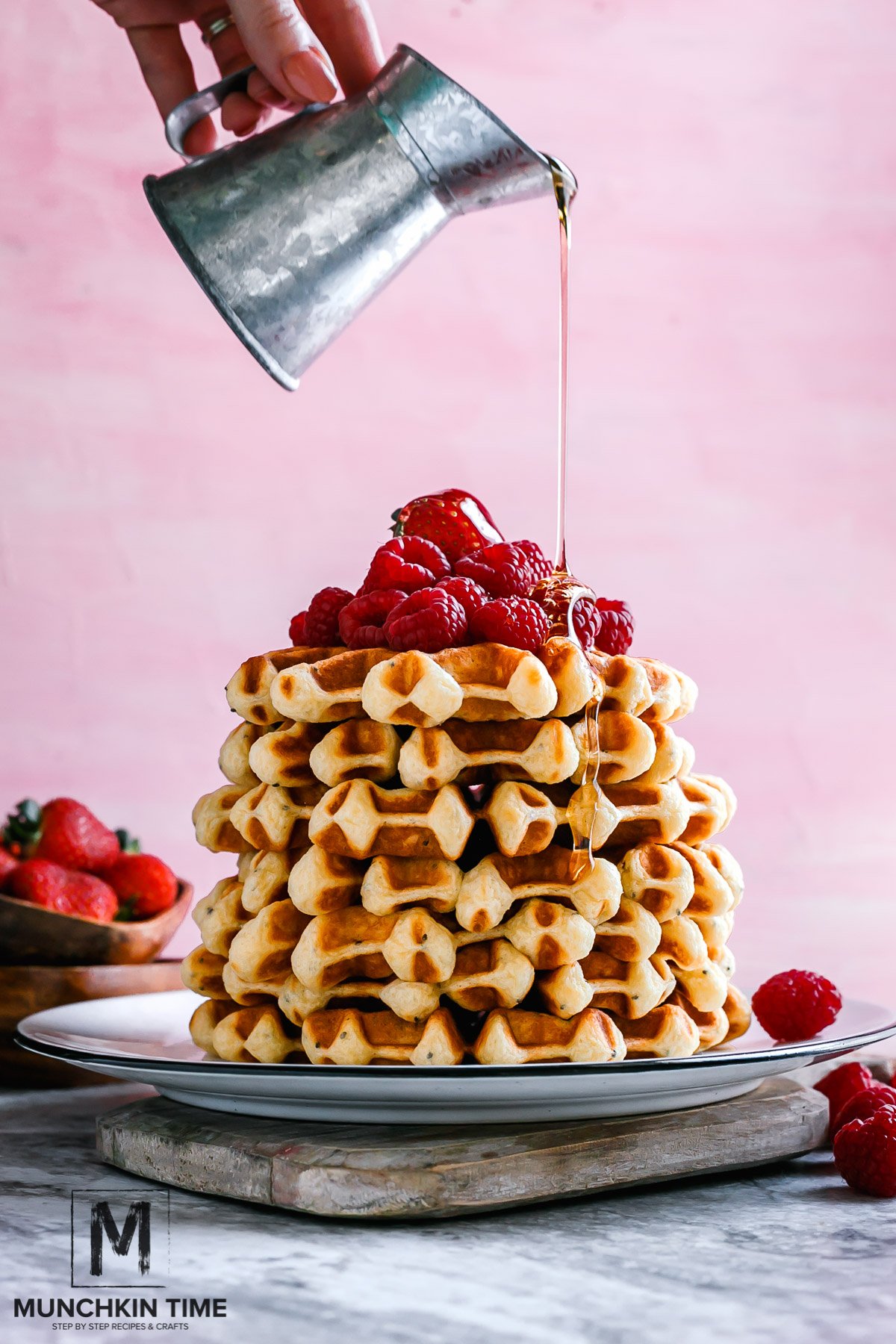 Thank YOU for YOUR Comment, Share & Recipe Review!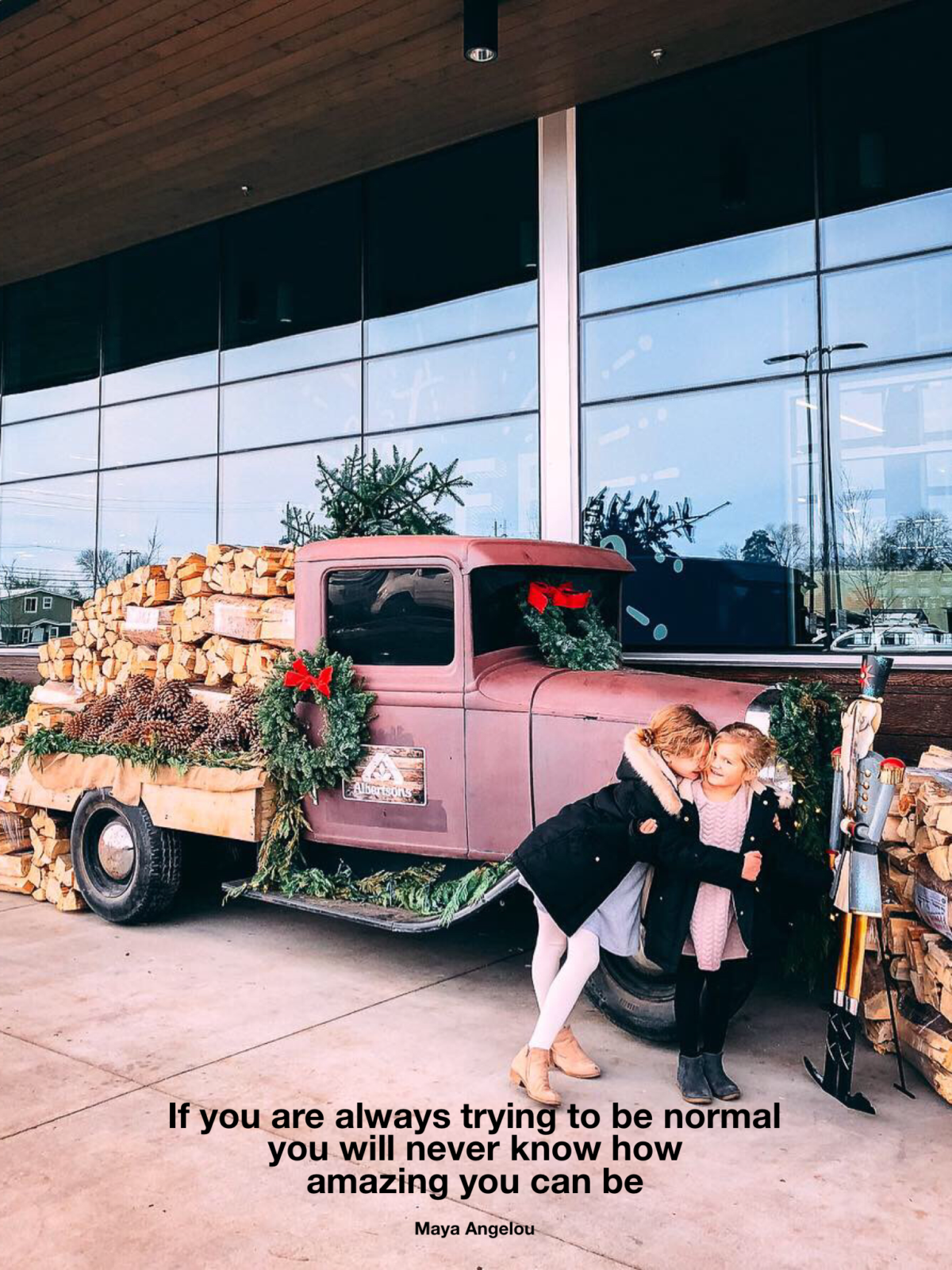 Have an AMAZING day!
This recipe was updated on May 25, 2022. The recipe didn't change, it is still the same fluffy and delicious!