Breakfast Egg Sandwich – So much better than fast food! Everyone's quick and easy breakfast sandwich is made even easier with fluffy eggs, cooked breakfast sausage, and melty cheese sandwiched between toasted English muffins with spicy sriracha mayo!
When YOU make Egg Breakfast Sandwich Recipe please tag us on @munchkintimeblog on Instagram, we would LOVE to see your creation!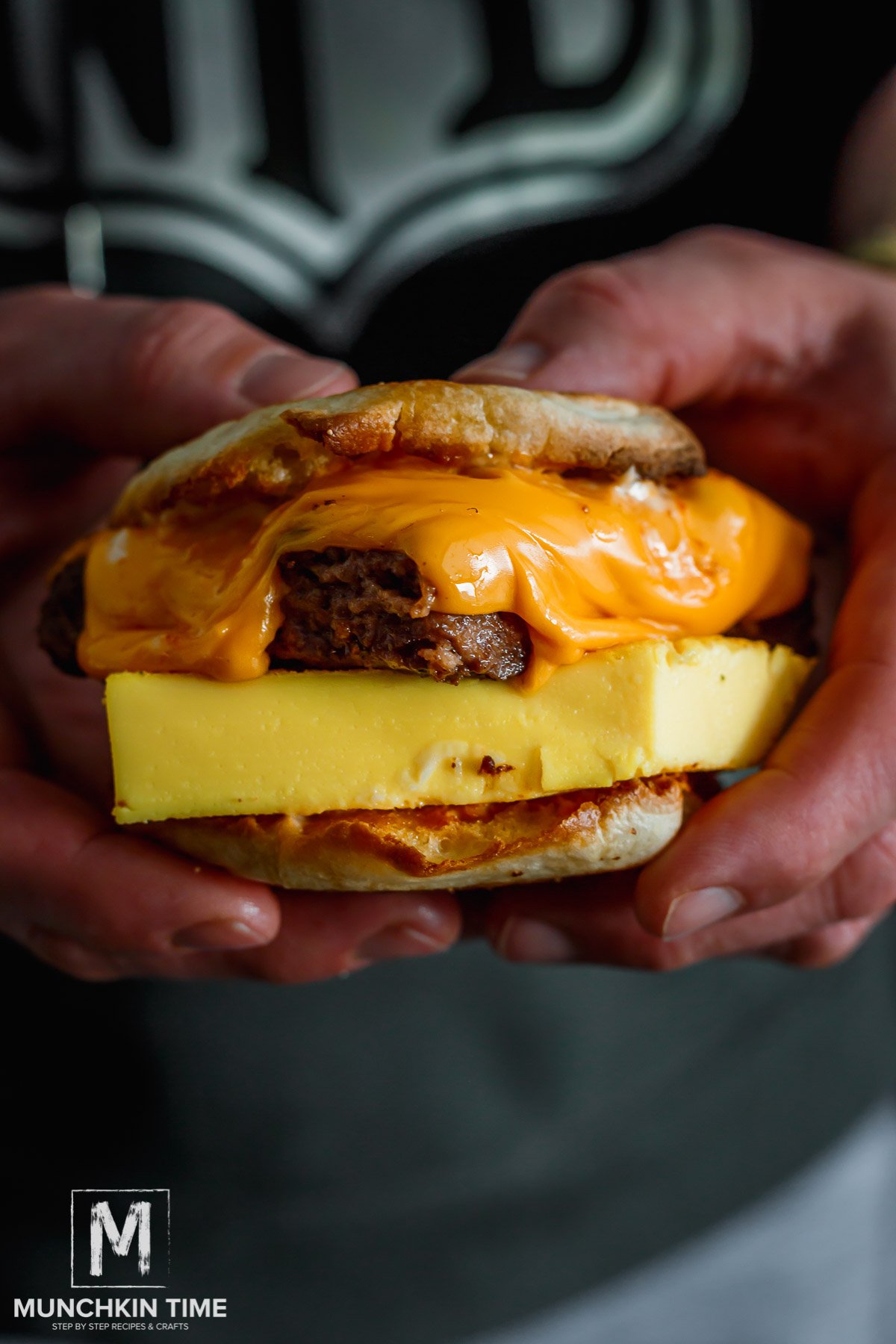 Breakfast egg sandwiches are so popular these days and for a good reason! They're an all-in-one breakfast that you can take on the go. They're portable, they're convenient, and they're loaded with protein.
However, people tend to grab-n-go from the drive-through or the freezer section, and as convenient as they might be, they're not nearly as healthy or as delicious as making them at home.
My husband and I made these sandwiches recently and they were an instant hit. We definitely took a few shortcuts like using pre-sliced cheese, and we even baked our eggs so we didn't have to stand at the stove, scrambling or flipping any eggs!
You'll want to hang on to this easy egg breakfast sandwich recipe because it's so good, so easy, and great to have on hand for those busy weekday mornings!
What Goes into This Breakfast Egg Sandwich?
Eggs: We're using 8 eggs in this recipe because this recipe makes 4 sandwiches. They get baked in the oven and end up thick and fluffy.
Milk: Adding milk to eggs makes them even more rich and fluffy. Use any kind of milk you have on hand.
Garlic salt, garlic powder, & salt: Just a bit of seasoning for the eggs!
Breakfast patties: These are typically found in the meat section of the grocery store. They are either square patties or round and need to be cooked. Alternatively, you can use breakfast sausage patties from the freezer section.
English muffins: A traditional bun used for breakfast sandwiches! Is there anything better than a toasted English muffin??
Cheese: I use sliced American cheese. It melts easily and the kids love it.
Mayo & sriracha: I am loving this combination these days. I put it on my

smash chicken burgers

and now I find a reason to put it on everything else!
Substitutions & Variations
One of the best things about this egg breakfast sandwich recipe is that there is so much room to make it your own! Here are just a few fun ideas:
Bread: Swap the English muffin for any bread you like. The everything bagel is always a good choice (or any bagel!). Rye or sourdough toast, or even my

homemade hamburger buns

would be awesome!
Cheese: You can use whatever cheese you prefer. I also love slices of sharp cheddar cheese, but you can use Swiss, Gruyere, or omit the cheese entirely.
Meat: Use turkey or breakfast sausage if desired. You can also choose to use bacon instead of sausage, or for a meatless version, skip the meat!
How to Make Eggs for Breakfast Sandwiches
Step 1: In a mixing bowl, add the eggs, milk, garlic salt, and salt.
Step 2: Vigorously whisk until blended. Sometimes I will use an immersion blender to beat my eggs.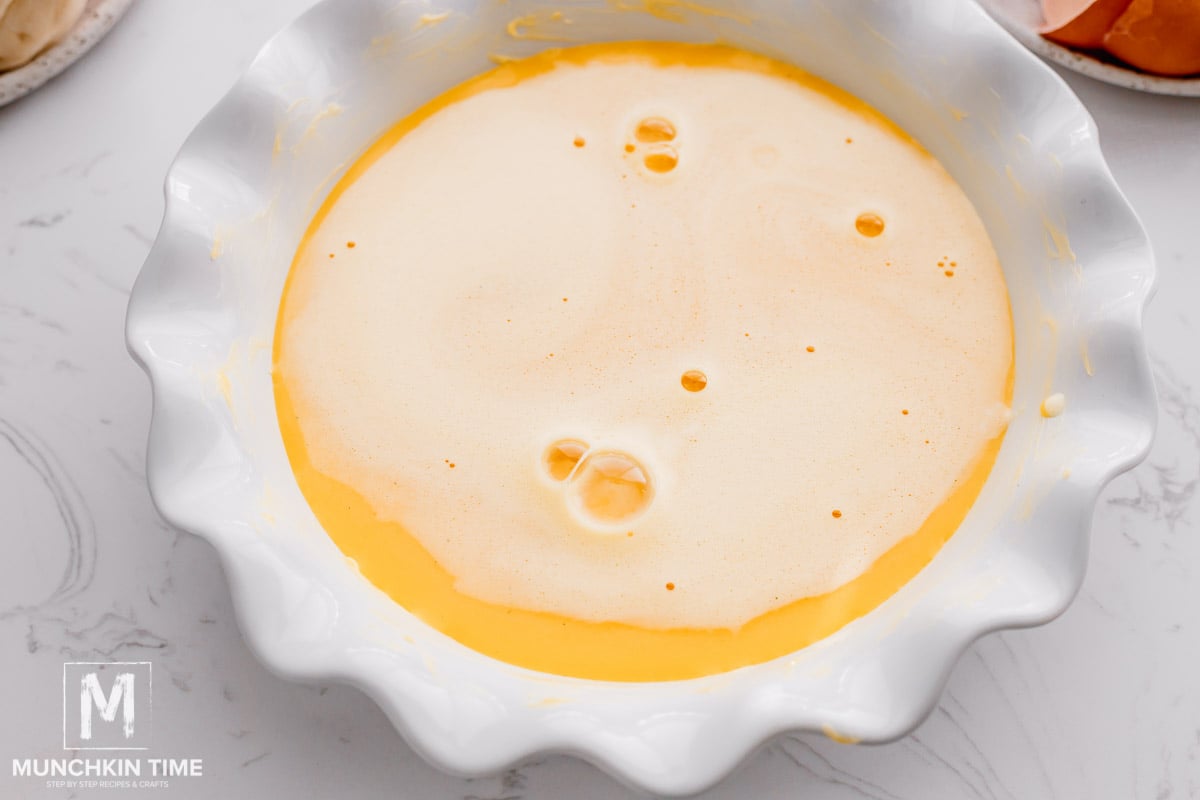 Step 3: Pour the egg mixture into a greased baking dish and cover it with tin foil.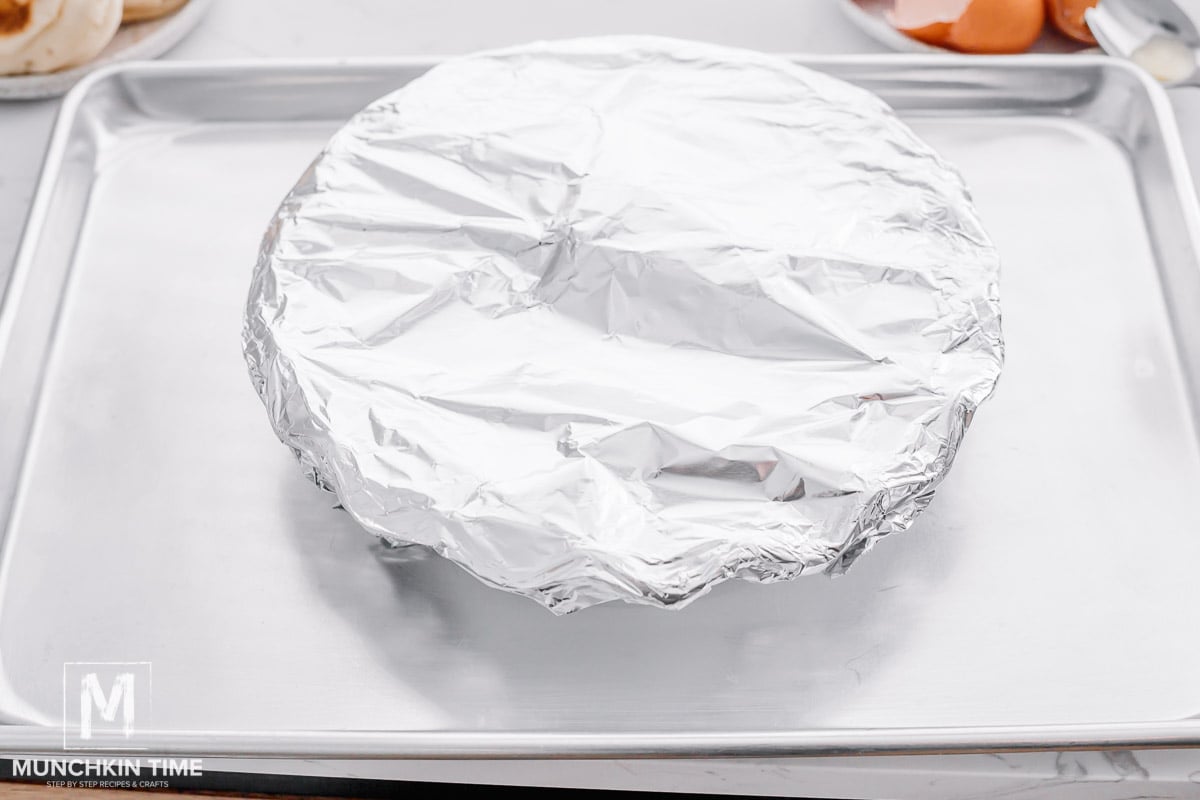 How to Bake Eggs for Breakfast Sandwiches
Step 1: Place the foil-covered dish on a baking sheet.
Step 2: Pour 2 cups of water onto the baking sheet. This will help create steam in the oven which helps keep the eggs nice and moist.
Step 3: Bake in a preheated 300-degree oven for 1 hour. While it bakes, cook up the breakfast sausage and keep warm in the oven.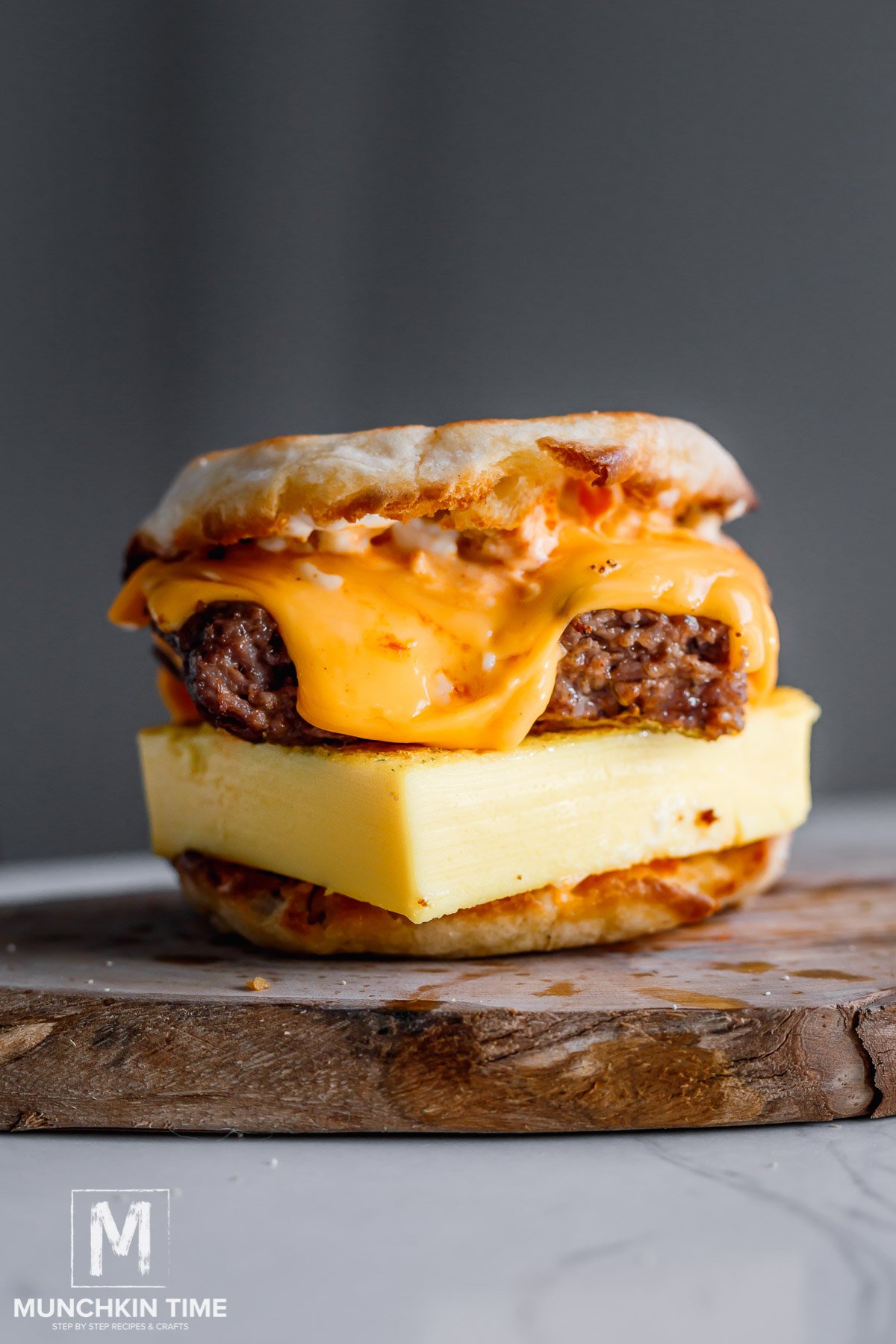 Assemble the Breakfast Egg Sandwich
Step 1: Once the eggs are out of the oven, cut the baked eggs into 4 pieces. If you're using a round pie dish as I did, you can cut them into triangle quarters. Otherwise, cut them however you like.
Step 2: Toast the English muffins and spread both sides with mayo and sriracha. Take one-half of the English muffin and add a slice of the egg cloud.
Step 3: Top that with cooked breakfast sausage, and a slice of cheese. Top with the other half of the English muffin. Repeat with the remaining ingredients and enjoy every bite!
FAQs
Can I make this ahead?
Sure you can! You can bake the eggs and store them in the fridge covered in an airtight container until you're ready to assemble the sandwich.
You can also cook the sausage ahead of time too.
Save yourself loads of time by preparing everything before it comes time to assemble the egg sandwich.
How to store it?
It's best eaten right away, however, if you have leftovers, you can certainly wrap it and save it. Make sure it's completely cooled first, to avoid soggy bread from the excess moisture.
Once it's cooled, wrap it in foil and store it in a zip-top bag for up to 2 days in the fridge.
Can I freeze breakfast egg sandwiches?
Yes! I would recommend not adding the spicy mayo until just before eating, but you can assemble the sandwich, wrap it, and store it for up to 1 month. Thaw in the fridge overnight.
How to reheat it?
You can place the sandwich in the oven or air fryer to ensure crispy toasty bread again. Otherwise, the microwave will do.
Check Out More DELICIOUS Recipes
Cheesy Hot Beef Sandwich Recipe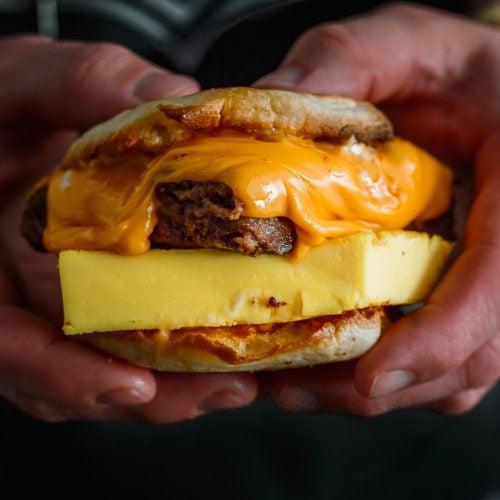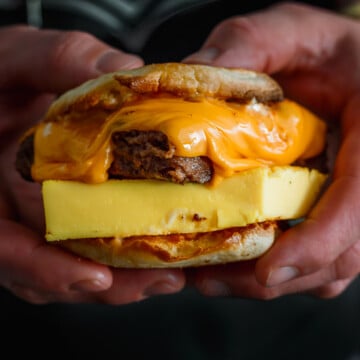 Breakfast Egg Sandwich
Breakfast Egg Sandwich - baked fluffy eggs, cooked breakfast sausage, and melty cheese sandwiched between toasted English muffins with spicy sriracha mayo!
Instructions
Blend eggs with milk, garlic salt, garlic powder and salt. 

Pour it into a greased baking dish, cover with foil. Place the dish on a baking sheet and add about 2 cups water.

Bake at 300F for 1 hour. Cut into 4 pieces. To assemble the breakfast sandwich: spread Mayo with sriracha on toasted English muffins. Add egg cloud, cooked breakfast sausage and cheese. Top it with another muffin and enjoy!
Video
Nutrition
Calories:
398
kcal
Carbohydrates:
4
g
Protein:
26
g
Fat:
31
g
Saturated Fat:
13
g
Polyunsaturated Fat:
4
g
Monounsaturated Fat:
11
g
Trans Fat:
0.1
g
Cholesterol:
391
mg
Sodium:
1468
mg
Potassium:
322
mg
Fiber:
0.04
g
Sugar:
3
g
Vitamin A:
862
IU
Vitamin C:
0.3
mg
Calcium:
308
mg
Iron:
2
mg
Q. – Do YOU like this Easy Breakfast Sandwich Recipe?
Let us know in the comments below, we would love to hear from you!
Thank YOU for YOUR Comment, Share & Recipe Review!