Tik Tok Salmon Bites – crispy nori cups filled with rice and juicy salmon cubes are baked then topped with a drizzle of spicy mayo, avocado, sesame seeds, and crispy salmon skin. Make these flavorful bite-sized sushi muffins the next time you're hosting a crowd!
When YOU make Salmon Bites Recipe please tag us on @munchkintimeblog on Instagram, we would LOVE to see your creation!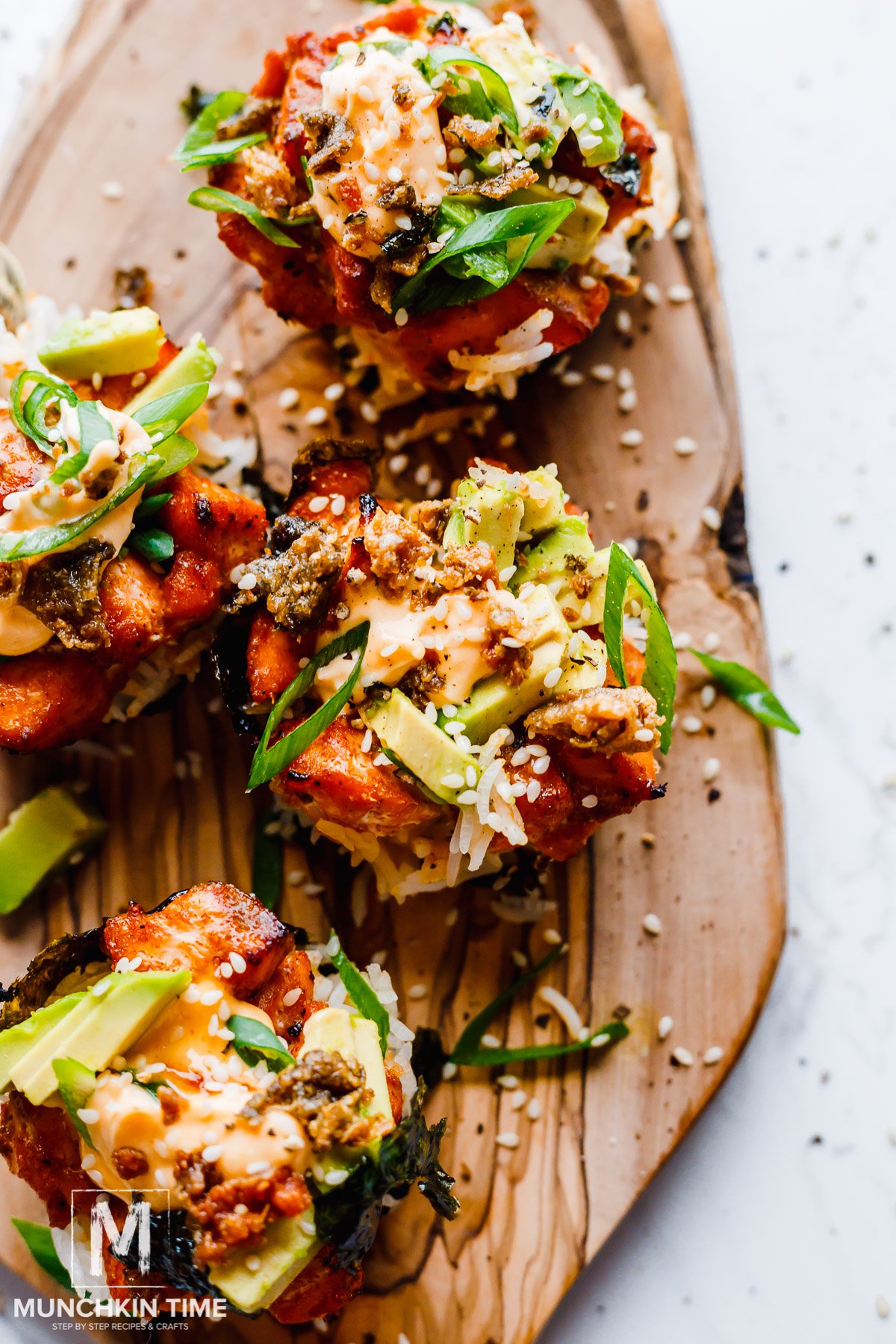 These oven baked salmon bites are a fun and special twist on sushi rolls! If you've come across the viral Tik Tok salmon bites video about salmon sushi cups or salmon muffins, I've got a delicious copycat recipe that's even better!
We're taking nori sheets, filling them with rice and marinated salmon then baking them in the oven! Once ready, they're served with crispy salmon skin, sesame seeds, avocado, and green onion then drizzled with spicy mayo.
They're so simple to make yet this salmon bites recipe is so impressive! For those who love sushi and for those that don't! The fish isn't raw and the nori sheets are baked until even crispier so they hold all the filling!
The little salmon bites are so full of flavor and they're such a cute appetizer idea for all your dinner parties and gatherings, and it makes a great starter for all your Asian-inspired meals. Eat them with your hands or with chopsticks!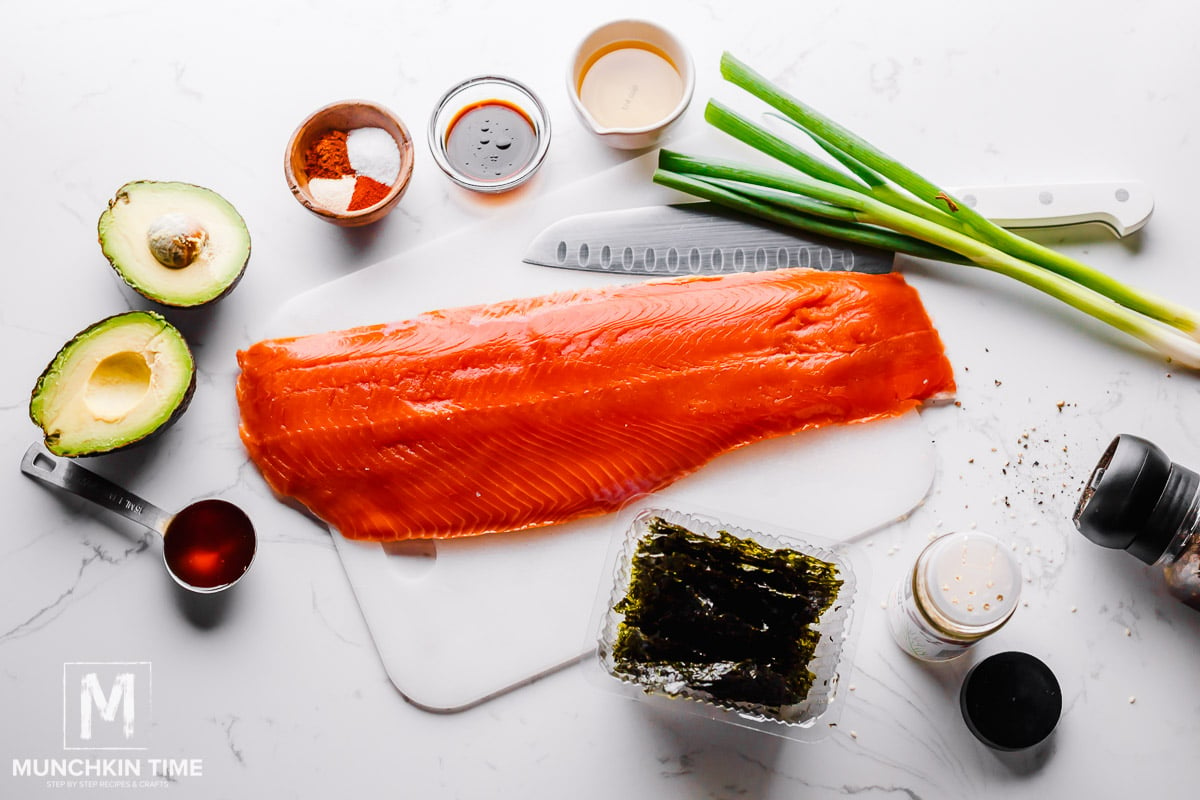 Ingredients Needed
Nori sheets: These are sheets of edible dried algae. They are very thin, crispy, and used widely in Japanese cooking. You may recognize them from sushi rolls. They come plain or seasoned and make a tasty snack all on their own!
Cooked rice: You can use whatever kind of rice you like, however, I do like the idea of using Japanese sticky rice to emulate sushi. Again, it's up to you. As long as you make sure it's cooked and cooled ahead of time.
Salmon: Remove the salmon skin but DO NOT DISCARD IT. Cut the salmon into cubes.
In the marinade: Avocado oil, soy sauce or coconut aminos, honey, and seasoning consisting of garlic powder, onion powder, chili powder, paprika, salt, and pepper.
For garnish: Diced avocado, crispy salmon skins, green onion, and sesame seeds.
Spicy Mayo: Mayonnaise and sriracha sauce for a creamy heat!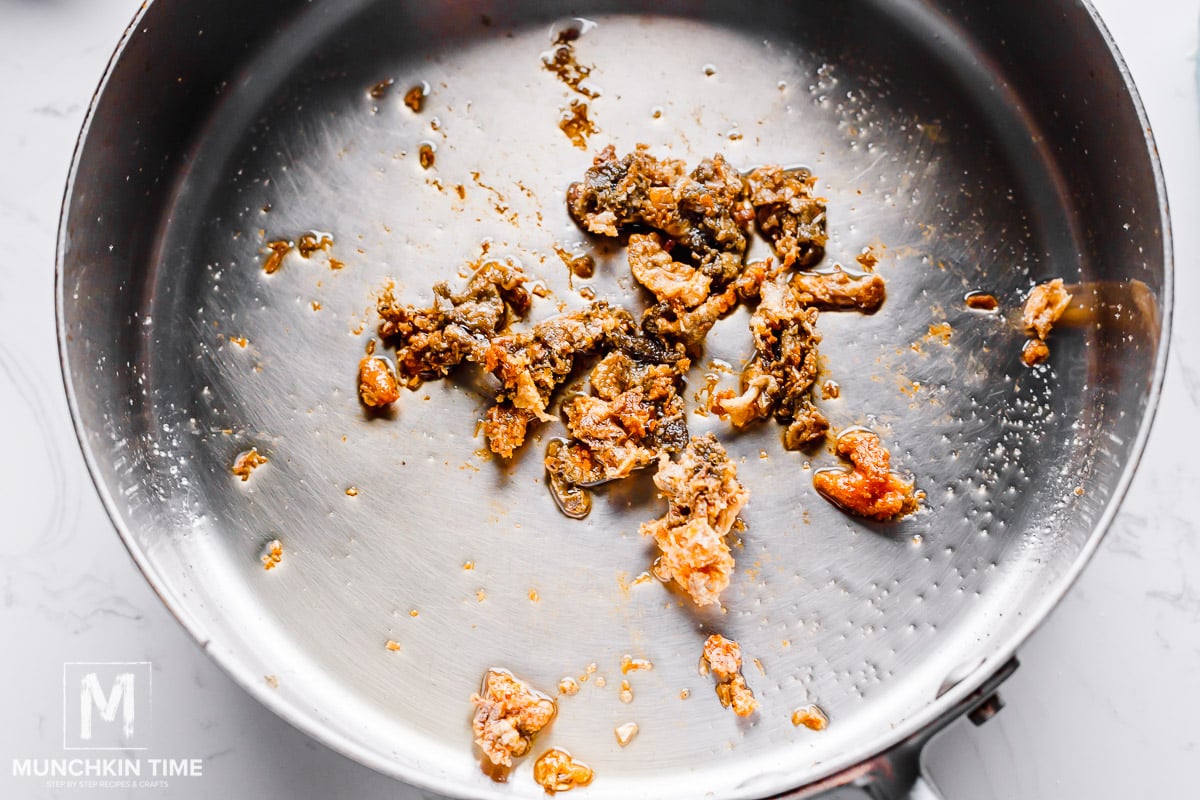 How to Make Salmon Bites
Step 1: Place a skillet over medium-high heat and drizzle with avocado oil. When the oil is hot, fry the salmon skin seasoned with a bit of salt on both sides until it is nice and crispy. Set it aside to cool then crush it up.
Step 2: Combine the marinade ingredients and add the salmon cubes to coat. If you have the time I recommend allowing the salmon to marinate for 1 hour. If not, that's totally fine. It's just a bonus.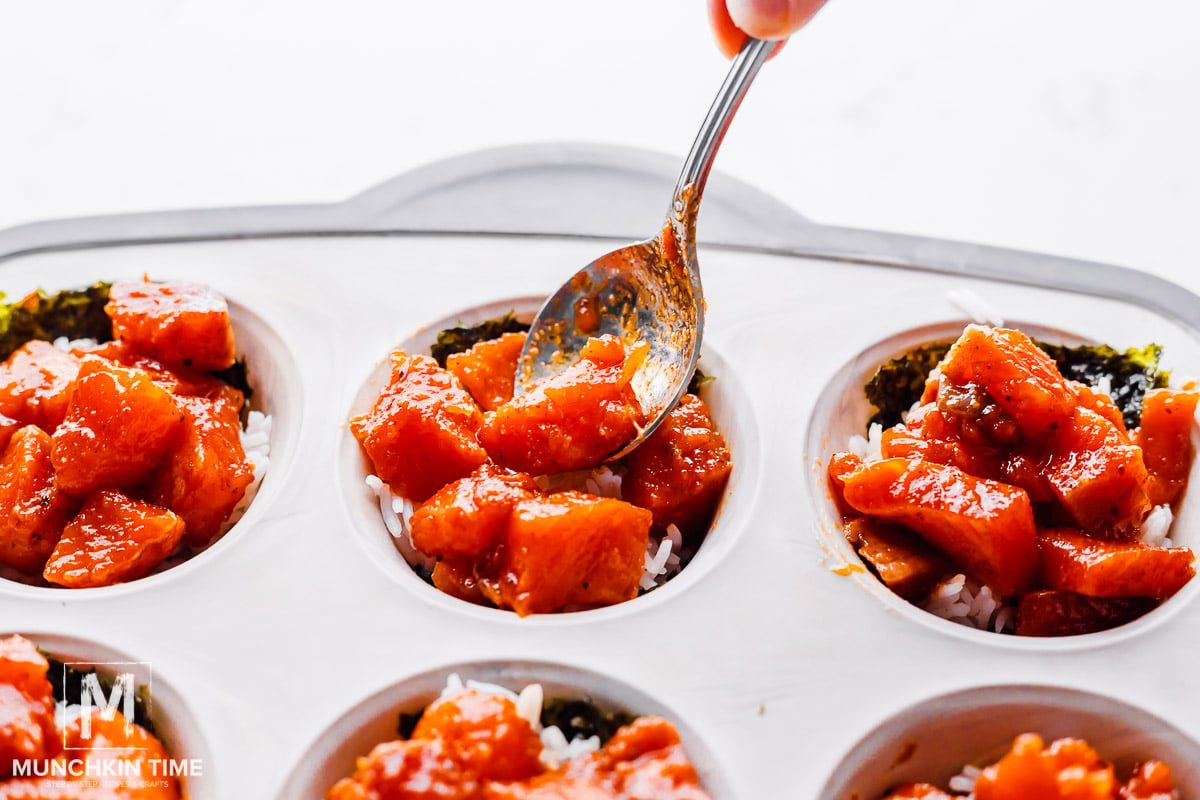 Step 3: Grab your muffin tin and place 1 nori sheet into each of the cups. Then, add 2 small spoonfuls of cooked rice and 2 spoons of marinated salmon.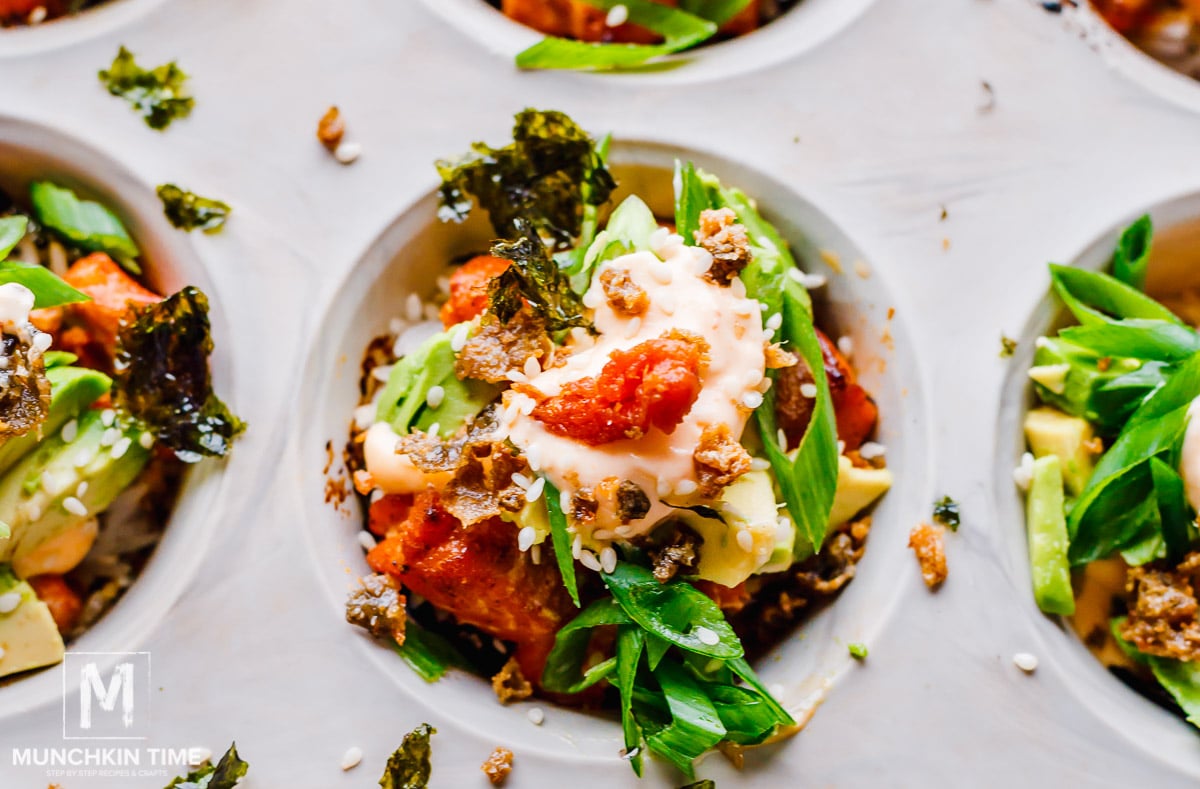 Step 4: Bake in a preheated 375-degree oven for 12-15 minutes. Then, turn the oven to broil for 2 minutes.
Step 5: Remove the muffin tin from the oven and let the salmon bites cool. Garnish with spicy mayo and any or all of the toppings. It's up to you!
Enjoy!
How to Remove Salmon Skin
First, pat the salmon dry. If it's too slippery, it will be hard to get a good grip on it.
Lay the salmon fillet on a cutting board skin side down.
On one end of the fillet, it's easiest to start with the wider end, lift up a piece of the skin, and make a small slice between the flesh and the skin. Use a sharp knife to make this easier. If you find it's too slippery with your hands, use a dish towel or paper towel.
As you gently pull the skin away, continue making small even cuts along with it until you've reached the other end and all the skin is off.
Recipe Tips
Cook salmon to your liking. Keep an eye on the salmon cups as they bake. Depending on how you like your salmon cooked, you may want to take them out a little earlier or keep them in a bit longer.
To make a vegetarian version, you can swap salmon cubes for cubes of tofu.
Best eaten the day of. If you can, eat these delicious salmon bites the same day you make them.
If you happen to have leftovers you can keep them in the fridge, covered, for a couple of days then reheat them in the oven. They won't be quite the same texture, but the flavor will be there!
Make mini bites. If you want to make them smaller, use a mini muffin tin, cut the nori sheets into smaller squares and fill them with less rice and salmon according to their size.
FAQs
How long to bake salmon in the oven?
Normally, you'd want to bake salmon at 400 degrees, but because we're using cubed salmon, they will cook faster, so 475 is perfect.
Overcooked salmon is dry and we don't want that, so check them at the 12-minute mark. If the cubes are juicy, cooked through, and flake easily, then they're done. If you want a few extra minutes (because all ovens are different) then that's ok.
Are salmon bites healthy?
Definitely! The nori sheets alone have an essential nutrient called iodine, as well as DHA and Vitamin K.
The avocado is a healthy fat, and the salmon bites are baked, not fried, and of course, the salmon is a great source of protein and Omega 3s which is great for brain health.
It is also dairy-free and gluten-free if you use coconut aminos or tamari instead of soy sauce.
Check Out More DELICIOUS Dinner Recipes
New York Strip Steak Grill Recipe
Cheesy Hot Beef Sandwich Recipe
Salmon Bites Recipe
Tik Tok Salmon Bites Recipe - nori with rice, juicy salmon and drizzle of spicy mayo, avocado, sesame seeds, and crispy salmon skin.
Ingredients
Instructions
In a mixing bowl combine the marinade ingredients, mix then add salmon cubes. Marinate for 1 hour or don't. 

Preheat the oven to 375. Into a muffin pan add 1 sheet of nori, 2 small spoonfuls of cooked rice, 2 spoons of salmon and bake for 12-15 minutes, broil on high for 2 minutes. 

Let cool. Garnish with spicy Mayo, avocado, green onion, crispy salmon skins and sesame seeds. Enjoy!
Video
Notes
Hi! All content & images are copyright protected. Please do not use my images without prior permission. If you want to republish this recipe, please re-write the recipe in your own words, or simply link back to this post for the recipe. Thank you.
Nutrition
Calories:
226
kcal
Carbohydrates:
22
g
Protein:
10
g
Fat:
11
g
Saturated Fat:
2
g
Polyunsaturated Fat:
4
g
Monounsaturated Fat:
5
g
Trans Fat:
0.01
g
Cholesterol:
23
mg
Sodium:
164
mg
Potassium:
314
mg
Fiber:
2
g
Sugar:
2
g
Vitamin A:
240
IU
Vitamin C:
3
mg
Calcium:
17
mg
Iron:
1
mg
Q. – Do YOU like this Easy Salmon Bites?
Let us know in the comments below, we would love to hear from you!
Thank YOU for YOUR Comment, Share & Recipe Review!