Instant Pot Beef Barley Soup Recipe – perfect barley soup recipe for cold winter or hot summer day! It's made with ingredients you've probably already got!
All you need to make it are seasoned beef cubes, whole-grain barley, veggies, a flavorful tomato broth, and my secret ingredient adding sauerkraut! It is so delicious and highly nutritious and all of it is made in under 1 hour!
Using a pressure cooker takes all of the guesswork out of it because it does most of the work for you! It's quick and easy and so flavorful and it's a complete meal all on its own.
There's nothing better than a hearty and satisfying bowl of Instant Pot Barley Soup any time of the year. In the winter it's cozy and comforting and in the summer, you don't have to heat up your kitchen or turn on your stove.
Make a big batch and freeze some for later. Trust me, you'll be glad you did!
When YOU make this Instant Pot Beef Barley Soup Recipe, take a picture & DM me your Food Creation on Instagram @MunchkinTimeBlog & hashtag #munchkinrecipes . We would love to see YOUR creation!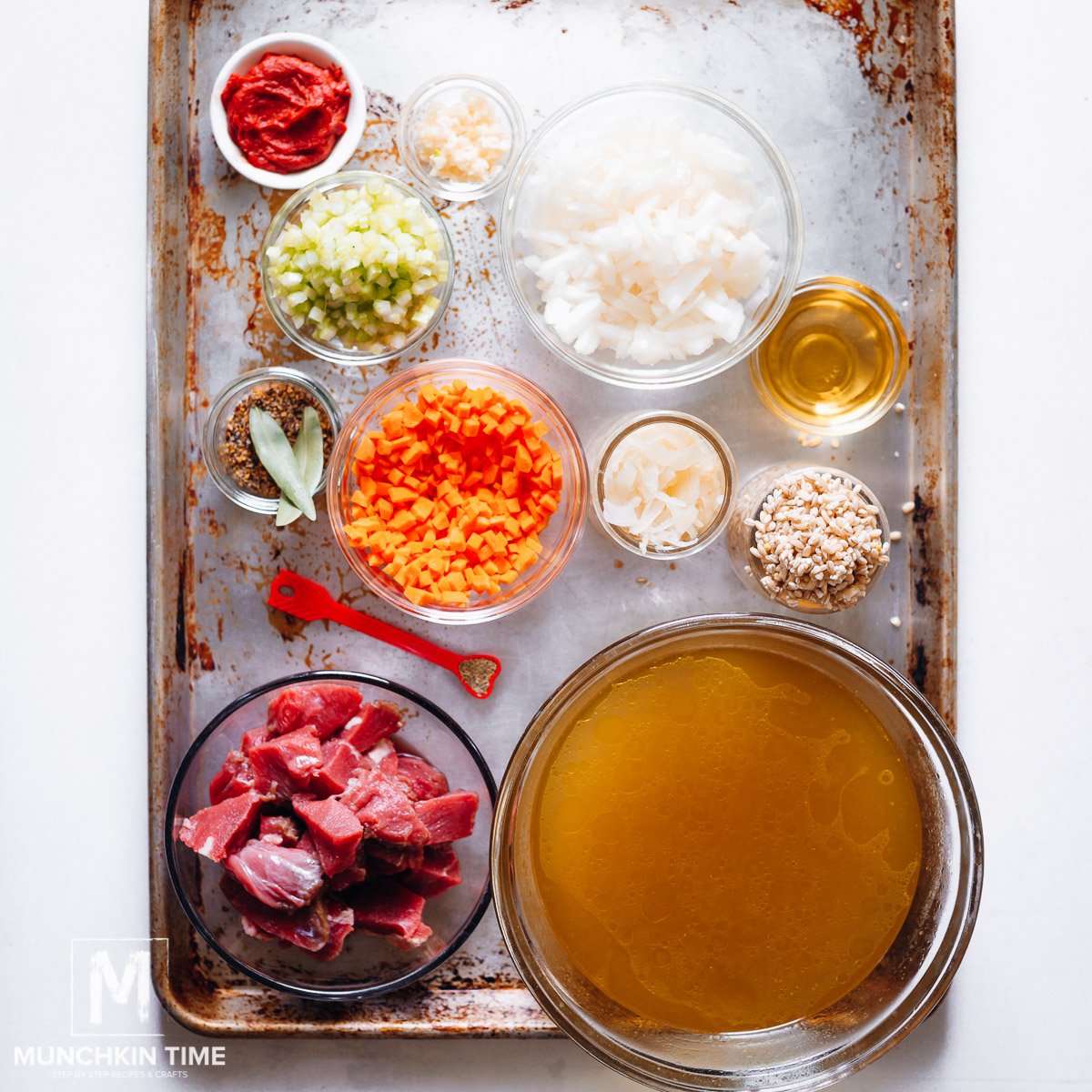 Ingredients

Needed for

Barley Soup
Oil: I use avocado oil because it's usually what I have at home. You can use any neutral oil you like that has a high smoke point. Olive oil is another great choice.
Beef chunks: Stew beef is what I use which is convenient because more often than not it already comes cut into 1-inch cubes. If you choose to use another cut of beef, just be sure to cut off any excess fat and cut it into cubes.
McCormick Montreal steak seasoning: This is one of my favorite seasoning blends that pairs well with all kinds of beef! You can swap it for your favorite soup seasoning.
Onion, celery, and carrots: This trio of ingredients is also known as mirepoix. It's a popular combination that's at the base of so many soups and stews!
Garlic: For a boost of garlicky flavor.
Tomato paste: This helps to add a tomato flavor without using tomatoes or sauce. It will also help to brighten up the color and thicken up the broth a bit.
Barley: Use any kind of barley you like, hulled, pearl, you name it. As long as you rinse your barley first!
Sauerkraut: Or chopped pickles for a briny, saltiness. Some people use Worcestershire for this, but I much prefer fermented veggies!
Chicken broth: I like that the chicken broth isn't as robust as beef broth, so I use my

homemade chicken bone broth recipe

. I find broth made from scratch is much more flavorful than a store-bought version.
Bay leaves: Infuses the broth with an earthy, herbaceous, almost minty flavor that settles into the recipe nicely without overpowering anything.
Rosemary: Always a great pairing with beef.
Salt & pepper: To taste.
How to Make

Barley Soup

in

Instant Pot
Step 1: Press sauté on the Instant Pot. Once it says HOT heat up the avocado oil and add the beef and sprinkle with Montreal Steak spice.
Step 2: Sear the beef cubes on all sides for about 5 minutes, stirring with a wooden spoon.
Step 3: Add the chopped onion and sauté for 5 minutes then followed by the carrots, celery, and chopped garlic. Add the tomato paste after that and give everything a good stir!
Step 4: At this point, you've built the base of your soup and so many of the flavors are coming together. All you need to do is add in the barley, sauerkraut, broth, bay leaves, and rosemary and stir!
Step 5: Close the lid, press the meat/stew button, and pressure cook for 20-25 minutes. Allow it to naturally release for 15 minutes.
Step 6: Once the pin drops, open the lid and stir once more. Garnish beef and Barley soup with some chopped herbs like dill and serve with a loaf of the best homemade no knead bread recipe.
Instant Pot Beef Barley Soup

Recipe

Tips
The pressure cooker does such a good job of tenderizing the meat to melt-in-your-mouth textures that you can really use any cut of beef that you desire.
If you like potatoes in your soup, feel free to add some cubes in there too.
Be sure to rinse the barley pearls before adding them to the soup!
Barley (like pasta or white rice) will absorb the liquid the longer it sits. The pearls will bulk up and thicken the soup.
To make this vegetarian, leave out the beef cubes and load it up with even more veggies. Mushrooms, potatoes, and peas are a great idea. Don't forget to use veggie broth!
For extra greens, throw in a handful of spinach, kale, or Swiss chard at the end and the leaves will wilt in the heat.
What to Serve with

Instant Pot Beef

and

Barley Soup
This wholesome soup is super filling as is, especially when you ask for seconds! Most of the time all I ever need is a basket of bread on the table to sop up the leftover broth!
However, sometimes my kids are extra hungry or I'm serving a crowd, in which case I'll either go with soup and salad or soup and sandwich. Below are a few of my favorites: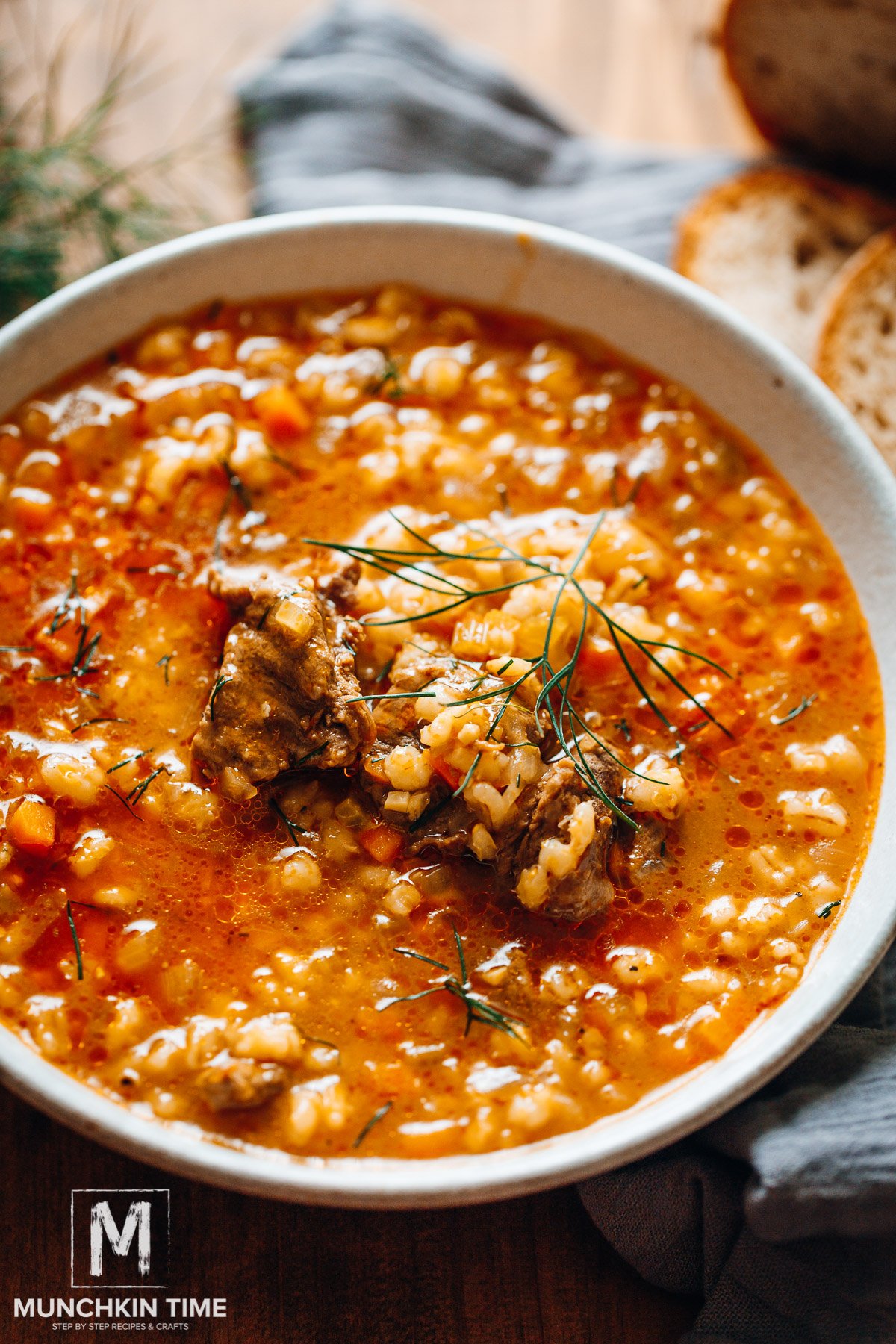 Is

Instant Pot Barley Soup

Healthy?
Yes! It's got a ton of fiber, protein, whole grains, and vitamins and minerals to name a few benefits! Anytime you make homemade soup you're able to control what you put in it and what you leave out.
No added sugars, sodium, heavy oils, and preservatives. Plus you can decide to load it up with even more veggies!
Do I Have to

Brown

the

Beef First

?
No, but I do recommend it. It adds so much more flavor!
How to Store

Leftover Soup

?
Have leftovers for up to 5 days! Keep it stored in the fridge in an airtight container and enjoy it again for lunch or dinner the next day. Take it to work with you, your coworkers will be begging for the recipe!
Can I Freeze

Barley Soup

?
Once it has completely cooled, transfer the soup to a freezer-friendly container and keep frozen for up to 3 months.
More
Easy Dinner Recipes

:
Instant Pot Beef Barley Soup Recipe
Instant Pot Beef Barley Soup Recipe - delicious hearty soup with beef and barley. This instant pot soup recipe is loaded with delicious veggies and flavor.
Instructions
To make beef and barley soup, turn Instant Pot (this is the one I have - https://amzn.to/3io3t98) to Saute mode. Heat 1/4 cup of avocado oil, once heated add 1-2 lb of beef stew meat and sprinkle 1 tablespoon of Mccormick Montreal Spice. Give it a nice stir with a wooden spoon and saute for 5 minutes, stirring few times.

Next, add 1 chopped onion saute for 5 minutes. After add the rest of the ingredients: 3/4 cup cubed carrots, 2/3 cup of chopped celery, 1 teaspoon of finely chopped garlic and 2 tablespoons of tomato paste. Give it a nice stir.

After add 3/4 cup of barley and 1/2 cup of sauerkraut. Pour in 12 cups of chicken broth and add 2 bay leaves and 1/4 teaspoon of rosemary, stir with a spoon.

Cover the lid and cook on Meat/Stew mode for 20-25 minutes. Naturally release the pressure for 15 minutes.

Garnish barley and beef soup with chopped greens of your choice like dill. Serve with Homemade Bread. Enjoy!
Notes
Use stew meat for this recipe or any beef cut of your choice.
Rinse barley pearls before adding it to the soup.
I highly recommend using homemade chicken broth instead of store bough broth for any soup recipe. It is so much more flavorful and tasty, in my opinion. This one is my favorite simple Chicken Broth Recipe!
When

YOU

make this

Instant Pot Barley Soup

, take a picture & DM me your Food Creation on Instagram @MunchkinTimeBlog & hashtag #munchkinrecipes. We would love to see YOUR creation!
Nutrition
Serving:
1
g
Calories:
216
kcal
Carbohydrates:
16
g
Protein:
15
g
Fat:
10
g
Saturated Fat:
2
g
Cholesterol:
35
mg
Sodium:
81
mg
Potassium:
392
mg
Fiber:
4
g
Sugar:
2
g
Vitamin A:
2104
IU
Vitamin C:
3
mg
Calcium:
28
mg
Iron:
2
mg
Q. Do YOU like this Instant Pot Barley Soup Recipe?
Let me know in the comments below, I would love to hear from you!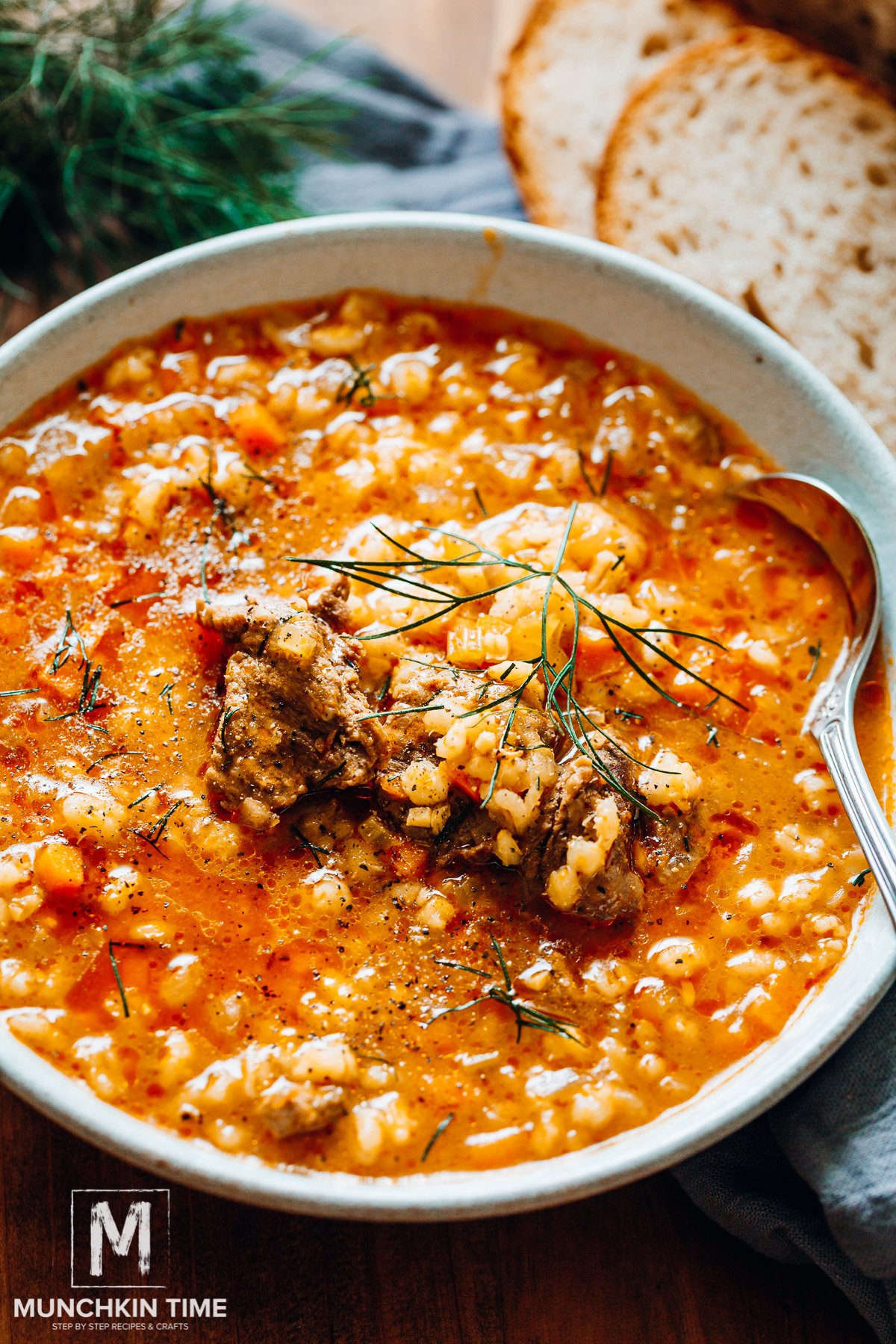 Thank YOU for YOUR Comment, Share & Recipe Review!
Quote of the Day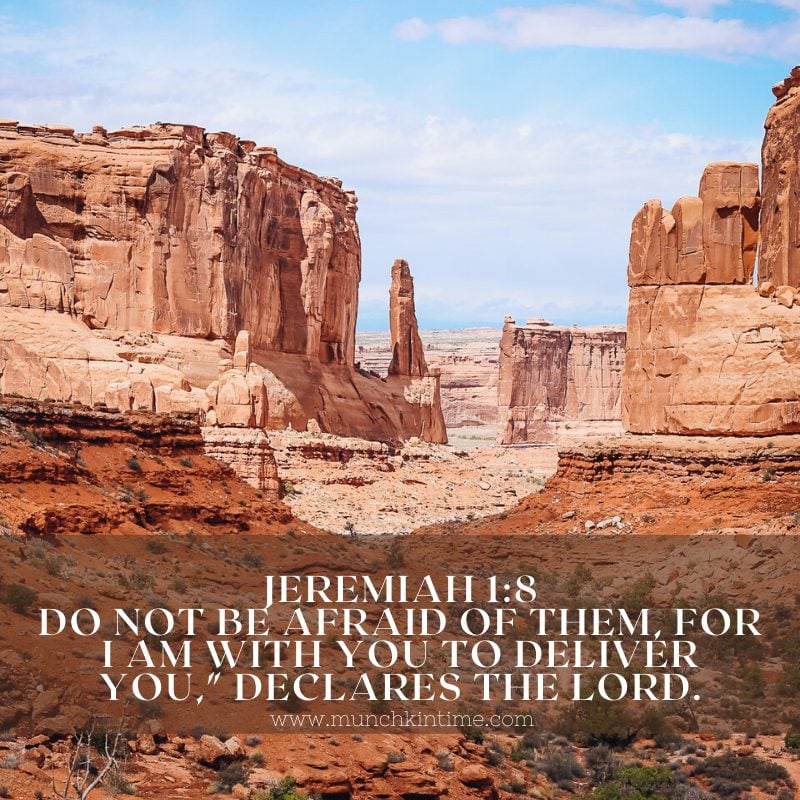 Happy Cooking!
This post was updated on June 16, 2022, the recipe didn't change!