Grilled Chicken Shawarma Recipe – Made with a yogurt based marinade infused with bold Middle Eastern spices. The chicken is then transferred to a sizzling grill to cook until tender juicy perfection. Serve as a platter with rice and salad or in a wrap and enjoy incredible flavors in every bite!
When YOU make Chicken Shawarma Recipe please tag us on @munchkintimeblog on Instagram, we would LOVE to see your creation!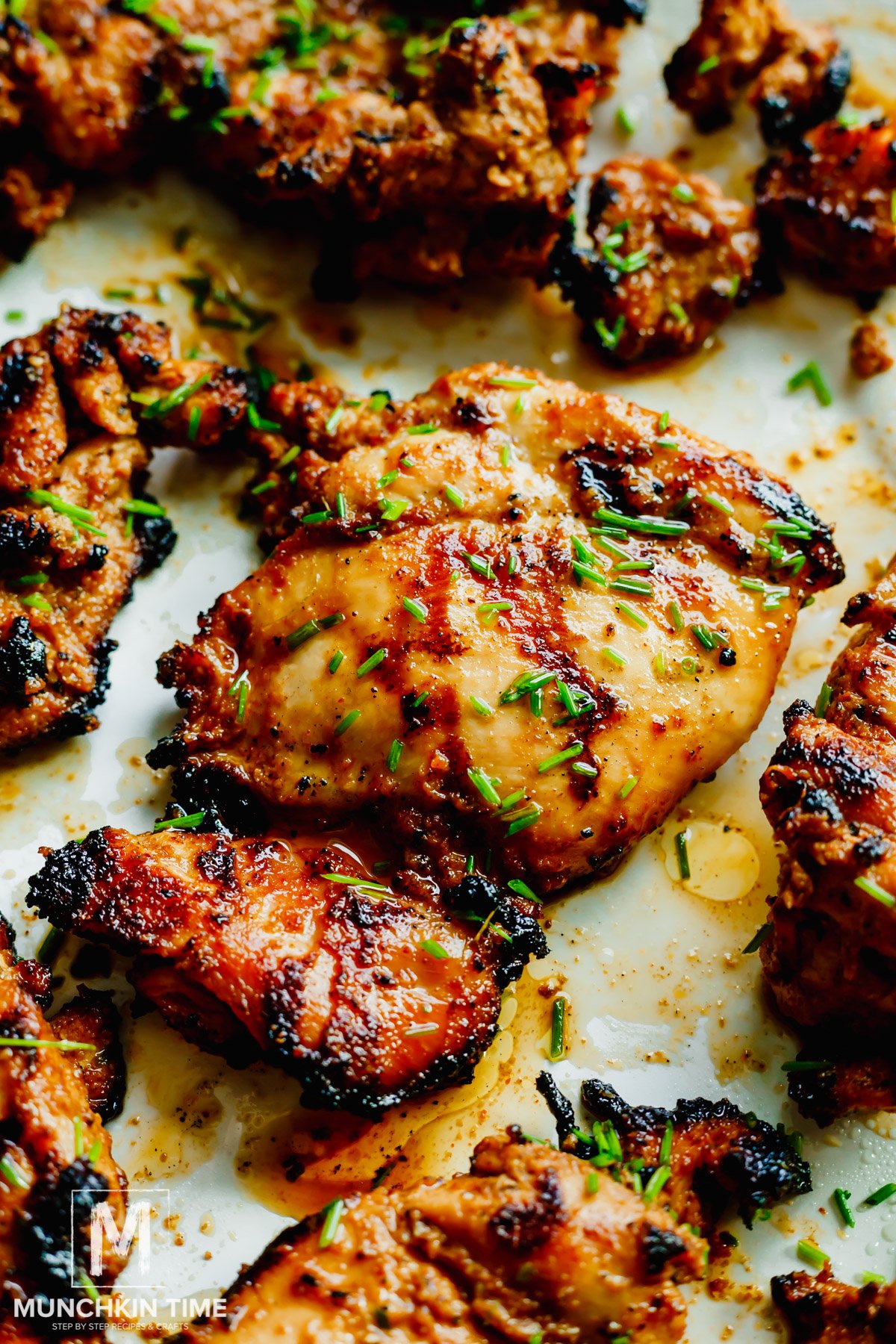 This chicken shawarma recipe is as close to authentic as you're going to get outside of the Middle East! I'm sharing with you my favorite recipe using a homemade chicken shawarma marinade that couldn't be easier to whip up.
We're combining creamy yogurt with a blend of spices that deliver plenty of Middle Eastern smoky, savory, spicy, and earthy flavors. The marinade tenderizes the meat making each piece tender, juicy, and succulent.
Once your marinated chicken hits the grill, the aroma is enough to make you drool.
This effortless meal comes together so easily, it's no wonder shawarma has won the hearts of so many around the world.
You can either serve it wrapped in pita or on its own with a size of rice and a simple salad.
It's also great when you make the salad for your meal and serve it with grilled chicken on top!
What is Chicken Shawarma?
Shawarma originally started off as a lamb dish. Made with thin pieces of meat stacked tightly on a vertical spit that rotates and slowly roasts (sometimes for days) the meat until tender, juicy, and incredibly flavorful.
It was then served by carving the outer edges of the roasted meat, as it continued to rotate, giving thin strips of lamb.
It became a popular street food and since then has adapted to using chicken and beef as well. Since most people don't own a spit at home, the method of making shawarma has also expanded to using the oven and grill as well.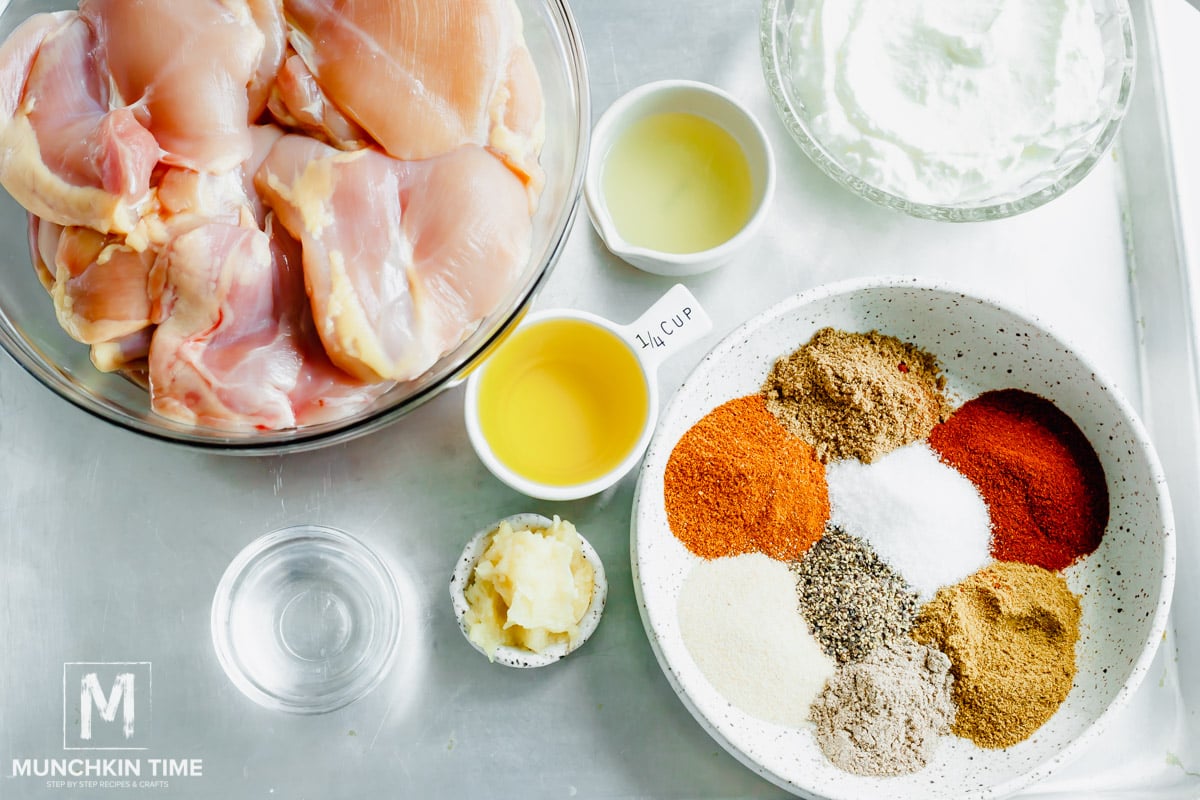 Recipe Ingredients
Chicken thighs: You'll need about 3 pounds of chicken thighs. Use a meat mallet to pound and tenderize each thigh so that it's even in thickness.
Plain yogurt: The acid in the yogurt helps to break down the proteins in the meat making it extra tender and juicy.
Garlic cloves: Minced garlic adds a ton of aromatic flavor and a very popular ingredient in all kinds of meat marinades. You can mince your own cloves or buy it already minced in a jar.
Dried Spices: Coriander, cumin, cardamom, red chili powder, onion powder, smoked paprika, salt, and pepper.
White vinegar & lemon juice: Along with the yogurt, these both provide acid to break down the chicken thighs. The lemon juice also gives it a brightness and citrusy flavor.
Olive oil: Using olive oil helps to bring everything together to evenly coat the chicken. It will also help to keep it moist.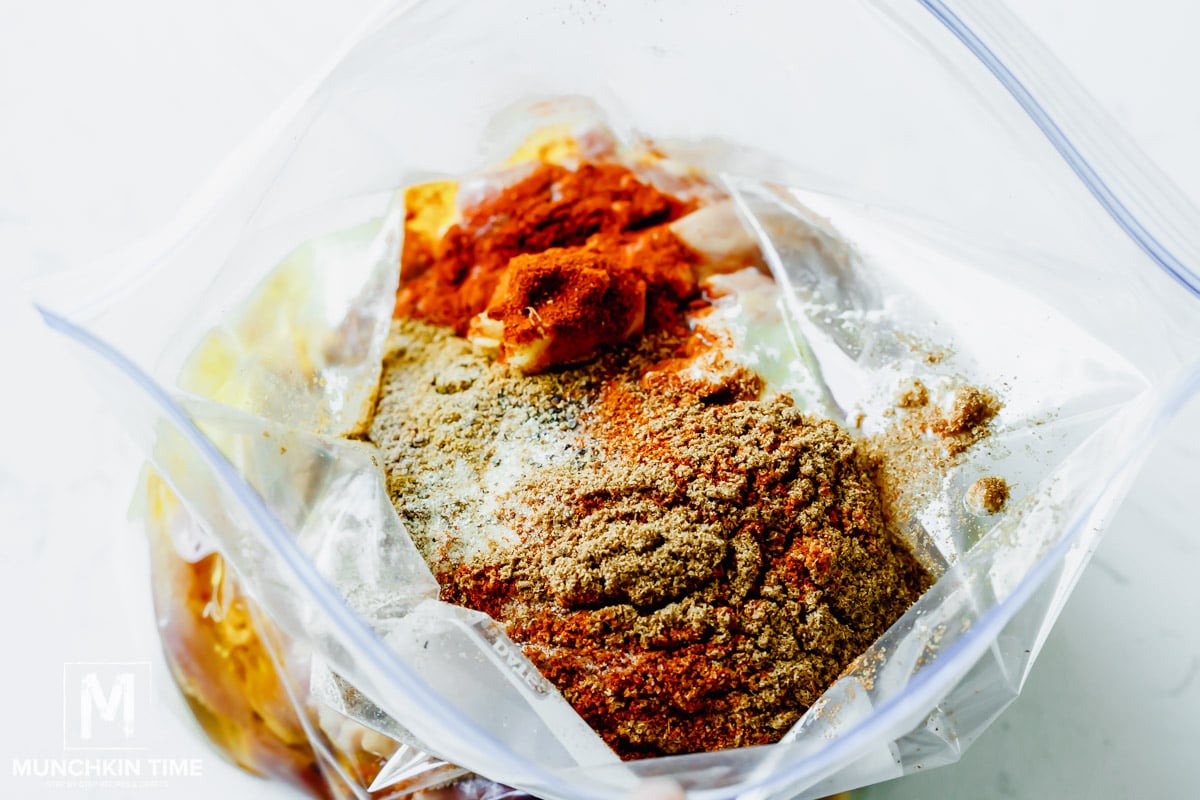 How to Make Chicken Shawarma
Step 1: In a large bowl or zip bag, combine the marinade ingredients. This includes the yogurt, minced garlic, coriander, cumin, cardamom, chili powder, vinegar, onion powder, smoked paprika, lemon juice, olive oil, salt, and pepper. Mix well.
Step 2: Add your chicken thighs to the bowl/zip bag and use your hands to make sure all pieces of chicken are evenly and well coated with the chicken shawarma marinade.
Step 3: Transfer the bowl to the fridge to marinate for at least 3 hours. For best results, leave it marinating overnight, if you can.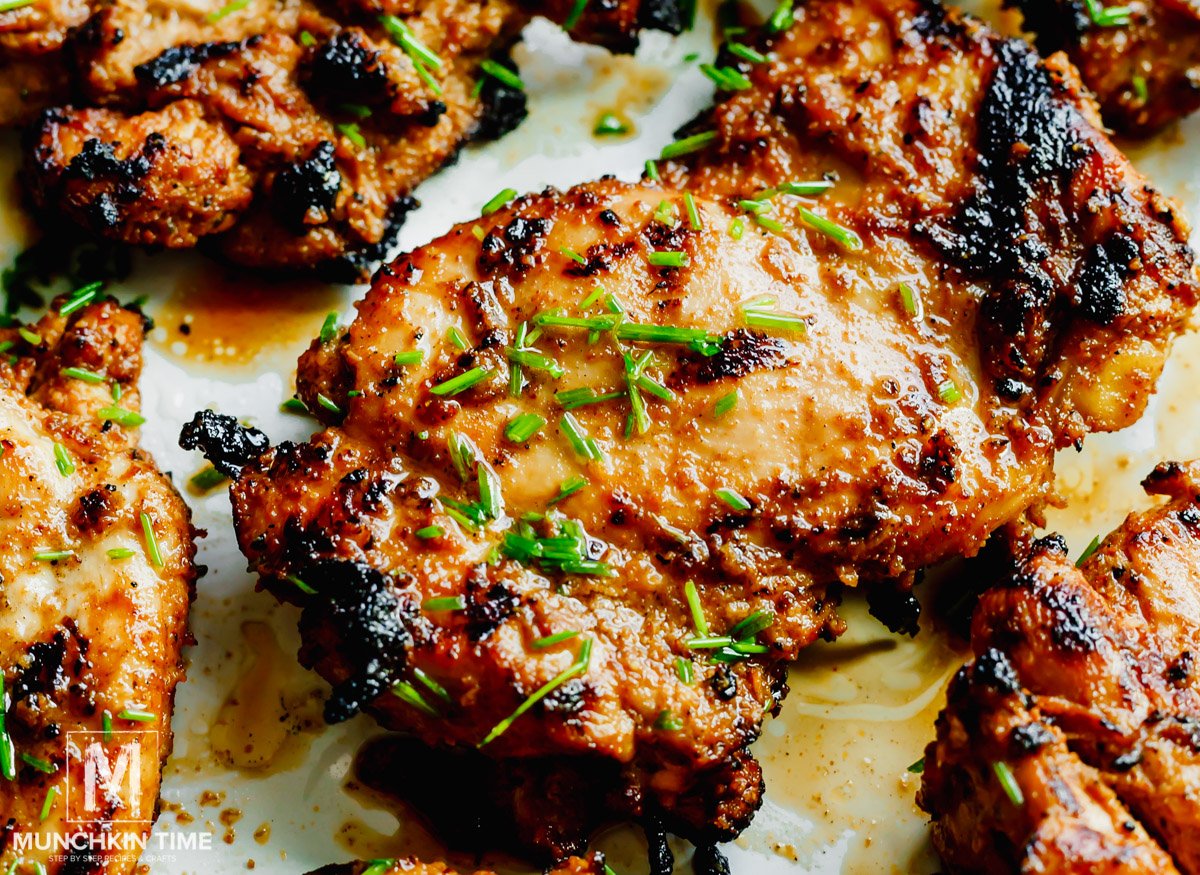 Step 4: Once you're ready to cook them, set your grill to high heat and cook each side for 8-10 minutes.
Step 5: Let the chicken rest on a platter or cutting board for a few minutes to let the juices settle. Then, slice your meat and enjoy it however you like!
Recipe Tips
Do not over marinate. Since there is quite a bit of acidity in this marinade, you don't want to leave it marinating for any longer than 24 hours. Any more than that, and the acid will start to "cook" the chicken, changing the texture and making it weird!
Overnight is the perfect length of time.
Don't skip the cardamom! I realize it's probably not a spice you use too often, but it's definitely worth going to the store to grab. It's what gives this Middle Eastern dish its signature flavor!
Adjust the spice level. If you prefer a milder spice blend, you can use less chili powder. If you want a bit more, you can up the level a bit. Or serve your shawarma with hot sauce!
FAQs
Can I use chicken breasts?
You certainly can. I love the dark meat and juiciness that the thighs provide, but chicken breasts work just as well. Don't forget to pound them into thinner cutlets as well.
How do I know when my chicken is cooked?
Use a meat thermometer to check the internal temperature. It's done when it's at 165 degrees F.
How to serve chicken shawarma?
My family loves to have it street food style! So I fill a pita with chicken, add lettuce, tomatoes, some pickled onions, fresh parsley, tzatziki sauce or tahini sauce, and a squirt of lemon juice.
You can also make a platter with the meat as the main and have a side of rice and salad on the side. If you prefer roasted potatoes to rice you can do that too. We still like to have either pita or naan on the table even if we're not making a wrap.
Is chicken shawarma healthy?
Grilled chicken shawarma is homemade using fresh spices without any additives or preservatives. Chicken is a lean source of protein and all of the spices have antioxidants and anti-inflammatory properties.
When served with veggies or whole grains, you've got not only a delicious meal but a healthy one too!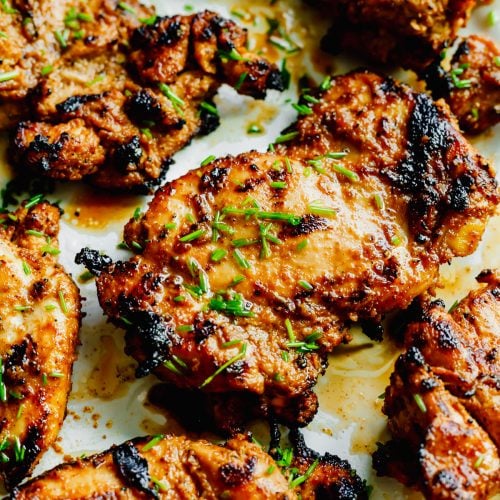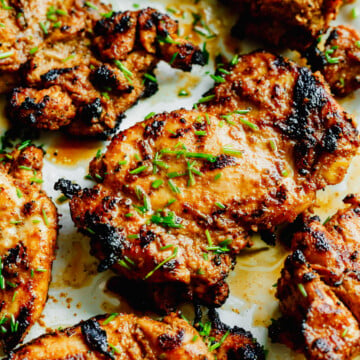 Chicken Shawarma Recipe
Grilled Chicken Shawarma Recipe - made with delicious shawarma marinade that is infused with bold Middle Eastern spices.
Instructions
In a large bowl or zip bag add chicken thighs, yogurt, minced garlic, coriander, cumin, cardamom, chili powder, vinegar, onion powder, smoked paprika, lemon juice, olive oil, salt and pepper. Mix well and refrigerate for 3-5 hours, best over night.

Grill chicken thighs on medium/high heat for about 8-10 min each side, or until chicken is cooked thru. Slice up your meat and enjoy.
Video
Notes
Hi! All content & images are copyright protected. Please do not use my images without prior permission. If you want to republish this recipe, please re-write the recipe in your own words, or simply link back to this post for the recipe. Thank you.
Nutrition
Calories:
466
kcal
Carbohydrates:
5
g
Protein:
29
g
Fat:
36
g
Saturated Fat:
9
g
Polyunsaturated Fat:
7
g
Monounsaturated Fat:
17
g
Trans Fat:
0.1
g
Cholesterol:
170
mg
Sodium:
743
mg
Potassium:
478
mg
Fiber:
1
g
Sugar:
1
g
Vitamin A:
896
IU
Vitamin C:
3
mg
Calcium:
70
mg
Iron:
2
mg
Q. – Do YOU like this Chicken Shawarma Recipe?
Let us know in the comments below, we would love to hear from you!
Thank YOU for YOUR Comment, Share & Recipe Review!