Today, I would like to share this delicious, elegant  and romantic dessert recipe with you, called Apple Roses Dessert Recipe.
Made of simple ingredients like puff pastry dough, apples, cinnamon, apricot jam and garnished with sweet powder sugar!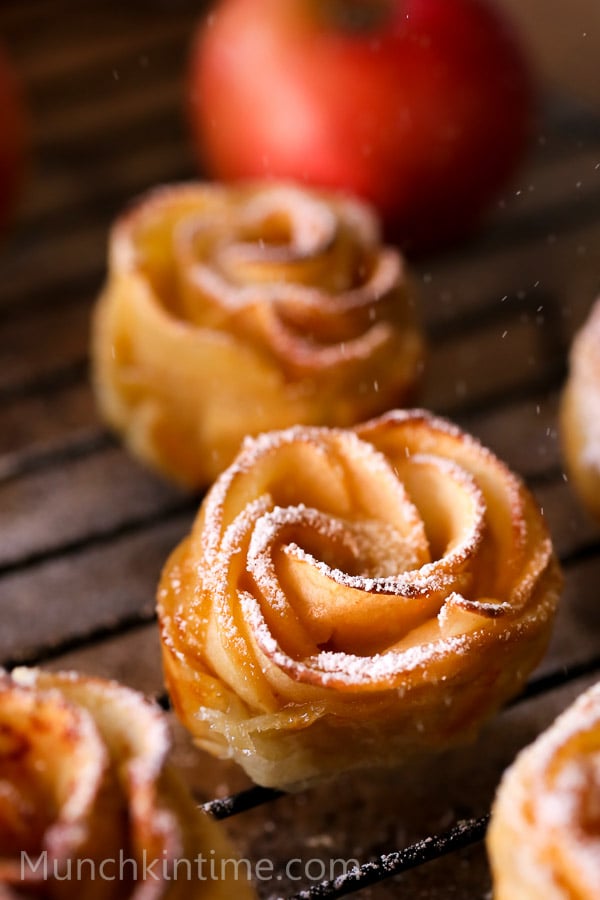 Taste like apple pie but looks like real rose!
This easy dessert recipe is perfect to celebrate fall, or celebrate any other holidays like Thanksgiving, Christmas or even Valentines Day!
Now go ahead and watch video recipe on how you can make these beauties!

Scroll down to get a printable recipe of this Apple Roses Recipe & if YOU want more Delicious Recipes Updates come over & follow Munchkin Time on my favorite social media, where I share Recipe Updates & more:
See YOU there!!!
Make sure to let us know in the comments below, if you liked this video and leave a feedback!
Do you like this Apple Roses Dessert Recipe?
Let me know in the comments below, I would love to hear from you.
Apple Roses Dessert Recipe
Romantic Apple Rose Dessert with video recipe on how to make this delicious goodness. Made of delicious red apples, apricot jam , cinnamon and puff pastry sheet. Garnished with powdered sugar. Enjoy with hot coffee or tea!
Ingredients
Instructions
Preheat the oven to 375F.

Take 2 apples and slice them in half, remove the core then slice them into thin slices. Make sure to leave the peel on the apples.

Take half of the lemon and squeeze the juice into a bowl filled with water. Add apple slices, make sure there is enough water to cover all of the slices. Microwave it for 3 minutes, this helps soften the apple slices.

Place 3 tablespoons of apricot jam into a small dish. Add 2 tablespoons of water and microwave it for 1 minute.

Drain the apples. Now remove the dough from the box, then from a bag. Flour the counter and top of the dough, take rolling pin and stretch the dough few times. Using pizza cutter slice into 6 strips.

Spread apricot jam over each strip. Add apple slices. Sprinkle cinnamon. Fold the strip in half. Roll into a beautiful apple rose. Place each rose into a muffin sheet lined with parchment paper. Bake for 45 minutes or until the dough is fully baked.

Let them cool. Sprinkle with powder sugar and serve, with hot coffee or tea! Enjoy!
Notes
Store apple roses in airtight container inside the fridge for up to 3 days.
If you make Apple Roses Dessert Recipe PLEASE tag @munchkintimeblog and use a hashtag #munchkintimeblog on Instagram, I would LOVE to see your creation. Thank you!
Do you like this Apple Dessert recipe?
Let me know in the comments below, I would love to hear from you!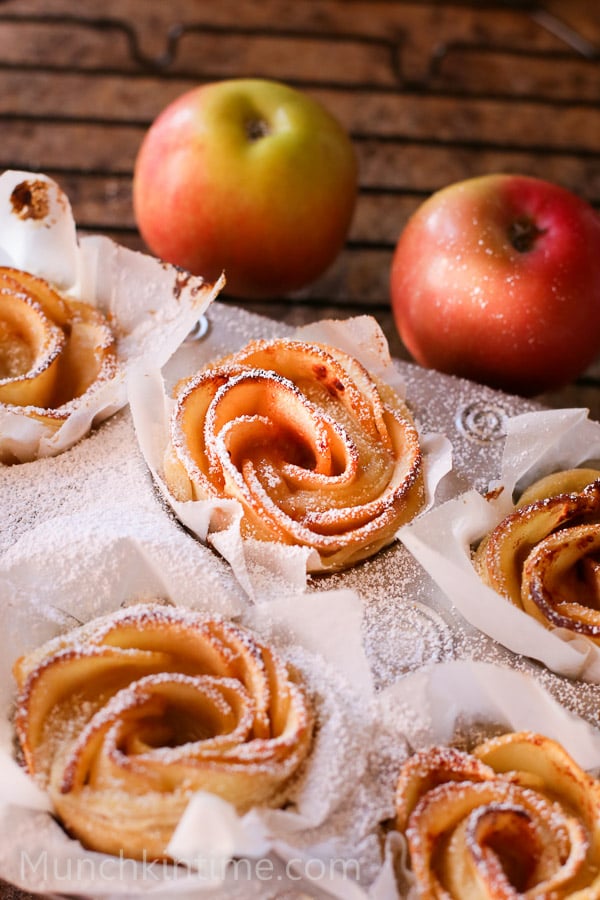 Don't miss another great recipe subscribe to Munchkintime on your right ——->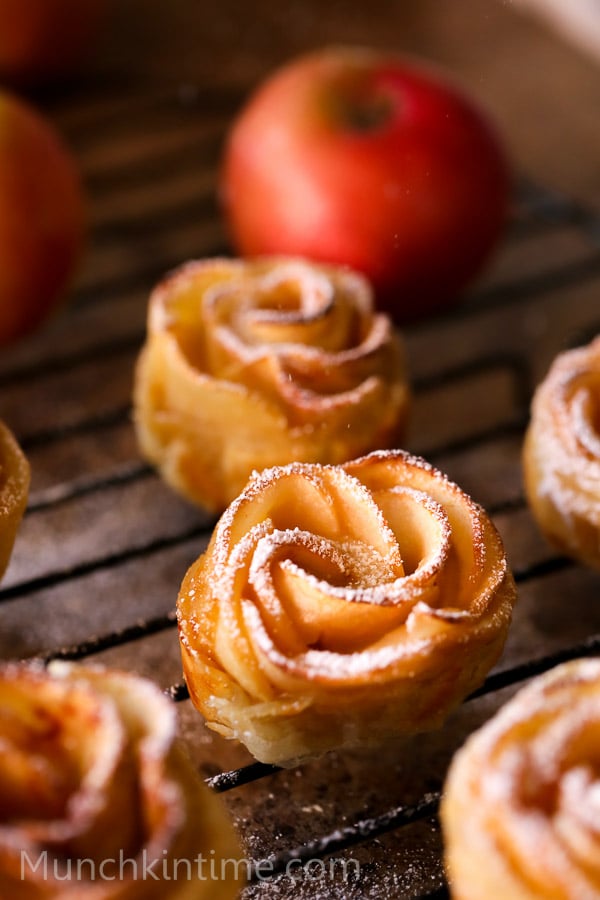 Quote of the Day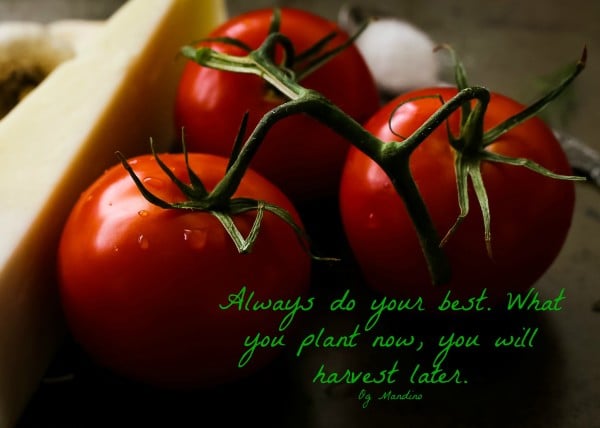 Have a wonderful day!
=)