Puff pastry apple roses are an elegant way to serve a dessert that tastes just like apple pie but looks like a rosebud! These romantic beauties are a special treat usually reserved for holidays and special occasions, but they're easy to make so you can have them anytime!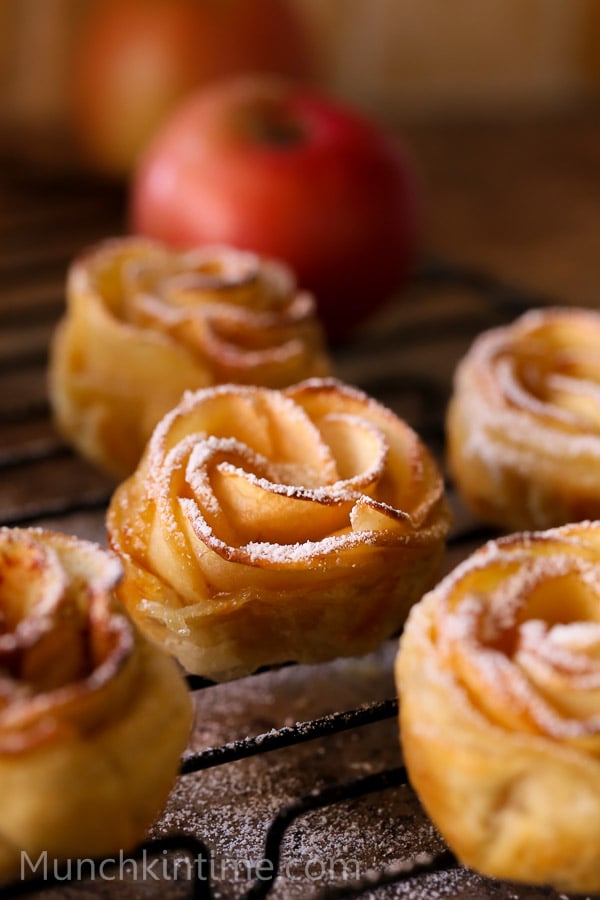 These adorable apple roses are like a mini apple pie presented as a beautiful flower! They may look professional but couldn't be easier!
Impress your guests with their own little apple dessert made with flaky puff pastry, sweet and tart sliced apples sprinkled with cinnamon, and an apricot jam!
Learning how to make pastry roses with apples was always something I was hesitant about. If I had only known how easy they were, I would have been serving them for all my valentine's day, Thanksgiving, and Christmas dessert trays. Wedding and baby showers too!
The smell of your kitchen is reason enough to make them, but once they're out of the oven, these showstoppers will look professionally made straight from a bakery. You can't beat the smell of baked apples!
So, let's get started on this adorable apple roses recipe and you'll see just how easy they are!
Ingredients
Puff pastry: You'll find this in your local grocery store in the freezer section. You want to make sure to thaw it ahead of time, so it's easy to roll and move around. Puff pastry takes time and a bit of effort to make from scratch, but if you have a homemade recipe you want to use, go for it.
Flour: This is needed to dust your work surface so the pastry doesn't stick.
Apples: I use Fuji apples because I like the balance of sweet and tart. I also like that they don't get too soft and hold up nicely while baking. Granny smith is also good, but they have a stronger tarty flavor.
Lemon juice: When added with water it helps to soften the apples while the acid keeps the apples from turning brown.
Apricot preserve: I love the flavor of apricot jam with apples and cinnamon. It's amazing!
Cinnamon: A highly recommended optional ingredient. Apples and cinnamon are a dynamic duo and are always delicious, especially during the cooler months.
Powdered sugar: A dusting at the end for presentation.
How to Make Apple Roses
Step 1. The first step is to prepare your apple slices. No need to peel them. They look pretty that way, and it also helps to keep the apples sturdy. Use a sharp knife to cut the apples in half. Remove the core, then slice them into thin slices.
Step 2: Place all the apple slices in a bowl of lemon just and water. Make sure the apples are submerged completely. Microwave it for 3 minutes, which will help soften the apples.
Step 3: Drain the apples and now microwave the apricot jam and 2 Tablespoons of water in a small dish for 1 minute.
Step 4: Unwrap the puff pastry dough and place it on a lightly floured counter. Dust some flour onto the top of the dough as well. Use a rolling pin to stretch the dough a few times. Then, take a pizza cutter and cut the dough into 6 strips along the length of the sheet.
Step 5: Spread the apricot mixture over each strip in an even layer.
Step 6: Make sure your strips are laid out horizontally. Take the apple slices, one at a time, and place them along the top of the horizontal strip. The rounded side should be facing up and the straight edge should be facing down towards the middle of the pastry strip.
Step 7: Sprinkle cinnamon over the apples and carefully fold the strip in half horizontally along the length of the strip. The tops of the apple slices should still be showing. Carefully roll the dough up (the way you would a cinnamon roll) and roll it into a beautiful apple rose.
Step 8: Place each one into a cup in a prepared muffin tin, lined with parchment paper. Bake in a preheated 375-degree oven for 45 minutes until the dough is fully baked.
Step 9: Remove them from the oven to cool. Before serving, sprinkle with powdered sugar for an extra pretty garnish!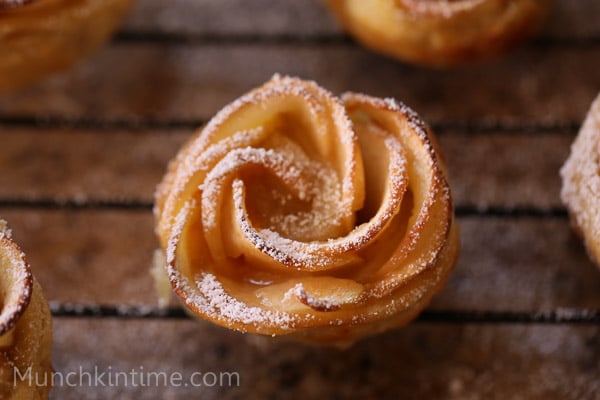 Make Apple Roses Ahead
If you're serving a crowd and trying to get ahead with your preparations, these are great to prepare in advance! Simply roll them up and stick them in the muffin tin. Cover with plastic wrap and keep them in the fridge overnight.
Bake when you're ready to serve!
Tips
For an easier time slicing the apples use a mandoline. It's faster and it will give you even sizes every time.
You can swap caramel sauce or your favorite flavor of jam for the apricot if that's not your favorite.
Add a little sugar to the cinnamon and sprinkle a cinnamon sugar mix over the apples for extra sweetness.
Keep your puff pastry cold. It needs to be thawed, but it still needs to be cold. Keep it in the fridge until just before using it.
For added assurance to get a nice flaky pastry bottom, you can place your apple roses in the fridge for a bit before baking.
A nonstick muffin tin is so important! If you don't have parchment paper you at least need to spray with cooking spray or even grease with butter. You don't want to spend time making these flowers only to have them get stuck!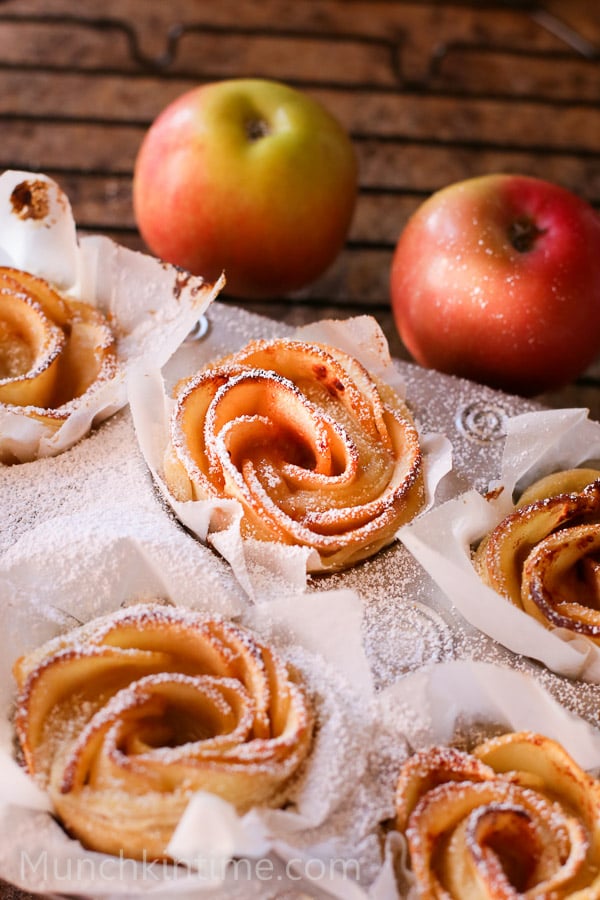 How to Serve Puff Pastry Apple Roses
Well, that depends! If I'm serving them for a romantic dessert, I like to enjoy them with a glass of white wine. If it's a family affair, we'll usually enjoy them with a scoop of vanilla ice cream!
Sometimes I'll have leftovers the next day with a hot cup of tea or coffee. Because, why not have dessert for breakfast?!
FAQs
How to store them?
These are best when enjoyed the day you make them. As with any puff pastry, the longer they sit the soggier they will get. You can store leftovers in an airtight container in the fridge for up to 3 days if you do have them.
Why do I need to put the apples in lemon water first?
The citric acid from the lemon helps to keep them from turning brown. It's more appealing to the eye this way! However, putting in the microwave helps to keep the apples nice and soft.
You need them to be pliable when you're rolling up the dough.
How to reheat them?
To give them back a bit of their crispy texture, I would recommend placing them back in the oven at 350 degrees until warmed through. You could even try the air fryer if you have one for a few minutes.
The microwave works for a quick reheat, but it won't be crispy. Still delicious though!
Check Out these DELICIOUS Recipes:

Quick Breakfast Burrito Recipe
Apple Roses Dessert Recipe
Romantic Apple Rose Dessert with video recipe on how to make this delicious goodness. Made of delicious red apples, apricot jam , cinnamon and puff pastry sheet. Garnished with powdered sugar. Enjoy with hot coffee or tea!
Ingredients
Instructions
Preheat the oven to 375F.

Take 2 apples and slice them in half, remove the core then slice them into thin slices. Make sure to leave the peel on the apples.

Take half of the lemon and squeeze the juice into a bowl filled with water. Add apple slices, make sure there is enough water to cover all of the slices. Microwave it for 3 minutes, this helps soften the apple slices.

Place 3 tablespoons of apricot jam into a small dish. Add 2 tablespoons of water and microwave it for 1 minute.

Drain the apples. Now remove the dough from the box, then from a bag. Flour the counter and top of the dough, take rolling pin and stretch the dough few times. Using pizza cutter slice into 6 strips.

Spread apricot jam over each strip. Add apple slices. Sprinkle cinnamon. Fold the strip in half. Roll into a beautiful apple rose. Place each rose into a muffin sheet lined with parchment paper. Bake for 45 minutes or until the dough is fully baked.

Let them cool. Sprinkle with powder sugar and serve, with hot coffee or tea! Enjoy!
Video
Notes
Hi! All content & images are copyright protected. Please do not use my images without prior permission. If you want to republish this recipe, please re-write the recipe in your own words, or simply link back to this post for the recipe. Thank you.
Nutrition
Calories:
266
kcal
Carbohydrates:
31
g
Protein:
3
g
Fat:
16
g
Saturated Fat:
4
g
Polyunsaturated Fat:
2
g
Monounsaturated Fat:
9
g
Sodium:
102
mg
Potassium:
97
mg
Fiber:
2
g
Sugar:
9
g
Vitamin A:
33
IU
Vitamin C:
4
mg
Calcium:
9
mg
Iron:
1
mg
When YOU make this Apple Roses Recipe, take a picture & DM me your Food Creation on Instagram @MunchkinTimeBlog or hashtag #munchkinrecipes. We would love to see YOUR creation!
Do you like this Apple Roses Dessert Recipe?
Let me know in the comments below, I would love to hear from you.
Quote of the Day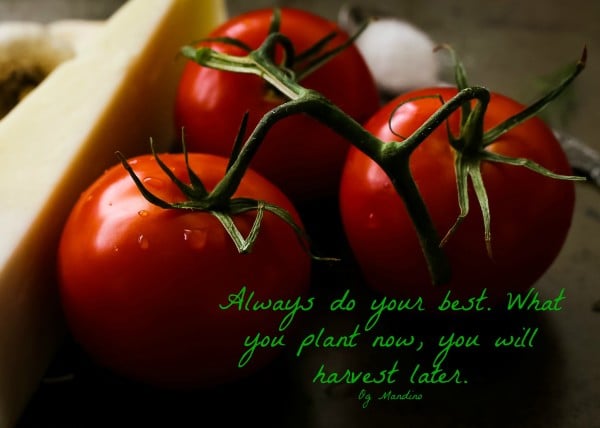 Have a wonderful day!
=)
This post was updated on Oct 7, 2022.