Easy Nutella Stuffed Rolls – made of basic pantry staples to make the dough then stuffed with a deliciously creamy chocolate filling! Baked until golden on the outside, soft and fluffy on the inside, these buns are what stuff dreams are made of!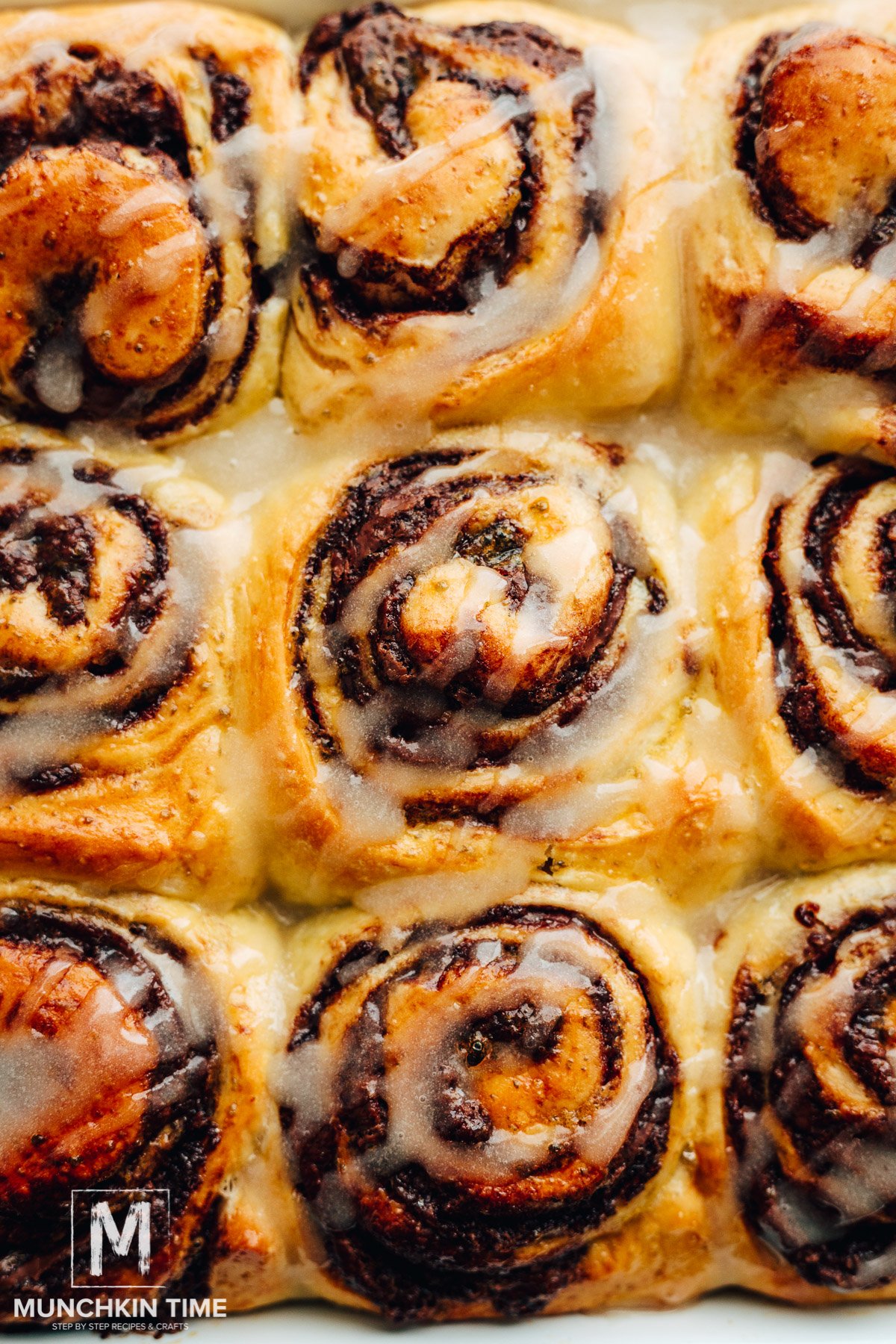 Learning how to make Nutella rolls is so much easier than you might think even if you've never worked with yeast before! This is a great place to start because with instant yeast there is much less rise time.
We make the dough, let it rest, spread our Nutella filling, roll it up, rest again, then bake! It's an easy Nutella recipe that will become one of your favorite ways to start the day!
A basket of fresh rolls is always a good idea, whether on the weekend for a special treat, something to pack for lunch, a snack after school, or an after-dinner dessert. It's also a welcome addition to Christmas morning brunch!
Fluffy dough, chocolatey filling, and a golden finish are what make these decadent rolls one of my favorites. All you need is a hot cup of tea or coffee and you're in heaven!

Ingredients for Nutella Rolls Recipe
Milk: The liquid component that brings the dry ingredients together into a dough. Use whatever kind of milk you prefer, however the higher the fat, the richer the consistency will be.
Butter: Keeps the dough light, buttery, and soft which is exactly what we want in our buns!
Flour: Be sure to measure correctly using the spoon and level method. It's very easy to make your rolls too dense by using too much flour!
Instant yeast: This is different than dry active yeast, so you want to make sure you're using the rapid kind. It means you won't have to proof ahead of time and there are no long rise times.
Sugar: Yeast feeds off of sugar, so we need it! It also adds a delicious sweetness to the rolls that make them so yummy.
Salt: Enhances the flavor of all of the other ingredients so that you taste everything that much more.
Eggs: You'll need 2. One to bind the ingredients in the dough and the other we'll use for an egg wash to give the rolls a beautiful golden brown finish.
Nutella: A smooth, chocolate, and hazelnut spread that is easily found in your local grocery store.
Sugar Glaze: Made of powdered sugar and milk.
When YOU make this Nutella Stuffed Rolls Recipe, take a picture & DM me your Food Creation on Instagram @MunchkinTimeBlog or hashtag #munchkintimeblog . We would love to see YOUR creation!
How to Make Nutella Stuffed Rolls
Step 1: Heat butter and milk in a microwave-safe bowl in the microwave until the butter melts. Shouldn't be more than a minute or so. Set it aside.
Step 2: In the bowl of a stand mixer, add flour, yeast, salt, and sugar and mix to combine. Then add the egg and milk and continue to mix for another 5 minutes using the paddle attachment. The dough should be sticky.
Step 3: Grease your hands with oil and grab the dough and form it into a ball, then grease the bowl with oil and return the dough back into the bowl. Cover the bowl with plastic wrap or a lid and allow the dough to rest for 30-40 minutes until it has bulked up. Keep it in a warm, draft-free area!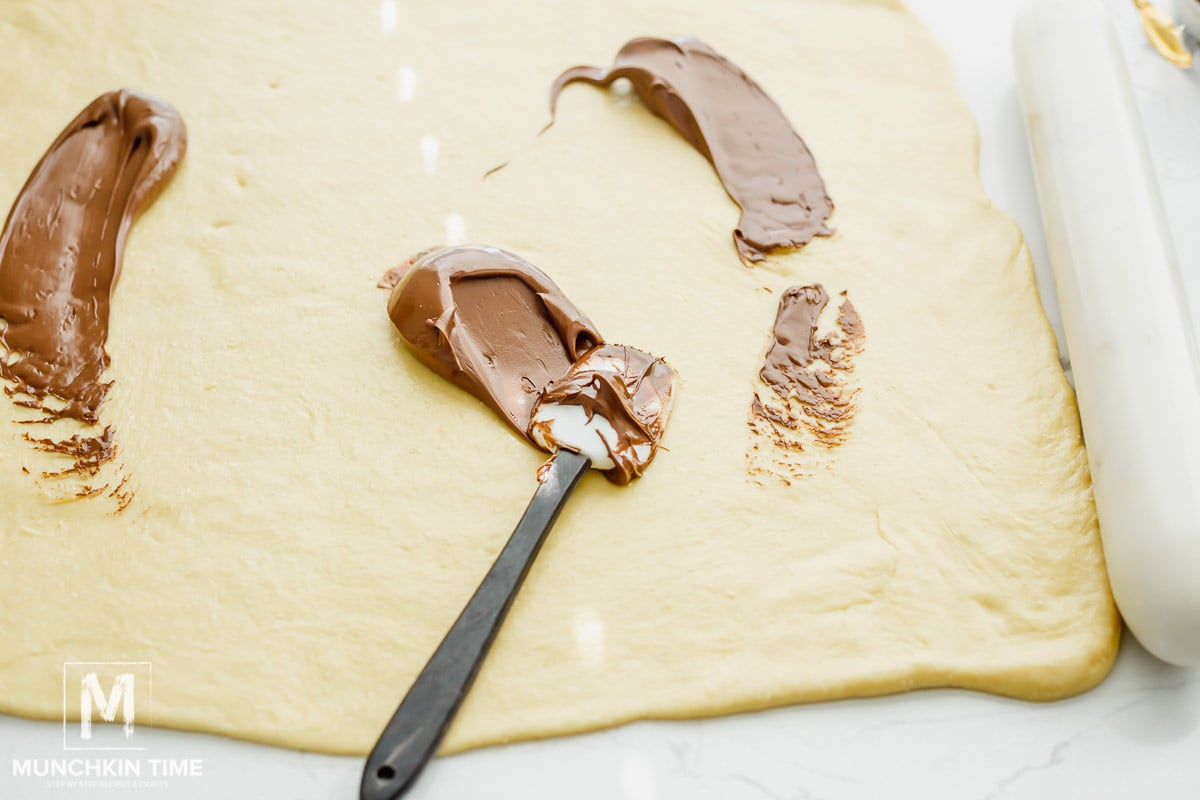 Step 4: Transfer the dough to a flat surface and use a rolling pin to roll the dough into a rectangle or square shape.

Step 5: Scoop out the Nutella filling and spread it out evenly onto the surface of the dough.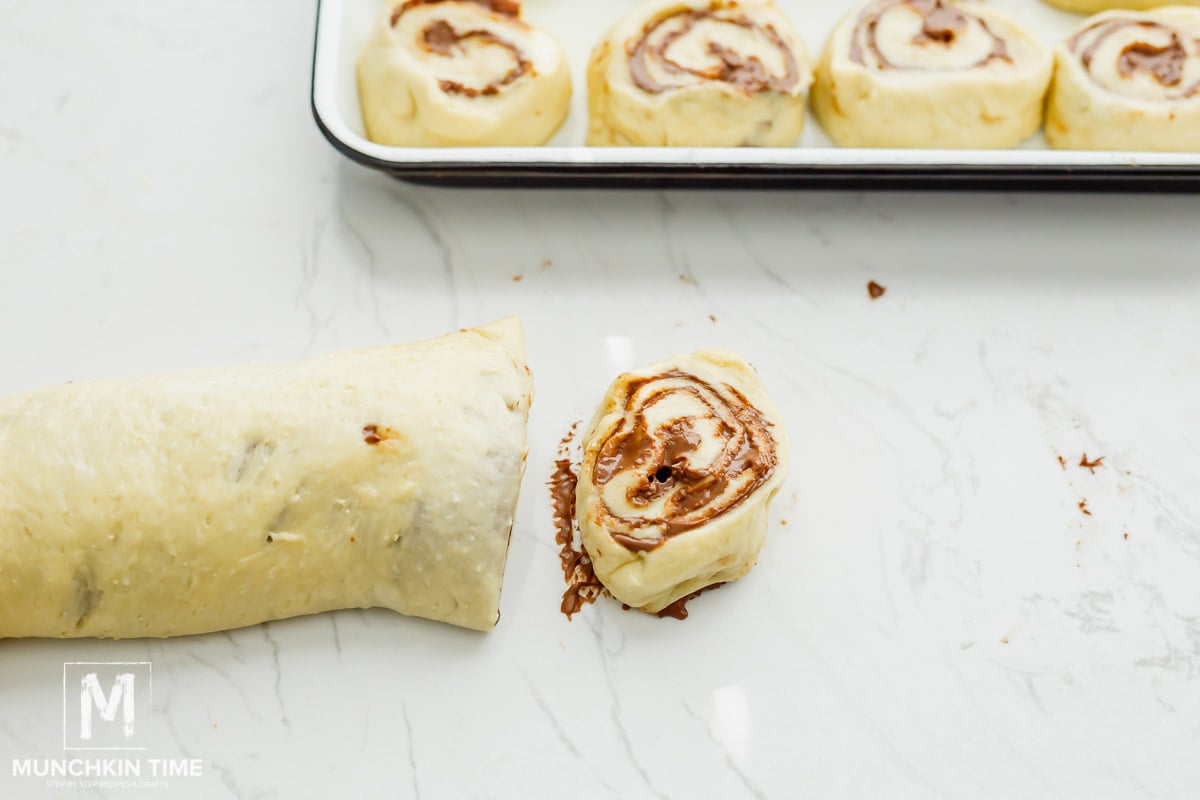 Step 6: Using hands roll the dough into a roll, then cut it into 1 inch rolls using a sharp knife.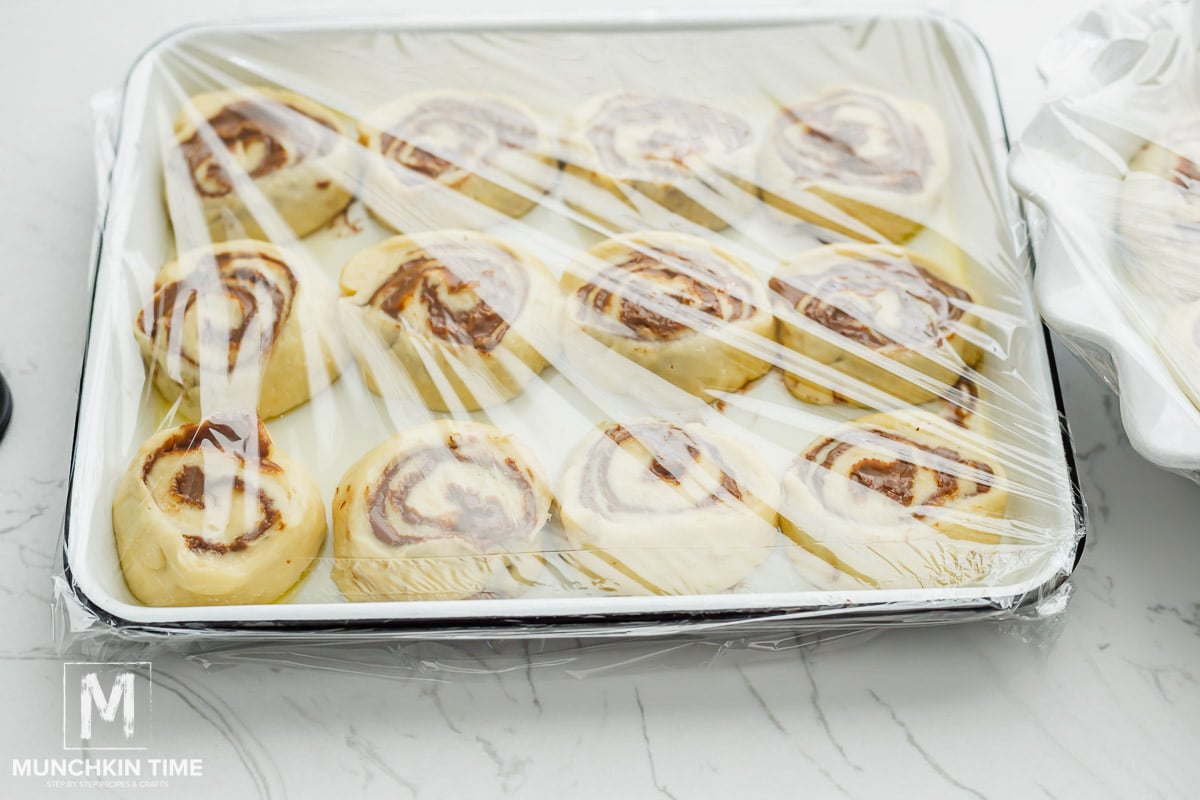 Step 7: Place each formed roll onto a greased baking sheet. Once they've all been made, cover them with a plastic wrap and let them rest for about 1 hour.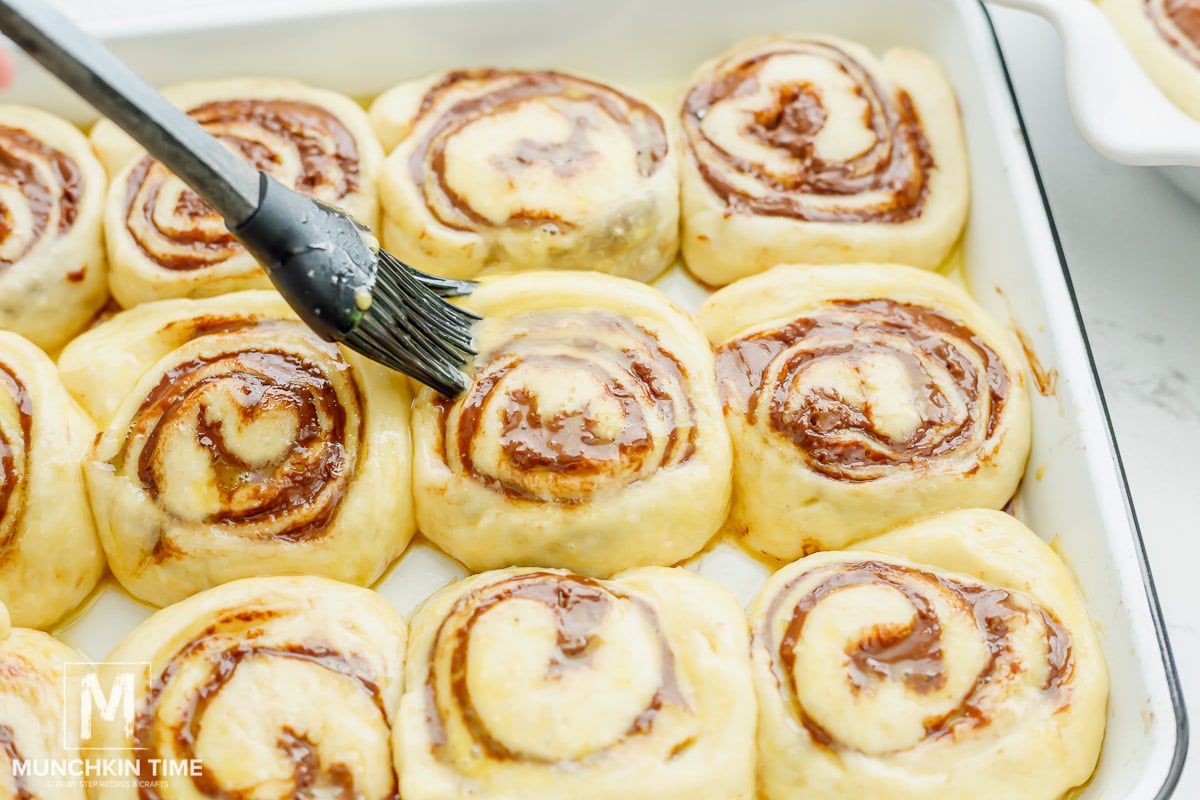 Step 8: Once the stuffed Nutella rolls are almost done resting, preheat the oven to 350F. Brush each roll with egg wash and bake for 15-20 minutes, or until golden.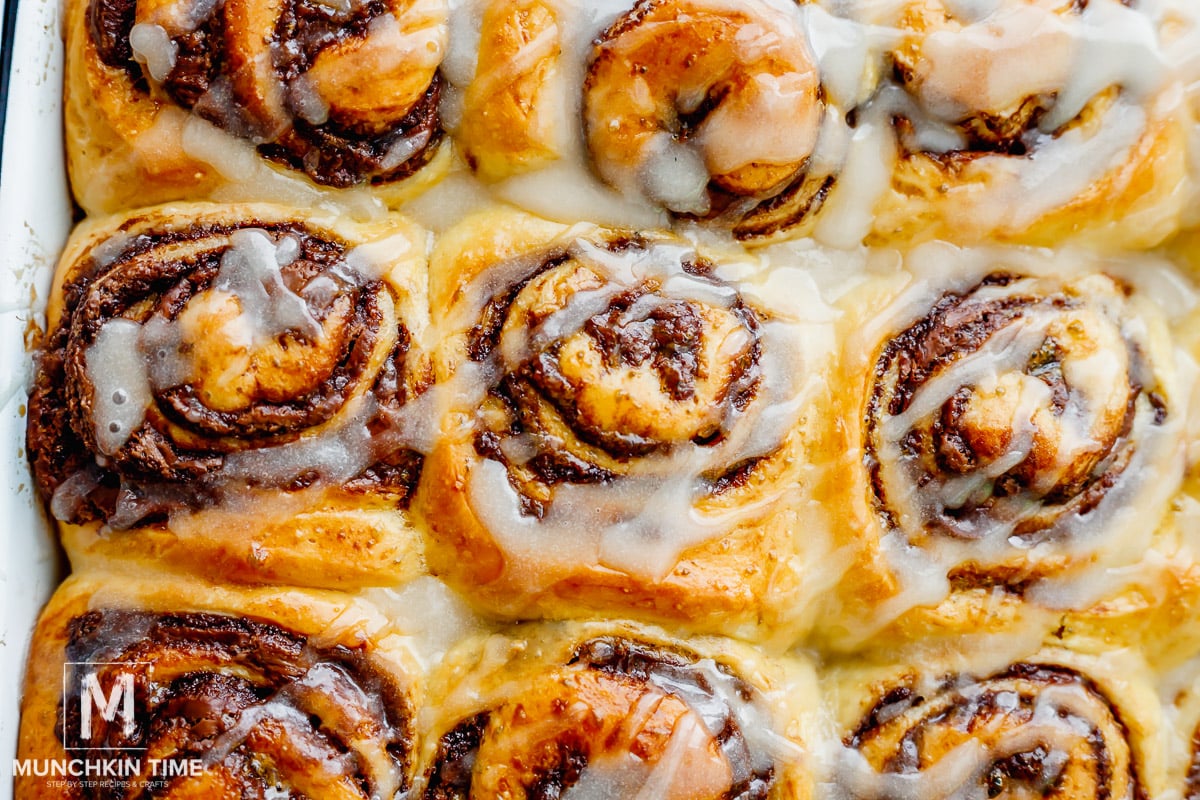 Drizzle sugar glaze over the Nutella rolls. Enjoy with a glass of cold milk or hot coffee, and enjoy!
Now, the only question is…will you bite right in? Or unravel it first?!
Recipe Tips
Avoid overmixing! This is one of the ways you can end up with tough rolls and not the soft, light, and airy texture we want. Do not overwork the dough!
Don't skip the egg wash! I know it may seem simple, and maybe even pointless, but it helps to bring it to professional baker status with one simple tip! It's the only way to take your pastry from pale and lifeless to golden brown with a beautiful sheen.
Swap the Nutella for a different filling! Use any of your favorite spreads or jams. Think strawberry, blueberry, cherry, you name it.
Finish it off with a dusting of powdered sugar for that extra indulgence!
Check your yeast! I would hate for you to get through this recipe only to find out your yeast has expired. Make sure it is fresh and if not, discard it and get some more.
FAQs
Where is the best place to let my dough rise?
Always in a warm, draft-free area in your kitchen. Sometimes it's on the counter, but some people like to use their proofing drawers at the bottom of their oven.
Some people like to place the dough in the middle rack of the oven above a dish of boiling water on the lower rack. Whatever works best for you!
How long will these Nutella stuffed rolls last?
These will stay fresh for about 5 days at room temperature. I doubt they'll last that long because they're too hard to resist! You want to make sure to keep them covered so they don't dry out.
Can I freeze Nutella Rolls?
You can! These can freeze so well. I suggest doing a flash freeze first, which means freezing them on a baking sheet first to get them solid. That way they won't freeze stuck together in a clump.
Then, once they are slightly frozen, transfer them to a freezer-friendly bag and keep them frozen for up to 6 months!
Thaw on the counter and pop them in the microwave or the oven to warm through when you're ready to enjoy them all over again.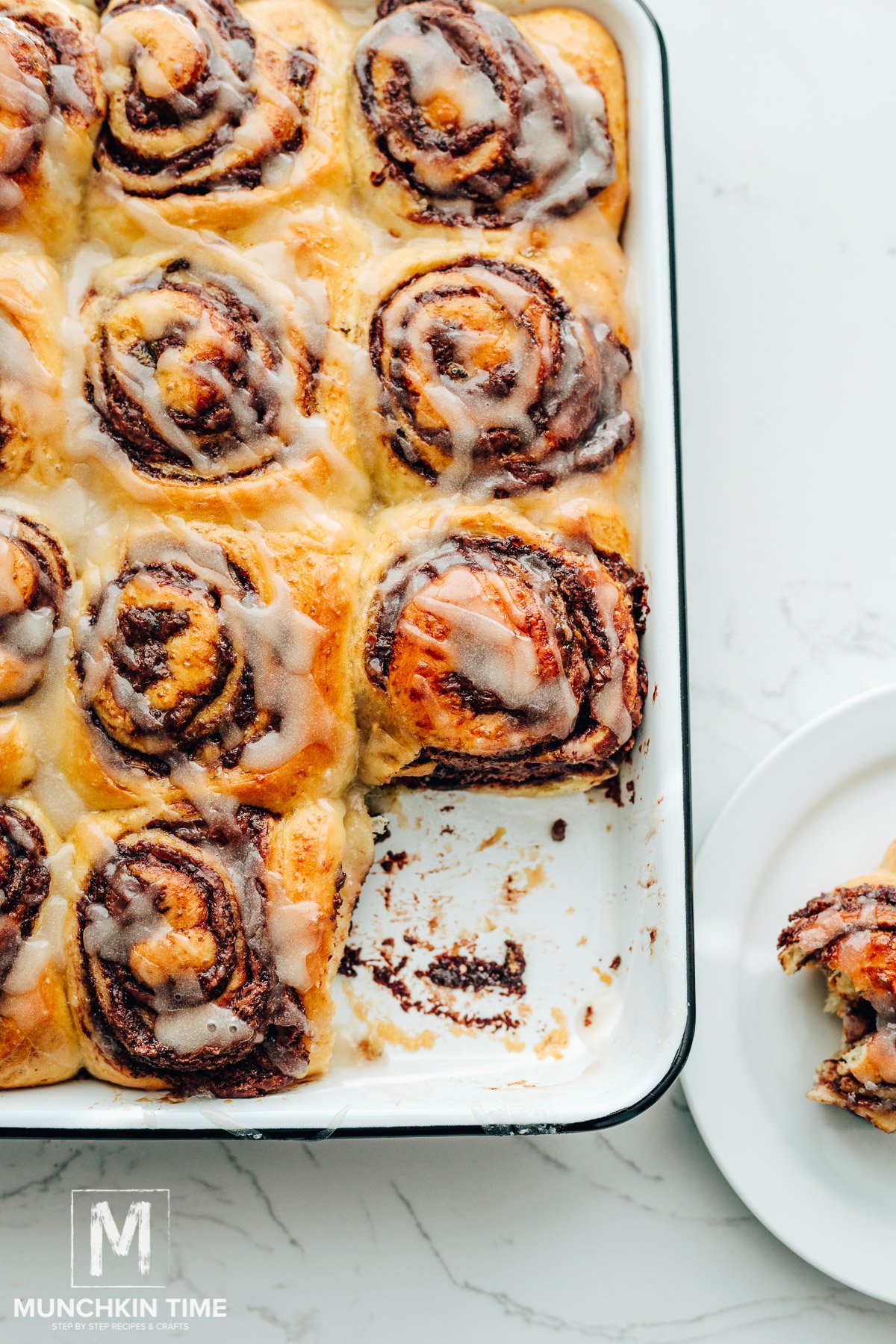 Check Out these DELICIOUS Recipes:

Quick Breakfast Burrito Recipe
Cheesy Hot Beef Sandwich Recipe
Nutella Stuffed Rolls
Fluffy dough, chocolatey filling, and a golden finish are what make these Nutella Stuffed Rolls one of my favorites.
Instructions
Using oven-proof bowl combine milk and butter and microwave it until butter melts all the way (about 1 min), set aside. The milk should be warm not hot.

Into the stand mixer bowl add flour, yeast, salt and sugar, give it a mix. Add warm milk mixture and 1 egg, using a paddle attachment with scraper mix dough for 5 minutes, stop half way and scrap the dough down.

Grease your hands with oil and grab the dough and form it into a ball, then grease the bowl with oil and return the dough back into the bowl. Cover the bowl with a plastic wrap and let your dough rest for 30-40 minutes in a warm place. While waiting grease baking dish with butter or oil.

Grease hands with oil and roll the dough to rectangular or square shape. Spread Nutella using spatula. Starting from one side roll the dough into a roll. Then cut 1 inch rolls and place them onto a baking dish. Cover your beauties with plastic wrap and let them rest for 1 hour in warm place.

Preheat the oven to 350F. In a small bowl whisk 1 egg and brush it over the Nutella stuffed rolls. Bake for 15-20 minutes or until golden color. Drizzle sugar glaze over the Nutella rolls. Grab a cup of milk or coffee and enjoy!
How to Make the Glaze
In a mixing bowl, whisk together powdered sugar with milk until smooth.
Video
Notes
If using dry active yeast, soak them first in a warm milk with melted butter for 2-3 minutes before pouring it to the flour mixture. You can do that with instant yeast too. 
Hi! All content & images are copyright protected. Please do not use my images without prior permission. If you want to republish this recipe, please re-write the recipe in your own words, or simply link back to this post for the recipe. Thank you.
Nutrition
Calories:
246
kcal
Carbohydrates:
37
g
Protein:
5
g
Fat:
9
g
Saturated Fat:
7
g
Polyunsaturated Fat:
0.3
g
Monounsaturated Fat:
1
g
Trans Fat:
0.1
g
Cholesterol:
24
mg
Sodium:
155
mg
Potassium:
139
mg
Fiber:
2
g
Sugar:
19
g
Vitamin A:
118
IU
Vitamin C:
0.004
mg
Calcium:
45
mg
Iron:
2
mg
Q. Do YOU like this Nutella Rolls Recipe?
Let me know in the comments below, I would love to hear from you!
Thank YOU for YOUR Comment, Share & Recipe Review!
Have a wonderful day!