2017 Thanksgiving Dinner Ideas – here are 7 delicious Thanksgiving dishes that you can bring to the table this holiday season.  I have never hosted a Thanksgiving Dinner at my house instead every year the whole family gathers together at my mom's house.  It's our little family tradition.  Everyone has to bring something for the table.  It can be a salad, appetizer or a dessert.  This year I am planning to bring my favorite Baklava Dessert and one of these scrumptious Thanksgiving dishes that you can find at any local WHOLE FOODS Market.
WHOLE FOODS Market offers amazing Holiday Meals that you can bring to the Thanksgiving Table this year.  All of these beautiful dishes are prepared by a professional chef.
Also, they offer a FREE

Taste Fairs of their favorite holiday items, where you can come and try these yummy Thanksgiving dishes for FREE!
Dates & Times of Taste Fairs
11/4 & 11/5 12-4pm
11/11 & 11/12 12-4pm
12/2 & 12/3 12-4pm
12/9 & 12/10 12-4pm
Come join the fun!
There are 3 ways you can order your Holiday Meal Today:
Reserve at the store, at the Holiday Table
Reserve Online: http://bit.ly/2zvvgOS
Or by phone 844-936-2428
Now scroll down to see these delicious Thanksgiving dinner ideas from WHOLE FOODS Market!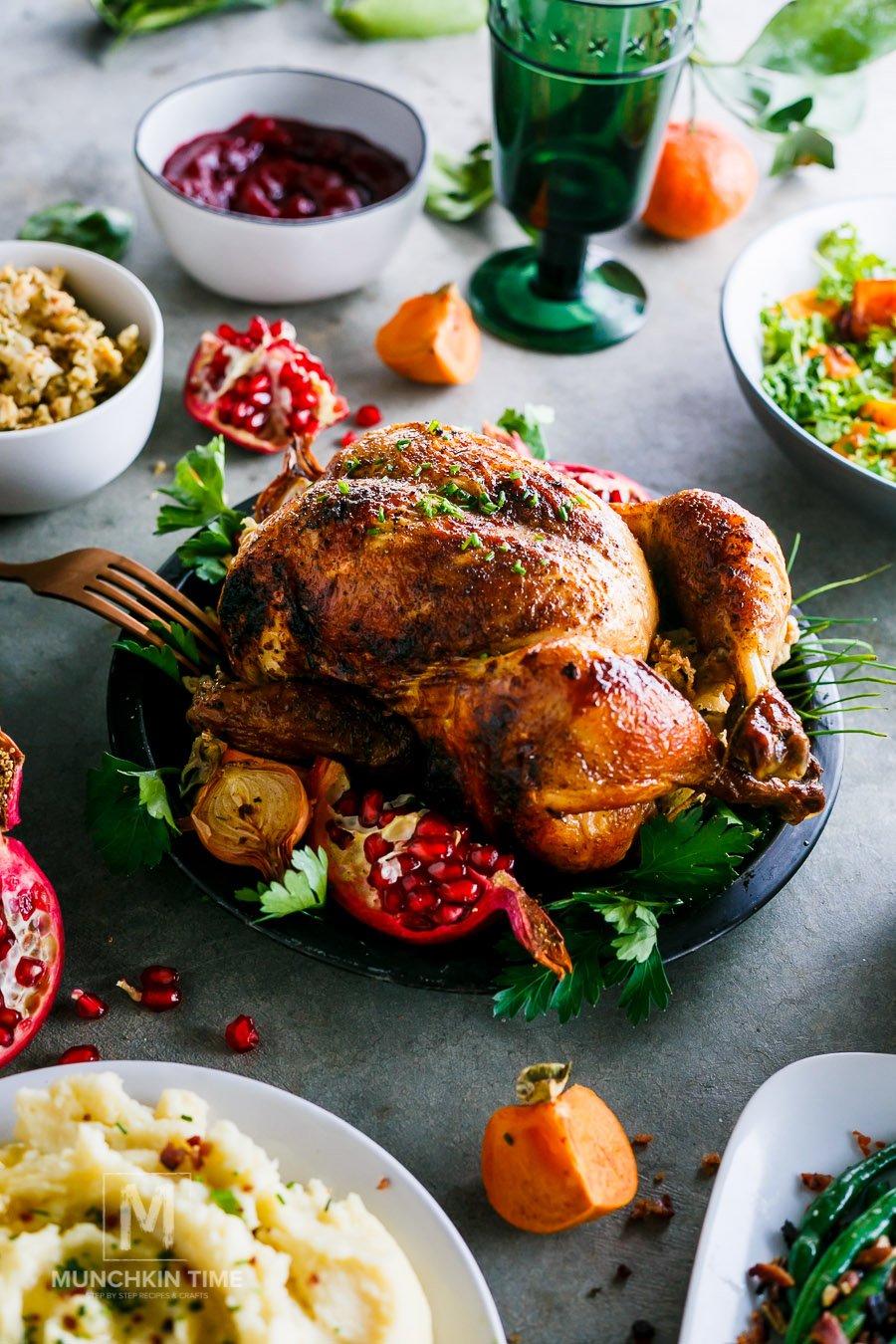 7 Thanksgiving Dinner Ideas
Now, back to our 7 Thanksgiving Dinner Ideas.  First one on the list is a CLASSIC ROASTED TURKEY.   It is so good! I like to decorate my turkey with some chopped chives.
A ROASTED TURKEY & TURKEY GRAVY is like mashed potato with lots of butter, both deliciously compliments each others taste.
Speaking of mashed potatoes, how do you like to garnish it!?! I love adding melted butter over the top and garnish it with chopped crispy bacon and fresh chives.
What else goes good with a ROASTED TURKEY,  how about a red CRANBERRY SAUCE?  At WHOLE FOODS STORE you can get a regular Cranberry Sauce or an ORGANIC CRANBERRY ORANGE SAUCE.
Crunchy GREEN BEANS with almonds and bacon is one of the Thanksgiving side dishes that I absolutely love!  WHOLE FOODS offers cooked GREEN BEANS with CRISPY GARLIC & PARSLEY.  Doesn't it sounds delicious!?!
One of my favorite Thanksgiving Appetizers are Brussels sprouts.  I can't get enough of them! On the picture above: MAPLE – ROASTED BRUSSELS SPROUTS from a WHOLE FOODS Store.
Another Thanksgiving dinner idea can be this colorful and nutty ROASTED BUTTERNUT SQUASH.  I am not a huge fan of butternut squash but I know a lot of people who love these type of salads.  Do you like butternut squash?
Last but not least, don't forget about the TRADITIONAL HERB STUFFING.  WHOLE FOODS Store makes the BEST Herb Stuffing!  It is so good, in fact I can eat it just like that as a meal.

Did you like these mouth watering THANKSGIVING DINNER IDEAS?  What is your favorite Thanksgiving dish?
Let me know in the comments bellow, I would love to hear from you!

Huge THANK YOU goes to the WHOLE FOODS Market for sponsoring this post of
7 Thanksgiving Dinner Ideas 2017!
I hope these Thanksgiving Dishes Ideas will help you host a delicious and unforgettable dinner!
Happy Holidays!