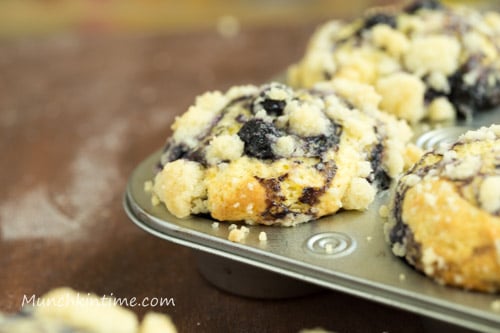 Best Blueberry Muffin Recipe With Buttermilk
Is it berry season yet? I get so excited when it is berry season.  I love picking berries at the local farms.  They taste so much sweeter and yummier than store-bought.  And for that same reason I like to  freeze my berries for the winter, so my family can enjoy them all year-long.  Now before berry picking season comes I want to use all of my left over frozen berries from last year in recipes,  so I can make room for fresh berries =)
Here is THE Best Blueberry Muffin Recipe With Buttermilk that  I would like to share with you today.   They are so good and yummy that even my hubby, who doesn't like blueberries, likes THEM.
Streusel Topping
3 tbs white sugar
3 tbs brown sugar
1/3 cup flour
5 tbs melted butter
Muffins
2 cups (I used 1 1/2 cups frozen) fresh blueberries
1 1/8 cups  plus 1 tsp sugar
1 tbs water
2 1/2 cups unbleached all-purpose flour
2 1/2 tsp baking powder
1 tsp table salt
2 large eggs
4 tbs (½ stick) unsalted butter, melted and cooled
¼ cup vegetable oil
1 cup buttermilk
2 tsp vanilla extract
If you make Blueberry Muffin Recipe please tag my name @munchkintimeblog on Instagram, I would LOVE to see your creation!
To make Streusel Topping: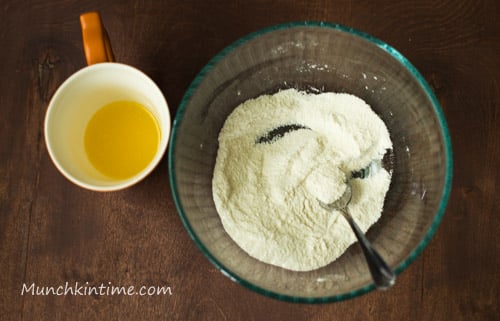 Add dry ingredients then add melted butter.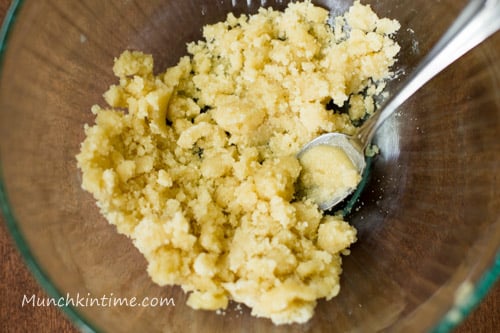 Give it a mix and set aside. ( Mix until it is the size of peas)
To make Blueberry Muffins:
Preheat the oven to 425F.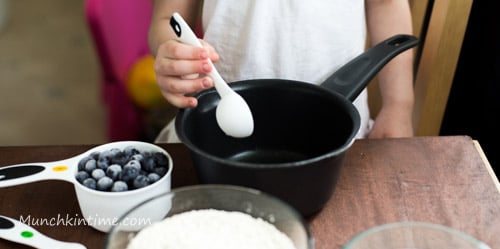 In a small saucepan add water, 1 cup blueberries and 1 teaspoon sugar.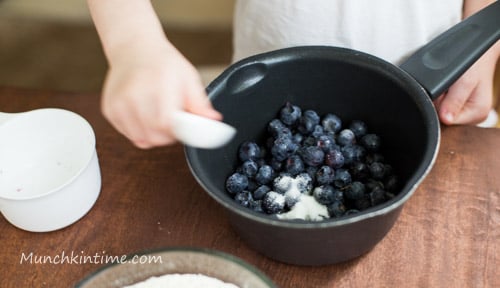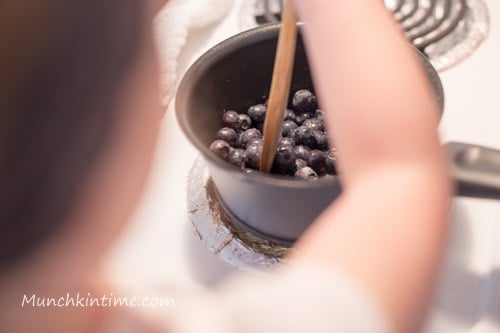 Simmer it on medium heat. While cooking mash berries with potato masher.  Cook until mixture gets thickened and reduced by half, about 6-10 min. Let it cool to a room temperature.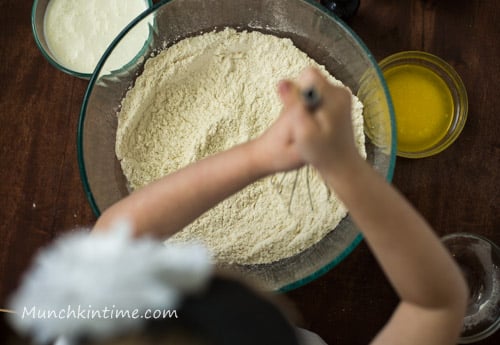 In a large bowl mix flour, baking powder, and salt.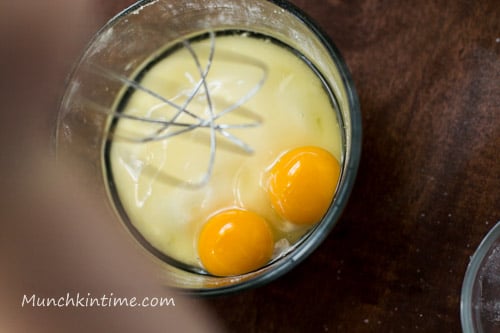 Whisk sugar and eggs in another bowl.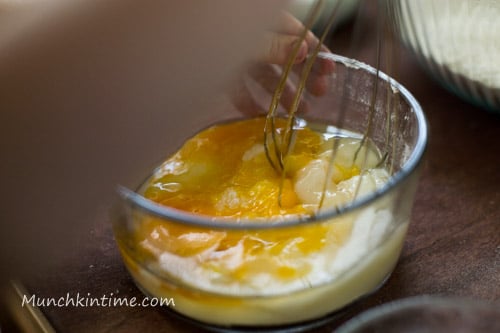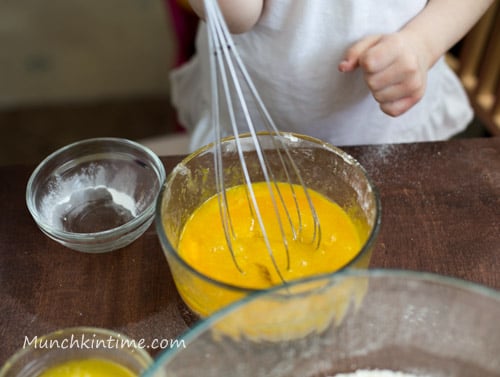 Slowly add oil and butter until combined.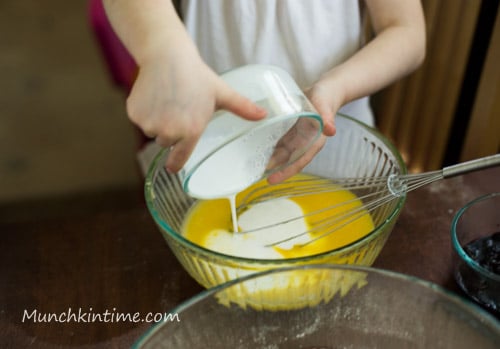 Add buttermilk and vanilla extract. Mix.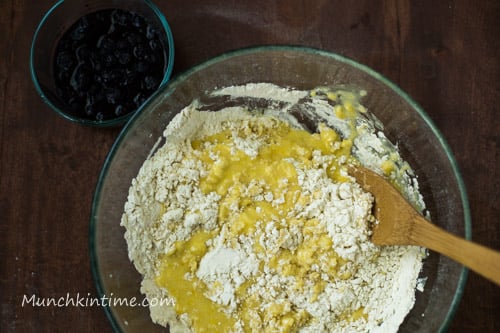 Fold in the egg mixture into flour mixture using a spoon (careful to not over mix).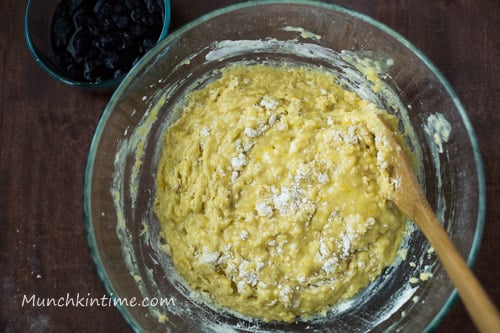 Add the rest of the blueberries.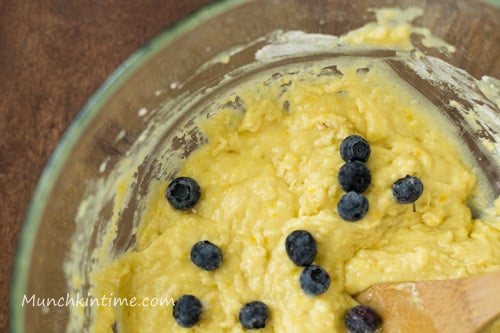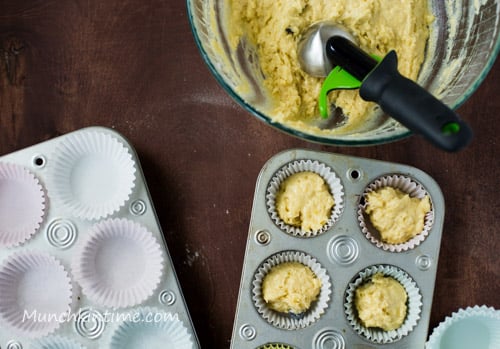 Using ice cream scoop divide the batter among muffin cups.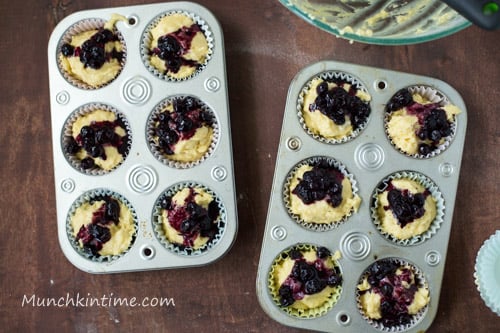 Using a tea spoon add the berry syrup. Gently swirl berry syrup with toothpicks using figure-8 motion.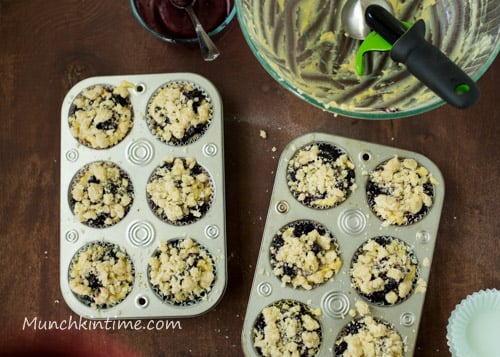 Add streusel.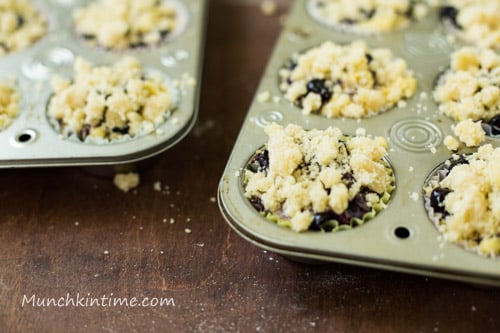 Bake for 17-19 min.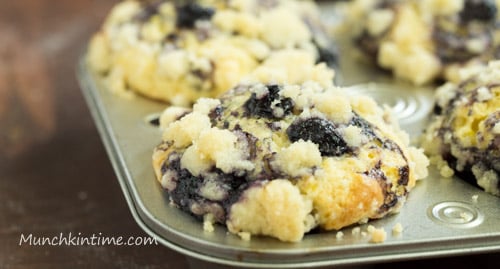 Let it cool down for 5 min in a muffin tin.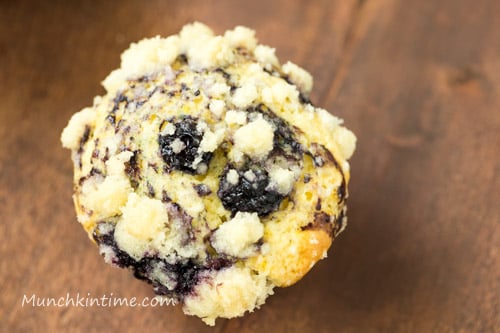 Transfer to a plate, or table.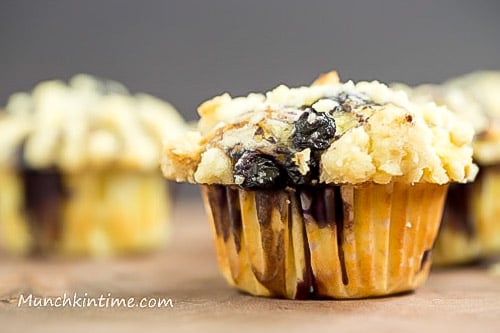 Q. – Did you like this Dessert Recipe?
Let me know in the comments below, I would love to hear from you!
Don't miss another great recipe subscribe to Munchkintime on the bottom of this post ——->
Thank you for stopping by!