Juicy Roasted Chicken Recipe – Learn how to roast a whole chicken with simple ingredients you've probably got on hand. We use lemon, onion, fennel, and herbs to stuff the chicken, then we season the outside with salt, pepper, and a bit of spice. We roast it until it is perfectly crispy on the outside, tender and juicy on the inside, and ready in a little over 1 hour!
When YOU make Juicy Roasted Chicken Recipe please tag us on @munchkintimeblog on Instagram, we would LOVE to see your creation!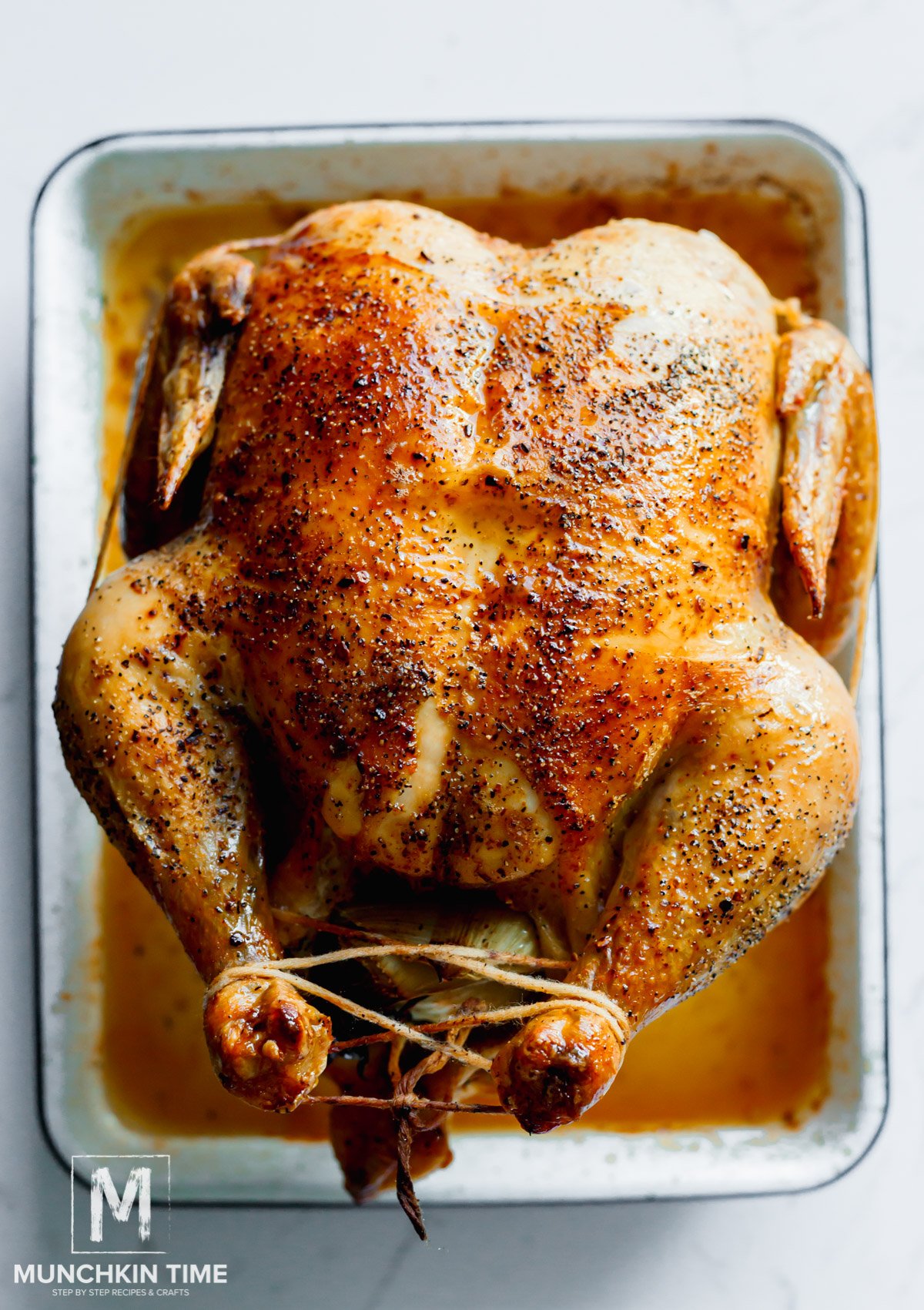 Learning how to make a juicy roasted chicken doesn't need to be complicated. It's much easier than you might think to get perfectly crispy skin on the outside of tender juicy meat and I'm going to show you my foolproof method of checking all those boxes!
Plus, my secret ingredient tip of using egg yolk to coat the chicken is one that will knock your socks off!
We stuff the chicken with aromatics, herbs, and lemon so it penetrates flavors all throughout the meat as it bakes. The outside of the chicken is seasoned with salt, pepper, and red pepper flakes giving it a bit of heat!
This incredibly easy-to-make juicy baked chicken is the perfect meal idea for serving guests on fancier occasions, is a great alternative to traditional holiday turkeys, and works just as great for Sunday dinner.
Serve it with a side of roasted potatoes and steamed veggies and you've got a simple yet elegant meal ready in just over 1 hour!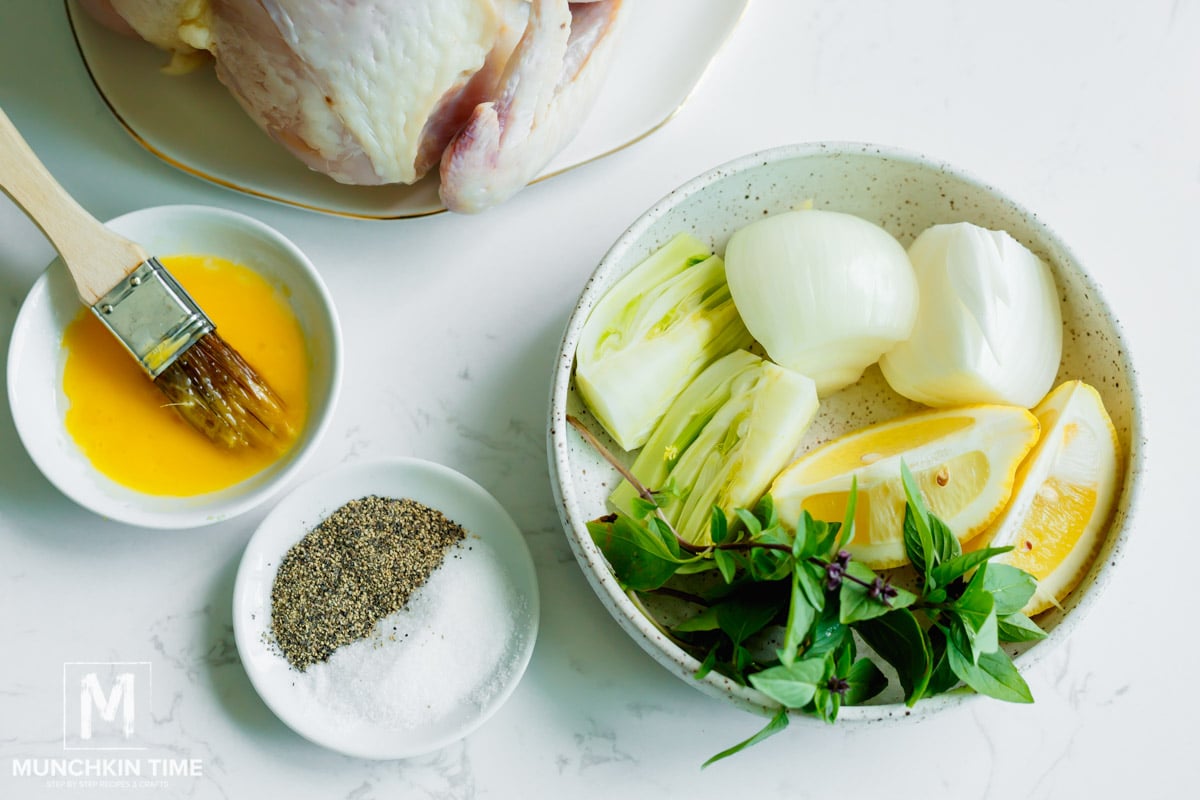 Ingredients for Roasted Chicken Recipe
Whole chicken: For this recipe, I use a 3 lb chicken, cleaned (feathers removed, etc). Bring it to room temperature for 20 minutes beforehand, so it's not cold going into the oven.
Egg yolk: Whisked egg yolk is the secret! It replaces the traditional butter or oil normally used to coat the bird, but does an even better job crisping up the skin!
Salt & Pepper: Just a bit of seasoning for the skin. It's important to season liberally because the salt helps to draw out the moisture which also keeps the skin nice and crisp. You can also use lemon salt for a bit of extra flavor.
Red pepper flakes: I love the bit of heat it adds. There's nothing better than taking a bite of perfectly seasoned, slightly spicy, roast chicken!
Onion: Peeled and cut in half, this will be stuffed in the cavity as part of what helps flavor the inside of the chicken.
Lemon: Adds a bright citrusy flavor that pairs well with garlic and onion.
Fennel bulb & Thai basil: Both deliver the flavor of anise. Thai basil is stronger and has a bit of a spicy taste, unlike the sweeter Italian basil you're most likely to find more often.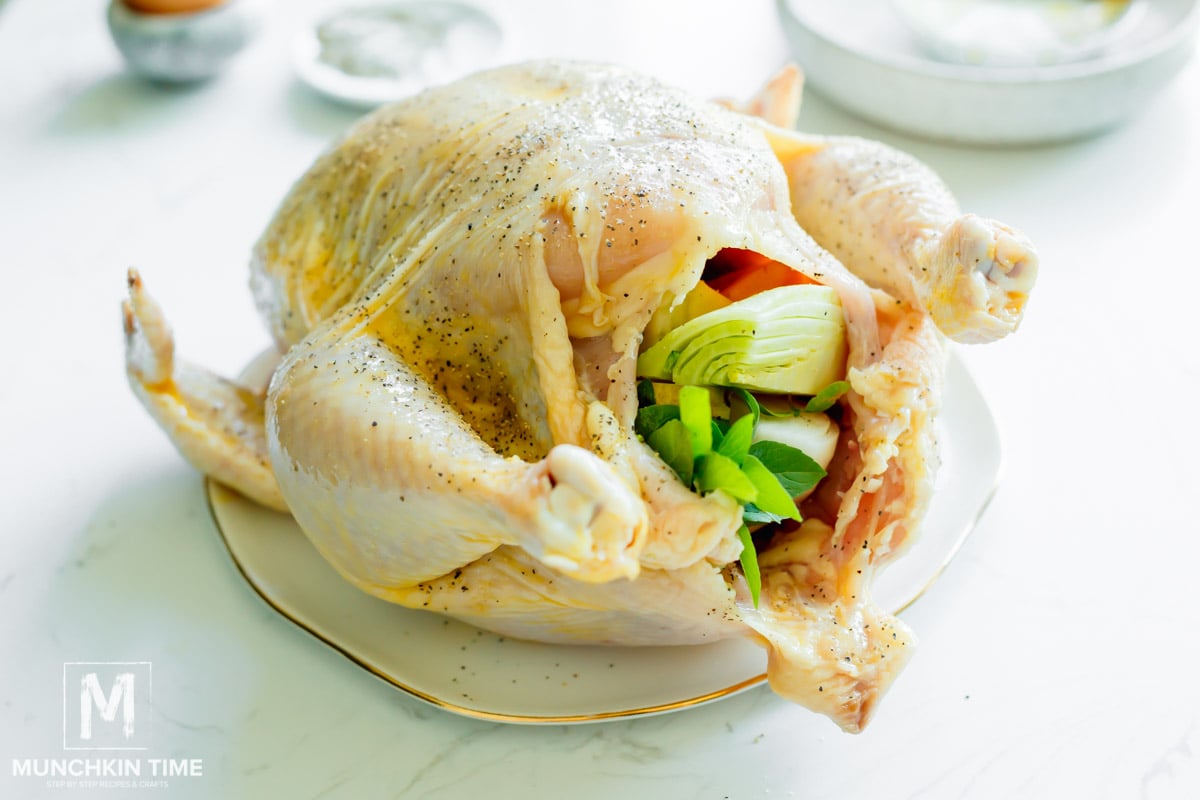 How to Roast a Chicken
Step 1: If your chicken has been cleaned, the cavity should be empty. Check it out, and if not, remove anything that's been kept in there. Then, season it with salt and pepper.
Step 2: Place the chicken on a clean cutting board reserved for raw poultry. Then, stuff the bird with the onion, lemon, fennel, and basil leaves.
Step 3: Brush the outside of the chicken with the whisked egg yolk. Be sure to cover the entire surface of the chicken and any visible spots. You don't need to worry about the chicken's back, however.
Step 4: Season the outside of the chicken with salt, pepper, and crushed red pepper, making sure to get it into all the nooks and crannies, including the thighs, inside of the wings, and legs.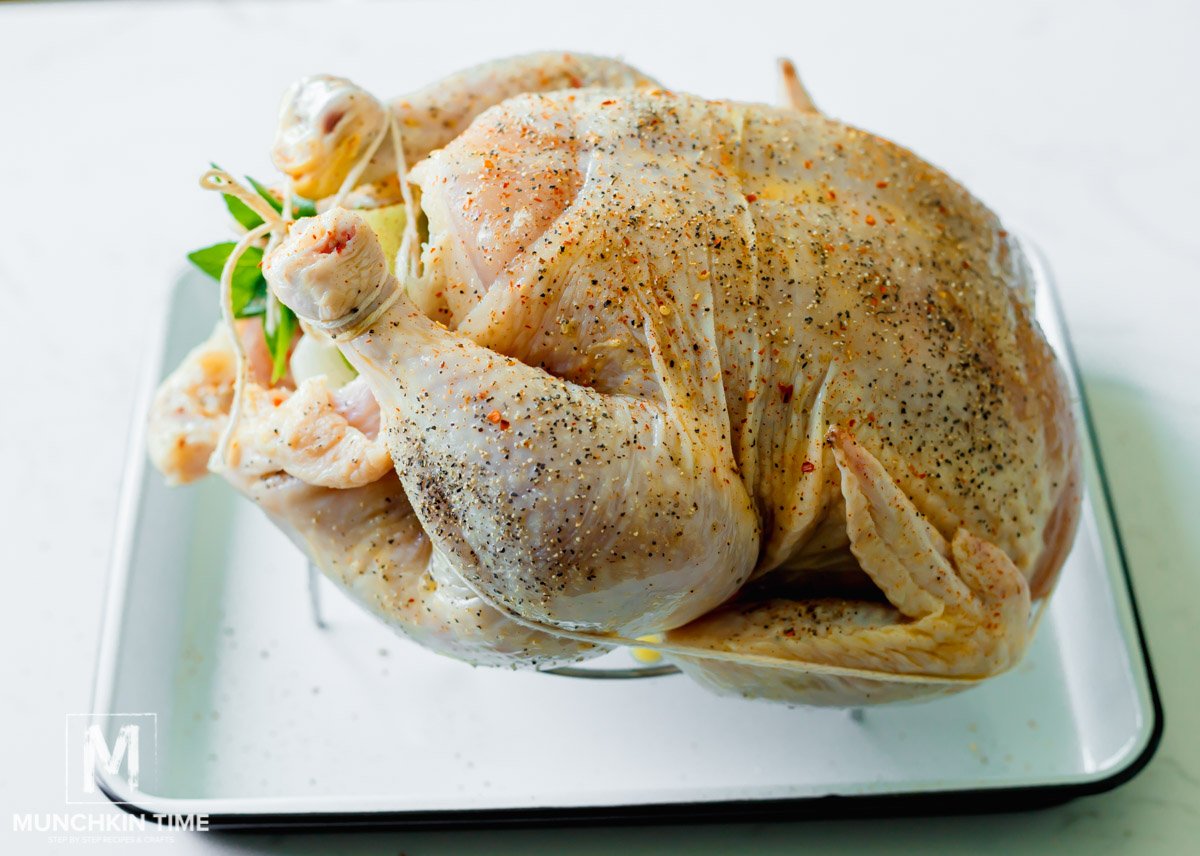 Step 5: Use kitchen twine to wrap the chicken body lengthwise so that it prevents anything from falling out of the opening to the cavity. Then, cross the legs and wrap the twine around the ankles of the legs.
Step 6: Place the chicken onto the wire rack set on a prepared baking sheet. Bring the wings into the chicken and tuck them in. Roast for 60 minutes in a preheated 400F oven on the middle rack in the center of the oven. If it starts to brown too quickly, cover it with aluminum foil.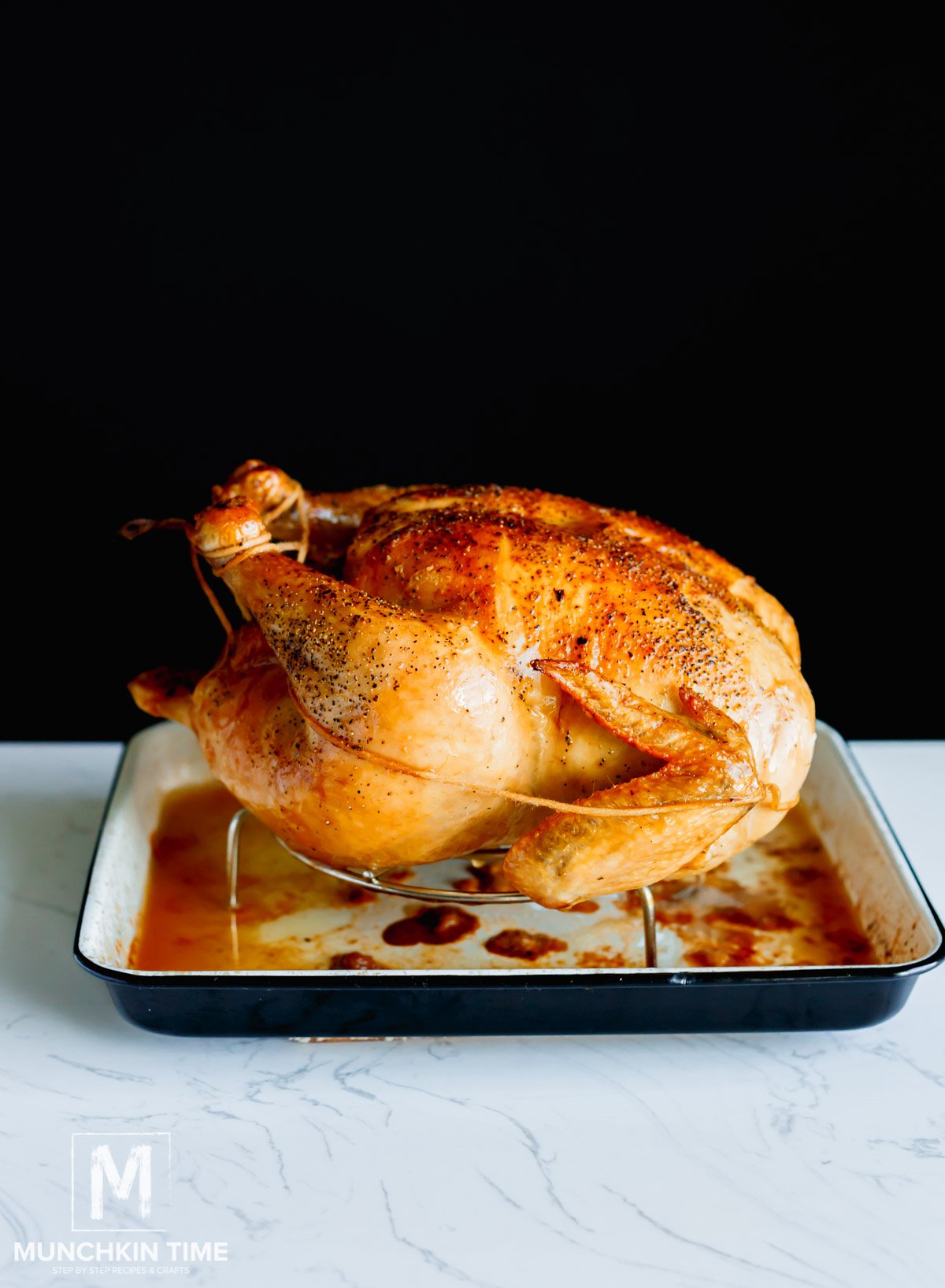 Step 7: Remove the chicken from the oven and allow it to rest for 10 minutes before carving. This will allow the juices to settle and redistribute throughout the bird so they don't come running out leaving behind dry meat.
Step 8: Drain any of the juices out of the cavity and reserve them to make sauce or gravy for the chicken, or use it to make bone broth. Then, cut the chicken into its parts and enjoy!
How Long to Roast a Chicken?
This will depend on the size of your bird and the temperature your oven is at. It also depends on your oven itself, as each model is different.
The general rule is 20 minutes per pound.
I find that a 3 lb chicken roasting for 1 hour in a 400-degree oven is perfect. You may find you need to leave it in a little longer for a larger bird, or a little less for a smaller 2 lb bird.
If you're unsure, start checking for doneness around the 45-minute mark. Use a meat thermometer and stick it into the center of the thickest part of the bird. You can also poke around the joints with a knife and watch for the juices to run clear.
How to Cut a Whole Chicken?
Once you've let it rest and cut the twine off, it's time to dive in!
The legs. Use a sharp carving knife and carefully pull one of the legs away from the body, and slice through the skin and meat that connects the joints. Then, use your hand to bend the leg away from the body until you hear the bone pop. Use the knife to continue cutting through the bone until it separates. Do this with the other leg and place them on a serving platter.
Drumsticks and thighs. You can leave them attached, or separate the drumsticks from the thighs for more pieces.
Chicken breasts. To remove the breasts, slice down the outer edge of the breast bone. You'll see that this bone is what separates the two breasts. Carve the whole breast out of the socket and it should come away easily. Repeat with the other side.
If you love the crispy little wings, you can cut those off too.
Now your chicken is ready to be served! Save the carcass for quick Instant Pot chicken bone broth!
Recipe Tips
Pat the Chicken dry before doing anything. Any excess moisture will prevent the skin from getting crispy.
Leave your chicken alone. Try not to open the oven door unnecessarily. This will affect the temperature and will cause it to take longer to finish cooking.
If you have an egg allergy or prefer to stick with butter or olive oil for the rub, you can.
Leftover chicken can be kept in an airtight container for up to 3-5 days in the fridge.
Reheat it in the oven or the air fryer to get back some of the crispy texture.
What to Serve with Roast Chicken?
A classic pairing with roast chicken is a delicious potato side dish. Something simple like a classic Instant Pot mashed potatoes, or a jazzed-up version like these cheesy mashed potatoes with caramelized onions.
Recently I've been obsessed with this pan seared then baked potato rounds smothered in a garlic butter sauce. Uhm, yes, please!
All you need is a crispy side salad like a fresh Greek salad to complete your meal and you've got a feast fit for your entire family!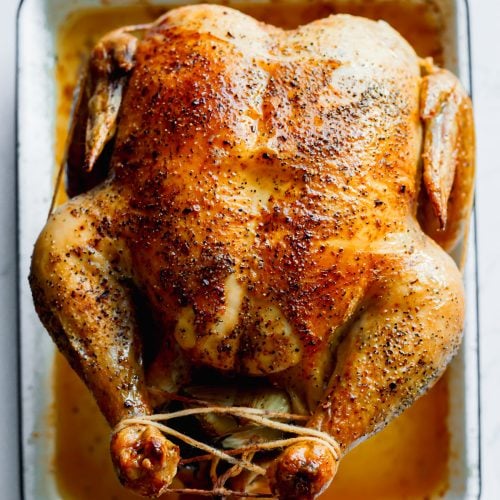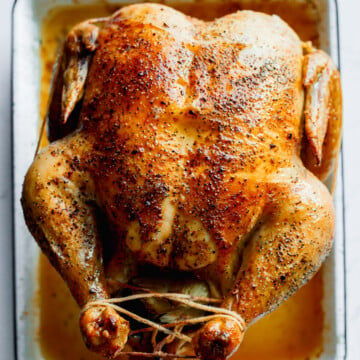 Roasted Chicken Recipe
Roasted Chicken Recipe - Learn how to roast a whole chicken with simple ingredients like lemon, onion, fennel, herbs, egg yolk & a bit of spice.
Ingredients
3

lb

whole chicken

cleaned and rested in room temperature for at least 20 minutes

1

egg yolk

whisked

sea salt and pepper

to taste, or use lemon salt

1/2

teaspoon

red crushed pepper flakes

or to taste

1/2

onion

peeled and cut in half lengthwise

1/2

lemon

cut in half lengthwise

1/2

fennel bulb

cut in half lengthwise

4

springs

thai basil
Instructions
Preheat the oven to 400F. Get baking dish with wire rack ready. Put chicken neck side down and season the cavity with salt & pepper, to taste. Next, stuff chicken with onion, lemon, fennel and basil leaves. Brush chicken with egg yolk, make sure to cover all visible spots except the chicken's back.

Season chicken with salt, pepper and crushed red pepper, make sure to season side of the thighs and inside of the wings and legs.

After wrap twine around the chicken body lengthwise, Brings the twine together and cross at the legs, wrapping the ankles of the legs and tying it together into a bow.

Place chicken onto a wire rack and roast for 60 minutes, in the center of the oven, or until the internal temperature reaches 165F when inserted into a leg joint. Remove from the oven and let rest for 10 minutes. Carefully remove the twine. Drain the juice by tilting the chicken's cavity downward. Cut chicken into parts and enjoy (Make sure to save the chicken back and juicy drippings to make bone broth).
Notes
Feel free to get creative and use any of your favorite spices, when seasoning the chicken. 
Freeze the chicken back with drippings and use later to make bone broth. 
Hi! All content & images are copyright protected. Please do not use my images without prior permission. If you want to republish this recipe, please re-write the recipe in your own words, or simply link back to this post for the recipe. Thank you.
Nutrition
Calories:
384
kcal
Carbohydrates:
5
g
Protein:
32
g
Fat:
26
g
Saturated Fat:
8
g
Polyunsaturated Fat:
6
g
Monounsaturated Fat:
11
g
Trans Fat:
0.2
g
Cholesterol:
171
mg
Sodium:
133
mg
Potassium:
476
mg
Fiber:
2
g
Sugar:
2
g
Vitamin A:
389
IU
Vitamin C:
14
mg
Calcium:
47
mg
Iron:
2
mg
Q. – Do YOU like this Roasted Chicken Recipe?
Let us know in the comments below, we would love to hear from you!
Thank YOU for YOUR Comment, Share & Recipe Review!