Chicken Potato Casserole Recipe – finges-lickingly delicious Potato Casserole.
When YOU make this Casserole Recipe PLEASE take a picture and email it to [email protected] and I will feature it under this recipe.
Thank you!
 I am talking about juicy chicken thigh fillets, covered with soft potato slices and topped with melted cheesy deliciousness.
It made my toddler lick her fingers =).  As for me and ate it until it was gone, and guess what?  It only takes 5 ingredients to create this quick and easy chicken potato casserole.
When YOU make this Easy Chicken Casserole Recipe PLEASE tag @munchkintimeblog on Instagram. I would LOVE to see your creation!
Thank you!
Ingredients
1lb chicken thigh fillets
2-3 potato, peeled and sliced
Mayonnaise
Cheese (I used mozzarella cheese)
Salt and Pepper to taste
Preheat the oven to 350-400F.
1. Lightly beat off chicken thigh fillets( if you want you can thinly cut the thigh fillets) and place them in oven proof dish.  Sprinkle salt and pepper to taste.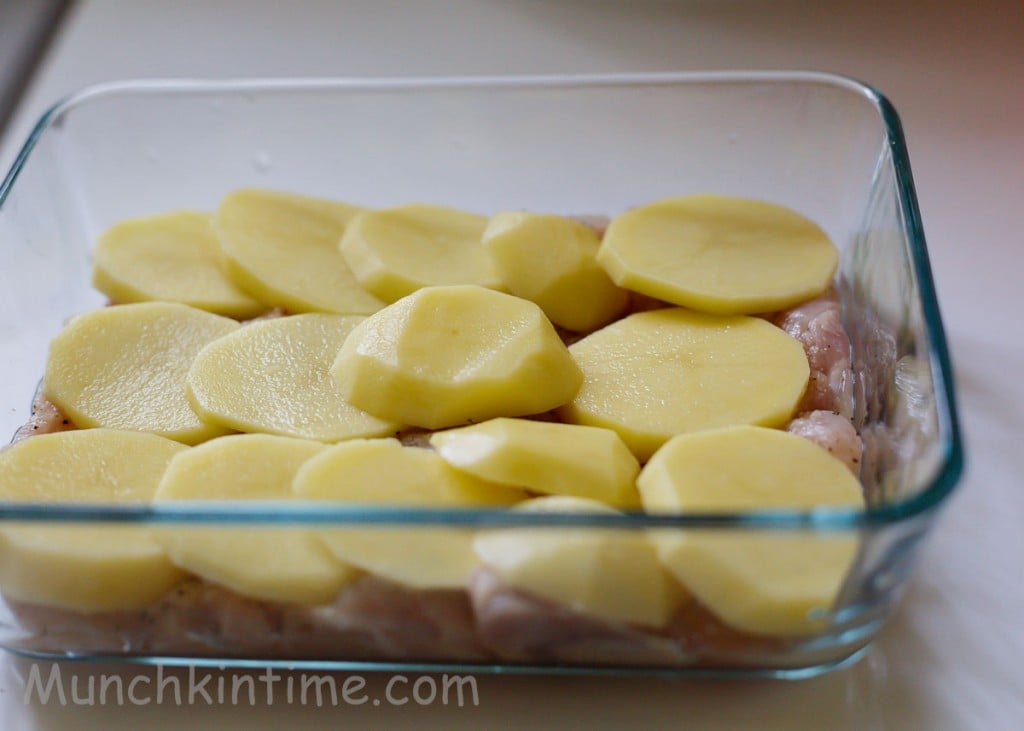 2. Add sliced potatoes.
3. Add mayonnaise.
4. Top it with cheese.
5. Cover with foil paper and bake for 1 hour.
6. After 1 hour take off the foil paper and broil it until golden brown color.
Serve while hot.
I love to garnish this dish with extra cheese or fresh herbs.
Bon Appetite!
More Yummy Dinner Recipes:
10 min Honey Garlic Shrimp Recipe
Super Juicy Oven Baked Chicken Wings
Baked Chicken Pasta in Buttery White Sauce
Oven Baked Boneless Skinless Chicken Thighs