Best Pumpkin Pie Recipe – Smooth and creamy homemade pumpkin pie filling made with real pumpkin with a chocolate cookie crust! Serve this simple and flavorful pumpkin pie recipe at your next holiday gathering and it will be talked about for years to come!
When YOU make this Pumpkin Pie Recipe please tag us @munchkintimeblog on Instagram, we would LOVE to see your creation!
This recipe was made in partnership with the Boise Co-op. The Boise Co-op has been providing fresh, local and organic products since 1973. Learn more about the Boise Co-op here.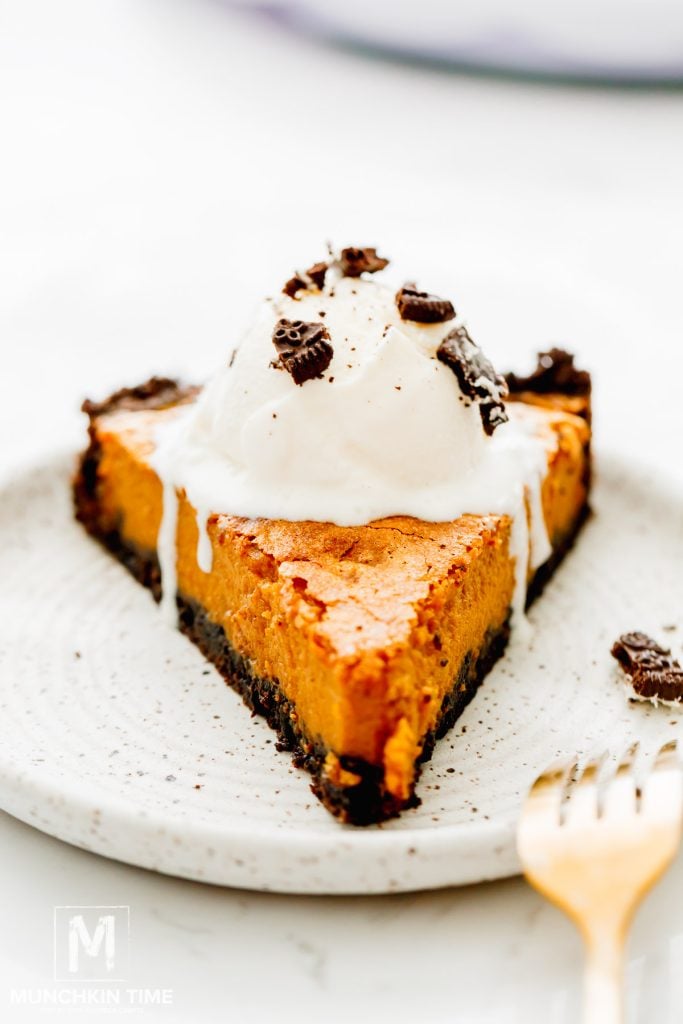 Pumpkin pie is a classic dessert for both Thanksgiving and Christmas. Because of this, I have tried so many different pumpkin pies in my life, as I'm sure you have too!
I am happy to say I have finally found THE ONE. The only. The best pumpkin pie recipe I've ever had and the only one I'll be making from now on!
It's a bit different from the traditional way of making it because instead of a flaky pie crust or even a graham cracker crust, I use cream-filled chocolate cookies. The crispy and sweet crust with the chocolate flavor pairs so well with the creamy pumpkin pie filling made with real pumpkin and all those fantastic warm spices.
It makes the best homemade pie crust for pumpkin pie!
Knowing how to make homemade pumpkin pie from scratch is a great skill to have. It's so easy to make and yet people always look forward to it, so even when store-bought pies are sold out in stores, you can whip one up anytime you want!
There's just something extra special about homemade pie, and I promise, this one ranks as one of the best!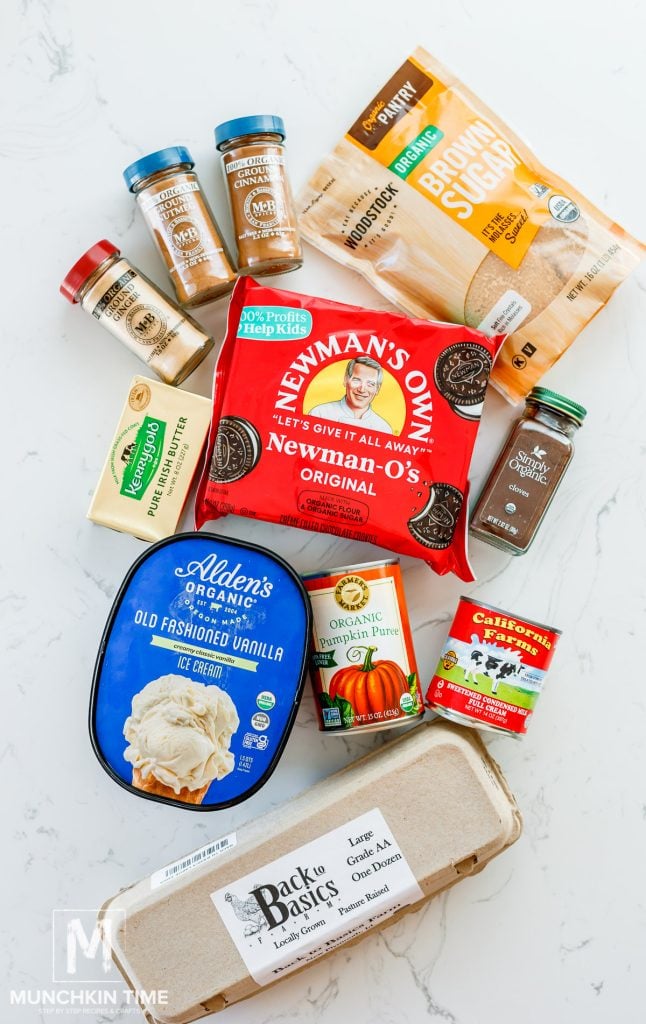 Ingredients Needed
Pumpkin Puree: Not to be confused with pumpkin pie filling! We're making our filling from scratch which means we need pure puréed pumpkin. You can use it from a can, which is normally thicker, darker in color, and slightly more condensed. Or, you can purée your own sugar pumpkin and use it fresh. It's up to you!
Condensed Milk: This adds sweetness and a creamy consistency to the pumpkin pie filling.
Eggs, beaten: Helps to bind the ingredients into a custard-like filling so it is no longer runny once it bakes.
Brown Sugar: A caramelized sweetener that adds a bit of color as well. Brown sugar, pumpkin, and spices go so well together.
Spices: Ground cinnamon, ground ginger, ground nutmeg, ground cloves, and salt.
Cookies: No need to remove the cream center, it is used to sweeten the crust and the cream helps to bind it together. You totally can if you want to, but I like to leave it in.
Melted Butter: Adds moisture to the crust, turning into what looks like wet sand. This is so it's easy to work with and form into the bottom of the pan.
For Serving: We love our pumpkin pie with a big scoop of vanilla Ice Cream but you can also enjoy it with whipped cream too!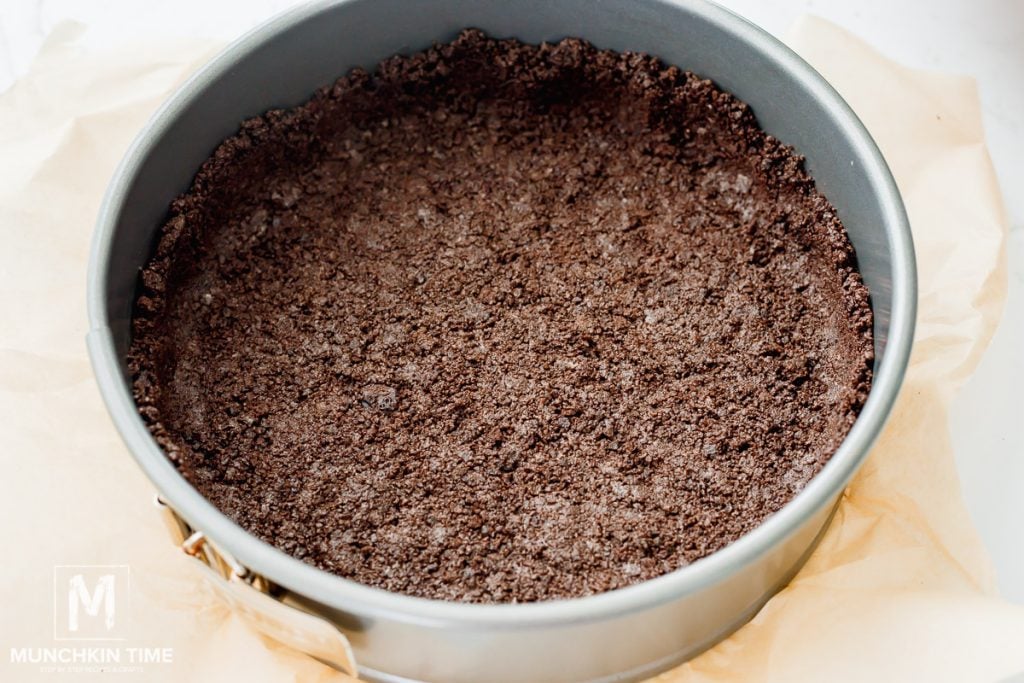 How to Make the Best Pumpkin Pie Recipe
How to Make Pumpkin Pie Crust
Step 1: Blend the cookies in a food processor into coarse crumbs. Pour in the melted butter and continue to pulse until it looks like wet sand.
Step 2: Transfer the crumb mixture into a prepared 9-inch baking pan or pie plate. Use your hands to press it down into an even layer and make sure it's compacted. You can also use a big spoon to do this. Let it chill in the fridge for an hour.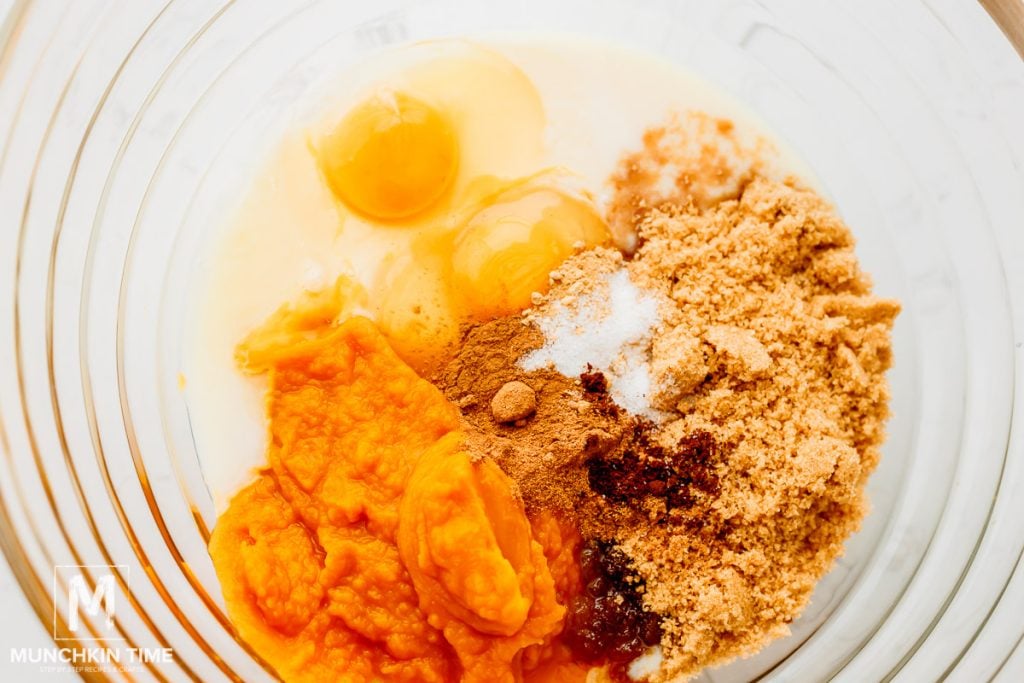 How to Make Pumpkin Pie Filling
Step 3: In a large mixing bowl, combine the pumpkin purée, condensed milk, eggs, brown sugar, ground cinnamon, salt, ground ginger, ground nutmeg, and ground cloves. Mix with an electric mixer for 2 minutes.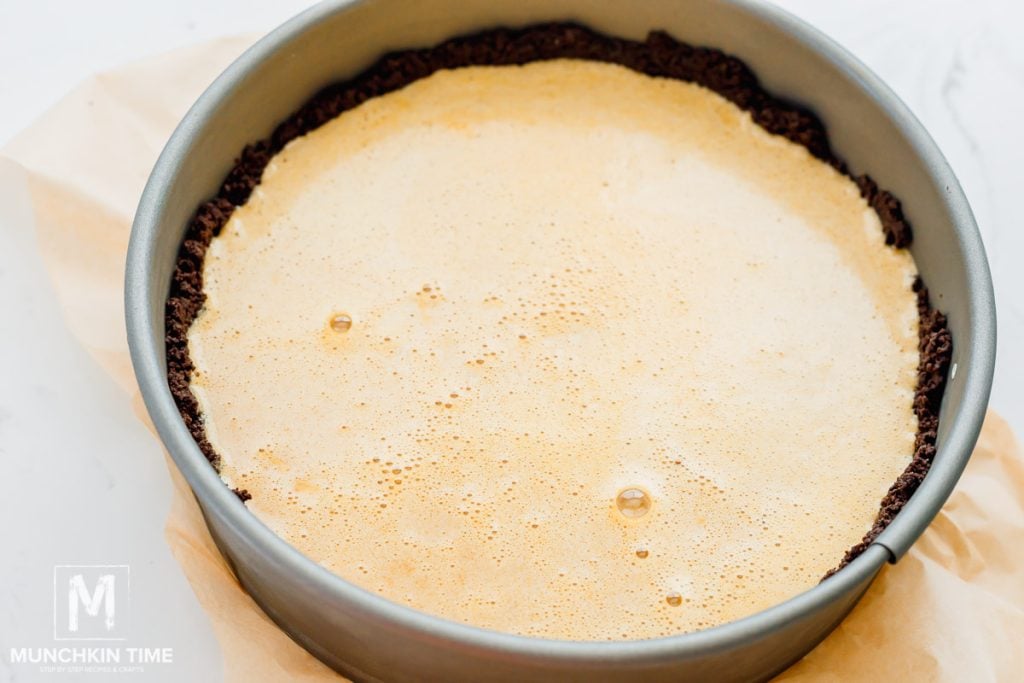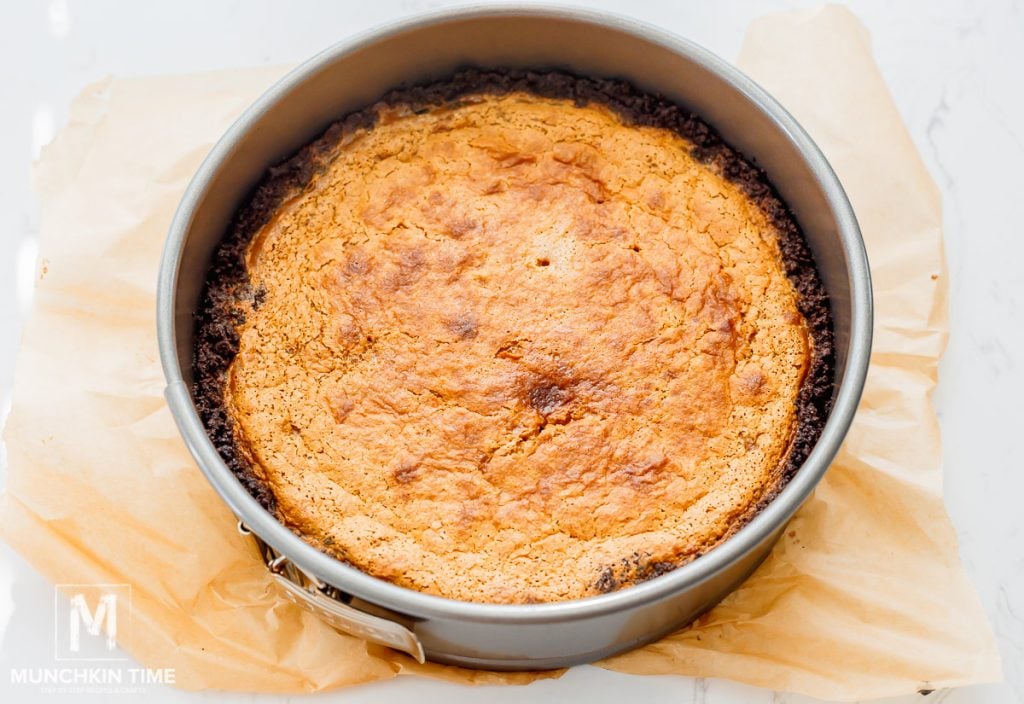 Assemble and Bake
Step 4: Pour the pie filling into the prepared crust and bake at 425 F for 15 minutes. After 15 minutes, reduce the heat to 350F and bake for the remaining 50 minutes.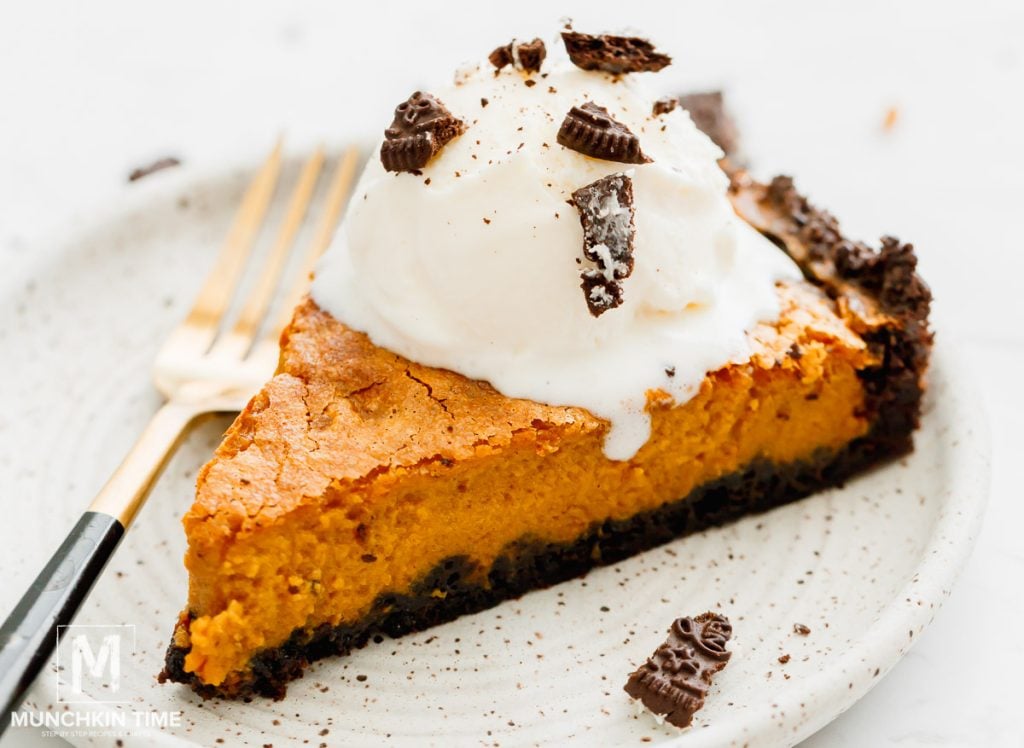 Step 5: Remove it from the oven and allow it to cool. Slice the pie into even slices and serve with a side of vanilla ice cream. Enjoy!
Recipe Tips
If there is too much water in your pumpkin puree, blot the excess with a paper towel. Too much water will make your pie runny.
If you have a pumpkin pie spice blend, feel free to use it instead of the single spice. Do a little taste test before adding in the filling. Sometimes people like to add a bit more cinnamon.
Test the pie by inserting a toothpick into the center of the pie. If it comes out clean, it's ready to take out of the oven.
Keep in mind that the center will still be a bit soft. This is ok as you don't want to overbake the pie.
Overbaked pie may cause it to crack!
Enjoy pumpkin pie warm or at room temperature.
For clean slices, wipe the knife clean with a wet paper towel in between each slice.
FAQs
What other types of pie crust can I use for pumpkin pie?

You can certainly use a traditional pastry crust, either homemade or store-bought. Or, if you'd prefer a different kind of cookie crust, you can also use gingersnap cookies, graham crackers, golden cream-filled cookies, shortbread cookies, you name it!
Which pumpkins are best for pies?

You'll want to use the cute little sugar pumpkins. Unfortunately, the ones you use to carve Jack-o-Lanterns are only good for the seeds!


Small little pie pumpkins are sweeter, have a smooth texture once puréed, and a thin skin which helps with quick cooking.
How long is pumpkin pie good for?

It'll stay fresh in an airtight container in the fridge for up to 2 days. Enjoy it again the next day and the day after that!
Can you freeze a homemade pumpkin pie?

For sure! Once it has completely cooled, wrap it tightly with plastic wrap then store it in a freezer bag. I'll keep frozen for up to 3 months. Thaw it in the fridge overnight then reheat it in the oven. If you're making two around Thanksgiving, freeze one and have the best pumpkin pie recipe ready for you at Christmas!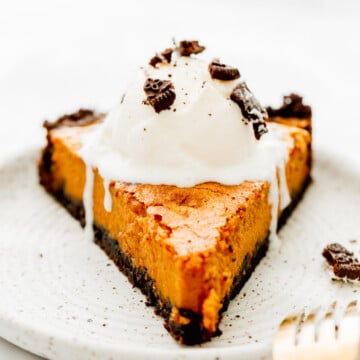 Best Homemade Pumpkin Pie Recipe Ever
One of the Best Homemade Pumpkin Pie Recipes You will Ever Try!
Ingredients
1 3/4

cup

pumpkin puree

1

can

condensed milk

2

eggs

beaten

2/3

cups

brown sugar

1 1/4

teaspoon

ground cinnamon

1/2

teaspoon

salt

1/2

teaspoon

ground ginger

1/2

teaspoon

gound nutmeg

1/4

teaspoon

ground cloves

24

whole

cream filling chocolate cookies

plus more for garnish

1/4

cup

melted butter

vanilla ice cream
Instructions
Lets prepare Crust first – Blend cookies in the food processor until fine crumble, then add melted butter and blend it again. Place ground mixture into buttered 9-inch baking pan then press into the bottom and sides evenly, I used a glass cup for that. Place in the fridge for at least one hour.

In a big mixing bowl combine pumpkin puree, condensed milk, eggs, brown sugar, ground cinnamon, salt, ground ginger, ground nutmeg and ground cloves. Mix with a mixer for 2 minutes.

Pour into prepared piecrust and bake at 425F for 15 minutes. After 15 minutes reduce the heat to 350F (slightly cover the top of the pan with parchment paper or foil paper, it helps prevent the top from getting too dark) and bake for 50-55 minutes or until toothpick comes out clean when you insert it in the center.

Let it cool then cut a slice, garnish with ice cream and cookie crumbles. Enjoy!
Video
Notes
When 
YOU make this Pumpkin Pie
Recipe 
please tag us @munchkintimeblog on Instagram, we would LOVE to see your creation! 
Hi! All content & images are copyright protected. Please do not use my images without prior permission. If you want to republish this recipe, please re-write the recipe in your own words, or simply link back to this post for the recipe. Thank you.
Nutrition
Calories:
264
kcal
Carbohydrates:
50
g
Protein:
6
g
Fat:
6
g
Saturated Fat:
3
g
Polyunsaturated Fat:
0.4
g
Monounsaturated Fat:
2
g
Trans Fat:
0.004
g
Cholesterol:
58
mg
Sodium:
232
mg
Potassium:
337
mg
Fiber:
2
g
Sugar:
47
g
Vitamin A:
8533
IU
Vitamin C:
4
mg
Calcium:
180
mg
Iron:
1
mg
Q. – Do YOU like this Best Pumpkin Pie Recipe?
Let me know in the comments below, I would love to hear from you!
Thank YOU for YOUR Comment, Share & Recipe Review!