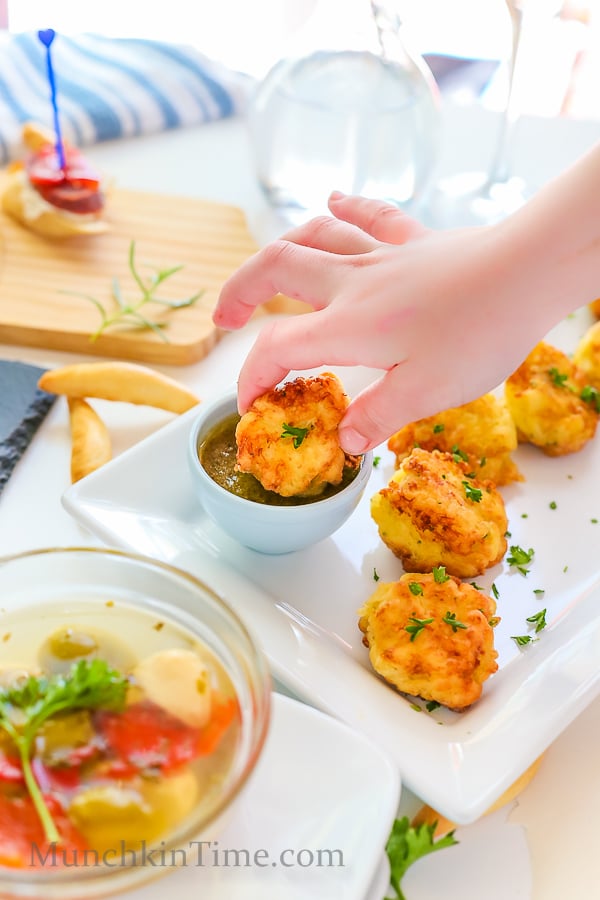 This yummy Spanish Cod Fritters Recipe is made of simple ingredients like wild-caught cod, potatoes, garlic, parsley, flour, eggs, salt & pepper.
Cod Fritters are one of the popular Spanish tapas. If you are like me, who for the longest time didn't know what tapas are, until I googled it online, it is simply means Spanish appetizers.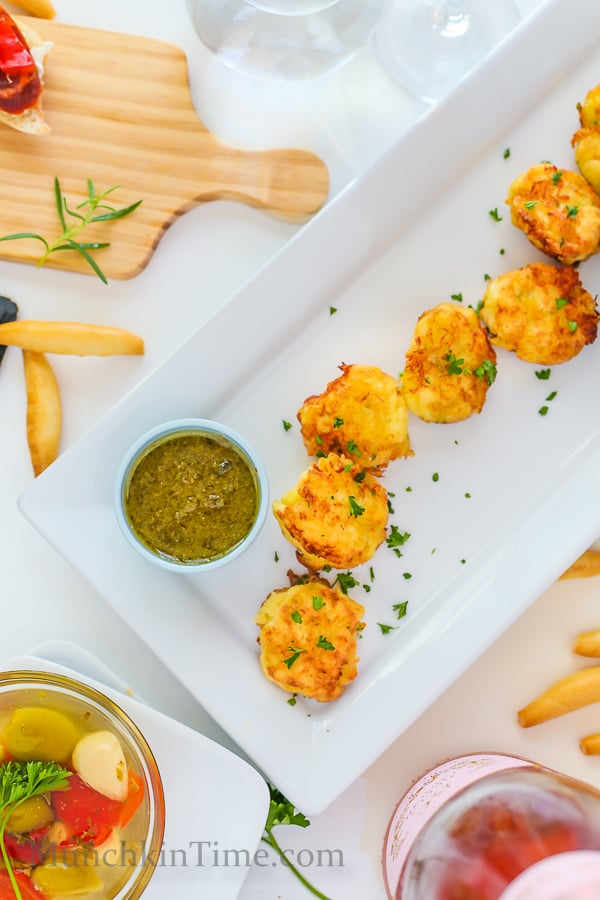 Now, this Spanish recipe is super special to me because of the 3 reasons.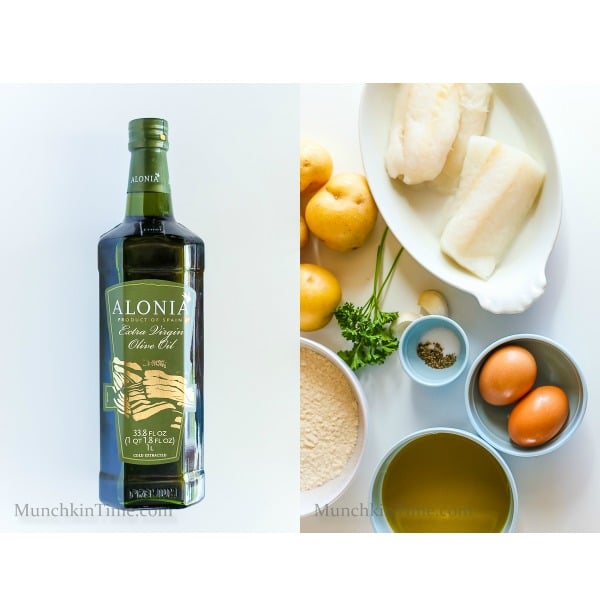 Reason #1 – this recipe was created for Fred Meyer's event called #TasteofSpain, that is currently going on right now at Fred Meyers.  I was so thrilled to be part of it, creating and sharing Spanish recipes here & here, using ingredients that were imported from Spain like olive oil, chorizo, paella rice, Spanish wine, cheese, olives, tapas sauces and so much more.  All of these Spanish ingredients are now available for you to buy at any Fred Meyer Stores.
Reason #2 – this delicious cod fritters recipe was entirely made by two of my daughters ages 2 & 5, and it was filmed on camera! Yep, there is our 1st cooking with kids recipe video on the bottom of this post.  Even after 5 "don't want to share" tantrums we were able to film tapa recipe to the end.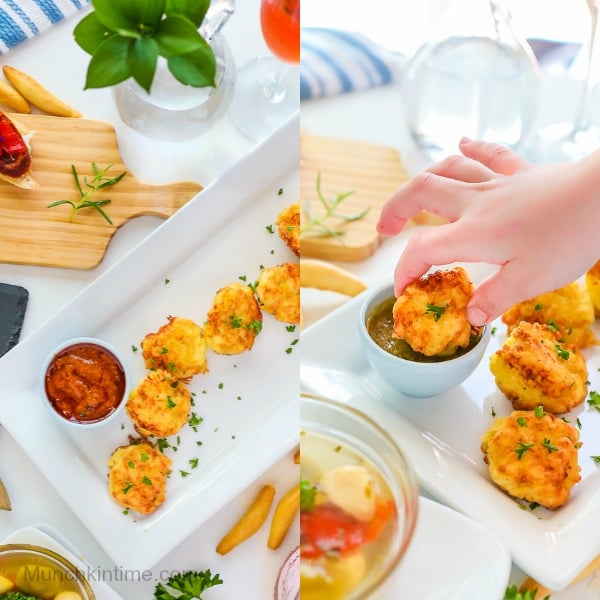 Reason #3 – we all had a lot of fun creating, filming and eating these crispy cod fritters and I hope you will enjoy them too:D
If you make Spanish Cod Fritters Recipe please tag my name @munchkintimeblog on Instagram, we would LOVE to see your creation!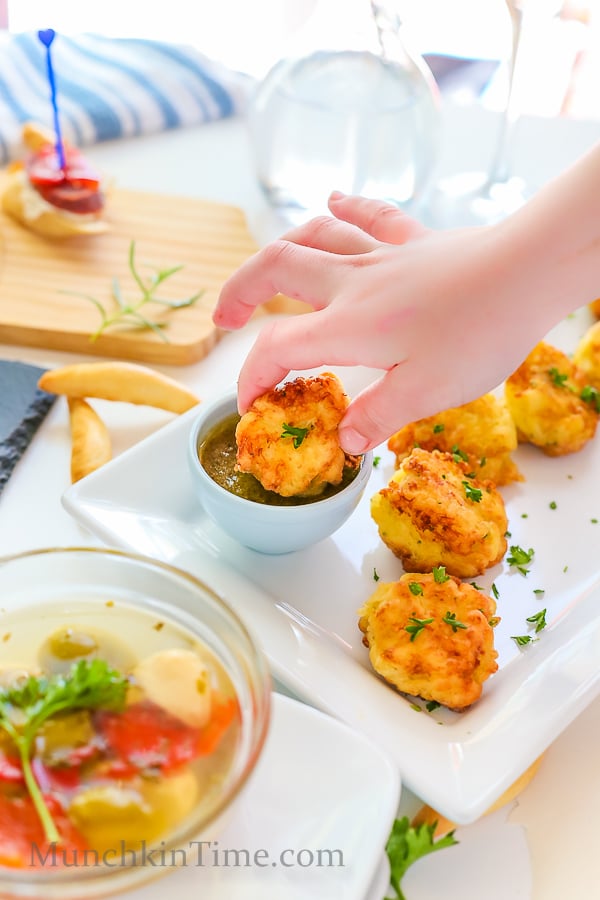 Easy Cod Fritters Recipe
These delicious Spanish cod fritters are so easy to make with this step by step video recipe.
Ingredients
Instructions
Place potato and cod into a pot, add enough water to cover them, add salt. Bring it to a boil, then cook on a medium-high heat for about 10 minutes, remove cod from the pot, let it cook. Cook potato until potatoes are soft when pierced with a knife. Remove from the pot, grab two forks and mash cod and potato.

Add egg yokes, garlic, salt, ground pepper and parsley, Combine with a spoon.

Beat egg whites with a mixer until doubled in size and soft peak forms.

Carefully fold egg whites into potato mixture.

Dump one tablespoon of cod mixture into a bowl with flour, roll it to create a fritter and place it on a tray.

Heat the oil on medium-hight heat. When the oil is hot, add fritters and fry them for 1-2 minutes on each side or until golden color. Remove and place them on a plate lined with paper towel. Serve warm with tapas or aioli sauce. Enjoy!

.
Notes
These cod fritters taste so good with eggs and bacon on a next day, just heat them in the skillet with little amount of water on a medium heat, add eggs, red bell peppers, cheese and garnish with baked bacon. Enjoy!
Q. -Did you like this Appetizer Recipe?
Let me know in the comments below, I would love to hear from you!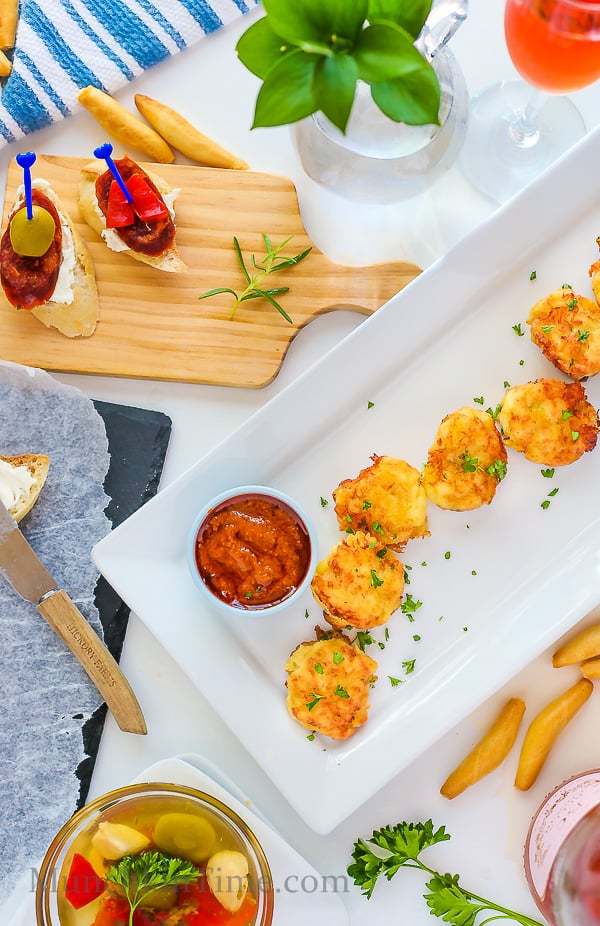 Q. -Do you want to see more yummy recipe?  Subscribe to Munchkintime on the bottom of this post——->
Thank you for stopping by!