Vanilla Custard Cake – a timeless and elegant cake straight from my childhood! It's made with layers of cookie-like dough that is denser than your typical soft cake yet still lovely and moist and it's filled with layers of vanilla custard cake filling that make every bite incredibly flavorful.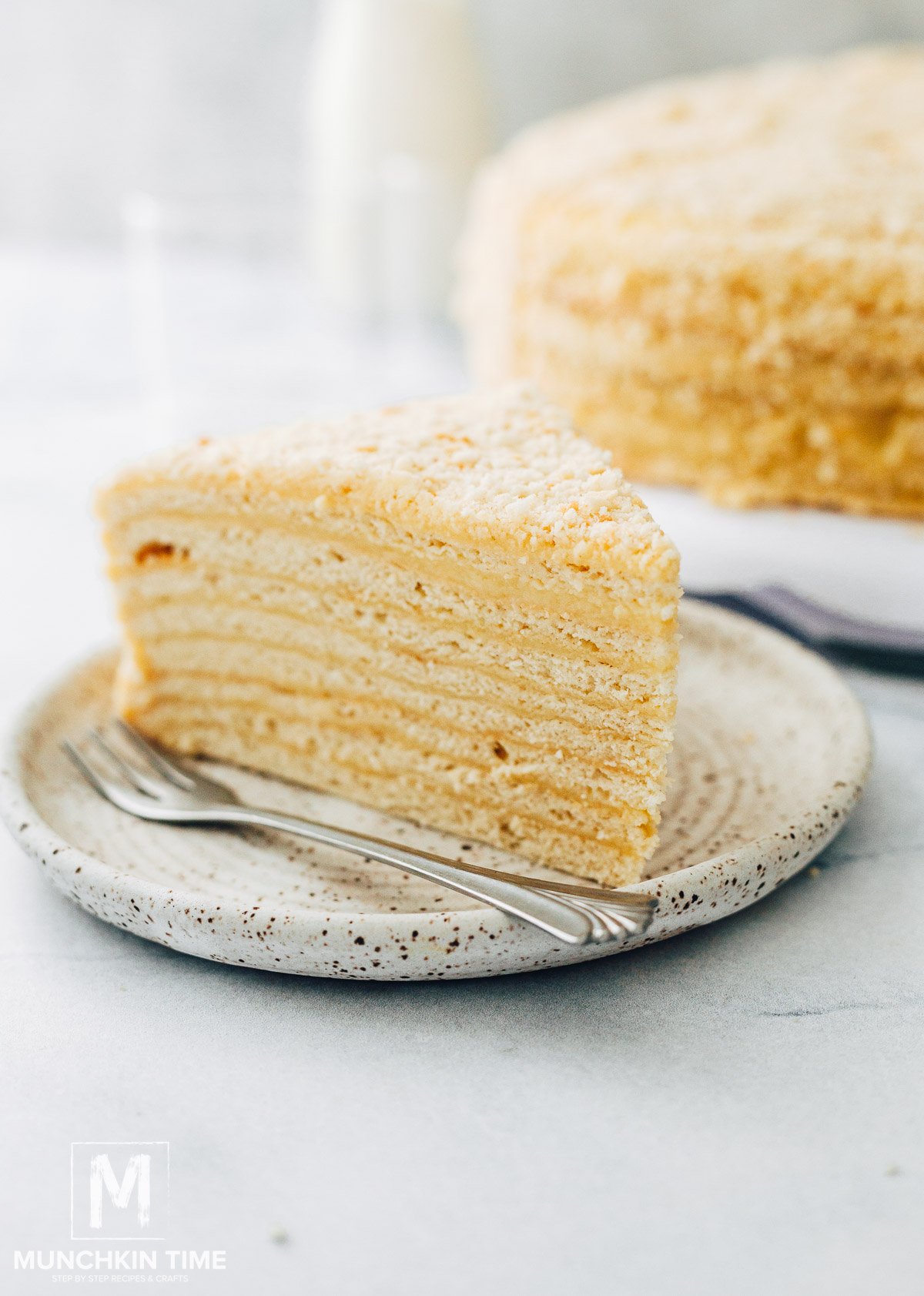 I've been holding onto this recipe for years and I couldn't be more excited to share it with all of you! To me it's an extra special custard cake recipe because not only is it different than most other cakes you've probably ever had, but it's the cake recipe my mom used to make when I was a kid!
It's near and dear to my heart and when I think of all my childhood celebrations, this vanilla cake with custard filling was always a part of it.
Also, it's a budget-friendly cake, made with simple pantry ingredients, but done in a way that brings an extra dose of love into your home. I know it'll become a household tradition in your home like it was mine!
There are a few moving parts to this cake, but none of it is difficult. The batter is done differently, but it's well worth the extra bit of effort, believe me. This cake is heavenly!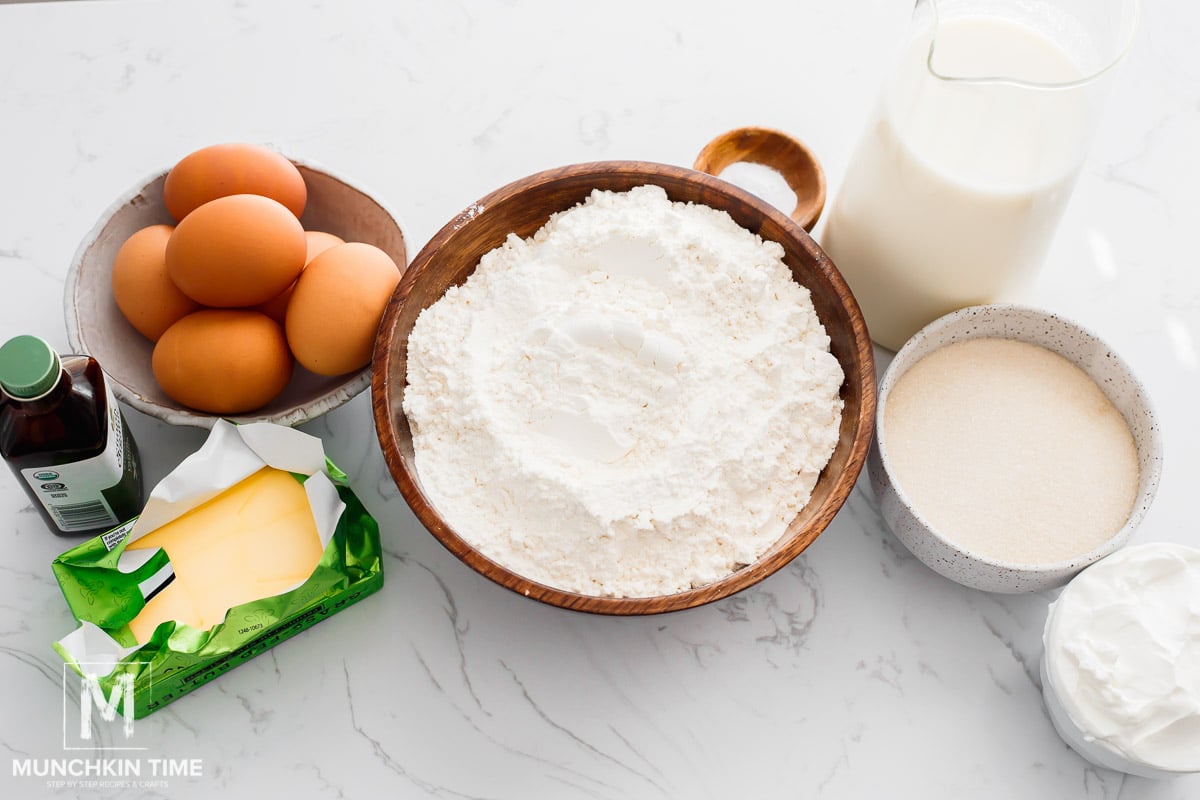 Ingredients Needed
For the Cake
Sour cream: Adding sour cream to baked goods helps with moisture and richness. The acidity will also react well to the baking soda giving it a bit of a rise (but not much of one in the case of this cake!
Baking soda: A leavening agent that will help to give it about as much rise as going from a crepe to a pancake.
Eggs: Needed for binding so that the sturdy cake layers hold their shape without crumbling.
Melted butter: Adding melted butter will help spread out your cake and make it denser than usual. Sort of the way it spreads out cookies when they bake.
Sugar: The sweet flavor in the cake comes from regular granulated sugar. It's perfect!
Vanilla extract: I use the pure extract for that beautiful aromatic vanilla flavor that this cake has.
Flour: The structure of the cake rounds is all thanks to the flour used. It's important to measure it properly and adjust it as needed. If you need more, you can add more.
For the Custard Cake Filling
Sugar: A vanilla custard should always be perfectly sweet!
Flour:

This is used to thicken up the custard so that it is not too thin and runny but has a nice thick consistency to it.

Eggs:

A signature ingredient used for all kinds of custards. It's what makes it rich and moist and deliciously smooth.

Milk:

I use raw whole milk because that's what my mom used to do, but you use whatever milk you have on hand. The higher the fat content the richer it will be!

Butter, cubed:

Will be melted into the custard once it is heated on the stove. This is another way to thicken a custard as it cools.

Vanilla extract:

A vanilla custard filling needs the vanilla flavor!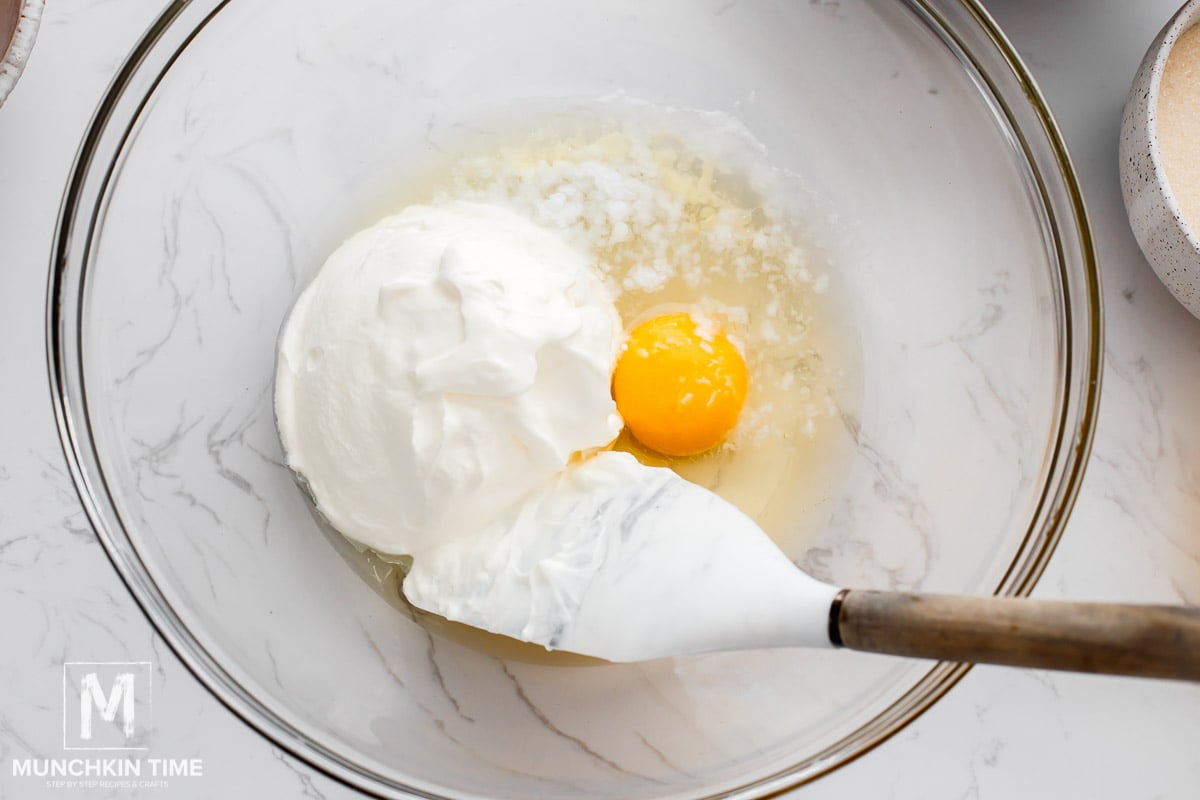 How to Make Vanilla Cake with Custard Filling
Make the Dough
Step 1: In a large bowl, whisk the sour cream, baking soda, and 2 eggs together. Next, pour in the melted butter and give it a good whisk. Follow this with the sugar and vanilla and continue whisking until combined.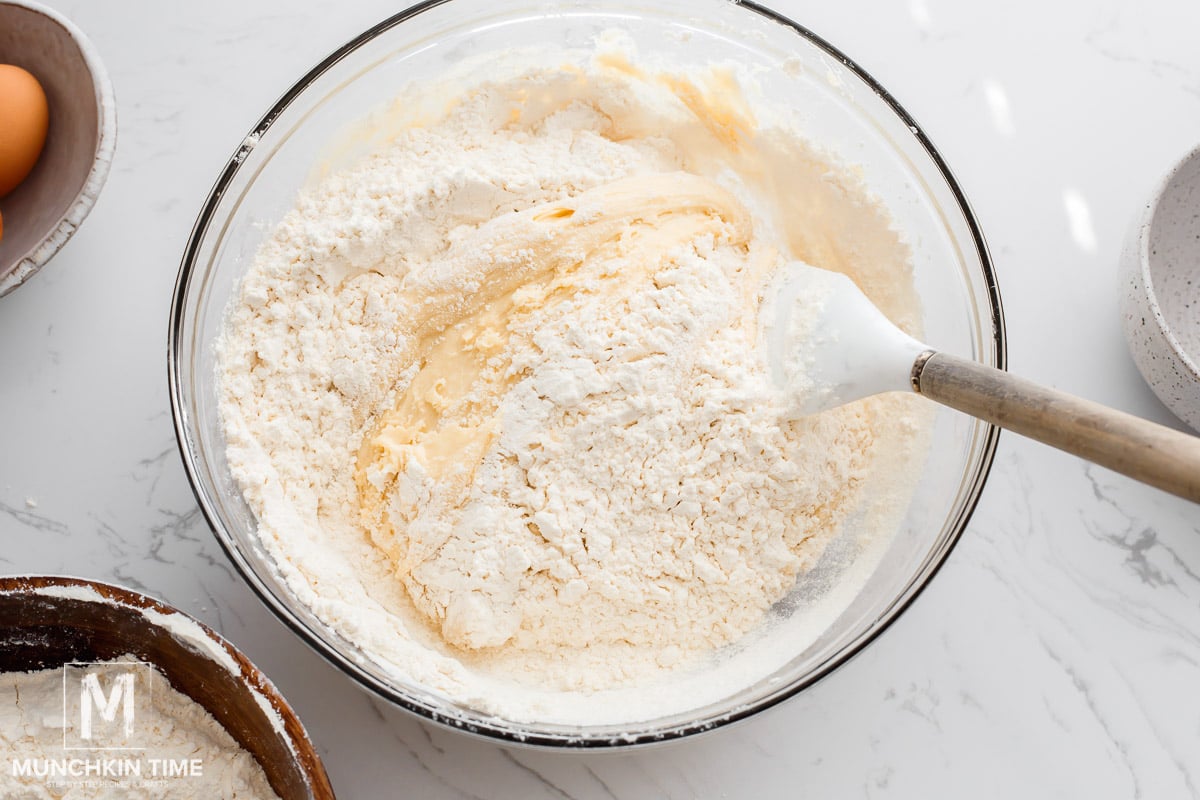 Step 2: Slowly add about 1 cup of flour at a time to the batter, whisking and combining in between each addition. At about the time you add the last bit of flour, you'll notice it's hard to continue. Start combining using your hands to make it easier. Do this until all of the flour is added and continue kneading and folding the dough until the flour has dissolved into the dough.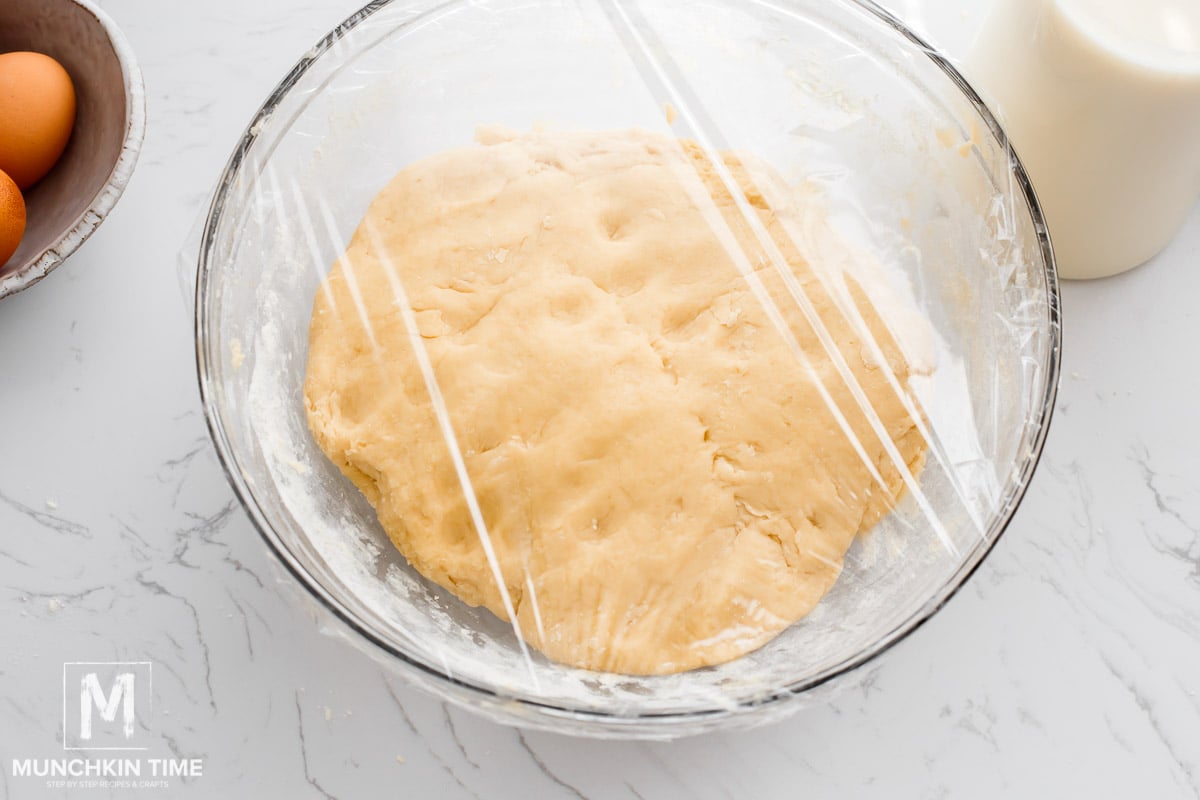 Step 3: You may notice that this cake batter is unlike your traditional cake batter. It is no longer runny, but instead a soft dough, almost like cookie dough that is not sticky once you touch it with a dry finger.
Step 4: Cover the bowl with plastic wrap and allow it to rest for 30 minutes at room temperature. While it's resting preheat the oven to 400 degrees F.
Bake the Layers
Step 1: Grab a piece of parchment paper, about 2 inches larger than a dinner plate. Take the piece of paper and place the dinner plate on top of it, upside down to make sure it's got a large enough surface area to cover the plate plus a bit more. Once you have the right size, cut 7 more pieces the same size. Set them aside for a moment.
Step 2: Transfer your dough to a lightly floured surface and divide it into 8 equal pieces. Use your hands to roll each piece into a ball and then place them all back into a bowl. Cover them once more.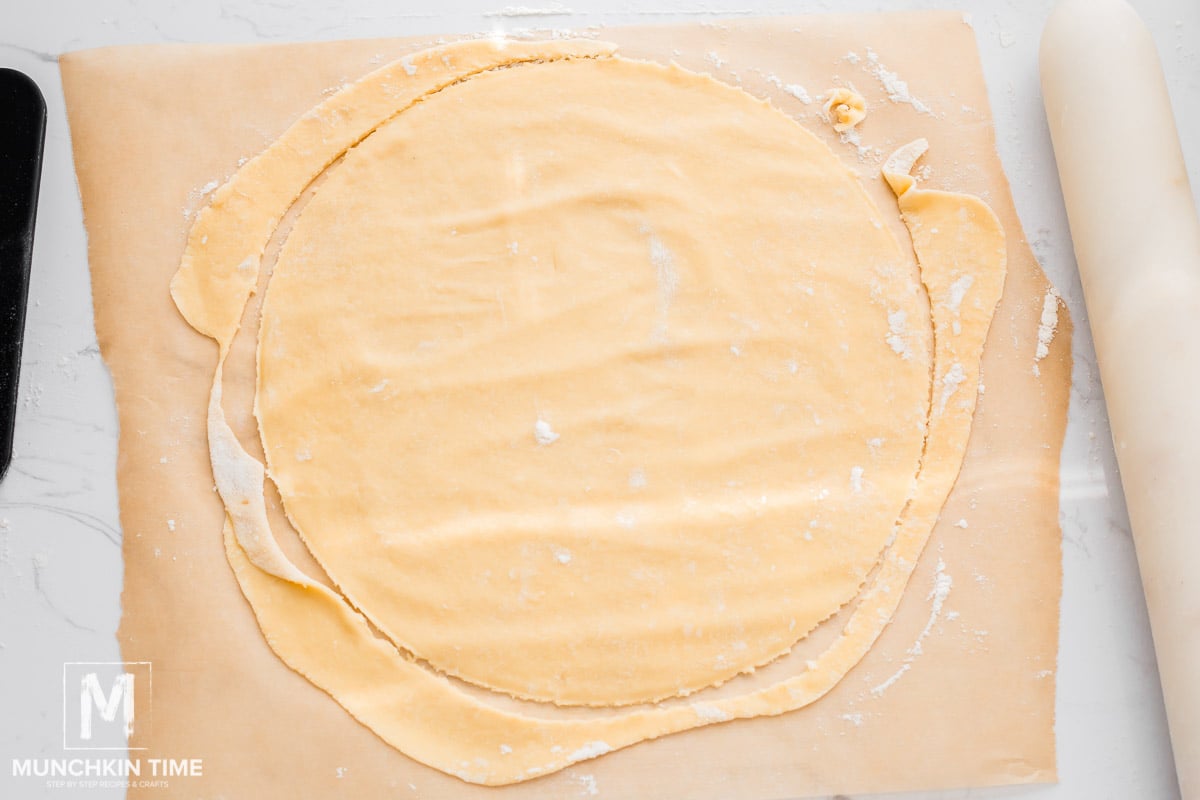 Step 3: Take one piece of the parchment paper you cut out earlier and place it onto a clean surface. Drop one of the dough balls onto it and sprinkle with a bit of flour. Using a rolling pin, roll out the dough across the entire surface of the parchment paper (or at least as big as a dinner plate) as flat as you can get it.
Step 4: Place the plate upside down overtop the dough and use the dull side of the butter knife to cut the dough around the plate into a perfect circle, leaving the excess edges right where they are. We will use them later!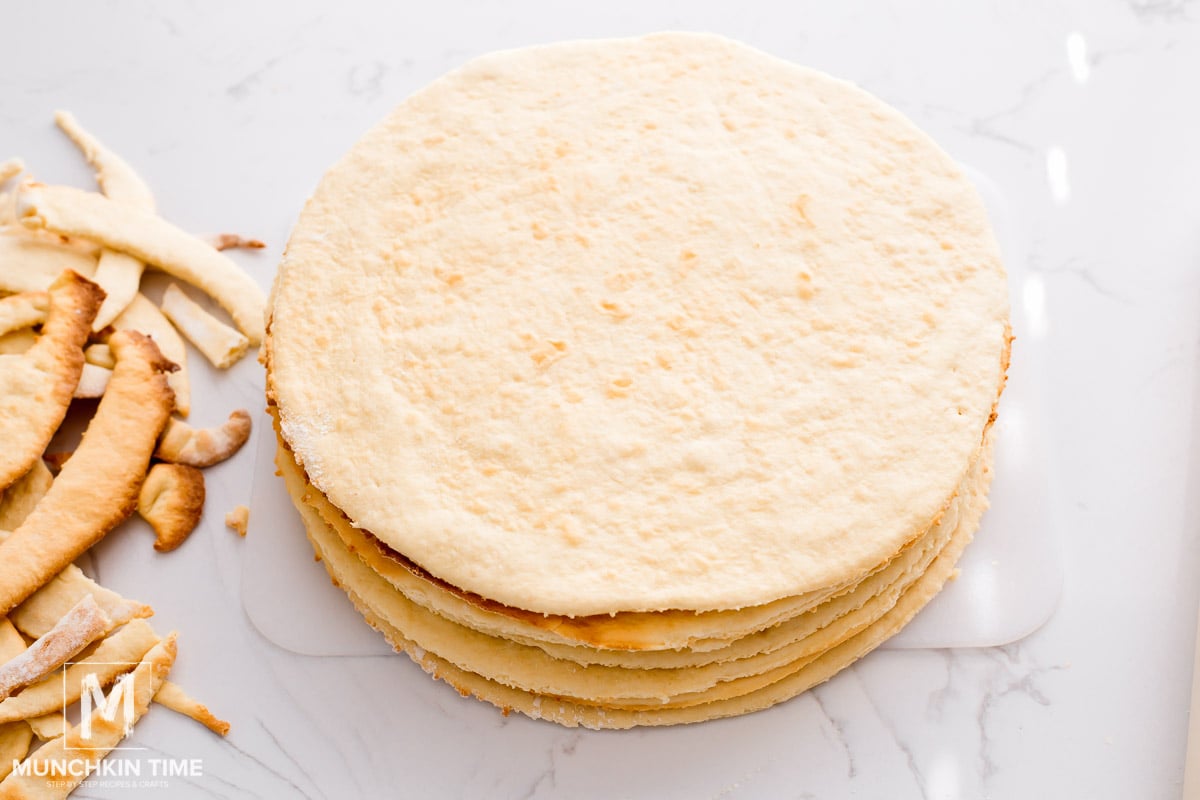 Step 5: Place the parchment paper with dough onto a baking sheet and bake for about 4 minutes until slightly golden on top. Allow it to cool on a flat surface and repeat with each of the dough balls until all of the layers are baked and cooled.
Step 6: Remove the excess scraps from around the circles and set them aside.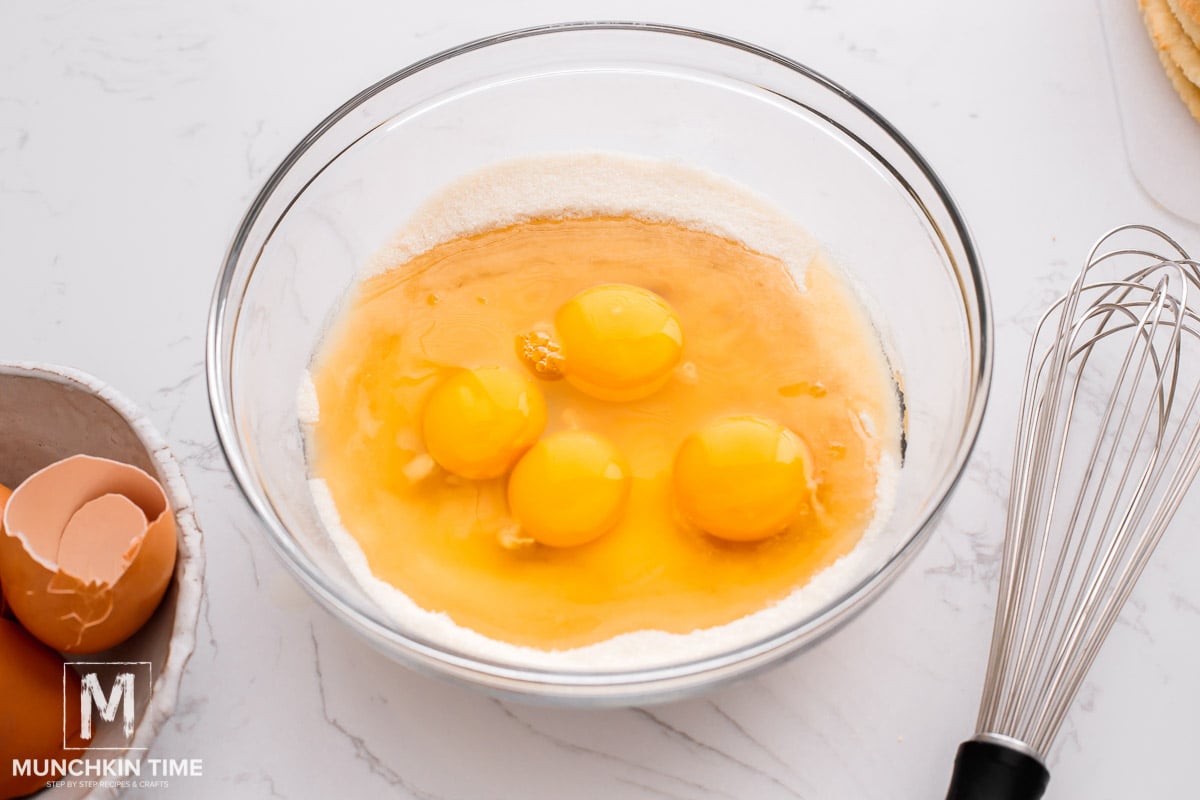 How to Make Custard Filling
Step 1: Whisk together flour and sugar in a mixing bowl. Beat in the eggs and set the bowl aside.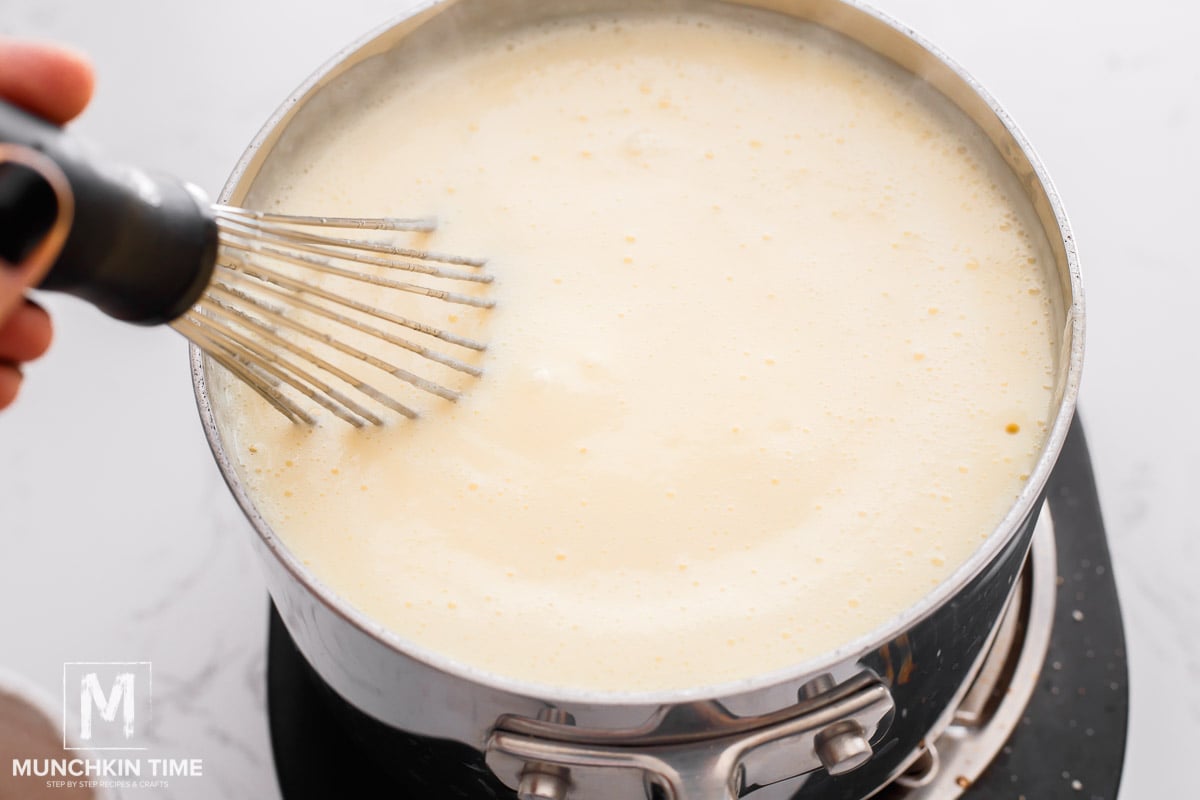 Step 2: Bring milk to a gentle boil in a saucepan over medium-low heat, whisking continuously. Once it starts bubbling, slowly pour in the egg mixture while continuing to whisk. Once it comes to a gentle boil, simmer on low until it thickens. This should take a couple of minutes.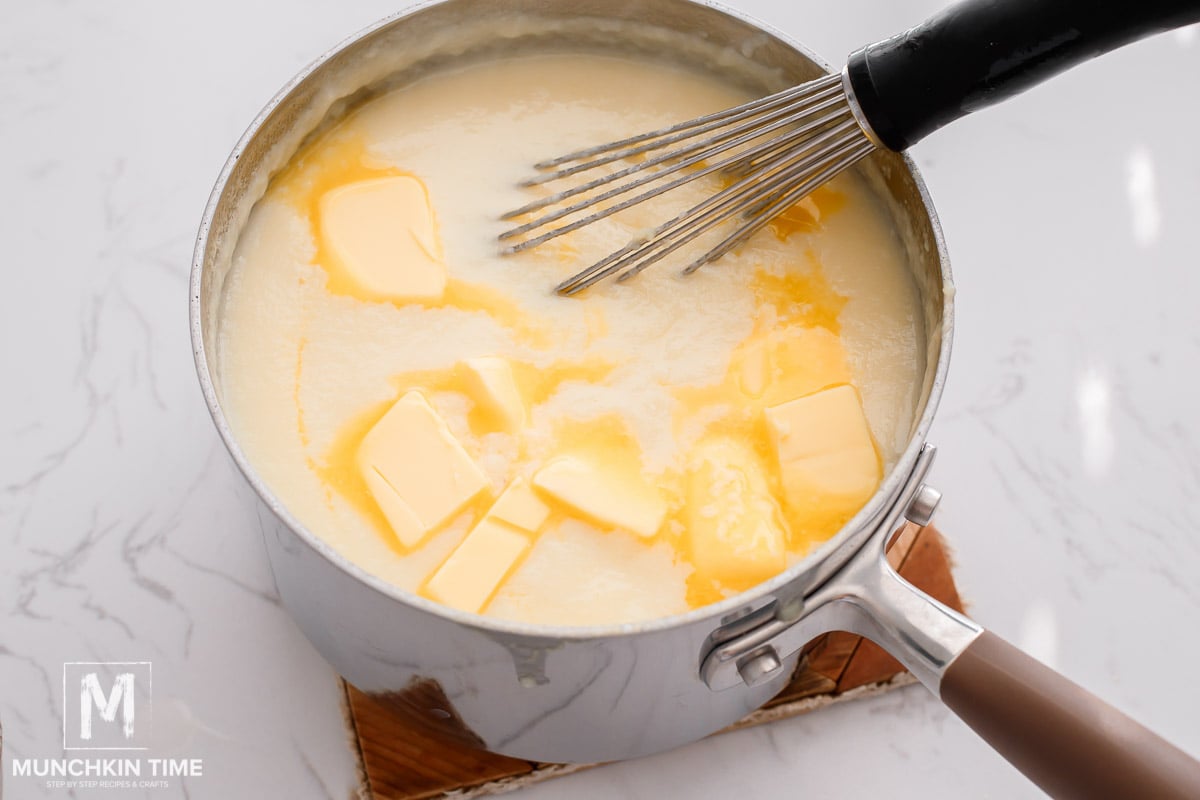 Step 3: Remove it from the heat and pour in vanilla extract and add butter cubes. Stir until the butter has melted.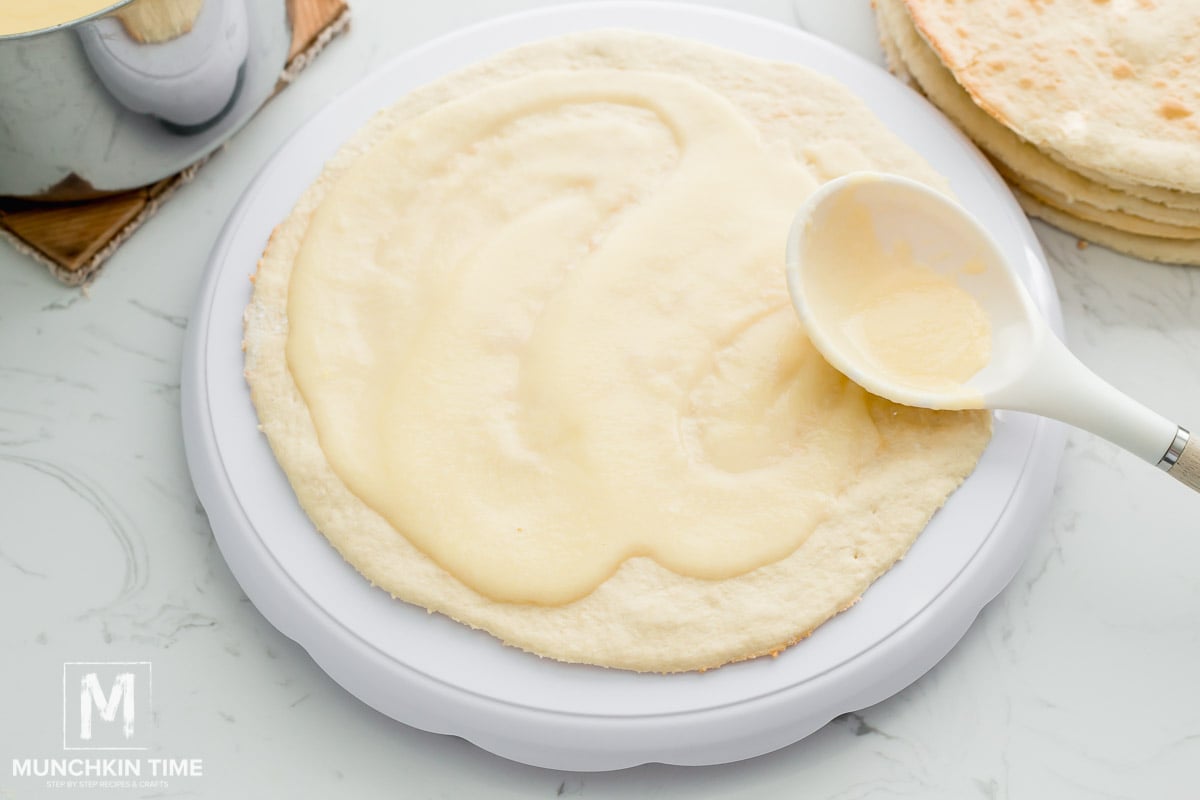 Assemble the Cake
Step 1: Place one of the cooled cake rounds onto a cake platter and ladle some of the custard on top. Spread it out evenly so that it coats the entire surface.
Step 2: Top with another cake layer and then another layer of filling. Continue doing this until you've stacked all the layers and finished it with a topping of vanilla custard.
Step 3: Finally, grab those excess pieces of cake you set aside and crush them into coarse crumbs. Sprinkle them onto the sides and top of the cake for garnish. The filling will do a great job of helping them to stick! Let rest for at least 2 hours before serving, best overnight.
Now, dig in and enjoy!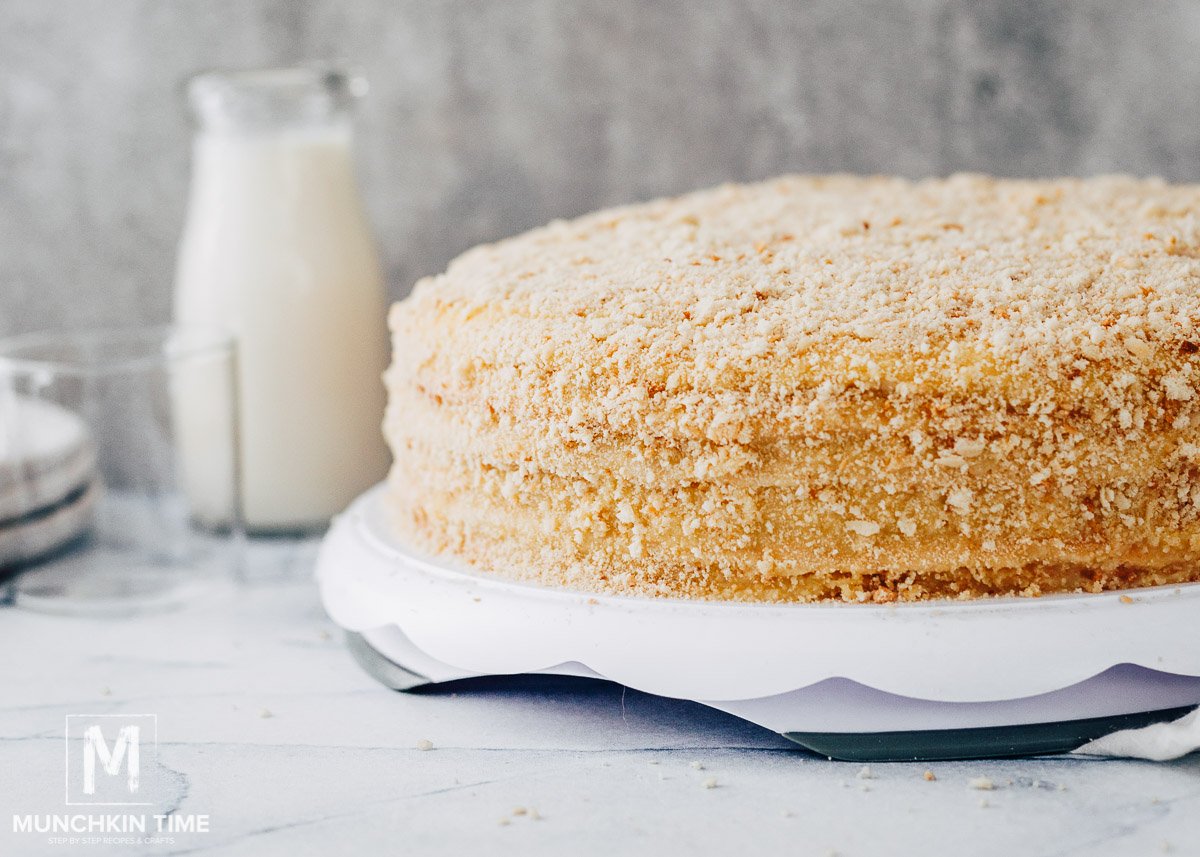 Make it Ahead
Bake and cool the cake layers then wrap them up in a plastic wrap and place them in the fridge overnight. You can also make the custard and keep it in the fridge until you're ready to assemble it the next day or make it just before you use it.
If you've kept everything in the fridge, bring it to room temperature ahead of time. You can even warm up the custard on the stovetop if you'd like to before spreading it.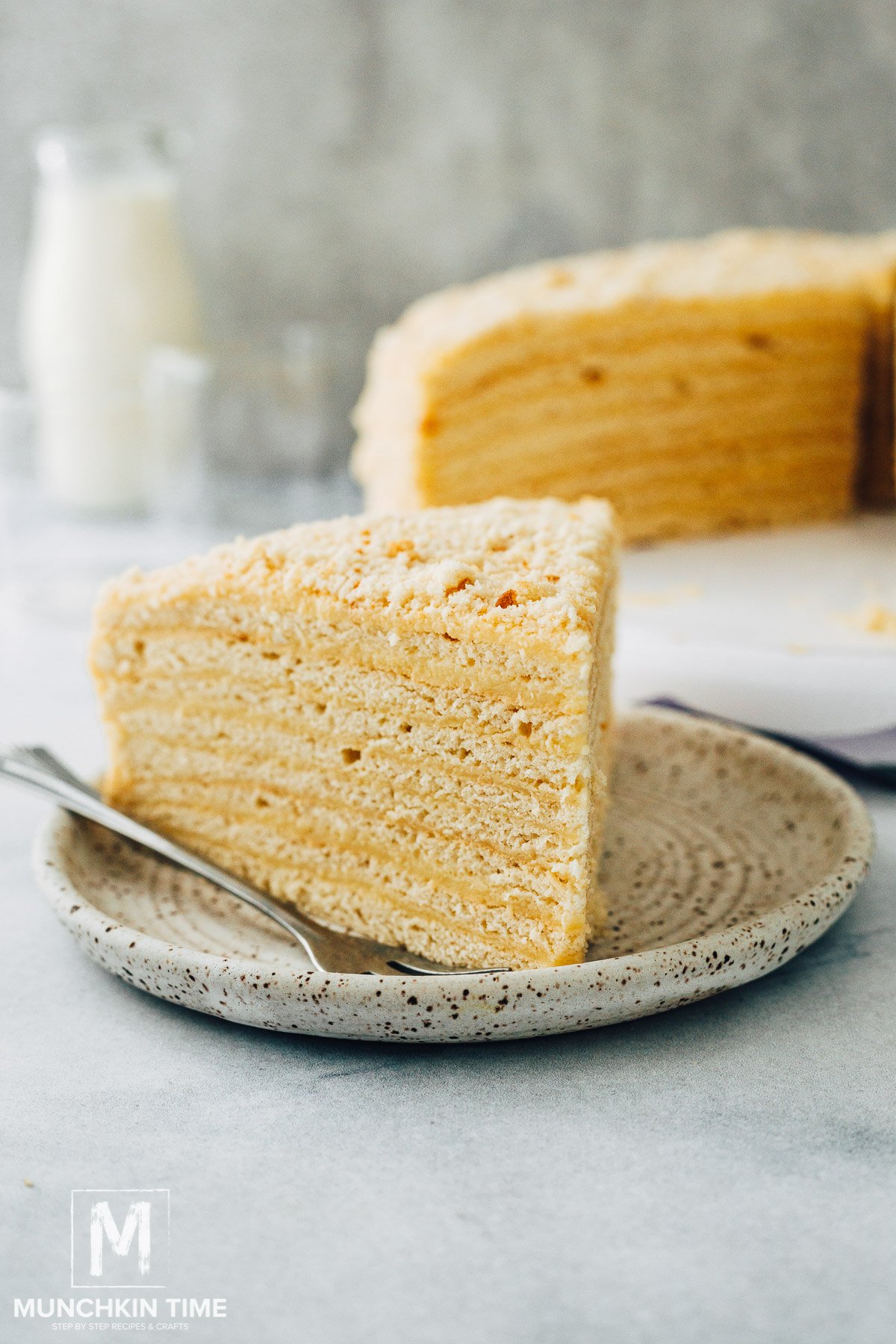 Ways to Serve This Vanilla Custard Cake
This impressive cake is elegant enough for all your special occasions! Serve it at baby showers, wedding showers, Easter, Thanksgiving, and Christmas.
It makes a delicious birthday cake or graduation cake too!
Once assembled it's a round layered cake, so use a cake knife to cut triangle slices as big or as small as you need. Usually, when you've got a tall cake your slices can be a bit thinner to make up for it, so that way you can feed more people than you might think.
When YOU make this Vanilla Custard Cake Recipe, take a picture & DM me your Food Creation on Instagram @MunchkinTimeBlog or hashtag #munchkinrecipes. We would love to see YOUR creation!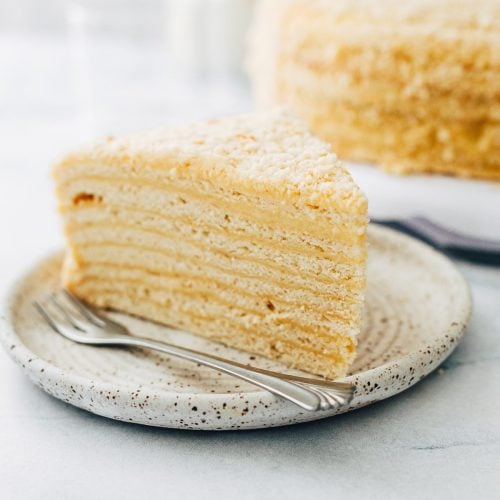 Vanilla Custard Cake
It's an extra special vanilla custard cake recipe because it's the cake recipe my mom used to make when I was a kid!
Instructions
How to Make Custard Cake
Using a large bowl whisk sour cream, baking soda and 2 eggs.

Next pour in melted butter and give it a good whisk. After add sugar and vanilla extract, whisk until everything is combined.

Now, add 1 cup of flour at a time to the batter and whisk until combined, add another cup of flour - whisk (when it gets harder to whisk, use spatula, then hands). Repeat until all flour is used. The dough should be super soft to touch and not sticky when touching with dry finger. Cover and let rest for 30 minutes in room temperature.

Preheat the oven to 400F (I HAVE AN OVEN WITH THE FAN) and get 8 parchment paper rectangles ready with a round dinner plate and butter knife (that's for cutting out circle layers from the dough). Next, place dough onto floured table and divide it into 8 equal pieces. Using hands roll each piece into a ball and place them back into the bowl, cover.

Onto a clean table add one parchment rectangle sheet, sprinkle flour over the top, add one of the dough balls and place it in the middle of the parchment paper, sprinkle a little flour and roll it into a circle (the size of a round dinner plate).

Place the plate over rolled out dough and using a dull side of the butter knife cut the dough into a perfect circle (be careful not to cut the parchment paper), don't remove the dough edges we will use them to decorate the cake. Remove the plate, place cake layer with cut out edges onto a baking sheet and BAKE FOR ABOUT 3-4 MINUTES, or until slightly golden color on top. Cool on a flat surface. Repeat with the rest of the dough.
How to Make Custard Filling for Cake
To make custard filling for cake, in a mixing bowl whisk together sugar and flour. Then beat in eggs, set aside.

Using a sauce pan pour in milk, and bring it to a gentle boil over medium/low heat, whisking continuously. Once the milk starts bubbling, slowly pour in egg mixture while whisking continuously. Once it starts gently boiling, simmer on low heat until the custard filling thickens about 2-3 minutes, whisking continuously.

Remove from the heat and pour in vanilla extract and add butter cubes. Stir until butter melts.
Assembling Custard Cake
Place 1st layer on a cake plate or stand. Add warm/hot vanilla custard filling over the layer and evenly spread it with a spoon, place another layer over the top and repeat with the rest of the custard filling and cake layers.

Using a rolling pin collect all fo the baked edges and roll them until crumbly texture. Sprinkle the cake with these crumbles (the side of the cake too). Cover with plastic wrap and let the cake rest for at least 2 hours in the fridge, best over night. Cut a slice and enjoy!
Video
Notes
Hi! All content & images are copyright protected. Please do not use my images without prior permission. If you want to republish this recipe, please re-write the recipe in your own words, or simply link back to this post for the recipe. Thank you.
Nutrition
Calories:
681
kcal
Carbohydrates:
90
g
Protein:
13
g
Fat:
30
g
Saturated Fat:
17
g
Polyunsaturated Fat:
2
g
Monounsaturated Fat:
8
g
Trans Fat:
1
g
Cholesterol:
175
mg
Sodium:
347
mg
Potassium:
281
mg
Fiber:
2
g
Sugar:
46
g
Vitamin A:
1044
IU
Vitamin C:
0.2
mg
Calcium:
173
mg
Iron:
3
mg
Q. Do YOU like this Vanilla Custard Cake Recipe?
Let me know in the comments below, I would love to hear from you!
Thank YOU for YOUR Comment, Share & Recipe Review!
Have a wonderful day!