This dulce de leche cookies recipe – a classic shortbread cookie recipe, turned it into a thumbprint cookie, and then filled with dulce de leche and a sprinkling of chopped roasted hazelnuts!
When YOU make this Dulce de Leche Cookies Recipe please tag us @munchkintimeblog on Instagram, we would LOVE to see your creation!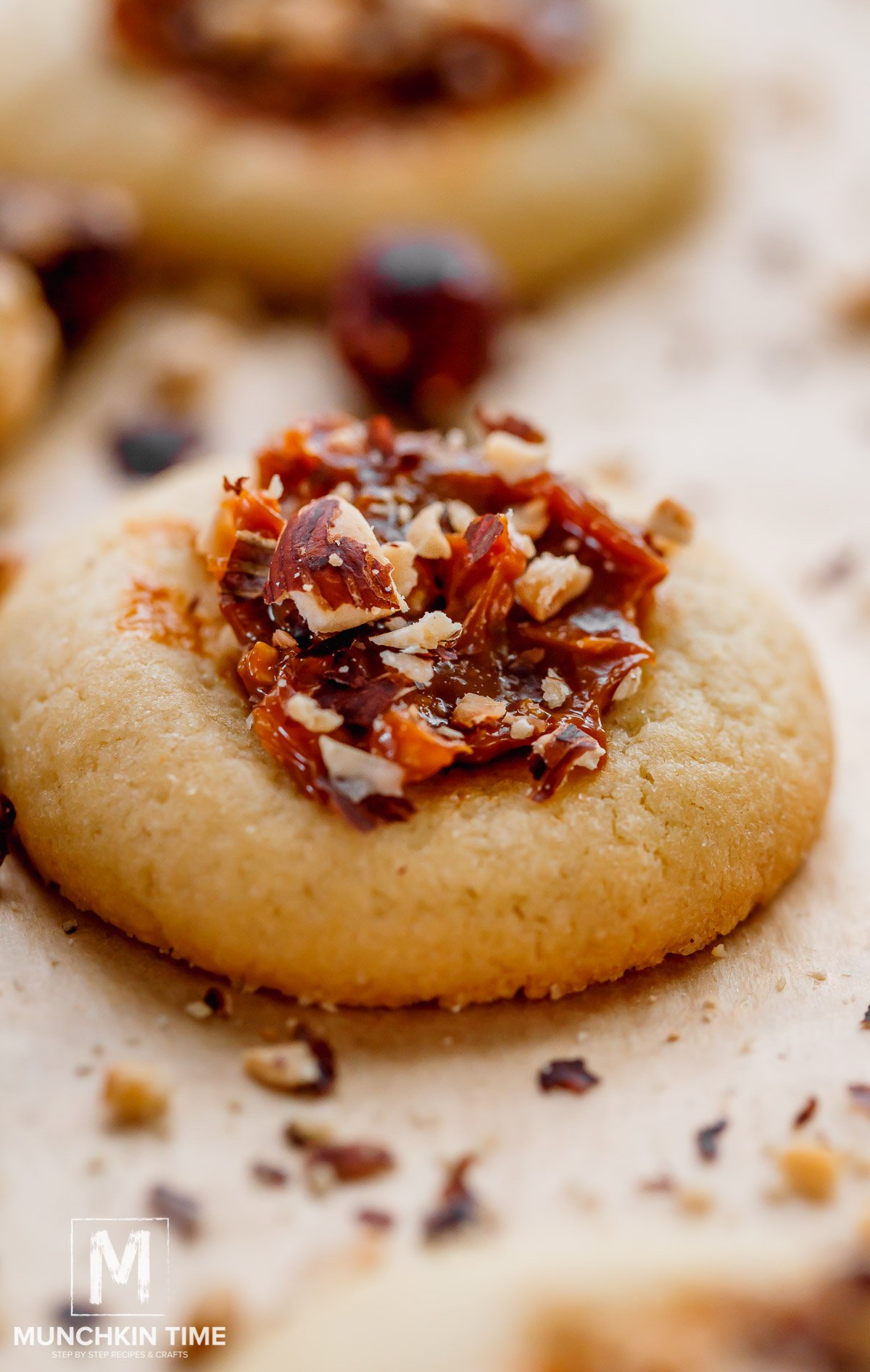 I love the classic Christmas cookies, but I also love making them my own! I've had so many thumbprint cookies in my life, filled with all kinds of things from chocolate to jam, but I have to say the dulce de leche thumbprint cookies are my favorite.
They are melt-in-your-mouth heavenly!
It's an easy enough recipe that the kids can get involved in and they're impressive enough to display on any dessert table. Prepare them for a cookie exchange or present them as part of a cookie tray. Maybe even have them as an afternoon snack!
What is Dulce de Leche?
It's a thick, sweet, and creamy spread that comes from the low and slow cooking of milk and sugar together. I'm talking hours! The water from the milk evaporates and the milk thickens while the sugar caramelizes.
You're left with a golden brown delicious and pourable treat! It looks a bit like caramel, but it's not!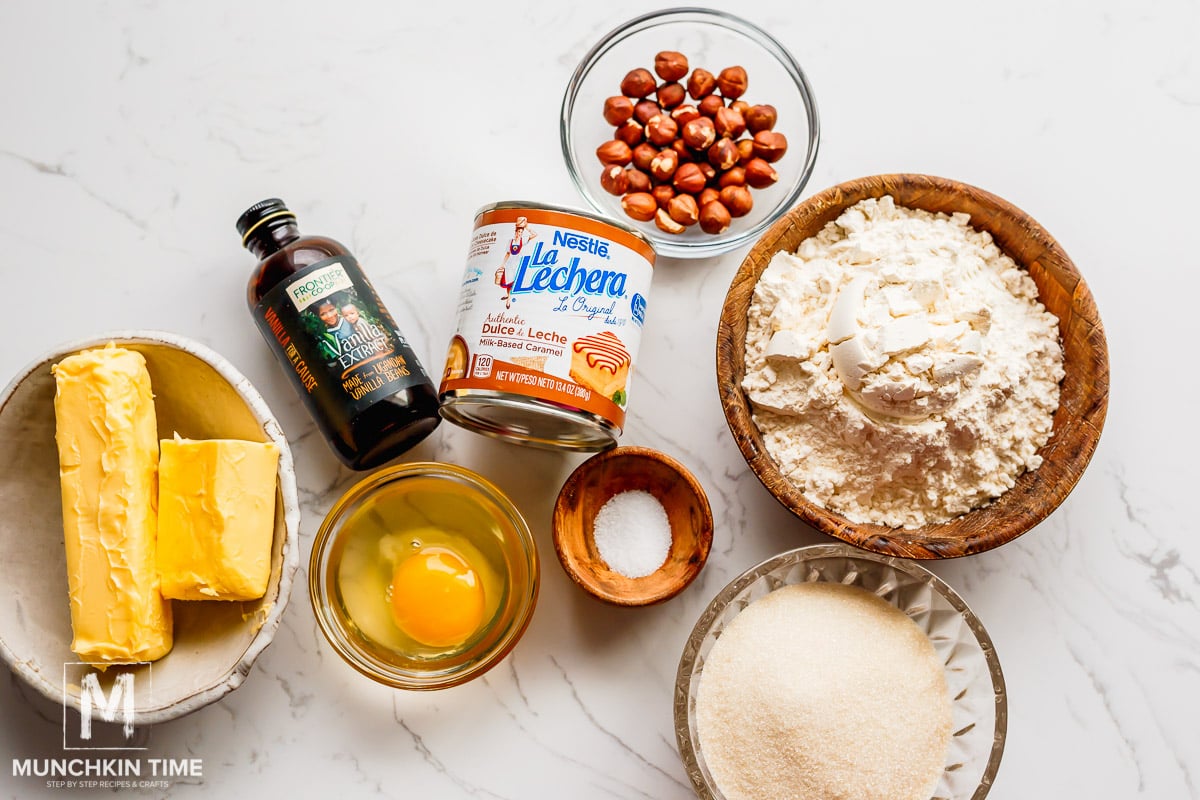 Ingredients
Butter: Bring the butter to room temperature well enough in advance so it can soften. You want it to be able to cream easily without leaving behind big cold clumps of butter.
Sugar: Granulated sugar adds sweetness and also a slight crispness.
Sea salt: A little salt to help enhance the flavor of the cookies.
Egg: Traditional shortbread isn't usually made with eggs, so this is a slight variation. I prefer to add eggs when I want a sturdier cookie because it helps to bind all of the ingredients together.
Vanilla extract: A tasty warm flavor addition that makes everything better!
Flour: All-purpose flour works for this recipe. Make sure to measure it correctly so that you don't end up with dense cookies.
Dulce de Leche: This can usually be found at most local grocery stores in the baking section or where you'd find condensed milk.
Roasted hazelnuts: Chopped roasted hazelnuts are the perfect finish to these cookies. The nutty flavor plus that bit of crunch just puts them over the top!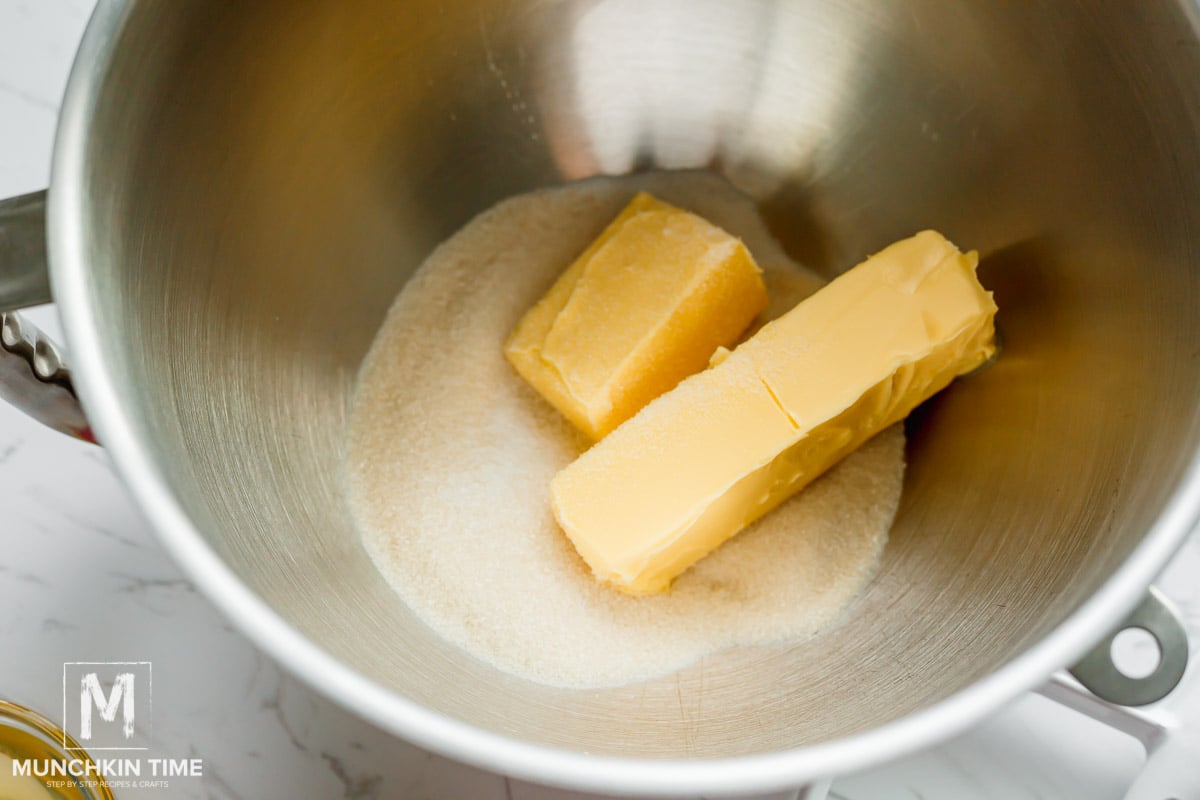 How to Make Dulce de Leche Cookies
Step 1: In the bowl of a stand mixer with the paddle attachment, beat the butter, sugar, and salt until creamy.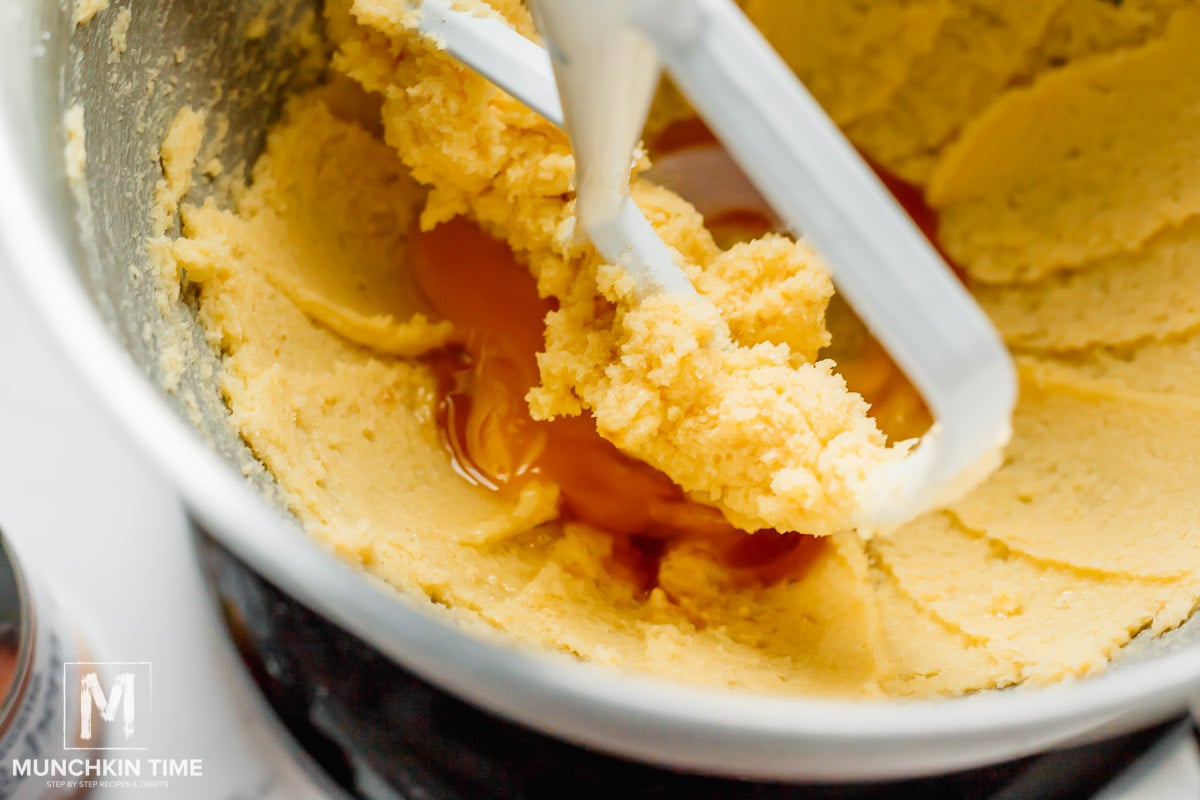 Step 2: Add in the egg and vanilla extract and continue beating for another minute until smooth.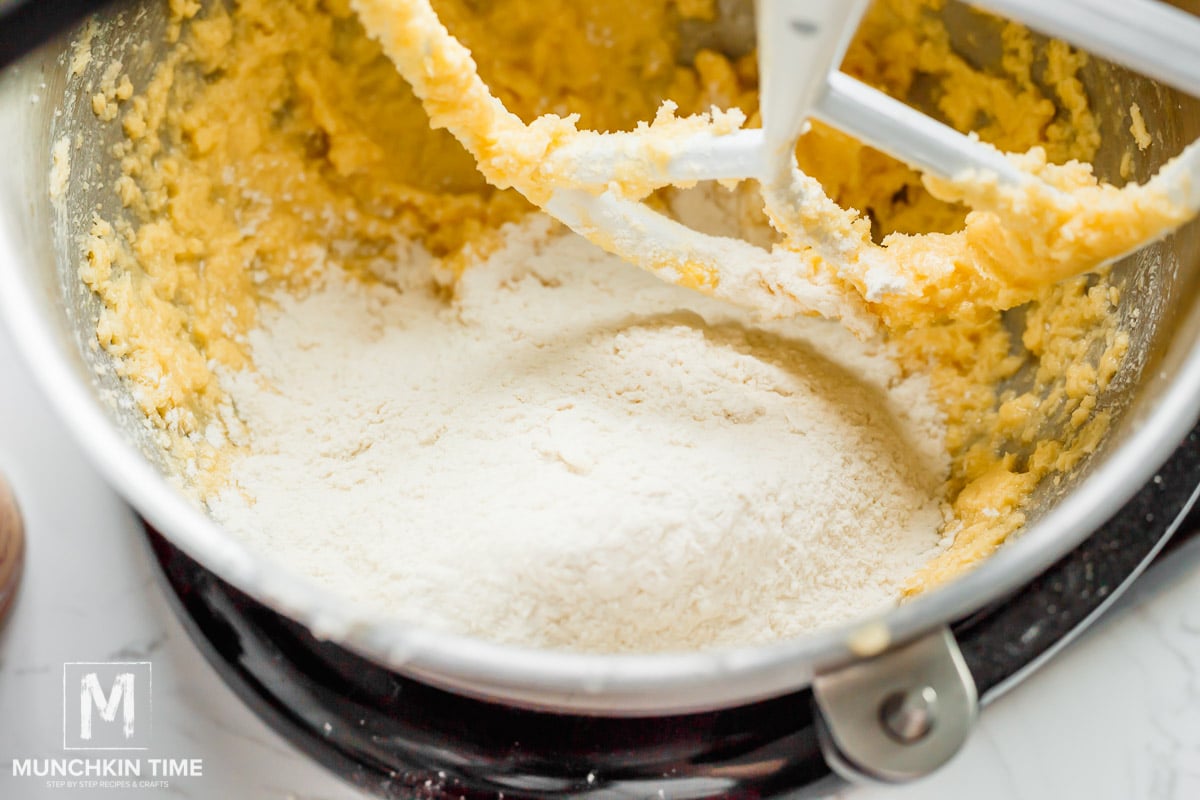 Step 3: Now, add the flour and mix for another minute until the dough is soft.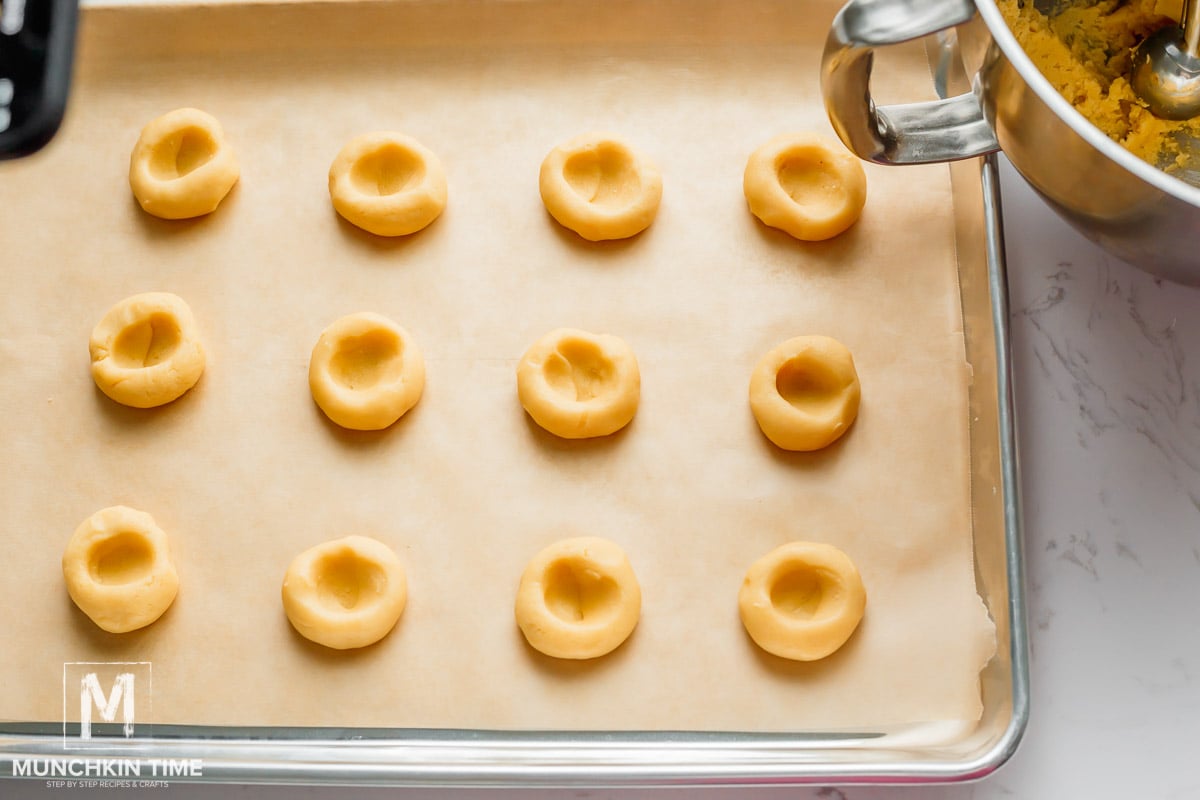 Step 4: Use a small cookie scoop to scoop out the dough. Using your hands, roll the dough into a ball and then place it onto a prepared baking sheet lined with parchment paper. Press a thumbprint into the dough. Repeat with the rest of the dough.
Step 5: Bake for 13-14 minutes in a preheated 350F until the bottoms are lightly golden. Allow them to cool completely.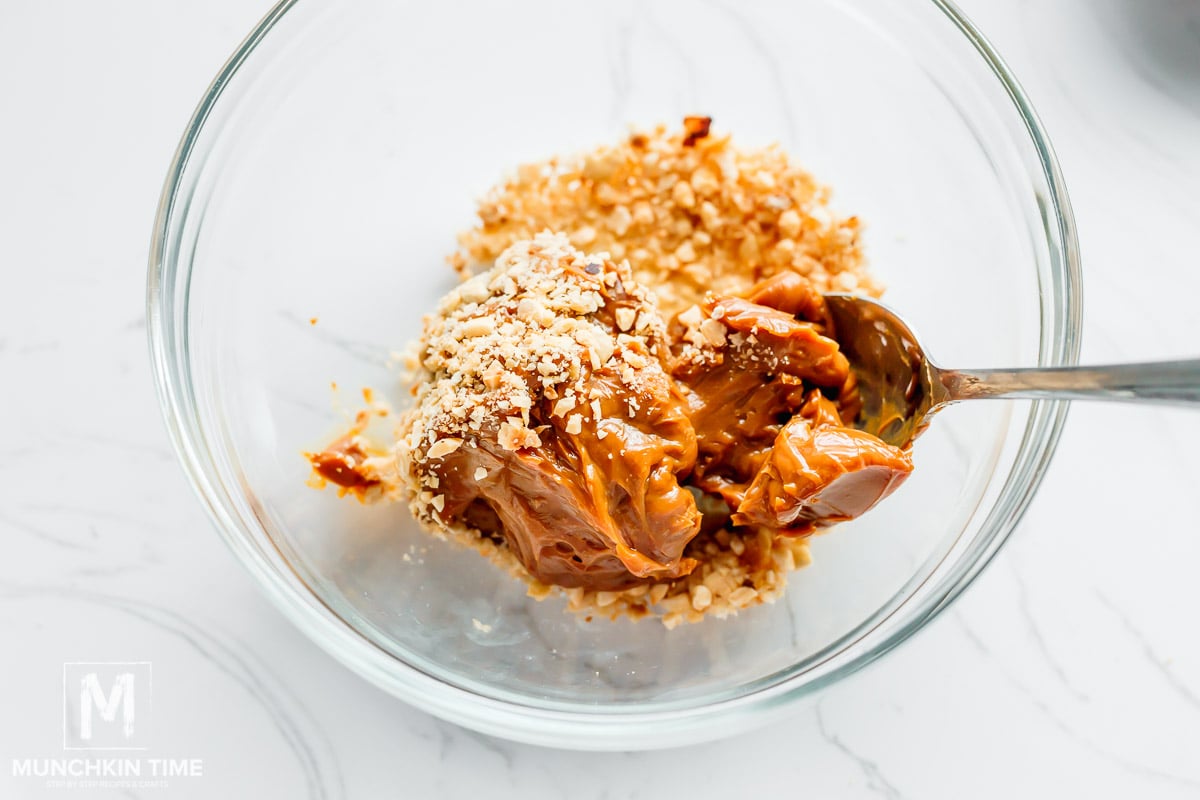 Step 6: In a small bowl, combine the dulce de leche and roasted hazelnuts, and then add a small amount into each groove to fill each cookie. Enjoy!
You can also swap the hazelnuts with coarse sea salt for a sweet and salty combo if preferred. Salted dulce de leche cookies are also amazing!
Recipe Tips for Dulce de Leche Cookies
To mix, use either a stand mixer or a mixing bowl with an electric hand mixer. Either will work!
Using a cookie scoop to scoop out the dough is helpful in making sure all your cookies are equal in size. This helps with even baking and making sure none of them are underdone or overdone.
Keep a close eye. You want the bottoms to be barely golden. Shortbread and sugar cookies are types of cookies that aren't meant to be too brown. Otherwise, you'll start to notice a difference in taste.
To make the grooves, it's easy to use a thumbprint, but you can also use the back of a teaspoon.
Freeze the dough. If you're not quite ready to bake them yet, but you're trying to get ahead, feel free to freeze the dough. Roll them into balls, add your thumbprint then transfer them to a freezer bag. Separate the layers with parchment paper so they don't stick together when frozen. When you're ready to bake, thaw them in the fridge overnight then bake and enjoy!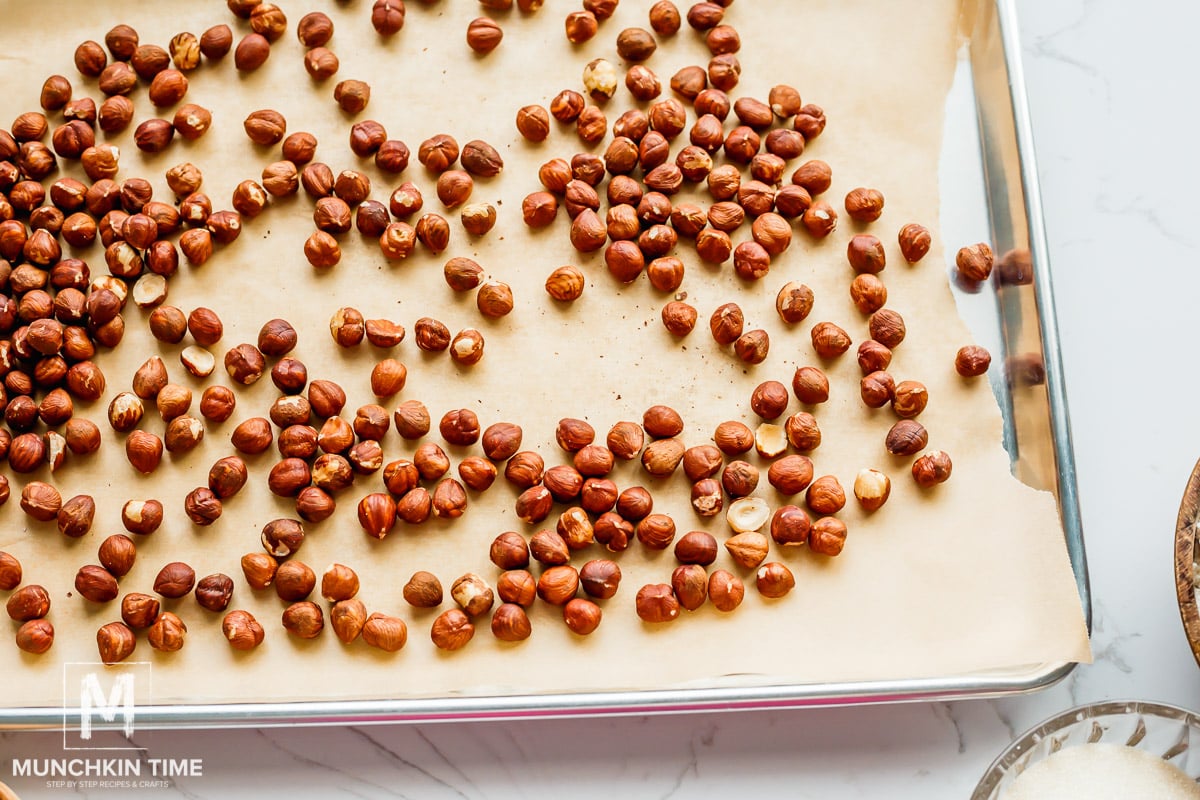 How to roast hazelnuts?
This isn't a must, but I absolutely recommend it. Toasting them adds that bit of extra crispiness and nutty flavor that you just don't get from plain hazelnuts.
To roast them, place them in a skillet over medium heat and cook for about 5-10 minutes. You'll notice the aroma coming from them and they'll be brown in color.
Once they're done, transfer them to a kitchen towel and wrap them up to trap the steam. Keep them there for 1 minute then use the towel to rub the hazelnuts so the skin starts to come off. Now, they're ready to use.
What else can I use to fill these dulce de leche crumble cookies?
As I mentioned above, there are so many ways to fill these thumbprint cookies. You could have a cookie tray with various flavors for people to choose from.
Nutella, chocolate ganache, caramel, a Hershey's chocolate kiss, strawberry jam, blueberry jam, or raspberry jam.
You could also leave them plain or drizzle them in frosting and add some sprinkles. The sky is the limit so feel free to get creative.
What is the difference between dulce de leche and tres leches?
Both of them stem from milk but they are not the same thing. Tres leches means 3 milks and it's a style of a very moist cake made from different milk. Usually, it's condensed milk, cream, and evaporated milk.
You can, however, have a tres leches cake with a layer or drizzle of dulce de leche!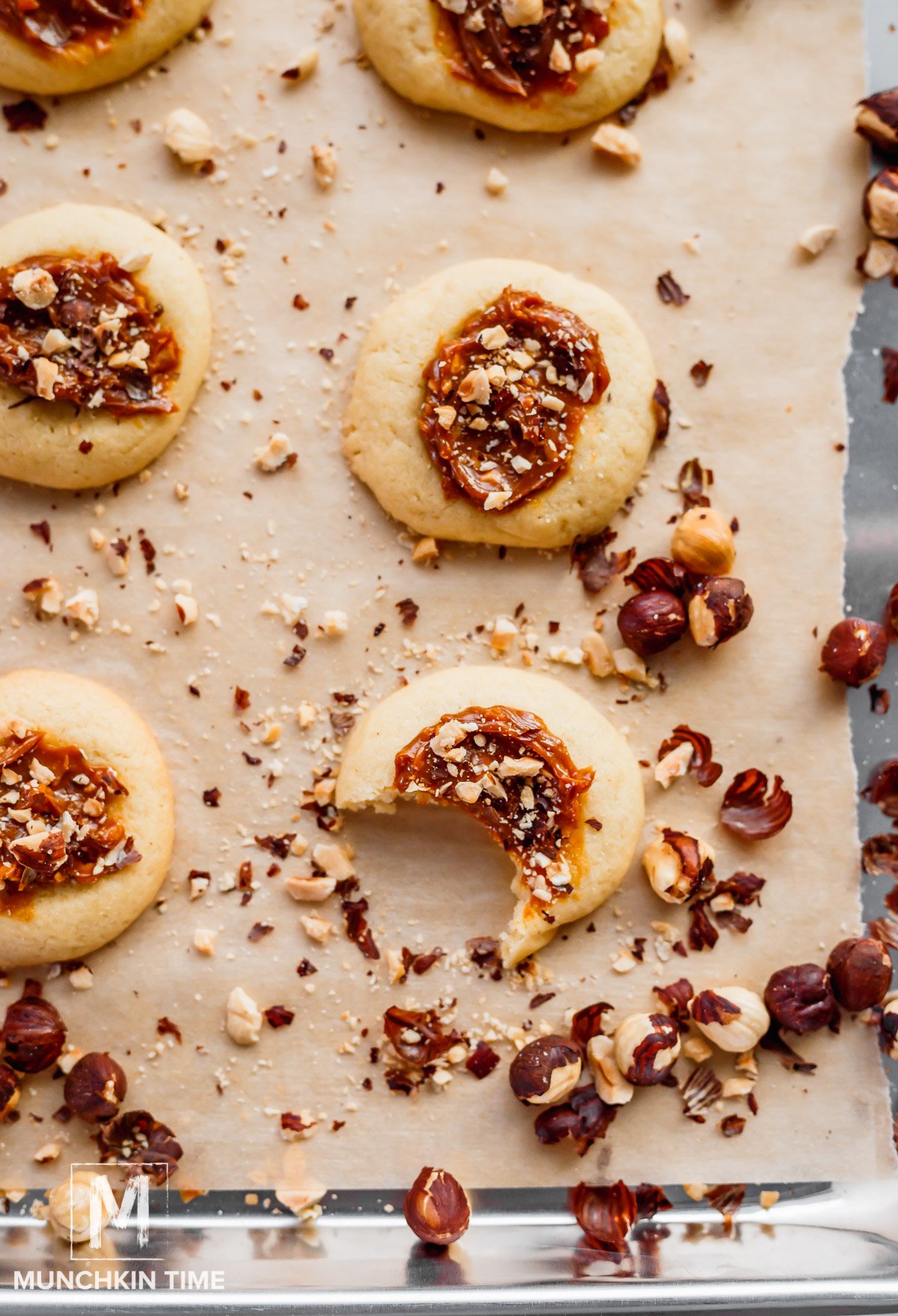 Why is my dough very crumbly?
This could be due to inaccurate measurements, especially the flour or sugar. It's super important to measure the flour using a kitchen scale or at the very least use the spoon and level method.
This means filling the measuring cup bit by bit using a spoon, then leveling it off using the flat side of a knife. That way you're not packing too much flour into the cup which will leave your cookie dough dense and too crumbly.
A bit of water might help bring the dough together.
Storing Dulce de Leche Cookies
Keep cookies stored in an airtight container at room temperature for up to 5 days. Sometimes even longer than that. If you're worried about leaving them on the counter too long, feel free to transfer them to the fridge.
Dulce de Leche Cookies
A classic shortbread cookie recipe, turned it into a thumbprint cookie, and then filled it with dulce de leche and a sprinkling of chopped roasted hazelnuts!
Instructions
Preheat the oven to 350F and line baking sheet with parchment paper. Into a stand mixer bowl with paddle attachment, add butter, sugar and salt. Beat until creamy.

Next, add egg and vanilla extract, beat for about 1 minute or until smooth.

Now, add flour and continue beating for 1 more minute or until the dough is soft.

Using a small cookie scoop, scoop the dough and place it into your hands, roll it into a ball then place it on a baking sheet, press a thumbprint into the cookie ball to create a little hole for the filling.

Bake for 13-14 minutes or until the bottoms are light golden color. Let cool.

In a mixing bowl, mix dulce de leche with roasted hazelnuts then using a small spoon, add the filling to each cookie. Garnish with finely chopped hazelnuts. Enjoy!
Video
Notes
All content & images are copyright protected. Please do not use my images without prior permission. If you want to republish this recipe, please re-write the recipe in your own words, or simply link back to this post for the recipe. Thank you.
Nutrition
Calories:
349
kcal
Carbohydrates:
38
g
Protein:
4
g
Fat:
20
g
Saturated Fat:
11
g
Polyunsaturated Fat:
1
g
Monounsaturated Fat:
6
g
Trans Fat:
1
g
Cholesterol:
66
mg
Sodium:
291
mg
Potassium:
69
mg
Fiber:
1
g
Sugar:
17
g
Vitamin A:
562
IU
Vitamin C:
0.2
mg
Calcium:
17
mg
Iron:
2
mg
Do YOU like this Christmas Cookie Recipe?
Let me know in the comments below, we would love to hear from you!
Thank YOU for YOUR Comment, Share & Recipe Review!
Happy Cooking!