Easy Donut Recipe – This is a recipe for a simple sugar donut made with yeast. It's crispy and golden on the outside, light and fluffy on the inside, and coated in sweet sugar crystals. I'm also showing you how to make a quick glaze if you would prefer to coat your donuts in a sugar glaze or a chocolate glaze instead!
When YOU make Donut Recipe, tag us @munchkintimeblog or #munchkintimeblog on Instagram, we would LOVE to see your creation!
This recipe was made in partnership with the Boise Co-op. The Boise Co-op has been providing fresh, local and organic products since 1973. Learn more about the Boise Co-op here.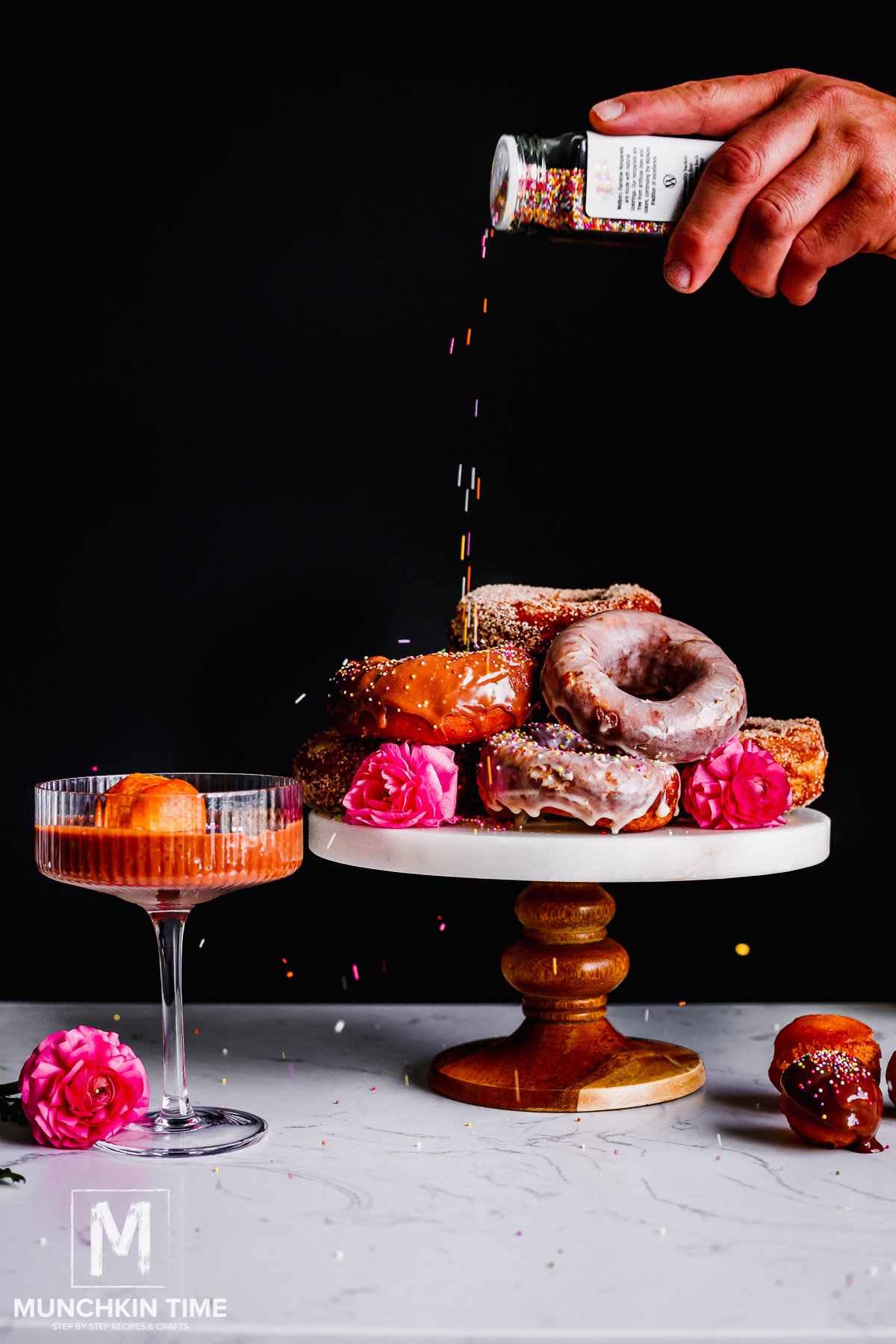 If you've ever considered making donuts at home, now's your chance with my easy homemade donut recipe!
There's nothing better than the smell of freshly baked donuts wafting through your favorite coffee shop or bakery, except maybe bringing that aroma to your own kitchen!
Your whole family will love this homemade donut recipe for breakfast, a snack, and dessert!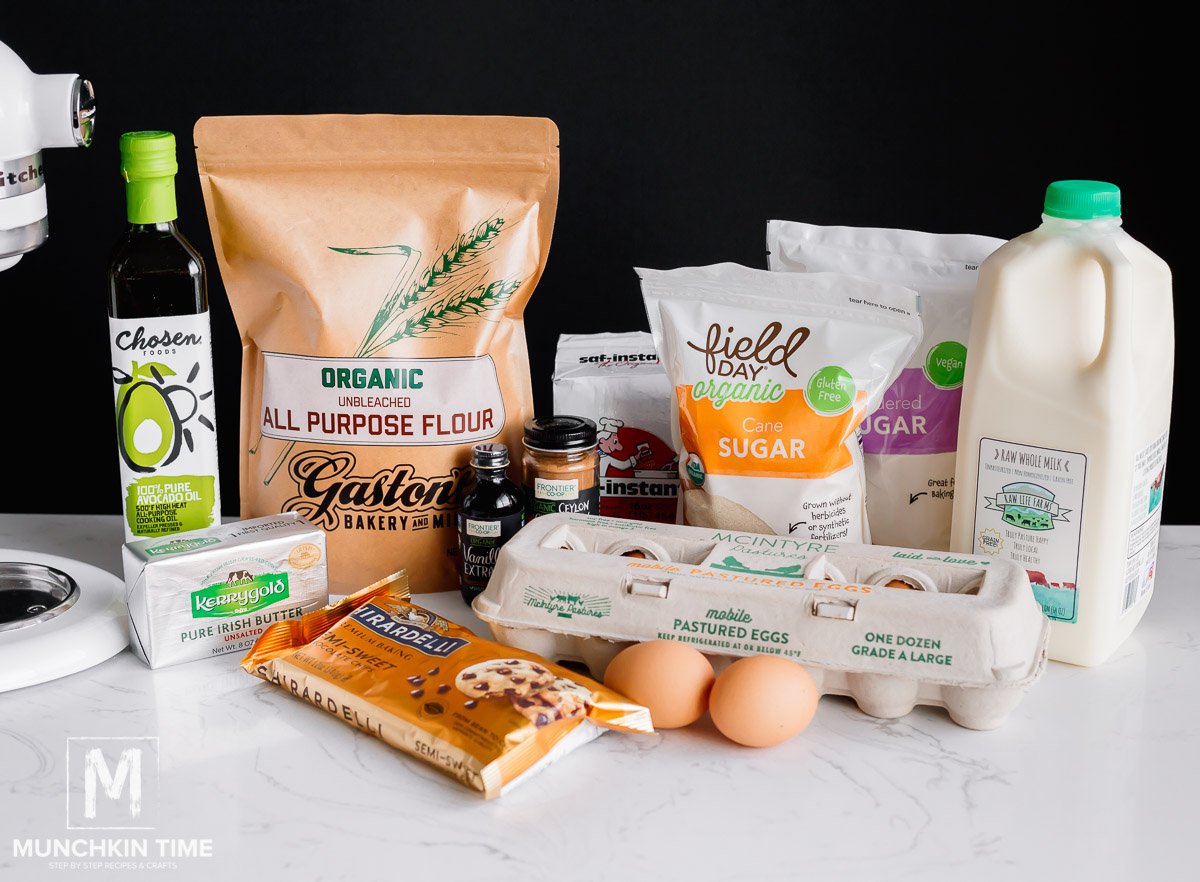 Donut Recipe Ingredients
All-purpose flour: It's very important to measure your flour correctly for the perfect texture in your donuts. Using a kitchen scale is the most accurate way to get 15 ounces, but otherwise, be sure to use the spoon and level method so that you don't add too much flour.
Yeast: Instant yeast or rapid yeast is what I use because it doesn't require any initial proofing. It can go straight into the recipe as is. Just make sure it's fresh otherwise it won't work!
Salt: This is used as a flavor enhancer to bring out the ingredients and balance out the sweetness.
Whole milk: Warm your milk to lukewarm so that it helps activate the yeast. The fat in the milk helps to add moisture and richness to the donut batter.
Large eggs: You want to start off with all your ingredients at room temperature, so the donuts cook evenly. Bring your eggs out of the fridge at least 30 minutes before you begin.
Sugar: You'll need some for the batter as well as extra for rolling the donuts in, if you desire.
Unsalted butter softened: I use unsalted so that I can control the amount of added salt I put in. It also needs to be softened so that it's the same temperature as everything else, but also so that it creams easily.
Oil for frying: If you've been around for a while you'll know I love using avocado oil for many things, including these donuts! It's a neutral-tasting oil and can withstand high heat. You can use your favorite oil for frying including canola oil or vegetable oil.
For Glaze
For the vanilla glaze: Powdered sugar, vanilla, and whole milk.
For the chocolate glaze: Semi-sweet chocolate chips, powdered sugar, and whole milk.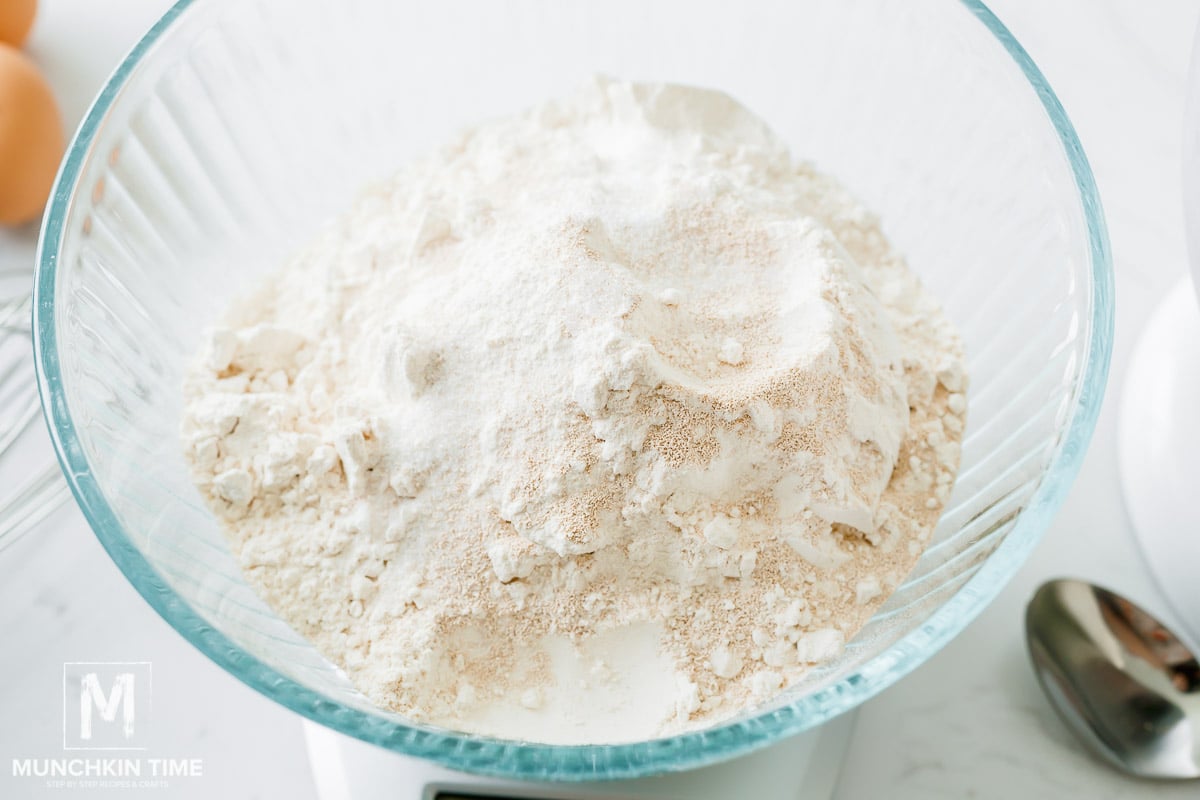 How to Make Donuts
Step 1: In the bowl of a stand mixer with the whisk attachment, add flour, yeast, and salt and whisk.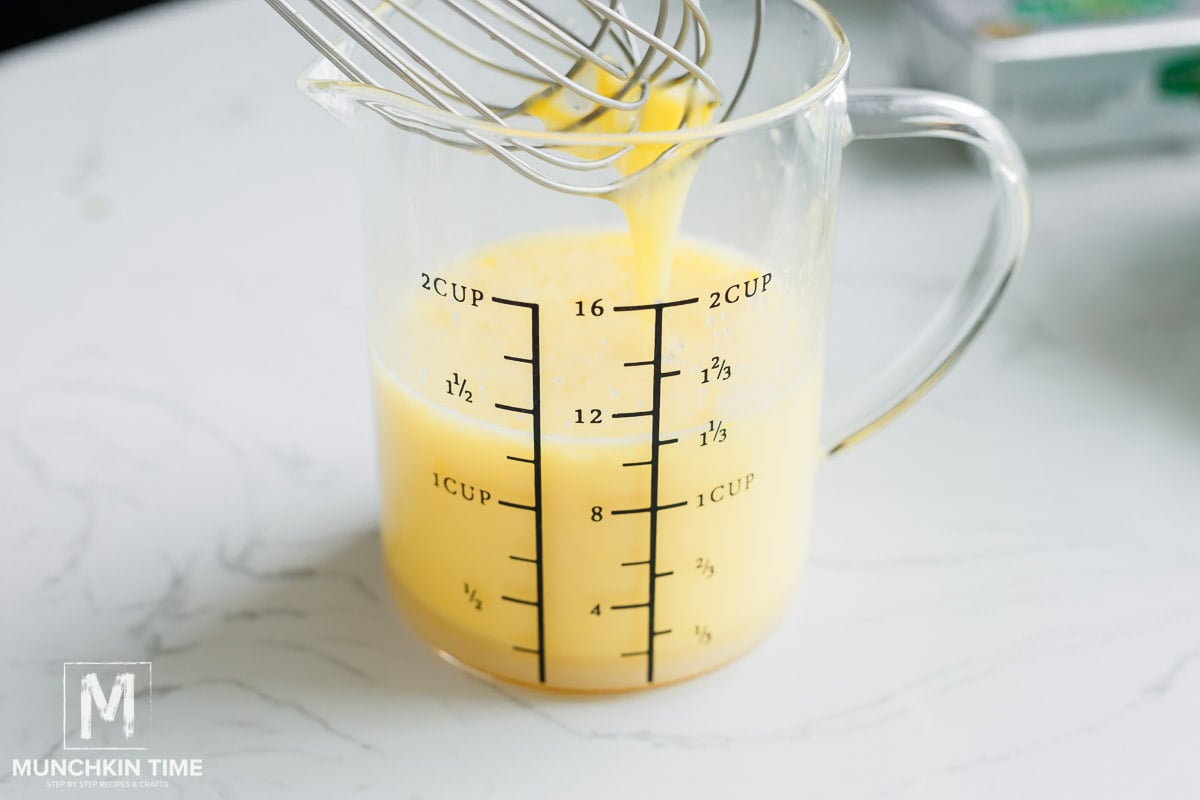 Step 2: In a separate bowl, whisk the milk, eggs, and sugar together until the sugar dissolves.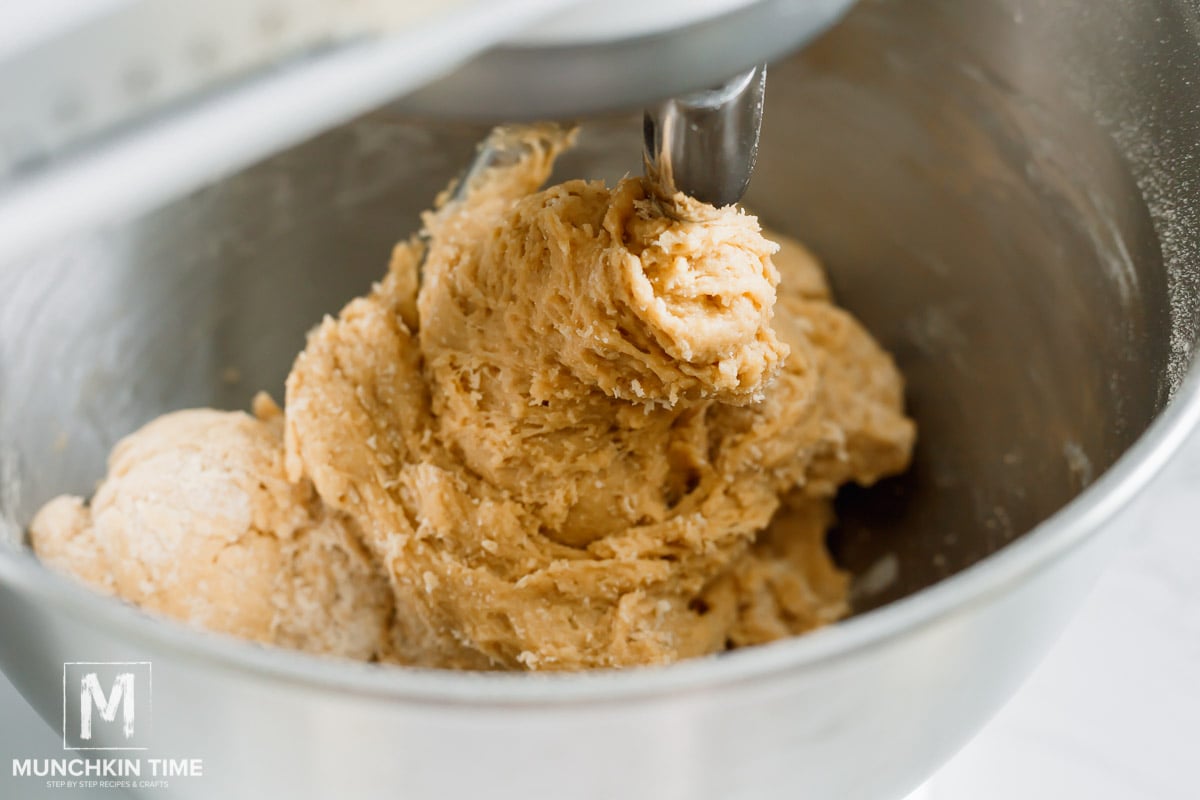 Step 3: Attach the dough hook to the mixer and on low speed, slowly pour the milk mixture into the flour mixture and combine until no flour remains. Pause to scrape down the sides of the bowl with a spatula if you need to, just to make sure all flour gets blended.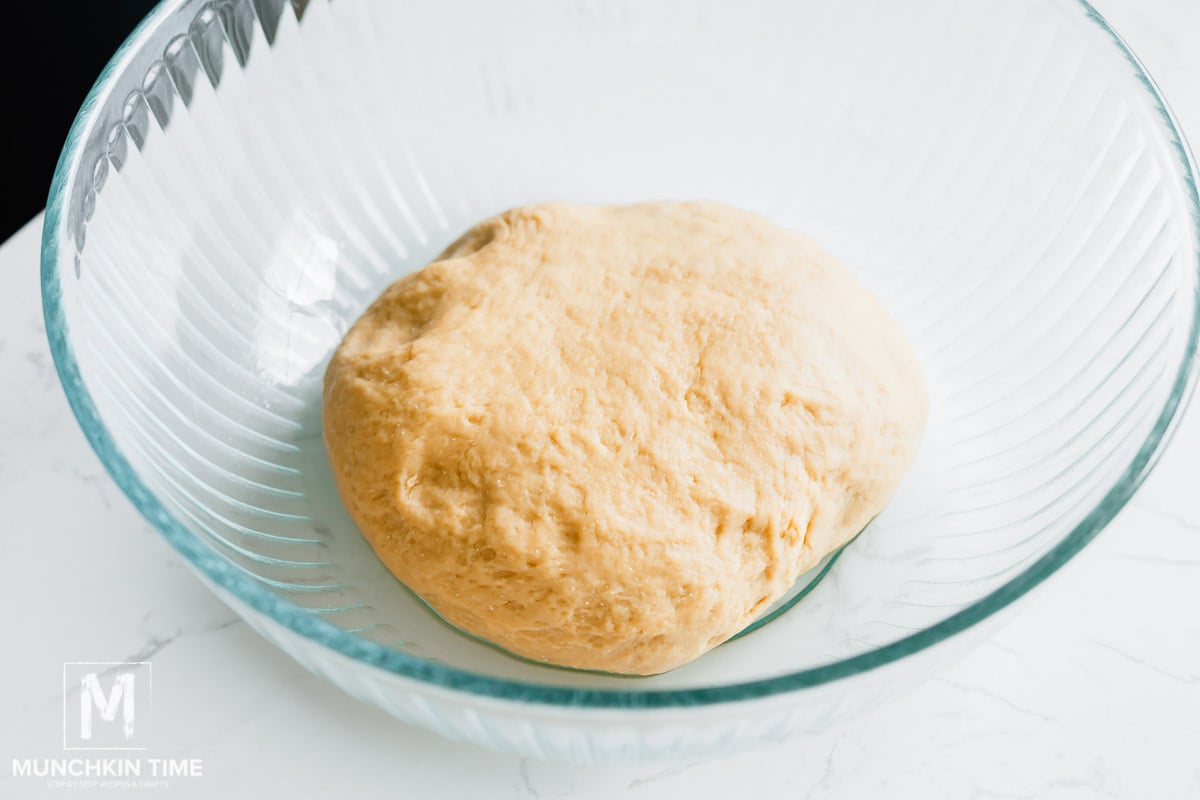 Step 4: Turn the speed up a bit to medium-low and add the butter, 1 Tablespoon at a time. Knead the dough for about 8-10 minutes until the butter is fully incorporated and it starts pulling away from the sides of the bowl.
Step 5: Transfer the dough to a floured surface and knead for about 30 seconds then form it into a ball. Add it to a lightly greased bowl and cover it with plastic wrap. Place the bowl in a warm draft-free area to sit until it doubles in bulk. This should be about 2-2.5 hours depending on how warm your house is.
Step 6: While the dough is rising, prepare 2 separate baking sheets. One will have a wire rack on top and the other will be lined with parchment paper and a dusting of flour.
Step 7: Once the dough has risen roll it out on the floured parchment paper and make it so that it is about 12 inches in diameter and ½ inch thick.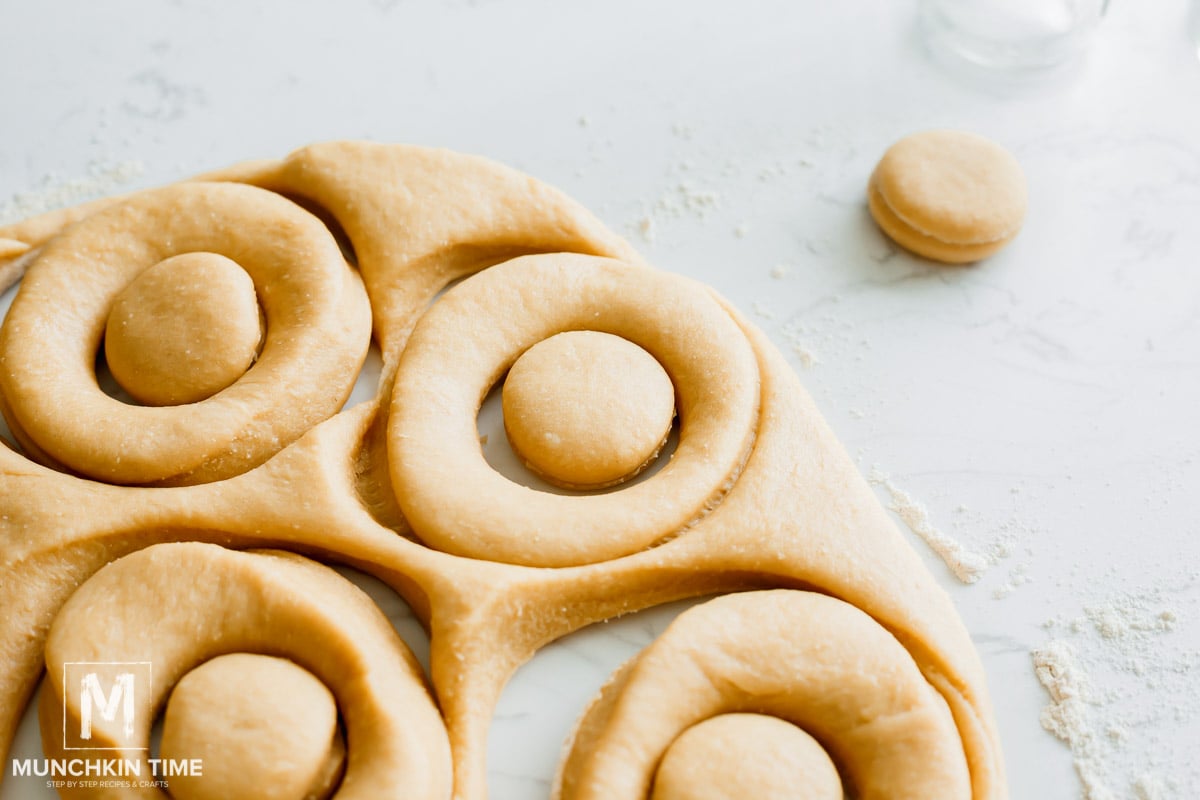 Step 8: Cut circles out of the dough using a 3-inch donut cutter or large glass. You'll cut the holes out of the middle using a mini mason jar. Do not discard the centers, we'll be frying those too!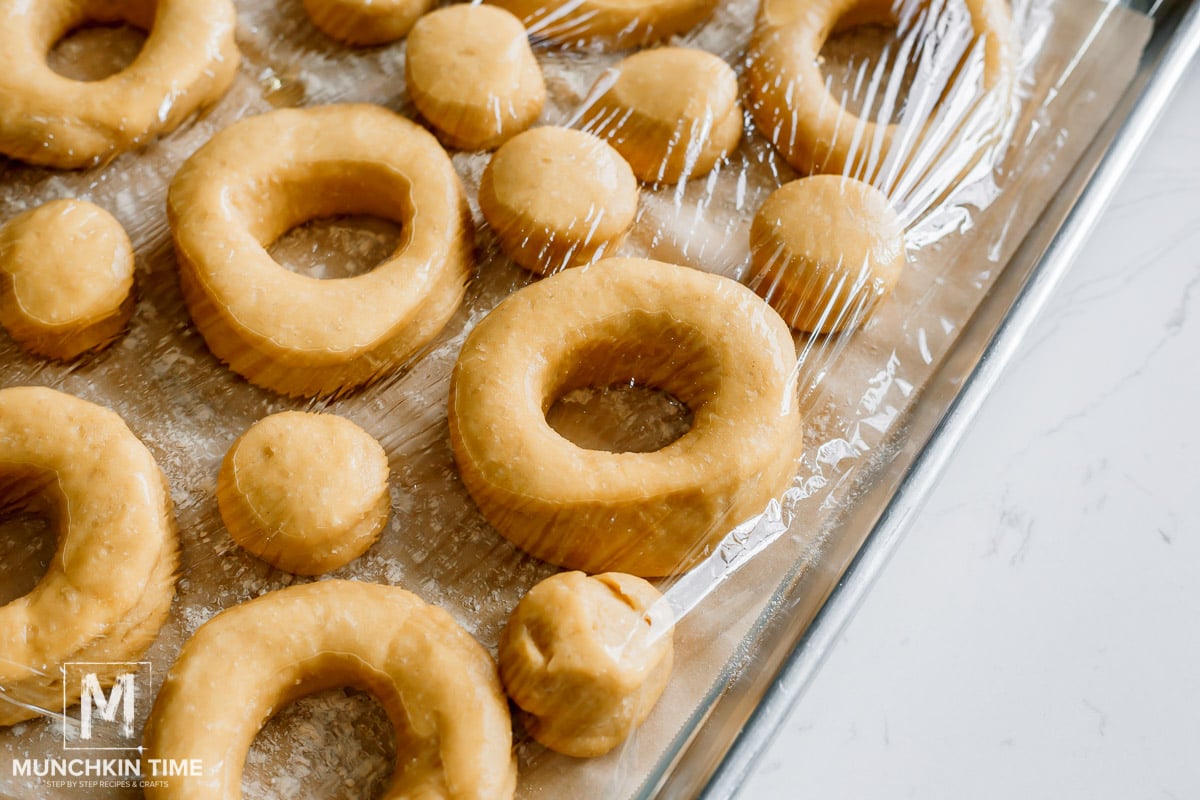 Step 9: Place all of the donuts and donut holes on the floured baking sheet. Spray a sheet of plastic wrap with cooking spray or brush with oil so that it doesn't stick and cover the baking sheet. Let the dough rise for about 45 minutes in a warm area once again. They should double in size.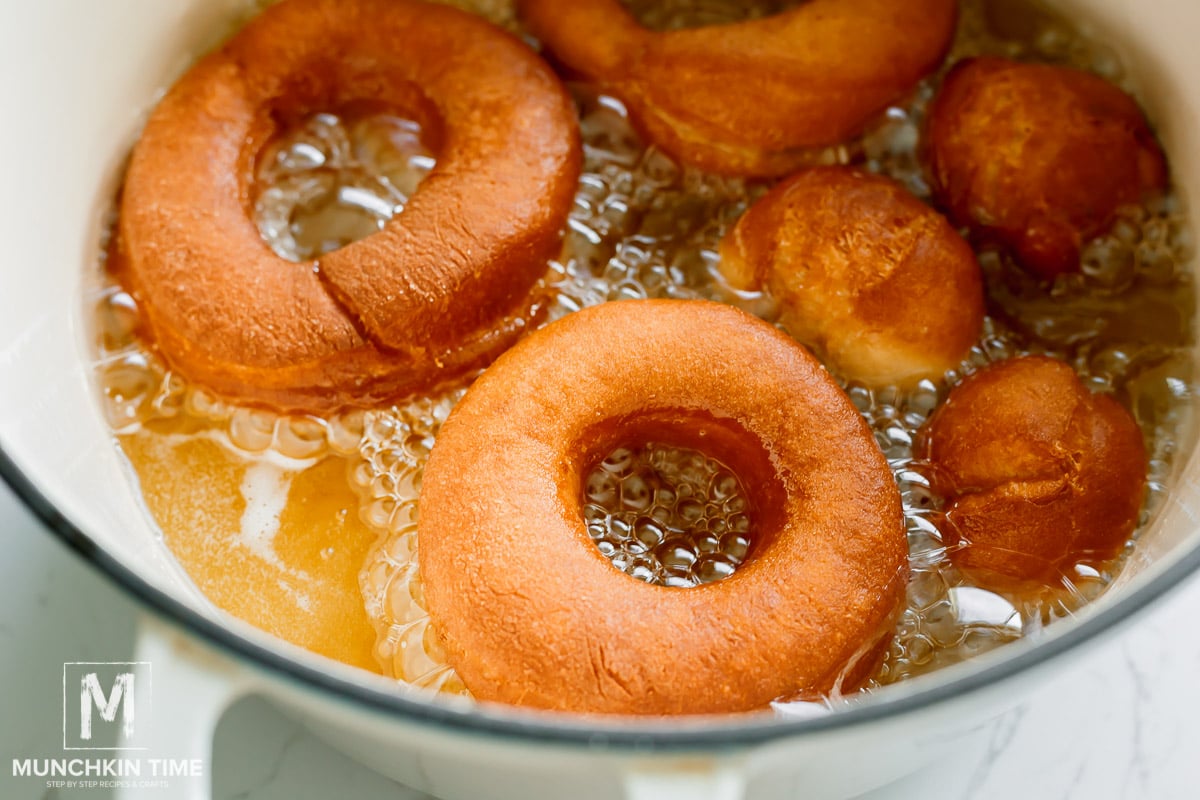 Step 10: Heat 1 ½ inches of oil in a Dutch oven over medium heat. Use a thermometer to make sure the oil is at 325-350F and stays that way. Fry 3 donut rings and 3 holes in the hot oil and fry for about 45-50 seconds on one side.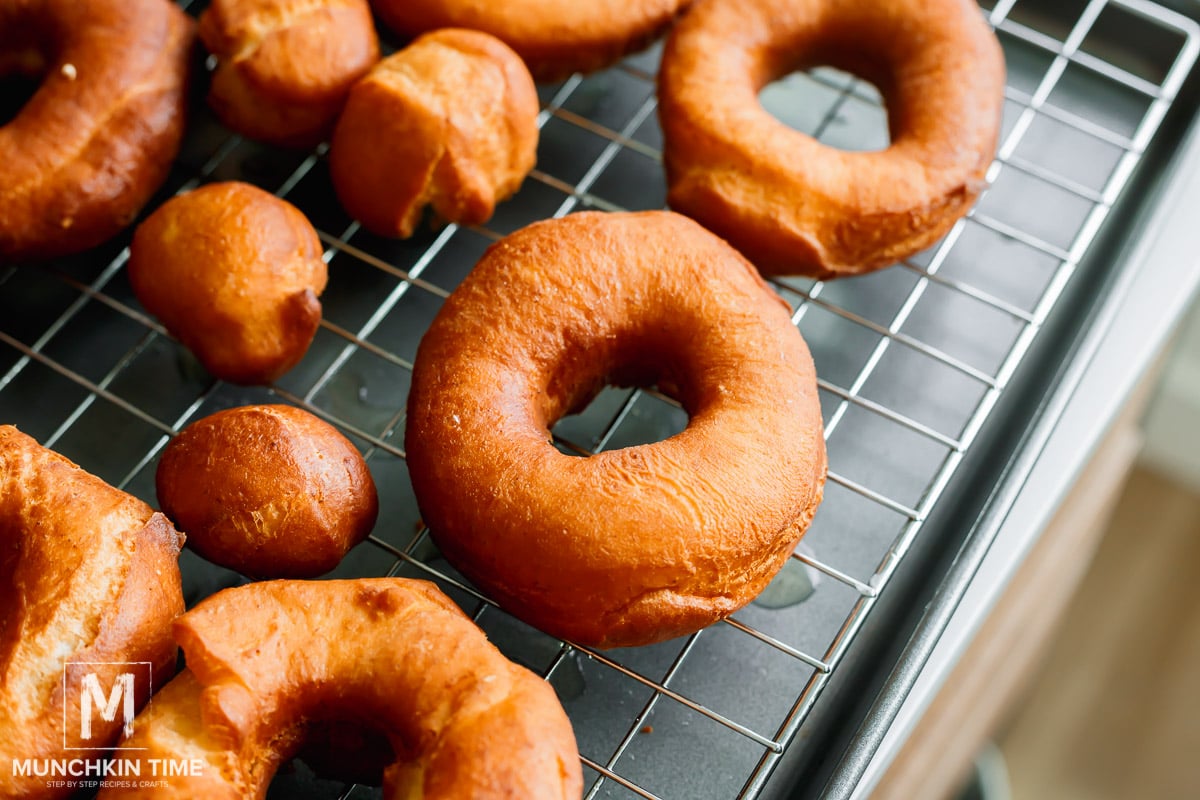 Step 11: Flip them and fry them for another 54-50 seconds on the other side. Be careful not to overdo it, they should be a nice golden color. Let them cool for 10 minutes on the wire rack and continue with the remaining donuts in the meantime.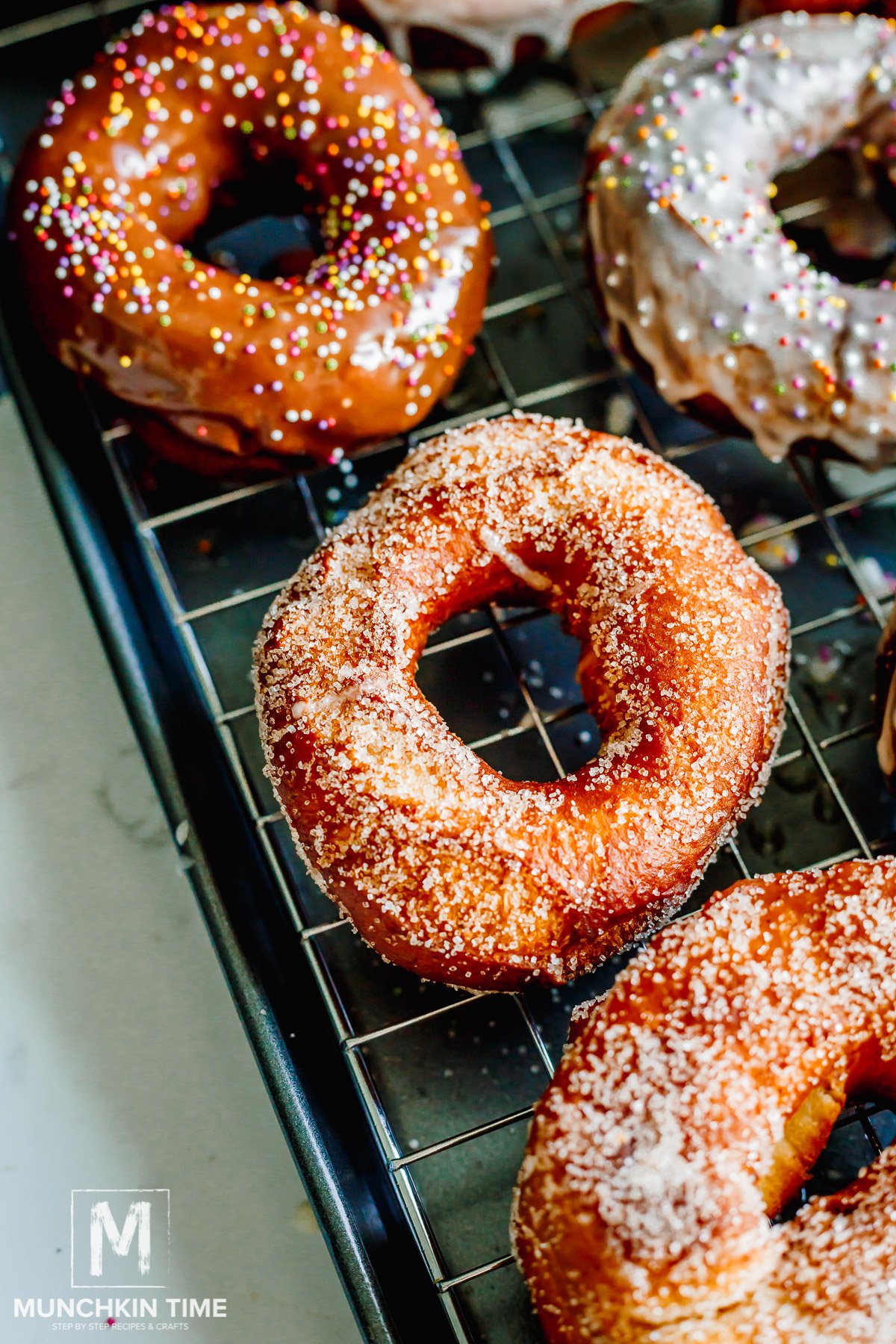 Step 12: Roll the donuts and holes in sugar or dip them in the glaze. Add some sprinkles if you would like! Let the glaze set for 15 minutes and then enjoy a donut or two!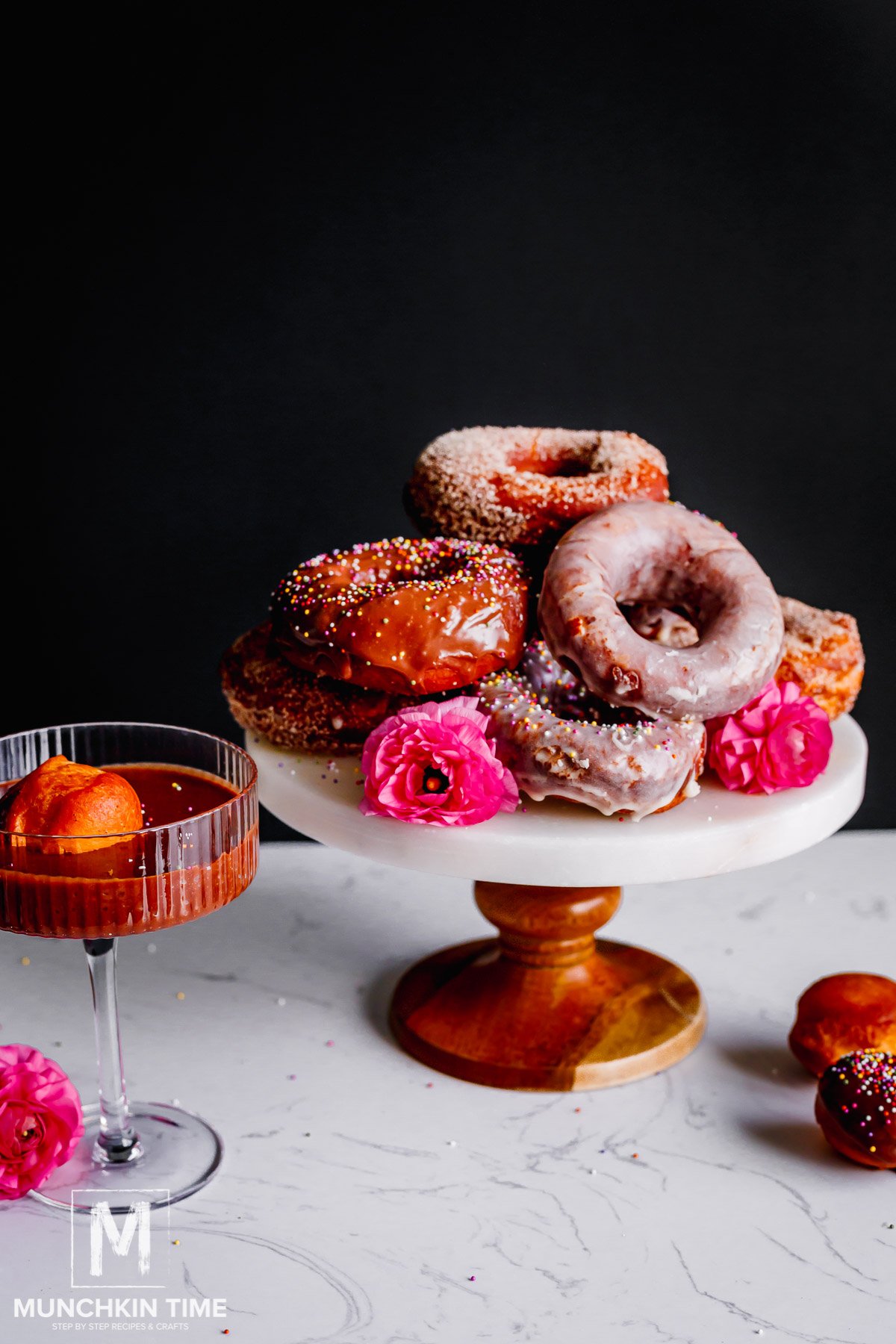 How to Make Donut Glaze
The great thing about a simple sugar donut is that it pairs with so many toppings but it's also just as good when eaten plain, especially if you don't like yours too sweet.
However, If you do want to make a glaze here's how you do it:
For the white glaze, mix the milk, powdered sugar, and vanilla extract until combined and smooth.
For the chocolate glaze, heat milk over low-medium heat on the stovetop. Add in the chocolate chips and whisk until melted. Remove from the heat and add in sifted powdered sugar and mix until smooth and lump free.
You can also warm the milk in the microwave and melt the chocolate chips that way.
Dipping the Donuts
Use your hands to dip one side of the donut and then place it dipped side up onto the wire rack and let the baking sheet catch the excess glaze. You can also dip the whole donut hole or use a spoon to drizzle it on top.
Recipe Tips & Substitutions
Don't waste any of the dough! Once you've cut out your donuts, gather the remaining scraps into a ball and roll it out again. Cut out any donuts you can.
Use a thermometer if you have one to monitor the temperature of your oil. If it's too hot, the donuts will burn, if it's not hot enough the donuts will become soggy.
Don't overcrowd the pot otherwise, it will lower the heat of the oil.
Switch up the coating! Add some cinnamon to the sugar and coat them in cinnamon and sugar. During the winter months roll them up in pumpkin spice or apple pie spice.
These are best enjoyed the day they're made, however, they can be stored in an airtight container for up to 3 days. They will dry out if they're not covered.
Easy Donut Recipe
Easy Donut Recipe - homemade sugar donuts made with yeast. It's crispy & golden on the outside, light & fluffy on the inside, and coated in sweet sugar crystals
Instructions
In a stand mixing bowl, whisk flour, yeast & salt. In a different bowl whisk milk, eggs and sugar. Whisk until sugar dissolves.

Attach dough hook to the mixer and turn it on low speed, slowly pour milk mixture into the flour mixture, mix until no flour remains, about 2 minutes (scrapping down the bowl if needed with spatula).

Turn the stand mixer to medium/ low speed and add butter 1 tablespoon at a time. Knead the dough until butter is incorporated and the dough is smooth and elastic, about 8-10 minutes (the dough will stick to the bottom but not the sides).

Transfer to floured surface and knead it few times, about 30 seconds. Form a round ball and place it into a lightly greased bowl, cover with plastic wrap and let rise in a warm place until it almost doubles in size, about 2 to 2 1/2 hours.

Using 2 baking sheets, place wire rack onto a baking sheet and line another baking sheet with parchment paper and lightly flour it. Transfer dough onto lightly floured surface, roll it into 12 inch round about 1/2 inch thickness. Cut dough using a 3 inch donut cutter or large glass and mini mason jar.

Place donuts and holes on floured baking sheet. Cover with greased plastic wrap and let rise until doubles in size for 45 minutes in warm place.

Pour oil into a dutch oven, about 1 1/2 inches deep and heat over medium heat, measuring 325-350F. Once the oil is heated, add 3 donuts and 3 donut holes, fry until golden color, about 45-50 seconds on one side, flip on the other side and fry 45-50 seconds (be careful not to over fry them). Transfer donuts onto a wired rack and let cool for 10 minutes.

Add sugar to the bowl, about 1 cup. Roll donuts and donut holes in sugar, or dip one side into a white or chocolate glaze, then add sprinkles over the top.
White Glaze
Mix 1/4 cup whole milk with 2 1/2 cup powdered sugar and 1 teaspoon vanilla extract. Mix until everything is combined and there are no lumps.
Chocolate Glaze
Combine 4 oz of semi sweet chocolate chips with 1/2 cup hot whole milk, whisk until chocolate melts. Add 2 cups of sifted powdered sugar, whisk until no lumps. Use for dipping donuts.
Notes
Hi! All content & images are copyright protected. Please do not use my images without prior permission. If you want to republish this recipe, please re-write the recipe in your own words, or simply link back to this post for the recipe. Thank you.
Nutrition
Calories:
223
kcal
Carbohydrates:
34
g
Protein:
6
g
Fat:
7
g
Saturated Fat:
4
g
Polyunsaturated Fat:
1
g
Monounsaturated Fat:
2
g
Trans Fat:
0.2
g
Cholesterol:
48
mg
Sodium:
258
mg
Potassium:
89
mg
Fiber:
1
g
Sugar:
9
g
Vitamin A:
242
IU
Vitamin C:
0.01
mg
Calcium:
29
mg
Iron:
2
mg
Q. – Do YOU like this Easy Donut Recipe?
Let us know in the comments below, we would love to hear from you!
Thank YOU for YOUR Comment, Share & Recipe Review!